The Private Theatre (New York, NY)
The Shotgun Message
by A. Rey Pamatmat
January 7, 2015
Directed by Evan T. Cummings January 7th, 7pm Location TBA
Journalist Kent MacDonald is no saint and certainly no savior. At least he never meant to be until 17-year-old Jared winds up missing. Moving through a lurid world of online sex, naïve parents, and kids who know too much, it's up to Kent to find Jared, bring him home, and perhaps rescue both their souls in the process.
---
Rasaka Theatre (Chicago, IL)
a reading of
A Nice Indian Boy
by Madhuri Shekar
January 9, 2015
Join us for a night of theater, music and food to help benefit Chicago's only South Asian American ensemble (and our upcoming production of A Nice Indian Boy)! We are excited to be in residence at Victory Gardens, and need your support to continue presenting plays that illuminate the South Asian experience.
---
No Rules Theatre Company (Arlington, VA)
In Love and Warcraft
by Madhuri Shekar
January 7 to 25, 2015
---
Chicago SketchFest (Chicago, IL)
Turn Down Pho Wok
Stir Friday Night
January 16 to 23, 2015

SFN Presents:
TURN DOWN PHO WOK

Written & Performed by
Kannan Arumugam
Dacey Arashiba
Loreen Targos
Christina Seo
Jonald Reyes
Nic Park
Ray Hui

Directed by Anna Lucero
Music Direction by Katie Manning
---
Mu Performing Arts (Minneapolis, MN)
New Eyes Festival
January 23 to 25, 2015
The Playwright's Center
2301 East Franklin Avenue
Minneapolis, MN 55406
Friday Jan 23 at 7:30pm
– 2 PERFORMANCES –
Yellowtail Sashimi by Saymoukda Vongsay
Three generations of Lao Americans – a grandmother waiting to die, twin sisters (one in love with an asianphile, one struggling to come out), and a buffalo boy with zero effs to give – are connected by folktales and ominous dreams.
Fast Fwd Motion by Katie Ka Vang
Directed by Katie Ka Vang
Fast Fwd Motion is an intimate look into the lives of a women's volleyball team and how despite all odds continue to find happiness and create an understanding of how their volleyball playing impacts the larger cultural and social systems they belong to. It takes place at the annual Hmong Freedom Festival 2003.
*Both plays are unfinished works-in-progress
Sat Jan 24th at 7:30pm
The Astonishing Journey of Mabel Li and the Mysterious Ways of Lord Ba Tha Za by Myra Sito Velasquez
Directed by Eric Sharp
"In a world of vengeful ghosts, scheming vixens, and roving sex bandits, what's a poor peasant girl to do?"
Sun Jan 25th at 2pm
Lemon Twist (A Musical) by Stephane Ly-Cuong
Directed by Katie Bradley
Lemon Twist tells the story of Yvonne, an American-Vietnamese woman living in New York who is torn between her very traditional Vietnamese family and her desire to be a "normal" American. She longs to be an actress – to star in a musical! To light up the silver screen! – but roles for Asians are few and far between. Should she give in to her mother's pressure to become a pharmacist? Luckily, her sharp sense of humour comes to her aid as she finds herself between jobs, between relationships, feeling neither wholly American nor entirely Vietnamese…
---
Vancouver Asian Canadian Theatre (Vancouver, BC)
Homecoming
by Kamila Sediego
January 25, 2015
The MSG Theatre Lab, VACT's script development and play reading program, is back for its 3rd year! Join us for a free staged reading of Kamila Sediego's Homecoming.
Homecoming is the story of the Cruz sisters, who have reunited in the Philippines for the funeral of their mother. Older sister Tess immigrated to Canada decades before while younger sister Vicky remained in their home country. The play follows their first confrontation, revealing the miscommunication and complex emotional landscape that such separations can bring about. Homecoming is a mature and moving debut by first-time playwright, Kamila Sediego.
The staged reading features some of the finest emerging and established talent in Vancouver theatre.
Director: Melissa Oei
Dramaturge: David Bloom
Performers: Darlyne Dolap-Reece and Lissa Neptuno
Following the reading will be a Q&A session with the creative team.
Where and when:
At the Carousel Theatre for Young People - Studio A (1411 Cartwright Street, Vancouver) on January 25, 2015, at 7pm
Cost:
FREE for all members of the public.
Please RSVP your name and the number of people that will be joining you to andrea.yu@vact.ca. It is highly recommended you RSVP as seating is limited.
---
The SIS Writers Group presents
Insatiable 9
January 25 to 27, 2015
SIS Productions is thrilled to present Insatiable! Seattle's 9th Asian American Playwrights' Festival, a three-day showcase of plays and scenes from new work by local Asian American playwrights. With pieces by Kathy Hsieh, Maggie Lee, Roger Tang, Celeste Mari Williams and Seayoung Yim!
...
Pocket Theater
8312 Greenwood Ave N, in Seattle WA
All tickets are pay-what-you-can at the door!
Sunday, January 25 at 5:00pm -
Excerpt from The Jade Con by Roger Tang
A high flying con artist cooks up her biggest scheme yet. The only thing standing in her way is...her sister.
Scenes from Moms & Their Sons by Kathy Hsieh
Following the lives of four women from high school through parenthood as they re-connect at the funeral of Stef's son. Sometimes race has the power to bridge as much as it divides.
Someday My Prince Won't Come by Celeste Mari Williams
In a modern suburban setting, a newlywed couple find their relationship unexpectedly challenged by an odd bit of fairytale magic.
Monday, January 26 at 7:30pm -
A Silver Key and The Roots Run Deep" by Maggie Lee
An evening of one-act plays inspired by the fantastical dreamscapes and creeping horrors of H.P. Lovecraft. In "A Silver Key," a mysterious key opens a door into the dream world on Eleanor's 30th birthday, as she wavers on the threshold of modern day adulthood. In "The Roots Run Deep," Iris searches for her lost sister, who disappeared after the discovery of a strange mask tied to the dark secrets of their unknown ancestors.
Tuesday, January 27 at 7:30pm -
Do it For Umma by Seayoung Yim
In this revenge tragicomedy set in a suburban strip mall, dead Umma returns as a ghost to convince her daughter Hannah to avenge her suspicious death. Reluctantly, Hannah embarks upon a surreal path to gain Umma's ever elusive approval.
More info? Email tickets@sis-productions.org
---
The Wong Street Journal
by Kristina Wong
TWO SHOWS ONLY!
January 29 and 30, 2015
Shows start at 7:30pm!
Segerstrom Center for the Arts
600 Town Center Dr,
Costa Mesa, California 92626
TICKETS: http://www.scfta.org/home/Events/EventDetail.aspx?EventID=1698
The Wong Street Journal is the latest work-in-progress from Los Angeles-based performance artist and writer Kristina Wong. It's half psychedelic TED lecture, half hip hop extravaganza as Wong illuminates and breaks down complexities of intense social issues from the inside. With her trademark wit, Wong draws from her own travels, bringing the audacious story of a not-so-white savior's fast-track trajectory from stranger to hip hop legend in Northern Uganda.
THIS IS A FULL PREVIEW OF THE SHOW! YOU GET TO SEE AN ARC!!!
"Part sassy stand-up comedian, she is genuinely funny, has terrific stage timing and uses media with studied originality." — Los Angeles Times
Directed by Emily Mendelsohn
---
Pan Asian Repertory Company (New York, NY)
Film Chinois
by Damon Chua
directed by Kaipo Schwab
January 17 to February 8, 2015
Winner of the Ovation Award for Best World Premiere Play, Film Chinois is an atmospheric noir drama with equal measure of spy-versus-spy intrigue and dangerous romantic liaisons set in 1947 China, an uneasy time between WWII and the imminent Communist takeover two years later.
Randolph, a fresh-faced American operative, has been sent to the imperial city on a secret mission. He makes progress until he meets a Chinese woman who calls herself Chinadoll, his would-be adversary and lover. Is their relationship doomed from the start? How does the star-crossed couple navigate the thin line between personal passion and patriotic imperative? And how is their cat-and-mouse game linked to the amoral Belgian Ambassador and his current squeeze, Simone, a willful local songstress? As Randolph plunges deeper and deeper into the heart of darkness that was once the most beautiful city in the world, he finds his life imperiled, even as he begins to unravel the mystery of a piece of old home-made film, and a beautiful woman who seemed to have vanished into thin air.
---
Stanford Asian American Theatre Project (Stanford, CA)
Stanford Monologues: Beyond the Bubble
February 6 and 7, 2015

"You guys are such a cute interracial couple."
"I had never thought of blackness as unattractive."
"I didn't feel like I deserved to call myself disabled."
"I mean, but, are Indians really Asian though?"
"I could feel it. The look of 'Oh, you hopeless Christians.'"
"I lied about my gender again."
These are some of the stories of Stanford Monologues. These are our stories.
Stanford Monologues is a unique, student-written exploration of the discovery of conflicting identities and the way we all perceive them. The play features the diverse experiences of actual students on campus in finding their identities and reconciling these identities with those that other people project onto them. Come and discover something new, or find yourself reflected.

February 6 & 7 @ 8 PM
Elliott Program Center
Admission is FREE (Includes a post-show discussion)
Written by Joseph Lee
Directed by
Praveen Ramesh '14, Lilian Kong '18, and Adi Chang '18
The production is presented by the Stanford Asian American Theater Project and supported by Women's Community Center, AASA, SANSKRITI, BSU, MEChA de Stanford, and the Stanford Spoken Word Collective.
---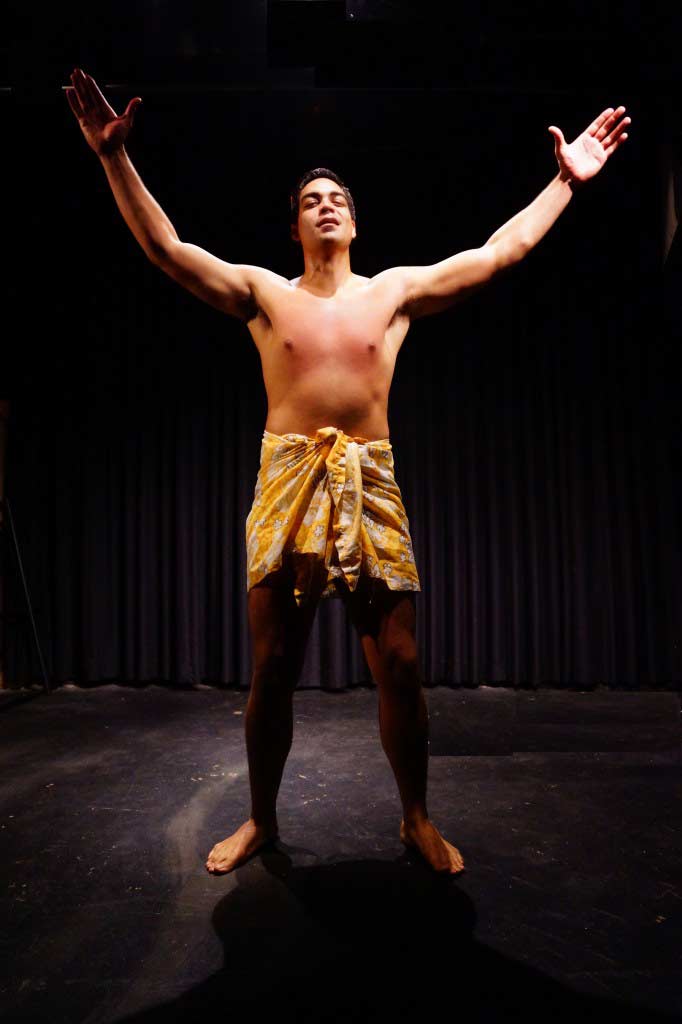 Photo by Denise De Guzman
Kumu Kahua Theatre (Honolulu, HI)
My Name is Gary Cooper
A Hawai`i premiere by Victor Rodger
January 22 ­ to February 22, 2015
Rodger, a playwright of Samoan ancestry, deals with themes of race, racism and identity. In My Name is Gary Cooper, he combines knowledge of classic Hollywood films about the South Pacific with a determination to bring Pacific Island characters to the foreground. He says, "Hollywood's South Pacific films, white characters entered the brown world and stirred things up. What if, I wondered, a brown character entered the white world instead, and stirred things up? What would it look like?"
---
City Lights Theater Company (San Jose, CA)
Build
by Michael Golamco
January 22 to February 22, 2015
Meet the current hotshots in video-game design: Will is the sellout, a well-attired, Ferrari-driving office-hound; Kip is keeping it real, working from home in a bathrobe and three-day beard. Together, they're working on the sequel to their virally popular video game — but Kip is more interested in the creative potential of his game engine, and in the female Artificial Intelligence that he has developed on the sly. (Never mind that this sexy and insightful A.I. looks just like Kip's late wife.) This Northern California Premiere explores the conflicting perceptions of engineering as art, and engineering as business — and the overriding notion that love is the code that makes sense of it all.
---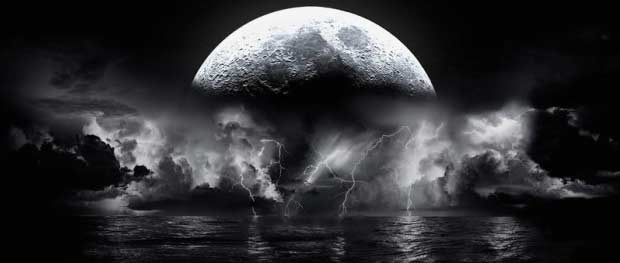 Theatre Espirit Asia (Colorado)
One Night of Thunder
by Sushma Bagga
The Occidental Moon
by Pavithra Prasad
at the Spark Theatre
January 29 to Feb 22, 2015
Director TBA
One Night of Thunder
The play is about past and present colliding, seeking resolution amidst deep rooted belief systems passed on by generations. The work explores what it is like to walk in another's shoes; the decisions we make, affecting not only our lives but of those around us; the grudges we store so tightly, the forgiveness we impart so reluctantly; the hopes we nourish within our hearts with utmost conviction, when everyone around us thinks we are delusional. Why- innocence gone wrong or snuffed out by the harsh realties of life? A hunger to live life on one's own terms?
The Occidental Moon
Beginning with the cultural impact of the 1969 American moon landing, This solo work explores the colonial impulses of space travel and exploration, weaving between genres of popular music, mythology, science fiction and memory. Combining critical theory and art practice, the performance piece delves into the ways in which South Asian cultural and nationalist identities are imagined through extraterrestrial adventure. In equal parts colonial fantasy and postcolonial redemption, this zany, and at times melancholic, romp orbits around and through the hubris of human endeavor, on this planet and beyond.
See News story.
---
Mu Performing Arts (Minneapolis, MN)
F.O.B.
by David Henry Hwang
January 30 to February 15, 2015
Written by pre-eminent Asian American playwright David Henry Hwang (Broadway's Kung Fu, Chinglish, M. Butterfly). Directed by Artistic Director Randy Reyes, Hwang's landmark 1979 play explores relationships and conflicts between established ABC (American Born Chinese) and FOB (fresh off the boat) newcomers. The production stars Eric Sharp, Meghan Kreidler (Kung Fu Zombies Vs. Cannibals), and Michael Sung-Ho (Into the Woods, Little Shop of Horrors). In anticipation of the 2015 full production, Mu will tour F.O.B. to Chinese restaurants in Greater Minnesota (Perham, Mankato, Red Wing, and Rochester) this summer (June 7 – 29, 2014) with the Arts Tour grant from the Minnesota State Arts Board. F.O.B. follows Mu's successful recent productions of other David Henry Hwang plays including Yellow Face (2010) and his adaptation of Rodgers & Hammerstein's Flower Drum Song (2009).
See News story.
---
Hypokrit Theatre
Romeo & Juliet - A Bollywood Love Story!
February 7 to 22, 2015
Hypokrit re-imagines Shakespeare the most unexpected way - through a Bollywood lens. By making the verse accessible and showcasing the richness of the Bollywood aesthetic, they bring this timeless love story to new audiences.
---
fu-GEN (Toronto, Canada)
Chinese New Year/Un-Valentine's Day Fundraiser
February 13, 2015
We couldn't decide whether to have a Chinese New Year party or an Un-Valentine's Day party... so we thought we'd have both! What could be more Canadian than that? On Thursday, February 12th, come celebrate with us at May Cafe, 876 Dundas St. W. Doors and food are at 7PM, music and stuff starts around 8PM.
May Cafe has a storied past and is an essential part of Toronto's Asian Canadian history. It used to be a hangout for Vietnamese gangsters, and has seen its share of raids, shut-downs and other illicit drama. The cafe has been remodeled and is now a very sexy lounge, maintaining a hint of that old world charm.
The fundraiser on May 12th will feature live music from Elena Juatco, Steven McCarthy and Alex Punzalan Jr., as well as spoken word performances from fG Artist in Residence Leonard Cervantes and Janice Lee. There are great prizes to raffle off, and a hotshot mini ping pong tournament. We'll also have delicious food available and other surprises at the ready.
Tickets are available in advance for $15 or $20 at the door.
---
Sausalito Public Library (Sausalito, CA)
Banyan
by Jeannie Barroga
February 13, 2015
In BANYAN, a large tree houses a renegade group on an unspecified island. In the U.S., however, Ona is relegated to the shredding room of a big corporation. She's due for a vacation but needs to travel with her reluctant brother. The Oz-like characters she meets guide her deeper into a jungle-like world and closer to the mystery she's eluded in the shredding room.
?Friday?
7pm Sausalito Public Library
? ? 420 Litho Street ? ? Sausalito - CA
Details:
?"There's no place like. . ." ? Join us for our first play reading inside the Library! Director Norman Gee will present BANYAN by playwright and Sausalito resident Jeannie Barroga. Barroga has a long list of awards and national productions to her name. In BANYAN ? (2009 Arty Award for Best Production)? , a large tree houses a renegade group on an unspecified island. In the U.S., however, Ona is relegated to the shredding room of a big corporation. She's due for a vacation but needs to travel with her reluctant brother. The Oz-like characters she meets guide her deeper into a jungle-like world and closer to the mystery she's eluded in the shredding room.
Website URL: http://http://www.ci.sausalito.ca.us/index.aspx?page=1921&recordid=6708
Play by: JEANNIE BARROGA
---
Ma-Yi Theatre (New York, NY)
LabFest 2015
February 18 to 22, 2015
Teenage Dick
written & directed by Mike Lew
featuring Gregg Mozgala, Anna Kull, Shannon DeVido, Cleo Gray & Alex Breaux

Teenage Dick is a re-imagination of Richard III set in high school. The play uses the most famous disabled character of all time as a means for re-examining more contemporary tropes about the handicapped, via the tale of Richard (junior class secretary) and his quest to become senior class president of Roseland High.
Wednesday, February 18 @ 7:00PM
The Shaking Earth
written by Mashuq Deen, directed by Josh Hecht
featuring Stephen Mark, Jason Liebman & John Roque

Inspired by the true events of 1984, when three days of Sikh massacres followed the assassination of then-Prime Minister Indira Gandhi, the play it set in a Hindu household where a closeted husband and his estranged wife both secretly offer refuge to Sikh neighbors, while their brother helps coordinate the violence going on outside. In present day, a survivor and her daughter living in the West struggle to find a way forward.
Friday, February 20 @ 7:00PM
Nero
written & directed by Kyoung H. Park

Nero is a retelling of George W. Bush's Presidency and War on Terror, based on an anachronistic and inaccurate portrayal of Nero's Roman Empire. With this play, Kyoung H. Park intertwines critical perspectives of American Imperialism/exceptionalism with the way these dynamics are manifest in US foreign policy, American democracy and civil rights, and examines the way we live during times of war.
Saturday, February 21 @ 5:00PM
House Rules
written & directed by A. Rey Pamatmat
featuring Jojo Gonzalez, Mia Katigbak, Teresa Avia Lim, Evan Maltby, Jon Norman Schneider, Moses Villarama & Tiffany Villarin

Rod knows the game is fixed. JJ hates his hand. Twee doesn't think winning is enough. Momo's learning the rules. And why the hell is Henry still playing? Two pairs of siblings (and some guy named Henry) panic when they realize their parents won't always be around to hold all the cards.
Sunday, February 22 @ 3:00PM
---
Goodman Theatre (Chicago, IL)
Manhattan Theatre Club (New York, NY)
The World of Extreme Happiness
by Frances Ya-Chu Cowhig
February 3 to 24, 2015 (New York)
Unwanted from the moment she's born, Sunny (Jennifer Lim) is determined to escape her life in rural China and forge a new identity in the city. As naïve as she is ambitious, Sunny views her new job in a grueling factory as a stepping stone to untold opportunities. When fate casts her as a company spokeswoman at a sham PR event, Sunny's bright outlook starts to unravel in a series of harrowing and darkly comic events, as she begins to question a system enriching itself by destroying its own people.
---
18 Mountain Warriors
February 28, 2015
Back in the Bay Area for the first time in seven years!
See News story.
---
Plays and Players (Philadelphia, PA)
Hold These Truths
by Jeanne Sakata
February 12 to March 1, 2015
Beginning February 12, Philadelphians will have a chance to watch a unique one-man show. Hold These Truths is the story of Gordon Hirabayashi, a Japanese-American, who challenged the US government policy of internment camps during World War II. Gordon embarks on a profound and wild adventure in defense of our Constitution, discovering his Quaker faith, hitchhiking to prison, and taking his fight all the way to the Supreme Court. Philadelphia-based actor Makoto Hirano gives voice to over thirty characters in a one-man tour-de-force performance
Purchase tickets at www.playsandplayers.org or call 866-411-8111
---
Victory Gardens Theatre (Chicago, IL)
Samsara
by Lauren Yee
Directed by Seth Bockley
February 6 to March 8, 2015
World Premiere
Americans Katie and Craig are having a baby with Suraiya, a surrogate from India. As all three "parents" anxiously await the baby's due date, Katie and Suraiya are attacked by flights of their imagination: a seductive Frenchman and a sharp-tongued fetus. Originally developed at Victory Gardens' IGNITION New Play Festival in 2012, this smart world premiere comedy takes us on a hilarious and highly theatrical journey into 21st century parenthood and modern-day colonialism.
---
Rasaka Theatre (Chicago, IL)
a reading of
A Nice Indian Boy
by Madhuri Shekar
February 12 to March 8, 2015
There's an elephant in the room
(and it's not the Hindu God Ganesha).
Naveen is finally bringing someone home to meet his parents.
It's just not who his parents expect.

A comic take on love, marriage, gender, and ethnicity.

Featuring:

Alka Nayyar*
Kaiser Ahmed
Kamal Hans*
Riley McIlveen
Suzan Faycurry

*Actor's Equity Association, Member of Rasaka Theatre
"Rasaka is proud to be a part of the Resident Theater Program and of Victory Gardens' diverse and inspiring artistic community," Rasaka's Producing Artistic Director Kamal Hans said. "We are excited about producing A Nice Indian Boy, an emotional piece that tackles the tough matters of gender, identity, love and marriage, with a humor and honesty that audiences will appreciate."
"A Nice Indian Boy is a romantic comedy with familiar tropes -- that are anything but familiar when immigrant assimilation collides with the adoption of a foreign heritage," Director Anna Bahow said. "The play challenges our traditional concepts of ethnicity and marriage. Shekar has such respect for her characters and the humor is generous to all."
Hey! There's a News story!
---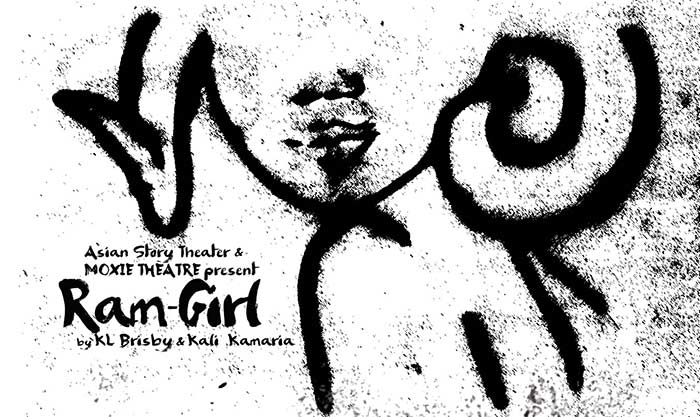 Moxie Theatre and
Asian Story Theatre (San Diego, CA)
Ram-Girl
by K.L Brisby and Kali Kamaria
March 7, 2015
What does a girl have to do to fit in at Comi-Con? In the creative spirit of The Year of the Ram, this performance features live music, puppets and original artwork created right on stage. Includes a puppet performance for Year of the Ram. Families welcome!
---
Ma-Yi Theatre (New York, NY)
Paper Dolls
by Phillip Himberg
March 9, 2015
See News story.
---
Parley (Seattle, WA)
CAFÉ ?? MÁ
the world premiere staged reading of a new play
written by Julie Hoang
directed by Rebecca Tourino Collinsworth
March 10, 2015
featuring:
Corinne Magin, Denny Le, Christopher Crawford,
Rachel Rene, Owen Yen,
Lisa Marie Nakamura, and Elizabeth Wu
production coordination by Heather Posten
Tuesday, March 10th
7 pm
at
West of Lenin
203 N 36th Street, Seattle
Don't take business personally, right? But what if your boss is your grandma? For Sheila, running a bakery with three generations of relatives can't help but hit her where she lives. CAFÉ ?? MÁ is a comedy about the struggle to please your elders, reach your potential, and get drunk most afternoons. Or maybe it's about why anyone would go to work so f**king early in the morning.
---
Generic Ensemble Company
Lucky Chaos Theatre (Austin, TX)
The Mikado or The Ch*nky-Chongy Yellowface Operetta: The Orientals are From the Future (Workshop Production)
March 12, 2015
If the title and image offend you, this show is for you.
Using only songs and text from The Mikado, the (almost) all-Asian/Pacific Islander American cast turn Gilbert and Sullivan's "classic" on its head. Set in an internment camp--in the FUTURE--we reclaim this piece from the white boys in yellowface. This is a workshop production in preparation for a full run in Fall/Spring. Be there, get offended. In a good way.
Directed by kt shorb.
Presented by Lucky Chaos Theater Projects and Generic Ensemble Company.
Ensemble:
Jonathan G. Itchon
Saray De Jesus Rosales
Rachel Steed
JooHee Ahn
Kubbie
Kanoa Michél Bailey
Leng Wong
Live accompaniment by: Tyler Mabry
---
East West Players (Los Angeles, CA)
Washer/Dryer
by Nandita Shenoy
February 12 through March 15, 2015
Why is Sonya so hesitant to introduce her new husband Michael to the people in her building? Why does the doorman keep calling her about a package in the lobby? Tempers and misunderstandings flair, and mayhem ensues as the arrival of Michael's mother, some nosy neighbors, and Sonya's best friend Sam force Michael and Sonya to re-evaluate their relationship and decide whether all is fair in love and real estate. East West Players presents the world premiere of this new farce.
See News release.
---
Pandora Productions (Louisville, KY)
Edith Can Shoot Things And Hit Them
by A. Rey Pamatmat
March 5 to 15, 2015
---
Pork Filled Productions (Seattle, WA)
Yellow Fever
by Rick Shiomi
March 15, 2015
Pork Filled Productions presents a staged reading of Rick Shiomi's classic Asian American play, Yellow Fever, as we give the gender of some of the main characters the ol' one-two.
Hard boiled private detective Sam Shikaze takes her wits, her fists and her trusty gun into the investigation of the mysterious disappearance of the Cherry Blossom Queen in 1970s Vancouver BC. With a knack for finding trouble, Sam gets herself entangled in politics, romance, racism, and the looming specter of Japanese-Canadian incarceration.
Under the direction of Jennifer Jasper, PFP presents a fresh new look at this classic Asian American play!

Pocket Theater
8312 Greenwood Ave N
Seattle, WA 98103
All tickets are pay-what-you-can.
---
The INKWELL Theater Development Lab (Los Angeles)
presents a Staged Reading of
Fortune Wheel
Written by Joey Damiano
Directed by Jeff Liu
March 16 to 18, 2015
John, a Chinese-American war veteran, returns from Iraq to try to rebuild his life and reconnect with his estranged mother from Hong Kong, Betsy. However, both mother and son allow the demons of their pasts to blur into the present and threaten their chances for a normal life.
Featuring
Emily Kuroda, Peter James Smith, Burl Moseley, Deja Soufka
Produced by Daniel Shoenman & Annie McVey
Monday, March 16th @ 8pm
Tuesday, March 17th @ 8pm
Wednseday, March 18th @ 8pm

VS. Theatre
5453 W. Pico Blvd,
Los Angeles CA 90019
(1/2 block West of Hauser)

Tickets - $5.00*
*Ticket price includes $5 concession credit at theater

To Purchase Tickets or For More Information:
http://lab.inkwelltheater.com
or
info@inkwelltheater.com
---
East West Players and
Japanese American National Museum (Los Angeles, CA)
Presents The Writers Gallery Reading of
Iyakan Blues (The Criers)
By Giovanni Ortega
Directed by Tim Dang
Thursday, March 19, 2015
At 7:30 PM
Tateuchi Democracy Forum at the National Center for the Preservation of Democracy
111 North Central Avenue, Los Angeles 90012
Aurora, Remedios, and Eugenia are three of the most sought-after professional criers (individuals paid to cry at funerals) in Monterey Park. They are eager to welcome Aurora's 14-year-old daughter Ligaya (nicknamed Gaya) from the Philippines into their world and teach her their somber trade. However, they soon realize that Gaya has the opposite effect on people, making them laugh instead of cry. What ensues is a hilarious and heartwarming story of cultural identity, generational conflict, and finding home in a new country.
This reading is FREE and open to the public. RSVP here.
---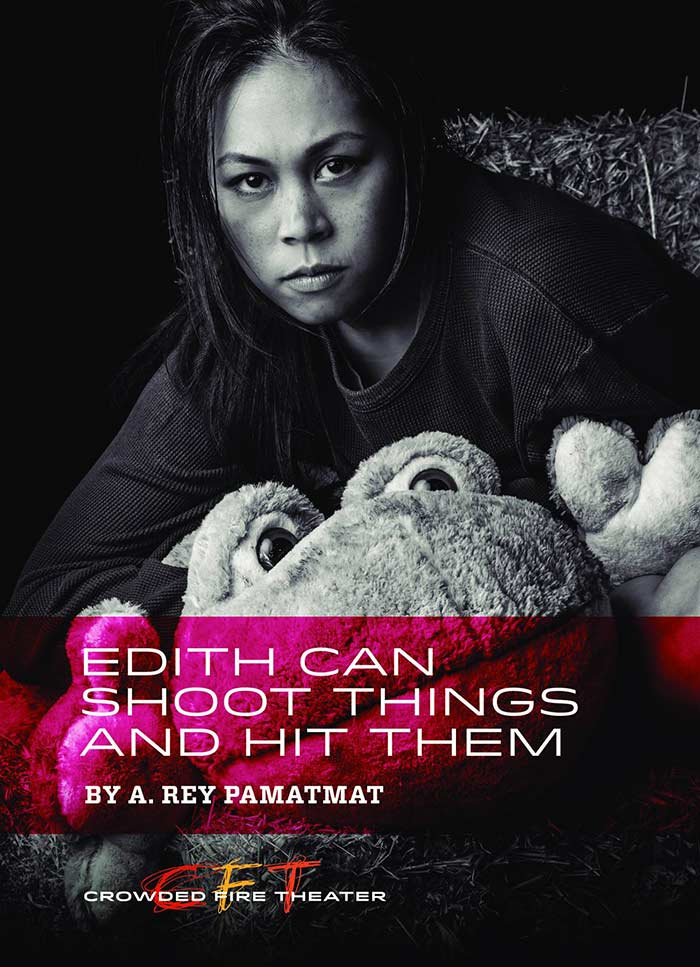 Crowded Fire Theatre (San Francsco, CA)
Edith Can Shoot Things and Hit Them
by A. Rey Pamatmat
February 26 to March 21, 2015
---
Dukesbay Productions (Tacoma, WA)
Java Tacoma 5: Game of Scones
by Aya Hashiguchi
Directed by Micheal O'Hara
March 6 to 22, 2015
See News story.
---
Leviathan Labs (New York, NY)
Esspy
by Nandita Shenoy
March 26, 2015
---
Bindlestff Studio (San Francisco, CA)

Granny Cart Gangstas
The Ladies & The Tramps
all female sketch-comedy show
March 19 to 28, 2015
8pm
Location: 185 6th St. San Francisco, CA
Tickets: $10-$15; Buy Tickets
Are the Granny Cart Gangstas ladies or tramps? Actually, it's all about being bosses. Watch as this troupe of outspoken, unabashed women own the stage with sketches that tackle sex, pop culture, and dating in the modern world. "Vag Save" illustrates how to save your best friend's vagina from creepy guys at the club. "OMG" ponders what you REALLY think about your friend's social media posts. In "Plan B," a fan-girl celebrity obsession hits too close to home. "Mom I'm in Love with a Hipster" skewers love and dating in SF when a daughter announces to her mother that she is in love[you guessed it] with a hipster. In "Psycho Siri," a group of girlfriends ponder the question, "Is Siri Vietnamese?" Everything is up for grabs in this uninhibited show.
---
Oregon Shakespeare Festival (Ashland, OR)
A Dream of Red Pavillions
by Jeremy Tiang
March 28, 2015
---