---

ArtsWest and
SIS Productions (Seattle, WA)
Chinglish
by David Henry Hwang
March 5 to March 29, 2015
Northwest premiere!
This laugh-out-loud comedy by the much celebrated Tony-Award winning playwright David Henry Hwang (M. Butterfly), merrily spews forth mutilated and mangled idioms, slang and pronunciations, against the backdrop of stranger-in-a-strange-land tensions.
Our protagonist, a naïve American business man, finds himself in China trying to sell a Communist Minister signs with proper English translations, all the while making his own blunders not only in language, but in cultural etiquette, sex, and in searching for the best guanxi!
---
South Coast Repertory (Los Angeles, CA)
Tokyo Fish Story
by Kimber Lee
directed by Bart DeLorenzo
March 8 to 29, 2015
Koji is a Sushi Master with an undying love for his art. But his restaurant is declining while the new place down the street keeps packing them in. Takashi represents the younger generation—a brilliant protégé, but too respectful to display his talent, despite the urgings of Nobu, his hip-hop assistant, and punked out Ama, who's trying to make her way in a man's world. Generations, gender and tradition collide in this quiet play with a big heart, a touch of poetry, a hint of mystery—and just the right amount of enticing comedy. Plus, a sushi-making ritual that will amaze.
---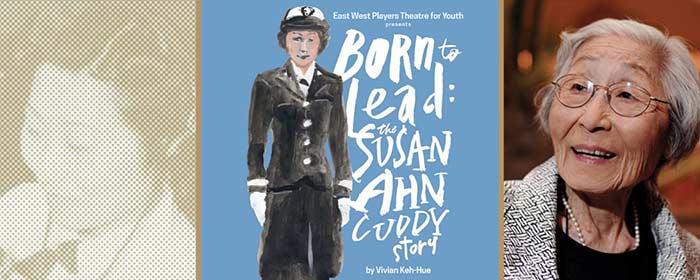 East West Players (Los Angeles, CA)
Born to Lead: The Susan Ahn Cuddy Story
By Vivian Keh-Hue
Directed by Jennifer Chang (Our American Voice and Animals Out of Paper)
Despite the challenges facing women and minorities of her generation, Susan Ahn Cuddy never took for granted the sacrifices of her democracy. With the freedom to speak her mind and make her own choices, Susan held fast to realizing her dream of one day becoming an officer in the U.S. Navy, persisting even though she was initially rejected because of her ethnicity. Her diligence paid off – she became the first female aerial gunnery officer in the history of the U.S. Navy, and by the time World War II ended, she had earned the title of Lieutenant. Through her choices and actions, Susan forged a life characterized by fearlessness and integrity, qualities which we attribute to our heroes. Indeed, in all spheres of her fascinating life, she was a trailblazer and her story merits telling.
Featuring Rich Lee, James Han Liu, Irene Park, and Kathleen Park.

Costume Design by Nancy Wei
Sound Designer by Howard Ho
Prop Master Naomi Kasahara
Public performances for the 2015 Theatre for Youth touring production Born to Lead: The Susan Ahn Cuddy Story will be held at:
South Pasadena Library on Friday, March 27 at 7 pm (Free)
Burbank Public Library on Tuesday, March 31 at 7 pm (Free)
For more information, please contact Arts Education Director Marilyn Tokuda at mtokuda@eastwestplayers.org or (213) 625-7000 x 15.
Sponsored by Dwight Stuart Youth Fund, Department of Cultural Affairs, and California Community Foundation.
---
TEADA (Los Angeles, CA)
Global Taxi Driver
March 21 to 29, 2015
This energetic play takes audience members on a ride through the lives and untold experiences of taxi drivers across the globe. Inspired by the real life experiences of taxi drivers from L.A. to Minneapolis, Bangkok to Gualajara, Global Taxi Driver uncovers a unique view of the planet - from behind the wheel of a cab. Throughout the world, taxi driving is a gateway profession for immigrants, often taken on by people who were once farmers, soldiers, doctors, or lawyers. With the growth of ride-sharing services threatening this occupation, these stories become even more urgent to tell.
Director/Playwright Leilani Chan and TeAda Ensemble members Ova Saopeng (Assistant Director) and Shyamala Moorty (Choreographer), have been traveling the country collecting taxi driver stories. Global Taxi Driver is a high energy devised theater play developed through interviews, workshops, story circles and residencies. Global Taxi Drivers World premiere took place at Intermedia Arts in Minneapolis in September 2014 and was performed by an ensemble of local artists and TeAda ensemble members.
Global Taxi Driver in association with East West Players will premiere at the David Henry Hwang Theater.
Community events in collaboration with UCLA Downtown Labor Center!
DATES:
March 21- March 29, 2015 ONLY
3/21, Sat at 8 PM – Opening Night Reception - $30, VIP $50
3/22, Sun @ 2 PM – Matinee** & Taxi Townhall
3/26, Thu @8 PM - $10 Tix & Artist Q & A with special guest moderator
3/27, Fri @ 8PM – Workers Connect Post Show Discussion
3/28, Sat @ 2PM – Matinee & Children's TeAda Workshop*
3/28, Sat @ 8PM – Show
3/29, Sun @ 2PM - Closing Matinee**
Por favor preguntanos sobrelas noches de taducción en español
General $25, Student/Senior $20, Taxi Drivers $10 (ID Required)
*Family Pass $60 includes 2 adult tix & up to 2 children can participate in theater workshop during the show and perform on stage after.
**Inquire about childcare during matinees
For more information please visit www.teada.org/globaltaxidriver
---
Mu Performing Arts (Minneapolis, MN)
Womn + Womn
by Oskar Ly
Tot
by Victor Moag
April 2 and 4, 2015
Mu Performing Arts and Jerome Foundation proudly present the final round of readings from the New Performance Program!
The project began with four Asian American theater artists staging public readings of new or unfinished works to determine which two would move on to the next round of the program.
WOMN + WOMN
Written by Oskar Ly
Directed by Jennifer Weir
Nana (Soul), Huab (Body) and Jules (Spirit) journey through queerness, haircuts, cassette tapes and their intertwined fates hidden in memories and explorations of their unbeknownst affection for women.
TOT
Written by Victor Maog
Directed by Eric Ting

TOT follows an immigrant boy who travels from the Ferdinand Marcos-ruled Philippines to the San Francisco Bay Area to meet his long lost parents. He journeys from a country full of strife and military rule only to find himself in his lonely American bedroom conjuring a pro wrestling fantasy to escape his new life.
---
Artists at Play (Los Angeles, CA)
Artists at Play presents third annual reading series
The Two Kids That Blow Shit Up
by Carla Ching
Nobody's Child
by Sanaz Toossi
Saturday, April 4, 2015
As part of our 2015 spring reading series, Artists at Play will help develop and proudly showcase new work by two female playwrights. Continuing our mission to share stories of underrepresented communities, we are excited to present these plays to the Los Angeles theatre community.
Playwrights Sanaz Toossi and Carla Ching have each crafted deceptively simple stories that focus on the interpersonal relationships among family members, either bound by blood or by circumstances. Whether we're traveling through Iran on a train with a trio of sisters, or jumping through time in the lives of two step-siblings, we hope you'll join us on these respective journeys that are messy yet poignant and altogether modern.
The readings will be presented on Saturday, April 4 at the Lounge Theatre: The Two Kids That Blow Shit Up at 1 p.m., and Nobody's Child at 4 p.m.
Each reading will be followed by a talkback. A $15 ticket includes dinner, hosted bar and dessert reception. (Price will go up to $20 at the door.)
---
NAATAK (Bay Area, CA)
A Wife of Buddha
by Lisa Kang
Sunday, April 5, 2015
From 4 pm
Naatak House, 2110D Walsh Avenue, Santa Clara, CA
Written by Lisa Kang
A Wife of Buddha weaves together the ancient legend of Yasodhara, the woman Siddharta abandoned to follow a path to spiritual enlightenment, and the modern-day story of Carla Medina, a sculptor in San Francisco who is depicting the tale of Sidhartha and Yasodhara in her work. When Carla's husband, a Korean-German adoptee, discovers his birth father is alive and is a Buddhist monk in Korea, the marriage falters, leading Carla to question her own path in life.
A Wife of Buddha is written by Lisa Kang, an actor, educator, and playwright based in the Bay Area. The play is one of three scripts selected by Naatak as part of its script-writing contest Inkpot@Naatak.
---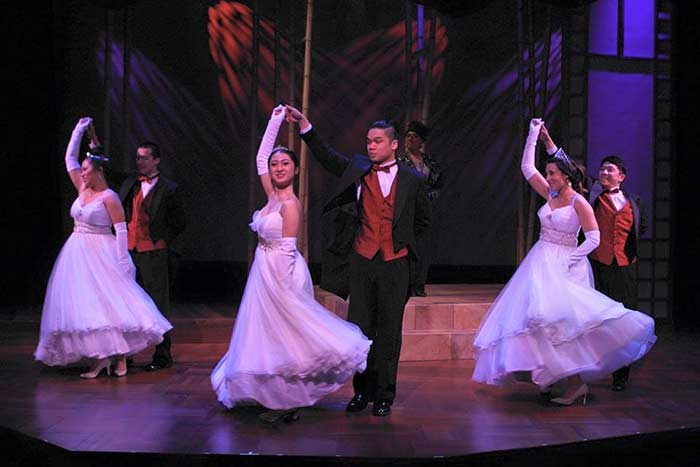 History Theatre and
Mu Performing Arts (Minneapolis, MN)
The Debutante's Ball
by Eric "Pogi" Sumangil
March 21 to April 12, 2015
The new play is written by Mu actor-turned-playwright (and three time Deb's Ball escort) Eric 'Pogi' Sumangil (Mu Performing Arts, La Jolla Playhouse). Is family something we're born into or something we choose? Ana's parents want her to be an All-American rather than a Filipino-American girl. When she signs up for the Filipino community's Debutante's Ball against her parents' wishes, she puts her family relationships on the line and begins a complicated waltz between tradition and assimilation, self-reliance and interconnectedness, hip-hop and haranas (traditional Filipino serenades). Directed by Randy Reyes at the History Theatre in downtown St. Paul, the play (inspired by true events) pays tribute to a unique rite of passage for Minnesota's Filipino American community.
---
New Jersey Playwrights Contest
Micro Shrimp
by Marcus Yi
March 31 to April 18, 2015
See News story.
---
Mu Performing Arts (Minneapolis, MN)
Gala Fundraiser
April 17, 2015
Save the Date
FRIDAY, APRIL 17 2015 - VARSITY THEATER
JOIN US for our largest fundraiser of the year. Featuring live performances by your favorite Mu performers, as well as games, food, drinks, and silent auction.
This is better than your average gala!
---
Theatre Esprit Asia (Denver, CO)
Asian American Cabaret Evening (ACE)
April 18, 2015
Previews from the upcoming 2015-16 season!
---
Cold Tofu (Los Angeles, CA)
Iron Improv Stadium
April 18, 2015
Join us on Saturday, April 18 at 7:30 pm for our monthly improv show!
This month see the return of Cold Tofu's IRON IMPROV STADIUM where two teams will battle it out for your laughter to become the protectors of the TOFY AWARD. You'll see THE OG ZIPSTERS (featuring Tony Garbanzos, Ryan Okuda, Quincy Surasmith and Johnny Ye) battle it out against TBD (featuring Aaron Aoki, Jhemon Lee, Misa Nguyen and Kurt Yamamoto). They'll go head-to-head and your vote determines who will win the coveted award.
You'll also get to see our Level 3 improv students on stage showcasing all that they've learned.
Then continue the laughs with our regular performing cast.
Saturday, April 18 at 7:30 pm
$7 at the door
Admission comes with a complimentary raffle ticket.
St. Francis Xavier Catholic Center
222 S. Hewitt Street, Los Angeles, CA 90012
(Located east of Alameda, between 2nd & 3rd streets)
NOTE: Parking is no longer free at St. Francis Xavier Catholic Center. Audience members must now enter the parking lot from Third Street and pay $10. Cold Tofu is able to offer a validation stamp that will reimburse audience members $5 when they exit the parking lot at the end of the evening.
If you have any questions, please e-mail us at ColdTofuImprov@gmail.com.
---
Ma-Yi Theatre (New York, NY)
Soldier X
by Rehana Lew Mirza
directed by Lucie Tiberghien
March 24 to April 19, 2015
Soldier X follows a young African American military social worker, Monica, who falls for a returning soldier, Jay, and the subsequent love triangle that ensues when he decides he is in love with his fallen comrade's Muslim sister. The play tallies the emotional scars inflicted on our young men and women returning home from Iraq and Afghanistan. How exactly do you rejoin a society that remains as conflicted about its wars as it is with issues of race and gender?
---
Kumu Kahua Theatre (Honolulu, HI)
Ka'iulani
by Dennis Carroll, Victoria Nalani Kneubuhl, Robert Nelson and Ryan Page
March 26 to April 25, 2015
News story.
---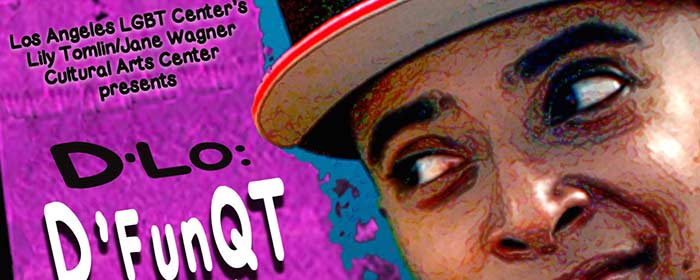 Los Angeles LGBT Center's Lily Tomlin/Jane Wagner Cultural Arts Center presents
D'Lo: D'FunQT (defunct)
a stand-up/storytelling theatre gig
Written and performed by D'Lo
Directed by Ken Sawyer
April 3 to 26, 20115
When you gotta go…go with your heart.
After going to New York, Minneapolis, Austin and a 6 city tour in India and Sri Lanka, D'FunQT (pr. defunct) D'Lo's latest stand up-storytelling show is making it's LA premiere! D'FunQT (pronounced defunct) is filled with D'Lo's humorous musings, rants and stories of being a queer boy/trans person who grew up in a strict immigrant family, trying to make it all work peacefully while radically and bizarrely challenging mindframes in choosing to exist unapologetically.
April 3-26
Fridays & Saturday @ 8pm
Sundays @ 7pm
(No shows April 17, 18, and 19)
Davidson/Valentini Theatre
1125 North McCadden Place
Los Angeles CA 90038
Buy tickets at http://www.eventbrite.com/e/dlo-dfunqt-tickets-15980664598
Tickets: $20 general admission
lalgbtcenter.org/theatre or call the Box Office at (323) 860-7300
---
Playwrights Foundation (Bay Area, CA)
The King of the Yees
by Lauren Yee
April 20 and 21, 2015
The Rough Reading Series is Pay What You Can, and continues with "King of the Yees" by Lauren Yee, playing April 20th at 7:30pm at Roble Hall, Stanford University, and April 21st at 7pm at the Tides Theatre, San Francisco.
Amid a backdrop of crumbling Chinatowns and all-too-lifelike museums, playwright Lauren Yee races through history, space, and the fourth wall to find her father in this joyride through San Francisco's disappearing past.
---

GENseng (Geneseo, NY)
Geneseo's Asian American Performance Ensemble Now in its 16th season
The Wash
by Philip Kan Gotanda
Directed by Randy Barbara Kaplan
Black Box Theatre, SUNY Geneseo
April 23 and 24 @ 7:30 pm;
April 25 @ 2:00 pm
Tickets $10.00 585-245-5873
---
South Coast Repertory Theare (Los Angeles, CA)
Pacific Playwrights Festival
April 2015
ORANGE: an illustrated play
by Aditi Brennan Kapil
directed by Jessica Kubzansky
Saturday, April 25, at 10:30 a.m., on the Segerstrom Stage
The fantastic Orange County adventures of an exceptional girl named Leela—as illustrated by herself.
VIETGONE
by Qui Nguyen
directed by May Adrales
Sunday, April 26, at 10:30 a.m., on the Segerstrom Stage
Qui Nguyen's personal epic Vietnamese-American hip-hop road-trip buddy-movie rom-com!
---
VISUAL COMMUNICATIONS (Los Angeles, CA)
as part of the 2015 Los Angeles Asian Pacific Film Festival
A FREE reading of a new play
Unbroken Blossoms
By Philip W. Chung
Directed by Jeff Liu
April 27, 2015

Stage Managed by Sean Tien
Starring:
Laila Ayad (SCANDAL, founding member IAMA Theatre)
Ron Morehouse (BOSTON PUBLIC, JUSTIFIED)
Armin Shimerman (STAR TREK: DEEP SPACE NINE, BUFFY THE VAMPIRE SLAYER)
Harry Shum Jr. (GLEE, STEP UP 2&3)
Aaron Yoo (DISTURBIA, 21, THE TOMORROW PEOPLE)
Narration by Brian Tran
After accusations of racism dogged the release of his masterpiece THE BIRTH OF A NATION, director D.W. Griffith made BROKEN BLOSSOMS to prove he was no bigot. And to make sure his film about the love between a Chinese man and white woman was "authentic," he hired two Chinese American consultants. Unbroken Blossomsis the story of those two men, the making of a classic movie and how even the best of intentions can go terribly awry.

Monday, April 27, 2015 at 7PM
The Japanese American National Museum's Tateuchi Democracy Forum
100 N. Central Ave.
Los Angeles, CA 90012

FREE Admission but please reserve your tickets in advance at:
http://laapff.festpro.com/films/detail/unbroken_blossoms_2015

For more info. about the L.A. Asian Pacific Film Festival go to:
http://www.asianfilmfestla.org/

Community Co-Presenters for UNBROKEN BLOSSOMS:
ASIAN PACIFIC AMERICAN FRIENDS OF THE THEATRE
EAST WEST PLAYERS
ORGANIZATION OF CHINESE AMERICANS—GREATER L.A. CHAPTER
PASADENA PLAYHOUSE
---
---
Coachella Valley Repertory Theatre (Rancho Mirage, CA)
Hold These Truths
The Journey of Gordon Hirabayashi
A solo Play by Jeanne Sakata
April 15 to May 3, 2015
During WWII in Seattle, university student Gordon Hirabayashi fights the US government's orders to forcibly relocate people of Japanese ancestry to internment camps. As he struggles to reconcile his country's betrayal with his passionate belief in the US Constitution, Gordon begins a 50-year journey toward a greater understanding of America's triumphs—and a confrontation with its failures.
---
San Francisco Playhouse (San Francisco, CA)
Cleveland Public Theatre (Cleveland, OH)
In a Word
by Lauren Yee
April 16 to May 2, 2015
Two years have passed since Fiona's 8-year-old son mysteriously vanished. As she delves into her memories of that fateful day, logic buckles and language breaks. Grief and comedy collide in this lyrical, absurdist journey of survival. A world premiere co-production
---
Asian Arts Initiative (Philadelphia, PA) and
Refugee Nation
Laos in the House: Voices from Four Decades of the Lao Diaspora
May 1, 2015
A special Gallery Closing Reception featuring Refugee Nation, Friday May 1st, 7PM
To close out the multi-disciplinary gallery exhibition of Voices from Four Decades of the Lao Diaspora will be a special performance featuring LA-based theatre collective Refugee Nation. Please join us along with Laos In The House's Creative Director and AAI alum Catzie Vilayphonh for an evening of visual and performance art work to help heal the scars of war and to tell the stories of the Lao community in America.
And on Saturday, May 2, get to know all Laos In The House artists during their workshop presentations at Asian Arts Initiative from 10AM-2PM, free and open to the public.
---
Community Asian Theatre of the Sierras (Nevada City, CA)
Hotel at the Corner of Bitter and Sweet
adapted by Annie Lareau
from the novel by Jamie Ford
April 16 to May 9, 2015
Memory and longing bridge Henry Lee's 1940s boyhood in Seattle's Chinatown and, decades later, his second chance at love after a miraculous discovery in the basement of the Panama Hotel. Historic events and places mesh in this story of faithful hope. On the New York Times' Best Seller's list in 2009.
---
Alliance Theatre (Atlanta, GA)
Antigone, Presented by the Girls of St. Catherine's
by Madhuri Shekar
April 30, 2015 to May 9, 2015
The St. Catherine's drama club is struggling to put up its first school play – Sophocles' Antigone. As if staging this tragedy in an all girls' Catholic school isn't challenging enough, the cast's beloved director ends up betraying them in an unforgivable way. And it's almost opening night! The actors must then figure out the right course of action, all while rehearsing the classic play about impossibly difficult choices. What is the right thing to do? And must the show go on?
---
First Voice (San Francisco, CA)
Suite J-Town The Art Of Resilience
May 2015
WORLD PREMIERE coming May 2015 Our new project Suite J-Town pays tribute to the 100-year history of Japantown through music, dance, visual art, story, sound collage, video, and site-specific installations performed in different historic sites. Created by First Voice with next generation hapa artists, we will rediscover and strengthen the soul of a community in an effort to continue our presence in today¹s rapidly changing San Francisco landscape.
---
San Diego Repertory Theatre (San Diego, CA)
Unbroken Blossoms
By Philip W. Chung
Directed by Jeff Liu
May 4, 2015

Starring:
Laila Ayad (SCANDAL, founding member IAMA Theatre)
Ron Morehouse (BOSTON PUBLIC, JUSTIFIED)
Albert Park (ALL'S WELL THAT ENDS WELL & THE WINTER'S TALE at the Old Globe)
Armin Shimerman (STAR TREK: DEEP SPACE NINE, BUFFY THE VAMPIRE SLAYER)
Aaron Yoo (DISTURBIA, 21, THE TOMORROW PEOPLE)
Narration by Brian Tran
After accusations of racism dogged the release of his masterpiece THE BIRTH OF A NATION, director D.W. Griffith made BROKEN BLOSSOMS in 1919 to prove he was no bigot. And to make sure his film about the love between a Chinese man and white woman was "authentic", he hired two Chinese American consultants. UNBROKEN BLOSSOMS is the story of those two men, the making of a classic movie and how even the best of intentions can go terribly awry.
Monday, May 4, 2015 at 7PM
Lyceum Theatre
79 Horton Plaza
San Diego CA 92101
(3 hours free parking in Horton Plaza parking garage with validation)
FREE admission
For more info. about San Diego Rep go to:
http://www.sdrep.org/
Pacific Arts Movement is the Community Co-Presenter for UNBROKEN BLOSSOMS:
http://pacarts.org/
---
Ma-Yi Theatre (New York, NY)
Spring LabFest
May 4 to 10, 2015
Neighborhood Watch
by Rehana Lew Mirza
A suburban family man, Paul, becomes so convinced that his new neighbor is a terrorist that in his pursuit to uncover the truth, he terrorizes his daughter and neighborhood.
Monday, May 4th @ 7:00PM
Wolf Play
by Hansol Jung
Directed by Dustin Wills
A Korean boy's adoptive father un-adopts him and "re-homes" him to a new family. But when this American ex-father discovers the boy's new parents are a lesbian couple, he does whatever he can to get the boy back.
Tuesday, May 5th @ 7:00P
Seek
by Susan Soon He Stanton
directed by Kip Fagan
In a fictional retelling of Agatha Christie's real-life disappearance, SEEK imagines the British mystery writer on the Big Island of Hawaii. Burdened by a secret and chased halfway around the world, Agatha's life begins to resemble the dark stories she imagined.
Thursday, May 7th @ 7:00PM
The Day is Long to End
by Catherine Yu
directed by Danny Sharron
In the summer hours of a charmed Chelsea flower shop, the lives of the florists intertwine with the lives of the customers.
Sunday, May 10th @ 3:00PM
Delivery
by Sam Chanse
directed by Cat Miller
Tara, a woman in Gujarat, India, has signed up as a gestational surrogate for Denise, another woman over eight thousand miles away in northern California. Tara navigates life at the clinic, and Denise struggles to feel connected, when the two women encounter something for which neither one is prepared.
Monday, May 11th @ 7:00PM
---
First Voice (San Francisco, CA)
the culminating event of Suite J-Town: The Art of Resilience
A Walk Through Time
– one family's story of resilience –
A MOTHER'S DAY EVENT
May 10, 2015
a site specific performance
inside the Suite J-Town pop-up gallery
with
DANCE, ORIGINAL MUSIC, and SPOKEN WORD
responding to a 10-foot mandala, 12-foot prayer pagoda,
and 1930s Kabuki set pieces

Master musicians and world class artists Kenny Endo (taiko), Moy Eng (vocals),
Shoko Hikage (koto), Masaru Koga (woodwinds), Marina Fukushima (choreographer/dancer), John-Carlos Perera (vocals/bass), Reverend Masato Kawahatsu (purification blessing); music by Emmy Award-winning composer Mark Izu; personal story written, performed, and woven together by nationally-acclaimed playwright Brenda Wong Aoki

A World Premiere, ONE DAY ONLY!
Mother's Day • May 10, 2015
1:00 and 3:00 pm
$15 | General Admission
RSVP | TICKETS : suitejtown-a-walk-through-time.eventbrite.com

LOCATION: Suite J-Town Gallery

Japan Center East Mall
22 Peace Plaza, Suite 525
San Francisco, CA 94115
(directly above Daiso!)
---
Vampire Cowboys (New York, NY)
Six Rounds of Vengeance
by Qui Nguyen
directed by Robert Ross Parker
April 24 to May 16, 2015
In a post-apocalyptic "Lost Vegas", an ex-lawman enlists the help of a cursed brute and wannabe kunoichi to avenge the murder of his lover. However the gang they'll be going against has powers that go way beyond just gunpowder and steel. To get revenge, they may have to become just as blood-thirsty as they monsters they'll be facing.
A sideways sequel the Vampire Cowboys' critically acclaimed and fan favorite show SOUL SAMURAI
APRIL 24 - MAY 16, 2015
at The New Ohio Theater
See News story.
---
Artists At Play (Los Angeles, CA)
99 Histories
by Julia Cho
May 12 to 15, 2015
Presented in association with Center Theatre Group's The Shop, Artists at Play presents 99 HISTORIES in staged readings at libraries throughout East Los Angeles.
Following each performance will be a post-show talkback exploring the issues of mental health in the Latino community.
99 HISTORIES is a story about the bonds between mothers and daughters, generation to generation. Eunice, a Korean American former cello prodigy, comes home pregnant and unmarried, and tries to mend her relationship with her mother. Haunted by violent memories and previous battles with mental illness, Eunice must confront her ghosts before she can move forward.
The play readings are FREE and will be performed May 12-15.
---
Stanford Asian American Theatre Project (Stanford, CA)
Stop Kiss
by Diana Son
May 14 to 16, 2015
---
---
Silk Road Rising (Chicago, IL)
after all the terrible things I do
Written by A. Rey Pamatmat
Directed by Lavina Jadhwani
A STAGED READING - MAY 16 & 17, 2015
An ordinary job interview at a local bookstore spirals into something more as store-owner Linda and aspiring writer Daniel realize that their connections run far deeper than a shared love of literature. Together they confront the trauma of their past and struggle to find forgiveness.
VENUE
Performances held at Pierce Hall at The Historic Chicago Temple Building, 77 W Washington St, Chicago
---
A Noise Within (Pasadena, CA)
East West Players (Los Angeles, CA)
The Good Person of Szechwan
By Bertolt Brecht
Translated by Tony Kushner
Directed by Stephen Rockwell
Tuesday, May 19th at 7pm.
Admission is FREE.
At East West Players
120 Judge John Aiso St
Los Angeles, CA 90012
Featuring:
Mitchell Edmonds, Alison Elliott, Christopher Fairbanks, Matt Foyer, Rafael Goldstein, Mike Hagiwara, William Dennis Hunt, Alberto Isaac, Fionn James, Emily Kuroda, Jane Macfie, Elyse Mirto, Jeremy Rabb, Carolyn Ratteray, Dekyi Rongé, Jeanne Sakata, Joe Sofranko, Deborah Strang, Elizabeth Sung, Ken Takemoto, Greg Watanabe, and original music by Robert Oriol.
Stage Manager: Emily Lehrer
Producer: Sydney Berk
To RSVP, call 213.625.7000 Mon – Fri, 11am – 5pm. See you there!
---
Japanese American National Museum (Los Angeles, CA)
Mommy's Special
by Weiko Lin
May 21, 2015
A staged reading of Weiko Lin's dramedy MOMMY'S SPECIAL.
**Admission is FREE. Please RSVP here or at: RSVPmommy@gmail.com
Directed by HENRY CHAN (100 Days, Scrubs)

Featuring:
ELIZABETH SUNG as Mommy
STACY FAN as Rizza
WEIKO LIN as Weber/Narrator
*The reading will be followed by a talk back with director, playwright, and cast. Moderated by UC Riverside Professor/Playwright ROBIN RUSSIN
SYNOPSIS:
Set in the back lot of a downtown LA dive bar, a flamboyant barmaid tries to talk her last customer out of committing suicide. As dark pasts unveil, they discover the twisted ties between them.
RUNNING TIME: 75 minutes with no intermission
START TIME: 7:30pm
VENUE: Tateuchi Democracy Forum
(next to Japanese American National Museum)
100 N Central Ave
Los Angeles, California 90012
PARKING: Available at meters or nearby public parking lots for a nominal fee (average $4–$7 all day depending on the lot)
---
365 Women A Year: A Playwriting Project
NEW YORK CITY GROUP #3
Presents
An evening of staged readings of ten new short plays about some famous and infamous women in history Tuesday, May 26th 2015 at 7p.m.

at The Lambs, 3 West 51st Street,
New York City.

With plays about:
Stella Adler, Alicia Alonso, Hannah Arendt, Fannie Lou Hammer, Judy Chu, Madame Mao (Jiang Qing), Sarah Kane, Mama Bett, May Sarton, and the Empress Dowagers Ci'an and Cixi

Written by:
Jenny Lyn Bader, Christine Toy Johnson, Deborah Magid, Yani Perez, Shellen Lubin, Elsa Rael, Laura Rohrman, Stephanie Swirsky and Joy Tomasko
Directed by:
Laura Archer, Kimberly Loren Eaton, Lara Gold, Shellen Lubin, Jon L Peacock and Nina Zoie Lam

About PHASE II: 365 Women a Year: A Playwriting Project
When it comes to documenting his-tory, men have always had the upper hand. Until now! Our goal is to bring 365 women a year from out of the shadows and give their stories the credit they deserve.
About the Project:
365 Women a Year: A Playwriting Project is a playwriting coalition involving more than 200 women writers from across the globe. Each woman has signed on to write one or more short plays about extraordinary women of the past and present. Our goals are to write women into the social
consciousness, to empower and promote female playwrights, and to plant seeds of her story around the country and the world.
365 Women a Year short-play festivals have been happening around the world. We are currently reaching out to a variety of theater venues to promote productions and readings of our plays. We are looking to partner with sister organizations to further our goals.
For more information, check out the archive at: http://365womenayear.wordpress.com
Follow us on Twitter @365WomenAYear
To connect with our group and playwrights: 365nycwomen@gmail.com
365 Women A Year: A Playwriting Project
NEW YORK CITY GROUP #3
Tuesday, May 26th at 7p.m.
At The Lambs
3 West 51st Street, 5th floor
Event is free
To RSVP to the event: Email 365nycwomen@gmail.com
Seating is limited
---
Theatre Espirit Asia (Colorado)
Fermata
by Maria Cheng
at the Spark,
May 8 ­to 31, 2015
directed by Lorraine Scott
Three generations of Chinese-western women, all virtuoso musicians, meet at an Italian villa for Grandma's 80 birthday. Lost dreams, ambitions, jealousies and humor collide against music by Beethoven, Mahler, Strauss and rap!
---
The Chance Theatre (Anaheim, CA)
Samsara
by Lauren Yee
April 30 to May 31, 2015
The West Coast premiere of Yee's Samsara (April 30–May 31), in which a couple unable to have children must decide if they wish to use an Indian surrogate.
---
Encore Theatre
Z Space (San Francisco, CA)
Hookman
by Lauren Yee
May 6 to 30, 2015
Encore Theatre, in association with Z Space, is thrilled to announce the world premiere of Hookman, the new play by Lauren Yee. It features a youthful cast of up-and-coming Bay Area talent.
An existential slasher comedy, Hookman features a healthy dose of camp and stage blood amid Yee's razor sharp satire.
The Synopsis: It's freshman year of college and Lexi's life is falling apart. Ever since the mysterious death of her high school best friend, Lexi has found herself stalked by a tall, dark, hook-handed stranger who has been seriously cramping her style. In this dark comedy, Lexi learns what it means to grow up – and it's not pretty.
"Yee has an acute ear for contemporary speech and applies a devilishly keen satiric eye to the manners and mores of her generation..."
—Rob Hurwitt, San Francisco Chronicle
From May 5 through May 30 at Z Below.
---
Park Square Theatre (Minneapolis, MN)
The Language Archive
by Julia Cho
May 8 to 31, 2015
Directed by Rick Shiomi.
By day, George is a brilliant linguist, devoted to recording the disappearing languages of disappearing cultures. By night, he can't find the words to stop his wife from leaving him. His assistant can't make him recognize the depth of her feelings for him, and two of the last Ellowans on the planet refuse to speak to each other. A whimsical exploration of the power of connecting, Cho's play is ultimately a celebration of life, whatever its sorrows.
---
ma'ARTES Festival (Bay Area, CA)
She, Who Can See
May 15, 2015
Location: 185 6th St. San Francisco, CA
She, Who Can See tells the story of a 4th generation Filipina American, and her struggles with her shamanic inheritance. Her world is turned upside down, disrupting her life and sanity when ancestral entities appear in her dreams and just about everywhere else.
---
fu-GEN (Toronto, Canada)
Durango
by Julia Cho
May 16 to 31, 2015
---
ma'ARTES Festival (Bay Area, CA)
There's The Moon and There's You
by Christina Ying
May 29, 2015
Location: 185 6th St. San Francisco, CA

The world premiere of Christina Ying's theater production: There's the Moon and Then There's You, directed by Lorna Velasco. Freshly fired from his job at NASA, aspiring astronaut David Nguyen comes home to wife, Mary, who has suffered yet another miscarriage and stressed from being the sole caretaker of her ill brother. David comes across a unique lottery that will give him a chance to achieve his lifelong dream of traveling to the moon.
University of Washington Drama Department (Seattle, WA)
Scenes from Chinatown
May 30, 2015
The University of Washington School of Drama and Seattle Office of Arts & Culture present an innovative and exploratory theater conference that traverses through the heart of Seattle's Chinatown. History and memory come alive through site-specific theatrical performances, new works by local Asian American playwrights, and a discussion panel on Asian American Theater with top Seattle-based theater artists. There will also be a dim sum luncheon featuring keynote remarks by Philip Kan Gotanda, award winning playwright and seminal figure in....<cont>
---
Ma-Yi Theatre (New York, NY)
People Sitting In Darkness
by Clarence Coo
directed by Pirrone Yousefzadeh
June 1, 2015
In this comic adaptation of "A Midsummer Night's Dream" set in the early 20th-century Philippines, a small town prepares to stage a performance for their American occupiers. Their play, based on an American novel about a young boy and an escaped slave rafting down the Mississippi, will either earn the townspeople their freedom -- or more trouble from the US military.
Featuring Bobby Foley, Teresa Avia Lim, Eileen Rivera, Debargo Sanyal, John Norman Schneider, Tiffany Villarin
Monday, June 1st @ 7:30PM
at The Ma-Yi Writers Lab Studio
260 West 35th Street, #203
(between 7th & 8th Avenues)
ADMISSION IS FREE!
To RSVP, please e-mail info[at]ma-yitheatre[dot]org
---
A-Squared Theatre Workshop (Chicago, IL)
Cowboy Vs. Samurai
by Michael Golamco
May 15 to June 7, 2015
---
Resistance, Revelry & Rupture:
Five stories from the Other side of trauma
traumaandhealing.stanford.edu
Fri Jun 5 at 6pm
Pigott Theater
551 Serra Mall, Stanford, CA
FREE admission
Reception to follow
Poetry, Storytelling, Spoken Word, Dance, and Drag
Performances on Race, Gender, Sexuality, & Colonization

::: Featuring :::
"hundreds of ways to say: how are you?"
Greeshma Somashekar
Performance Poet, Aspiring Physician-Writer
"Funeral"
Eric Eich, a.k.a. Silk Worm
Drag Performer, Filmmaker, Photographer
www.ericeich.com
"My Body is My Country"
Coke Tani
Dancer, Writer, Facilitator
www.coketani.com
"Not Knowin' My Place"
Toni Renee Battle, a.k.a. Spirit Walker
Spoken Word Artist, Storyteller
"Ungrateful Daughter: One Black Girl's Story of Being Adopted into a White Family, that aren't Celebrities"
Lisa Marie Rollins
Poet, Playwright, Solo Performer
birthproject.wordpress.com

::: Presented by :::
Soul Wounds Conference:
Trauma & Healing Across Generations
traumaandhealing.stanford.edu

::: Special thanks to our sponsors :::

Stanford Arts Institute, Stanford University School of Humanities & Sciences, Office of the Vice Provost for Undergraduate Education, Office of the Vice Provost for Graduate Education, Stanford Department of History, Stanford Humanities Center, Stanford Department of Theater and Performance, Stanford Center for Russian, East European & Eurasian Studies, Humanity United
---
Playwrights Arena (Los Angeles, CA)
Golden Tongues 3
Plays by Annette Lee and Henry Ong
June 6, 2015
Playwrights' Arena is proud to present the third installment of GOLDEN TONGUES as part of the UCLA William Andrews Clark Memorial Library "Arts on the Grounds" theater series designed to introduce audiences to the treasures of the Hispanic theater tradition.
GOLDEN TONGUES presents professional actors in adaptations of classic work by Los Angeles playwrights, Annette Lee and Henry Ong. Join us for a light reception in-between performances.
This year, as the Clark undergoes renovations, GOLDEN TONGUES will be hosted at Hershey Hall on the UCLA campus in Westwood.
***Please note that each play is performed only once, and each requires a separate ticket.
Please allow adequate time for parking! The closest parking structure is Parking Structure 2. For parking fees and directions, visit:
https://main.transportation.ucla.edu/campus-parking/visitors
Please use the drop down box under "date" to select the performance you would like to buy tickets to. The first event (4:30 PM) is for THE BLADE OF JEALOUSY by Henry Ong; the second event (6:30 PM) is for DAWG IN THE 626 by Annette Lee.
---
New Dramatists (New York, NY)
Happy
by Sung Rno
Directed by Victor Maog
June 9, 2015
Featuring Ali Ahn, Jonathan David, Ron Domingo, Ethan Hova, Robbie Tann, and Shelley Thomas.
What happens when a sales rep for a blockbuster antidepressant starts feeling depressed and anxious himself? His life slowly unravels, spinning more and more out of control. The more he becomes lost, however, the more free and alive he feels. Eventually, he has to make a choice about whether to take on the Happiness Machine itself.

HAPPY is a dark comedy about depression, happiness and everything in between.
New Dramatists
424 W 44th St, New York, NY 10036
Tuesday - June 9th @ 7 pm
Reading is FREE and open to the public

RSVP is suggested, call (212) 757-6960 or email newdramatists@newdramatists.org.

[Originally commissioned by Time Warner and Second Stage.]
---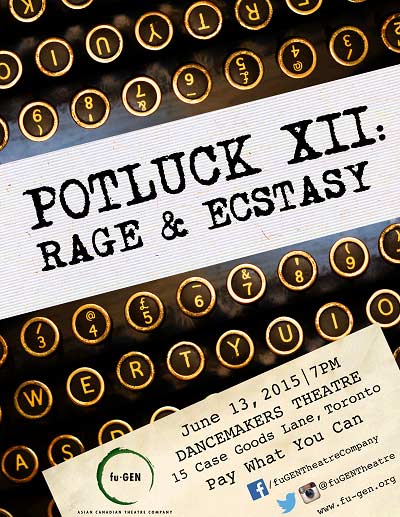 fu-GEN (Toronto, Canada)
Potluck Festival
Saturday June 13, 2015
@ 7:00pm
Pay What You Can
Dancemakers Theatre
15 Case Goods Lane, Toronto

CLICK HERE TO GET YOUR TICKETS
Join us for the 12th installation of The Potluck Festival, the ever-popular one night event and landmark presentation of fu-GEN's Kitchen Playwrights' Unit. This year, under the leadership of Associate Dramaturg Andrew Cheng, emerging playwrights in the Kitchen are cooking up a succulent selection of stories peppered with Rage & Ecstasy. It's a spicy new twist on the Kitchen and the Potluck - You won't want to miss it.
Featuring exciting new work by Kitchen Playwrights Bessie Cheng, Aaron Jan, Courtney Ch'ng Lancaster, and Gloria Mok
---

Mu Performing Arts (Minneapolis, MN)
Twelfth Night
by William Shakespeare
May 29 to June 15, 2015
Starring and directed by Randy Reyes at Mixed Blood Theatre. As the melancholy clown Feste, Reyes leads a large ensemble cast in an immersive production which mark's Mu's first foray into Shakespeare since the 2006 production of A Midsummer Night's Dream. Mu's biggest production of the year, this Asian American-inspired romp through the land of Illyria will feature live original music and physical comedy in a highly innovative take on one of the bard's most beloved plays. Randy Reyes brings considerable experience to bear as a Shakespearean actor at the Guthrie Theater (A Midsummer Night's Dream (2000, 2009), Pericles, The Two Gentlemen of Verona, The Comedy of Errors) as well as his experience as Artistic Director of The Strange Capers, a company which produces accessible Shakespeare in the park for Twin Cities audiences.
---
People Productions (Salt Lake City, UT)
Yellow Face
by David Henry Hwang
May 29 to June 15, 2015
---
East West Players (Los Angeles, CA)
The Who's Tommy
Book by Pete Townshend & Des McAnuff
Music & Lyrics by Pete Townshend,
Additional Music & Lyrics by John Entwistle & Keith Moon
May 7 through June 7, 2015
June 21, 2015
Directed by Snehal Desai: Deprived of sight, hearing and speech by the shock of what he has witnessed as a child, young Tommy Walker seems lost to life – until he reveals an uncanny talent for the game of pinball. When his lost senses are suddenly restored, Tommy is hailed as a living miracle – but will the fans who turn to him for enlightenment want to hear what he has to say? The classic rock musical arrives for the first time at East West Players in an electrifying new production.
See News story.
---
CIRCA-Pintig (Chicago, IL)
Tug of War
May 9 to June 17, 2015
Circa Pintig is proud to present Tug of War, a showcase of plays exposing the horrors of the Iraq War.
Meet Wayne, a Filipino soldier who served in Iraq, Raza, an Iraqi American refugee, and Eric and Allegra, a married couple struggling with Post Traumatic Stress Disorder. What do they have in common? They are all survivors. Each piece is based on interviews with people.
Circa Pintig is also proud to present Caregiver, a bonus feature monologue of an unnamed immigrant who works to not only maintain herself, but also her family at home in the Philippines and the American Mr. King.
Director: Aaron Mays
Playwrights: Giovanni Ortega, Zaineb Abdulla, Rohan Zhou-Lee, and Lorely Trinidad-Ontal.
This production is part of Circa Pintig's celebration of Asian and Pacific Islander American Heritage Month and Filipino Independence Day (June 12.)
SHOW DATES:

May 9: 8P – Show
May 10: 3P – Matinee
May 16: 8PM – Show
May 17: 3PM – Matinee
No Show Memorial Weekend
May 30: 8PM –Show
May 31: 3PM – Matinee
June 6: 8PM – Show
June 7: 3PM – Matinee
June 13: 8PM – Show (Filipino Independence Day Celebratory Show)
June 14: 3PM – Matinee
---
Huntington Theatre Company (Boston, MA)
after all the terrible things i do
byA. Rey Pamatmat
May 22­­ to June 21, 2015
Feature article here.
---
The Wong Street Journal
written and performed by Kristina Wong
June 17 to 21, 2015
Wednesday is PAY-WHAT-YOU-WISH!
THE WONG STREET JOURNAL, a new solo theater work written and performed by performance artist and comedian Kristina Wong. Part plushy TED lecture, part amateur hip-hop extravaganza, and part travelogue, The Wong Street Journal breaks down the complexities of global poverty, privilege and economic theory using uneasy-to-read charts, live hashtag wars, and riveting slideshows from post-conflict Northern Uganda. Wong tells the story of how she as a not-so-white savior, became a hip hop star in Northern Uganda.
Wong combines self-skewering personal narrative with a hilarious interrogation of America's legacy on the rest of the world. All of this plays against an all felt version of the New York Stock Exchange that Wong sewed with her own hands.
---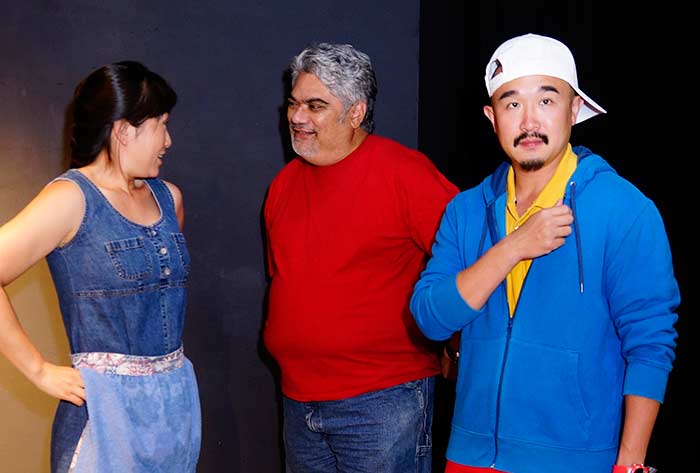 Minnie Quan, Wil K?hele, Alvin Chan
Kumu Kahua Theatre (Honololu, HI)
Echoes of Dat Red Guitar
A world premiere by Lee A. Tonouchi
May 28 ­to June 28, 2015


Hawaii's "Pidgin Guerilla" returns to Kumu's stage with a darkly humorous play about a bright but unmotivated man still living at home with his parents who berate him for his lack of ambition. He gets a job in a state office populated with memorable characters, including a bully, nerdy techies, a born-again Christian sex bomb, and a haole boss who stresses "community" and "teamwork." When impending state furloughs threaten his employment, will he be able to summon his personal `aumakua, the Japanese superhero Kikaida? Or will the pressure drive him to go postal?
See News story.
---
Pasadena Playhouse (Pasadena, CA)
Waterfall
Book and Lyrics by Tony Award Winner Richard Maltby Jr.
Music by Academy Award Winner David Shire
Choreographed by Tony Award Nominee Dan Knechtges
Directed by Tak Viravan
May 29 to June 28, 2015
WATERFALL is an epic love story, set in Bangkok and Tokyo between the turbulent years of 1933 and 1939, as a monarchy falls in Thailand and Japan is on the brink of war. A young Thai student falls in love with the American wife of a Thai diplomat, and the story of their forbidden love parallels history as the new democracy of Siam moves into the vortex of the increasingly anti-American Japan. With a gloriously romantic score, WATERFALL is a modern love story of timeless scale.
---
Company One (Boston, MA)
Edith Can Shoot Things and Hit Them
by A. Rey Pamatmat
June 4 to 27 , 2015
---
---
Arkansas New Play Festival (AR)
Dust
by Qui Nguyen
June 18 to 28, 2015
News here.
---
Kumu Kahua Theatre (Honolulu, HI)
Dark Night Series: New Play Festival
June 21 to 23, 2015
See News story
---
Asian Story Theatre (San Diego, CA)
San Diego Rep
Asian Story Theater Presents Stories of the Sun Cafe
June 25 to 28, 2015
A new perspective on life growing up Japanese- or Chines-American in San Diego, through the eyes of people who lived it and an iconic Cafe that saw it all. Suprising personal stories from community leaders, and relevations from much quieter voices. Hilarious misadventures of youth, heartbreaking war-time sacrifices and new light on some juicy urban legends.
The Stories of the Sun Cafe are the stories of real people in our own city, with the dreams, fears, and triumphs that inspire us all.
http://www.asianstorytheater.org/
---
Stir Friday Night (Chicago, IL)
20th Anniversary Show
June 27, 2015
SFN's 20th Anniversary Show!
Saturday 6/27
@ 8pm
Stage 773
1225 W Belmont Ave
Stir-Friday Night! the Chicago based Asian-American comedy troupe, established in 1995, will be celebrating their Twenty Year Anniversary!
With an overwhelming resume of talented actors that have come & gone through the troupe, it has become a well-known center of fostering amazing emerging artists! The comedy ensemble holds alumni names such as Danny Pudi (NBC's Community), Steven Yeun (AMC's The Walking Dead), Mary Sohn (Second City Mainstage), Christine Lin (Broadway's "Chinglish"), and Rasika Mathur (MTV's Wild 'N Out).
This special, one-time performance will feature current & past cast members performing archived sketches, improv, and stand-up. Please join us in celebrating this milestone event:
Saturday, June 27th, 2015
Stage773 - 1225 W. Belmont Ave., Chicago, IL.
CONGRATS STIR-FRIDAY NIGHT! #SFN20
Tickets available now!
Online = http://tinyurl.com/SFN20
Or call Stage 773 Box Office = 773-327-5252
*pre/post show gathering in the lobby bar
**approx. run-time of 90-min w/intermission
---