---

La Jolla Playhouse (La Jolla, CA)
Alice Chan
by B. D. Wong
January 28 to April 1, 2016
Just about everyone at Chaffey Hills Elementary School finds Alice Chan super annoying, for a hundred hilarious different reasons but what happens when the unpopular ?Queen of the Science Fair? is cast, by her well meaning teacher, as the lead in the Fifth Grade Play?over the most talented and well-liked girl in the class? Fifth Grade Armageddon, that?s what! Alice Chan is a very funny comedy about breaking out of your comfort zone and being yourself at the very same time.
---
TheatreWorks (Palo Alto, CA)
Tokyo Fish Story
By Kimber Lee
Directed by Kirsten Brandt
March 9 to April 3, 2016
Generations, gender, and tradition collide as a revered Sushi Master inspires his protégé son and intimidates a parade of eager apprentices, fiercely determined to preserve ancient artistry in a society obsessed with change.*
---
New Conservatory Theatre Center (San Francisco, CA)
Outspoken
by PRINCE GOMOLVILAS
April 5, 2016
directed by
SARA STALEY
featuring
ANGIE ESPINOZA, JAVI HARNLY, REGINA MORONES, RANDY MUCHOWSKI, JAQ NGUYEN VICTOR

OutSpoken examines intersecting identities and encourages respect for differences by weaving together scenes and monologues that allow teens to gain new perspectives from different voices and stories.

April 5, 2016
7:00PM
Free Admission!
25 Van Ness Avenue
San Francisco, CA 94102
---
Ma-Yi Theatre (New York, NY)
House Rules
by A. Rey Pamatmat
March 29 to April 17, 2016
HOUSE RULES is about what happens when members of two families - and a guy named Henry - gather for a game of cards. Rod thinks the game is fixed. Momo's still learning the rules. Twee doesn't think winning is enough. JJ hates his hand. And why the hell is Henry still playing? Two families (and some guy named Henry) panic with hilarious and heart-breaking results when they realize their parents won't be around forever. Can anybody prepare for the inevitable moment when they're the ones left holding all the cards?
---
UCBerkeley (Berkeley, CA)
Chasing Papeles
Written & Directed by Andrea Almario
April 7 to 10, 2016



Tickets: $10 - $15
http://tdps.berkeley.edu/events/chasing-papeles/

UC Berkeley Department of Theater, Dance, & Performance Studies undergraduate (and Bindlestiff artist!), Andrea Almario, is debuting her premiere production of CHASING PAPELES, featuring the true stories of women who live in silence and fear as they strive to give their family a better life.

CHASING PAPELES explores the undocumented Filipina immigrant experience.
---
Theatre Esprit Asia (Aurora, CO)
ACE: Asian-American Cabaret Evening
April 10, 2016
ACAD Gallery Classroom
1400 Dallas Street
Aurora, CO 80010
Plenty of free parking on street or in lot south of the building.
Free refreshments of wine & snacks!

Donations appreciated. Reservations suggested because of limited seating.
Please email mariachengtea@gmail.com with your name, phone & email, and number of people attending.
FEATURING
Poetry by Sueyeun Juliette Lee whose work questions concepts of birthright, lineage, and homeland, investigating relationships between people and the places they inhabit. "I write as personally as I can, just perhaps not in the way most people would expect."http://www.pcah.us/people/sueyeun_juliette_lee

Poetry by Serena Chopra. Says fellow poet Julie Carr, "…if poetry is now not consolation but a means to measure doubt and desire, then Chopra's work is gorgeously current, a 'singular and violent arrangement' in which language 'pains itself into poetry.' "
Performance by David Paul, tai chi gung practitioner for more than thirty years and master instructor. He is also a professional musician, composer, recording artist and music educator, with CDs available on Amazon.com. http://musicbydavidpaul.com/about/
AND

Scenes from TEA's upcoming production of ANIMALS OUT OF PAPER, written by Rajiv Joseph and directed by Sam Wood, with Arlene Rapal, Mark Pergola and Jonathan Slusser.
---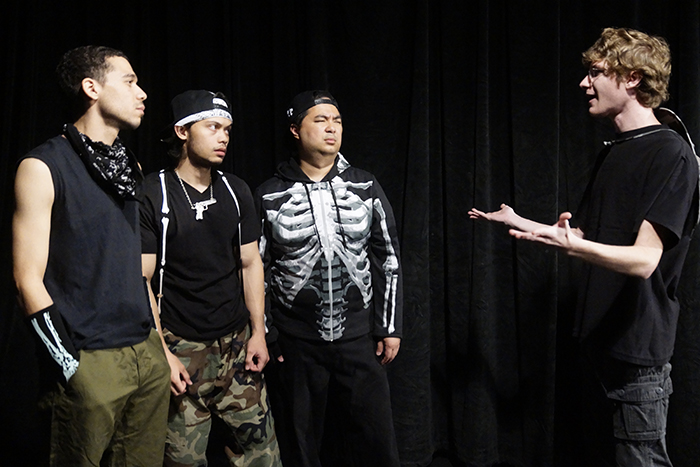 Kumu Kahua Theatre (Honolulu, HI)
Pelicans
by Eric Yokomori
March 24 to April 24, 2016
See News story.
---
Seattle Repertory Theatre (Seattle, WA)
Brownsville Song (B-Side For Tray)
by Kimber Lee
directed by Juliette Carrillo
March 25 to April 24, 2016
"My name is Tramaine Berry Thompson and I am more than meets the eye..." A senseless act of gang violence alters a high school senior's dreams, leaving his family to pick up the pieces and find hope and resilience within their tight-knit Brooklyn borough.
---
Kumu Kahua Theatre (Honolulu, HI)
MONEY TALKS: But What the Hell is it Saying?
April 17 to 19, 2016
WHAT: MONEY TALKS: But What the Hell is it Saying?
WHEN: Sunday, April 17, Monday, April 18, Tuesday, April 19, 8 pm
WHERE: Kumu Kahua Theatre, 46 Merchant Street, Honolulu
COST: $10 at the box office
ONLINE: ilovemoneytalks.com
Honolulu HI - MONEY TALKS: But What the Hell is it Saying? is the wildly true story of two women artists, a generation apart, struggling to understand the meaning of success, failure, and inherent self-worth. It is a funny, serious and intimate "conversation" presented by Kumu Kahua Theatre, as part of their Dark Night Series.
When 38-year-old German-born international singer/songwriter Lucie Lynch met 61-year-old Brooklyn-born international author Marcia Zina Mager they were both grappling with Hawaii's high cost of living. Despite their age difference, the two Honolulu-based women decided it was time, once and for all, to deal with their life-long money issues by writing a full length Broadway musical together. That 18 month journey transformed into a brazenly honest TED TALK-ish musical play chronicling the ups and downs of their intensive creative project.
MONEY TALKS debuted at the 2015 Oahu Fringe Festival where it broke box office records. The show also recently won the prestigious Audience Choice Award at Iao Theatre as part of the 2016 Maui Fringe Festival. MONEY TALKS continues to impact a diverse audience, ranging from drug rehab residents to theatregoers, Church Congregations and the Women's Community Correctional Center.
The show is directed by Roslyn Catracchia, (celebrated composer & lyricist known for her collaboration with Lisa Matsumoto on Once Upon One Time trilogy, On Dragonfly Wings, The Princess and the Iso Peanut, and many more), and features live music by critically acclaimed pianist Robert Wehrman (who has played with iconic musicians such as George Harrison, Michael Jackson, James Taylor, and Ray Charles).
Kumu Kahua Theatre's Dark Night Series was created to offer other theatre groups, playwrights, and performance artists the opportunity to present their work to the community. This series is presented during dark nights, which are evenings when Kumu Kahua's regular season shows are not being performed. To be part of the Dark Night Series artists must submit a proposal, which is reviewed by the Board of Directors of Kumu Kahua. From these proposals, projects are chosen that Kumu Kahua feels will promote the development of the theatrical arts and benefit local artists. Kumu Kahua sees this as another way to enhance and enrich the cultural diversity and artistic climate of Honolulu.
Kumu Kahua productions are supported in part by The Hawai'i State Foundation on Culture and Arts through appropriations from the Legislature of the State of Hawai'i and by the National Endowment for the Arts. Also paid for in part by The Hawai'i Tourism Authority, The Hawai'i Community Foundation, McInerny Foundation (Bank of Hawaii, Trustee); Hawaiian Electric Industries (HEI) Charitable Foundation and Hawaiian Electric Company; ABC Stores, The Star Advertiser and other Foundations, Businesses and Patrons.
---
Community Asian Theatre of the Sierra (Nevada City, CA)
Chinglish
by David Henry Hwang
April 7 to 30, 2016
---
South Coast Repertory Theatre (Southern California)
Office Hour
by Julia Cho
April 10 to May 1, 2016
Office Hour is set on a university campus, where one student sits in the back of the classroom, wearing dark glasses, a baseball cap pulled down low; he never speaks. His creative writing assignments are violent, twisted—and artless. He scares the other students. He scares the teachers. The kid is trouble. Or, is he just mixed up, using his writing to vent, provoke, maybe even protect himself? Gina is the only teacher willing to get close. But at what risk?
Featuring Sandra Oh.
---
Bindlestiff Studio (San Francisco, CA)
Tagalog
April 21 to May 7, 2016
Join us in the heart of San Franciscos Filipino Heritage District as we listen to tales of impossible love between a teacher and her student in "Dalawang Gabi (Two Evenings)" by Maynanrd Manansala, root for Manong Manolo and his stubborn Lisang in "Hintayan ng Langit (Wait for Heaven)" by Juan Miguel Severo and go on an epic adventure to reach the stars in "Si Maria Isabella at ang Guryon ng mga Tala (Maria Isabella and the Kite of Stars)" by Eljay Castro Deldoc based on Dean Alfars The Kite of Star.

Bindlestiff Studio is proud to feature three one-act plays in Tagalog from Pilipino playwrights direct from the Virgin Lab Fest. Directed by Bindlestiff Studio resident artists Aureen Almario, Joe Cascasan, Allan Manalo, and Ramon Abad utilizing innovative approaches in projection and subtitles in order to immerse all audiences into the universal tales of love and pursuing your dream. Featuring Melvign Badiola, Benita Benavides, Richgail Enriquez, Tiffany Estrellado, George Imperial, Jamie Nallas, Jed Parsario, Patrick Silvestre, Lee Robin Salazar, and Paula Sison.

11 SHOWS ONLY!
Opening: April 21 and runs until May 7, 8pm Evening Shows
Community Previews: April 19-20
Community Matinee: April 30 at 3pm

TICKETS
$10 Students/Seniors
$15 General
$25 Support-the-Artists
---
Silk Road Rising (Chicago, IL)
Mosque Alert
The Professional World Premiere
Written by Jamil Khoury
Directed by Eddie Torres
March 24 to May 1, 2016
extended to May 15
Inspired by the "Ground Zero Mosque" controversy in New York City, and developed, in part, via online conversations and live community events, Mosque Alert tells the story of three fictional families living in Naperville, Illinois, whose lives are interrupted by a proposed Islamic Center on the site of a beloved local landmark. Mosque Alert explores the intersections of zoning, civil rights, and Islamophobia, with humor, family drama, and refreshingly blunt honesty.
---
Washington Ensemble Theatre (Seattle, WA)
The Things Are Against Us
by Susan Soon He Stanton
April 29 to May 16, 2016
In this dark and twisted comedy, two lovelorn sisters, an ax wielding hunk, and the poet and lover Federico Garcia Lorca uncover their destiny when their past comes back to haunt them. They wrestle through time only to discover the real horror is in their bones.
---
Phaladelphia Asian Performing Artists PAPA (Philadelphia, PA)
Cabaret SeriesEvent
May 16, 2016
Come join us for our 2nd cabaret series event:
Monday, May 16th, 2016 7:00pm
Drake Theatre Lobby
1512 Spruce Street
Philadelphia, PA 19102
Featuring Pratima Agrawal, Brian Blaker, Rob Buscher, Richard Chan, Sydney Rae Chin, Kimie Muroya, Cat Ramirez, and Stephanie Walters.
An evening of monologues, original poetry, and acoustic song... And wine.
Admission is free!
---
Ensemble Studio Theatre (New York, NY)
Kentucky
by Leah Nanako Winkler
April 20 to May 22, 2016
Hiro has to stop her baby sister from marrying a man she hardly knows, but that means returning to Kentucky and the home she's put behind her. Hiro's quest will confront forgotten friends, former flames, and the family she fled. Will she save her sister and escape back to Manhattan, or will years of therapy be undone by a single wedding weekend back in her old Kentucky home?
---
Pork Filled Productions (Seattle, WA)
A Hand of Talons
by Maggie Lee
April 29 to May 21, 2016
Return to the world of New Providence for this prequel tale of steampunk noir! For generations, the Yao clan has been the most powerful crime syndicate in the city, ruling the seedy underbelly of New Providence with an iron fist. But as the family empire threatens to crumble, Wilhelmina Yao must do whatever it takes to win at in a high-stakes game of power and betrayal. Descend into the hazy underground gambling den of the Fortuna Mews to explore the dark world of steampunk noir in this thrilling third installment of the New Providence series.
---
Yangtze Repertory Theatre (New York, NY)
Midnight Kill
May 6 to 22, 2016
Based on a true story, Midnight Kill takes place in a small elementary school of a rural farming village in northern China during the early-1970s,when China's Great Proletariat Cultural Revolution was at its height. Under the era of autocratic rule, extreme forms collectivism, asceticism, and class warfare runs rampant in every corner of the country. The school campus in the rural village becomes a theater of twisted, oppressed - but indelible - human desires. Daily mundane activities becomes an absurd performance of ordinary people's basic emotions.
---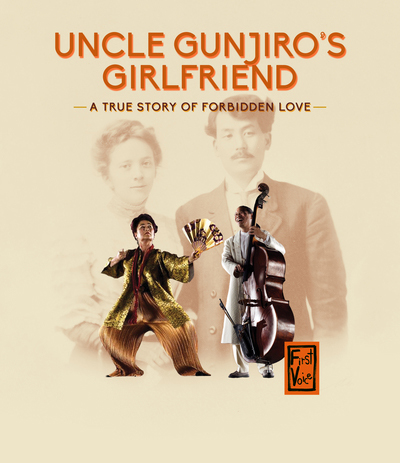 First Voice (San Francisco, CA)
Uncle Gojiro's Girlfriend
by Brenda Wong Aoki
May 19 and 22, 2016
Uncle Gunjiro's Girlfriend is Brenda Wong Aoki's seminal and widely acclaimed play about the marriage of Helen Emery, daughter of the Archdeacon of Grace Cathedral to her own Grand-uncle Gunjiro Aoki, scion of a samurai noble house. With live music by composer Mark Izu, koto artist Shoko Hikage, and told by Brenda Wong Aoki.
Southside Theater, Fort Mason, San Francisco

Thursday, May 19 8:30pm
Saturday, May 21 9:00pm
Sunday, May 22 3:30pm

Tickets: general admission $20 advance, $25 door
Early Bird Ticket Price (until March 31): $12
---
People's Light Theatre (Malvern, PA)
A Single Shard
By Linda Sue Park
Adapted by Robert Schenkkan
Directed by Seema Sueko
April 27 to May 29, 2016
Regional Premiere. From the Tony Award and Pulitzer Prize-winning playwright Robert Schenkkan (All The Way, The Kentucky Cycle), an inspired adaptation of Linda Sue Park's Newbery Award-winning novel A Single Shard. This powerful and uplifting coming-of-age story follows an orphan in 12th Century Korea who strives to be a master potter and find a better life. Told with puppetry and live music, this timeless journey of persistence, humility, and perseverance will captivate audiences of all ages.
---
World class origamist Ilana is blocked, artistically and emotionally. Enters fan, dweebish high school math teacher Andy, who persuades her to mentor Suresh, a troubled genius student with attitude to spare, who also happens to be an origami prodigy. In this dramedy, playwright Joseph [Bengal Tiger at the Baghdad Zoo] employs the art of paper folding as a metaphor of how this cast of three have enfolded their lives into a labyrinth of creases from which they seek a center as well as an exit.
TEA welcomes Sam Wood as director, most recently of the Vintage Theatre's Snow Falling on Cedars. Also a newcomer to TEA is Jonathan Slusser, playing Suresh. Mark Pergola returns to TEA for the 3rd time, having stage managed its M. Butterfly and Fermata, but now in the role of Andy. As Ilana, Henry award winner Arlene Rapal returns to TEA, where she was Suzuki in M. Butterfly and last year, played the Engineer in Vintage's Miss Saigon.
Contact: Roger Winn, TEA Executive Director, hadji399@yahoo.com, 720-492-9479
---
The One-Minute Play Festival (#1mpf),
Honolulu Theatre For Youth &
Kumu Kahua Theatre
Present
The 2nd Annual Hawai'I One-Minute Play FestivalTwo Performances Only
Saturday, May 21st At 8:00pm
Sunday, May 22nd At 8:00pm
See News story.
---
Primary Stages (New York, NY)
Hatefuck
By Rehana Lew Mirza,
Directed By Lucie Tiberghien
Thursday May 26th At 4:00pm
Local Michigan lit prof seeks out famous Muslim-American novelist to find out if he's an Islamophobe, a rube, or a really good lay.
---
Eugenie Chan Theater Projects presents
Madame Ho
by Eugenie Chan
A New Play Reading in English with Cantonese Narration
May 28, 2016
Inspired by the life of Eugenie's great-grandmother, Madame Ho tells the story of a formidable Barbary Coast San Francisco brothel madam, single mother, Chinese immigrant, and ghost. A tale of of survival and complicity. Accessible to both English and Chinese speakers.
Directed by Jessica Heidt
Dramaturgy by Sonia Fernandez
With Katherine ChIn, Monica Ho, Lisa Hori-Garcia, Gwen Loeb, Josephine Ma, Randall Nakano, Erin Mei-ling Stuart, Mia Tagano, Mimu Tsujimura, and Ogie Zulueta
Chinese Historical Society Of America Museum
965 Clay Street
San Francisco, California 94108
Saturday, May 28, 2016
1 p.m.
$10 Suggested Donation
(but no one turned away for lack of funds)
Tickets: http://madameho.bpt.me/
Info: http://www.apiculturalcenter.org/madame_ho#_=_
www.eugeniechantheater.org
Sponsored by the Asian Pacific Islander Cultural Center & the Chinese Historical Society Of America Museum
---
Artists At Play (Los Angeles, CA)
Dinner With Friends
by Donald Marguiles
May 28, 2016
Featuring John Cho. More at http://wp.me/p5RntU-eS
---
Theatre Diaspora (Portland, OR)
After The War Blues
by Philip Kan Gotanda
June 4 & 5, 2016
MediaRites' Theatre Diaspora presents the Oregon premiere of After the War Blues by award-winning playwright Philip Kan Gotanda, co-directed by notable Portland actors and directors Bobby Bermea and Jamie Rea.
Two staged reading performances will be at 1:30pm on Saturday, June 4, 2016, and at 1:30pm on Sunday, June 5, 2016. Both at Portland State University's Lincoln Hall Studio Theatre (1620 SW Park Avenue, Portland, OR 97201).
Tickets are $10 each for general seating and $5 each for students and Oregon Trail cardholders. Tickets available for purchase now at Brown Paper Tickets. Seating is limited to 90 per performance.
In addition to visiting Portland to attend both performances and post-show audience talkbacks, playwright Philip Kan Gotanda will teach a playwriting master class funded by The Dramatists Guild Fund on Friday, June 3, 2016, at Portland Center Stage. To register for the class, visit https://www.pcs.org/blog/playwriting-masterclass-with-philip-kan-gotanda. Attendance is limited to 80 people.
unspecified-3After the War Blues takes place in the aftermath of World War II in San Francisco's Western Addition District where some Japanese Americans returned from internment camps. African Americans, white Southern migrants, and Russian Jews were also arriving to start new lives. All the characters struggle to get along with limited resources while trying to find their place in this mix of cultures.
Chet Monkawa, the play's central character, is a jazz trumpeter who returned to his family's rooming house after the internment, but his old neighborhood isn't the same. The rooming house is filled with new transplants, and Chet and his boarders must find a new harmony in uncertain times.
The cast comprises Wynee Hu and Larry Toda, bunspecified-1oth core ensemble members of Theatre Diaspora, and local actors: Leo Lin, James Dixon, Ken Yoshikawa, Ashley Williams, Caitlin Fisher Draeger, Colin Kane, Adrian Baxter, Brooke Calcagno, and Isaiah Sims. Natasha Stockem is the stage manager for this production.
This Portland production is co-produced by Dmae Roberts, Samson Syharath, and Alex Haslett of Theatre Diaspora.
Following the performance on June 5th, the post-show talkback will include community members : Kara Carmosino (APANO), Michael Grice (Nothing But Quality education leader,) and Kimberly Moreland (author of African Americans in Portland.)
---
Kumu Kahua Theatre (Honolulu, HI)
When Strangers Meet
by Jeannette Paulson Hereniko
June 5 to 7, 2016
See News story
---
The Lark (New York, NY)
to the yellow house
by Kimber Lee
June 6 and 7, 2016
1888. Paris and Provence.
A failing artist in desperate pursuit of a new way of seeing, haunted by his past, and hoping to remake his future in the color and light of the south. At what point in an endless cycle of failures does faith and persistence become delusion and foolishness? A meditation on love, art, and not being popular.
---

Seattle Public Theater (Seattle, WA)
Caught
by Christopher Chen
May 20 to June 12, 2016
---
Ma-Yi Theatre (New York, NY)
Summer LabFest
June 4 to 12, 2016
Herschel: Portrait Of A Killer
By Dustin Chinn
Saturday, June 04 At 3pm
Seattle, 1983. Something is haunting the waters of the Ballard Locks, and it's hungry for endangered steelhead trout. Can the intrepid scientists of the Department of Fish and Wildlife stop this remorseless predator?
Stargaze
By Cate Yu
Sunday, June 05 At 3pm
Three youths at the end of the world. The trauma of being the last of human civilization.
Satisfaction
By Nandita Shenoy
Saturday, June 11 At 7pm
For 4 women raised in the era of women's rights and ERA, having it all may be harder than it seems. Satisfaction examines how hard it can be for women to get what they want.
Girl Games
By Naveen Bahar Choudhury
Sunday, June 12 At 3pm
A team of female videogame developers create a violent new game geared toward young girls, implicating themselves in a crime spree.
The India Plays
By Kyoung H. Park
Saturday, June 18 At 11:30am*
A diptych of two new plays exploring the spiritual journey for peace.
*INVITATION ONLY
---
East West Players (Los Angeles, CA)
La Cage Aux Folles
book by Harvey Fierstein,
lyrics & music by Jerry Herman,
based on the book by Jean Poiret
May 12 to June 26, 2016

Directed by Tim Dang: The beloved Tony Award Winning musical comes to East West Players to close our 50th anniversary season. Georges is the suave owner of a glitzy drag club on the French Riviera. Partnered romantically with his high-strung star performer Albin, the pair live a charmed life—until Georges' son, Jean-Michel, turns up with his fiancee. Cultures collide as Georges and Albin are introduced to Jean-Michel's fiancée and her ultra-conservative parents as the strength of family and feather boas are tested in this jubilant musical that inspired The Birdcage. Rights pending.
---
Kumu Kahua (Honolulu, HI)
#iambadatthis
A world premiere by Susan Soon He Stanton
May 26 to June 26, 2016

See News story
---
The Old Globe (San Diego, CA)
Tokyo Fish Story
by Kimber Lee
May 28 to June 26, 2016

See News story.
---
Lantern Theatre (Philadelphia, PA)
36 Views
PHILADELPHIA PREMIERE
By Naomi Iizuka
Directed by Peter DeLaurier
May 28 to June 26, 2016

A rare and valuable work of art falls into the hands of ambitious art dealer Darius Wheeler. Passion and turmoil overflow from the pages of this ancient Japanese pillow book, changing the lives of Wheeler and his colleague, the magnetic East Asian art specialist Setsuko Hearn. The mystery unfolds in a series of 36 scenes that expertly weave Eastern artistic traditions and Western theatrical conventions, revealing surprising perspectives on the worlds of art, commerce, and desire.
---
fu-GEN Theatre (Toronto, Canada)
Walk the Walk Festival
June 13 to 19, 2016
See News story
---
Mu Performing Arts (Minneapolis, MN)
tot: THE UNTOLD, YET SPECTACULAR STORY OF (a filipino) HULK HOGAN
by Victor Maog
– WORLD PREMIERE –
June 17 to 26, 2016
Park Square Theatre (Boss Thrust Stage)
TOT follows an immigrant boy who travels from the Ferdinand Marcos-ruled Philippines to the San Francisco Bay Area to meet his long lost parents. He journeys from a country full of strife and military rule only to find himself in his lonely American bedroom conjuring a pro wrestling fantasy to escape his new life.
---
---
Sideshow Theatre (Chicago, IL)
Caught
by Christopher Chen
May 29 to July 3, 2016
---
2g Productions (New York, NY)
In the Works Series
June 25 and 29, 2016
Two Mile Hollow
Written by Leah Nanako Winkler, directed by Moritz von Stuelpnagel
Saturday, June 25 at 3 PM
Location: ART/NY, 520 8th Avenue, 3rd Floor - Bruce Mitchell Room
When the Donnelly's gather for a weekend in the country to gather their belongings for their recently sold estate—both an internal storm and a literal storm brews. As this brood of famous, longing-to-be-famous and kind of a mess but totally Caucasian family comes together with their personal assistant, Charlotte, some really really really really really complicated and totally unique secrets are revealed (over white wine). A parody coupled with moments of disorienting sincerity, Two Mile Hollow explores the dysfunctional family genre with brutality, awe and compassion.
To attend Two Mile Hollow, please RSVP http://2gtwomile.brownpapertickets.com
Admission is free.
*************
In the Works: First Look
Tuesday, June 28 at 6:30 PM
Location: Theaterlab, 357 West 36th Street, 3rd Floor
Come join us as we take a first look at new works in development featuring 2g artists Leah Nanako Winkler and many others.
To attend In the Works: First Look, please RSVP http://2gintheworks.brownpapertickets.com
Admission is free.
***************
KNYUM by Vichet Chum
Directed by Lori Wolter Hudson, projections by Linh Valerie Pham, sound by Paul Kite
Wednesday, June 29 at 7:00 PM
Location: The Alchemical Theatre Laboratory, 104 West 14th Street, 2nd Floor
To supplement his meager artistic life, Guy works graveyard shifts at the Hotel East Houston in New York City. Between the hours of 11pm and 7am, the hotel lobby transforms into a theater for Guy's dreams and nightmares. In this space, he encounters his parents, Ma and Ba and their stories of sacrifice as survivors of the genocide in Cambodia. Meanwhile, he attempts to learn Khmer to document his parents' stories and more immediately, prepare for his very first trip to Cambodia. The hours drudge on as Guy tries to find relative answers to the questions that plague him the most: Where are you from? Where are you going? With the great pressure of his parent's histories weighing on his guilt, Guy searches for a bit of pardon to, at the very least, finish his shift.
To attend KNYUM, please RSVP http://2gknyum.brownpapertickets.com
Admission is free.
---