---

Bindlestiff Studio (San Francisco, CA)
The Guerillas of Powell Street
by Rody Vera
July 10 to August 2, 2014
Fifty years after they fought alongside the Americans during World War II, Filipino veterans in the twilight of their lives find themselves in a cable car station in Powell Street. They are thousands of miles away from home, instead of "sitting under a mango tree, drinking beer and eating sitsaron" they wait vainly for the benefits promised to them. They all share a common desire; the chance for their body to be buried in their homeland.
---
La Jolla Playhouse (San Diego, CA)
The Orphan of Zhao
New adaptation by James Fenton
Directed by Carey Perloff
Featuring BD Wong
July 8 to August 3, 2014
Drawn from sources dating from the 4th Century BC, The Orphan of Zhao is a luminous reinvention of an ancient legend described as the Chinese Hamlet. When the Emperor's mind is poisoned by a corrupt minister, the noble Zhao family faces destruction unless a country doctor is willing to make the ultimate sacrifice. This gripping story of loyalty, family and revenge soars on an original score, sharp direction from A.C.T. Artistic Director Carey Perloff (Arcadia, Phèdre) and features the inimitable stage and TV star BD Wong (M. Butterfly, Law & Order: SVU).
---
Yellow Earth (London, Great Britain)
The Last Days of Limehouse
by Jeremy Tiang
Wed 16 July to Sun 3 August 2014
Few people today know there was once a thriving Chinatown in London's East End.
Yellow Earth's new production will take you on a journey into this forgotten world...

It starts in Limehouse in 1958 when the local council is planning to bulldoze the last remnants of Limehouse Chinatown. As the local people decide how to embrace this redevelopment without losing their heritage, former Limehouse resident Eileen Cunningham returns to start a revolution....

This promenade production at historic Limehouse Town Hall will take you into the heart of London's original Chinatown, exploding the lurid myths of opium dens and sinister Chinese gangs, to reveal a place that was for generations of people, simply home.
---
Charlotte Dias as Mary M. and Kati Karoda as Mary V.

Kumu Kahua Theatre (Honolulu, HI)
Flowers of Hawaii
by Lee Cataluna
July 24 ­ to August 3, 2014

See News story.
---
Vampire Cowboys (New York, NY)
Untitled Vampire Cowboys Project
by Qui Nguyen
July 30 to August 2, 2014
Directed by Robert Ross Parker. For info visit VampireCowboys.com.
In a seemingly utopian future, a young lady with unique abilities sets out on a murderous path to keep that world intact. What she doesn't realize is if she fails, the world will go to hell…literally. A new sacrilegious action-adventure play by "the pioneers of geek theatre" utilizing VC's trademark stage combat, multimedia, and puppetry to create a new comic book for the stage.
Vampire Cowboys are an OBIE Award-winning pioneer of geek theatre, crossing diverse genres and theatrical styles to create an explosively eclectic aesthetic rooted in today's pop vernaculars. A current Archive Residency Company.
---
ACT Theatre (Seattle, WA)
Hold These Truths
by Jeannie Sakata
July 31 to August 3, 2014
Central Heating Lab at ACT presents Hold These Truths by Jeanne Sakata, performed by Joel de la Fuente, July 31 - August 3, 2014 at the ACT Theatre Allen Arena, 700 Union Street, Seattle, WA.
Inspired by the true story of University of Washington student Gordon Hirabayashi, Hold These Truths follows Gordon during the U.S. Government's decision to forcibly remove and incarcerate people of Japanese ancestry during World War II.
See more.
---
Assaulted Fish (Vancouver, BC)
Ninjas. Samurai. Existentialism. What can this all mean?!
August 2, 2014
Find out on Saturday, August 2 when Assaulted Fish performs its annual 30-minute free show at the Powell Street Festival. It's their 11th year participating in this terrific community festival. Catch their newest members--don¹t want to miss this show. Directed by Dawn Milman. Stage managed by Ann Chow. Assaulted Fish @ the 38th Annual Powell Street Festival Date: Saturday, August 2, 2014 Time: 5:00 ­ 5:30 pm Place: Firehall Arts Centre, 280 East Cordova St. (@ Gore Ave.) [parking/map] Cost: FREE! Info: www.powellstreetfestival.com Notes: General admission seating. Rated "PG". No latecomers.
---
Moxie Theatre (San Diego, CA)
Jade Heart
by Will Cooper
July 11 to August 10, 2014
Jade McCullough's journey began on a pile of vegetables in a small village in southern China. Adopted by an American woman, she grew up seeing herself as an outsider. The only clue to her past is half of a jade heart found in her swaddling clothes. The other half hangs around the neck of an unknown woman in a distant land. In the struggle to find out who she is, Jade rebels against the woman she loves the most and in uncovering the mystery of her past, discovers the promise of her future.
---
Mu Performing Arts (Minneapolis, MN)
A Little Night Music
music by Stephen Sondheim
book by Hugh Wheeler
directed by Rick Shiomi
July 25 to August 10, 2014

Park Square Theatre

Hailed by many as Sondheim's best musical, join Mu for an Asian American casting of this classic piece about love and dysfunctional relationships.

See News story.

Review from

Pioneer Press

.
Review from Star Tribune.
Review from HowWasTheShow.com
---
Theatreworks (Silicon Valley, CA)
Tokyo Fish Story
by Kimber Lee
August 15 to 17, 2014
A staged reading. Generations, gender, and tradition collide as a Sushi Master struggles to preserve ancient artistry in a society obsessed with change. In pursuit of perfection, a brilliant protégé, eager apprentices, and the master himself have much to learn.

Kimber Lee's plays include fight, different words for the same thing (2014 World Premiere CTG/Kirk Douglas Theatre, dir. Neel Keller), and brownsville song (b-side for tray), which premiered at the 2014 Humana Festival and has upcoming productions at LCT3, Long Wharf, and Philadelphia Theatre Company. She is a Lark Playwrights Workshop Fellow (2013/14), Ma-Yi Writers Lab, and recipient of 2014 Ruby Prize, 2013/14 PoNY Fellowship, and 2014/15 Aetna New Voices Fellowship.
---
East West Players (Los Angeles, CA)
One Night Only
August 16, 2015

East West Players' is proud to announce our first event in celebrating our milestone Golden 50th Anniversary - "ONE NIGHT ONLY: Fresh Faces, Golden Voices," introducing you to the new generation of Asian Pacific Islander entertainers. We are also excited to welcome celebrity chef Katie Chin as she collaborates with Food Fetish Catering on a unique Pan Asian dining experience al fresco, with dessert by Majestic Catering.

Proceeds of One Night Only will benefit the artistic/educational programs of East West Players and the organization's endowment. Directed by Marilyn Tokuda Musical direction by Marc Macalintal For sponsorship and ticket information, visit East West. For additional information, contact "One Night Only" Producer Snehal Desai at (213) 625-7000 x 27 or sdesai@eastwestplayers.org.

See News story for more details.
---
Shunya (Houston, TX)
The Jungle Book
adapted by Stuart Paterson
August 8 to 22, 2013
Shunya's second ever youth production. Sing along with Mowgli and all his jungle friends and foes as they re-tell the stories of the Kipling classic.
---
Bindlestiff Studio (San Francisco, CA)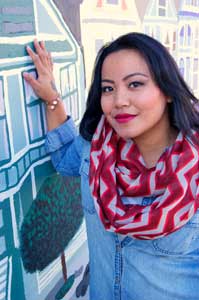 Mommy Queerest
by Kat Evasco
August 29 to 30, 2014
After selling out an extended six-week premiere run at the Exit Theater, this one-woman show by Kat Evasco and John Caldon chronicles the personal experiences of a lesbian daughter and a closeted lesbian mother.
Mommy Queerest begins with young teenaged Kat having her earth shattered when she realizes that she and her mother are both lesbian. Too bad her mom hasn't figured it out yetdespite the fact she's been living with her partner since Kat was six years old! After a spectacularly failed attempt to share this epiphany with her mom, Kat lurches through her own teenage sexploration with guys and girls, trying to figure out how she fits in with her family, community and self. After a decade of attempting to educate this wayward parent about what it means to be lesbian, she discovers there is still a thing or two she can learn from her mom.
---
fu-GEN (Toronto, Canada)
DÀ JIĀ (大家)
by Sophie Gee
September 2, 2014
DÀ JIĀ (大家) You are invited to join us for a reading presentation of a new play by Montreal theatre creator Sophie Gee. In the last week, we have been workshopping this play with Sophie and the next step is to invite you, the audience, into that process. The play will be presented in Cantonese/Mandarin and English with English subtitles. In DÀ JIĀ (大家), the patriarch of a Chinese Canadian family grapples with the consequences of his actions when a garment factory he owns collapses in China.
---
Pratidhwani (Seattle, WA)
Everything but the Paper
by Sonal Campsee
September 12 to 21, 2014
Ketan and Rupal are separated and no one is more determined to re-unite them than aunt Kusum. Her daughter Supriya doesn't think Kusum's forty-two years of marriage makes her an expert, but with two divorces and trouble in her relationship with Pavel, how much does Supriya know about relationships? Everything But The Paper - a comedy in English explores the ideas of who should be together, who should be apart, and what does marriage and divorce mean to this contemporary Indian family?
For more info, go to http://www.pratidhwani.org/ebtp
---
Theatre Espirit Asia (Colorado)
M. Butterfly
By David Henry Hwang
Directed by Rick Shiomi
September 4 to 28, 2014
M. Butterfly is loosely based on the relationship between French diplomat Bernard Boursicot and Shi Pei Pu, a male Peking opera singer.
---
Bindlestiff Studio (San Francisco, CA)


Stories High XIV


September 12 to 27, 2014
Bindlestiff Studio is proud to announce the premiere of Stories High XIV, the latest installment of our annual workshop-to-stage production. This year, we have had the privilege of working closely with artists from Campo Santo and Guerilla Rep as workshop facilitators.

See the culmination of what the participants¹ have brewed in our playwriting, acting, directing, movement, scenic design and stage management workshops. Stories High XIV previews Thursday September 11th, opens Friday, September 12th, and plays through September 27th.

The writers have bared their souls in the writer¹s room; the actors will breath life into those words through the guidance of their directors; and the scene designers and stage managers will put the final touches for a show that year-after-year amplifies the voices of new and established artists.
---
Mu Performing (Minneapolis, MN)
Middle Brother
by Eric Sharp
September 12 to 28, 2014

Only days away from moving back to the Midwest, Billy, a Korean adoptee, is unexpectedly reunited with his Korean birth brother and must somehow reconcile his modern American life with his newfound Korean past. This imaginative physical theatre piece employs a quirky sense of humor, thrilling movement choreography, and live Korean karaoke to invite audiences into the mind of one adult adoptee on the journey of a lifetime.

Written by and starring longtime Mu performer Eric Sharp (

Yellow Fever, Into the Woods, Ching Chong Chinaman

). The latest product of the Mu Performing Arts/Jerome Foundation New Performance Program, the play was recently named as a finalist for the National New Play Network Showcase. The new play will be directed by Robert Rosen (Co-director of Studio 206, former co-artistic director of Theatre de la Jeune Lune) and is the most recent addition to Mu's body of work exploring the diverse stories from the Korean adoptee experience.
---
Artists At Play (Los Angeles, CA)
99 Histories
by Julia Cho
September 13 to 28, 2014
See News story
---
Shakespeare Orange County (Orange County, CA)
Made in Taiwan
written and performed by Michelle Krusiec
September 14, 21, 28, 2014
---
Lark Theatre (New York, NY)
27th Annual Playwrights' Week
September 22 to 27, 2014
Lark Play Development Center is proud to announce that seven plays have been chosen for its 21st Annual Playwrights' Week, which will take place September 22nd – 27th. This year's plays and playwrights are Parachute Men by Mando Alvarado, Lucky Ladies by Dominic Finocchiaro, INC. by Diana Grisanti, No More Sad Things by Hansol Jung, Girl of Glass by Jennifer A. Kokai, Chalk by Walt McGough and The Tiger Among Us by Lauren Yee. Tickets will be available starting Tuesday, September 2nd. For more information visit www.larktheatre.org.
Continued here.
---
New York Theatre Barn (New York, NY)
Marrying Me
Book by Mark Beau de Silva
Lyrics by EllaRose Chary
Music by Onn San
September 22, 2014
New York Theatre Barn's monthly community-building platform for emerging writers & new musical returns to its home in the D-Lounge of the Daryl Roth Theatre.
New York Theatre Barn (NYTB - Joe Barros: Artistic Director, Jason Najjoum: Producing Director & Brian Swasey: Managing Director) is proud to present the September installment of the 7th Season of NYTB @ THE DR2 (aka NYTB IN THE D-LOUNGE), our revolutionary community-building platform for new musical theatre.

Artistic Producer - Laura Brandel
Producing Coordinator - Mackenzie Meeks

FEATURING: MARRYING ME
Book by Mark Beau de Silva
Lyrics by EllaRose Chary
Music by Onn San Music
Direction by Onn San
Directed by Kerry Huang
Producer/Stage Manager: Suhaili Micheline

With Anne Fraser Thomas, Cindy Cheung, Christine Toy Johnson, Aaron Khaled, Angel Tian Lin, & Joshua Gui

SEAWIFE by The Lobbyists & Seth Moore Directed and Developed by Liz Carlson Music Direction by Tommy Crawford With Tommy Crawford, Eloïse Eonnet, Alex Grubbs, Tony Vo, & Alon Bisk Tickets: $15 General Admission ($10 for students/BMI Members) 2 drink minimum at the bar Doors open at 7pm, Show starts at 7:30pm Tickets available for purchase in advance by going to https://web.ovationtix.com/trs/pe.c/9947078 @ The D- Lounge 101 E. 15th St., NYC
---