---

Tradwind Arts (Kansas City, MO)
Washer/Dryer
by Nandita Shenoy
July 11, 2016
---
Kumu Kahua Theatre (Honolulu, HI)
Aloha Las Vegas
by Ed Sakamoto
July 14 to 31, 2016
See News
---
True Colors Theatre (Atlanta, GA)
Smart People
by Lynn Diamond
July 12 to August 7, 2016
Kenny Leon's True Colors Theatre presents Smart People starring Asian American actress, Julee Cerda. Are Asian American woman oversexualized? What sterotypes do Asian American women face? Asian American actress, Julee Cerda, delves into these questions. The play questions Asian American stereotypes and raises an interesting discussion about what is socially acceptable. The play runs from July 12-August 7 at the Southwest Arts Center. Fore more information about the play go to www.truecolorstheatre.org To purchase tickets visit: http://bit.ly/1PSGUpg
---
Barrington Stage Company (Pittsfield, MA)
Peerless
by Jihae Park
July 21 to August 6, 2016
How far would you go to get into the college of your choice? When brilliant, ambitious twin sisters L and M realize that perfect academics and superb extracurricular activities aren't enough to get into their dream college, they decide to take matters into their own hands. Peerless is a comedy…until it isn't.
---
GRANNY CART GANGSTAS
and Bindlestiff Studio (San Francisco, CA)
PRESENT
BAD FRUIT
August 4 to 6, 2016
Granny Cart Gangstas will grace the stage with their brand of no-holds-barred, unapologetic comedy. For one weekend only, you'll see new sketches: a pageant contest like you've never seen before, vegan friendly fun, Divacup rhymes, and journey to the land of the lost. ?

The name Granny Cart Gangstas derived from founding member's pedestrian lifestyle in San Francisco; it's 'gangsta' (a reappropriation of the word to connote high approval) to be able to use a 'granny cart' in the busy streets of San Francisco. Emerging from Bindlestiff Studio, GCG is an all-female, women-of-color comedy troupe. GCG pokes fun at pervasive media representation of women, pop culture, consumerism, and daily life.
---
Theatre Off Jackson (Seattle, WA)
Do It for Umma
by Seayoung Yim
August 19 to 27, 2016
This mashup of Hamlet and Korean soap operas returns with a vengeance, after a sold out run at Annex theatre!
In the back room of a Korean convenience store, Umma returns as a ghost to shame her daughter Hannah into avenging her suspicious death. While Hannah's older brother shirks off familial duties in favor of romantic trysts, Hannah embarks on a mission to find Umma's killer.
Featuring a chorus of ajummas and a healthy dose of revenge, Do It for Umma is an absurd tragicomedy about a young woman trying to gain her dead mother's approval and protect her family's honor in the strangest of circumstances.
---
Artists At Play (Los Angeles, CA)
The Two Kids That Blow Shit Up
by Carla Ching
August 18 to September 4, 2016
Artists At Play's first world premiere production. The play follows Diana and Max who meet at 10 years old, the day their parents start fucking. In the ensuing 18 years, their parents break up, get back together, marry and divorce. And they see each other through it all, trying not to make the same mistakes their parents did. A play about trying not to fall in love with your best friend so you end up hating them.
---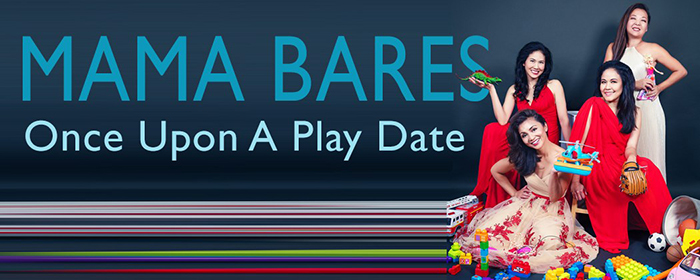 East West Players (Los Angeles, CA)
Mama Bares in Concert: Once Upon a Play Date
August 25 to September 4, 2016
The Mama Bares – Joan Almedilla, Ai Goeku Cheung, Deedee Magno Hall, and Jennifer Paz – are Broadway musical theatre stars, EWP alumni and real-life mothers who will bring you to your feet. Hear the Mama Bares roar along with special guests in this limited ten performance concert series! Runs August 25 through September 4, 2016.
---
Prospect Theatre Company
National Asian Artists Project (New York, NY)
Honor
September 10, 2016
NAAP is proud to announce its first collaboration with the Obie-winning Prospect Theater Company as part of NAAP's Rediscover Series and Prospect's IGNITE Series. HONOR, a musical by Peter Mills and Cara Reichel. is a musical adaptation of Shakespeare's comedy As You Like It, set in feudal Japan.
Tickets are $20 / $30 / $40 on sale ONLINE at Ovation tix or at 212-352-3101. Use code NAAP and save $5 on your ticket—plus no online fees—when you purchase by Sept. 1st! (Offer subject to availability)
Originally produced in 2008 by Prospect Theater Company as a full production, this concert version will reunite some of the original cast, who are familiar to NAAP audiences, including, Raul Aranas, Karl Josef Co, Steven Eng, Diana Huey, Brian Jose, Whit K. Lee, Mel Maghuyop, Manna Nichols, Scott Watanabe, and EJ Zimmerman (some of whom were recently featured in The King and I and Allegiance on Broadway). Members of the NAAP Broadway Community Chorus Ya Han Chang, Andy Danh, David Eng, Francine Espiritu, Natsuko Hirano, Kennedy Kanagawa, Karin Kawamoto, Jung Kim, Yuko Kudo, Colin Miyamoto, Nathan Napier, Andrew Sakaguchi, Riza Takahashi, Sam Tanabe, Isabelle Van Vleet, Viet Vo and students from NAAP's PS124 Theatre Club will also be included in the company.
Sakima Productions (New York, NY)
We So Hapa
September 12, 2016
SAKIMA PRODUCTIONS in association with Alex Chester, Rebecca Lee Lerman, and Kalen Sakima, announce WE SO HAPA, conceived by Alex Chester, with contributions from Rebecca Lee Lerman and Kalen Sakima will feature a vast selection of songs from Broadway musicals to original music from Jessica Wu and Timothy Ware.
WE SO HAPA will have a limited engagement, Monday, September 12, 2016, at 8:30pm at The Triad Theater, 158 West 72nd Street New York, NY 10023.
A new multicultural cabaret that will showcase multi-ethnic talent while taking you on a journey of what it's like to be mixed race. WE SO HAPA will explore different stages in our lives and career where our diverse makeup played a part of who we are and what opportunities it has led us to. Breaking stereotypes and challenging the general perspective of society, WE SO HAPA will open your eyes and hearts to acknowledge that we are just like you, we are all human.
---
Mu Performing Arts (St. Paul, MN)
The Two Kids That Blow Shit Up
by Carla Ching
September 9 to September 18, 2016
Diana and Max meet at 10 years old, the day their parents start having an affair. In the ensuing 18 years, they see each other through highs and lows, trying not to make the same mistakes their parents did. A play about trying not to fall in love with your best friend so you end up hating them.
The Two Kids that Blow Shit Up was featured in the 2016 New Eyes Festival at The Playwrights Center, and we are pleased to have Carla's show opening our 25th Anniversary Season.
---
Shotgun Players (Berkley, CA)
Caught
by Christopher Chen
September 1 to 25, 2016
Inspired by legendary dissident artist Lin Bo, local playwright Christopher Chen (The Hundred Flowers Project, Mutt) has created Caught, a labyrinthine exploration of truth, art, social justice, and cultural appropriation, where nothing is as it first appears.
Produced in collaboration with The Xiong Gallery, Shotgun Players will host an installation of work by Xiong Gallery Artists at the Ashby Stage during each performance.
Caught is generously supported by grants from The Fleishhacker Foundation and The Zellerbach Family Foundation.
---
Silk Road Rising (Chicago, IL)
Un-American: A Patriot Acts
Written and Performed by Azhar Usman
September 6 to 25, 2016
Famed comedian Azhar Usman takes to the stage with this brutally honest, unflinching one-man show exploring the tensions and paradoxes surrounding the complex identities and double consciousness of American Muslims today.
---
East West Players (Los Angeles, CA)
Taikoproject
Road to Kumano
September 15 to 25, 2016
In a collaboration between East West Players and the critically acclaimed TAIKOPROJECT, Chieko Kojima, a Distinguished Member of the world-renowned taiko group Kodo, stars in a dance theatre piece based on the popular Buddhist tale Dojoji. Runs September 15 through September 25, 2016.
---
---
Theatre Espririt Asia (Colorado)
ACE: An Evening in Vietnam
September 25, 2016
News story.
---