---


Prologue Theatre Company (Chicago, IL
Porcelain
by Chay Yew
June 14 to July 12, 2015

Directed by Matthew Ozawa
Featuring Scott Shimizu, Cory Hardin, Scott Olson, Graham Emmons, and Colin Sphar
PORCELAIN is an examination of a young man's crime of passion. Triply scorned — as an Asian, a homosexual, and now a murderer — 19-year-old John Lee has confessed to shooting his lover in a public lavatory in London. A winner of the London Fringe Award for Best Play, Porcelain dissects the crime through a prism of conflicting voices: newscasts, flashbacks, and John's own recollections to a prison psychiatrist.

June 14 – July 12, 2015
Prologue Theatre Company
@ the Greenhouse Theatre
Downstairs Studio
2257 N. Lincoln Avenue, Chicago, IL 60614
Thursday – Saturday at 7:30pm
Sunday at 3:00pm
$25
---
Yangtze Repertory Theatre (New York, NY)
Behind the Mask, a Play
by Fang BaiMing and Huang WeiRuo
June 25 to July 12, 2015
WHERE AND WHEN:
Theater for the New City, 155 First Ave., NYC (between 9th and 10th Streets)
Wednesdays through Saturdays at 7:30 PM, Sundays at 2:30 PM
Tickets: $25 general admission, $20 seniors & students.
On Wed & Th: pay what you can (available day of performance at box office only, advance sales regular price)
Box office: SMARTTIX, www.smarttix.com, 212-868-4444.
Chinese language info and reservations: YangtzeRSVP@gmail.com
Running time 1 hr 15 min.
An ancient myth about blood and honor reveals the secret life of a Chinese theater troupe in the dark comedy Behind the Mask -- a Play by Chinese authors Feng BaiMing and Huang WeiRuo, which is being newly adapted by Yangtze Repertory Theatre in a production helmed by Chinese-born director Chongren Fan. The play will be performed in Mandarin Chinese with English subtitles and will be completely accessible for English-speaking audiences. English translation is by Kristen Hung. This U.S. premiere will be presented by Yangtze Rep June 25 to July 12 at Theater for the New City, 155 First Avenue, East Village.
A play-within-a-play takes place in a theater space somewhere in China, where a nine-person troupe is rehearsing for a story about a Chinese mythical hero, Mei Jian Chi. As the myth is popularly known within Chinese culture, it depicts a tyrant, the King of Chu, who orders the death of his two master swordsmiths as part of a ritualized process to forge the world's sharpest blades, using human blood. Their son, Mei, seeking revenge, devises a death ploy with an errant by offering his own living but decapitated head to the King. Fragments of the mythical story switch in and out from snippets of mundane and personal follies of the struggling troupe during rehearsal. Through the play, we get to learn about the troupe and the pressures of the artistic life in contemporary China.
Yangtze will present a new adaptation of the original script that was written in 1999 by Huang WeiRuo and Feng BaiMing. The contemporary part of the play--the troupe's own story--is devised and created by Chongren Fan and ensemble. The play examines the current theatre world through a comic lens and throughout, the characters are aware of their own theatricality. Director Chongren Fan writes, "We get a taste of what's going on in contemporary Chinese theater but also get a chance to explore how a theatre troupe works together to create an ensemble work." The music in the play, composed by Xiren Wang, is new and modern, with a strong innovative approach to ancient Chinese music characteristics.
The production features an ensemble of nine who play various roles in the play. The actors are: Shan Y. Chuang, Esther Chen, Chien-Lun Lee, Xiao Quan, Viola Wang, Neil Redfield, Hui-Shurn Yong, Chris Smith and Francisco Huergo. Set and costume design are by K. K. Wong. Lighting design is by Yi-Chung Chen. Mask design is by Andrew Diaz.
---
Silk Road Rising (Chicago, IL)
Penuel: The Sammy Lee Story
by David Rhee
July 11 and 12, 2015
Penuel: The Sammy Lee Story is about the hard work, determination and triumph of an Olympian. As a twelve-year-old, Sammy Lee could watch as divers leapt gracefully into the public swimming pool. Despite his overwhelming desire to try diving himself, as a Korean (like any person of color) he could only use the pool once a week. Never would he have guessed that, sixteen short years later, Dr. Sammy Lee would become the first Asian American ever to win Olympic gold.
PERFORMANCE SCHEDULE
Saturday, July 11, 2015 at 4 PM
Sunday, July 12, 2015 at 4 PM

TICKETS
$10
---
Pan Asian Repertory Theatre (New York, NY)
James A. Michener's Sayonara
at Theatre Row, 410 W. 42nd St
July 5 to 26, 2015
---
Sundance Theatre Lab (Utah)
Today is My Birthday
by Susan Soon He Stanton
July 6 to 26, 2015
After Emily's bubble life in NYC pops, she retreats home to Hawai'i, where she creates an alter ego on live radio. Told through a playful mixture of radio and phone calls, Today is My Birthday is a comedy about life with a thousand friends on Facebook and no one to have dinner with on Saturday night.
---
Community Asian Theatre of the Sierras (Nevada City, CA)
The Ingenious Judge Dee
by Hock G. Tjoa
Thursday, July 23, 2015
Community Asian Theatre of the Sierra (CATS) is pleased to collaborate with The Miners Foundry in presenting a dramatic play reading, The Ingenious Judge Dee, written and directed by Hock G. Tjoa, on Thursday, July 23, at 6:30 pm. Judge Dee is a series of vignettes on criminal investigations in seventh century China, adapted and inspired from The Celebrated Cases of Judge Dee, by Robert van Gulik. Judge Dee, played by Hock G. Tjoa, investigates a double homicide, a "reluctant" corpse, and a bride poisoned on her wedding night, all taking place in Tang dynasty, China, and each demanding investigation and judicial resolution within a month! Judge Dee diligently works on these cases with his usual investigators and his customary aplomb, even though he himself is under investigation by an Imperial Censor.

The play reading is at 6:30 pm and doors open at 6:00. Suggested donation is $10. Tickets available at www.minersfoundry.org and at the door. In addition to Hock, the cast includes Dru Mathies, Rene Sprattling, Lois Ewing, Eric Tomb, Ben Hedenland, Dinah Smith, and Brett Torgrimson.
Hock is active in local community theater and writing groups. He was recently seen in CATS' Hotel on the Corner of Bitter and Sweet as "Mr. Lee." As a writer, he is author of Agamemnon Must Die, The Battle of Chibi (Red Cliff), and The Chinese Spymaster.
---
Kumu Kahua Theatre (Honolulu, HI)
Shoyu on Rice
by Scott Isuka
July 16 to August 2, 2015
See News story
---
National Asian American Theatre Company (New York, NY)

The Public Theater
NAATCO's acclaimed production of
Awake and Sing
July 6 to August 1, 2015
extended to August 8
By Clifford Odets
Directed by Stephen Brown-Fried
With Sanjit De Silva, Mel Duane Gionson, Mia Katigbak, Teresa Avia Lim, James Saito, Jon Norman Schneider, David Shih, Alok Tewari, Henry Yuk
Designers: Anshuman Bhatia (set); Alexae Visel (costumes); Gina Scherr (lights); Toby Jaguar Algya (sound); Charley Layton (dialect coach)
"NAATCO's production easily makes the point that ethnicity is transcended by the humanity of frightened, imperfect people facing unpleasant realities. Theatergoers deserve to hear great plays as they were originally performed, especially in productions like this." New York Times
"Odets' Depression-era drama may be old-fashioned, but it's moving, and it still feels relevant." The New Yorker
"Awake and Sing! is especially fresh in the new revival from National Asian American Theatre Company, directed with precise raucousness by Stephen Fried." Village Voice
"Awake and Sing! allows for some truly fine ensemble work. And Mia Katigbak is masterful, evoking Bessie as both a villain and tragic figure." NY1 On Stage
Previews start July 6. Opening on July 13 and running until August 1.
Mondays – Saturdays, 7:00 and Saturdays, 2:00
All tickets: $45
---
Comfort Women
Music by Bryan Michaels & TaeHo Park
Lyrics by Bryan Michaels
Written by Dimo Hyun Jun Kim, Osker, David Aguirre, Joann Malory Mieses
July 31 to August 9, 2015
During World War II, approximately 200,000 women – and young teenagers – from across Asia were forced into sexual slavery at "comfort stations" for the Imperial Japanese Army. Inspired by testimonies from the women survivors, COMFORT WOMEN: A New Musical features a cast of fifty-three Asian/Asian American actors to tell these stories which are excluded from history books.
Each audience member will receive a copy of CAN YOU HEAR US: The Untold Narratives of Comfort Women. A portion of proceeds will go to "House of Sharing," the home for surviving Comfort Women living in South Korea.
Comfort Women: A New Musical is Directed by Dimo Hyun Jun Kim. Music by Bryan Michaels & TaeHo Park, and Lyrics by Bryan Michaels. Written by Dimo Hyun Jun Kim, OskerDavid Aguirre, Joann Malory Mieses, and Produced by Matthew Thomas Burda & Dimo Hyun Jun Kim.
Limited Engagement
The world premiere, Opening July 31st, 2015 and runs through August 9th
at Theatre at St. Clements
423 W 46th St (Between 9th and 10th Ave)
New York, NY 10036
---
Village Theatre (Issaquah, WA)
Great Wall
August 6 to 16, 2015

---
Theatre Esprit Asia (Denver, CO)
Citizen Min
by Holly Yasui
August 9, 2015
The year is 1942. A young Japanese American lawyer has been arrested for breaking military curfew aimed at German, Italian and Japanese nationals, as well as U.S. citizens of Japanese descent. This arrest would be the young lawyer's test case against the nation's discriminatory acts targeted at the Japanese. The young lawyer is none other than civil rights leader, Minoru Yasui.
Citizen Min is written by Minoru Yasui's daughter, Holly Yasui, and directed by Tria Xiong. It takes place during Minoru's time in jail juxtapose with events that lead up to his test case. Citizen Min will be read in its entirety at Theatre Esprit Asia's next ACE event on August 9th from 7-9pm at Theatre Esprit Asia located inside ACAD, 1400 Dallas Street, Aurora, CO 80010.
Seating is limited so please reserve your seats by emailing triaxiongtea@gmail.com. Free entry with a suggested donation of $5. Complimentary snacks and drinks.
---
Silk Road Rising (Chicago, IL)
A Great Dive
Written & Performed by Puja Mohindra
Directed by Andrew Volkoff
August 13 to 16, 2015
Are you ready for romance? Geeta Gidwani thinks she is. A young, Indian American woman caught between conflicting notions of Eastern and Western love, she rejects the idea of arranged marriage. Geeta wants to fall madly in love like she's seen in Bollywood movies and on TV; so when she meets Manish, she is eager to start a fairytale adventure with her soulmate. Geeta's father has just one rule when it comes to love: "Don't bring him home unless you're going to get married."
---

SIS Productions (Seattle, WA)
Paper Angels
by Genny Lim
August 7 to 31, 2015
SIS Productions presents a multi-venue production of Paper Angels by Genny Lim. Paper Angels offers an intimate portrait of the immigrant experience, revealing the universal desires and haunting realities of those coming to America. All performances will be followed by brief post-play discussions to connect the events explored in the play from 1915 with those happening today in 2015.
See News story.
---
Pork Filled Productions (Seattle, WA)
The Tumbleweed Zephyr
by Maggie Lee
August 14 to 29, 2015
Under the fantastical vision of director Amy Poisson, PFP returns to the thrilling steampunk-inspired universe of our 2013 production, The Clockwork Professor. Two brothers, Atticus and Kai, climb aboard the Tumbleweed Zephyr, a transcontinental train headed out of New Providence for the wilds of the Western Territories. But what starts as a simple journey by rail soon leads to rollicking action and adventure, with twists of fate, sparks of romance, and the lonely call of a train whistle echoing across the clear desert sky.
---

Pork Filled Productions (Seattle, WA)
The Clockwork Professor (Encore!)
by Maggie Lee
August 19 and 26, 2015
See News story!
---
Theatre Diaspora (Portland, OR)
The Theory of Everything
by Prince Gomolvilas
August 23 to 29, 2015
---
PlayMakers Rep (Chapel Hill, NC)
Uncle Ho to Uncle Sam
by Trieu Tran
Aug. 26 to 30, 2015
A one-man-show written and performed by Trieu Tran, about his experience growing up in America following the end of the Vietnam War. Tran first performed the show at A Contemporary Theatre in Seattle in 2012.
---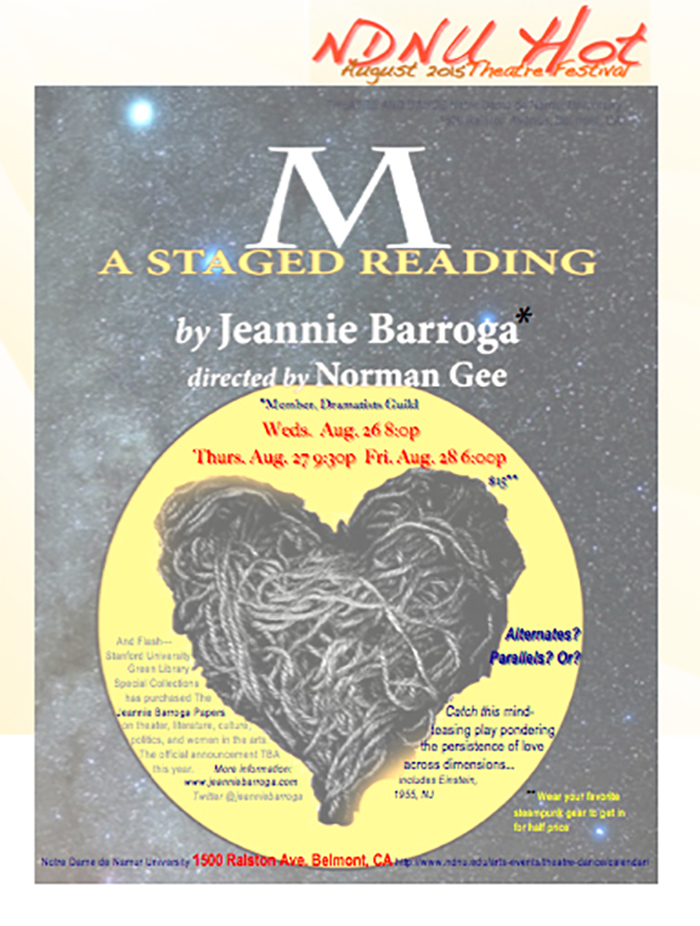 ---
Halcyon Theatre (Chicago, IL)
In Love and Warcraft
By Madhuri Shekar
directed by Tlaloc Rivas
a Chicago premiere production
August 7 through September 20, 2015
Thursdays, Fridays and Saturdays at 8pm; Sundays at 6pm
Evie Malone—gamer girl, college senior and confirmed virgin—has it all figured out. Not only does she command a top-ranked guild in Warcraft with her online boyfriend, she also makes a little cash on the side writing love letters for people who've screwed up their relationships. Love is like Warcraft, after all. It's all about strategies, game plans, and not taking stupid risks...
---