---

Joanna Mills Kimo Albarado Bronte Amoy and Shawn Vasconcelles 2
Kumu Kahua Theatre (Honolulu, HI)
Shoyu on Rice
A world premiere by Scot Izuka
August 21 ­ to September 21, 2014
extended to October 5
Peer pressure and identity issues create comedy and drama in a private Hawaii high school. In the mid-1980s, boys attending a Catholic all-boys high school deal with their use of pidgin English when a substitute teacher from Kansas takes over their classroom. Meanwhile, the substitute struggles to learn local ways in both the classroom and the home of her Japanese-American fiancé¹s parents. And a student from a private girl¹s school faces the scorn of the boys due to rumors about her reputation.
See News story.
---
East West Players (Los Angeles, CA)
Animals Out of Paper
by Rajiv Joseph
September 4 to October 5, 2014
Directed by Laurie Woolery: When a world-renowned origami artist opens her studio to a teenage prodigy and his school teacher, she discovers that life and love can't be folded neatly in this drama about finding the perfect design. A quirky and melancholy play, by the author of Bengal Tiger at the Baghdad Zoo, that has been hailed as "pitch-perfect" by the NY Times.
See News story.
---
Cake Productions (New York, NY)
This Lingering Life
by Chiori Miyagawa
September 12 to October 5, 2014
Inspired by plot elements from nine Noh plays and explores the human condition via the journeys of 28 characters who cross time and space as they search for answers to life's biggest questions.
---
Play On Authentic Theater Company (New York, NY)
The Piano
by Robert Kuang
September 25 to October 4, 2014
The Piano is a full-length play exploring the lives of a multicultural family after the patriarch passes away. This forces three generations of Asian American women to live under the same roof for the first time, causing them to question their values, identities, and where they belong.
---
SIS Productions (Seattle, WA)

Revealed
by various
October 2 to 5, 2014

Savor the stories and culture of one of the best kept secrets in the City of Seattle!


Take a one-of-a-kind theatrical walking tour (with snacks!) of Seattle's International District revealing the stories of women, both contemporary and historical, who have helped to shape this unique cultural neighborhood. Enjoy this family-friendly tour where audiences encounter interactive, site-specific vignettes along the way. The tour is part of SIS Productions' Celebrate Women campaign inspiring people of all genders, ages and races to re-imagine how women are valued. Special thanks to the Washington State Arts Commission.

Reserve your spot (free!) here!
---
El Teatro Campesino (San Juan Bautista, CA)

Valley of the Heart
by Luis Valdez
August 21 to October 12, 2014

Valley of the Heart is a love story, rooted in historical events set in the fertile Santa Clara Valley near San Jose, California, known as the Valley of Heart's Delight in 1941.

Opening in the days leading up to Pearl Harbor, it is the dramatic interaction of two families Ð the Yamaguchis and the Montanos . Coming out of the Great Depression, both immigrant families struggle to provide for the future of their American born children. The families' oldest children, Ben and Teruko, fall in love and emotional stakes are further heightened when the Japanese attack Hawaii on December 7, 1941 throwing both families into uncertainty.

Issues of loyalty and patriotism provoke both rebellion and heroism among young, imprisoned Japanese Americans while both Thelma and Benjamin fight to maintain their dignity, identity, family, and love in the face of war, fear, and separation.

This sweeping epic played to sold out houses during its run last summer and returns by popular demand.
---
Goodman Theatre (Chicago, IL)
Manhattan Theatre Club (New York, NY)
The World of Extreme Happiness
by Frances Ya-Chu Cowhig
September 13 to October 12, 2014 (Chicago)
Unwanted from the moment she's born, Sunny (Jennifer Lim) is determined to escape her life in rural China and forge a new identity in the city. As naïve as she is ambitious, Sunny views her new job in a grueling factory as a stepping stone to untold opportunities. When fate casts her as a company spokeswoman at a sham PR event, Sunny's bright outlook starts to unravel in a series of harrowing and darkly comic events, as she begins to question a system enriching itself by destroying its own people.
---
Stir Friday Night (Chicago, IL)
Turn Down Pho Wok
September 13 to October 11, 2014
Saturdays @ 11pm 9/13 - 10/11
Theater Wit
1229 W Belmont Ave
Written & Performed by Kannan Arumugam, Dacey Arashiba, Christina Seo, Loreen Targos, Jonald Reyes, Nic Park & Ray Hui Directed by Anna Lucero Music Direction by Katie Manning Theater Wit 773.975.8150 Tickets can be purchased here. $10 $5 student / senior / industry
Stir Friday Night is a 19-year-old Asian-American theater company. Our alumni include Danny Pudi from Community, and Steven Yeun from The Walking Dead.
---
Crowded Fire Theatre (San Francisco, CA)
The Late Wedding
by Christopher Chen
September 18 to October 11, 2014
Following his success of The Hundred Flowers Project, playwright Christopher Chen is up to his meta-theatrical antics once again. This time around, Chen takes his cue from the sly writings of Italian fabulist writer, Italo Calvino. His winking second person narrative, delivered by a six-person shape-shifting cast, deftly guides you on a wild and delightful examination of love and longing.
At once an anthropological tour through marriage customs, a spy thriller, and a sci-fi love story, the only thing you can expect from the inventive, mind-bending The Late Wedding is the unexpected!

---
A Squared Theatre Workshop (Chicago, IL)
Ching Chong Chinamen
by Lauren Yee
September 27 to October 19, 2014
---
Germinal Stage and Theatre Esprit Asia (Denver, CO)
in a first co-production, proudly present
Spirit & Sworded Treks

written, directed and performed by Maria Cheng
October 3 to 19, 2014
How does one maintain a spiritual path?

"wickedly funny,exquisitely crafted." New York Times

"a consummate theatre person." National Public Radio

"a magnificent work...richly textured with high energy, pathos and lots of hilarious moments. ...A masterful..performance..that is not to be missed. Cheng is an artist of the first magnitude." Marlowe¹s Musings

October 3-19, 2014, Fri-Sat-Sun 7pm Sat October 18 at 2pm, not 7pm Germinal's 73rd Avenue Playhouse 7287 Lowell Blvd, Westminster CO 80030
---
4th Asian American Theatre Conference and Festival
Philadelphia, PA
October 8 to 12, 2014
The next National Asian American Theater Conference and Festival is taking place in Philadelphia this year, October 8th-12th, 2014! The ConFest is currently entitled "Home: Here…There… Where?". Through the lens of the Asian American experience of migration and the search for a sense of "place" and equity on personal, community, and global levels, the ConFest will examine Asian Americans' relationship to broad definitions and meanings of home. Over 4 1/2 days, the 2014 ConFest will include 4 full-length productions, 2 performance showcases, 20 panel discussions or workshops, and 3 plenary sessions. Open-mic opportunities, video presentation sessions with artists sharing work-in-progress, neighborhood artist/open studio and community tours, new play readings, and open space sessions will round out the program.
For more info, go to 2014.caata.net

Chang(e)
by Soomi Kim
Shows:
Wed Oct 8 and Fri Oct 10, 8pm;
Sun Oct 1, 2pm
at the InterAct Theatre
A tribute to the life of artist and activist Kathy Chang, a Philly icon whose final "act" of protest in 1996 shocked the city. Directed by Suzi Takahashi.
Dennis Kim's
Tree City Legends
Thurs Oct 9 and Fri Oct 10 at 8pm
at the Painted Bride Art Center

Folklore, live music, and post hip hop vibe, imbue this urban parable of a Korean American family - fractured by loss and united by faith. Directed by Marc Bamuthi Joseph.

---
East West Players and Japanese American National Museum (Los Angeles, CA)
Presents The Writers Gallery Reading of
Washer/Dryer
by Nandita Shenoy
October 16, 2014
Tateuchi Democracy Forum at the National Center for the Preservation of Democracy 111 North Central Avenue, Los Angeles 90012

Why is Sonya so hesitant to introduce her new husband Michael to the people in her building? Why does the doorman keep calling her about a package in the lobby? Tempers and misunderstanding flare and mayhem ensues as the arrival of Michael's mother, some nosey neighbors, and Sonya's best friend Sam force Michael and Sonya to re-evaluate their relationship and decide whether all is fair in love and real estate in the world premiere of this new farce.
---
CIRCA-Pintig (Chicago, IL)
Quartet: Four New Plays
by Conrad A. Panganiban
October 5 to 26, 2014
---
---
Milwaukee Repertory Theatre (Milwaukee, WI)
after all the terrible things I do
By A. Rey Pamatmat
October 1 to November 9, 2014
"A poignant, new American drama finds Daniel, a writer, fresh out of college, returning to his Midwestern hometown to regain his sense of self. He takes a job at a local bookstore owned by Linda, an émigré from the Philippines, and soon after, they realize their connection is much deeper than a shared love of literature. Together they will have to face the trauma of their pasts to create second chances for themselves — but can they find forgiveness?"
---
Lincoln Center Theatre (New York, NY)
brownsville song (b-side for tray)
by Kimber Lee
October 4 to November 16, 2014
brownsville song (b-side for tray) tell the story of the family of Tray, a spirited 17-year-old whose life is cut short, as they navigate their grief and find hope together.
---
Silk Road Rising (Chicago, IL)
The Hundred Flowers Project
by Chrisopher Chen
October 16 to November 23, 2014
Digital media becomes the perfect "ally" for a group of actors collectively creating a play about Mao Tse Tung's Cultural Revolution.
As their work-in-progress starts morphing into a propaganda play about the play itself, disturbing questions arise as to who, or what, is controlling the narrative.
See News story.
---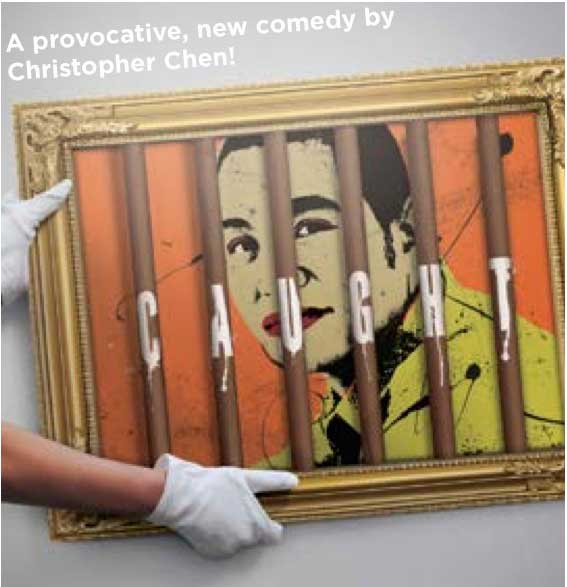 Interact Theatre Company (Philadelphia, PA)
Caught
by Christopher Chen
October 24 to November 16, 2014
InterAct Theatre Company, comes Christopher Chen's CAUGHT, directed by Rick Shiomi. When legendary Chinese artist Lin Bo appears at the renowned Mana Gallery, his harrowing story of imprisonment in a Chinese detention center has the world standing at attention. Recently profiled in The New Yorker, Lin Bo shares with patrons the details of an ordeal that defies belief. Accusations fly as a labyrinth exploration of truth, art, social justice and cultural appropriation are brought to the forefront, where nothing is as it first appears.
---
Ma-Yi Theatre (New York, NY)
Chairs and a Long Table
by Han Ong
October 28 to November 22, 2014
Chairs And A Long Table follows a group of Asian American actors in New York City as they prepare to attend a conference addressing racial discrimination in the casting of a Chinese American play.
---
Dukesbay Productions (Tacoma, WA)
Tea
by Velina Hasu Houston
October 30 to November 16, 2014
See News story.
---
Ma-Yi Theatre (New York, NY)
Livin' La Vida Imelda
by Carlos Celdran, directed by Ralph B. Peña
October 31 to November 23, 2014
U.S. Premiere Production
Join the internationally celebrated artist, activist, raconteur, Sherpa of Itramuros and recent jailbird Carlos Celdran, as he takes a scalpel to the interwoven pathologies of Imelda Marcos, to get to the bottom of the dirt! Is there a better specimen to dissect? There are lies. There are rumors. Truth is beauty, and all beauty is God. Therefore, if you lie and spread rumors, you are Godless and you are ugly. That¹s the truth. Praise be to Ferdie.
---
Pork Filled Productions (Seattle, WA)
Fast Company
by Carla Ching
November 1 to November 22, 2014

Once again pushing the boundaries of Asian American theatre, Pork Filled Productions presents the Northwest premiere of Carla Ching's Fast Company.

Meet the Kwans: a Chinese American family of expert con artists, grifters and thieves. But when daughter Blue masterminds the job of the decade stealing the world's most valuable comic book, it might just spell disaster for the whole family, including her brothers Francis and H and their mother Mable. Pitting new game theory against old-school cons, truth against illusion and family bonds against betrayal, it's a race to see who will come out on top in this fun, stylish crime caper.


Carla Ching is a CrossRoads-commissioned writer for South Coast Repertory Theatre and staff writer for USA Network's Graceland). Fast Company received its world premiere at South Coast Repertory Theatre it is a recipient of an Edgerton Foundation New American Plays Award.

See News story.

---
Pan Asian Repertory Theatre
38th Season Dinner and Salute
November 6, 2014
6pm Cocktails & Appetizers | 7pm Dinner
at the Golden Unicorn in Chinatown
18 E. Broadway at Catherine Street

Featuring traditional Chinese Banquet with presentation to Salutees INDIVIDUAL TICKETS: $150 Includes admission to the cocktail and dinner Early bird tickets are $125 before Oct 6th VIP TICKETS: $250 includes admission to the cocktail and dinner plus a pair of tickets to Film Chinois.
Email info@panasianrep.org for more information.
---
Mu Performing Arts (Minneapolis, MN)
Mu Daiko in Concert
November 12 to 16, 2014
Mu Daiko returns to its Twin Cities community roots with an innovative taiko drumming concert at Mixed Blood Theatre. The nationally recognized ensemble celebrates its 18th season of taiko with reimagined pieces from the ensemble's repertoire and brand new compositions, including a collaboration with celebrated local director/choreographer Joe Chvala (Flying Foot Forum, Guthrie Theater).
"You owe it to yourself to see [Mu Daiko] perform at least once; it's a thrill that engages the mind, body, and soul and leaves you feeling invigorated and energized." (Jill Schafer of Cherry & Spoon reviewing Mu Daiko's 2014 concert Rhythm in Motion). Mu Daiko's brand of heart-pounding rhythms and high-flying movement will be showcased in Mixed Blood's intimate auditorium.
---
Chromatic Theatre (Calgary, Canada)
Cowboy vs. Samurai
by Michael Golamco
November 13 to November 22nd 2014
---
Shunya (Houston, TX)
Bhopal
by Rahul Varma
November 14 to 28, 2014
A play set amid the events leading up to and following the 1984 Bhopal Gas Tragedy. Varma's timely drama reveals the human stories within the complex political and economic webs that led to one of the worst industrial catastrophes in history.
---
2014 Sketch Comedy Championships! (Los Angeles, CA)
18 Mighty Mountain Warriors competing
November 20, 2014
---
Pan Asian Repertory Theatre (New York, NY)
PLAYS-IN-PROCESS program
with a staged reading of
ODYSSEY PROJECT; A Return to Love
by Jiyoun Chang
November 21, 2014

The story we think we know of a hero's journey, life and love told from the perspective of a young man, the child of the hero who has been waiting for his father's return for decades, and whose own journey begins in this new take on a familiar classic.

To RSVP: email info@panasianrep.org or call 212/868-4030.

All readings held in the Bruce Mitchell Room at 520 8th Ave (3rd Fl) and include post-show talk-back with the playwright. Suggested donation of $10 collected at the door to cover post-show reception.
---
Leviathan Lab (New York, NY)
in collaboration with
The Performance Project @ University Settlement presents
GHOST STORIES
A Reading of Three Original Short Musicals Inspired by Asian Ghost Stories
November 21 and 22, 2014
See News story.
---
East West Players (Los Angeles, CA)
Takarazuka!!!
by Susan Soon He Stanton
November 6 to December 7, 2014
Directed by Leslie Ishii: Yuko is the star of the Takarazuka Revue, an all-female Japanese performance troupe that has put on melodramatic spectacles for nearly a hundred years. The lead performer can only be a star for two years and Yuko is being forced to retire. However, strange accidents keep happening calling this tradition into question. Part ghost story, part love story, part All About Eve, Takarazuka!!! is a thrilling and hilarious new black comedy.
See News story.
---
Stephanie Keiko Kong and Jonathan Clarke Sypert
Kumu Kahua Theatre (Honolulu, HI)
the underneath
by Susan Soon He Stanton
November 6 to December 7, 2014
When a young man disappears under mysterious circumstances, his estranged brother tries to find him.
In this noir mystery drama, a man returns to Hawaii after ten years, responding to an urgent summons from his brother. On arrival he learns that his brother is missing, and that many things have changed since their childhood. To uncover the mysteries, the brother encounters a girlfriend, a homeless man who may have witnessed something relevant, a crime boss and an enigmatic young private investigator. Identities shift and the past re-emerges, as the search seems to reveal more questions than answers.
See News story.
---
Mu Performing Arts (Minneapolis, MN)
A Very Asian Christmas Concert
November 29 to 30, 2014
The holiday season takes its toll on us all… Santa's hitting the bottle again, and Jasmine is down in the dumps. The only thing that will cheer her up is singing, dancing, and laughing the night away with her talented friends and family members. Hosted as always by Jasmine (Randy Reyes' drag persona), this irreverent holiday cabaret showcases Mu's best musical theater and taiko talent and features delicious food and drinks included in the price of admission.
Randy Reyes to Host Mu's A Very Asian Xmas for the Fifth Year

Artistic Director Reyes directs and stars (in a fabulous new wig) as Jasmine, the lovelorn hostess of Mu's annual holiday cabaret (November 29­30, 2014).


(Minneapolis/St. Paul) Mu Performing Arts today announced casting and production details for its annual cabaret at the Southern Theater. Jasmine (Randy Reyes) could not be more excited for this year's program which includes familiar holiday tunes and Mu classics by the company's talented musical theater and Mu Daiko performers. The concert also features Jasmine's Medley,
a risqué sampling of familiar holiday classics.

"This being her 5th year of hosting our holiday cabaret, Jasmine desperately wants this show to be the best ever! And she'll do anything to make it happened. She hasn't told me much, but I know that she's going to have a new hair-do and she'll be wearing something inspired by the Summer of Love, 1969. Other than that, she guarantees awesome music, food, discoveries, and tons of holiday merriment!"
­ Randy Reyes (Director)

Running for only two performances (November 29 & 30, 2014) at the Southern Theater,
A Very Asian Xmas features food and drinks included in the price of admission. In addition to Reyes, the cast includes Stephanie Bertumen, Francesca Dawis, Isabella Dawis (who also music directs), Alex Galick, Sheena Janson, Heather Jeche, Alice McGlave, Chiaki O'Brien, Sara Ochs, Emma Valentine and Cathie VanDanacker.
---
National Asian Artists Project (New York, NY)
DISCOVER: New Musicals –
Marcus Yi's Lost at Sea
Timothy Huang's Missing Karma
Christine Toy Johnson and Michael Mott's Riding Out the Storm and
Azusa Fujikua's Sign
December 1, 2014
---
Ma-Yi Theatre (New York, NY)
LabFest
December 1 to 7, 2014
Bones
written by Deepa Purohit, directed by Awoye Timpo featuring Yolanda Bavan, Mahira Kakkar, Angel Desai & Alok Twari
The funeral's done. All that's left of him is in a box. Four women in one family fight to decide how to let go. And how to move on.
Monday, December 1 @ 7:00PM
The Supreme Leader
written by Don Nguyen, directed by Liz Carlson featuring Stephen Mark, Jason Liebman & John Roque
A coming of age story centered on Kim Jong-Un's early days at an international school in Switzerland.
Wednesday, December 3 @ 7:00PM

Saner Than Her
written & directed by Naveen Bahar Choudhury
When a peculiar crime occurs in their home, three women, all facing personal crises, question who among them has truly lost it. A comedic crime mystery about three nervous breakdowns and a fish named Boyfriend.
Friday, December 5 @ 7:00PM
Mechanics of Love
written by Dipika Guha, directed by Jesse Jou featuring Glen Jose Joaquin Perez, Francesca Caitlin Clouthier, Faizi Birgit Huppuch & Georg Jake Hart
A man who forgets everything falls in love with a ballerina who forgets nothing, that is until she falls in love with him. And his wife. And the mechanic. A madcap new comedy about how we love, who we choose, and the cost of making sense of it all.
Saturday, December 6 @ 7:00PM
The Persephone Project
written by Lauren Yee, directed by Larissa Lury music by Pearl Rhein featuring Taylor Shurte, Pearl Rhein & Matthew MacNelly
14-year-old Persephone has a dark side. And it's growing. A contemporary take on an ancient coming-of-age myth, created with director/collaborator Larissa Lury, with songs by composer Pearl Rhein.
Sunday, December 7 @ 3:00PM
---
Ma-Yi Theatre (New York, NY)
A ROCK-INSPIRED RIFF ON IBSEN'S PEER GYNT
by Michi Barall
music by Matthew Gunn Park
December 19, 2015
directed by Jack Tamburri staged managed by Carolynn Richer featuring Angel Desai, Miriam Hyman, Mia Katigbak, Paul Lieber, Matthew Gunn Park & Titus Tompkins Work-In-Progress Showing TBG Theater (312 W. 36th Street, Floor 3) Saturday, December 19th @ 8:00PM
---