---

Playwrights' Horizon (New York, NY)
Aubergine
by Julia Cho
August 19 to October 2, 2016
"A man (Kang) shares a bowl of berries, and a young woman (Kim) falls in love. A world away, a mother prepares a bowl of soup to keep her son (Park) from leaving home. And a son (Park) cooks a meal for his dying father (Kang) to say everything that words can't. In Julia Cho's poignant and lyrical new play, the making of a perfect meal is an expression more precise than language, and the medium through which life gradually reveals itself."
---
Collin Hoo, Eun Ho Lee, Kenny Kusaka. Picture by Denise Guzman.
Kumu Kahua Theatre (Honolulu, HI)
UchinaAloha
World Premiere by Lee A. Tonouchi
Directed by Reiko Ho
August 25 to October 2, 2016
Charming Tradition vs. Change Comedy
"Da Pidgin Guerilla" Lee A. Tonouchi brings us a warm tale of generations of an Okinawan family in Hawai'i in his story about the change that any culture experiences when it is relocated. Grandfather wants to play music the way it is played in Okinawa, but his grandson wants to combine tradition with more modern methods and the mix of culture found in Hawai'i.
(*Please note, there will be no performances of UchinaAloha September 22-25; we will host Improvaganza that weekend)
More News here
---
La Jolla Playhouse (La Jolla, CA)
Tiger Style!
by Michael Lew
September 6 to October 2, 2016
Star students and squabbling siblings Albert and Jennifer Chen used to represent the pinnacle of adolescent achievement. But when it comes to adulthood, they're epic failures. Albert's just been passed up for promotion and Jennifer's been dumped by her loser boyfriend. So they do what any reasonable egghead brother and sister would do and go on an Asian Freedom Tour! Travelling from California to China, Tiger Style! embraces the inner slacker and the outer tiger parent in all of us.
---

Book-It Repertory Theatre (Seattle, WA)
A Tale for the Time Being
by Ruth Ozeki
adapted by Laura Ferri
September 14 to October 9
Directed by Desdemona Chiang
In Tokyo, 16-year-old Nao's only solace is her diary. Across the Pacific, Ruth is a novelist living on a remote island who discovers a collection of artifacts washed ashore in a Hello Kitty lunchbox—possibly debris from the devastating 2011 tsunami. As a mystery unfolds, Ruth is pulled into the past, into Nao's drama and her unknown fate, and forward into her own future. A Tale for the Time Being is a brilliantly inventive, beguiling story of our shared humanity and the search for home.
---
Consortium of Asian American Theaters and Artists
Oregon Shakespeare Festival
Seismic Shifts:
The 5th National Asian American Theater Conference & Festival
October 1 through 9, 2016
News article here.
To sign up or more information, go to http://caata.net.
---
Company One (Boston, MA)
We're Gonna Die
by Young Jean Lee
October 4 to 8, 2016
Obehi Janice will reprise her performance in this cabaret show about an existential crises. It will be mounted at American Repertory Theater's OBERON cabaret space and directed by LaCount.
---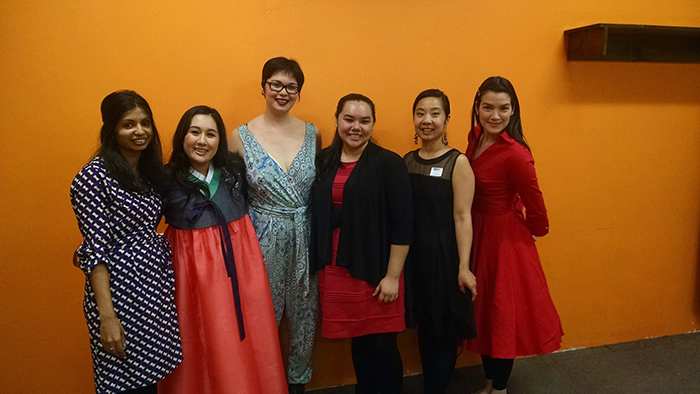 Philadelphia Asian Performing Artists
PAPA Fall Season Performing Showcase
October 17, 2016
PAPA Fall Season Showcase
Performing arts showcase featuring Philadelphia Asian Performing Artists (PAPA)
Monday, October 17, 7-8:30pm
In the launch of this quarterly showcase series, experience the vibrancy and diversity of the local Asian American theatre and performing artists community, featuring members of PAPA and other local artists. Join us for an evening of comedy as members, old & new, will perform stand-up!
This is a FREE event, but donations will be accepted at the door and online at papacomedyshowcase.brownpapertickets.com
---
An American woman and a Tibetan man discover that their son may be the reincarnation of a high Buddhist teacher. When two monks seek their permission to take the child to India and train him as a spiritual master, they are forced to make a difficult choice.
---
Stir Friday Night (Chicago, IL)
8 Angry Asians
September 30 to October 21, 2016
See News story.
---
Joel de la Fuente, photo by Lia Chang
Guthrie Theater (Minneapolis, MN)
Hold These Truths
by Jeanne Sakata
October 7 to 23, 2016
See News story.
---
Boston Playwrights' Theatre (Boston, MA)
Memorial
by Livian Yeh
October 14 to 23, 2016
This play centers on architect Maya Lin — who rose to fame at 21 when she designed the controversial Vietnam Veterans Memorial in Washington, D.C.
---
Bindlestiff Studio (San Francisco, CA)
Stories High XVI
October 13 through 29, 2016
tion: 185 6th St. San Francisco, CA
Tix: $10-$25 Click here for tix...

Bindlestiff Studio proudly presents Stories High XVI - the culmination of our long-running annual page-to-stage workshop series – which opens Oct 13, thru Oct 29.

Presenting six one-act plays that feature pop divas, popping the question, urban legends, killer fashion, national tragedy, bike lane politics, and much more!
"I Love You, Mariah"
Late-90s Mariah Carey supplies the soundtrack to this timeless tale about the confusing nature of teenage friendships.
Written by Jasmine Hoo. Directed by George Imperial. Starring: Lorenz Gonzales, Melanie Elvena, and Paula Sison.
"Siklistang Pinoy"
Everything in San Francisco is political, even a simple bike ride.
Written by Glen Jermyn Andag. Directed by Chris Hunt. Starring: Glen Jermyn Andag, Mike Abella, Missa Perron, Giancarlo Cariola, and Benita Benavides.
"Love is Love"
A harrowing, human, heartfelt exploration of sisterhood, inspired by real-life events.
Written by Grace Burns. Directed by David Ragaza. Starring: Golda Sargento and Caroline Calderone.
"The Apprenticeship"
An urban legend receives a modern twist as worlds collide on Manila's infamous Balete Drive.
Written by Benita Benavides. Directed by Laura Paule. Starring: Paula Sison, Thuy Tran, and Giancarlo Cariola.
"Last Night with Madame Bloody Bosom"
An immortal vampiress in desperate need of a makeover demonstrates that fashion is truly a cutthroat industry.
Written by Ed Mabasa. Directed by Juan Berumen. Starring: Lauren Garcia, Missa Perron, and Rizal Adanza.
"The Future Mrs. Pu"
A heartsick waitress attempts to aid a stuttering patron's imminent wedding proposal.
Written by Abigail Pañares. Directed by Joe Cascasan. Starring: Thuy Tran and Manny Cabrera.

October 13-29, Thursdays – Saturdays, 8pm.

Community Preview Wednesday, Oct 12.

Opening-weekend reception, Oct 15, immediately following performance. Catered by local vendors.
---
Santa Monica, CA—Leo Garcia and Patrick Kennelly, Artistic Directors of Highways Performance Space, present the world premiere of Grace Needs a Mirror, written and performed by Joyce Lu with actor and comedian Aidan Park, and singer and songwriter Florence Yoo, directed by Barry Shabaka Henley on Friday, November 4 and Saturday November 5, 2016 at 8:30 pm. Tickets: $20 general admission /$15 students, seniors, and members of Highways.
Grace Needs a Mirror weaves together text, movement, song and video projection to tell the story of a professor who complains of racism and is thrown from the halls of academe into a psychiatric hospital. There she meets a host of characters who force her to confront her past life as an opium lord and the ghost of her uncle who died in a mental hospital in China after chasing Mao's "revolution." Grace Needs a Mirror explores how institutional violence marks bodies and psyches from one life to the next. It asks: What makes a person "insane" versus "normal"? What is "criminal" versus "legal" behavior? How much poison can you swallow and come out yourself?
Grace Needs a Mirror also features the work of: Carlo Maghirang on scenic design, Hsuan-Kuang Hsieh on video projection; Jesse Mandapat jessemandapat.com on sound; and Wen-Ling Liao on light.
Joyce Lu is a local performing artist and educator. She is a member of Body Weather Laboratory (BWL), directed by Naoyuki Oguri and Roxanne Steinberg in Los Angeles and has performed with BWL in various collaborations with Hirokazu Kosaka and the Arcane Collective at the Guggenheim and Getty museums, the REDCAT, and the Japanese American Cultural & Community Center. Her last appearance at Highways was in Denise Uyehara's piece, The Senkotsu (Mis)translation Project in 2009. She has also performed with Los Angeles Poverty Department. Joyce also dances with Christine Germain and Diana Lara in the San Francisco Bay Area and practices Balinese dance with Burat Wangi in LA. She is a certified Feldenkrais Method Practitioner and she currently teaches in the Department of Theatre and Dance at Pomona College.
For more information on Grace Needs a Mirror, please visit www.highwaysperformance.org/highways/event/joyce-lu-grace-needs-a-mirror/
---
Seattle Theaterwala (Seattle, WA)
An Unorthodox Rhapsody
by Arnav Sengupta
November 5 and 6, 2016
This one-hour play in English is written by a talented local playwright Arnav Sengupta, a 15-year-old high school student, and the world premiere of this play is directed by Jay O'Leary. Our sincere thanks to King County 4Culture for the Open 4Culture award to partially support this production!

It is a story of a teenager, Max, who is looking for independence from academic expectations from his surroundings. He is not rebelling, nor is he trying to avoid responsibility. He is only questioning the expectations from his family and his teachers. Does this sound familiar? Maybe Max's story will remind you of your own teenage days, or better connect to the teenager in your own house. How does Max reconcile his own independence with these expectations? Who helps him and who does not? At the end, will you agree with him?

Join us to experience a story of friendship, love and loss blended with witty humor, to enjoy a unique way of creating music, and to enter into the mind of a teenager. Hope you all come, watch the show with your family and friends, and support us!
---
SIS Productions (Seattle, WA)
Mechanics of Love
by Dipika Guha
October 21 to November 5, 2016
A Northwest premiere.
What do a ballerina with an artificial spine, a highly organized and fashionable wife, a mechanic who wants it all, and a man who forgets everything, all have in common? Love! Set in a mythical European city, this modern-day fairytale is a wonderfully wacky metaphor for love in all its magical, mystical glory.
See News story.
---
Portland Center Stage at The Armory (Portland, OR)
Hold These Truths
by Jeanne Sakata
October 1 through November 13, 2016
See News story.
---
Huntington Theatre Company (Boston, MA)
Tiger Style!
by Michael Lew
October 14 to November 13, 2016
---
Rasaka Theatre (Chicago, IL)
Multitudes
by John Hollingworth
November 20 to November 13, 2016
"When hate trumps love...everybody loses."
In a possible future where Trump is the American president and Brexit reigns in England, the country is in turmoil as one of its most multicultural cities awaits a visit from the Prime Minister, and one family clashes over their own internal conflicts of faith, belonging, and who gets to call themselves British. Performances run October 20 - November 13 at Victory Gardens Richard Christensen Theater.
---
Vancouver Asian Canadian Theatre (Vancouver, BC)
Empire of the Son
by Tetsuro Shigematsu
November 1 to 13, 2016
Returning after an extended and completely sold out run, Empire of the Son, written by and starring Tetsuro Shigematsu (former host of CBC Radio One's The Roundup), is the story of two generations of CBC broadcasters and the radio silence between them.
THE DRAW: "Exquisite. I'm telling all of the people I love most to see this show… I can't say enough good things about Empire of the Son" — Colin Thomas, The Georgia Straight
Conception, writing, design, and performance: it's perfect… Do you have a heart? Give it this gift" — Colin Thomas, Georgia Straight Fall Arts Preview
---
National Asian American Theatre Company
Sagittarius Ponderosa
by MJ Kaufman
October 24 to November 19, 2016
Archie, still known as Angela to his family, comes home to the Pacific Northwest to find everyone in transition. Pops, suffering from diabetes, likes to sneak off for sugar binges. Mom is anxious and angry. Very hard-of-hearing Grandma is obsessing about getting her "granddaughter" married. Even the forest is changing. From the roots under our feet to the heavens above, the mysteries of the human heart help us navigate constant change.
With: Daniel K. Isaac*, Mia Katigbak*, Glenn Kubota*, Bex Kwan, Virginia Wing*
---
Ferocious Lotus (San Francisco, CA)
fHERocious New Play Readings
November 12 to 20, 2016
ANNOUNCING: The lineup for the fHERocious New Play Readings Nov. 12, 13, 19, 20 at the Magic Theatre, celebrating Asian American Women Playwrights!
FAST COMPANY, by Carla Ching
Nov. 12, Sat, 8p
Directed by Keiko Shimosato Carreiro
In this comedy heist, a family of grifters is so busy double-crossing each other that they lose sight of the greatest grifter of them all. Fast, funny, dark and dangerous—this skewed look at family and ambition keeps us guessing about who's winning and who's getting conned.
LIKE ME, by Victoria Chong Der
Nov. 13, Sun, 2p
Directed by May Liang
A bold new work on sex trafficking in Oakland and its youngest victims, told through the stories of four girls, their friendships, rivalries, and struggle for freedom.
TWO MILE HOLLOW, by Leah Nanako Winkler
Nov. 19, Sat, 8p
Directed by Lily Tung Crystal
When the Donnellys gather for a weekend in the country, both an internal storm and a literal storm brews. As this brood of famous, longing-to-be-famous, and kind-of-a-mess, but totally Caucasian family comes together, some hilarious, really complicated, and very unique secrets are revealed (over white wine). A parody coupled with moments of disorienting sincerity, Two Mile Hollow explores the dysfunctional family genre with brutality, awe and compassion.
SAFE HOUSE, by Geetha Reddy
Nov. 20, Sun, 1p
Directed by Torange Yeghiazarian
Enter the isolation chamber of a stay-at-home mother raising a pair of profoundly different twins, June and July. As her world becomes smaller, she goes to extreme measures to survive the threats of the modern world. When real disaster strikes, will she be ready? On this anniversary of September 11th, Safe House asks how we've progressed as a country in the last 15 years and if we've evolved in our fears and perceptions of the "other."
HERCULINE AND LOLA, by Dipika Guha
Nov. 20, Sun, 330p
Directed by Desdemona Chiang
While vacationing in Amsterdam, American teenager Lola begins to hallucinate. A century earlier, frustrated and misunderstood, schoolteacher Herculine retreats into a solitary white room. Herculine and Lola is a story about two people united by the power of their imagination and by love--inspired by the diary of the first "true hermaphrodite" Herculine Barbin.
---
Ma-Yi Theatre (New York, NY)
Among the Dead
Written by Hansol Jung
Directed by Ralph B. Peña
November 5 to 26, 2016
Ana is an ex-daughter, summoned to Korea to retrieve her suddenly dead father's ashes. Luke is an American soldier, sent to Myanmar to survive a world war he probably shouldn't have volunteered for. Number Four is a Korean comfort woman, camping out on a bridge in Seoul, waiting for Luke. Jesus is a bellboy. Three wars of three eras folded into one hotel room, Among the Dead is a dark comedy about a family broken apart by betrayed promises, and finding each other through spam, journals, and Jesus. Mostly Jesus.
---
Factory Theatre
fu-GEN Theatre Company (Toronto, Canada)
acquiesce
by David Yee
October 29 to November 27, 2016
Plagued by the success of his first book and haunted by his past, Sin Hwang arrives in Hong Kong with some unusual cargo and a lot of emotional baggage. Featuring a surreal cast of characters, from a foul-mouthed Paddington Bear to a wisecracking Buddhist monk, this sharply comedic and heartbreakingly poignant tale of self, familial and spiritual discovery reflects the cycles from which we must all break free as we find our way.

acquiesce started 15 years ago at Factory Theatre in the playwrights lab and was recently revived during David's residency in 2014/15. The production is directed by Factory Theatre Artistic Director Nina Lee Aquino and it marks a milestone in the careers of both Nina and David, as they celebrate 15 years of their artistic 'marriage' as playwright and director; a relationship that has earned them much critical and audience acclaim.

The production runs October 29th – November 27th at the Factory Theatre Mainspace.
---
Manhattan Theatre Club (New York, NY)
Vietgone
by Qui Nguyen
October 4 (previews) through November 27, 2016
through December 4
Casting news here. East Coast premiere of this smash comedy/romance.
A modern twist on the All-American love story, Qui Nguyen's (She Kills Monsters) new play Vietgone pulses with contemporary energy. It's the classic story of boy meets girl – except this boy and girl are refugees from the Vietnam War newly settled in a relocation camp inside Middle America. Borrowing elements from the world of up-to-the-minute popular culture to recreate the playwright's own parents' meeting, Vietgone ranges from hilarity to heart-wrenching drama. Nguyen and director May Adrales (Luce) skip through time and around the globe to present a fresh theatrical take on a moving account of one real family's history.
---
Kumu Kahua Theatre (Honolulu, HI)
iHula
World Premiere by Ryan Okinaka
Directed by Harry Wong III
November 3 to December 4, 2016
H?lau Family Drama
The art of hula is interwoven into this story about four very different young women.
Kumu `Iwalani is trying her hardest to pass on her love for hula and the knowledge she has learned from her K?puna to her students, a task that gets harder to do to with each passing generation.
(No show Thursday, November 24 - Thanksgiving)
---
East West Players (Los Angeles, CA)
Kentucky
by Leah Nanako Winkler
November 10 to December 11, 2016
The 2016-17 season begins with the West Coast Premiere of Kentucky by Leah Nanako Winkler (November 10 – December 11, 2016). Hiro is self-made, single, and almost making it in NYC when her born-again baby sister decides to marry a man she hardly knows. Hiro resolves to stop the wedding by returning to Kentucky and the past she put behind her. Will she save her sister and escape back to Manhattan? Will years of therapy unravel in one weekend back home? Identity, religion, and love collide in this rollicking coming-of-age story.
---
Artists At Play (Los Angeles, CA)
The Last Firefly (A Kabuki Fable)
by Naomi Iizuka
December 13 to 15, 2016
directed by Giovanni Ortega
featuring Jane Lui, Ruffy Landayan, Michael Hagiwara, Rosie Narasaki and Julia Cho
Inspired by Japanese folktales, The Last Firefly follows the journey of a young boy named Boom who is trying to find his missing father—who may or may not be Thunder. Boom's quest takes him through a fantastical world where trees talk, spiders weave clouds and boys punch holes through the sky. It is a story about parents, children and what is found when they discover where they came from and who they really are.
Artists at Play presents this free reading in partnership with Center Theatre Group's The Shop, a program which provides Boyle Heights community residents with opportunities to make theatre a part of everyday life.
---

Silk Road Rising (Chicago, IL)
Christmas at Christine's
Written & Performed By Christine Bunuan
December 1 to 23, 2016
This new holiday musical revue puts a Silk Road spin on the Christmas season. Chicago favorite Christine Bunuan invites you into her world with Christmas at Christine's. Journey from California to Chicago to the Philippines to a Catholic-Jewish household, as Christine sings her way through the holiday songbook and a lifetime of yuletide memories.
---
The Adventures of Minami: The Robot from Japan Who Makes You Feel Safe When Loneliness is Palpable: Part I
by Leah Nanako Winkler
Directed by Matt Dickson
December 19 to 30, 2016
Production Stage Manager: Eileen Lalley
Produced by Nick Ward, Leah Nanako Winkler, & Matt Dickson
Tickets: https://web.ovationtix.com/trs/pr/967074
Starring: Yurika Ohno, Elizabeth Zephyrine McDonough, Alex Herrald, Jahna Ferron-Smith, Ariel Estrada and Merissa Czyz
In The Adventures of Minami: The Robot From Japan Who Makes You Feel Safe When Loneliness Is Palpable: Part I, a human–like android finds herself passed along to one household to the next – including a wholesome yet severely unhappy all-American couple, a grieving daughter in the wake of the 2016 Presidential Election and the lustful scientist who created her.
Technology, desire and the need to unload onto a third party intersect in this piece that asks the question: What does it mean to be a human?
---