---

Circle Players (Piscataway, NJ)
In Love and Warcraft
by Madhuri Shekar
September 18 to October 4, 2015
---
Silk Road Rising (Chicago, IL)
Yellow Dress
Written & Performed by Marissa Lichwick
Directed by Lavina Jadhwani
October 1 to 4, 2015
Born out of her experiences growing up as a Korean adoptee in a family of ten in upstate New York, this coming-of-age, one woman show follows two orphans through the streets of South Korea, into the suburban American heartland, and their fortuitous journey back. Back to Korea, back to their past.
---
East West Players (Los Angeles, CA)
Chinglish
by David Henry Hwang
September 10 to October 11, 2015
An American businessman desperately looking to score a lucrative contract for his family's firm travels to China, only to learn how much he doesn't understand: his translators are unreliable, his consultant may be a fraud, and he is captivated by Xu, the beautiful, seemingly supportive government official who talks the talk—but what is she saying, anyway? From East West Player's favorite playwright comes an uproarious new comedy.
---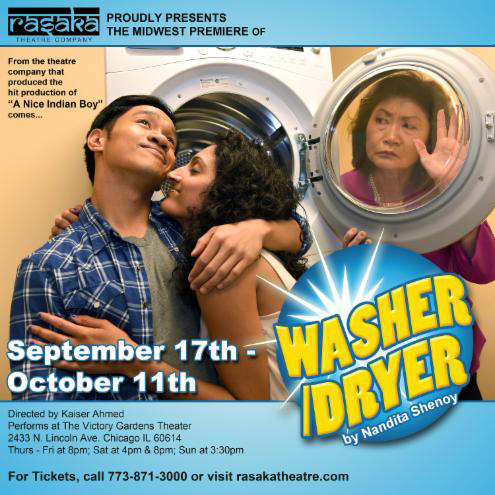 Rasaka Theatre Company
Washer/Dryer
by Nandita Shenoy
September 17 to October 11, 2015
Washer/Dryer is a hilarious new farce from playwright Nandita Shenoy that throws a modern, multicultural marriage into the pressure cooker of tight New York City living. When Indian-American Sonya elopes with Chinese-American Michael, she thinks she has finally found her happily-ever-after, and possibly even fulfilled her grandmother's wish for marriage. But when Michael discovers that Sonya's apartment is "Single Occupancy Only," and a colorful cast of nosy neighbors and relatives show up to complicate matters further, the couple is forced to re-evaluate their dirty laundry and decide whether all is really fair in love and real estate
"Rasaka is proud to be a part of the Resident Theater Program and of Victory Gardens' diverse and inspiring artistic community," Rasaka's Producing Artistic Director Kamal Hans said. "We are excited about producing Washer/Dryer, a wonderful follow-up to our highly successful production of A Nice Indian Boy. We feel Nandita Shenoy has written a beautiful play about a modern Indian-American woman, who makes some "non-traditional" choices and the complications that arise from those choices. We feel our audiences will connect with, laugh and enjoy the journey along with the wonderful characters in this piece."
---
Ferocious Lotus Company (San Francisco, CA)
Crane
by JC Lee
September 17 to October 11, 2015
When Sadako stumbles into a cabin in the mountains in the dead of winter, she meets Bradley, a young, hermitic artist who once created a great work but has since descended into mediocrity. He now risks being dropped by his pushy agent if he doesn't produce another masterpiece. After taking in this mysterious woman, Bradley soon discovers that Sadako has her own secret talent that could potentially save him. But at what cost?
In this wry, poignant story of love, forgetfulness and the nature of art, playwright JC Lee blends dreams with reality. Ancient myths and rich poetic language merge with a crass contemporary humor. A magical world of flying houses and talking refrigerators collides with a greedy, materialistic status quo. And the artist must choose…between creative integrity and commercial success.
Lee also weaves together two timeless Japanese myths— the memory of a young girl who folds 1,000 paper cranes to save herself after the Hiroshima bombing, and the tale of a crane who weaves her feathers into a stunning cloth to financially save the man she loves.
CRANE is the first premiere of Lee's work since his play LUCE premiered at Lincoln Center Theatre's LCT3 in 2013. He's currently writing the screen adaptation of the musical PIPPIN for the Weinstein Company. He's also a writer for ABC's HOW TO GET AWAY WITH MURDER and a former writer/co-producer on HBO's LOOKING.
---
Artists at Play (Los Angeles, CA)
In Love and Warcraft
by Madhuri Shekar
September 19 to October 11, 2015
extended to October 18
This fall, Artists at Play is absolutely thrilled to present our fifth Los Angeles premiere: In Love and Warcraft by Madhuri Shekar. Aside from having an amazing title, In Love and Warcraft is a fresh look at the collision between online gaming and In Real Life (IRL) relationships. We have all been fans of Maduri Shekar's work in the past-- a delightful intersection of humor, love and subculture--and this play is no exception. So get ready to venture into the World of Warcraft with Artists at Play!
---
Alliance Theatre (Atlanta, GA)
Tiger Style
by Mike Lew
September 30 to October 18, 2015
Star students and squabbling siblings Albert and Jennifer Chen used to represent the pinnacle of adolescent achievement. When it comes to adulthood, they're epic failures. Albert's just been passed up for promotion and Jennifer's been dumped by her loser boyfriend. So they do what any reasonable egghead brother and sister would do and go on an Asian Freedom Tour! Travelling from California to China, Tiger Style! embraces the inner slacker and the outer tiger parent in all of us.
---
---
Ma-Yi Theatre (New York, NY)
Ma-Yi LabFest
October 13 to 18, 2015
THE PLAYS
And Baby Makes Gray
by Damon Chua
Inter-racial gay couple Everett and Cal, having decided to father a child through surrogacy, confront big questions about the would-be ethnicity of their baby.
Tuesday, October 13th @ 7pm
The Untitled Yo Project
by Deepa Purohit
A woman faces her own mortality as a writer attempts to fulfill the optimistic promise of memorializing her life. Both get more than they bargained for.
Wednesday, October 14th @ 7pm*
**This reading is by invitation only
The New Deal
by Mrinalini Kamath
Imprisoned for murder, Inmate 2 is a survivor, which is why he chooses to participate in an experimental government program over death row. The New Deal explores a not-too-distant future where prison and pharmaceutical corporations form a collaboration.
Thursday, October 15th @ 7pm**
**This reading is by invitation only
Washer/Dryer
@ Queens Theatre in the Park
by Nandita Shenoy
Sonya and Michael's recent elopement in Vegas seemed like a dream come true for both of them until they try living together in Sonya's Manhattan studio apartment. As they discover that they haven't been entirely honest with each other or themselves, their secrets come home to roost along with an intrusive mother, the co-op's strict Board president, a harsh best friend, and a fabulous washer-dryer.
Saturday, October 17th @ 8pm
Call Queens Theatre in the Park at 718.760.0064 to reserve your seat.
The Birds of Empany
by Clarence Coo
Instead of looking for a husband, this man would rather give you a slideshow presentation about the birds of New York City. Because watching birds can be more satisfying than finding human connection.
Saturday, October 18th @ 8pm*
---
Old Globe Theatre (San Diego, CA)
In Your Arms
September 16 to October 25, 2015
The Old Globe is kicking off its 2015-2016 Season with In Your Arms, a World Premiere dance-theatre musical featuring direction and choreography by Tony Award winner Christopher Gattelli (Newsies, Godspell, Lincoln Center Theater's South Pacific) and original music by Tony Award winner Stephen Flaherty (Ragtime, Once on This Island; two-time Oscar nominee for Anastasia). Co-conceived by Gattelli and Jennifer Manocherian, In Your Arms features 10 dance vignettes written by an incredible and diverse lineup of theatre powerhouses, including Douglas Carter Beane, Nilo Cruz, Christopher Durang, Carrie Fisher, David Henry Hwang, Rajiv Joseph, Terrence McNally, Marsha Norman, Lynn Nottage, and Alfred Uhry.
San Diego Union previews it.
---
ACT (San Francisco, CA)
Save the I-Hotel
adapted by Phillip Kan Gotanda
Monstress
adapted by Sean San Jose
September 16 to October 22, 2015
At its new Strand Theater, American Conservatory Theater offers a view of San Francisco life through a Filipino lens in this pair of short stories by Lysley Tenorio adapted for the stage by two eloquent Bay Area playwrights. Philip Kan Gotanda's Save the I-Hotel revisits the eviction of Filipino residents from the International Hotel in 1970s San Francisco, and Sean San José's Monstress depicts a Manila director lured to SF to work with a dodgy filmmaker.
---
Crowded Fire Theatre (San Francisco, CA)
On a Wonderverse
by Geetha Reddy
October 1 to 24, 2015
As the sole woman on a team of award-winning scientists, Dr. Schen is often uncredited or dismissed by her peers. Then one fantastical night in her lab, she creates something incredible…a vibrant new universe. Playwright Geetha Reddy weaves a highly imaginative and breathtaking look at the intersection of science and spirituality, as Dr. Schen becomes an avatar of Shiva and must decide whether to keep or destroy her growing Universe.
This new play is the latest co-commission from Crowded Fire and Playwrights Foundation who last teamed up on the Glickman award winning The Hundred Flowers Project.
---

South Coast Repertory Theatre (Los Angeles, CA)
Vietgone
by Qui Nguyen
directed by May Adrales
October 4 to 25, 2015
In a Vietnamese refugee camp in the middle of Arkansas, a man (who plans to catch a plane to Guam and hop a boat back home to Vietnam) meets a woman (who doesn't like greasy American food and listening to Elvis, but knows when there's no home to go back to) and an unlikely romance begins. Using his hip-hop, comic-book style that Variety calls "infectious fun"—and skipping back and forth from the fall of Saigon to the here and now—Qui Nguyen gets up close and personal to tell the story that led to ... Qui Nguyen.
---
Theatre Diaspora (Portland, OR)
The Sound of a Voice
by David Henry Hwang
October 17 and 25, 2015
This one-act by Tony-award-winning playwright David Henry David Hwang features a ghostly story of a woman living in the woods and the samurai who happened upon her. Both yearn for THE SOUND OF A VOICE. Performed by Chisao Hata, Larry Toda with shakuhachi flute music by Larry Tyrrell and direction by Samson Syharath. Again we're offering great raffle items including a Japanese tea set and a painting by Portland artist Kathy Delumpa Allegrii! Order tix for either Oct. 17th at 2pm and Oct. 25th at 7pm at Portland Center Stage.(Suggested ages 10 & up) http://www.pcs.org/blog/item/the-sound-of-a-voice/
---
TEA (Colorado)
Asian American Cabaret Evening
October 25, 2015
ACE – Asian American Cabaret Evening
NEW VOICES: all new works from our family of TEA artists!
Sunday October 18, 2015, 7-9pm, drinks & snacks, suggested $5-$10 donation
1400 Dallas Street, Aurora CO 80010
limited seating, please call 303-366-9747 to reserve a free seat
free parking on the street or in lot south of the building
previews from our upcoming production of ASIAN TALES:
Peter Trinh's Vietnamese Boat Person, Sushma's Pakistani Edge of Reason and
Jon Vogel's Iranian Foundations
plus
Deepali Lindblom's Wake, Butterfly: 2 women in an imaginary place, a sort of No Exit of Waiting for Godot, underpinned by Chuang Tzu's most famous Taoist koan!
---
Stir-Friday Night! (Chicago, IL)
K-Spa Time Machine
Saturdays @ 8pm
October 10 to November 7, 2015

Stir-Friday Night! presents their newest sketch revue:
K-SPA TIME MACHINE
Written & Performed by
Christina Seo, Jonald Reyes,
Loreen Targos, Nic Park, & Ray Hui

Directed by Jay Steigmann
Music Direction by Katie Manning
Tech Director: Byron Roussin

@ The Apollo Theater Studio
2540 N Lincoln Ave
773.935.6100

$10
$5 student / senior / industry
(Group discount available.)
(Use the Offer Code HOTTIX for $5 tickets!)
Stir-Friday Night! is a 20-year-old Asian-American theater company. Our alumni include Danny Pudi from Community, and Steven Yeun from The Walking Dead.
Follow SFN!
Instagram: @stirfridaynight
---
Bindlestiff Studios (San Francisco, CA)
Stories High XV
October 22 to November 7, 2015
(Thu - Sat) at 8pm
Location: 185 6th St. San Francisco, CA
Tickets: $10-$25; Click here for more info...

Bindlestiff Studio proudly presents Stories High XV - the culmination of our long-running annual page-to-stage workshop series.

Three workshops. Writing. Acting. Directing. One amazing show.
The production spotlights Bindlestiff's commitment to foster new talent as well to nurture existing artists.

Eight weeks of intensive instruction has yielded eight fully-produced 10-minute plays: Click here for more info...

A co-presentation with APICC (Asian Pacific Islander Cultural Center) and PAWA (Philippine American Writers and Artists, Inc.)
---
Mu Performing Arts (Minneapolis, MN)
Taiko Groove
directed by Jennifer Weir
November 5 to 8, 2015
Concordia University (E.M. Pearson Theater)
Taiko Groove will be a a collaborative concert with special guests artists that will explore a more contemporary taiko groove through a variety of instrumentation, rhythms and melody. We'll also have the visceral excitement and chest rattling of our big drum numbers that audiences love.
---
Shunya (Houston, TX)
A Nice Indian Boy
by Madhuri Shekhar
November 7, 2015
Naveen Gavaskar just wants a traditional Indian marriage to a nice Indian… boy. While his parents are trying to wrap their heads around this strange idea, his older sister returns home and drops a bombshell of her own. A comedy about love and marriage today- gay or straight, arranged or not.
This performance will be a staged reading: a presentation of the script without a set or full costumes. The actors will be seated and reading from the script.
Times: November 7, 2015; Saturday at 8pm
Location: Studio 101, 1824 Spring St., Houston, TX 77007
---
Goodman Theatre (Chicago, IL)
King of the Yees
by Lauren Yee
November 1 to 15, 2015
For nearly 20 years, playwright Lauren Yee's father Larry has been a driving force in the Yee Family Association, a seemingly obsolescent Chinese American men's club formed 150 years ago in the wake of the Gold Rush. But when her father goes missing, Lauren must plunge into the rabbit hole of San Francisco Chinatown and confront a world both foreign and familiar. At once bitingly hilarious and heartbreakingly honest, King of the Yees is an epic joyride across cultural, national and familial borders that explores what it means to truly be a Yee.
---
National Asian American Theatre Company (New York, NY)
Charles Francis Chan, Jr.'s Exotic Oriental Murder Mystery
by Lloyd Suh
November 2 to 21, 2015
NAATCO, the National Asian American Theater Company, will stage the world premiere of Lloyd Suh's Charles Francis Chan, Jr.'s Exotic Oriental Murder Mystery, an adaptation of Agatha Christie's "The Mysterious Affair at Styles," the novel that introduced her famed character Hercule Poirot.
Performances of the new murder mystery, helmed by Drama Desk winner Ed Sylvanus Iskandar, will begin Oct. 26 with an official opening night set for Nov. 2. Performances will run through Nov. 21 at Walker Space at downtown's Soho Rep Theatre.
Set in 1967, Charles Francis Chan, Jr.'s Exotic Oriental Murder Mystery is described as a "harmless sing-song Orientalist minstrel show that ends in a grotesque carnival of murder!" The story examines the beginnings of a new political identity called Asian American as a literary hippie named Frank profiles a mysterious Chinese detective.
The cast features Jeff Biehl, Jennifer Ikeda, Peter Kim, Orville Mendoza, KK Moggie and Jeffrey Omura. The show features scenic design by Jason Sherwood, costume design by Loren Shaw, lighting design by Seth Reiser, projections design by Olivia Sebesky and sound design by Jeffrey S. Bloom. Composer and musical director is Alan Schmuckler, dramaturg is Kimber Lee, props supervisor is Samantha Shoffner, and Qui Nguyen will serve as fight choreographer.
Lloyd Suh is the author of American Hwangap, The Wong Kids in the Secret of the Space Chupacabra Go!, Jesus in India, Great Wall Story, Franklinland, The Children of Vonderly, Masha No Home and more, produced with Ma-Yi, The Play Company, Ensemble Studio Theatre and La Mama, among others.
The Soho Rep Theatre is located at 46 Walker St., Manhattan. For more information and to purchase tickets, priced $25-$40, visit NAATCO.
---
Factory Theatre
Banana Boys
by Leon Aureus
November 3 to 22, 2015
Nina Lee Aquino revisits this seminal work of Asian-Canadian theatre in a powerful new production that examines the deep challenges of being torn between cultures and identities. Drawn together by the death of their friend and unofficial leader, five young Asian Canadian men must confront unrealized potential, devastating loss, and time travel, all while trying not to punch too many white boys in the face. This wickedly funny play, adapted from a celebrated book that is a 'meditation for the restless,' is a call to anyone who has felt out of place in the world.
---
Chang(e)
devised by Soomi Kim and Suzi Takahashi
November 5 to 22, 2015
Fighting for global social transformation, performance artist and activist Kathy Change (formerly Kathleen Chang) was on a mission to save the world from disaster. As a final act of protest, she self-immolated on the campus of UPenn in October 1996. Chang(e) is a live-staged biographical docudrama that slipsbetween reality and fantasy, plunging viewers inside the mind of Kathy Change. This project was born from our belief that her timely message and story deserves attention.
Chang(e) runs November 5th-22nd, Thurs-Sat 8:30pm, Sundays at 4pm
HERE Arts Center Main Stage: 145 6th Ave., one block south of Spring, entrance on Dominick.
Crowdsourcing here.
---
Ma-Yi Theatre (New York, NY)
Fordham University
The Orphan of Zhao
adapted by Mathew Maguire and Ralph B. Peña
November 11 to 21, 2015
Ma-Yi undertakes a new partnership this season with Fordham University, where Mr. Pena is set to direct a new English adaptation of Ji Junxiang's 13th Century play, The Orphan of Zhao-- adapted by Matthew Maguire and Ralph B. Peña-as part of Fordham University's Main Stage Season. The production runs November 11-13 and November 19-21st
CORRUPTION . REVENGE . FAMILY .
General Tu'an Gu has his eyes on Duke Ling's throne. To get there, he must eliminate his arch rival Zhao Dun and all 300 members of his family. After the massacre, Tu'an Gu discovers that Zhao Dun's daughter-in-law has recently given birth, and the has been child smuggled out of his reach. Tu'an Gu threatens to kill every child in the state of Jin unless the Orphan of Zhao is turned over to him. To prevent this, Cheng Ying, a lowly country doctor swaps his own child for the Orphan and convinces Tu'an Gu it is the child he seeks. Tu'an Gu kills the child, and to reward the good doctor, he offers to adopt Cheng Ying's boy as his own and raise him to become a great warrior. Unbeknownst to Tu'an Gu, he has adopted The Orphan of Zhao.
Come and see this all-student cast take on this epic tale, given a new spin by Ma-Yi Theater's Artistic Director, Ralph B. Peña.
---
Aurora
by Jeannie Barroga
a FREE Staged Reading
November 15, 2015
When: Nov 15 at 7pm
Location: 185 6th St. San Francisco, CA
Tickets: Free! Click here for more info...

Aurora, Colorado was the July 2012 site of a dozen deaths of which the accused pleads insanity -- twenty miles away for a single murder, loved ones reflect on a similar plea.

This reading celebrates the acquisition of Ms. Barroga's full literary collection by Stanford University Green Library Special Collections. Readings of her plays are being showcased around the Bay Area. She is the only Filipino American female playwright in this collection. Click here for more info...
---

A Noise Within
in Partnership with East West Players (Los Angeles, CA)
Present a Staged reading of
The Recognition of Shakuntala
By Kalidasa
Translated by W.J. Johnson
Directed by Jonathan Munoz-Proulx
Monday, November 16 | 7PM
A Noise Within
3352 E Foothill Blvd, Pasadena, CA 91107
"Would'st thou the Earth and Heaven itself in one sole name combine? I name thee, O Shakuntala! and all at once is said." (Goethe)
Considered to be one of the greatest Sanskrit dramas, Shakuntala is an epic story of love and redemption. While on a hunting trip, King Dushyanta encounters the devout Shakuntala, the pair immediately fall in love only to be cruelly cursed and separated. Thus begins a sweeping romance that travels from the forrest to royal palaces, into the belly of fishes and thru ethereal celestial realms. As the faithfulness of these two lovers for each other is tested, they must choose between their love for each other and their societal duties and obligations. Shakuntala is a heartbreaking, dazzling poetic masterpiece.
Admission to this event is free. To RSVP, call the Box Office at (626) 356-3100.
---
Silk Road Rising (Chicago, IL)
My American Cousin
Written & Performed by Jameeleh Shelo
Directed by Min-aha Beeck
November 19 to 22, 2015
My American Cousin is a one woman sketch comedy show with a unique glimpse at the life of an Arab American Muslim woman from the south side of Chicago as she navigates her way through cultural pressures and societa l assumptions. From arranged marriages to 9/11 and Ramadan to the age old question—"Why are most cabbies from the Middle East?"—nothing is off-limits.
---
Mu Performing Arts (Minneapolis, MN)
A Very Asian Christmas
Noveber 28 and 29, 2015
---
Kumu Kahua Theatre (Honolulu, HI)
My Boy He Play Ball
A world premiere by Tammy Haili'opua Baker
November 5 to December 6, 2015
Family bonds are strained when a local high school football star is forced to make a decision about his mainland school scholarship.
"Prove to me how bad you want this. You gotta be hungry to play."
See News story.
---
Leviathan Labs (New York, NY)
The Living Room Series: Immigrant
December 5, 2015
What does it mean to be an immigrant today? Immigration has and continues to be an intense issue for debate as we grapple with our legacy as a nation of immigrants and battle over the very composition of our country. Beyond attention-grabbing headlines and hardened ideologies, what are the stories of those who sacrifice and dream of a new life elsewhere? What do such stories of migration make possible? What does it now mean to be an immigrant, a citizen, and an American?
Continued...
---
TEA (Denver, CO)
Coming to America
November 21 to December 6, 2015
---
Prologue Theatre Company (Chicago, IL)
Tea
by Velina Hasu Houston
November 15 to December 13, 2015
Five Japanese "war brides" of American soldiers who live in Kansas, struggle with their cultural identity and the anti-Japanese prejudice that followed World War II. After one of the women commits suicide, her ghostly presence forces the other women to deal with the tensions of being Japanese in post-war America, marrying a 'foreigner' and living separated from their culture.
Featuring: Kaori Aosima, Francesca Atian, Ginger Leopoldo, Jin You, Karissa J. Murrell Myers. Understudies: Theresa Ro, Pearl Paramadilok.
Performances:
Sundays @3pm
Monday 11/16 & 11/30 @7:30pm
Thursday- Saturdays @7:30pm
---
East West Players (Los Angeles, CA)
Chinglish
by David Henry Hwang
December 3 to 13, 2015
East West Players (EWP), the nation's longest-running professional theatre of color in the country and the largest producing organization of Asian American artistic work, re-opens the critically-acclaimed and tremendously popular production Chinglish by Tony Award-winning playwright David Henry Hwang and directed by Jeff Liu, for a limited run the first two weeks of December, starting Thursday, December 3 through Sunday December 13. See more...
---
Sideshow Theatre (Chicago, IL)
No More Sad Things
by Hansol Jung
November 15 to December 20, 2015
Co-World Premiere with Boise Contemporary Theatre
A girl catches a last-minute flight to Maui. A boy finds the girl on the shores of Ka'anapali. Something strange and something familiar pulls them closer. They have sex on the beach and spend the week together. The week ends. The girl is 32. The boy is not.
Sideshow Theatre Company follows up its smash-hit production of Stupid F##king Bird with a sly, delicate, and very funny world premiere by Hansol Jung.
---
Yale Repertory Theatre (New Haven, CT)
Peerless
by Jihae Park
November 27 to December 19, 2015
Peerless is a comedy about ultra-competitive twin sisters, who hatch a plan to get into college after denied access upon early admission. The production is directed by Margot Bordelon.
---
Mu Performing Arts (Minneapolis, MN)
Purple Cloud
by Jessica Huang
– WORLD PREMIERE –
December 4 to 20, 2015
Mixed Blood Theatre
When you're hapa, you know deep down you're greater than the sum of your many parts. In Purple Cloud, three generations of Huangs deal with the multifacets of their multiracial identities as – accompanied by four Jade Pieces – they embark on a mythical journey from China to America and back again.
---

Eugenie Chan Theater Projects (San Francisco, CA)
19 Wentworth Alley, Chinatown
by Eugenie Chan
December 14, 2015
NEW PLAY READING!
Drawing on the history of her grandfather, a man caught between his studies as a Stanford medical student and his membership in a Chinatown gambling and prostitution guild in early 1900s San Francisco, Eugenie Chan layers original material with fragments of actual family documents to explore the world Chan's Grandfather knew — and made — one of high hopes and hard choices.
Directed by Jessica Heidt
Dramaturgy by Laura Brueckner
With Bonnie Akimoto, Monica Ho, Lisa Hori-Garcia, Arthur Keng, John Patrick Moore, Beverly Sotelo, Jomar Tagatac and clarinetist Wes Asakawa
Z Below
Monday, December 14, 2015
7 pm
$10 suggested donation to Z Below (but absolutely no one turned away at the door)
470 Florida St between 17th & and Mariposa
San Francisco CA 94110
Tickets: https://web.ovationtix.com/trs/pe.c/10047647
Info: eugenieplays@gmail.com
---