Chicago Sketch Comedy Festival (Chicago, IL)
Stir-Friday Night
January 8, 2010
"Rock Out With Your Wok Out!" The show starts Friday, January 8 at 8pm.
Tickets are $12.50 and available on The Theatre Building's web site or call 773-327-5252.
---
Mu Performing Arts (Minneapolis, MN)
New Eyes Festival
January 7 to 10, 2010

ALL IS FAIR...
by Bao Phi
A Chinese American radical Vietnam Vet. A mixed Vietnamese/Chinese American son in the military. An Adopted Korean graphic novelist with a surprise hit book. A Hmong American agent, fiscally conservative and socially liberal. What happens when you throw them a dinner party? And what does it all have to do with identity politics, Frank's Nursery and Crafts, mountaineers, and Lord of the Rings?
Date: Thursday, Jan 7 at 7 pm

FOUR DESTINIES*
by Katie Hae Leo
Destiny Jones is a Korean adoptee growing up in Minnesota...no, Destiny Jones is an African American adoptee growing up in Minnesota...no, Destiny was born in Guatemala...no, Destiny is a Caucasian boy...! In this satirical exploration of fate, DNA, arrival stories and the families that love them, playwright Katie Leo represents every adoptee ever born and gives all her characters exactly what they want.
Date: Friday, Jan 8 at 7 pm

AMERICAN HWANGAP
by Lloyd Suh
This play concerns a Korean man who returns to America for his sixtieth birthday (hwangap) to reclaim the wife and children he abandoned in the U.S. 15 years earlier. As his divided family gathers to pay tribute to his life, he is forced to take stock of his choices, his dreams, and what he left behind. Mu chose to include this work (though it has been produced before) as we are highly considering it for a future season.
Date: Saturday, Jan 9 at 3pm

WTF*
by Katie Ka Vang
Three young people grow up with the complexities of being Hmong American in Middle America. Do their futures unfold the way they're suppose to?
Date: Saturday Jan 9 at 7 pm

I.N.*
by Masanari Kawahara
Two artists. Two bridges. One Peace Park. Using drawing, storytelling, music, and tea, puppeteer and performer Masanari Kawahara explores the links between his childhood in Hiroshima and the work of Isamu Noguchi, a prominent Japanese American artist. Masa's journey of becoming a Japanese artist in America is mirrored by Isamu's journey of embracing his Japanese heritage as an American artist. The two meet on a bridge between country, identity, and philosophy to sip tea and tell stories.
Date: Sunday Jan 10 at 2pm
*these plays are works in progress commissioned by Mu through the Jerome Foundation. The New Performance program focuses on giving opportunity to unpublished or 'non' playwrights in order to bring new perspectives to the field. Two of these plays will be selected to continue on to the next round of development.

Tickets:
call 651-645-5506 or email info@dreamlandarts.org to make a reservation. SEATING IS EXTREMELY LIMITED. Reserve to guarantee a spot. Only 40 seats.
---
East West Players (Los Angeles, CA)
Last 5 Years
encore presentation
January 9, 2010
A one-night-only performance of Jason Robert Brown's The Last 5 Years will be presented next month at the David Henry Hwang Theater in downtown Los Angeles to benefit Broadway Cares/Equity Fights AIDS.
The Jan. 9, 2010, performance will co-star 2009 Ovation Award nominees Michael K. Lee and Jennifer Paz. Composer Brown will be featured at the piano. Show time is 8 PM.
The evening will be directed by Jon Lawrence Rivera.
The Last 5 Years— which features book, music and lyrics by Jason Robert Brown — charts the rise and fall of the marriage between Kathy and Jamie over a period of five years. The conceit of The Last 5 Years has the woman beginning her story at the end of the relationship and working her way back, while Jamie's story starts from the first date and works forward. They sing together only once, in the middle of the play, at their wedding. Song titles include "Still Hurting," "A Summer in Ohio," "The Next Ten Minutes," "I Can Do Better Than That," "Nobody Needs to Know" and "Goodbye Until Tomorrow."
For tickets, priced $45-$65, call (818) 358-2730 or visit www.eastwestplayers.org/BroadwayCares. The David Henry Hwang Theater is located at 120 Judge John Aiso Street in downtown Los Angeles.
---
East West Players (EWP)
in collaboration with the Coalition to Abolish Slavery and Trafficking (CAST) is proud to present:
Excerpts from "THE GIRLS FROM AFAR"
By Libby Emmons
Directed by Jeff Liu
Thursday, January 21, 2010
A Staged Reading with Dante Basco, Fran de Leon, James Kyson Lee, Camille Mana, and Tamlyn Tomita
Slavery and human trafficking take on many forms sometimes right before our eyes. With her parents out of town, a daughter sneaks home for a romantic weekend with her boyfriend. But when they arrive, they discover two women and her parents' secret. THE GIRLS FROM AFAR explores two worlds that coexist, yet are often invisible to each other. What happens when they finally come face to face?
The reading will be followed by a panel discussion and reception. This reading is presented as part of a month-long campaign to raise the awareness of human trafficking and modern day slavery. To learn more on human trafficking, visit: www.castla.org.
RSVP on Facebook at: http://www.facebook.com/event.php?eid=276509977245&index=1
Or call East West Players at 213-625-7000.
Location:
Tateuchi Democracy Forum in the
National Center for the Preservation of Democracy
111 N. Central Avenue
Los Angeles, CA 90012
---
Vancouver Asian Canadian Theatre (Vancouver, BC)
Chop Suey #10
January 23, 2010
On January 23rd, 2010, join the Vancouver Asian Canadian Theatre (VACT) and host Tom Chin and Benita Ha for an evening showcasing 10 years of great performances. Your favourite VACTors are gathering to bring you highlights of the decade including forty minutes of four plays of SEX IN VANCOUVER, a SINGALONG TO FLOWER DRUM SONGS and a viewing of Vancouver Asian Film Festival's new documentary FLOWER, DRUM AND SONGS: MORE THAN A MUSICAL. You'll also see sketch comedy groups DARIN' JOES and LAUGHING MAKE MIND DAMAGE! strut their stuff on stage to make you laugh.
All proceeds will go to the development of future VACT productions.
Highlights of the CHOP SUEY #10 show:
An on-stage reunion of the SEX IN VANCOUVER cast!
Sing along with the cast of FLOWER DRUM SONG!
Laugh 'til you pee and help support VACT for the future!

---
In Mixed Company
Rip it Open
I'm Not Coming Back
January 23, 2010
Maura Nguyen Donohue/inmixedcompany with performers Aretha Aoki, Jessica Colotti, Brian Nishii and designer Stephanie Cook brings "Rip It Open" (PS 122/2002) and "I'm not coming back" (new work-in-progress) to Hawaii. Saturday, January 23 - 8pm. http://lcctheatre.hawaii.edu/
Open master class Friday, January 22 2pm - http://lcctheatre.hawaii.edu/master%20dance%20class.html
HS out reach classes - Friday, January 22 - Aiea H.S. & Castle H.S.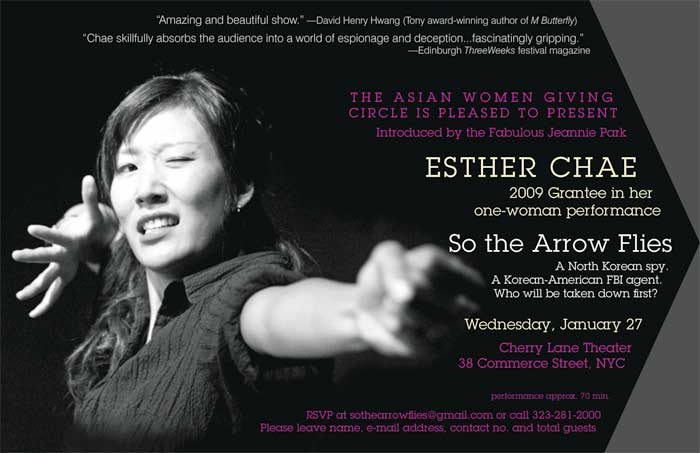 ---
Amrita Dhaliwal (L) and Mouzam Makkar (R) in Yoni Ki Baat, running January 7-31 at Strawdog Theatre, 3829 N. Broadway,
Chicago. More information at www.rasakatheatre.org. Photo by Jonathan L. Green.
Rasaka Theatre (Chicago, IL)
Yoni Ki Baat
January 7 to 31, 2009
See News story.
---
Wind Up Productions, Asia Society (New York, NY)
The Wind-Up Bird Chronicle
by Haruki Murakami
adapted by Stephen Earnhart and Gregory Pierce
January 15 to 30, 2010
US premiere. See News for details.
---
San Diego Asian American Repertory Theatre (San Diego, CA)
Hip Hop Kim Bop
by Elise Kim Prosser
January 15 to 30, 2010
San Diego Asian American Repertory Theatre enters its 15th season by announcing the upcoming production of Hip-Hop Kim-Bop: A Korean Herstory in the City of Angels, a new play by Elise Kim Prosser. Hip-Hop Kim-Bop is a contemporary comedy in which four women all named Kim meet at jury duty. Through coincidence, calamity, and kim-chee, the four become friends and discover their cultural and personal identities. The play runs January 15 - 31. Friday and Saturday performances begin at 8:00 p.m. and Sunday performances at 2:00 p.m. at SDSU's Don Powell Theatre, 5500 Campanile Drive San Diego 92182. General Admission - $25 Students - $15 To reserve tickets or for more information email sdaarttix@gmail.com or call 619–940-5891. Directed by Peter James Cirino Set Design by Christopher Lawrence Ward Lighting Design by Kelli Jean Groskopf Sound Design by Nhan Pham Videography by Fernando "Jay" Huerto and Samuel Dent Music by Nhan Pham, Elise Kim Prosser, Megan Stogner, and Ryan Tully-Doyle Dramaturgy by Lauren Beck Cast: Diana Alcausin, Oniric Cirino, Billy Khang, Gina Ma, Nick Mata, Elise Kim Prosser, Trinity Tuyen Tran
Today, 3:19 PM
San Diego Asian American Repertory Theatre enters its 15th season by announcing the upcoming production of Hip-Hop Kim-Bop: A Korean Herstory in the City of Angels, a new play by Elise Kim Prosser. Hip-Hop Kim-Bop is a contemporary comedy in which four women all named Kim meet at jury duty. Through coincidence, calamity, and kim-chee, the four become friends and discover their cultural and personal identities.
The play runs January 15 - 31. Friday and Saturday performances begin at 8:00 p.m. and Sunday performances at 2:00 p.m. at SDSU's Don Powell Theatre, 5500 Campanile Drive San Diego 92182.
General Admission - $25
Students - $15
To reserve tickets or for more information email sdaarttix@gmail.com or call 619–940-5891.
Directed by Peter James Cirino
Set Design by Christopher Lawrence Ward
Lighting Design by Kelli Jean Groskopf
Sound Design by Nhan Pham
Videography by Fernando "Jay" Huerto and Samuel Dent
Music by Nhan Pham, Elise Kim Prosser, Megan Stogner, and Ryan Tully-Doyle
Dramaturgy by Lauren Beck
Cast: Diana Alcausin, Oniric C
---


www.cultch.com
www.star9productions.ca
---
Pan Asian Repertory Theatre (New York, NY)
---
(L. to R.) Katherine Aumer & Jason Kanda. Photo by Firebird Photography
Kumu Kahua Theatre (Honolulu, HI)
House Lights & Prolonged Sunlight
by Eric Yokomori
January 14 to February 14, 2010
In a one-act play (House Lights) and six short plays under one title, (Prolonged Sunlight), playwright Yokomori explores the human condition via dramatic surrealism and theater of the absurd. Intense aberrant behavior is the norm as characters confront one another in strange situations. In one of the short plays, Joey tells Crystal that he possesses a magic rock into which he has placed all of his love, and no one can take it away from him. Crystal finds her own rock, and the battle begins. In another, an author attempts to convince a children's book publisher to buy his x-rated manuscript. In another, a bizarre cocaine deal goes bad. In House Lights, Saul Peacock, an actor whose credits are merely those of a perennial extra ("It's the hardest role to play, really. You never draw attention to yourself."), is invited to dinner at the dysfunctional Roget household and gives them all a lesson in the difference between illusion and reality.
See News story.
---
---
Richmond, CA
Traits
by Jeannie Barroga
Monday, February 15, 2010
Richmond, CA:
Via a 6-role multi-cast characters, a family discovers their new sibling, resulting in fantasy what-if's -- future public readings to be announced .
---
Made in Vancouver (Vancouver, BC)
Assaulted Fish
February 18, 2010
CATCH ASSAULTED FISH THIS THURSDAY
Date: Thursday, February 18
Time: 8:15pm to 8:45pm
Place: Interactive Stage at 1065 Hamilton Street (white tent in front of Van Pet, near Nelson Street) in Yaletown
Cost: FREE! (but donations are greatly appreciated)
Info: www.iheartvanart.com

This festival is truly Made in Vancouver, with zero government funding or sponsorship assistance from VANOC. Huge thanks to the I Heart Van Art team and sponsors, the Yaletown Business Improvement Association, and the thousands of talented, Vancouver-based musicians, visual artists, dancers, performance artists and multi-disciplinary participants who have donated their time and energy to come together to support and showcase Vancouver arts and culture.
---
Actors At Play (Los Angeles, CA)
Beware of Cupid
February 5 to 21, 2010
Actors at Play present the world premiere of an original Valentine's Day show titled BEWARE OF CUPID.
BEWARE OF CUPID is a unique theatrical production centered on Valentine's Day, presenting stories based on love and other matters of the heart. The various pieces explore and ultimately celebrate relationships in all their different manifestations. Opening on February 5 and running through February 21, 2010 at The Actor's Playpen (1514 N Gardner Street, Los Angeles, CA 90046), this show is the inaugural production for Actors at Play and is directed by Julia Cho and Benjamin Kim.
"BEWARE OF CUPID deals with the different aspects and stages of love through a collection of original scenes and monologues... falling in love for the first time, struggling to make a relationship work, getting over the one that got away," says producer and director Julia Cho. "All of the material is written and developed by the cast, offering the distinct perspective of those who are too old to believe in fairy tales but not yet ready to give up on true love."
The cast includes Jason Rogel (Splinterheads w/ Christopher McDonald, Lea Thompson and Rachael Taylor, Dexter, Bones, The Office), Julia Cho (Eating Out: All You Can Eat, Disney XD's I'm In the Band), Benjamin Kim (SyFy's CHA$E), Lynnette Li (Octomom! The Musical), Sandy Yu (recently seen in Company of Angel's The Ghost Building), Jared Asato, Sara Ceballos, and Chris Miyasaki.
Julia Cho assembled Actors at Play in an effort to work with like-minded fellow actors to create a fun and moving experience for both the performers and audience members alike. "I believe theatre can and should be accessible and relatable, especially to younger people. I felt the need to produce this show and luckily I was surrounded by people who were incredibly supportive, excited and wanted to take this on with me," says Cho.
BEWARE OF CUPID runs February 5 through February 21, 2010 at The Actor's Playpen (1514 N Gardner Street, Los Angeles, CA 90046). Performances are Fridays and Saturdays at 8 pm, Sundays at 3 pm. General admission is $14; opening night (including a post-show reception) is $20 per patron. Tickets may be purchased at www.brownpapertickets.com/event/92523 or (800) 838-3006.
For more information, please visit www.bewareofcupid.com.
[from l. to r. Jared Asato and Sandy Yu]
---
Mu Performing Arts (Minneapolis, MN)
Yellow Face
by David Henry Hwang
February 6 to 21, 2010
---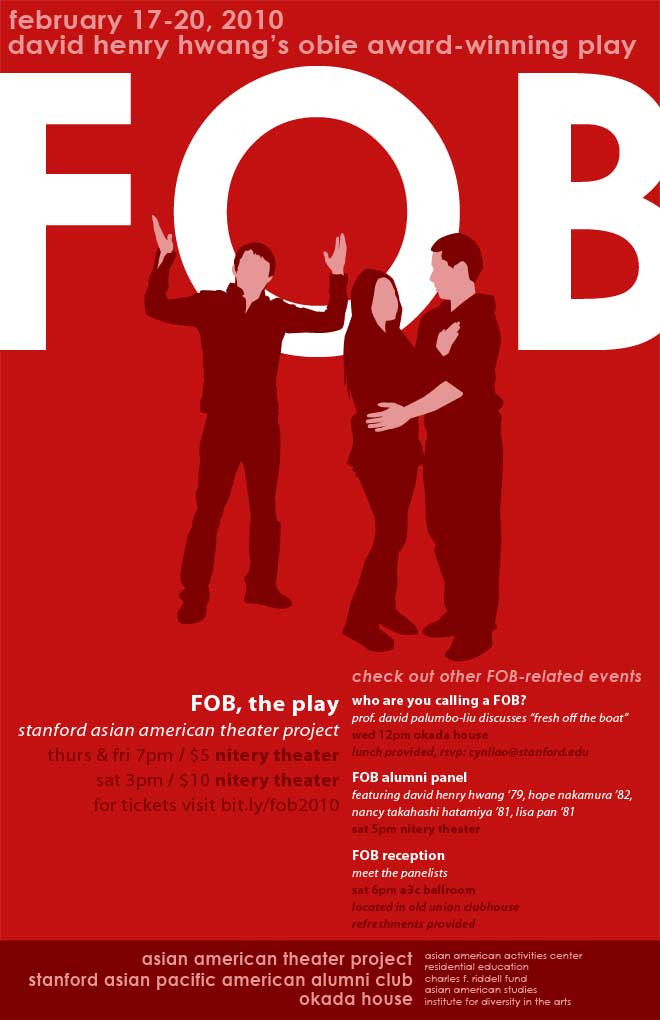 Um, actually the 30th Anniversary was LAST year, but what's a year to an old fart like me (who couldn't make it down for the alumni panel).
---
Cold Tofu (Los Angeles, CA)
February 20, 2010
They're baaaack! That's right! COLD TOFU's first improv show of the year is Saturday, February 20th. We need your suggestions to make it happen, so bring your family and friends and don't miss out on a fun-filled evening!!!
The show begins at 7:30pm and admission is only $5.
FREE parking available on the property and on Hewitt Street.
Call (213) 739-4142 or email coldtofu@hotmail.com for more information. Reservations are not necessary for this show.
---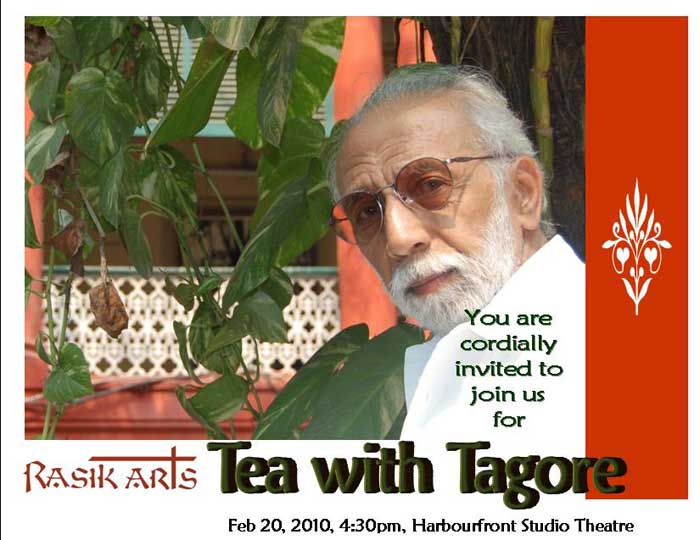 Rasik Arts (Toronto, Canada)
Tea with Tagore
February 20, 2010
Rasik Arts cordially invites you to enjoy "Tea with Tagore" at the MasalaMehndiMasti first Winterfest Festival! Share a whimsical half-hour with India's Nobel Poet-Laureate, portrayed by Ishwar Mooljee, as he discusses his penchant for 'picture-making,' along with examples of his artwork. The performance takes place on Saturday, February 20 at 4:30pm in the Harbourfront StudioTheatre. Admission is Free. For other activities at Winterfest click on MMM Winterfest
---
Pan Asian Repertory Theatre (New York, NY)
Chinese New Year Party
February 22, 2010
---
John Jay College of Criminal Justice (New York, NY)
First Throws Play Reading Series
Part of EPIC THEATRE ENSEMBLE'S PASSION PLAY COALITION FESTIVAL
Dawn's Light: The Journey of Gordon Hirabayashi
by Jeanne Sakata
Monday, February 22, 2010 at 7:00 pm

starring Joel de la Fuente
directed by Lisa Rothe

RSVP at DawnsLightPPC@aol.com
---
Ensemble Studio Theatre (New York, NY)
Youngblood's Unfiltered
microcrisis
by Michael Lew
February 10 to 27, 2010
Youngblood takes on Wall Street and the financial crisis with studio productions of two new plays from the world of high finance.
February 10 - 27 at the Ensemble Studio Theatre
Tickets to either Unfiltered show are just $10!

microcrisis
by Michael Lew
directed by Ralph Pena
featuring Jackie Chung, Graeme Gillis, Jocelyn Kuritsky, Socorro Santiago, Godfrey Simmons and Michael Louis Wells.
microcrisis is a ridiculous comedy about the world's next financial crisis. The play centers on "microcredit", the Nobel Peace Price-winning concept of providing Third World entrepreneurs with small charitable loans in the hopes of alleviating global poverty. This play is about what happens when bankers exploit microcredit, lump the loans into complex financial instruments, and once again ravage the global economy. It's a hilarious laugh riot.
Performances: February 17, 20, 21, 25 & 26 at 7pm
(Saw an early version of this show at the National Asian American Theatre Festival...and it was friggin' HILARIOUS. Got the finance and high level fundraising world dead on)
---
Breathing Space Ministries (Seattle, WA)
SECOND CHANCES FOR GRACE
Episode 1 - Betrayal
inspired by my testimony to Christ
Written by Kiki Yeung Johnson
Directed by Marc Mok Moser
February 12 to 27, 2010
Grace's dream came true - she has the lead role in My Fair Lady, the musical. Ironically, her family is falling apart, she struggles with her physical illness and addictions including William Hurt and various sorts of carbohydrates containing white sugar. Just when things can't get any worse for her, betrayal lurks in the most unexpected corners.........This is her journey of falling in love with Christ. Inspired by playwright and actress, Kiki Yeung Johnson's testimony to Christ, this is the first episode of the full series.
Rated PG-13. Themes: Body image, self-esteem, love.
Location: University of Washington's Ethnic Cultural Theatre
Dates: February 12th - 27th, 2010
Times: Fridays 8:30pm, Saturdays 7pm & Late show 9:30pm
Play Website: www.secondchancesforgrace.webs.com
---
Asian Arts Initiative & Urmika Devi present
Moving Beyond Form:
Explorations in Rhythm & Storytelling in Classical & Contemporary Indian Dance
Friday, February 26, 7:30 p.m.
Saturday, February 27, 4:30 p.m.
(Doors open 30 minutes in advance – come stroll through our new gallery exhibit!)

Asian Arts Initiative
1219 Vine Street, Chinatown, Philadelphia

Tickets: $20 general admission
Discounts available for youth & groups

For more information:
(215)557-0455 or http://www.asianartsinitiative.org/
For two days, on one stage, Moving Beyond Form brings together three distinctly different choreographers and ensembles — Annelize Machado, The Post Natyam Collective, and Philadelphia's very own Urmika Devi Dance Collective — exploring the boundaries of contemporary culture through works inspired by modern dance, ballet, yoga, martial arts, and the classical Indian dance forms of Bharata Natyam, Kuchipudi, and Kathak.
URMIKA DEVI DANCE COLLECTIVE (Philadelphia) premieres IN DREAMS, a touching three-act story of family and migration as a mother and daughter weave between dream and reality, shifting between elaborate costumes and a set evoking the Indian home left behind for New York City.
ANNELIZE MACHADO (Texas) premieres INTERSECTIONS, a solo work on journey and ritual.
THE POST NATYAM COLLECTIVE (California and Kansas) presents TIME OUT, a series of pieces in which the collective members stamp out unconventional cross-rhythms, vocalize beats, and retell stories with their fingertips.
---
New Dramatists (New York, NY)
Diadem and
Bone to Pick
by Eugenie Chan
with director Rob Melrose and actor Paige Rogers, founders of Cutting Ball Theater
February 27, 2010
When: 1 pm, Saturday, February 27th
Where: New Dramatists, 424 W. 44th St. (bet 9th & 10th), NYC
Info: Free. Call for reservations: (212) 757-6960
Diadem and Bone to Pick re-imagine the myth of Ariadne, Theseus and the Minotaur -- a triangle of sorts. In Diadem, Ariadne as a giggling Minoan princess, dreams of the return of her hero husband to Naxos. Bone visits her 3000 years later in a diner at the end of a post-apocalyptic world. An exploration of love, war, and complicity.
Diadem and Bone to Pick open on May 27th at Cutting Ball. Check out more about our collaborations in the February issue of American Theatre magazine in a feature about Cutting Ball. Bone was selected for the SF Bay Guardian's Best of 2008 list and nominated for a Glickman award.
---
An Evening of
Poetry & Fiction
by Kim Lyons &
Denise Uyehara
Saturday, February 27, 2010at 7 PM
The Drawing Studio
33 S. Sixth Avenue, Tucson
Admission is $5 general, $3 students
Presented by POG
Denise Uyehara will be reading from her short story "Slave Day," about a fourth grade Civil War eduction gone completely off course. Denise is an award-winning performance artist, writer and playwright whose work has been across the U.S. and abroad. Her book Maps of City and Body: Shedding Light on the Performances of Denise Uyehara (Kaya Press) documents her recent works.

Kimberly Lyons has lived and worked in NYC, now Brooklyn, since 1981 after graduating from Bard College where she studied poetry with Robert Kelly. She was program coordinator at the Poetry Project for five years in the late 80s and continues to be associated with the Project. She is the author of two books brought out by Granary Books: Mettle and Abracadabra, a collection of poems published in 2000, Saline (Instance Press Sensual Productions: Pictures, Poems, and Performances
---
Cornerstone Theatre (Los Angeles, CA)
On Caring for the Beast
by Shirshir Kurup
February 4 to 28, 2010
Follow six characters as they embark on parallel psychological, physical, and spiritual journeys through darkness into pain, and ultimately towards...light?
On Caring for the Beast is a study of the struggle between spirit and flesh, hope and despair, love and fear. Is the battle ever won?
L.A.'s celebrated ensemble returns with the fifth play in Cornerstone's Justice Cycle. Be consumed by this multi-media theatrical drama illuminating the shadows that exist in all of us.
Featuring Michael Cooke, MC Earl, Justin Gordon, Page Leong, Amro Salama and Bahni Turpin
Scenic Design - Shigeru Yaji, Costume Design - Garry Lennon, Lighting Design & Video Projections - Tom Ontiveros, Sound Design - John Nobori, Production Stage Manager - Nikki Hyde

Times & Dates
February 4 - 28, 2010
Thursdays - Saturdays @ 8pm; Sundays @ 2pm
Plus Wednesdays 2/17 & 2/24 @ 8pm

Ticket Information
PAY-WHAT-YOU-CAN
PREVIEWS (Feb 4-7) & WEDNESDAYS (Feb 17 & 24)

ALL OTHER PERFORMANCES $20

Location
Rosenthal Theater, Inner-City Arts
720 Kohler Street
Los Angeles, CA 90021
*valet parking available
---
MACLA Arts Center (San Jose, CA)
Persimmons in Winter
by Vivian Sung Soon Keh
February 11 to 28, 2010

a moving and poetic story of two sisters whose love and friendship are tested by war, poverty and the struggle for cultural identity

February 11 - 28
Thursdays - Saturdays at 8pm
Sundays at 2pM

at the
MACLA Arts Center
501 S. 1st Street
San Jose, CA
---
Grateful Crane Ensemble,
in partnership with the Japanese American National Museum (Los Angeles, CA)
The Betrayed
A Play by Hiroshi Kashiwagi
February 27 and 28, 2010
Grace is a sophisticated city girl, a college student, from Seattle while Tak is a bumpkin from rural California. Despite their differences, the attractive 20-year-olds fall in love. Typical story book stuff, you think. But this is a unique romance that takes place behind a barbed wire fence, in a prison for Japanese and Japanese Americans during World War II. Even in this difficult environment the relationship grows until it hits a snag in February 1943 when all inmates 17 years and older are ordered to answer the loyalty questions 27 and 28. Their responses to this order break up the relationship--Grace answers positively and leaves camp while Tak refuses to comply and is hauled off to the county jail.
Forty years later they meet again. Both have had a difficult life. Like most Japanese Americans they have struggled to re-build their lives after camp and though both have attained a measure of success in their respective fields, their marriages have not been totally fulfilling. Grace married a 442nd veteran and suffered through his nightmares of the war; Tak married a woman who refused to accept his No-No status in camp and as a consequence he loses his son to the Vietnam War. But Grace's father dies most tragically, his American dream totally shattered. All are consequences of the incarceration, especially of the loyalty questions 27 and 28.

The Betrayed
Written by Hiroshi Kashiwagi
Directed by Darrell Kunitomi
Music by Scott Nagatani

Saturday, February 27 at 11 a.m. & 3 p.m.
Sunday, February 28 at 2 p.m.
Panel presentation with playwright Hiroshi Kashiwagi and special guest to follow the 3 p.m. Saturday show, and the 2 p.m. Sunday matinee.

Tateuchi Democracy Forum at the National Center for the Preservation of Democracy
111 N. Central Avenue, Los Angeles, CA 90012
(Across from the Japanese American National Museum)

Tickets: General Admission: $25.00
JANM Members/Seniors/Students: $23.00
Groups of ten (10) or more: $20.00

For tickets, call the Grateful Crane Ensemble hotline number at 323/769-5503
---
Fluid Motion (New York, NY)
Benefit for Haiti
March 2, 2010

BENEFIT TO HELP FLUID MOTION AND THE PEOPLE OF HAITI
Tuesday, March 2, 2010 @ 6.30 PM
White Rabbit (145 East Houston Street)

Please join
Fluid Motion Theater & Film
for a benefit for their 2010 season of workshops

$20 (or more if you can!)
20% of proceeds raised will go to aid the efforts in Haiti by Doctors Without Borders
If you're with us in spirit, you can make a donation via PayPal
Your gift will help us bring two exciting new plays to light:

Lu Shen, the Mad (w.t.)
by Princess Grace Semifinalist Christopher Chen,
is a reimagining of Euripides' Herakles in modern China. In the chaos immediately following the Qing Dynasty's fall, Lu Shen is a veteran of the Boxer Rebellion who lives with the terrible violence he inflicted in the name of revolution. The play will capture the rage that rests beneath the surface of imperialist legacies in China, and the continuous tumult that marks modern Chinese history, where any victory leads at best to a tenuous, unsettled peace.
Scheduled for April 22 & 23 at the Museum of Chinese in America
The Secret History of Chingghis Khan: A Puppet Odyssey (w.t.).
by Wickshaw Productions
Start the Story Fellow Michi Barall, who will collaborate with puppet-maker Jan Leslie Harding, actor/shaman/videographer Michael Littig, and Tuvan throat singer and composer Albert Kuvezin on a multi-media puppet spectacular, incorporating traditional storytelling, folk music, and high tech media arts in a poetic exploration of the life and legacy of Chingghis Khan. The play will tour through the past 800 years of world history and has two departure points: Mongolia, the 12th century & New York City, the 21st century. Two young heroes, Temujin and Michael, set out to discover themselves and to re-make their worlds. The Secret History of Chingghis Khan: A Puppet Odyssey is based on the 13th century Uighur text, The Secret History of the Mongols, the only native Mongolian text to chronicle the life of Chingghis Khan.
Scheduled for June 2010
---
East West Players, The Japanese American National Musuem and National Center for the Preservation of Democracy (Tateuchi Democracy Forum) (Los Angeles, CA):
Writers Gallery Workshop of
There or Here
By Jennifer Maisel
Directed by Chil Kong
March 4, 2010

Time: 7:30 pm
Admission is FREE!
A dark comedy about a mixed race American couple who outsources their pregnancy to India. Tomorrow, Robyn and Ajay meet the woman who will have her egg and his sperm implanted inside her. Tonight they won't have sex even though they want to. Past and present, America and India - connected by the tenuous threads of time zones and technology. Outsourced computer technicians, fast food order-takers and phone sex operators become the refuge they can't seem to be for each other.

Location:
Tateuchi Democracy Forum in the
National Center for the Preservation of Democracy
111 N. Central Avenue
Los Angeles, CA 90012

Parking: City Lot 7 - $7 per car
Enter from Judge John Aiso Street
Or Street Parking
---

NAATCO (New York, NY)
A Play on War
by Jenny Connell
February 12 to March 6, 2010
A ferocious comedy about a war-torn landscape populated by characters on bicycles...all desperate to survive.

With
Mia Katigbak, Jon Norman Schneider, Nikki Calonge, Orville Mendoza, Marcus Ho, Brian Hirono, Nathan Elam, and Bushra Laskar

Justin Nestor (set design)
Kate Ashton (lighting design)
Candida K. Nichols (costume design)
Adam Cochran (original compositions and live music)
Sam Rudy Media Relations (press release)
Directed by Rubén Polendo

February 12, 2010 through March 6, 2010
Mondays - Fridays at 7:00pm
Saturdays 2:00pm & 7:00pm

The Connelly Theater
220 East 4th Street (between Avenues A and B)
Tickets: $15 - $20
212-352-3101
866-811-4111
---
East West Players (Los Angeles, CA)
Cave Quest
by Les Thomas
February 11 to March 14, 2010
The search for inner peace is a life long journey. However, Justin Yi plans to condense that journey into minutes by packaging it into a $49.99 video game. To help his cause, he tracks down Padma, a legendary Buddhist nun in a Tibetan cave high in the Himalayas. Padma hasn't spoken in three years but Justin hopes she will divulge her secrets of enlightenment. When his wit and charm fail, Justin resorts to tactics deemed less heroic.
See News for more details.
---
Mo'olelo Performing Arts Company (San Diego)
self (the remix)
Robert Karimi
DJ D Double
February 24 to March 21, 2010
The 10th Avenue Theatre, 930 10th Avenue, San Diego, CA 92101
Tickets & Information: www.moolelo.net or 619-342-7395
Beginning on February 24, 2010 and running through March 21, the award-winning, rubber-face, uber-talented Robert Farid Karimi will descend on The 10th Avenue Theatre in Mo`olelo's production of his semi-autobiographical, spoken word, hip hop play self (the remix). Accompanied by DJ D Double and directed by Ellen Sebastian Chang, Mr. Karimi weaves a tale of words, music and movement about an American child of Iranian and Guatemalan immigrants growing up in 1970s and 1980s California in the shadow of the Iranian crisis and Reganomics. It's a story about a boy learning about manhood, nationhood and neighborhood.
---
Based on the acclaimed novel, this searing drama follows the story of an 18-year-old in Kansas searching for the answers behind the traumatic events of his childhood. The possibility that he may have been abducted by aliens arises, leading him deep into an investigation of the paranormal and his own troubled past. All trails eventually lead to another 18-year-old, a New York hustler who holds the key to the terrifying truth. Together, they move towards an unforgettable and heartbreaking conclusion.
"Deeply moving and riveting. Raw. Graphic. Written in fire. Bracing, poignant, and unsettlingly honest."
—San Francisco Chronicle

"Gomolvilas does an impressive job of turning Heim's provocative story into an intriguing piece of theater."
—San Francisco Bay Guardian

"Prince Gomolvilas's worthy theatrical adaptation retains the novel's sorrowful intensity. Disturbing, forthright, and believable. The drama [is] razor-sharp and lacerating."
—The Advocate

"Pretty damn good! Gomolvilas's keen script will challenge and surprise viewers. Neither self-indulgently experimental nor yawningly trite, neither humorlessly ironic nor embarrassingly melodramatic, Mysterious Skin is a success."
—Out.com

Monday, March 15, 2010
6:30 p.m.
The Drill Hall
16 Chenies Street
London WC1E 7EX
United Kingdom

Tickets: £6

For tickets and more information:
http://drillhall.co.uk/pl355.html
---
The 18 Mighty Mountain Warriors in:
4th Annual Sketch Comedy Championships!
March 16, 2010

Tuesday 8pm

Hosted by CARLOS ALAZRAQUI (Reno 911)

at
The world famous Imrov!
8162 Melrose Avenue
Los Angeles, CA 90046
(323) 651-2583 (The Improv number)

(Note: the Improv is $14 admission plus the purchase of 2 items -food or drink- minimum)

Reserve tickets NOW! Or whenever it's convenient for you, darling.

Featuring 4 of the nation's BEST sketch comedy troupes!
Hey You Millionaires (from Chicago!)
Projektnewspeak (2009 Champions!)
18 Mighty Mountain Warriors (2006 Champions! With special guest performer Diana Toshiko!).
Kinda Sketchy (AKA Hot Tamales. As seen on Showtime!)

Watch as these 4 sketch comedy groups battle it out in bloodthirsty competition for the Sketch Comedy Crown! Come CHEER 18MMW on, and help us influence the judges and WIN THE CROWN!
remember: THERE CAN BE ONLY ONE!
---


A Night of Sketch Comedy and Improv
March 18, 19, & 20 @ 8 PM
Thick House, 1695 18th Street, San Francisco
Special Guests
* Hobofish
* Magic Jester Theater

TICKETS FOR SALE!
http://www.eventbee.com/view/kamikazetheory
$10/Advance; $11/Door

KAMIKAZE THEORY is
Allen Chang
Julius Cheng
Elaine Chu
Will Dao
Alexis Green
Maikiko James
Janelle Jovellanos
Brian Manaois
Annie Wang
Therese Wong
Stalk us at http://kamikazetheory.blogspot.com/
---
Assaulted Fish (Vancouver, BC)
March 18, 2010
The Fish are returning to the Wired Monk Bistro in Kitsilano to debut a selection of their newest sketches. This time, they're joined by singer/songwriter, Metta, who performed with them at the Xtra West Cultural Series last December.

Once again the host, the Wired Monk, will offer a great menu of drinks, eats and desserts. Bring a friend or posse. It's a free show.

Date: Thursday, March 18
Time: 7:30pm to 9:00pm
Place: 2610 West 4th Avenue (at Trafalgar) in Vancouver
Cost: FREE
Parking: Lots of free street parking
Menu/Directions/Info: www.kitsmonk.com

Special thanks to Metta, Ash Bahadori and Linda Ong-Chan for their generosity and support.
---
Bindlestiff Studio (San Francisco, CA)
to the 3rd Annual
BINDLEBALL MASQUERADE
March 20, 2010
Join us for this special FUN-raising event as Bindlestiff Studio unmask a legacy...

Saturday, March 20th
Doors open 7pm

BAYANIHAN
1010 Mission St. @ Sixth St. in SF SOMA
Tickets: $25

LIMITED SEATING! Get your tickets today!
To purchase tickets, click HERE or reserve by contacting: susie@bindlestiffstudio.org
In 1989, Sixth Street in San Francisco's South-of-Market-Area was notorious as a roaming ground for drug dealers, crack addicts, and hookers. It is here where a group of local performing artists had the delusional idea of opening a black box theater inside the street-level storefront of a dilapidated SRO hotel. In 2004, after hundreds of shows, hundreds of artists, the hotel with the theater was torn down.
Twenty-one years later, in the same exact location, Bindlestiff Studio will open the doors to its brand new theater this coming Fall. Join us as we celebrate the artistry of live performance from those who have graced the stage of this little black box theater over the past two decades.
Experience an evening of special live performances, delectable cuisine, and good spirits as Bindlestiff unveils plans for the opening of its new theater. Be a part of building a new legacy through participation in Bindlestiff's "Adopt-A-Theater" program. This fund raising event will also feature an auction of new works by local artist Dino Ignacio & Lorna Chui Velasco as well as music by the popular award winning DJ Sake One. We will also be presenting special community awards to OASIS FOR GIRLS and Skyline College's KABABAYAN Program as well as honoring Bindlestiff Studio volunteers TJ Basa & Yato Yoshida.

A Bindlestiff Studio Production
Special thanks to our community partners SOMCAN, the Bayanihan Community Center,
& Manilatown Heritage Foundation for all their support.
---
Cold Tofu (Los Angeles, CA)
March 20, 2010

Date: Saturday, March 20, 2010
Time: 7:30pm - 9:00pm
Location: Maryknoll JCC
Street: 222 S. Hewitt Street, Los Angeles, CA
Join COLD TOFU for another night of improv madness. We need your suggestions to make it happen, so bring your family and friends and don't miss out on a fun-filled evening. And...the Level I Workshop Students will be making their debut, so come out and support them!
The show begins at 7:30pm and admission is only $5. FREE parking available on the property and on Hewitt Street.
Reservations are not necessary, but you can call (213) 739-4142 or email coldtofu@hotmail.com for more information.
---
TeAda Productions (Los Angeles, CA)
The 8th Annual TEADAWORKS New Performance Festival
Featuring new works-in-progress by:
Karen Anzoategui, Ching-In Chen, Shameka Cunningham, Serena Lin, Felicia Montes, Marie-Francoise Theodore, and Carla Vega
March 20 and 27, 2010

Directed by:
Alison M. De La Cruz & Dom Magwili At the Nate Holden Performing Arts Center
4708 W Washington Blvd
Los Angeles, CA 90016 Tickets: Sliding scale $5-$20
Reservations: 310.998.8765 or teada@teada.org

Program #1
Saturday March 20, 2010 at 2 & 7pm In SER, follow Karen Anzoategui's soccer journey from Los Angeles to Buenos Aires along with her zany family as she tries to see Diego Maradona, her soccer God, while at the same time encountering many unexpected situations. LANGUAGE, by Shameka Cunningham, tells a story of a monolingual African American woman's friendship with a Deaf eight-year-old boy from Sweden. UNIVERSAL BREATH, Carla Vega's solo performance, is a multi-disciplinary exploration of love, addiction, and the healing journey to one's sense of center, purpose, and inner peace.

Program #2
Saturday March 27, 2010 at 2 & 7pm Ching-In Chen and Serena Lin's TWO RUMORS IN A BUCKET choreopoem examines the history of "coolies" in the tradition of Sharon Bridgforth's "jazz theater" aesthetic, incorporating movement, poetry and found text. Felicia Montes (piece currently untitled) uses Indigenous & Mexican music and dance along with remixed versions of "MexSheCan" Lotería cards to weave together the varied identities and experiences of a modern-day Xicana. NOT A PROPER HATIAN GIRL is Marie-Francoise Theodore's piece that charts the journey of a young woman whose true identity is hidden throughout her childhood and the discovery of her true self. TEADAWORKS is supported in part by grants from the City of Los Angeles Department of Cultural Affairs, the California Arts Council, and the James Irvine Foundation Visit our website for more info: www.teada.org
---
Asian Arts Initiative (Philadelphia, PA)
DYNAMIC DANCE & THEATER
Feat. Makoto Hirano & Kristina Wong
March 25, 7:30 p.m.
$15 general admission | $13 for groups of 8 or more
Special Offer for Students: $12 for students | $10 for groups of 8 or more students
Special Offer for Everyone: $40 for all 4 shows
Advance purchase for group sales necessary.
Filled with deliciously intense movement inspired by real events and ideas, Philadelphia-based MAKOTO HIRANO investigates Hip Hop and House culture that pays homage to Gene Kelly and Richard Pryor. During its development, Boom Bap Tourism: The Lost Tapes was discovered: material omitted from the final version has now resurfaced as an alluring pre/sequel.
With trademark humor and irreverent wit, KRISTINA WONG shares stories of moving through car-centric Los Angeles on foot, bus, and piggyback. The Wong Sans Wheels Chronicles is a love story about a girl and the green-living biodiesel car that betrayed her, a treatise on consumerism, and one woman's guide to recession survival tactics -- sure to leave you clutching your belly with laughter!
---
Denise Uyehara
Tuesday, March 30 at 6pm-7pm
The Poetry Center
1508 East Helen Street, Tucson
Part of an ongoing series Unsettling Certainties, sponsored by the University of Arizona School of Humanities. Multimedia presentations by professors Irene d'Almeida, Sandra Soto, Adelea Licona and live interactive performance in the courtyard by Denise Uyehara.
---