ANIMALS! Where the Wild People Are, an Evening of Eight Original Short Plays, and a benefit for Fukushima Animals (Los Angeles, CA)
Bunny Ranch (aka Building a Better Bordello)
by Felix Racelis
Friday, January 3, 8PM
Saturday, January 4, 8PM
Sunday, January 5 at 7PM
All races welcome.
Be a part of the development of new scripts! Join us for readings of the newest scripts in the Asian American theater canon.
Admission is by suggested donation.
By award-winning filmmaker Jason Aragón of Pan Left Productions, performance artist Denise Uyehara and video artist Adam Cooper-Terán. Featuring stories from Las Promotoras of Derechos Humanos and members of the community, with visual artists Melo Dominguez, Lawrence Gipe and Wesley Creigh, performers Marc Pinate and Yvonne Montoya.
The birthplace for David Henry Hwang's theatre career reconceptualizes the classic Lerner and Lowe musical within the Asian British community of the 1910s.
Portland Center Stage (Portland, OR)
Chinglish
by David Henry Hwang
January 11 to February 9, 2014
See News story.
---
Yangtze Repertory Theatre (New York, NY)
What is a Taiwanese Yankee Strawberry
by Esther Chen and Wayne Chang
February 15, 2014

Yangtze Repertory Theatre of America Presents: Staged Reading #3 – What is a Taiwanese-Yankee Strawberry" A semi-fiction, interview based play about discovering the identity and beliefs of the Taiwanese-Yankee Strawberry generation. A reunion between two friends (and their children) turned ugly, when one accuses the other as a "Taiwanese Strawberry." Written and Directed by: Esther Chen and Wayne Chang with: Yangyang Guo, Ting Ting Huang, Mami Kimura, Fenny Novyane, & Karen Piczon.
---
Kumu Kahua Theatre (Honolulu, HI)
Moa a Mo`i
Popular Hawaiian legends of Umi
retold by Jean Charlot
With permission from
© The Jean Charlot Estate LLC.
January 23 to February 23, 2014
Audition dates: 6pm Saturday, October 19 & 6pm Sunday, October 20
Stories about Umi, the "peasant prince" who was born a commoner and became a wise and famous ruler.
See News story.
---
Theatre J (Washington, DC)
Yellow Face
by David Henry Hwang
January 29 to February 23, 2014
(regional premiere)
Hwang, a Tony-winning playwright, penned this satire about when a Caucasian actor was cast as the Asian pimp in "Miss Saigon." The Theater J team, motivated by the conversations surrounding this year's production of David Mamet's "Race," wanted to keep tackling the issue of ethnic identity in America. "There's material in the play about being a first generation in the U.S. with immigrant parents," Serotsky said. (Note: Theatre J is a noted Jewish theatre in the DC area...gotta be the Siberian Jewish connection).
Feature story here.
---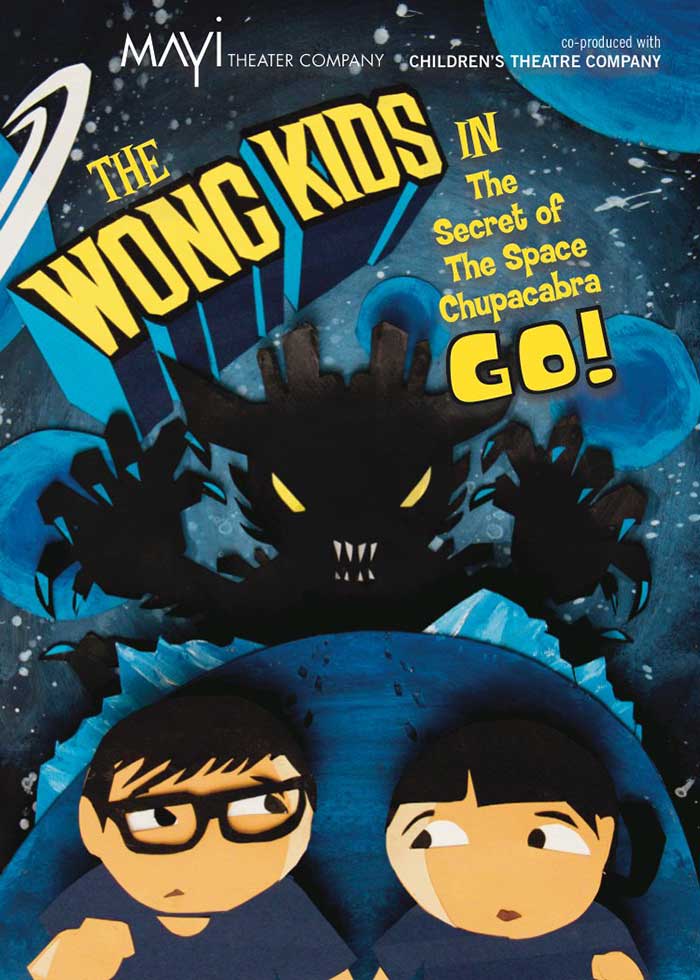 Ma-Yi Theatre (New York, NY)
The Wong Kids In The Secret Of The Space Chupacabra Go!
by Lloyd Suh
January 28 to February 16, 2014
extended to February 23

Using a mix of action-driven storytelling, puppetry, and visual magic, The Wong Kids transports its audience into the far reaches of the galaxy. Violet and Bruce Wong just don't fit in with the other Earth kids. Sure, they have superpowers, they're just not very good ones. But when an evil beast called the Space Chupacabra appears, intent on universal destruction, The Wong Kids must travel to outer space in order to stop it... if they can only stop bickering. Violet and Bruce ultimately realize that being different isn't just okay, it might just be the most important thing like ever.
"One of the funniest, most enjoyable productions I've experienced
on a Twin Cities stage this year."
Pioneer Press

"That simple supernova of a scene sets the tone for one of the most low-tech yet elegantly creative pieces on a Twin Cities stage at the moment."
Star Tribune

"Go on your own, take a date, bring the kids if you've got 'em, it doesn't matter: if you've got a spark of imagination and a continued appreciation for space monsters, this is a zany, playful intergalactic adventure for all."
Aisle Say Twin Cities

"'AWESOME!' That was the description that came from my husband and daughter after seeing the Wong Kids at Children's Theatre."
Family Fun Twin Cities
---
Alliance Theatre (Atlanta, GA)
In Love and Warcraft
by Madhuri Shekar
January 31 to Feruary 23, 2014
Evie is a master of relationships. Other people's relationships. That's why she has a waiting list of classmate clients willing to pay her top dollar to get their GFs and BFs back. How? She uses strategy, finds people's weaknesses, and then attacks with words weaponized with just the right amount of guilt, longing, and/or lust – whatever a relationship may need. You know, all the skills and tactics she picked up on the way to becoming one of the best World of Warcraft players in the world.
As for Evie's relationships? IRL (that is, In Real Life)? Well, all the action she's interested in is happening on the battlefields of WoW. When it comes to sex, Evie is a complete, er, N00b and she's just fine with that, thanks. Even despite the advances of Raul? Beautiful, smoldering Raul? Rhymes-with-grrraul Raul? He may just prove to be the most devious Boss she's ever faced.
---
Bindlestiff Studio (San Francisco, CA)
The Love Edition 2014: Love Bytes
February 6 to 22, 2014
When: Feb 6 - 22 at 8pm
Location: Bindlestiff Studio 185 6th St. San Franisco, CA
Cost: $10 - $20; $65 for group of five
Click here for more details...

The Love Edition returns to Bindlestiff Studio with new original pieces about love, heartache, and the weirdness in-between. Stories come to life as audience members find themselves part of an interactive theater experience where projected media and social media bring on a new level of theatrical immersion.

Watch several stories ranging from the hilarious to the heartfelt from playwrights from around the country. Can an online search for an old flame provide closure? Will math get in the way of true love? Just when you thought it was fine to get frisky in a cabintime travel!

---
Bindlestiff Studio (San Francisco, CA)
A History of the Body
by Aimee Suzara
a staged reading
February 15 and 16, 2014
When: Feb 15 at 3pm and Feb 16 at 5pm
Location: Bindlestiff Studio 185 6th St. San Franisco, CA
Cost: $5 - $10 sliding scale; Click here for more details...

Bindlestiff Studio presents the staged reading of Aimee Suzara's A HISTORY OF THE BODY, a multidisciplinary piece fusing dance, theater, poetry and visual art to explore the impacts of colonization and the media on the body. In its story of two womenformer friends with divergent ambitions and body politics - the work examines the modern-day attitudes towards lighter skin tone for Filipina women and women of color, the global rise in cosmetic whitening product use, as well as the historical events and stereotypes perpetuated at the turn of the century: specifically the portrayal of Filipinos as "dark" savages during the display of Filipinos at the 1904 St. Louis World's Fair.

Talkback after each performance with the playwright, the director, choreographer Frances Sedayao, Bindlestiff Studio Artistic Director Alan S. Quismorio, and cast.
---
Ma-Yi Theatre (New York, NY)
Mga Kasabihan / Words of Wisdom
a benefit for the Philippines
February 17th, 7pm
Playwrights Horizons, 416 West 42nd Street
On February 17th, Ma-Yi Theater will present a benefit for the Philippines towards buying new fishing boats for villagers affected by Typhoon Haiyan/Yolanda. As a theater company founded by Filipino artists, with several family ties in the Philippines, we feel particularly compelled to make an on-the-ground donation where it will have a substantial impact. Since many of the typhoon victims rely on fishing for their daily subsistence, our goal is to raise enough funds to buy at least 10 new fishing boats via a donation to the Negrense Volunteers for Change Foundation (http://www.nvcfoundation-ph.org/).
As people seek out words of wisdom for guidance in hard times, for this one night benefit event, the Ma-Yi Writers Lab has written several brand-new short plays inspired by Filipino proverbs, sayings, and even some nonsensical malapropisms. Come join us for a brief, unforgettable lesson in Tagalog, starting with "kawanggawa" - charity.
---
Pan Asian Repertory Theatre (New York, NY)
Film Chinois
By Damon Chua
directed by Kaipo Schwab
February 21, 2014 at 7pm
In the Bruce Mitchell Room
The place: Peking, China. The year: 1947. Randolph, a fresh-faced American operative, has been sent to the Imperial City with an important mission. As Randolph plunges deeper into the heart of darkness of what was once the most beautiful city in the world, he soon finds his life imperiled, even as he begins to unravel the mystery of a piece of old homemade film, and the whereabouts of a beautiful woman who seems to have vanished into thin air.
---
---
Solo Performance Festival (Seattle, WA)
Hold These Truths
by Jeannie Sakata
February 22 to 23, 2014

A Dramatic Staged Reading of a 90-minute solo play inspired by the life of Gordon Hirabayashi. Performed by Greg Watanabe Presented by the Interim Community Development Association and the Gordon HIrabayashi Legacy of Justice Committee, in association with the University of Washington's COURAGE IN ACTION: A SYMPOSIUM ON THE LIFE AND LEGACY OF GORDON HIRABAYASHI

Running concurrently with Theatre Off Jackson's Solo Performance Festival 8

A JOURNEY OF BELIEF, BETRAYAL AND RECONCILIATION
During WWII in Seattle, University of Washington student Gordon Hirabayashi fights the US government's orders to forcibly remove and mass incarcerate all people of Japanese ancestry on the West Coast. As he struggles to reconcile his country's betrayal with his passionate belief in the US Constitution, Gordon begins a 50-year journey toward a greater understanding of America's triumphs---and a confrontation with its failures. Gordon Hirabayashi was posthumously awarded the Medal of Freedom, the nation's highest civilian honor in May of 2012, by President Barack Obama. "In her exquisite play Hold These Truths, Jeanne Sakata explores the extraordinary life of Mr. Hirabayashi....The play is a master class in the personal as political a play where one man's singular story, so full of heart and heartbreak, can speak to the struggles of an entire nation." Julia Hochner, New York Theatre Review "The powerful and moving story of one man, who, in his own words 'could not give up on the Constitution.'" Steven Stanley, StageScene LA
---
La Jolla Playhouse (Los Angeles, CA)
DNA New Work Series
in partnership with East West Players
presents a staged reading of
The Brothers Paranormal
a play by
PRINCE GOMOLVILAS
directed by JEFF LIU
February 24, 2014

featuring
YOLANDA FRANKLIN, DAVID HUYNH, DANA LAU, VICTOR MORRIS, JEANNE SAKATA, ROY VONGTAMA
Two Thai-American brothers launch a ghost-hunting business in order to capitalize on the nationwide increase in sightings of Asian-looking ghosts. When the siblings end up investigating the home of a couple that claims to be haunted by one very terrifying spirit, everyone¹s notions of reality, fantasy, and sanity clash against the shocking truth.
Monday, February 24, 2014 @ 7:30PM
Free Admission!
(But Reservations Required)
La Jolla Playhouse
2910 La Jolla Village Drive
La Jolla, California 92037
RESERVE TICKETS NOW
(SEATING IS LIMITED!):
http://www.lajollaplayhouse.org/the-season/2013-2014-season/dna-2014
MORE INFORMATION/DIRECTIONS::
http://www.lajollaplayhouse.org
---
---
Mu Performing Arts (Minneapolis, MN)
RHYTHM IN MOTION: MU DAIKO AT THE COWLES CENTER
March 7 to 9, 2014
Iris Shiraishi, Mu Daiko Artistic Director
The Cowles Center for Dance and the Performing Arts
Mu Daiko explores the limitless possibilities of rhythm in motion, dancing with Japanese drums large and small with beauty and precision. The taiko drumming ensemble promises to touch your heart and shake you in your seats with brand-new work that pushes the boundaries of taiko as well as audience favorites!
Full show: Age 7+
Family show: Age 3+
---
Asian Arts Initiative (Philadelphia, PA)
The Way Home:
You for Me for You
by Mia Chung
March 17, 2014
Part of the Initiative's staged reading series for Asian American theatre.
---
East West Players and The Pasadena Playhouse HOTHOUSE
Southern California) present
Come Down In Time
by Philip W. Chung
Directed by Jeff Liu
A HOTHOUSE at The Playhouse Reading
March 20 and 21, 2014

Every night, Connor Lee dreams about Annie--a beautiful woman he has never met, but a woman he is positive he knows and loves. As Connor tries to learn her identity, he will uncover an even bigger mystery. A love story about time travel, alternate universes and the moment when your dreams turn into nightmares.
Thursday and Friday, March 20 and 21 at 8:00 PM
The Vault Rehearsal Room | 60 S. Los Robles Avenue | Pasadena | CA | 91101
(please note that this venue is several blocks away from the Playhouse and has its own free parking)
FREE | Reservations are required
RSVP to
production@pasadenaplayhouse.org
(please include your full name, which performance, and how many tickets you would like)
---
East West Players
A Nice Indian Boy
by Madhuri Shekar
February 20 to March 23, 2014
A Nice Indian Boy is the second place winner of EWP's Face of the Future Playwriting Competition. As gay marriage is being debated by the Supreme Court, this play is timely in continuing the discussion. Naveen Gavaskar meets Keshav Kurundkar, and they share all things Indian - from the Hindi language to the difficulty of being gay in Hindi culture. They agree to meet in person to find that one is South Asian and the other (Keshav) is a Caucasian, adopted by Hindi parents and speaks fluent Hindi. A Nice Indian Boy will be presented with generous support from the S. Mark Taper Foundation Endowment for East West Players
See News story.
---
Pork Filled Productions (Seattle, WA)
The Tumbleweed Zephyr
by Maggie Lee
March 23, 2014

Pork Filled Productions proudly presents a staged reading of The Tumbleweed Zephyr, a new play by Seattle playwright Maggie Lee. The creative team behind The Clockwork Professor, including director Amy Poisson, brings an epic new story to life from the New Providence universe. Two brothers, Atticus and Kai, climb aboard the Tumbleweed Zephyr, a transcontinental train headed for the wilds of the Western Territories. But what starts as a simple journey by rail soon leads to rollicking adventure, with twists of fate, bandit raids, train marshals, and wayward sparks of romance. All aboard for a sci-fi Old West tale with shiny brass steampunk trim!
---
Ma-Yi Theatre (New York, NY)
25th Anniversay Gala
March 24, 2014

25TH ANNIVERSARY G A L A B E N E F I T THE HUDSON THEATER 145 West 44th Street

An evening of celebration honoring:

Bessie Badilla Filmmaker and Musician Excellence in the Arts Ernest

Escaler Chairman Asian Cultural Council - Philippines Excellence in Advocacy for the Arts

Cao K. O Co-Founder and Former Executive Director Asian American Federation of New York Excellence in Community Service
---
East West Players and Japanese American National Museum
Presents a Writers Gallery Reading of
Takarazuka!!
By Susan Soon He Stanton
March 27, 2014
7:30PM - 9:00PM
Tateuchi Democracy Forum
at the National Center for the Preservation of Democracy
111 North Central Avenue,
Los Angeles 90012

Takarazuka!!! tracks the career sunset of Yuko, the star of the Takarazuka Revue, an all-female Japanese performance troupe that has put on melodramatic spectacles for nearly a hundred years. When Yuko is forced to retire, she trades the the spotlight for a life in the country, and in the process falls under the spell of a mysterious ghost.

Part ghost story, part love story, part black swan, Takarazuka!!! is a thrilling and hilarious new black comedy. This event is FREE and open to the public. RSVP required. When making a reservation, email rsvp@janm.org or call (213) 625-0414 at least 48 hours prior to the event. Include the name, date, and time of the program, as well as your name and the total in your party. http://www.janm.org/events/collab

Part ghost story, part love story, part black swan, Takarazuka!!! is a thrilling and hilarious new black comedy. This event is FREE and open to the public. RSVP required. When making a reservation, email rsvp@janm.org or call (213) 625-0414 at least 48 hours prior to the event. Include the name, date, and time of the program, as well as your name and the total in your party. http://www.janm.org/events/collab

About the playwright SUSAN SOON HE STANTON's plays include Seek, Takarazuka!!!, Cygnus, Furball, the things are against us, The Underneath, and more. Her work has been produced or developed at Clubbed Thumb, Playwrights Horizons, Joe's Pub, Lark, Kennedy Center, Terra Nova, Flea, and others. She was Honolulu Theatre for Youth's resident playwright for their 2010-11 season. She is a member of MaYi Playwrights Lab and was a member of the Public Emerging Writer's Group 2012-13, SoHo Rep Writer-Director Lab 2011, and was the 2011 Van Lier Fellow at the Lark. MFA: Yale Playwriting. From Honolulu, Hawaii, Susan currently resides in New York City.
---
Vancouver Asian Canadian Theatre (Vancouver, BC)
Ga Ting
by Minh Ly
March 22 to 30, 2014


7700 Minoru Gate, Richmond, BC
Pay-What-You-Can
Previews on March 20 & 21
Tickets: $20 adult/$15 student & senior

Buy your tickets online now by going to www.vact.ca. Alternatively, you can purchase tickets by calling the Richmond Cultural Centre at 604-247-8300, or in person at the Richmond Cultural Centre front desk.

Co-presented with the frank theatre company, Ga Ting is a beautifully-layered exploration of love, family, understanding and acceptance as it weaves a powerful and emotionally-charged story about a Chinese couple trying to come to terms with their son¹s sexuality in the wake of his death. The couple learn who their son truly was over dinner with their son's Caucasian boyfriend, but the dinner eventually evolves into a fiery cultural and generational clash.

Ga Ting marks the exciting playwriting debut of Asian Canadian actor Minh Ly, whose script had previously been workshopped through VACT's MSG Theatre Lab play development program. Rick Tae (director of VACT's Flower Drum Song), whose feature film John Apple Jack recently premiered to a sold-out crowd at the Vancouver Asian Film Festival, directs the production. The cast includes veteran actor and former Vancouver city councillor BC Lee, local actor, singer and writer, Michael Antonakos, and Hong Kong film and tv star, Alannah Ong. For more information, please visit www.vact.ca.
---
Home | News | Calendar | Directory | Plays | Library/Storefront | Timeline
---
Copyright 2014, Roger W. Tang
Questions? Email