Asian Pacific American Theater Scene, Inc. (Tampa, FL)
Jobsite Theater's Job-side Project
Bondage
by David Henry Hwang
January 6 to 8, 2007
Inagural production of Florida's first Asian American theatre group.

---
The Nuyorican Poets Cafe in New York
I Am Nothing Like My Mother
written and performed by Christine Corpuz
December 21, 2007 to Jaanuary 13, 2008
---
Stir-Friday Night! (Chicago, IL)
Buddha Call
Stir-Friday Night!
Saturdays
December 22, 2007 to Janary 26, 2008
TIME: 7:30 p.m.
LOCATION: Donny's Skybox
Piper's Alley
1608 N. Wells
Chicago, IL
Tickets: www.secondcity.com
or call 312-337-3992

Stir-Friday Night!, one of the nation's premier Asian American sketch comedy/improv troupes, brings you their 12th revue, Buddha Call. Directed by Mary Scruggs, Head of the Writing Program for the Second City Training Center, Buddha Call explores our hopes and our fears and our penchant to come up with a catchy tune.
Tickets are $12 General, $10 Students, and Second City Training Center Students pay $6.
---
Duplex Theatre (NYC, NY)
Typed
January 7 and 14, 2008
TYPED: Four Asian actors explore typecasting singing songs "they'd typically never get to sing."
Featuring Ester Barroso (from the West End's Miss Saigon), Albert Guerzon (from Broadway's Mamma Mia!), Christopher Yee, and EJ Zimmerman. There is a $7 cover and 2 drink minimum.

Monday, January 7th AND Monday, January 14th, 2008 at 9:30 pm at the Duplex Cabaret Theatre in New York City (61 Christopher St. at 7th Ave). For reservations call (212) 255-5438 or visit www.theduplex.com.
---
---
Comedy Walk (Los Angeles, CA)
OPM
January 10, 2008
COMEDY WALK.

8:00 pm - 9:30 pm
OPM's performing a 10-minute set. Be sure to check our sites for the latest updates on where exactly we'll be.
Hope to see you walking the streets there
---
Los Angeles Gay Asian Center
No Fats, Femmes or Asians
featuring Alec Mapa
January 11 to 13, 2007
Join "America's Gaysian Sweetheart" for his fifth uncensored, unbridled evening of hilarity written especially for the Center! After a year traveling the globe on a gay cruise and shaking things up on "Desperate Housewives" and "Ugly Betty," Alec has a delectable tale to tell.
Plus, 100% of the proceeds go to the Center!

ONE WEEKEND ONLY!!!
January 11, 12 & 13

Group rates available for groups of 10 or more.

Call the box office at 323-860-7300 or visit www.lagaycenter.org/boxoffice for tickets.
---
FirstStage (Los Angeles, CA)
2008 Stage Odyssey
Tel Aviv Take-Off
by Felix Racelis
January 11, 12, 18 and 19, 2008
A Southern matron visits her son who's studying in Tel Aviv, and makes his school an offer that's hard to refuse. But did we say she's got an agenda?
Friday & Saturday, January 11, 12, 18 & 19, 2008. all at 8pm

Hollywood United Methodist Church

6817 Franklin Ave (at Highland), Hollywood.

Directed by Peggy Chane, with Elizabeth Farley and Bryna Weiss. Also on the bill: plays by Michael Sadler, Herman Poppe, Keith Neilson, Thomas J. Misuraca and Jennifer Kristin Hugus.

$10, or donate what you can.

Reservations and info: (323) 850-6271 or FirstStageLA@aol.com
---
Southern California

So the Arrow Flies
solo performance by Esther K. Chae
January 12, 2008 SAT 8pm

One night only Fundraiser Event
Esther K. Chae's solo performance "SO THE ARROW FLIES"
Directed by Casey Stangl

So the Arrow Flies is about double agent Catherine, a North Korean National Actor who is exiled to
South Korea, becomes an intelligence asset for Seoul and the FBI, while all the while spying for North Korea. Korean American FBI Agent Park discovers and exposes Catherine's espionage scheme. The play also includes Catherine's 's 12 year old daughter Mina, and Agent Park's elderly mother Mrs. Park, who has survived the Korean war. Originally developed at the Mark Taper Forum's Solo Performance Workshop under the direction of Roger Guenveur Smith, So the Arrow Flies is a composite of real events: the recent arrest of a Chinese-American FBI asset on espionage charges, and exiled North Korean film star Soon-young Chu.
---
South Beach Comedy Festival (Miami, FL)
Free?
Kristina Sheryl Wong
January 16, 2008
---
Pan Asian Repertory Theatre (New York, NY)
Acting/Writing Workshop Presentation
Led by Ernest Abuba
Wednesday, January 16, 2008 @ 7:00pm
At 520 Eighth Avenue, 3rd Floor,
In the Bruce Mitchell Room
Solo Works, Monologues, & Scenes performed by
Paul Keoni Chun
David Elyha
Nancy Eng
Shelley Molad
Sarah-Zane Moore
Una Osato
Sean Tarjoto
Anne Miyamoto Timmins
Jen Yip
Refreshments & Informal Q&A to Follow
Suggested donation: $10.00
Limited Seating. Call 212-868-4030 for reservations.
This workshop is made possible with public funds from New York State Council on the Arts, a state agency, and New York City Department of Cultural Affairs.
---
Bindlestiff Studios (San Francisco, CA)
Stories High
January 17 and 18, 2008

Ready for the 10th Anniversary of Bindlestiff Studios' Stories High!!!!

2 Nights only!!!

Come support our new, emerging writers for an exclusive glimpse of potential screenplays that will be showcased in this year's Stories High production. In two nights, we will cover nine brand new plays in a professional reading by various actors and directors. Each reading will also have a Q&A session, where you can ask the writers anything you want!

Thursday, January 17, 2008
2 Cheat By: Josef Anolin
Brothers and Sisters By: Mario deMira (aka Nomi)
Leaving My Heart in San Francisco By: Conrad Panganiban
Not Quite Unrequited By: Ava Tong
Friday, January 18, 2008
The Art of WaitingBy: Cristal Fiel
Anytime. Anyplace By: Jasmine Ty
Non-Sequiturs By: Cathlin Goulding
One Year By John Raposas
Last Verse in Despair By: Ed Mabasa

Show dates: January 17-18 Thurs-Fri starting at 8PM
Location: Space 180 at 180 Capp Street, 3rd Floor San Francisco, CA 94110
Ticket Prices: $5-10 Sliding Scale
Reservations are being taken immediately at
(415) 255-0440, or you can contact Susanna Yu for ticket reservations This year, Bindlestiff will be breaking ground with its relocation to its original space on 6th street, with its brand-new and cuttingˆedge facility as the only performing arts space for the Filipino or Filipino American arts in the nation. Stories High, as one of Bindlestiff's signature productions, will be one of the first shows (OR FIRST SHOW) to grace its stage. Make sure not to miss this historical event!
For questions or more information, please contact:
Susanna Yu
415.255.0440
Susie54@sfsu.edu
---
Rasik Arts (Toronto, Canada)
Margaret in Search of Herself
by Janice Goveas
January 22, 2008
The play follows Margaret, a North American Catholic South Asian woman , as she navigates the treacherous waters of sexual mores and identity from the age of 20 to 30. Sometimes comic, sometimes surreal, sometimes realistic, the script attempts to move past the cliche of a sexually liberal (North American) culture versus a sexually conservative (South Asian) culture. The playwright will be present and welcomes your feedback.
---
Mu Performing Arts (Minneapolis, MN)
The Walleye Kid: The Musical
Written by R.A. Shiomi and Sundraya Kas;
Music by Kurt Miyashiro
Directed by Jon Cranney; Music Direction by Anita Ruth
January 19 to February 3, 2008
McKnight Theater, Ordway Center for the Performing Arts, 345 Washington St, St Paul
Thursdays, Fridays and Saturdays at 8:00 pm; Sundays at 2:00 pm
Special performance Sunday Jan 28 @ 7:00 pm
Tickets: $25 adults; $23 student/senior; $20 groups 10+
Preview: Friday, January 18 @ 8:00 pm:
AD: Saturday, January 26 @ 8:00 pm;
ASL: Saturday, February 2 @ 8:00 pm
In this contemporary folktale, The Walleye Kid: The Musical tells the story of a modern day Minnesota couple who long for a child. One night while ice fishing, they reel in a colossal walleye, from which emerges a Korean baby girl. When the girl turns eight, she takes a magical journey to the land of her birth and back as she explores her life between two cultures. Songs, mask dance, and powerful drum rhythms create a timeless setting for this tale that conveys the unique challenges and rewards of adoption.
Tickets are available at 651.224.4222 or www.ordway.org.
---
VACT (Vancouver, British Columbia)
FUNdrai$ing Gala
January 26, 2008
Buying tickets and telling your friends about the upcoming Vancouver Asian Canadian Theatre FUNdrai$ing Gala is a great way to support this incredible organization. Thousands and thousands of this city's Asian Canadian community has enjoyed VACT's plays and events for over 9 years now - and all funds raised will continue to help VACT produce its 2008 line-up of shows.
This year's entertaining FUNdrai$ing Gala coming to the NORMAN ROTHSTEIN THEATRE on Saturday, January 26th, 2008 will feature: * Standup Jeffery Yu, voted 2003's funniest comic with a day job * singer Aaron Elvis Wong, 2007 Elvis Tribute Artist winner at the Penticton Festival * 4 sketch comedy groups from last year's Etch-YOUR-Sketch SKETCHOFF!#$%!! – The Yangtzers, 5-Spice (formerly Slant Eyed Peas), SFUU Man Chu and Lick the Wax Tadpole.
Support Asian Canadian theatre! Come kick off the 2008 season! Door Prizes! Silent Auction! Desserts! Wine! Laughs! And more!
Hosted by the talented and beautiful Olivia Cheng, recently seen as controversial New York Times best selling author Iris Chang in the film Iris Chang:The Rape of Nanking and the very funny Tom Chin, MC for VACT's annual Asian Comedy Night for the last 8 years.
---
Kumu Kahua (Honolulu, HI)
Waiting for a King
January 29, 2008
Waiting for a King is the third Kumu Kahua Playreading of the 2007-2008 season anddeals with a crucial moment in Hawaii's history: the death of Kamehameha I. The play focuses on Kamehameha's last interviews with those closest to him: his heir, Liholiho; his nephew, Kekuaokalani; and his queen, the powerful Ka'ahumanu. In the style of a Greek tragedy, a chorus of today's Hawaiians watch the events unfold, debating the wisdom or errors of the participants, and the possible relevance of these events for Hawaiians today. The reading of Waiting for a King is on Tuesday, January 29th at 7:30pm at Kumu Kahua Theatre, 46 Merchant Street, downtown. Admission is FREE, with complimentary refreshments and discussion following the reading. For more information call 536-4441.
---
Kristina Sheryl Wong
Wong Flew Over the Cuckoo' Nest
UC Santa Barbara Campus, Multicultural Center Theater.
February 7, 2008
(Yes, I'm still very much touring "the dark and funny suicide show with all the yarn.") For those who want to make the drive from LA or are in the area, it's only an hour and a half away! The show continues to evolve!
---
Kumu Kahua Theare (Honolulu, HI)
Pele'
adapted by John Wat, Laurel Nakanishi & Kennley Asato
January 10 to February 10, 2008

Left to Right: Amy Ching-Brouwers, Aito Simpson Steele, and Stephanie Farnum in a scene from Kumu Kahua Theatre's Pele M?, adapted by John H.Y. Wat, Laurel Nakanishi, & Kennly Asato. Based on the book "Pele M?: Legends of Pele from Kaua'i" by Frederick Wichman, Pele M? opens Thursday, January 10, 2008, and runs Thursdays thru Saturdays at 8 p.m., and Sundays at 2 p.m. Call 536-4441 for tickets and info.

Pele M? is a narrative theater adaptation based on the book Pele M?: Legends of Pele from Kaua`i (Bamboo Ridge Press, 2001) by Frederick Wichman. The first act is a series of stories about Pele and her companions, beginning with Pele's arrival on Kaua`i in a canoe, pursued by her angry older sister, N?makaokaha`i, goddess of the sea. Pele herself is a refugee from her homeland, which she has set afire. Also included in the first act are several stories about the pig demigod, Kamapua`a. The second act focuses on the famous love triangle among Pele, her sister Hi`iaka and Kaua`i chief Lohiau. Although Pele is most often associated with the Big Island, these stories remind us that the Pele legends have a strong link to the island of Kaua`i. Pele M? was originally performed at Mid-Pacific School of the Arts. It also toured as part of the American High School Theatre Festival to the annual Edinburgh Fringe Festival in Scotland.
See News story.
---
The Firehall Arts Centre (Vancouver, British Columbia)
Banana Boys
by Leon Aureus
Preview January 17, 2008
Opening January 18 to February 9, 2008
Banana: yellow on the outside, white on the inside. Otherwise known as Canadian-born Chinese (CBC). By Leon Aureus, Based on the novel by Terry Woo
After last year's successful run, Banana Boys, a smart, contemporary and wickedly funny play that paints a picture of what it is to be an Asian-Canadian male, returns to the Firehall Arts Centre, directed by Donna Spencer. Come see the Banana Boy Bunch from last year with Minh Ly, previously seen as Chester in VACT's production of Cowboy Versus Samurai, taking on the role of DJ Luke.
Adapted by Leon Aureus from the critically acclaimed first novel by Terry Woo, the story centers on the lives of five regular Asian-Canadian guys in their mid-twenties. When the boys first meet they are students at the University of Waterloo and the play follows them as they adjust to life after university and continue to struggle with issues of identity and self worth. Trapped by parental obligations and societal expectations, these C.B.C.'s are neither fully Asian nor Canadian.
---
Electric Lodge Theatre (Venice, CA)
The Emily Project
(An Oymun Show)
February 9th, at 7pm
&
February 9th at 9pm
With
Alberto Isaac
Emily Kuroda
Haruye Ioka
Irene Furukawa
June Lu
Ken Narasaki
Ping Wu
Sab Shimono
Sharon Omi
Takayo Fischer
Directed by Jason Fong
$15 Online Pre-Sale
$25 at the Door
Buy Tickets Online at
http://www.apuykat.com/theemilyproject/boxoffice.html
For Group Sales or a Cast Member discount please send an email to apuykat@yahoo.com
The Electric Lodge Theater
1415 Electric Ave.
Venice, CA 90291
Proceeds to support TNKat.org's "The Connector Project"
For more information please visit:
http://www.apuykat.com/theemilyproject/
---
18MMW
at Northwestern University
February 9, 2008
Hey, 18 Mighty Mountain Warrior fans, the 18mmw will be in Chicago this Saturday! Well, Northwestern University in Evanston to be precise. Info below. Let your Windy City friends know!
Celebrasia Lunar New Year Show
7:00pm @ Tech Institute, Ryan Family Auditorium
Open to the public! $7 at the door.

Sponsored by the Chinese Students Association (CSA) & Taiwanese
American Students Club (TASC)
---
Mei Hua Society's Annual Chinese New Year Celebration
to benefit Pan Asian Repertory Theatre
at Peking Hunan Park Restaurant
100 Park Ave (entrance on 40th St. between Park and Madison)
February 12, 2008
6pm- Cocktails and Raffle| 7pm- Dinner
phone | 212/ 725- 5570

Featuring nine-course traditional Chinese banquet, raffle, and entertainment!
Emcee Lu Yu and comedic skits by Richard Chang, from Goy Vey!

Individual Tickets: $150 Regular
$125 Early bird (if ordered before January 25, 2008)
---
MANJA
Prime Image Media Group
Many Threads, and
the Asian American Theater Company (San Francisco, CA)
Lydia's Funeral Video
a new solo show written and performed by Samantha Chanse
January 31 to February 16, 2008
In the not-so-distant future, when abortions are legal only within twenty-eight days of conception and Paris Hilton has embarked on yet another reality show, apocalypse-obsessed Lydia Clark-Lin is doggedly pursuing a career in monetary units when a mysterious being claiming to be an hours-old embryo invades her dreams, announces that Lydia is both pregnant and dying, and commands her to create a video to be screened at her funeral before terminating the pregnancy. As the embryonic orders continue ("talk to the celebrity abortion doctor!" "interview your mother!" "do some standup comedy!") and Lydia seems to be losing her job and her mind, a deadline fast approaches, the end of the world beckons, and hecklers loom on the San Francisco horizon.
EVENT: Lydia's Funeral Video, a new solo show written and performed by Samantha Chanse, and directed by Wilma Bonet. Sound design by Kendall Li and set design by Mark Baugh-Sasaki.
DATE: Thursdays- Saturdays, January 31 - February 16, 2008
TIME: Doors open 7pm; Show starts at 7.30pm
VENUE: The Dark Room Theatre, 2263 Mission Street, @ 19th street, San Francisco
COST: $12 - 25, sliding scale. Advance and discount tickets available at www.manja.org
---
Kristina Sheryl Wong
Wong Flew Over the Cuckoo's Nest
Austin, TX
February 14 - 16, 2008
Part of the "Throws Like a Girl Festival" in Austin, TX, info. I'm also doing talks at UT Austin that week and teaching a workshop.(Reno and Robbie McCauley are also featured in the fest). See http://rudemechs.com/ for more info.
---
Philadelphia Theatre Company (Philadelphia, PA)
M. Butterfly
by David Henry Hwang
January 18 to February 24, 2008
---
Twisting Fortunes (Vancouver, BC)
The Quickie
by Grace Chin
February 7 to 19, 2008
Can you really know someone in five minutes? And is speed dating a shortcut to
happiness, or a slippery slope to heartache? TF Productions, the team that brought the city its
first "accidentally Asian" romantic dramedy, Twisting Fortunes—which played to a sold-out house
at the Playwrights Theatre Centre on Granville Island last year—presents The Quickie, a
Vancouver-based, contemporary romantic comedy that rips a strip out of speed dating, making
whoopee, and cultural collision. In all the wrong places.
See News story for more.
---
Mu Performing Arts (Minneapolis, MN)
New Eyes Festival
February 15 to 17, 2008
CHING CHONG CHINAMAN
by Lauren D. Yee
Directed by Jennifer Weir
Performed by Maria Kelly, Kurt Kwan, Katie Bradley, Marcus Quiniones, Eric Sharp, Katie Leo
Friday Feb 15 at 7pm
A suburban life, a place in the upper middle class, and a newly imported Chinese slave--what else could the uber- assimilated Wong family need? A modern day comedy.
INTO THE NUMBERS
by Christopher Chen
Directed by Randy Reyes
Performed by Sun Mee Chomet, Michael Booth, Kurt Kwan, Eric Sharp, and Maria Kelly
Saturday Feb 16 at 3pm
For Iris Chang, famed author of The Rape of Nanking, historical research is a thoroughly personal experience: a standard interview becomes a recurring, disintegrating nightmare of the brutal events and horrifying statistics in her book. An imagined psychological journey of Ms. Chang's actual precipitous fall into the darkest heart of humanity.
VENGENCE CAN WAIT
by Yukiko Motoya, translation by Kyoko Yoshida and Andy Bragen
Directed by Rick Shiomi
Performed by Randy Reyes, Sarah Ochs, Eric Sharp and Katie Bradley
Saturday Feb 16 at 7pm
In the edgy comedy Vengeance Can Wait, Hidenori hasn't laughed for years, and nothing that his childhood friend Nanase says can make him. They live together like brother and sister, bound by the memory of a family tragedy and an intense desire for revenge that threatens both of their lives. Vengeance Can Wait is an exploration of watching--and being watched--by one of Japan's most intriguing new literary voices.
GLOW
by Ed Bok Lee
Directed by Randy Reyes
Performed by Sun Mee Chomet, Kurt Kwan, Sara Richardson, Steve Sweere, and Bob Malos
Sunday Feb 17 at 7pm
At a time when soldiers lessen the effects of post- traumatic stress disorder by the practice of first maiming animals, and McDonalds offers a popular Spirit Burger, a shape-shifting cast of Everyday People attempt to navigate their troubled lives through futuristic dysfunction. Ethics, Philosophy, Pop- psychology, Race, Socio-economics and Religion all serve as launching pads into the absurd in this new play by Ed Bok Lee.
Tickets: Suggested donation of $5 at the door.
For reservations call 612.824.4804
All performances are at the Mu Studio located at 2700 NE Winter Street, Suite 4.
See website for directions at www.muperformingarts.org
---
East West Players Writers Gallery & Japanese American National Museum
present a reading of the new play
Ruby, Tragically Rotund
written by Boni B. Alvarez
directed by Jon Lawrence Rivera
February 21, 2008
Admission is FREE
Thursday, February 21, 2008, 7:30pm
at National Center for the Preservation of Democracy
111 N. Central Avenue Los Angeles, CA 90012
RUBY, TRAGICALLY ROTUND is the story of Ruby Salazar, a full-figured Filipina American, whose battle with her weight and self-image intensifies when her own mother takes a refund on Ruby's tuition in order to fund her sister Jemmalyn's blossoming beauty pageant career.
Boni B. Alvarez is a graduate of the prestigious MFA Playwriting program at USC, chaired by the noted Asian American playwright Velina Hasu Houston.
Jon Lawrence Rivera is the artistic director of Playwrights Arena, which has long been in the forefront of producing new work by Los Angeles playwrights.
---
Queens Theatre in the Park (New York, NY)
as part of their Immigrant Voices Reading Series
The Cello Plays
Written by Cary Wong
Directed by Tom Wojtunik
February 23, 2008
Price: free
RSVP required: 718-760-0064
Saturday, February 23, 2008 @ 8pm
Directions: Take the 7 train to Willets - Shea Stadium and look for the free trolley to take you to the theater. As long as you're at the trolley by 7:30pm, you should make it in time.
for more info:
http://queenstheatre.org/newplay.html
"The Cello Plays" is a celebration of New York City and the diverse stories and backgrounds of its inhabitants. Vignettes of businessmen, college students, an immigrant family, aspiring artists and rich socialites are melded together in a slice of life collage connected together by the story of a young cellist prodigy's upcoming debut at Carnegie Hall as well as the city they all live in.
---
Annual Day of Remembrance at the Smithsonian
Innocent When You Dream
A play by Ken Narasaki
February 23, 2008
3:00 p.m. – 5:30 p.m.
Meyer Auditorium
Freer Gallery of Art
12th Street and Independence Avenue, SW
Metro: Smithsonian or L'Enfant Plaza To mark the 66th anniversary of the signing of Executive Order 9066 by President Franklin D. Roosevelt which led to the incarceration of 120,000 Americans of Japanese ancestry during World War II, the Smithsonian APA program proudly presents the critically acclaimed new play, Innocent When You Dream, by Ken Narasaki. Fresh from its Los Angeles world premiere, the cast arrives intact to present a staged reading of their production, which was named a "Critic's Choice" by the Los Angeles Times and a "Pick of the Week" by LA Weekly. A Nisei father lies in a hospital bed, only partly aware of his two adult children who have arrived at his bedside, unsure their father will survive. While the father returns to his interned past searching for a lost first love, his children bicker and argue, not quite ready to let their last parent go. Playwright Narasaki, whose father was a 44nd veteran (the most decorated unit in U.S. military history, made up predominantly of Japanese American young men whose families ironically languished in camps, deprived of their civil rights), brings to life two disparate generations, separated by age and experience, bound together by misunderstanding and, ultimately, deep love. The reading features the venerable Sab Shimono of stage and film acclaim as the father. Emily Kuroda and Ken Narasaki appear as his adult children. John Miyasaki, Sharon Omi and Mike Hagiwara round out the talented cast. For more information about the production, please visit www.timescapearts.com. This program is presented by the Smithsonian Asian Pacific American Program and co-sponsored by the National Japanese American Memorial Foundation, the Japanese American Citizens League, and the Japanese American Veterans Association.

Sab Shimono
John Miyasaki
Sharon Omi
John Hagiwara
Ken Narasaki
Emily Kuroda
---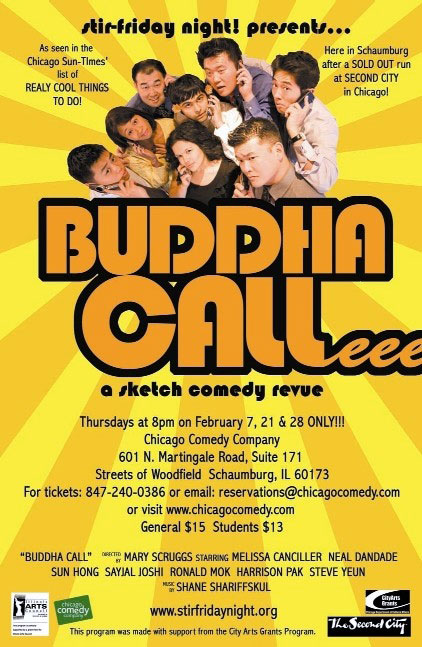 ---
Lodestone Theatre (Los Angeles, CA)
2008 Lodestone Theatre Ensemble Oscar Party
February 24, 2008
COME RAIN OR SHINE!
The Board of Directors of Lodestone Theatre Ensemble invites you to join us as we celebrate our upcoming 10th season. You are invited to the annual 2008 Lodestone Theatre Ensemble Oscar Party fundraiser on Sunday, February 24, 2008 at e3rd Steakhouse & Lounge (www.eastthird.com), located at 734 East 3rd Street in Downtown Los Angeles (one block east of 3rd & Alameda). "We want to just have a great party, even if, sadly, there are no Oscars," said Chil Kong, President of Lodestone's Board of Directors. Valet parking is available.
4:00 pm Doors open
4:00 pm - 5:00 pm Red Carpet Happy Hour (Open bar for VIP ticket holders)
5:00 pm Oscars telecast begins
5:30 pm – 7:30 pm All-you-can-eat buffet
8:00 pm – 12:00 midnight Post-Oscars bash featuring live DJs.
Early Bird Tickets will be sold at $30/person (must be received by Feb 22, 2008).
Tickets at the door will be $35/person
VIP tickets will be $50/person.
To order Early Bird or VIP tickets, send a check by Feb. 22 to:
Lodestone Theatre Ensemble c/o Oscar Night
P.O. Box 1072
Studio City, CA 91614
Please make checks payable to: Lodestone Theatre Ensemble. Please include your phone number and email address for confirmation. Tickets will be left in your name at the door.
---
Rasik Arts (Toronto, Canada)
In Search of Gandhi
by Pierre Tetrault, Jeremy Wright, Neil Ross and Doris Rajan
February 25, 2008
This is a play about the tremendous challenges facing urban youth today in an increasingly diverse environment where systemic racism results in alienation, poverty and violence. Jehan, with the spirit of his ancestral country behind him, overcomes the obstacles that are placed before him and brings the teachings of Gandhi to modern day Toronto. Pierre Tetrault and Doris Rajan will be present and welcome your feedback.
As a bonus—the 5th Elementt is offering a 15% discount on dinners ordered between 5pm and 6pm on February 25. Just say you are with Rasik Arts to receive the discount. Remember, the offer is only good between 5pm and 6pm, and only on Monday the 25th. If you decide to stay and join us at 7pm in the back room of the 5th Elementt for the Roundtable, you can enjoy coffee or tea, compliments of our sponsor, MyBindi!

Monday, Feb 25
Rasik Arts Roundtable sponsored by MyBindi.com your online destination for cool South Asian stuff!
7-9:30pm
5th Elementt, 1033 Bay St. (South of Bloor - on the East side, set back on the corner of Irwin & Bay - across from St. Mary and St. Joseph streets)
Script: "In Search of Gandhi"
There is no admission charge.
---
Lodestone Theatre (Los Angeles, CA)
A staged reading of a new set of one-acts
TEN TO LIFE
Written by Nic Cha Kim, Annette Lee, Tim Lounibos & Judy Soo Hoo
February 26, 2008
TEN TO LIFE is a new set of twisted one-acts by four Lodestone veterans to commemorate Lodestone Theatre Ensemble's upcoming tenth anniversary season. Be the first to get a sneak peek at the four plays before they make their world premiere in 2009:
HACIENDA HEIGHTS
by Annette Lee (A DIRTY SECRET BETWEEN THE TOES)
Directed by Louise Hung
The Hsiungs have always been a strange family, but things get stranger when the Census Taker arrives.
RE:VERSE
by Nic Cha Kim (TRAPEZOID)
Directed by Rocky Jo
David's ten-year high school reunion is coming up and he'll go to great lengths to make an impression.
BE HAPPY
by Tim Lounibos (Lodestone Co-Founder)
Directed by Garrett Wang
Ten years of torment cast a woman and her therapist into a psychological pandora's box during a perverse struggle for happiness.
THE RED DRESS
by Judy Soo Hoo (TEXAS)
Rebecca's hopes and dreams lie with a shiny red dress---only if she can renew its ten-year warranty before time runs out.
TUES, February 26, 2008
8pm
GTC BURBANK
1111-B W. Olive St.
Burbank, CA 91506
(inside George Izay Park, just west of S. Victory Blvd.)
FREE ADMISSION (but donations gladly accepted and encouraged).
FREE PARKING: Park near the jet plane in front of George Izay Park at 1111 W. Olive St. Walk into the park, past Olive Recreation Center. GTC Burbank is behind the Rec. Center, facing the softball fields.
---
Aurora Theatre (Berkeley, CA)
Satellites
by Diana Son
Feb. 1 to March 2, 2008
See review.
---
Mu Performing Arts (Minneapolis, MN)
Three Sisters (an Asian American perspective)
by Anton Chekhov
March 1, 2008

Directed by Randy Reyes
Featuring a stunning all Asian American cast including: Sun Mee Chomet, Ann Kim, Rose Le Tran, Katie Bradly, Maria Kelly, Kurt Kwan, Sherwin Resurreccion, David Mura, Ethan Xiong, Chau Le and Daniel Le
SATURDAY, MARCH 1st @ 3pm
at the Bryant-Lake Bowl
810 W Lake St. Mpls
www.chekhovfe stival.com
---
East West Players (Los Angeles, CA)
Voices from Okinawa
by Jon Shirota
February 13 to March 9, 2008
VOICES FROM OKINAWA follows Kama Hutchins, an American graduate student of one quarter Okinawan descent, who teaches English in Okinawa, and receives an unexpected education in Okinawan-American relations.
See News story.
---
Asian Arts Initiative (Philadelphia, PA)
and Tatlo Mestiz@s present
Bumalik: returning, there and here

With Lovella Calica, L. Capco Lincoln, and Michelle Posadas
Friday, March 7, 2008

7:30 p.m.
Asian Arts Initiative Salon Space
1223 Vine Street, Philadelphia, PA 19107
Sliding scale admission: $6 to $10
215-557-0455 or info@asianartsinitiative.org

Why does one return to the land of her ancestors? How does one return to their everyday life when the trip is over? Inspired by their most recent travels to the Philippines, three local artists/activists have created new work exploring these questions. Using a uniquely PhilAm lens, Lovella Calica, L. Capco Lincoln and Michelle Posadas unpack an evening of film, poetry and performance that weaves together reflections upon the intersection of each artist's personal experience and the current state of their home countries.
---
SIS Productions (Seattle, WA)
BFE
by Julia Cho
February 22 to March 16, 2008
Panny is a typical 14-year-old teenage girl, living in the middle of nowhere U.S.A., coping with everyday stuff like an agoraphobic mom who's into way too much TV, a socially-awkward uncle who's a security guard at the local mall, a pretty blonde gal pal who gets all the guys, and wanting to date but not knowing where to start. Oh, yeah, and there's a serial killer on the loose. But what does Panny have to worry about? She's Asian American. The murderer would have to notice her first. A panoramic view of self-identity and relationships written by award-winning Korean American playwright Julia Cho.
"an insightful, beautifully structured drama about the agonies and comforts of isolation, told through the struggles of Panny and her family."
- The New York Times
Friday - Saturdays at 8pm; Sundays at 4pm
Richard Hugo House
1634 11th Ave on Seattle's Capitol Hill (on 11th Ave, Just North of Pine)

Performed by Leah Cohen-Sapida, Roberta Furst, Trina Griffin, Lincoln Grismer, Maia Lee, Scott Plusquellec, Eric Riedmann, Sam Tsubota and more!
Reviews from the Seattle Times. Northwest Asian Weekly. Seattle Gay News
PLUS!
Sex in Seattle Re-Runs!
Episode 4: New Year Confessions—February 22, 10 pm
Episode 5: Intimate Secrets—February 23, 10 pm
Episode 6: Vicious Valentines—February 29, 10 pm
Episode 7: Graphic Images—March 1, 10 pm
Episode 8: Doin' It Again—March 7, 10 pm
Episode 9: Little White Lies—March 8, 10 pm
Episode 10: Action Fantasies—March 14, 10 pm
Episode 11: The Ultimate Dating Challenge—March 15, 10 pm
---
---
Center For The Pacific Asian Family (Los Angeles, CA)
The Vagina Monologs
by Eve Ensler
March 15, 2008
---
Impact Theatre (Berkeley, CA)
Jukebox Stories: The Case of the Creamy Foam
Prince Gomolvilas
Brandon Patton
February 15 to March 22, 2008

plus--
Friday, March 28, 2008 @ 8:00PM
Saturday, March 29, 2008 @ 7:30PM
Genghis Cohen
740 N. Fairfax Avenue
Los Angeles, California 90046
The Case of the Creamy Foam stories written and performed by
PRINCE GOMOLVILAS songs written and performed by
BRANDON PATTON Jukebox Stories is a critically acclaimed storytelling, song-singing, comic duo that features writer/performer Prince Gomolvilas and singer/songwriter Brandon Patton. Prince and Brandon let the audience randomly assemble each night's set list and give away sweet prizes at every performance. With new stories and songs constantly added, Jukebox Stories is a continuously evolving, one-of-a-kind experience--and never the same way twice! The 2008 tour is called Jukebox Stories: The Case of the Creamy Foam, and it features all-new tales, tunes, and tons of fun! New real-life stories and songs include such topics as Hollywood conspiracies, scuba-diving tragedies, humankind's universal love of The Goonies, and how a series of satirical articles about High School Musical resulted in death threats and the worldwide ire of tween girls. This new show features a new game even better than bingo...a new game that may just answer the mysterious question: "What do they mean by 'creamy foam'?"
TICKETS!
February 14-March 22, 2008
in Berkeley $15 General
$10 Students/Seniors Impact Theatre
1834 Euclid Avenue
Berkeley, California 94709
www.impacttheatre.com
March 28 & 29, 2008
in Los Angeles $12 advance tickets online
$16 at the door, first-come, first-served Genghis Cohen
740 N. Fairfax Avenue
Los Angeles, CA 90046
www.genghiscohen.com

TICKETS
ON SALE NOW!
Feb. 14-Mar. 22
@ Impact Theatre
in Berkeley
Mar. 28 & 29
@ Genghis Cohen
in Los Angeles
---
Silk Road Theatre Project (Chicago, IL)
Our Enemies: Lively Scenes Of Love And Combat
By Yussef El Guindi
February 21 to March 30, 2008

Directed by Patrizia Acerra
Featuring: Kareem Bandealy, Andrew Navarro, Don Bender, James Elly, Susie Griffith, Monica Lopez, and Vincent P. Mahler
A darkly humorous and sensual look at identity, media-representation, love and lust in the Arab American community. Fueled by frustration over the limited Arab voices in the US media, a struggling writer, Gamal, engages in a prank campaign to shake up the system. But those in power have a way of turning the tables. When Gamal's lover, Noor, is convinced by a prominent publisher to alter her novel to satisfy Western hunger for "Orientalist" fare, Gamal lashes out at his own community. The results are staggering. Mature audiences only.
---
TNKAT (Southern CA)
Script in Hand
TNKat.org's Monthly Play Reading Series
March 27, 2008
www.tnkat.org
Every 3rd of 4th Thursday of the Month 7:30-9:30pm
Armory Center of the Arts
145 N. Raymond Avenue
Pasadena CA, 91103
Suggested Donation $2
Benefits Thumping Claw 2008
On Thursday, March 27th:
THE SILKWORK SCIENTIST
By Henry Ong
Directed by Junko Goda
With
Ryun Yu
ONE NIGHT
By Gary Kuwahara
Directed by Edward Gunawan
With
Giovanni Ortega
Peter Kuo
Kennedy Kabasares
&
Nghia Luu
---
The Metropolitan Playhouse (New York, NY)
Year One of the Empire
by Elinor Fuchs and Joyce Antler
February 29 to March 30, 2008
After 35 years, a publishing deal and a Drama-Logue Award, Metropolitan Playhouse will present the New York Premiere of Year One of the Empire by award-winning theater critic Elinor Fuchs and historian Joyce Antler. Directed by Alex Roe, performances begin February 29 at The Metropolitan Playhouse. Opening night is set for March 7th.
Year One of the Empire presents in bracing, yet often comic detail the exact moment when America became an imperial power -- the little known Philippine-American War at the turn of the last century. Its brew of U.S. belligerence, election politics, and public outrage offers shocking parallels to American wars in Vietnam (which inspired the play) and Iraq (which made the play "contemporary" again).
Few Americans know that, on the heels of the Spanish-American war (waged to free Cuba from Spain), the U.S. occupied Spain's most important Pacific colonial trophy, the Philippine Islands, and became embroiled in a prolonged, bloody insurrection. Straight from the historical record, the play shows avowed imperialists including Senator Henry Cabot Lodge, Theodore Roosevelt, and President William McKinley maneuvering the US into empire and stumbling into war. In 1899, The Army assured the public it would end Filipino resistance in a month, but it took more than three years. The U.S. committed 125,000 American troops, suffered 4,000 combat deaths, and finally resorted to extreme methods, including the widespread use of water torture, or "waterboarding" as it is called today.
---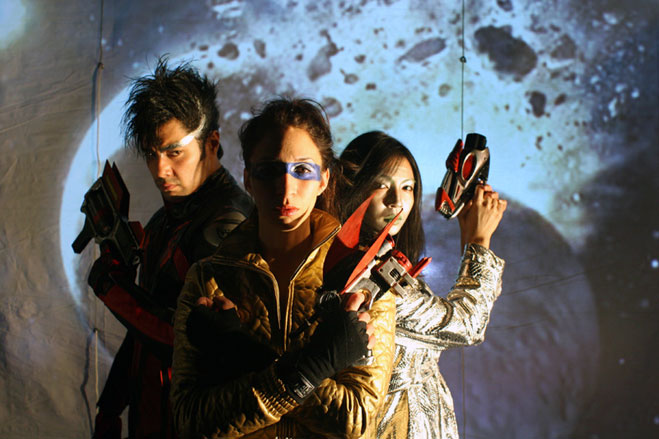 Vampire Cowboys Theatre (NYC, NY)
Fight Girl Battle World
March 6 to 30, 2008
Star Wars meets Lara Croft: Tomb Raider in this action-packed space odyssey for the stage!
Set in a futuristic universe where the human race is on the brink of extinction, Fight Girl Battle World is the story of E-V, the last human female in all the known galaxies, and her quest to find the last human male before he is destroyed by alien forces. Accompanying her is a rag-tag team composing of an ex-military General, a dorky alien spaceship pilot, and an overly sarcastic robot sidekick. The company's most ambitious project to date, Fight Girl Battle World will utilize Vampire Cowboys' award-winning blend of stage combat, puppetry, and multi-media to explode the world of sci-fi onto the live stage. This is one outer space trip you won't want to miss!
---
Pan Asian Repertory Theatre (New York, NY)
2+3 NIGHTS ONLY
March 19 to 29, 2008
At the West End Theatre Emerging Artist Forum
263 W. 86 Street
between Broadway and West End Avenue
in the Church of St. Paul & St. Andrew

Program A: Wed. March 19 and Thu. March 20 at 7:30pm
Five Movements Towards Freedom: A Choreopoem
Excerpt of solo performance by DawN Crandell
Featuring soundscape by Baba Israel
Five Movements Towards Freedom: A Choreopoem reflects the reclamation of voice in the face of silencing forces. A voice poetic in word and motion. .

Opposite Day - Solo performance by Sean Tarjoto.
Sean Tarjoto uses Phillip Kan Gotanda's YANKEE DAWG YOU DIE as a launching point for a rhetorical dialectical dialogue between a fictional character and his author.

Recess - Solo performance by Una Aya Osato
Recess is a story of one girl's struggle between getting an education and getting schooled. In this one woman show Una Aya Osato takes on six different roles as she examines today's public school system where struggles for power, criminalization of the youth and the effects of a suffocating bureaucracy are an everyday reality.

Program B: Fri. March 21 and Sat. March 22 at 7:30pm
Iris Solo performance by Jen Yip.
A piece about Iris Chang, the noted Asian American journalist and her controversial
campaign seeking an apology from the Japanese Government for wartime conduct.

Goy Vey!
Adventures Of A Dim Sun In Search Of His Wanton Father
Excerpts from a solo performance by Richard Chang
An unlikely blend of Borscht Belt-style standup comedy, Chinese opera, hip-hop, Klezmer and the whole shmeer of cultures that co-exist in the global village.

FInding Ways To Prove Youíre Not An Al-Qaeda Terrorist When Youíre Brown
Excerpts from a solo performance by Snehal Desai
Before you can make the journey to self-enlightenment, you'll need to prove you aren't carrying a bomb.

Program C: Mon.- Wed., March 24 – 26 at 7:30pm
Merica by John Quincy Lee
A comedy of haves and have-nots. Constance visits Beijing in hopes to meet her only granddaughter, Merica, for the first time. Ming Quan,Merica's other grandmother will the meeting to take place if certain conditions are met.
Directed by Ernest Abuba
Starring: Ariel Estrada, Anne Miyamoto Timmins and Ruth Zhang

Program D: Thu. – Sat., March 27 – 29 at 7:30pm
Mango Tree by Anne Miyamoto Timmins.
Using Hawaiian myth and legend as well as magical flora and fauna, Mango Tree tells the universal tale of love, betrayal and hope in ever changing lives. A benevolent Mango Tree, a nosy Owl and a Moon Goddess help a Chinese Hawaiian child, a changling find the love she seeks.
Directed by Kaipo Schwab
Starring: Tina Chilip, Nancy Eng, Sacha Iskra, Han Nah Kim, Paul Keoni Chun, Ron Nakahara and Una Aya Osato.
---
Jumpstart Performance Space (San Antonio, TX)
Wong Flew Over the Cuckoo's Nest
performed by Kristina Sheryl Wong
March 28 & 29, 2008
---
Asian Arts Initiative (Philadelphia, PA)
Regie Cabico In
Unbuckled, Uncensored
Directed by Brian Freeman
Friday & Saturday, March 28 & 29, 2008

8
p.m.
Asian Arts Initiative Salon Space
1223 Vine Street, Philadelphia, PA 19107
$12 general admission
Tickets: 215-557-0455 or www.asianartsinitiative.org
Tracing his orbit from his Catholic family roots and dreams of Broadway musicals to the spoken word slam scene and back again, performance poet and comedian Regie Cabico unleashes a night of raw talent that tells a tale of running away and returning in the context of the continually revolving world that we live in. Be prepared for a one-man cabaret infused with pop-culture, humor, and Regie's ever-enduring perspective as a queer Filipino artist.

Unbuckled, Uncensored is a National Performance Network Creation Fund Project co-commissioned by the Asian Arts Initiative in partnership with YouthSpeaks and the National Performance Network. Regie Cabico's residency in Philadelphia was also made possible in part with grants from the Artists & Communities program of the Mid Atlantic Arts Foundation; and the Philadelphia Theatre Initiative, a program of the Philadelphia Center for Arts and Heritage, funded by the Pew Charitable Trusts and administered by The University of the Arts.
---
---