Mu Performing Arts, Stages Theatre (Minneapolis, MN)
Baseball Saved Us
staged adaptation by Katie Leo
based on the children's book by Ken Mochizuki
March 13 to April 4, 2009
Mixed Blood Theater
---
Kumu Kahua Theatre (Honolulu, HI)
The Art of Preservation
by Susan Soon He Stanton
March 28 to April 7, 2009
"Desiree", (Kiana Rivera) and "Dado" (Tyler Tanabe) in, a Dark Night presentation at Kumu Kahua Theatre. Photo by Firebird Photography
---
Asian Arts Initiative (Philadelphia, PA)
Grand Opening Celebration
April 3 & 4, 2009
Please join us April 3rd & 4th for the opening of our Chinatown In/flux neighborhood exhibition and a weekend celebrating the grand opening of the Asian Arts Initiative's new home!
Chinatown In/flux: Future Landscapes

April 3 – August 2, 2009
Opening reception: Friday, April 3, 5:30 p.m.

Rebecca Hackemann, Visionary Sightseeing Binoculars
Nadia Hironaka, Strange Stories from a Chinese Studio
Kikuchi + Liu, Chinatown Orange
Jonathan + Kimberly Stemler, the little red string

A constantly contested terrain, Philadelphia's Chinatown continues to struggle for identity, survival, and growth. Through four site-specific installations in public locations, with participation of local community members, Asian Arts Initiative's exhibition hopes to catalyze imagination and action toward a positive vision for the future development of this neighborhood.

Asian Arts Initiative, 1219 Vine Street
and neighborhood locations in Chinatown, PA

Gallery hours: 10 a.m. to 6 p.m. Tuesday – Friday
(215)557-0455 or www.asianartsinitiative.org
* * * * *
Asian Arts Initiative Open House + Performance Showcase
celebrating the grand opening of our new home
Saturday, April 4, 2009
3 - 7 p.m. Open House
7:30 p.m. Performance Showcase

Free, with donations accepted and reservations for the performance showcase encouraged:
https://www.brownpapertickets.com/event/59682

Asian Arts Initiative, 1219 Vine Street, Philadelphia
(215)557-0455 or www.asianartsinitiative.org

Whether you are a regular or first-timer, you won't want to miss this fantastic diversity of dancers, musicians, poets, and spoken word artists blessing our new home with a live performance showcase—on what promises to be one of the most memorable nights of the Asian Arts Initiative's 15 year history!

Hosted by Edward Garcia with artists including Pallabi Chakravorty, Las Gallas, Mytili Jagganathan, Sham-e-ali al Jamil, Juliette Lee, Taiyo Na, Hanalei Ramos, Alex Shaw, YaliniDream and special guest musicians.

All Grand Opening Celebration events are free and open to the public. Donations are always accepted!
---
USC School of Theatre (Los Angeles, CA)
Beautiful Little Fool
Written by Michael Premsrirat
Directed by Jon Lawrence Rivera
April 3 to 5, 2009
Forbidden love. Past loss drives present desires. Mrs. Wallace can't stay away from a Filipino American teenager named Gilly. Justine and her teacher, Mr. Esperanza, deal with the consequences of their affair. And commedia dell'arte lovers Harlequin and Columbine escape the story the teachers have assigned to their classes, disrupt the narrative and f$@k s#*t up.
USC School of Theatre MFA Dramatic Writing Program's Blueprints Workshop
Friday, April 3, 7:00 p.m.
Saturday, April 4, 7:00 p.m.
Sunday, April 5, 2:30 p.m.
Massman Theatre at Drama Center
University of Southern California
1029 Childs Way via Entrance 6, Vermont Ave. at 36th Pl.
North University Park, Los Angeles
---
East West Players (Los Angeles)
Special Reading
April 4 and 5, 2009
Readings of winners of the 2008 playwrighting contest. See News item.
---
Ma-Yi Theater Company
20th Anniversary Celebration
Casino Gala & Auction
Monday, April 6, 2009

TIME: 6:00pm
LOCATION: Prince George Ballroom
15 East 27th Street
(between Fifth and Madison Ave.)
Visit http://mayitheatre.cmarket.com for our Ma-Yi Online Auction starting on March 13, 2009
---
USC Asian American Studies & Asian Pacific American Student Services (Los Angeles, CA)
The Last Resort
by Velina Hasu Houston
April 8, 2009
The impact of tourism threatens the charm of a Hawaiian resort town and the serenity of the locals. Hostilities regarding land and love intensify, shaking everyone's ideals to the core, and revealing the fragility of ambitions and dreams. A staged reading directed by Claudia Weill.
---
Stanford Asian American Theatre Project (Stanford, CA)
Forgetting Tiburon
by Karmia Cao
April 10 to 12, 2009
---
Silk Road Theatre (Chicago, IL)
Pangs of the Messiah
By Motti Lerner
February 19 to April 12, 2009
Directed by Jennifer Green
Set in 2012 amidst the signing of a peace treaty between Israel and the Palestinians, Motti Lerner's Pangs of the Messiah is an apocalyptic yet fiercely humane drama about eight West Bank Jewish settlers pitted against an Israel they feel betrayed by. The play focuses on a religious family that finds itself torn between fighting to stay in their settlement and obeying their government's decision to dismantle it. Left hanging in the balance is the legacy of their beliefs.
---
(L. to R.) Jodie A. Yamada and Julia Nakamoto in What Ever Happened to John Boy Kihano? at Kumu Kahua Theatre.
Photo by Firebird Photography
Kumu Kahua Theatre (Honolulu, HI)
What Ever Happened to John Boy Kihano?
by Susan Soon He Stanton
March 12 to April 11, 2009
Winner of the 2006 Kumu Kahua Theatre/UHM Theatre Department contest, this Kumu Kahua world premiere deals with the mysterious disappearance of a child and the effects it has on his family. John Kihano, who likes to take his youngest son fishing, returns one day without him, offering only a vague explanation about the child going to stay on the Big Island with "Auntie Maile." The problem is, no one in the family has ever heard of Auntie Maile, whom John claims is a friend of his mother whom he hasn't seen for twenty years. He has no address or phone number for her. What really happened? Did John Boy drown? Was he kidnapped? His father remains silent, only offering assurances that he will return, without specifying when. As the days turn into weeks, the police become involved, the search continues, the mystery deepens, tensions mount, loyalties shift and the family begins to fall apart.
Thursday, Friday & Saturday @ 8pm, Sundays @ 2pm
See News story.
---
Pan Asian Repertory (New York, NY)
Newworks 09
March 16 to April 12, 2008
At the West End Theater, 263 W 86 Street
4 weeks of new works by diverse artists: An expansion of Pan Asian's successful ongoing programs – 2+3 Nights Only and Emerging Artists Forum – with invited veteran artists from the Broadway, jazz and theatre worlds

Tickets to all programs just $18, click here or call OvationTix 212-352-3101
Visit www.panasianrep.org to see entire calendar of programs.

World Premieres

Week 1 March 18 – March 22 – SMART ASS
A new one-woman comedy by LAN TRAN, exploring psychics, dogs, dating and how she learned to "speak her own body language."

Week 2 & 3 March 25 – April 5 – THE SECRET OF O-SONO
by ELSA OKON RAEL directed by RON NAKAHARA
Japanese Movement Consultant SACHIYO ITO
A ghost-love story for family audiences using Japanese poetic forms and inspired by a Japanese folk tale collected by Lafcadio Hearn.
Bonus: A new evening performance of THE SECRET OF O-SONO has been added:
Thursday March 26 at 7:30 pm

Monday Music Nights

March 16 – THINGS I LOVE, a cabaret show by Broadway singer CHRISTINE TOY JOHNSON with special guest Bruce Alan Johnson, is an upbeat autobiographical snapshot of her favorite subjects to sing about. Sharing personal musings and joyous memories of husband and dog, Broadway musicals and coconut cake, songs include classic standards, a piece she premiered in Kevin So's award-winning musical, VICTOR WOO, THE AVERAGE ASIAN AMERICAN and other contemporary favorites.

March 30 – Jazz pianist HELEN SUNG has been called "one of the brightest emerging stars in jazz today." Breaking stereotypes as an Asian-American jazz pianist and composer, her experience in classical, jazz, & popular music gives her a compelling, unique voice. Her CD Helenistique was praised as "…one of the year's most exciting listens" (JazzTimes). Visit www.helensung.com to hear recordings by Helen.

April 6 – Steel Pan Percussionist ANDY AKIHO is an award winning composer and performer with a broad range of interests that stretch from steel pan to western classical music. As a percussionist Akiho has performed with numerous professional ensembles, and his immersion in various genres has given him a unique approach to his primary instrument, the steel pan. Go to www.andyakiho.com to listen to samples of Andy's music.

Emerging Artist Shorts

March 31 and April 1 – MITSU SALMON performing FISH DREAMS AND OTHER TALES, a dance/music/theater collaboration with musician, ryotaro, that takes place in a magical sushi restaurant where the dishes cause emotional and metaphysical responses from customers and workers alike, and FLIGHT, a music/dance piece about the human need to connect. A neurotic flight attendant questions the importance of her work and life. It explores flight as a metaphor for spiritual transcendence.

March 31 and April 1 – Emerging musician LUCAS KWONG will explore themes of love, death and God with songs ranging in sound from a gospel service to a barroom brawl. Lucas has been writing songs since he was thirteen and grew up learning the musical vocabulary of Ellington, Mozart, Lennon and Dylan, becoming fluent on piano, guitar, and trumpet. He arranged a cappella music at Yale, where he honed his craft with words and melody. Check out Lucas on MySpace: www.myspace.com/lucaskwong
---
Cold Tofu Improv (Los Angeles, CA))
Tofu Exposed: An All New Comedy Sketch Show
Directed by Stephen Kearin
March 27 to April 11, 2009
Want to see a private moment between a husband and wife? Hear the conversation happening behind closed doors between co-workers? Know what he's thinking while on a first date? Uncover the secret lives of your favorite Cold Tofu members with Tofu Exposed, an all new sketch comedy show written by the cast.
March 27 – April 11
Friday & Saturday at 8 pm
Avery Schreiber Theatre
11050 Magnolia Blvd.
North Hollywood, CA 91601
(Street parking available.)
$15 general admission
$12 students, seniors and groups 10+
Opening Night $25 includes post-show reception
To make reservations e-mail tofuexposed@gmail.com or call (213) 739-4142.
Seating is limited so early reservations are encouraged.
Tofu Exposed is supported in part by:
Sam Woo BBQ Restaurant
6450 Sepulveda Blvd, Van Nuys, CA 91411, (818) 988-6813
---
TF Productions (Vancouver, BC)
The C-Word
by Grace Chin
April 2 to 11, 2009
WHAT: If cheating is colour blind, so is commitment, increasingly a "C-word" to both sexes. How do you deal with intercultural cheating, commitment, and consequences? The C-Word, a contemporary, set-in-Vancouver dramedy directed by Mel Tuck, invites an intimate in-and-out of the bedroom view of four friends' lives when infidelity and unforeseen consequences force them to choose to whom, and to what, they must commit.
WHEN: Thursday April 2–Saturday April 4; Thursday April 9–Saturday April 11 – 8pm nightly
WHERE: Playwrights Theatre Centre (1398 Cartwright Street), Granville Island
HOW MUCH: $20 at the door, $18 online via PayPal at www.scriptingaloud.ca/cword
SPECIAL: 2 for $30, Thursday April 9
---
Shunya Theatre (Houston, TX)
Everyone Loves a Good Tsunami
by Sujit Saraf
April 3 to 12, 2009
Just as Dr. Sunil Ahuja is preparing to face down his greatest rival in the India Association, a tsunami sweeps South Asia. But every disaster leaves an opportunity for those bold enough to take it!
Directed by Yaksha Bhatt, Shunya Theatre's comeback production is an uproarious introduction to the politics of non-profit organizations and what happens when ego replaces charity.
Performances are 8pm Fridays and Saturdays and 3pm Sundays from April 3 to 12 at Barnevelder Movement Arts. Directions available at www.ShunyaTheatre.org.
Advance tickets are available now for $15 at tickets2events.com. Due to limited seating, tickets will be sold for $18 at the door. Don't miss out - buy your tickets today!
---
Bindlestiff Studio (San Francisco, CA)
GOOD FRIDAY: Carpool to Hell
directed by Judith Ferrer
April 9 to 11, 20009
Possibly the most blasphemous show you'll ever see!
The THICK HOUSE theater
1695 18th St. @Arkansas, Potrero Hill SF
Tickets: $10-$15 sliding scale
If you're into shows with heavenly choirs, holy nativity scenes, and spiritual re-enactments of the bible, then this is NOT the show for you...It's GOOD FRIDAY: CARPOOL TO HELL
Meant to escape the conforms of structure, shake up churches and right-wing conservatives, and rile the senses, Bindlestiff Studio's very popular and controversial sketch comedy show, Midnight Mass, comes out of hiding after a long hiatus. This time in the form of bunny ears and round, silky, supple EGGS. Watch the back stage bickering at "America's Top Deity" competition. Try a bowl of the latest cereal made of communion wafers. Be witness to the location of the latest Virgin Mary apparition. This will most likely be one of the most blasphemous shows you will ever experience, but don't worry, you'll have company...when we all carpool to hell!
---
Pork Filled Players (Seattle, WA)
Spam*O*Rama Prime Time!
April 11, 2009
At a special 8 pm time!
There's a News story...
---
New York University
Esther Chae
So The Arrow Flies
(Solo Performance Talk)
@ NYU
7 p.m.
April 14, 2009
http://performance.tisch.nyu.edu/object/ps_tnfs.html
Studio #612, 6th Floor 721 Broadway Tisch School of the Arts New York UniversityPresented by NYU TISCH The Department of Performance Studies, The Institute for Art Civic Dialogue, The Department of East Asian Studies, and TUESDAY NIGHTFORUM SERIES. Moderated by Professor Karen Shimakawa (AssociateProfessor of Performance Studies) Author of National Abjection: The Asian American Body on Stage (2002) and co-editor of Orientations: Mapping Studies in theAsian Diaspora (2001).
---
University of California Riverside
---
Queens Theatre in the Park's Asian Heritage Festival (New York)
American Son
by Christine Toy Johnson
April 17, 2009
PAPER SON is the story of a young Chinese man who must learn to balance his American identity with his family's immigrant journey. It's 1952, and when he meets his match in an American-born-Chinese girl, romance and new questions about the name he lost in his secretly illegal immigration follow.
---
Asian Arts Initiative (Philadelphia, PA)
Siya
April 17 and 18, 2009
See News article.
---
Bindlestiff Studios (San Francisco, CA)
Monthly standup series continues with our first mind-altering comedy experience...
Standup Stiffies:
the Rabbit Hole Show
April 18, 2009

See how deep the rabbit hole goes with this pre-4/20 comedy escapade. The Rabbit Hole Show will feature one of the hottest comics around - BRENT WEINBACH (Comedy Central's LIVE at GOTHAM, HBO) along with Bindlestiff comics MARC ABRIGO, JOE ANOLIN, MANNY CABRERA, JAMES LANTAYAO, DENNIS RODIS, ROB TRINIDAD, and special guest. Remember, if it's standing up, it's gotta be a stiffie!

IMPORTANT NOTE: This show will be taking place in an undisclosed location. To find out where, YOU, the audience, will need to show up at the corner of Howard & 6th St (in front of the New Plaza Hotel, site of the old/new Bindlestiff Studio) in San Francisco's SOMA at 8pm on April 18th. A BindleBunny will appear to lead you to the rabbit hole. Participants will enter the "rabbit hole" at their own risk! (NOTE: You will be asked to sign a liability waiver. It's that kind of show!) TICKETS: $10 - $12 sliding scale .
---
City University (New York, NY)
Otherland (Korea/US)
Esther K. Chae
April 20, 2009
@ City University of New York! 6:30 p.m. April 20th Monday
Martin E. Segal Theatre. Free!http://web.gc.cuny.edu/MESTC/events/s09/chae.html
Celebrate NYC Immigrants Heritage Week with featured performances and discussion surrounding the work of actress and playwright Esther K.Chae.Chae's work deals with immigrant characters and "thrives within the bibimbapculture," an all-in-one meal concept used by the late multi-media artist NamJune Paik. Various characters, languages, images, and stories mix together in one dish to be served as a nutritious and thought-provoking experience. Chae will present excerpts from three of her plays: Ae-ri in Otherland, Ddan Da Ddan!!!, and So the Arrow Flies. In collaboration with Kenn Watt (CUNY Theater PhD). Moderated by Erin B. Mee (Swarthmore College Theater Professor). Please stay for the post event fundraising reception. Your generous donation will help bring to fruition the official world premiere ofEsther K. Chae's solo performance So the Arrow Flies. The world renowned Ping Chong Co. 501 (c) 3 is the fiscal sponsor for So the Arrow Flies and all donations are tax-deductible.
---
Rasik Arts (Toronto, Canada)
Shakespeare Dreamship
by H S Shivaprakash
April 21, 2009


7 pm
5th Elementt, 1033 Bay St. (South of Bloor - on the East side – in between Charles St. and Wellesley)
This coming Tuesday (April 21), in anticipation of Rasik's guest artist in May, Kannada poet and playwright Shiva Prakash, the Toronto-area group will read and discuss his Shakespeare Dreamship, as translated by Laxmi Chandrashekar. To quote the prologue, Shakespeare Dreamship is "a play based on the life of Shakespeare…. No, a life based on the plays of Shakespeare. Alright… a play based on the plays of Shakespeare and the life his plays are based on." With characters as diverse as a ship's captain, Ben Jonson, and even the Dark Lady, it is set in Shakespeare's pub 'The Cage' after a particularly hard night of drinking. Fact, fantasy, fiction and reality mingle among lines from Shakespeare's plays.
---
Silk Road Theare (Chicago, IL)
The DNA Trail:
A Genealogy of Short Plays About Ancestry, Identity, and Utter Confusion
Conceived by Jamil Khoury
Directed by Steve Scott
March 4 to April 25, 2010
Theatre meets science as a diverse group of playwrights each agree to take a genealogical DNA test in this identity-defying collection of short plays. For this adventurous project, Silk Road commissioned seven playwrights, each rooted in distinct immigrant narratives and cross-cultural experiences, to revisit their assumptions about identity politics and the perennial "who am I" question. Self, family, community, ethnicity, race, history, geography--it's all up for grabs!

Development Support Provided by
The Albert Pick, Jr. Fund

A program of Creative Capital, supported by the Doris Duke Charitable Foundation and the Rockefeller Foundation.
Participating Playwrights: PHILIP KAN GOTANDA, VELINA HASU HOUSTON, DAVID HENRY HWANG, JAMIL KHOURY, SHISHIR KURUP, LINA PATEL, AND ELIZABETH WONG.
---
EXIT Theatre (San Francisco, CA)
Samsara
by Lauren Yee
dramaturged/directed by Jayne Wenger
April 25, 2009, 2pm

At EXIT Theatre
156 Eddy Street (b/w Mason and Taylor)
San Francisco

Admission FREE
Reservations recommended at (415) 673-3847
When American couple Katie and Craig vow to make a last-ditch effort to create a baby of their own, their quest leads them to India, where a thriving commercial surrogacy industry offers them one final chance at parenthood. But will their decision to "rent out" a surrogate unite or divide them?
A hilarious, unsettling look at reproduction in the 21st century, SAMSARA questions whether we can truly achieve intimacy in the face of shrinking worlds and expanding boundaries.
A staged reading of a work-in-progress by Lauren Yee, the author of CHING CHONG CHINAMAN and member of the Public Theater's 2009 Emerging Writers Group. Presented by EXIT Theatre as part of its 8th Annual DIVAfest.
For more information: http://theexit.org
---
East West Players (Los Angeles, CA)
Visionary Awards Dinner
April 27, 2009
---
Silk Road Theatre (Chicago, IL)
Al Kasida Staged Reading Series Presents
In the Crossing
Written and Performed by Leila Buck
Tuesday, April 28 and Wednesday, April 29, 2009
Directed by Shana Gold
Also Featuring: Lydia Berger, David Chrzanowski, and Elaine Robinson

About In the Crossing
Leila, a Lebanese American of both Muslim and Christian heritage, has been performing personal stories about bridging multiple identities for years. She arrives at a conference to present a reflective new piece about her experiences in Lebanon with her Jewish American husband during the Israel-Hezbollah war of 2006. As she attempts to portray the myriad of voices they encountered, Leila soon realizes that the most treacherous journey of all is the struggle to tell her own story.

About Al Kasida Staged Reading Series
Silk Road Theatre Project's Al Kasida Staged Reading Series is Chicagoland's first and only staged reading series dedicated to plays featuring characters of Asian, Middle Eastern, and Mediterranean backgrounds.
WHERE: Anderson Hall, The Fourth Presbyterian Church of Chicago
126 E. Chestnut Street
WHEN: Tuesday, April 28 at 6:30pm and Wednesday, April 29 at 6:30pm
COST: $10 suggested door donation; $5 suggested door donation for students/seniors.
RESERVATIONS: Reservations strongly recommended. Please call the box office at 312-857-1234 ext. 201 or email boxoffice@srtp.org. Be sure and mention the date you wish to attend and the number of seats you'd like to reserve.
---
Kristina Wong on the Road
Spring/Summer 2009
LOS ANGELES
March 28, 10:30pm
Kristina does stand-up
Variety show at the Celebration Theater
"The Wham-Bamb Recession SLAM" (D'lo is also performing)
$10 donation, and $5 for all you can drink wine!
7051 Santa Monica Blvd., Los Angeles, CA
March 29, 7pm
Kristina performs/ reads new piece (Thanksgiving Story) at Lesbo-A-Go-Go!
Directed by Rena Heinrich!
Celebration Theater
7051 Santa Monica Blvd., Los Angeles, CA
(Not sure what admission is, nominal, like $5 or $10. And well worth it)
April 8, 7pm
Guest Speaker at Claremont Colleges
Part of "Yours Truly Miss Chinatown" screening
Professor: Ming Yuen S. Ma
LAS VEGAS!
April 1, 6pm, FREE
I'm giving a lecture on my work
Sponsored by UNLV Department of Art
Historic Fifth Street School Auditorium- 401 S. 4th Street. Las Vegas, NV
April 2, 8-9:45pm, FREE
Excerpt from "Wong Flew Over the Cuckoo's Nest"
(Gregory Barnett is also performing!)
Showroom at the Aruba Hotel and Spa, 1215 S. Las Vegas Blvd.
Part of Las Vegas "Off the Strip" Festival, Contemporary Arts Center, Las Vegas
http://lasvegascac.org
(Btw, the room I am staying in Vegas is only $21.80/night. Not sure if there will be a chalk outline on the floor or what substance the wall paper hangs by.... But if you need a really cheap escape from financial peril, I recommend the ever grotesque Vegas.)
CHICAGO
April 13-17
Kristina is Artist-in-Residence (one week) at the University of Chicago
Center for the Study of Race Politics and Culture
April 17, 7pm, FREE (I think)
Residency culminates in performance of "Wong Flew Over the Cuckoo's Nest."
Rockefeller Chapel at U. of Chicago (more details to emerge on my site)

NEW YORK CITY
April 18, evening
Kristina hosts and performs at New York City Asian American Student Conference at New York University
Check www.nycaasc.com for schedule (Open to the public)
MINNEAPOLIS, MN
April 20- May 2
Artist-in-Residence at Pangea World Theater
Residency activities in local community, culminating in a final performance!
Presented by Pangea World Theater at InterMediaArts in Minneapolis, MN
Wong Flew Over the Cuckoo's Nest in Minneapolis, MN (April 30, May 1, 2)
http://pangeaworldtheater.org/performances/wong-flew-over-the-cuckoos-nest/
---
Magic Theatre (San Francisco, CA)
American Hwangap
by Lloyd Suh
April 4 to May 3, 2009

This touching and surprisingly funny world premiere play is a quintessential homecoming story. On the momentous occasion of his sixtieth birthday, a Korean immigrant returns to Texas to reunite with the family he abandoned 15 years before. As the birthday celebration unfolds, his wife and their three grown kids must traverse their own broken past to allow for the promise of a future.
This is a world premiere by Lloyd Suh, a young Korean American playwright, named one of the "50 to Watch" by the Dramatists Guild in 2008.

The Magic Theatre
Fort Mason Center, Bldg. D
San Francisco
www.magictheatre.org
415.441.8822

Limited Engagement!
April 4 - May 3, 2009
---
Bindlestiff Studios (San Francisco, CA)
Single Shots
April 23 thru May 2, 2009
Thurs - Sat 8pm, Sun.matinee 3pm Apr. 26

Bindlestiff Studio is proud to present an evening under the influence of intoxicating solo performances sure to start a buzz...
Bindlestiff Studio presents SINGLE SHOTS, a collection of solo performances featuring new works from Samantha Chanse, Nicole Maxali, Sarita Ocón, and Dennis Rodis.

The show opens on Thursday, April 23rd and runs through Saturday, May 2nd at 8pm each Thurs-Sat. night with a special Sunday matinee on April 26th at 3pm. SINGLE SHOTS will be taking place at The Thick House located at 1695 - 18th Street in the Potrero Hill district of San Francisco.

To purchase $10 advance tickets log onto the Thick House website, www.thickhouse.org.
SINGLE SHOTS will feature Samantha Chanse (Lydia's Funeral Video) who will be performing part of the newest version of her solo comedic show, Back to the Graveyard, about a family dinner derailed, a reluctant artist, and an involuntary volunteer.

Also featured, Identification, Please, is a piece about Nicole Maxali's search for self through drugs, sex, shoes, & Jesus! This current installment of Identification, Please is directed by Gayle Romasanta.

The show also features the piece Click an eerie, twisted monologue about obsessive infatuation, Stevie Wonder, and frappuccinos. Click, written by A. Samson Manalo and performed by Dennis Rodis, is based on a true-life composite of a university student who failed to act upon his fantasies.

Opening the evening will be the piece Compromise written and performed by Sarita Ocón and directed by Kathryn Syssoyeva. Compromise is a darkly comic solo work about the performance of cultural identity.
SINGLE SHOTS will be the first showcase of solo performances presented by Bindlestiff Studio as part of a series of shows that will lead up to Bindlestiff Studio first ever festival of monologues that will be taking place in July 2009.
---
Direct Arts
in conjunction with The Performance Project @ University Settlement
(New York, NY)
Paper Angels
by Genny Lim
April 29 to May 2, 2009
www.directarts.org
Set in 1915, the play explores America's historic ambivalence over immigration through a group of Chinese detainees on Angel Island, the Ellis Island of the West Coast. From 1882 to 1943, the Chinese Exclusion Act prohibited the Chinese from immigrating to America. They remain the only ethnic group ever to have specifically been banned against coming to the United States.
Paper Angels was last seen on the New York City stage in 1982 at the New Federal Theatre. Over two decades later, this new production will incorporate archival footage of Angel Island, a 2-piece traditional Chinese music ensemble, Chinese Opera, and an ensemble of 12 multi-ethnic actors.
The cast includes Louis Changchien, Robert Fitzsimmons, Jojo Gonzalez, Wai Ching Ho, Kerry Huang, Ryan King, Victoria Linchong, Doan Ly and Amy Staats. On April 30th, there will be a post-show discussion Peter Kwong, author of Chinese America: The Untold Story of America's Oldest New Community.
---
fu-GEN (Toronto, Canada)
fe-GEN 's 6th Annual Potluck Festival!
Thursday May 7th, 2009

7:30 pm
Factory Studio Theatre - 125 Bathurst St.
PWYC
This year our menu is overloaded with delicious new additions: from hockey dreams to lesbian nightmares, Karate Dojos to the barren wastelands of our imagination, finding meaning in food to finding the meaning of happiness, from secret backhand dealings and secret affairs to clandestine experiments… there's something for everyone to sink
their teeth into, no matter what their taste or appetite.
Join us for a generous helping of hip new works by Reese Baguio, Loreli Buenaventura, Rain Chan, Andrew Cheng, Allison Chung, Paul Sun-Hyung Lee, Andrea Mapili, Hiromi Okuyama and Donald Woo.
To find out more please visit www.fu-gen.org
---
Big Head
at Torrance Cultural Art Center
April 29, 2009
Senkotsu
at Highways Performance Space
May 8 & 9, 2009
Denise Uyehara
The Senkotsu (Mis)Translation Project will premiere as part of Highways Performance Space's 20th Year celebration. This project was first commissioned by the Los Angeles Department of Cultural Affairs COLA fellowship and inspired by field work conducted in Okinawa by Denise Uyehara. She is now expanding Senkotsu in collaboration with some fantastic butoh-inspired performers, musicians and a sound artist.
In addition, she is performing Big Head -- which examines the parallels between Japanese American internment and those perceived as "the enemy" in a post 9/11 envrionment -- at the Torrance Cultural Art Center.

---
GenSENG (Geneseo, NY)
Cowboy vs. Samurai
by Michael Golamco
April 30 to May 2, 2009
GENseng: SUNY Geneseo's Asian American Performance Ensemble proudly presents Michael Golamco's comedy about love, life, and the pursuit of Asian American identity in the wilds of Breakneck, Wyoming.
Directed by Randy Barbara Kaplan. Starring Elizabeth Cho as Veronica, Chris LaBanca as Del, David Sin as Travis and Derek Weng as Chester. Box office is open now! Performances Thursday, April 30 @ 7:00 pm, Friday, May 1 @ 4:00 pm, and Saturday, May 2 @ 2:00 pm. All tickets $6.00. Phone 585-245-5833 or e-mail kaplanr@geneseo.edu.
---
Southcoast Repertory Theatre (Orange County, CA)
12th Pacific Playwright's Festival
May 1 to 3, 2009
Includes Julia Cho's new work The Language Archive: "George is a linguist who knows many, many languages; but when his marriage starts to unravel, he suddenly finds himself utterly at a loss for the right words."
---
Bindlestiff Studios (San Francisco, CA)
Bindlestiff Studio Staged Reading Series
Dancer
by Peter Bacho
Directed by Kevin Correa
Sun. May 3 at 2 pm

this event is FREE!
Filipino American writer Peter Bacho, author of the celebrated novel CEBU, unveils his latest screenplay DANCER based on a short story in his collection DARK BLUE SUIT. This staged reading will be directed by Bindlestiff Studio's Kevin Correa. Coming all the way from Washington State, Peter Bacho will be in attendance to discuss his new screenplay and sign books.
---
Pratidhwani (Seattle, WA)
Ek Tha Gadha
by Sharad Joshi
May 1 to 10, 2009
See News story.
---
Los Angeles Comedy Festival (Los Angeles, CA)
Avatar: The Race Bender
18 Mighty Mountain Warriors
May 7 to 10, 2009
The Warriors present new material! At the ACME Comedy Theatre! Info!

Thursday, May 7
8:00
Stephen/Scott
Ron Babcock
18 Mighty Mountain Warriors

Sunday, May 10
7:00
OPM
Matt Knudsen
18 Mighty Mountain Warriors
Note: Acts will appear in the order listed! The format of the LA Comedy Festival is a full 75 minute show shared by 3 acts. The Warriors' portion will consist of a full 30 minute ALL NEW MATERIAL set.
Photo by Michael C. Palma, info@mpalmaphotography.com
---
The Robey Theatre Company
In Association with
The New Los Angeles Theatre Center
Presents
Bronzeville
A New Play
By Tim Toyama and Aaron Woolfolk
Directed and Produced by Ben Guillory
April 17 to May 17, 2009

8 pm Fridays and Saturdays
3 pm Sundays

At the
New LATC
514 South Spring Street
Los Angeles 90013

Ticket Price: $30 General.
$20 Students/Seniors.
Call 213-489-0994 ext. 107 for Reservations
Call 213-489-7402 for Group Rates

Previews April 15th & 16th
Ticket Price: $10.00
World War II.
Little Tokyo -- the Japanese Americans have been moved out to internment camps. Blacks from the Deep South have moved in. When a Black family discovers a young Japanese American man hiding in their house, they are faced with coming to terms with their own values as they debate and struggle with doing the right thing. Do they help him? Or betray him?
---
Los Angeles Comedy Festival (Los Angeles, CA)
OPM
Fists of Funny
Saturday, May 9 to 16, 2009

Where: Acme Comedy Theatre
---
Pacific Asia Museum and
TN KAT/Tuesday Night Project (Los Angeles, CA)
Show of Hands
a Jason Oymun Fong show
May 12 to 14, 2009

A show that is . . .

. . . kind of like a puppet show . . .

. . . . but without the puppets . . .

. . . and not really a puppet show . . .
Directed by: Jason Fong

featuring:

Christine Keiko Agena
Rima Anosa
Haruye Ioka
Traci Kato-Kiriyama
Emily Kuroda
David J. Lee
Ken Narasaki
Sharon Omi
Ryan Suda
Greg Watanabe
Ping Wu
Music by Sue Jin Kim

THREE SHOWS ONLY:

Tuesday . . . . . May 12
Wednesday . . May 13
Thursday . . . . May 14

Time: 8:00 pm (doors open at 7:45pm)

Admission: $8 at the door

Where: Pacific Asia Museum
46 N. Los Robles Avenue
Pasadena, CA 91101
*Limited free parking available in lot

Proceeds to benefit the Tuesday Night Project
---
Teada Productioms (Los Angeles, CA)
HEALING ALOUD, Part Two
May 15 to 17, 2009

Friday & Saturday at 8pm, Sunday at 3pm
MAMI, MAMI, QUIEN SOY? YOU KNOW WHO YOU ARE
written and performed by Raquel Salinas
While facing sibling rivalries and her mother's dementia, a woman finds herself the keeper of her mother's stories. Veteran solo performer Raquel Salinas crafts a magnificent multi-character tale of caregiving.
CARRIE'S WEB
written and performed by Shyamala Moorty
Spiders have often been a source of humans' deepest nightmares. However, in this story, they may actually save the day! Carrie, a body-conscious, high heel-loving spider is spinning out new moves when her world collides with a young, scared human girl who's dealing with a terrible family secret. The Imaginary Life
(formerly known as 2100 Square Feet)
5615 San Vicente Blvd
Los Angeles, CA 90019 $20 General/ $15 Seniors & Students
Discounts available for groups 5+ For reservations, call 310.998.8765
---
Darin' Joes Sketch Comedy (Vancouver, BC)
Impaired Functioning
May 17 and 18, 2009

What do a demented little girl, a massage parlour video store, and an over-zealous Priest have in common? Impaired Functioning. A show exploring the mishaps, the foibles, and the nonsense that is the human condition.

Come check out some familiar faces from Vancouver Asian Canadian Theatre's annual Etch-Your-SketchOFF!#$%!!

Two shows only!
Sunday May 17th 7:30pm
Monday May 18th 7:30pm
The Other Space (formerly "The Restaurant at the Queen Elizabeth Theatre")
@ Georgia & Cambie (above the Media Club)
Downtown Vancouver
Tickets $10/at door
Alcohol served
19+
Tickets sold at the door only.
Reserve tickets by e-mailing darin.joes@gmail.com
---
Public Theatre (New York, NY)
Indio
Written and performed by ALADDIN ULLAH
Directed by HAL BROOKS Monday, May 18, 2009
3pm and 7pm.
When comedian Aladdin reaches a crossroads in his career he discovers the journey of his father who left Bangladesh in the 1940's to pursue his "American Dream" in Spanish Harlem of all places! His father's misadventures in the land of opportunity are juxtaposed with Aladdin's own perspective as a funny man of both Eastern and Western descent. A heartfelt play about self-discovery and embracing your past.

THE PUBLIC THEATER
425 Lafayette St (near Astor Pl).
New York, NY 10003
Reservations Available Now!
Call 212-967-7555 (not available online)
Please note: Limit 2 reservations per performance. Tickets may be picked up in The Public Theater lobby beginning one hour prior to curtain. Reservations are honored until fifteen minutes prior to the reading. All seating is general admission.
BIO - Aladdin Ullah has been pioneering the past decade as one of the very first South Asians to perform stand-up comedy on national television on HBO, Comedy Central, MTV, BET, and PBS. Co-founder and host of the multi-ethnic stand-up show "Colorblind," which Mel Watkins of The New York Times hailed as "hilarious, thought provoking and ground breaking." Theater: Indio, directed by Loretta Greco (New Work Now!-NYSF/Public Theater), Mike Batistick's Port Authority Throwdown (Culture Project), Rain from out of the Blue (NY Int'l Fringe Fest). Workshops: NY Stage & Film, Second Stage, Ma-Yi, Lark Theater, Working Theater, and Cape Cod Theater Project. Television: Law and Order, Uncle Morty's Dub Shack (IATV - Telly award for best comedy series), Desis: South Asians in NY (PBS). Appeared in several commercials as an actor and voiceover artist. Film: The animated feature Sita Sings The Blues (Best Animated Feature - Berlin and Tribeca fil! m festivals), American Desi. Recipient of the Paul Robeson development grant. Aladdin is a member of the inaugural year of The Public's Emerging Writers Group program.
---
Mu Performing Arts, SteppingStone Theatre (Minneapolis, MN)
Hmong Tiger Tales
by Cha Yang and R.A. Shiomi
May 1 to 23, 2009
SteppingStone Theatre
See News story.
---
rom The Terranova Collective (New York, NY)
Solonova 2009 Festival
Face
Written & Performed by Haerry Kim
MAY 18, 20, 22 & 23 @ 7PM
MAY 23 @ 2PM

@THE DR2 THEATRE & D-LOUNGE
FACE is a lyrical rendition of a girl's story who survived two wars. Her story moves through vivid images, extreme brutality, and daring questions about violence and history. Based on the book of testimonies of Comfort women, who are survivors of sexual slavery by the Japanese army during World War II, this work is a theatrical experiment to give voice to the suppressed history.

SPECIAL $15 TICKETS
Use Discount Code:
TNCSOLO
at www.broadwayoffers.com
---
2g Productions (New York, NY)
Tapefaces
a new play by Jon Kern
directed by Qui Nguyen
May 21 and 23, 2009
at WALKERSPACE 46 Walker Street, New York City (between Church & Broadway)
TWO SHOWS ONLY!
Thursday, May 21 @ 7:00PM
Saturday, May 23 @ 3:00PM
---
Mu Performing Arts (Minneapolis, MN)
Taiko Party
May 21 to 23, 2009
See News story
---
2 g Productions (New York, NY)
Thunder Above, Deeps Below
by A. Rey Pamatmat
May 22 and 23, 2009
Developed via 2g's In The Works reading series in 2007 and fresh from workshop performances at the Guthrie Theatre (National Asian American Theatre Festival) and the Eugene O'Neill Playwrights Conference, we are delighted to present the WORLD PREMIERE PRODUCTION of this daring, funny and heartbreaking new play, from one of the boldest young voices in the American theater.
Three homeless young friends - a Filipina-American with a hidden past, a Filipina transexual, and a Puerto-Rican hustler - struggle on the streets of Chicago to scrounge up enough cash to bus it to San Francisco before the winter cold hits. All is going according to plan until Theresa dreams of a bearded man searching for her on Lake Michigan, a mystery man in sunglasses stalks Gil after he becomes the star performer at a drag club, a wealthy john appears to be falling in love with Hector, and Marisol - the assistant manager of a doughnut shop - begins practicing magic on them with her cups of far-too-strong coffee. With their hopes and friendships put to the test, will the trio be able to spare some change?

THUNDER ABOVE, DEEPS BELOW
by A. Rey Pamatmat
directed by Pat Diamond
at WALKERSPACE 46 Walker Street, New York City (between Church & Broadway)
TWO SHOWS ONLY!
Friday, May 22 @ 7:00PM
Saturday, May 23 @ 7:00PM
---
Asiansploitation (Toronto, Canada)
We Will Wok You!
May 22 to 24, 2009


SHOW TIMES
May 22nd 2009, 8 PM Friday
May 23rd 2009, 8 PM Saturday
May 24th 2009, 3 PM Sunday

WHERE:
Bad Dog Theatre
138 Danforth Avenue
Broadview/Danforth
---
Fluid Motion (New York, NY)
Pious Poetic Pie
A new spoken word play adapted from "Medea"
by Yubelky Rodriguez
May 21 to 30, 2009

Directed by Denyse Owens
Pious Poetic Pie uses the explosive nature of slam to adapt Medea's timeless journey of love, loss, and revenge to the multi-cultural community of a rapidly gentrifying Brooklyn, recasting Medea as Melinda, a Dominican immigrant who finds power in words. Featuring: Mia Bankston *, Athena Colón, Darian Dauchan *, Jose Joaquin Perez, Mia Van de Water, Rick Younger* (An AEA approved showcase - * Denotes AEA members) Set Designer: Tim McMath
Costume Designer: Deborah J. Caney**
Lighting Designer: Christopher Brown
Sound Designer: Dave Morreale
Technical Director: Kevin Bartlett
Stage Manager: Patrick McGhee
Assistant Stage Manager: Bridget Halloran
House Manager: Teri Sanders
Postcard Design: Music 4 Robots
(* * Member, United Scenic Artists)

Performances May 21 - 30, 2009 @ 7PM
Matinees on May 23, 24, 30 @ 3 PM
No performance on Monday May 25
---
Rasik Arts (Toronto, Canada)
An Evening with h.s. Shivaprakash
Wednesday, May 27, 2009

7pm to 9pm – Robert Gill Theatre
214 College Street (use St. George Street Entrance only — 3rd floor)
Admission: $5 General Public; Students & Art Workers Free
Tickets Available at the Door
Located on the NW corner of College and St. George Streets in the Koffler Student Services Centre (U of T Bookstore) on the third floor (elevator to your right as you enter
H.S. Shivaprakash (Hulkuntemath Shivamurthy Sastri Shivaprakash) is one of the leading poets and playwrights writing in Kannada, with twelve plays, seven anthologies of poems, and several other books to his credit. His works have been widely translated into English, Hindi, Malayalam, Marathi, Tamil and Telugu. . He is currently Dean of the School of Arts and Aesthetics at Jawaharlal Nehru University in New Delhi . From 1996 to 2000 he was the editor of Indian Literature, the bi-monthly journal of the Sahitya Akademi in New Delhi. With numerous awards bestowed upon his plays and writings, Shivaprakash is also a well-known authority on Vachana literature, Bhakti movements of India, Sufi and other mystic traditions.
---
Stanford Asian American Theatre Project (Stanford, CA)
Cowboy vs. Samurai
by Michael Golamco
May 28 to 30, 2009
---
Asian Arts Initiative (Philadelphia, PA)
Edge of the World
A roller coaster of Asian American experience!
May 29 to 30, 2009
7:30 p.m.

$15 general admission, $12 students
https://www.brownpapertickets.com/event/52877

Asian Arts Initiative, 1219 Vine Street, Philadelphia
(215)557-0455
From the diverse and intersecting worlds of spoken word, comedy, writing and performance, a cast from East and West coasts collaborate to create a night of "speed plays" inspired by a range of intensely personal stories and global social conditions. All the plays are short – from a few seconds to as many as 5 minutes. So don't sit back for long, but do enjoy the ride!
Featuring Regie Cabico, John Castro, Makoto Hirano, Sueyeun Juliette Lee, Traci Kato-Kiriyama, Dan Kim, Michelle Myers, Gary San Angel, Anula Shetty, Ryan Suda, F. Omar Telan, Greg Watanabe, Kristina Wong, and other possible surprises.
Warning: the show may include strong language and sensitive content not intended for anyone who is faint of heart! Viewer discretion is advised!

Tickets:
https://www.brownpapertickets.com/event/52877

More info:
Asian Arts Initiative: (215)557-0455 or www.asianartsinitiative.org
---
Center for Hmong Art and Talent and kaotic good productions
Sia(b): a Journey for the Hmong Heart
Written by May Lee-Yang
Performed by May Lee-Yang and Katie Ka Vang
Directed by Robert Karimi
May 30 to June 6, 2009
On a journey for the discovery of her own siab, May Lee-Yang takes us on a humorous and emotional voyage through multiple characters, karaoke music, voices of Hmong community members, and images of Hulk Hogan and Nintendo games. Though conflicted between her love for pop culture and her own Hmong culture, she ultimately learns that regardless of location, home is where the siab is.
Saturday, May 30 at 8pm
Sunday, May 31 at 4pm
Wednesday, June 3 at 8pm (Pay-What-You-Can)
Thursday-Saturday, June 4-6 at 8pm
For ticket reservations, please call the Center for Hmong Art (CHAT) and Talent at 651-603-6971
$15 Adults, $12 Students/ Seniors/with 2008 Fringe Festival button, $10 Groups of 10+
---
Ma-Yi Theatre (New York, NY)
The Rise and Fall of Asian America
by Dustin Chinn
Directed by Qui Nguyen
May 31 and June 1, 2009
After an earthquake levels San Francisco, a clandestine organization sends the Bay Area's Asian Americans north of the Canadian border. When the newly minted refugee government declares independence, all stupidity breaks loose.
Featuring Yung-I Chang, Jon Hoche, Jon Kern, Eugene Oh, Gita Reddy, Maureen Sebastian, Paco Tolson, Amy Waschke
May 31 and June 1, 7pm
The Wild Project
195 East Third Street
(bet Ave. A and Ave. B)
The Event is Free!
---
Metamorphisis Theatre (Los Angeles, CA)
Letters To A Student Revolutionary
A play by Elizabeth Wong
Directed by Peter J. Kuo
June 4, 2009
To commemorate the 20th anniversary of the Tiananmen Square Massacre in China, Metamorphosis Theatre Company and The National Center for the Preservation of Democracy present a one-night-only benefit performance of Elizabeth Wong's play Letters To A Student Revolutionary on June 4, with proceeds benefiting the Amnesty International.
Letters To A Student Revolutionarytraces the decade-long correspondence and search for true democracy between two pen-pals – one Chinese, the other Chinese American – which ends abruptly with the June 1989 Tiananmen Square Massacre. This bittersweet tale seeks to make sense of history, how we participate in it and how we are overwhelmed by it. By focusing on the loves and losses, desires and disappointments, the play explores ideas of capitalism and communism, and ultimately becomes a call to remember the price of democracy.
Director Peter J. Kuo says, "As we commemorate the 20th Anniversary of the Tienanmen Square Massacre, it is important to remember struggle for democracy in China and the students who gave their lives for the cause. As artists, we have a responsibility to enlighten and entertain people about this important historical event. This production is a unique opportunity to help educate about the price of democracy and the power of a single voice."
The Tiananmen Square protests of 1989 that culminated in the Tiananmen Square Massacre were a series of demonstrations led by Chinese labor activists, students, and intellectuals between April 15 and June 4, 1989. The resulting military crackdown on the protesters by the People's Republic of China left many civilians dead or injured. The reported tolls ranged from 200 to 3,000. Following the violence, the government conducted widespread arrests to suppress protesters and their supporters, banned the foreign press from the country and strictly controlled coverage of the events in the national press. There is an entire generation of Chinese citizens who reportedly have no knowledge of this tragedy ever occurring.
The National Center Public Programs Manager Koji Steven Sakai says, "We are excited that this play is returning to the National Center after its successful presentation earlier this year. Letters To A Student Revolutionary is an ideal fit for the National Center. Programs such as these reveal the universal struggles in the fight for basic human rights and individual freedom, which follows our mission of teaching and educating the public about democracy."
Initially staged as part of the 2008 Fullerton College Director's Festival where it was awarded "Best of Fest," the show is directed by East West Players' PR/Marketing Manager Peter J. Kuo, who has more than nine years of stage directing experience. Playwright Elizabeth Wong is an award-winning playwright who graduated from New York University's Tisch School of the Arts, with an MFA in dramatic writing. Her plays CHINA DOLL, KIMCHEE & CHITLINS, DATING & MATING IN MODERN TIMES have been produced to critical praise. Cast members are Carin Chea, Julia Cho, Henry Chu, Joon Lee, Nghia Luu, Julian Song, Sheila Tejada and Tina Tong.
This production is presented in association with the Visual Artists Guild and Add Word Productions. A portion of the proceeds will benefit the Amnesty International, dedicated to advocating for human rights in China.
The performance of Letters To A Student Revolutionary will take place on June 4 at 6 pm at The National Center for the Preservation of Democracy. 111 North Central Avenue. Los Angeles, CA 90012.
---
hoboFish improv (San Francisco, CA)
Kamikaze Theory sketch comedy
presented by AATC and One4All Theater
Friday and Saturday
June 5-6, 2009
8 PM • Doors open at 7:30 PM

Thick House
1695 18th Street (between Arkansas and Carolina)
San Francisco

Comedic Stimulus Package: Tickets only $10!
Buy tickets online at www.thickhouse.org,
by phone at 415-401-8081, or at the door.
AATC is part of the Thick House Presenting Program
---
Lodestone Theatre Ensemble
Ten to Life
By Nic Cha Kim (Trapezoid),
Annette Lee (A Dirty Secret Between the Toes),
Tim Lounibos (Lodestone co-founder) &
Judy Soo Hoo (Solve For X)
Directed by Alberto Isaac (Claim to Fame)
May 2 to June 7, 2008

Four original, twisted one-acts by four Lodestone veterans to commemorate our ten disturbing years
A census agent exposes a family's perverse, hidden secret...
A desperate loser turns to experimental surgery to seduce his high school crush...
A happy homemaker struggles against an ancient evil that lurks in plain sight...
A controlling psychologist must protect his life's love from her memories...
Lodestone kicks off its final season with four twisted one-acts touching on the bizarre and unnatural.
It's been ten years... Time to pay.
Low-Priced $8 previews, April 30 and May 1, 8pm

$16 general admission
$14 students and seniors (w/valid ID)
$12 (groups of 10+)
All Sunday matinees (except June 7) are pay-what-you-can ($1 minimum)
$25 May 2 opening night gala performance (w/post-show reception)

GTC Burbank
1111-B W. Olive Ave.
Burbank, CA 91506
See News story.
---
Ma-Yi Theatre (New York, NY)
American Hwangap
by Lloyd Suh
directed by Trip Cullman
May 9 to June 7, 2009
Min Suk Chun returns to the ex-wife and family he left 15 years ago in a West Texas suburb, to celebrate his "hwangap" – the Korean expression for the much-revered 60th birthday that marks rebirth. But what's in store for his next life cycle, if it starts with no pants and a bottle of Jim Beam?
American Hwangap was produced as part of Lark Play Development Center's "Launching New Plays into the Repertoire Initiative" supported by The Andrew W. Mellon Foundation. Initiative partners are: Magic Theatre, Ma-Yi Theater Company, The Play Company, and Tanghalang Pilipino.
---
(L. to R.) William Murray, Annie Lokomaika'i Lipscomb and Moses Goods III in Kaluaiko'olau by Kemuel DeMoville at Kumu Kahua Theatre.
Kumu Kahua Theatre (Honolulu, HI)
Kalua`iko`olau a Noh play
by Kemuel DeMoville
Waiting for a King
by Krystal Ontai
May 14 to June 14, 2008
Kalua`iko`olau a Noh play by Kemuel DeMoville
A stylized and poetic retelling of the true story of Kalua`iko`olau, also known as Ko`olau the Leper, this play is set in Kalalau Valley on Kaua'i, where two travelers learn the story of how Ko`olau resisted the provisional government forces when they were sent to take him and his son to Kalaupapa on Moloka`i. Ko`olau and his wife and son escaped, but the soldiers forced the inhabitants to leave the valley forever so that no one help Ko`olau. The family lived alone in the valley until first the son, and then Ko`olau, died from their disease. A Kumu Kahua world premiere.
Waiting for a King by Krystal Ontai
It is the early nineteenth century in Hawai'i, foreigners have begun to inhabit the islands and the Hawaiian kingdom is in a state of transition which will drastically affect the future. King Kamehameha will pass the throne to his son Liholiho. Kamehameha's high priestess Ka'ahumanu will create for herself the new post of kuhina nui, and his nephew Kekuaokalani will become custodian of the war god K?kailimoku. As the four offer differing opinions of what the future might bring and what action should be taken, a Chorus in the present look back at the past and forward into the future, contemplating the fate of the Hawaiian people. A Kumu Kahua world premiere.
Thursday, Friday & Saturday @ 8pm, Sundays @ 2pm
May 14 - June 14, 2009
See News story.
---
Mo`olelo (San Diego, CA)
Good Boys
by Jane Martin
May 21 to June 14, 2009
Mo`olelo in residence at La Jolla Playhouse
---
Vancouver Asian Canadian Theatre (Vancouve, BC)
Flower Drum Song
music by Richard Rogers
Lyrics by Oscar Hammerstein
May 28 to June 14, 2009
---
Yangtze Repertory Theatre (New York, NY)
In the Silence of the Heart
by Joanna Chan
May 28 to June 13, 2009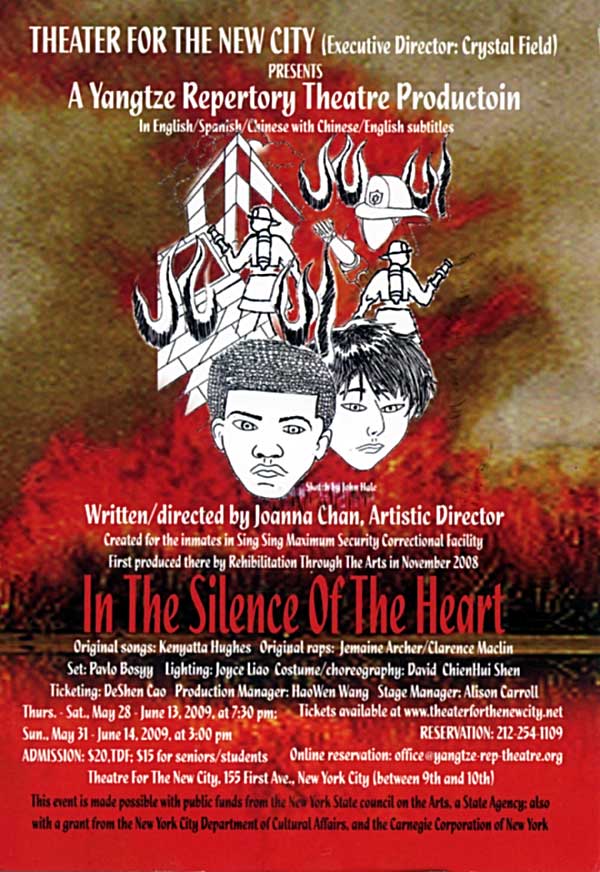 ---
Eth-Noh-Tec (San Francisco, CA)
Allan Manalo @ Eth-Noh-Tec
June 13, 2009

Attention: If you've been wishing, intending, hoping to come to one of the Salons someday…better come to this one June 13. It's our last of the Winter-Spring season as we take a break for the summer and present again in the fall. This line up is a fine array of literary, storytelling, singing and physical theater artists.

Where
Eth-Noh-Tec Studio
977 South Van Ness
San Francisco, CA 94110
between 21st & 20th Streets
close to 24th Street BART

When
Saturday, June 13
7pm Show

Admission
$5-$15 sliding scale
Reserve Now!
contact@ethnohtec.org
(415) 282-8705
Featured Artists:
Al Manalo, Fil-Am Stand up Comedian:
Back from Metro Manila malls, killer punch lines in the form of Mongolian throat singing, he'll perform feats that have never been attempted…until now!
Elaine Muray, Storyteller:
Beneath the cloth, behind the mask: one body, one thousand characters.
Nanci Gaglio, Screen/Playwright:
"Jose Comin' This Way". It's about a hurricane, Jesus and who saves who?
Gary Lapow, Singer/Songwriter:
From the deeply moving to the hilarious, from the New York folk music scene, to SNCC Freedom Singers (Civil Rights Era), to Malvina Reynolds, Gary offers a musical perspective of an older, seasoned lover of life.
Eth-Noh-Tec, Kinetic Story Theater
Ancient metaphor, modern messages.
Eth-Noh-Tec is funded in part by San Francisco Grants for the Arts, San Francisco Arts Commission, National Storytelling Network, Target Stores, Asian Arts Foundation, and private donors. Eth-Noh-Tec is an official San Francisco Green Business.
---
Second Generation (New York, NY)
an In The Works staged reading of
Bury the Iron Horse
a new play by 2g Resident Artist Michael Lew,
at Ensemble Studio Theatre.
June 16, 2009

"This is it, bitches: Iron Horse Park."

This is the Seattle park where three sisters reunite after a long estrangement.
This is where their parents fell in love and started a salmon cannery.
This is where Dad took them on hikes and Mom skinned salmon.
This is where Dad left them.

Through six interwoven camping trips, a family comes together and falls apart, and three sisters return to

BURY THE IRON HORSE
a new play by Michael Lew

starring Jackie Chung, Eunice Ha, Mia Katigbak, Natalie Kim and James Saito
at Ensemble Studio Theatre
529 W. 52nd Street
New York City
ONE NIGHT ONLY!
Tuesday, June 16th, 2009
Since 1999, In The Works has been the literary wing of Second Generation's productions, and has provided workshop opportunities for several dozens of new plays by established, emerging and early-career Asian American writers. Each In The Works staged reading provides writers with a professional cast and director, and up to 29 hours of text-based workshop and rehearsal towards a public staged reading. All readings are followed by a short Talkback between artists and audiences. Admission to In The Works staged readings has always been free and open to the public. Support is provided in part by the National Endowment for the Arts and the New York City Department of Cultural Affairs.
---
East West Players (Los Angeles, CA)
Marry Me A Little
Musics and Lyrics by Stephen Sondheim
The Last Five Years
Music & Lyrics by Jason Robert Brown
May 7 to June 7, 2009
extended to June 21
See News story.
---
Fluid Motion (New York, NY)
Gone (w.t.)
by Katori Hall
June 20 and 21, 2009
Gone (w.t.) is a contemporary retelling of the Greek tragedy "Antigone" set in post-Katrina New Orleans. When Antwonette is unable to bury her brother's body, rotting in a condemned house in the Ninth Ward, she challenges the reigning city mayor--who happens to be her uncle. Gone (w.t.) delves into the link between the personal and the political, focusing on the stability of family ties during highly combustible political times. Gone (w.t.) was commissioned by Fluid Motion in 2007 as part of our Start the Story commissioning program.
Join us for FREE staged readings as part of the first workshop of Gone, directed by Tlaloc Rivas:

June 20, 2009 at 7pm
June 21, 2009 at 3pm

@ Theatre Row Studios
410 West 42nd Street between 9th and 10th Avenues

Admission is FREE and all readings including post-show talkbacks with the artists. RSVP to info@fluidmotiontheaterfilm.org with the date and number of people attending.

Gone was supported by a generous contribution from Start the Story donor Ayanna Lonian.
---
Yellow Earth (London, England)
Typhoon 6
June 21 to 25, 2009
Festival of plays!
WILD RICE (Vietnam/Australia) directed by Kwong Loke.
Written by Huong Nguyen, Phi Hai, Pat Rix, Geoff Crowhurst
DIALOGUE AND REBUTTAL (China) directed by Jonathan Man.
Written by Gao Xingjian
FILIAL (Canada) by David Yee

THE TWO OF US (UK) by Simon Wu

WONDERLAND (Singapore/USA) directed by Jonathan Man
By Chay Yew

BEHIND THE MASQ (USA) by Sung Rno
DIARY OF A MADWOMAN (Singapore) by Chin Woon Ping

See News for details
---
hereandnow (Los Angeles, CA)
Invisible Heroes
June 4 to 28, 2009
hereandnow Theatre Company presents INVISIBLE HEROES, a night of story told through oral language, movement, dance and song. These captivating, raw and heartfelt original works are written by the young performers themselves.
Directed by
JOHN MIYASAKI
---
Desipina & COMPANY (New York, NY)
Rehana Mirza, Artistic Director &
Rohi Mirza Pandya, Producing Director
presents
Seven.11 Convenience Theatre (2009): The Final Year
Directed by RJ Tolan, Kel Haney and Robert Ross Parker
Musical Director Samrat Chakrabarti
June 17 to 28, 2009

Only for 10 Performances
Opening Night Wednesday, June 17, 2009
At Center Stage
48 W. 21st Street, 4th Floor, NYC
June 17, 2009 - June 28, 2009
Wednesday to Saturday at 8 pm and Sunday at 3 pm

$18 General Tickets
https://www.ovationtix.com/trs/pr/662685
With: Andrew Guilarte, Kavi Ladnier, Cindy Cheung*, Sam Ghosh, Tim Cain*, Jay Lee and Christopher Larkin* *Denotes Actor's Equity

The final Seven plays:

Soonderella by Samrat Chakrabarti and Sanjiv Jhaveri
A new pop musical involving a fairy tale of a different colour.
Color Me Desi by Rishi Chowdhary
A liquor-run to the convenience store before the big desi party uncovers that there are more shades of brown than there are colors to Holi.
One Dollar Box by Eugene Oh
A provocative tribute about anybody's father, anybody's son and the desperate measures that arise when life boxes you in. Working man, work it man.
A Very Desi Christmas by Samrat Chakrabarti and Sanjiv Jhaveri
An original pop musical that illuminates the true meaning of rice.
Closing Up Shop by Carla Ching
A look at what happens when it's time to move on to the next generation.
What's in Store by Rehana Mirza
A run-in at the convenience store leaves its manager with the keys to closing up.
Raj Against the Machine by Vishakan Jeyakumar
A Sri Lankan immigrant questions his life in the convenience store, with his best customer by his side.

Production Team
Production Stage Manager - Nick Tochelli
Assistant Stage Manager- Shannon O'Connor
Set - Jason Simms
Asst Set/Props - Amy Lee
Costumes - Jenny Fisher
Lights - Jeff McCrum
Sound - len DeNiro
Choreographer - Sandhya Jain
Graphic/website design Nilou Moochhala
Technical supervisor Enayet Rasul
Original 7-11 logo and t-shirt graphic design Atif Toor

Desipina producing team: Yasmin Madraswala, Vikram Bhat, Rowena Harry, Jessica Devi, Rakesh Choudhary, Uday Jhunjhunwala, Meetu Chilana

This project is made possible in part with public funds from the New York City Department of Cultural Affairs, and also from the Fund for Creative Communities, supported by the New York State Council on the Arts and administered by the Lower Manhattan Cultural Council. Additional funding was provided by Off Broadway Angels, Nancy Quinn Fund, and the Dramatists Guild.

Special Thanks to DESICLUB (www.DesiClub.com )
---
New World Theatre
mixie and the halfbreeds
By Adrienne Wong and Julie Tamiko Manning
Directed by Maiko Bae Yamamoto
Produced in partnership with the Powell Street Festival Society
June 18 to 28, 2009
The Vancity Culture Lab at The Cultch 1895 Venables Street.
Tickets available through Ticketmaster: www.ticketmaster.ca 604-280-4444
Eggs, bananas and an aversion to rice.
Two estranged neighbours are not as different as they think. Haunted by peroxide teeth and blondissima hair, Mixie and Trixie tackle a question that has plagued mankind hrough the ages: do blondes really have more fun?
A no-holds-barred identity throw-down, Mixie and the Halfbreeds is an optimistic tale for a remixed nation.

Performances
Wednesday - Saturday, 8:00pm
Free Preview June 18, 8:00pm

PWYC Matinees Saturday June 20 & Sunday June 28 2:00pm
Tickets $20/$18, plus applicable service charges
Part of See Seven! Pass Holders can reserve through Tickets Tonight: 604-684-2787
Ancillary Events
Post Show Talkback with Adrienne and Julie: Thursday June 25
Stay after the show for a chat with the cast.
Afternoon Discussion: Saturday June 20, after the matinee
Presented in partnership with the Powell Street Festival.
A discussion with mixed race artists of different disciplines about how identity informs artistic practice and creative process. Marcus Youssef moderates with panelists Julie Tamiko Manning (theatre), cellist Cris Derksen and Jay Hirabayashi (Kokoro Dance).
Ukulele Sing-A-Long: Sunday June 28, after the matinee
Guido Heistek leads a post show jam. Novice and experienced strummers welcome. Bring your own ukulele or borrow one of ours.
Silent T shirt auction: local artists and crafters create unique designs inspired by MIXING. Featuring work by Natalie Purschwitz (huntandgather.ca), CBC diva Margaret Gallagher, Adrienne Wong, Ruthie Sumiko Tabata and Kirsty Munro. Shirts are on display in the lobby throughout the run.
---
---
Teada Productions (Los Angeles, CA)
Santa Monica Healing Aloud Festival
June 26 to 28, 2009

HEALING ALOUD FESTIVAL IN SANTA MONICA
Week # 1:
June 26-28, 2009
Friday & Saturday at 8:30pm, Sunday at 3pm
Mami Mami Quien Soy? You Know Who You Are by Raquel Salinas
Breakfast with my Mother by Maria G. Martinez

Week #2:
July 3-5, 2009
Friday at 8:30pm, Sunday at 3pm and 7pm (no show July 4)
Carrie's Web by Shyamala Moorty
Healing Mars by Marcella Pabros-Clark

@ Miles Memorial Playhouse
1130 Lincoln Blvd
Santa Monica, CA 90403 for more info, please visit our website
---
Fluid Motion (New York, NY)
The Penelope Project
A multimedia adaptation of The Odyssey
by Christine Simpson
June 26 and 27, 2009

Penny has found herself in a peculiar position: while she waits for the safe return of her husband (Eddie who is MIA), she's been selected as the "face of the women and families at home." Her celebrity status does not sit well with her friend Cynthia, who isn't sure why she wasn't chosen since she's right with God. Meanwhile, Penny's son Tim has problems of his own: his father is hero to everyone but him. How does he even know that Eddie is his father at all? The Penelope Project is a reformulation of the story of Penelope from Homer's "The Odyssey". The Penelope Project explores the lives of those left behind: how they cope with a war that's simultaneously half-way around the world and at a click of their fingertips.

Join us for FREE staged readings as part of our upcoming multimedia workshop:

June 26 & 27, 2009 at 7pm
@ Theatre Row Studios
410 West 42nd Street between 9th and 10th Avenues

Admission is FREE and all readings including post-show talkbacks with the artists. RSVP to info@fluidmotiontheaterfilm.org with the date and number of people attending.

The June 2009 workshop of The Penelope Project is supported by a generous grant from the Puffin Foundation.
---
Asian American Theatre Comany (San Francisco, CA),
Contemporary Asian Theater Scene (CATS) (San Jose, CA),
and Gold Mountain Arts & Media Productions present
A.J. Blues: American Japanese Blues
A new play by Tim Yamamura
June 30, 2009
The story of a band of Japanese American jazz musicians trapped in Japan during World War II.
Art Object Gallery
592 North Fifth Street
San Jose, CA 95112
Free Admission
---