Silk Road Theatre Project (Chicago, IL)
The DNA Project
March 2 to April 4, 2010
Theatre meets science when a diverse group of playwrights each agree to take a genealogical DNA test and revisit their assumptions about identity politics and the perennial "who am I" question. Self, family, community, and ethnicity are all up for grabs in this perception-defying collection of short plays.
Featuring Plays by Philip Kan Gotanda, Velina Hasu Houston, David Henry Hwang, Jamil Khoury, Shishir Kurup, Lina Patel, and Elizabeth Wong
---
Asian Arts Initiative (Philadelphia, PA)
Home: Far & Near
A festival of Asian American performance
Thursday to Saturday, March 25 to 27, 7:30 p.m.
Saturday, April 3, 7:30 p.m.
(Doors open 30 minutes in advance – come stroll through our gallery!)
Asian Arts Initiative
1219 Vine Street, Chinatown, Philadelphia
Tickets: $15 general admission
(Special Offer: $40 for all 4 shows!)
Discounts available for students & groups
For more information: (215)557-0455 or http://www.asianartsinitiative.org/
Exploring broad themes of immigration, displacement, and the concept of home, Asian Arts Initiative's 2010 Artists Exchange convenes a cadre of Asian America's most talented and provocative performers – some classic, some cutting edge, all unforgettable.
It starts with three nights of not-to-miss showcases of solo work. Then, following a week of intensive collaboration, our star-studded collective of artists from around the country debut a new ensemble work-in-progress that invokes their creativity to speak to common community concerns.
Night #1 (Thursday, March 25) will feature Makoto Hirano and Kristina Wong.
Night #2 (Friday, March 26) will feature Regie Cabico, Robert Karimi, and Kelly Zen-Yie Tsai.
Night #3 (Saturday, March 27) will feature Dan Kwong, Anula Shetty, and Catzie Vilayphonh.
Night #4 (Saturday, April 3) will feature the entire Artists Exchange ensemble!
For descriptions of the performances, visit our website: http://www.asianartsinitiative.org/
---
Pan Asian Repertory Theatre (New York, NY)
NEWWORKS 2010
March 4 to April 11, 2010

at the West End Theater
263 W. 86th Street
(between Broadway & West End Avenue)
in the church of St Paul & St Andrew

Six weeks of new works by diverse artists, including the full production of "CHING CHONG CHINAMAN." Much more to be announced, so check back at www.panasianrep.org or become our fan on Facebook for updates! For advance tickets, call Pan Asian Rep: 212-868-4030
The Women of Tu-Na House
by Nancy Eng
about the women (victim's by no means!) who occupy a massage parlour on the Upper East Side, and who are searching for their own 'happy endings'!
Iris
by Jen Yip
A compelling short about Iris Chang, the human rights activist, historian, wife and mother.
A True Asian Hottie
by Jo Shui,
performed by Eileen Rivera, directed by Allen Sermoniais one hot lady...and a whole lot more. Ya don't know someone till ya really know someone.
American Mixed Tape
written and performed by Allen Sermonia. If the eyes are the window to the soul, surely the ears are its backdoor. It posit's the question: What's on your Ipod and Why?
Air and Angels
written and directed by Anne Noelani Miyamoto
What happens when the ghost of ne'er do well Jack Cassidy visits his neglected wife and daughters seeking redemption before crossing into the netherworld?
Whaler
written and directed by Snehal Desai
performed by Una Osato
---
CATS (Navada City, CA)
Snow Falling on Cedar
written by David Guterson
adapted for the stage by Kevin McKeon
directed by Kevin McKeon
March 18 to April 10, 2010
WHO: Community Asian Theatre of the Sierra (CATS), 228 Commercial Street, #88, Nevada City, CA 95959

WHAT: The California premiere of Snow Falling on Cedars, adapted and directed by Kevin McKeon, based on the best-selling novel by David Guterson. A story on enduring love, cultural conflicts, and the search for truth. Appropriate for age 13 and up.

WHEN: March 18 - April 10, 2010
Saturday and Sunday matinees, 2pm
Thursday evening, 7pm
Friday and Saturday evening, 8pm

WHERE: Nevada Theatre, 401 Broad St., Nevada City, CA

TICKETS: online: www.brownpapertickets.com
Grass Valley, CA: Book Seller; Briar Patch Market
Nevada City, CA: Gold Mountain; Nevada City Postal Company
3/26/10: Benefit for Friends of Nevada County Libraries: purchase tickets at any western Nevada County branch library or at the door on 3/26, or call 530-265-1407

PRICES: Advance and Door prices vary: $12 Previews (3/18 and 3/19) to $20 advance and $25 door on other performances. Groups of 10 or more and gift certificates, please contact Jeannie Wood at 530-265-2990 or at info@catsweb.org

WEBSITE: www.catsweb.org <http://www.catsweb.org/>

CONTACT: Jeannie Wood, Marketing Director, 530-265-2990
e-mail: info@catsweb.org
---
Vampire Cowboy Theatre (New York, NY)
Alice in Slasherland
by Qui Nguyen
March 18 to April 10, 2010
Veronica Mars meets Evil Dead in Vampire Cowboys newest creation for the stage, ALICE IN SLASHERLAND! When young Lewis Diaz accidentally resurrects the soul of a brutally slain girl named Alice, he unwittingly unleashes a literal hell on Earth. Now with every sort of demon, monster, and killer ravaging his small town, Lewis along with his new demented girlfriend must find a way to close the rift before the big bad evil devil himself shows up and totally ruins their senior prom. Guaranteed to be Vampire Cowboys goriest show yet; this is one bloody good time that you're not going to want to miss!

Starring Carlo Alban, Sheldon Best, Tom Myers, Bonnie Sherman, Andrea Marie Smith, Amy Kim Waschke

MARCH 18 - APRIL 10, 2010
(Thurs, Fri, Sat, & Sun @ 8:30pm;
Special Saturday Matinee on April 10th @ 4pm)

at HERE Arts Center
145 Sixth Avenue
(between Spring & Broome, enter on Dominick)

Tickets: $18
For tix: go to HERE.ORG
Or call 212.352.3101
NY Times review.
---
Pan Asian Repertory Theatre (New York, NY)
Ching Chong Chinaman
by Lauren Yee
March 19 to April 11, 2009
Directed by May Adrales

West End Theatre
263 W 86th Street (b/w Bway and West End)
New York City
The Wongs are American as apple pie. Desdemona dreams of Princeton but could use some help with her calculus. Her brother Upton wants to be a World of Warcraft champion but needs more free time to train. Upton solves both their problems by bringing an indentured servant home one day, but they soon discover that "Ching Chong" has American dreams of his own!
With James Chen, Fay Ann Lee, Jennifer Lim, Angela Lin, Ron Nakahara, and Jon Norman Schneider.

Performances Tue - Sat 7:30pm; Sat - Sun 3:00pm
(No matinee, Sat March 27 and Sun Apr 4)
Tickets $45, Seniors/Industry $35, Students $20. Go here for more info.
Review from Theatremania.
Review from NYtheatre.com
Review from NY Times.
---
ShortLived 3.0 (Los Angeles, CA)
New Business
by Felix Racelis
April 2 to 10, 2010
Felix's short play, NEW BUSINESS, will run in the audience-judged playwriting competition ShortLived 3.0, running Friday and Saturday, 8:00 pm, at The Asylum Lab, 1078 Lillian Way in Los Angeles, April 2 – April 10. If it's in the top 4 of votes, it plays another 2 weeks, etc. For tix & info: http://www.brownpapertickets.com/event/103421. In the play, two longstanding members of an organization in decline discuss momentous new business.
---
Brenda Wong Aoki performing in
Legend of Morning Glory
A Kabuki Taiko Oratorio with Jazz Ensemble and Modern Dance
April 15, 2010

CSU Monterey Bay presents:
Legend of Morning Glory
A tale from the Kabuki about
a girl, a boy, and a promise
A kabuki taiko oratorio featuring master storyteller Brenda Wong Aoki; Asian jazz pioneer Mark Izu; dynamic women taiko drummers Maze Daiko; shakuhachi- Saxman Mas Koga; and ODC Dance Jam dancers Kai Kane Aoki Izu and Emma Lanier.
Written by Brenda Aoki Wong; directed by Obie-award winning Jael Weisman; choreography by Tony-nominated Kimi Okada; original music by Mark Izu; Janet Koike. Izzy-award winning lighting and design by Patty Ann Farrel.
Thursday, April 15, 2010 7:30-9:30PM
California State University Monterey Bay 5260 Sixth Ave. Bldg. #28
Seaside, CA, 93955.
For audiences ages 10 and up
$30 General, $15 for Students
Says the San Francisco Chronicle:
"It's always exciting when San Francisco actor-storyteller-dancer Brenda Wong Aoki presents a new work, blending Kyogen and Noh traditions with Western forms and jazz by her no-less eclectic husband, Mark Izu. Adding to the buzz about the premiere of Aoki's "Ghosts and Girls"...she first heard the story, from - of all people- folk icon Pete Seeger, with whom she was appearing on tour."
- Robert Hurwitt
---
(Back Row - L. to R.) Lisa Ann Katagiri, Hale Mawae, Puamana Crabbe
(Front Row - L. to R.) Kimberleigh Villasenor, Danielle Zalopany
Photo by Firebird Photography
Kumu Kahua Theatre (Honolulu, HI)
Maui the Demigod
adapted by Gary L. Balfantz with oli & hula created by Kahoa Malalis
March 18 to April 18, 2010
A narrative theatre adaptation of Steven Goldsberry's M?ui the Demigod: An Epic Novel of Mythical Hawai`i, Balfantz's play was first produced by Kumu Kahua in 1991 and toured the islands in 1992. The play incorporates hula, chant and storytelling in bringing the many myths of M?ui to the stage – including his miraculous birth, prank-filled childhood, and heroic deeds of manhood such as slowing down the pace of the sun and pulling an island from the depths of the sea. Characters in the play include M?ui's older brothers Loke, Waena and Ki`i, his mother Hina, god of the ocean Kanaloa and the sun La. Many versions exist of the same stories because, as the Kupuna says, "M?ui was a great man. There were many who said he did things that he did not do. Many liars whom we cannot blame for their wonderful lies."
See News story
---
Ma-Yi Theater Company (New York, NY)
Rescue Me
(A Postmodern Classic with Snacks)
by Michi Barall
directed by Loy Arcenas
choreographed by Julian Burnett
March 23 to April 18, 2010

The Ohio Theatre
66 Wooster Street
New York, NY 10012
A contemporary dance-theatre adaptation of Euripides' Iphigenia in Tauris. Iph is 34 and stuck in a dead-end job. Haunted by the past, her present situation is grim -- she's at the mercy of a temperamental goddess and a barbarian king with a fondness for human sacrifice. And she's beginning to lose all hope of rescue.
A post-modern tragi-comedy about what to do when your Dad tries to kill you, your Mom freaks out, your brother goes crazy and you're surrounded by Barbarians.
Review, NY Times.
---
Timescape (Southern CA)
No No Boy
an adaption of the John Okada novel
by Ken Narasaki
March 27 to April 18, 2010
See News story.
(Additional show added at April 11 at 7 pm!)
---
2g (New York, NY)
13: Instant Vaudeville
April 16 to 18, 2010
13: Instant Vaudeville will bring together 30+ Asian American directors, actors, writers, performers and artmakers together to make theater in a fast, furious collaborative manner over the course of one week. The evening will be made up of 13 "acts" to celebrate our 13th Birthday.
The 13 acts will be:
Get Back in My Head, This Instant
by Rehana Mirza, directed by Suzi Takahashi withpuppets by Spica Wobbe
with Kristine Haruna Lee, Nikki Calonge, Jon Hoche & Matt Park

Killer Instant: Asians Who Love Guns and the People Who Love Them
by Kenneth Lin, directed by Nandita Shenoy
with Mia Katigbak, Alfredo Narciso, Louis Changchien & Gita Reddy

Instant Life
by Mrinalini Kamath & Nora Chau, directed by Victor Maog
with Ron Domingo, Debargo Sanyal, Nandita Shenoy & Jackie Chung

Instant Happiness
by Kyoung Park, directed by Lloyd Suh
with Mia Katigbak

Instant Connection
by A. Rey Pamatmat, directed by Victor Maog
with Peter Kim & Louis Ozawa Changchien

Instantly Unrequited
words by Sung Rno & Music by Sunhee Anna Huh, directed by Lloyd Suh with Ron Domingo

Instant Gratification
written & performed by Matt Park

Instant Instant
facilitated by Jon Kern
with Matt Park, Jackie Chung, Jon Hoche, Ron Domingo & Jon Kern

Instant Instant
by Eugene Oh & Dustin Chinn, directed by Christine Simpson
with Jon Hoche, Christopher Larkin & Nikki Calonge

Instant Adaptation: Ed Lin's, Snakes Can't Run
with Peter Kim & Gita Reddy

So(w)iled in Stant, TN
by Kristine Haruna Lee
with Kristine Haruna Lee, Nikki Calonge & Louis Ozawa Changchien

Ling Leventhal: Instant Social Reject
by Michael Lew & Matt Schatz, directed by Ralph Pena
with Jackie Chung, Alfredo Narciso, Debargo Sanyal, Matt Park & Ali Ewoldt

Redemption Can Come in an Instant
by Patricia Jang, directed by Lloyd Suh
with Christopher Larkin
Special Guest on Sunday, April 18th: Spoken word artist, Kelly Zen-Yie Tsai

Production Team:
Lighting Design by Chris Brown
Website Design by Jeff Chew
Marketing Manager: Dora Kwong
Company Manager: Lisa Chan-Brown
Produced by Carla Ching

Friday, April 16 - Sunday, April 18
7pm
@
WALKERSPACE
46 Walker Street
(between Broadway and Church)
The artists participating are a mix of 2g friends and a bunch some new collaborators from all over the theater community. We are getting together to experiment and play and we hope that you will join us for what will be moving and inspiring with death defying acts and feats of wonder.
---
Cornerstone Theatre (Los Angeles, CA)
3 Truths
written by Naomi Iizuka
directed by Michael John Garcés
April 19, 2010
The sixth and final show of the Justice Cycle, a four-year series of world premiere plays examining how laws shape and disrupt L.A.'s communities.
Also known as the "Bridge" show, 3 Truthswill bridge the many communities that have appeared before it in the cycle, weaving together a sprawling cast of Angelenos from all walks of life who will unite together on stage at downtown's California Plaza this June.

3 Truths Community Reading - Monday, April 19

Hear The Play & Share Your Thoughts!
Artwork by jonny fenix (jonnyfenix.com)
Before we launch into rehearsals for 3 Truths, we need your input and feedback!
The communities we partner with and learn from are at the core of the work we present. Share your thoughts with the playwright, Naomi Iizuka, as she continues to shape the play throughout the rehearsal process.
Join us for a reading of 3 Truthsnext Monday, April 19, at 6:30pm at Cornerstone's offices in downtown Los Angeles at 708 Traction Ave, L.A. 90013. RSVP here.
---
Kinding Sindaw Melayu Heritage (New York, NY)
La MaMa E.T.C.
Ellen Stewart Theatre
PANDIBULAN: Bathing by Moonlight
April 22, 2010
Dances, music and folk tales of the Yakan people of the Southern Philippines.
Directed & choreographed by Potri Ranka Manis
Kinding Sindaw will celebrate the support of our sponsors & friends, especially Kamala Cesar (founder of Lotus Music & Dance) and Soon-Young Yoon (vice-chair International Alliance of Women).
Please join us for a pre-show reception at 6:00 - 7:15pm and the World Premiere Opening show of "PANDIBULAN: Bathing by Moonlight" at 7:30 - 8:45pm.
Tickets: $49.00 (tax-deductible donation)*
*proceeds will go to Kinding Sindaw Melayu Heritage fund to continue their mission to assert, preserve, reclaim and re-create the traditions of dance, music, martial arts and storytelling of the indigenous people of the Philippines. A portion will go to help the victims of the current drought in Mindanao.

Checks payable to:
La MaMa E.T.C.
note: Kinding Sindaw Gala Tix

To purchase or RSVP please contact:
Josette_Camino (AT) yahoo.com
or call (347) 346-4162

For inquiries email:
Camino.Diane (AT) gmail.com
---
Fluid Motion (New York, NY)
Lu Shen, The Mad
by Christopher Chen
April 22 and 23, 2010

A new play adapted from Euripides' Herakles by Princess Grace Semifinalist Christopher Chen

The legendary warrior, Lu Shen, finds himself trapped in a series of surreal roles across time: From a player in a bad English translation of a Chinese play set during the Boxer Rebellion, to an applicant in an antagonistic job interview for a janitorial position, to an all-powerful investor in a futuristic cyber-marketplace where all the world's national boundaries have dissolved.

As he travels across time, Lu Shen struggles to maintain his sanity and identity as an onslaught of Western influences increasingly invades his language and psyche, all while fighting an inexplicable urge to kill his wife. An absurdist reimagining of Herakles, Lu Shen, the Mad is an outrageous chronicle of
Asian male rage through the ages.
---
SIS Productions (Seattle, WA)
Ching Chong Chinaman
by Lauren Yee
March 26 to April 24, 2009
Meet the Wong family: as all-American as apple pie. Ed likes to play golf, Grace wants another child, Desdemona is desperate to get into Princeton, and Upton is working towards gaming superstardom. When Upton gets an indentured Chinese servant to help him with his homework, life in the Wong household takes an interesting turn . . . Flipping every cliché about Asian American identity upside down, this award-winning play by Lauren Yee is an "exhilarating send-up" of the American dream.
Produced by: Lorna Chin, Kathy Hsieh and Miko Premo with support from Steve Hayatsu, Chris Monsos, Jane Moon, Serin Ngai and Roger Tang.
Featuring: Jose Abaoag, Stan Asis, Elizabeth Daruthayan, Kathy Hsieh, Kay Nahm and Christian Ver!
See News story.
Review, Seattle Times.
---
South Coast Repertory Theatre (Southern CA)
The Language Archive
by Julia Cho
March 26 to April 25, 2009
Julia Cho's The Language Archive, the story of a brilliant linguist who finds himself at a loss for words when he learns his wife is leaving him, will fill the final slot in South Coast Repertory's 2009-10 season.
The world premiere, which runs March 26 through April 25, 2010, on the Segerstrom Stage, was commissioned by New York's Roundabout Theatre Company and is being produced by special arrangement with the company. Mark Brokaw, a Roundabout Associate Artist, will direct.
"I think Mark is one of the leading directors in American theatre today," said SCR Producing Artistic Director David Emmes. "And we have a long relationship with Julia Cho. It's been really exciting to see her deepening her talent."
Emmes said he knew he wanted to produce The Language Archive at SCR immediately after its reading at the Pacific Playwrights Festival last spring: "The play possesses a wonderful charm and displays a tremendous theatrical imagination."
The Language Archive tells the story of George, a man consumed with preserving and documenting the dying languages of far-flung cultures. Closer to home, though, language is failing him. He doesn't know what to say to his wife, Mary, to keep her from leaving him, and he is oblivious to the deep feelings his lab assistant, Emma, has for him.
This is Cho's second SCR production; her first was the 2007 world premiere of The Piano Teacher, about the lasting effects of childhood trauma and human beings' great capacity for denial. Brokaw just directed After Miss Julie, currently playing on Broadway with Sienna Miller. He has extensive on- and Off-Broadway credits, but this will mark his SCR directorial debut.
Find out more here: http://www.scr.org/calendar/view.aspx?id=2748
---
Asian American Theatre Company (San Francisco, CA)

Macho Bravado
by Alex Park
April 1 to 25, 2010
A World Premiere.
MACHO BRAVADO explores the mythology of masculinity with a Korean-American soldier placed front and center. He is a wounded veteran from an unnamed war, challenged to find meaning and place at home. The play is a war-and-love story that finds the protagonist and his wife fighting to make their way back to each other in the wake of difficult changes and choices that have recast them as strangers.
See News story.
See San Francisco Chronicle review.
---
Company of Angels (Los Angeles, CA)
LA Views III: Hunger and the City
April 2 to 25, 2010
In the Black Box Theater, 3rd Floor, The Historic Alexandria Hotel
501 S. Spring Street, Downtown LA (corner of Spring and 5th)
April 2 - 25, Fridays and Saturdays at 8 p.m, Sundays at 7 p.m.
Tickets: www.companyofangels.org/events.html.
The show is an evening of eight 10-minute plays, both comedies and dramas, that address the theme of hunger, want and desire. The evening showcases works by Asian American playwrights, Damon Chua, Henry Ong and Vasanti Saxena, and the acting talents of Jully Lee and Joyce Liu, flattered by the lighting design of Justin Huen and sound design of Dennis Yen.
---
Pangea World Theater (Minneapolis, MN)
and Teatro del Pueblo present
The House of Bernarda Alba
April 9 to 25, 2010

Fri-Sun: April 9, 10, & 11
Fri-Sun: April 16, 17, & 18
Thu-Sun: April 22, 23, 24, & 25
All shows at 7:30
Friday and Saturday post performance discussions
Five daughters are forced into mourning by their mother. One by one they make a bid for freedom, with tragic consequences. Don't miss Lorca's critically acclaimed masterpiece brought to life by Pangea World Theater and Teatro del Pueblo.
Tickets: $15 General Admission, $12 Students & Seniors
http://www.brownpapertickets.com/event/100815
Directed by Laurie Carlos
Featuring: Adlyn Carreras, Katie Ka Vang, Indira Addington, Suzie Cheng, Mimi Holland, Laura Garcia, Paulino Brener, Tinne Metcalf, Leah Nelson, Sarah Broude.
---
CIRCA-Pintig (Chicago, IL)
A Memory, A Monologue, A Rant, And A Prayer
edited by Eve Ensler and Mollie Doyle
April 23 to 25, 2010
A Memory, A Monologue, A Rant and A Prayer: Writings To Stop Violence Against Women and Girls, is a groundbreaking collection of monologues by world-renowned authors and playwrights, edited by Eve Ensler and Mollie Doyle and commissioned by V-Day for the first V-Day: UNTIL THE VIOLENCE STOPS festival, which took place June 2006 in New York City.
These diverse voices rise up in a collective roar to break open, expose, and examine the insidiousness of violence at all levels: brutality, neglect, a punch, even a put-down. These writings are inspired, funny, angry, heartfelt, tragic, and beautiful. But above all, together they create a true and profound portrait of how violence against women affects every one of us.

A Memory, A Monologue, A Rant, And A Prayer is a call to the world to demand an end to violence against women!
April 23, Friday and April 24, Saturday @ 8 PM
April 25 Sunday @ 7pm
Location: Maya Essence :4357 N Lincoln (SE Corner of Montrose and Lincoln)
Tickets are $15 : for online purchase please go to:
www.circapintig.org
For ticket reservations: 773.704.9402
V-Day is a global movement to stop violence against women and girls. V-Day is a catalyst that promotes creative events to increase awareness, raise money and revitalize the spirit of existing anti-violence organizations.

$60 Million Raised : 120 Countries : 45 Languages
10 thousand Beneficiary groups : Billions of Media Impressions
www.vday.org

Cast:
Aimee Algas, Jamilyn Bailey, Nasstasha Camba , Carlos Contreras, Chris Diño, Clarissa Gonzalez, Barbara Rodriguez, Sophia Treyger

Directed by: Louie Sison

local Sponsors/Supporter:
Bagwis Collective, IL Choice Action Team, Maya Essence, Alliance for Filipino Immigrant Rights and Empowerment (AFIRE), Center for Asian Arts and Media, Swirl Wine Bar, Grace and Wyn Villamor, Immigration Service Professional and Travelfast

Global Sponsors of VDAY:
Dramatists Play Service , Amanda Keidan Jewelry, LUNA, Random House, Shawn & Shane, Vosges Haut-Chocolat

About CIRCA PINTIG:
CIRCA PINTIG is a community arts organization dedicated to the development and popularization of community arts aesthetic and pedagogy that speak of the immigrant experience within the changing multicultural landscape of America.
---
Guggenheim Museum (New York, NY)
Icarus at the Edge of Time
Sunday, April 25 @ 7:30 pm
Celebrated composer Philip Glass, renowned physicist Brian Greene, art duo Al and Al, award-winning playwright David Henry Hwang, and Artistic Director of London's Southbank Centre Jude Kelly explore the creative process behind a brand-new performance inspired by Greene's moving futuristic reimagining of the Icarus fable. In this version, Icarus travels not to the sun but to a black hole, and in so doing poignantly dramatizes one of Einstein's greatest insights leading to deeper appreciation of the cosmos. A coproduction of the World Science Festival and the Southbank Centre, musical excerpts with accompanying visuals and narration will be performed prior to the world premiere on June 2, 2010, at Lincoln Center.

$30, $25 members, $10 students
For tickets, please call the Box Office at 212 423 3587
---
Leviathan Lab (New York, NY)
The Seige of Numantia
by Cervantes
April 26, 2010
Leviathan Lab opens its 2010
Classical Reading series with the Spanish play "The Siege of Numantia" by Cervantes, directed by Theatre C Artistic Director Carlos Armesto on Monday, April 26th at 7:00 p.m.
Famously known as the author of the Spanish Renaissance classic DON QUIXOTE, Miguel de Cervantes wrote "The Siege of Numantia" as a re-telling of the eponymous siege of the city-state Numantia by the Romans in ancient Spain. When the undefeated Roman general Scipio begins a campaign to starve Numantia into submission, the defiant Numantines resist to the end. The Numantines burn the city down and destroy themselves, choosing to die free than live as slaves, and leave no city left to pillage, resulting in Scipio's humiliating defeat. This historical event, as
important to Spanish history as the battle of Masada is to Judaism, is a source of Spanish national pride.
"The Siege of Numantia" features an impressive line-up of actors from Leviathan Lab, New York's premiere home for Asian American actors, directors and writers, including Obie Award-winning actress Ching Valdes-Aran ("The Wild Party" and "Macbeth" on Broadway) as the sorceror Marquino.
Tickets for Leviathan Lab's "The Siege of Numantia" are by invitation only.
For ticket requests, please call 212.726.1059 or email Leviathan Lab press contact Bonna Tek at bonna@leviathanlab.com.
www.leviathanlab.com
Vancouver Asian Canadian Theatre (Vancouver, BC)
Etch Your SketchOff2
April 28 and 29, 2010
Wild, ZANY, gut-aching, peeing in pants FUNNY! Come cheer on the Etch-Your-Sketchers as they compete for the coveted Vancouver Rice Bowl and help decide this year's crowd-pleasing People's CHOYS winners. Not to be missed! With SEVEN teams competing!
Vancouver Rice Bowl Competition – Wednesday, April 28, 2010 @ The Roundhouse
People's CHOYS Award – Thursday, April 29, 2010 @ The Roundhouse
For more information, go to www.vact.ca.
---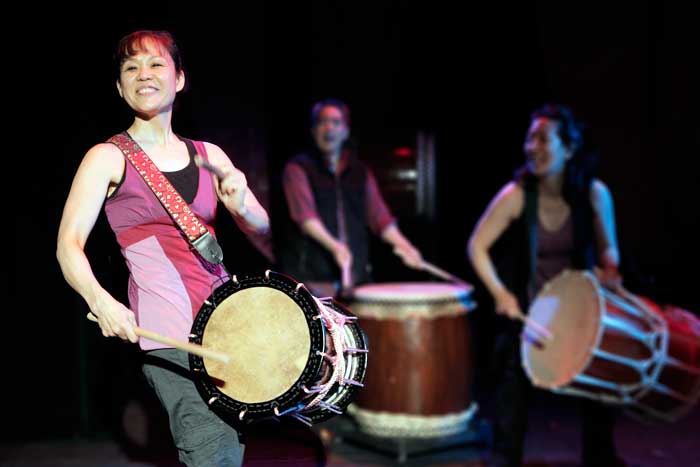 Mu Performing Arts (Minneapolis, MN)
Becoming
by Iris Shiraishi and Zaraawar Mistry
April 9 to May 2, 2010
See News story.
---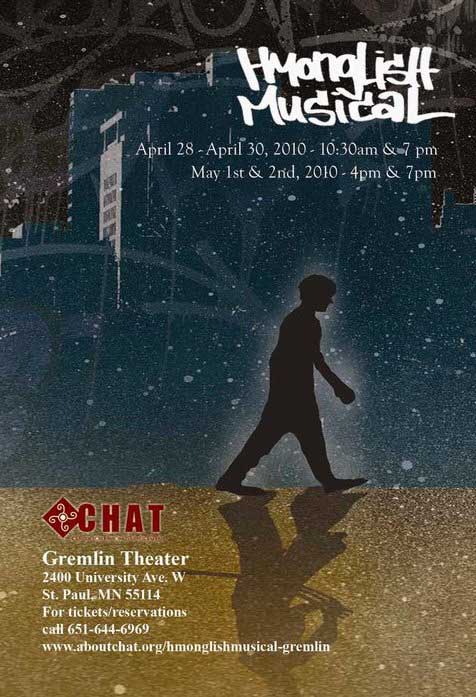 ---
GENseng
Mask Dance
by Rick Shiomi
April 29 to May 1, 2010
---
Bindlestiff Studio (San Francisco, CA)
Stiff &Thick Theater Festival
April 29 to May 1, 2010

Bindlestiff Studio presents the first ever
STIFF & THICK
THEATER FESTIVAL
BINDLESTIFF STUDIO invades the THICK HOUSE with three nights of exciting, experimental, explorative, explosive mix-tape style theater, comedy, and general mayhem featuring...

Thurs. April 29th at 8pm
OVER-HYPED B.S. COMEDY SPECTACULAR
Featuring the popular Bindlestiff sketch comedy troupe, PORK-IN-THE-ROAD fresh from their world premier at the Bayanihan Community Center. Also featuring performances from DAN WEIL and his group HELLA FOOLS, the HOT NUTZ BURLESQUE, and special surprise standup performances.
Fri. April 30th at 8pm
BLENDER
For the first time ever, theater artists Anthem Salgado (feature soloist from Brava Theater's "Me, Myself, and I" series) and Christina Miglino (Assistant Director to Erika Shuch's recent "Love Everywhere" project at San Francisco City Hall) combine forces to create a new work titled THREAD BARE. Inspired by healing practices, this duo explores through movement and text, relationships and disintegration, disease and memory, and cures and forgiveness.
Also featuring performances from the Act Write Players:
JOSEF ANOLIN, LIZ CAREY, MICHAEL GREENE, MELDY HERNANDEZ, GREGORY MANALO, TONILYN SIDECO, and CHRISTINA YING...and special guest performance by the deliciously irreverent PHILIP HUANG
Sat.May 1st at 8pm
ROLLING THE Rs

Bindlestiff Studio is proud to present a benefit staged reading of the play based on R.Zamora Linmark's celebrated novel, ROLLING THE R'S directed by Alan S. Quismorio featuring a stellar cast. All proceeds will help benefit the final build-out of the new Bindlestiff Studio theater. R. Zamora Linmark will be in attendance for this one time event!
ABOUT R.ZAMORA LINMARK: Poet, novelist, and playwright R. Zamora Linmark is the author of the best-selling novel Rolling The R's (Kaya Press) and two collections of poetry, Prime Time Apparitions and The Evolution of a Sigh, both from Hanging Loose Press. A recipient of numerous grants and fellowships, including two from the Fulbright Foundation, a Creative Writing Fellowship in Poetry from the National Endowment for the Arts, and a U.S.-Japan Friendship Commission, he has published in numerous journals and anthologies in the U.S. and the Philippines. His stage adaptation of Rolling the R's premiered in Honolulu in 2008, and was a critical and commercial success. He is at work on another novel, a poetry collection, and a play entitled But, Beautiful. He divides his time between Manila, Honolulu, and San Francisco.
"Rolling The R's is a rollercoaster of double entendres, word play, multi-faceted characters and an entertaining, intermingling of native Hawaiian and Tagalog dialogue all woven together with a saturation of sexual undertone," Andrea McPherson, Philippine News.
"A tremendous amount of imagination and wit in this fast-moving surrealist comedy," John Berger, Honolulu Star-Bulletin. A "HOT PICK" by Honolulu Weekly. "Non-linearprovocativepoetic," Joseph Rozmiarek, Honolulu Advertiser.

All Shows will be taking place at
The Thick House
169518th St @Arkansas
San Francisco's Potrero Hill
Admission: $10 in Advance (use code: bindlestiffy)
$15 - $20 Sliding Scale

ENTER SPECIAL ADVANCE TICKET DISCOUNT CODE "bindlestiffy"
and tickets are only $10 each show!
---
Asian Arts Initiative (Philadelphia, PA)
2010 Benefit Banquet and Silent Auction
April 30, 2010

5:30-9:00 p.m.
Ocean City Restaurant
234-236 N. 9th Street
Chinatown, Philadelphia

Honoring Philadelphia Chinatown Development Corporation, our City and State partners and the vision for our new facility

5:30 pm Silent Auction and Cash Bar
6:30 pm Eight-Course Chinese Banquet

Performances featuring
Pallabi Chakravorty
Kyo Daiko
Philadelphia Suns Lion Dancers

$65/seat
$100/seat sponsorship (includes name listing in program)

Sponsorship and advertising opportunities available. Contact Laura Cohen, Development Director, at 215-557-0455 ext 221 or laura@asianartsinitiative.org
---
Asian Arts Initiative (Philadelphia, PA
Annual Benefit Dinner
Friday, April 30
Annual Benefit Banquet and Silent Auction
Ocean City Restaurant, 234-236 N 9th St, Chinatown
Save the date for a night of food and fun celebrating Asian Arts Initiative and raising support for our diverse programs!
For sponsorship or volunteer opportunities, please contact Laura -AT- asianartsinitiative.org
Can't wait and want to give right now?

Keep our programs strong! Make a gift! Give securely online:
https://secure.groundspring.org/dn/index.php?aid=1181

Goodsearch and Goodshop give to us while you search and shop! Be sure to choose us as your charity:
http://www.goodsearch.com/?charityid=886512

Join our Facebook cause! Spread the word:
http://apps.facebook.com/causes/375230
---
fu-GEN (Toronto, Canada)
The 7th Annual Potluck Festival featuring GENesis Theatre Conference
May 3 to 9, 2010
HUNGRY FOR THEATRE?
fu-GEN brings you Canada's largest and most comprehensive new play development festival dedicated to showcasing the vibrant works of Asian-Canadian playwrights. The 7th Annual Potluck festival features full-length staged readings of exciting new works by Asian-Canadian writers including some of the best emerging and established artists in the theatre community.
Featuring full length readings of works by Camellia Koo, David Yee, Donald Woo, Paul Sun-Hyung Lee, Romeo Candido, Catherine Hernandez and Byron Abalos. Featuring excerpts by fu-GEN's playwriting lab - K7!!! K7 is Rebecca Applebaum, Len Cervantes, Rong Fu, Darrel Gamotin, Chase Lo, Sean Tai, Sylvia Vuong, Norman Lup-Man Yeung, and Gein Wong.
WANT SOME FOOD FOR THOUGHT?
This year's Potluck festival features GENesis: Asian-Canadian Theatre Conference - the first ever conference of its kind, gathering Asian theatre academics and practitioners from across Canada and the US, to discuss the renaissance of Asian-Canadian theatre. The conference and festival together will result in the largest gathering of Asian-Canadian theatre practitioners ever, with over 100 Asian-Canadian theatre artists and academics involved from across Canada!
Whether you want to meet a trailblazer of Asian-Canadian theatre or meet the hottest new playwright, we've got it all! Past, present and future collide in this historic event.
Location: Factory Studio Theatre
Street: 125 Bathurst Street (at Adelaide Street)
City/Town: Toronto, ON
---
Arts in Action Festival
UC San Diego (San Diego, CA)
Asian American Theatre Festival
May 6 to 8, 2010
5TH ANNUAL ASIAN AMERICAN THEATER FESTIVAL included as part of UCSD's Arts in Action Festival, Real Art for Real
From May 6 through May 8th, the UCSD Asian American Theatre Festival will celebrates its 5th anniversary, producing two short original works, Viral and The Museum by UCSD Undergraduate Carol Cabrera, and by Edward Delos Reyes. the final piece presented for this year's festival is Elizabeth Wong's funny and poignant Letters to a Student Revolutionary directed by former Asian American Repertory Theater Artistic Director Andy Lowe
Founded in 2005 by UCSD MFA Graduate Jennifer Chang (also founder of the Chalk Repertory Theatre in Los Angeles Ca), AATF is one of the school's handful of annual theatrical events that is completely student driven receiving little support from UCSD's Department of Theater and Dance. Now, five years later, AATF continues to grow in size and scope, celebrating Asian Pacific Heritage month, and supporting young APIA artists.
This year, the festival is joined by other events happening around the campus for the "UCSD Arts in Action Festival," held in response to the recent racial incidents and protests on the UCSD campus, this festival provides a forum for artistic responses featuring student and faculty work created especially for this event. In the long-standing tradition of arts activism, the "art actions" include short one act plays, music compositions, dance performances, visual art displays, lectures, digitally interactive performance pieces, spoken word performances, and staged historical protest performance marches. There will be a forum for critical discussion featuring members of both the university as well as artists from the San Diego community. Undergraduate and graduate students from across the campus as well as UCSD faculty and alumni are participating in this one-day only arts and performance event.

UCSD AATF -V-
The Museum conceived by Long B. Tui
written by Edward Delos Reyes and Justin Song Chan
directed by Edward Delos Reyes

Viral conceived by Carol Cabrera
directed by Carol Cabrera
A found language piece based on the aftermath of the Virginia Tech Massacre in 2007.
CAST:
Sarah Lee, Katarina Beckman, Snow Feng, Rebekah Kim, Patrick Shin, Jose Espinoza, Anish Dhamija, Amanda Tan,Griffin Tyree, Julia Shin, Polet Bagatourian, Jesse Mandapat, Josefina Ly, Justin Chan, Jet Antonio, Julia Chin

Letters to a Student Revolutionary
by Elizabeth Wong
Set during the cold war era of the 1980's, this powerful and disarmingly funny play about friendship and political awakening follows Bibi Lee, a typically jaded American rebel, and Karen, a young, idealistic Chinese girl who wants to practice a little English. From a seemingly innocent chance encounter, these two young women, one Chinese, the other Chinese-American, embark on a charming, poignant 10-year correspondence, cut abruptly and tragically short by the June 1989 Tiananmen Square massacre. This bittersweet tale seeks to make sense of history, how we participate in it and how we are overwhelmed by it.

directed by Andy Lowe
Starring
Janny Li, Karen Li, Kevin Reyes, Kurt Wang, Mickey Lyle, and Katharine Chin

Asian American Theater Festival -V- 2010

Arthur Wagner Theater
Galbraith Hall 157
On the REVELLE Campus of UCSD

Free Admission

May 6, Preview 8pm
May 7, Friday 8pm
May 8, Saturday 2pm/8pm

Festival Artistic Director- Carol Cabrera

Presented by Company 157
Produced by special arrangement with THE DRAMATIC PUBLISHING COMPANY of Woodstock, Illinois.
This event is cross-listed with UCSD's Arts in Action Festival.
(More information about Arts In Action can be found at www.artsinaction.us)
---
See News story.
---
Public Theatre (New York, NY)
New Work Now Festival
EDITH CAN SHOOT THINGS AND HIT THEM
by A. Rey Pamatmat
May 9, 2010

Three kids — Kenny, his sister Edith, and their friend Benji — are all but abandoned on a farm in remotest Middle America. With little adult supervision, they feed and care for each other, making up the rules as they go. But when Kenny's and Benji's relationship becomes more than friendship, and Edith shoots something she really shouldn't shoot, the formerly indifferent outside world comes barging in. An endearing coming of age story about young love.

New Work Now! is The Public Theater's reading series that allows audiences an opportunity to experience new work by a diverse selection of established and emerging theater artists—all for FREE.

Friday, May 7 - Sunday, May 23

Tickets are free and can be reserved by calling (212) 967-7555 or visiting the Public Theater box office. Limit of 2 tickets per reading per person.
---
Leviathan Lab (New York, NY)
Filipino Drama Club Sings! (FYI we aren't ALL Filipino)
May 10, 2010
Levianthan Lab, a studio for Asian American creatives, presents:

The Filipino Drama Club
A concert and after party with the cast!
All-Star Broadway cast, as seen in Les Miserables, Dogeaters, Falsettos, Imelda, Miss Saigon, Flower Drum Song, Jerome Robbins' Broadway, and more!

When!
May 10th, 8pm

Where!
Helen Mills Theater
137-139 West 26th Street
New York NY 10001

How!
Get tickets here! http://www.smarttix.com/show.aspx?showcode=FIL5

Who!
Cast includes Marie-France Arcilla, Liz Casasola, Grant Chang, James Chen, Ali Ewoldt, Lydia Gaston, Christine Toy Johnson, Loresa Lanceta, Whitney Kam Lee, Brian Jose, Austin Ku, Jaygee Macapugay, Marc Santa Maria and Ramon Vinluan singing ditties from the musical stage.

www.leviathanlab.com
---
Pork Filled Players (Seattle, WA)
Pork Fiction
April 30 to May 15, 2010
Heroes! Villains! Gods! Demons! And the fans that love them! Amazing Tales to Astonish, in a new show from the Pacific Northwest's longest running Asian American theatre group!
With Special Guest stars:
Charles (April 30 and May 1)
Killer Donut (May 7 and 8)
Assaulted Fish (May 14 and 15)
Tickets available at brownpapertickets.com
See News story.
---
KP Actors Gym (Fresno, CA)
Pho for the Soul
May 6 to 16, 2010
---
k'NOW Theatre (Toronto, Canada)
Pu-erh
by Norman Yeung
May 6 to 15, 2010
---
Yangtze Repertory Theatre (New York, NY)
Laughing in the Wind
April 30 to May 23, 2010
Yangtze Repertory Theatre presents: Laughing in the Wind: A Cautionary Tale in Martial Arts. The play is based on a book by Jin Yong, China's most popular writer of the Martial Arts (Wuxia) genre, and arguably the most widely read author in the Chinese speaking world. It exposes the tragic consequences of ruthless power struggles.
The play is a martial arts epic with a fighting/kicking ensemble of 18 multi-ethnic actors playing 26 speaking parts. Choreographed by David Shen (member of Carolyn Dorfman Dance company), set designed by Yoki Lai (assistant to Mr. Santo Loquasto).
When:
May 1 to May 23
Thursday - Saturday at 7:30 PM, Sun at 3:00 PM, with an additional performance on Wed., May 19 at 7:30 pm
Where:
Theater for the New City , 155 First Avenue (at E. 10th Street )
http://www.theaterforthenewcity.net
Cast Include: Wayne Chang, Rachel Filsoff, Aki Goto, Zane Hayes, Carl Ka-Ho Li, Ashley Liang, Ajia Maximillian, Phillip Redmond, Adrian Sinclair, Peter Song, Derrick St. Hill, Rashawn Strife, Steven Sun, Stephanie Willing, Sen Yang, Cedric Yau, Sarah Yu and Jie Zhuang.
---
The Stanford Theatre Activist Mobilization Project (STAMP)
Presents the 2nd Annual...
Spring Into Action Play Festival
May 9 to 20, 2010
A progressive play festival featuring new works by Stanford authors

Abraham Niu and the Friendly Fires
A new musical
Thurs May 20, 8pm
Fri May 21, 8pm
Sat May 9, 5pm
at Roble Dorm Theatre
On August 22nd, 2010, Abraham Niu, a soldier from the last wave of Canadian infantry deployed to secure Kandahar, Afghanistan is mortally wounded by friendly fire during an allies' bombing operation. The 21-year-old Chinese Canadian Lieutenant wakes again to finds himself in a fanciful, liminal world between life and death, having to navigate the space between in this compelling new folk rock musical production.
Join us for the first public workshop production of this promising all-original, student-written, folk-rock musical.
Book, Music, and Lyrics by Karmia Chan Cao

Wealth of Words
Thurs May 20, 7pm
Fri May 21, 7pm
Sat May 9, 4pm
at Roble Dorm Theatre
Wealth of Words is a collection of pieces submitted anonymously and in some cases publicly by Stanford students who are the first in their families to attend college or come from low income backgrounds. It is an exploration on how our class backgrounds affect us in tangible and intangible ways as we find our way through Stanford. These are the voices of our peers.
STAMP is committed to economic justice:
All of our shows are *FREE*
---
The Kristina Wong Spring Tour
(mostly California)
MAY 1, 10PM
"Recession Lemons"
(Film by Kristina and D'Lo) screens as part of at the VC FilmFest $10/$12
LA Asian Pacific FILMFEST at the DGA
MAY 8 & 9, 8:30pm
Kristina performs at the Highways Birthday Party hosted by John Fleck $20/$15 $20/$15
All proceeds benefit Highways
Champagne + Dessert Reception to follow...
Santa Monica, CA

MAY 17, 3:30pm
Wong Flew Over the Cuckoo's Nest at the REDCAT
May 24
Kristina Guest Speaker at UCLA
Professor Lucy Burns
May 25, 9-12pm
Kristina is panelist on storytelling panel
American Association of Museums Conference
LA Convention Center
Los Angeles, CA
May 27
Kristina is a guest speaker at UCLA Class
Professor John Delloro

RIVERSIDE, CA
May 19, 6pm
Kristina does excerpts of Wong Flew Over the
Cuckoo's Nest
HUB 302 North
UC Riverside
---
LA Comedy Festival (Los Angeles, CA)
OPM
Green Tea Party
May 12 to 21, 2010
Come out and support the GREEN TEA PARTY at the L.A. Comedy Fest for Asian Heritage Month. There are four show dates throughout May. All shows are billed with other acts, so you get more comedy bang for your buck.

May 12 (Wed) at 7:30 pm (be sure to check out OPM alum Aaron Takahashi's group, The Turnbuckle Boys, afterwards at 9 pm!)
May 19 (Wed) at 9:00 pm
May 20 (Thu) at 7:30 pm
May 21 (Fri) at 7:30 pm
Starring: Julia Cho, Ewan Chung, Peter Jae, Elaine Kao, Charles Kim, John Lopez, Caroline Pho
ACME Comedy Theatre
135 N. La Brea Avenue
Los Angeles, CA 90036
Tickets: $10 online, $14 at the door
More info at http://www.lacomedyfest.com/groups/OPM.html
---
TeAda Productions (Los Angeles, CA)
Ramble-Ations: A One D'Lo Show
written and performed by D'Lo
directed by Adelina Anthony
May 13 to 23, 2010
Thur-Sat at 8pm, Sun at 2 pm
Born Gay into a Tamil-Sri Lankan Hindu family and raised by Hip Hop.
"Gay Hindu Hip Hop- These 3 things make me but don't allow for one another. This is my attempt at fusing these elements of my being (and my imaginary friends) onto the stage" – D'Lo
Weaving personal stories through poetry, music, comedy and video, D'Lo also presents a parade of characters, real and imaginary. These diverse, flawed characters come to share their stories – exploring contradictions of existing in America where one's immigrant traditions and culture are constantly challenged; battling against ignorance, even in friendships and relationships; and finally, reflecting stories of love that show D'Lo's belief that "you can't call yourself a revolutionary if you have a problem being nice."
"impressive versatility"…….. -NYTheatre.com
a "jolt of creative and comedic energy", D'Lo is a Tamil Sri L.A.nkan-American, political theatre artist/writer, director, comedian and music producer. D'Lo loves to make people laugh and think – in no particular order.

Miles Memorial Playhouse
1130 Lincoln Blvd
Santa Monica, CA 90403

$20 General
$15 Students/Seniors

*Special Discounts when you purchase your tickets online!*
This Week's Discount: General Tickets for only $15
Offer ends Monday, May 10

Reservations: 310-998-8765 or teada@teada.org

Purchase tickets online

Special Events:
Thursday, May 13 - Preview (Pay What You Can)
Friday, May 14 - Opening Night with light reception to follow the performance.
Free garage parking for the Miles Memorial Playhouse can be found at 808 Wilshire Blvd, entrance on Lincoln Blvd just south of Wilshire Blvd. Mention to the parking attendant that you are going to the Miles Memorial Playhouse.
---
Pratidhwani (Seattle, WA)
Kanyadaan
by Vijay Tendulkar
May 14 to 23, 2010
See News story
---
San Diego Asian American Repertory Theatre
Inner Views: Asian American Voices
SDAART's first annual 10-minute new play showcase
May 14 to 21, 2010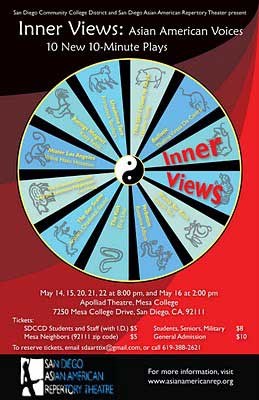 Inner Views is intended to explore Asian American identities and experiences. Playwrights from all over the country submitted new plays, 5-15 minutes in length that explore perspectives of Asian Americans (Pacific Rim or Indian Subcontinental cultures). The ten selected plays will be directed by five local directors and performed May 14-21, 2010 at Mesa College's Apolliad Theatre.

Directed by George Ye
Mister Los Angeles by Velina Houston
The Visit by Eric Loo

Directed by Andy Lowe
The Bar Scene by Arianna Chadwick-Saund
This Girl I Used to Know by Naomi Iizuka

Directed by Peter Cirino
Ballistic by Thelma Virata De Castro
Ratings Magnet by Kitty Felde
Womb for Rent by Lauren Yee

Directed by Gina Ma
The Sensuous Gourmet and the Szechuan Peppercorn by Lucy Wang

Directed by Carolyn Henderson
Verbatim by Rosanna Yamagiwa Alfaro
Urashima Taro by Francesca Sanders
WHEN:
Opens: Friday, May 14, 2010 at 8:00 p.m.
Closes: Saturday, May 22, 2010 at 8:00 p.m.
Run: May 14, 15, 20, 21, 22 at 8:00 p.m. and May 16 at 2:00 p.m.
WHERE: Mesa College's Apolliad Theatre, 7250 Mesa College Drive, San Diego, CA, 92111
WHO: SDAART is a professional non-profit performing arts organization which has produced during 15 years 35 plays including five world premieres. The La Jolla Playhouse recently named SDAART as their resident theatre company for the 2010/11 season, during which SDAART will produce Julia Cho's BFE as well as the second annual Inner Views 10-minute new play showcase.
HOW: To reserve tickets, email: sdaarttix@gmail.com or call 619-388-2621. General Admission - $10; Students, Seniors, Military - $8; Mesa students/staff/neighbors with I.D. - $5
---
APICC (San Francisco, CA)
DIS-oriented
A trio of solo performances by Asian-American women
Friday, May 14, 2010 @ 8pm
DIS-ORIENTED. Cultural indigestion, color-blindness and inter-ethnic vertigo. Is there a cure? Is it treatable? Is it contagious? That's what three women, Zahra, Thao and Coke -- Iranian, Vietnamese and Okinawan/Japanese -- try to find out as they aim to DIS-orient themselves from external stereotypes and internal expectations.
This show features a dynamic trio of performers whose individual solo pieces will lead you across a Muslim-Atheist supper table, the Mekong Delta, and Diagnostic Systems of Sexual Dysfunction. In between each solo performance are smart and biting vignettes -- comic sketches, audience improv games, and contemporary dance -- that will leave you happy to be as DIS-oriented as they are.
DIS-oriented is a performance presented by the San Francisco Asian Pacific Islander Cultural Center as a part of the 13th Annual United States of Asian America Festival, a month-long tribute to Asian Pacific Islander Heritage Month (May in the United States).

THE PERFORMANCES.
"All Atheists Are Muslim" written & performed by ZAHRA NOORBAKHSH.
How hard can it be for Zahra, an Iranian Muslim girl in her mid-twenties, to move-in with her Atheist White-American boyfriend and cheerfully tell her father that she doesn't need his blessing?
"Soft Tissue" written & performed by COLLEEN "Coke" NAKAMOTO.
What's a woman to do when her vagina says 'No!' and refuses to come out and play? See what happens when one girl's dreams of true love and professional go-go dancing get derailed by speculums, visiting spirits and the F word.
"Fortunate Daughter" written & performed by THAO P. NGUYEN.
Thao, 25, wakes up on a good morning in Vietnam, dons her full-metal jacket and goes deer hunting on Hamburger Hill with Forrest Gump and Martin Sheen. Only she survives. Later, her mom takes her to meet her grandmother for the first time.
---
Lark Theatre (New York, NY)
Fourth Annual Playwrights' Workshop Readings
May 17 to 21, 2010

May 21st - ON THE LINE by Michi Barall
Want to know the true cost of your new sneakers? A play inspired by the lives of women workers in the global factory.
---
Roundhouse Arts
Recreation Society and the Gateway Theatre
Vancouver Asian Canadian Theatre (Vancover, BC):
Red Letters
by Alan Bau and Kathy Leung
May 20, 2010
Partially Funded by the Canadian Historical Recognition Program of Canada
Get a preview of this original play by Alan Bau and Kathy Leung about a Chinese immigrant who comes to Canada in the 1920s to seek his fortune and the heartache that follows when immigration laws prevent his wife from joining him.
Stage Reading – Thursday, May 20, 2010 @ PAL Theatre
Future performances scheduled for November 26 – December 4, 2010 @ The Roundhouse and December 30, 2010 – January 8, 2011 at The Gateway Theatre. Tickets go on sale November 1, 2010.
Go to www.vact.ca for more information.
---
Orlando Fringe Festival
Reincarnation Soup
by Viet Nguyen
May 21 to 28, 2010
Viet Nguyen (writer, performer) is thrilled to return to the intimate yet airy Red Venue with his own solo show. Past Orlando acting credits include Elegies from Checkerboard Production's hit at last year's Fringe, Eurydice at Mad Cow Theatre, Metamorphoses at Seminole State College, and The Fantasticks from Ghostlight Theatre Ensemble. Viet studied acting at the University of Florida and Playback Theatre with the Reflections Troupe at Shands Hospital. He earned a Master in Social Work at the University of Central Florida, allowing him to work as a mild-mannered counselor by day. By night he is an actor, a poet, and a connoisseur of soup.
Amanda Stafford (stage manager) is delighted to be working with Viet again! This is Amanda's first time stage managing, & she could not be more honored to be stage managing in the Fringe Festival. Past credits include a workshop performance of Two Figures written by David McElroy, Metamorphoses, The King & I, & countless vocal performances over the past ten years. Amanda is also a visual artist (a jack of all trades, really!), & her work can also be seen throughout various Florida galleries & shops. "It has been a joy to be a part of The Fringe & I hope you enjoy every minute!"
Part of the proceeds from Reincarnation Soup will go to the Vietnamese American Heritage Foundation. VAHF is a non-profit dedicated to documenting, preserving, and promoting the history of Vietnamese immigrants and Americans of Vietnamese descent. One of the organization's goals is to collect 500 oral histories from Vietnamese Americans across the country.
---
Pangea World Theatre (Minneapolis, MN)
celebrates its 15th Season
Pangea World Theater 2010 Benefit
May 23, 2010
Sunday May 23, 2010
at The Depot
225 Third Avenue South
Minneapolis, MN 55401

Early bird table purchases receive premiere seating
To reserve your table call: 612-822-0015
---
USC School of Theatre Under Construction Festival (Los Angeles)
Staged reading of
The Girl Most Likely To
a new play by Michael Premsrirat,
directed by Nancy Keystone
May 24 & 28, 2010
It's about a hapa boy who wants to live as a girl. But when the man he loves finds out he's not really a girl, the boy may not live at all. And then there's the story of Mama Cid, 25 years ago, back in the Philippines ... and it's all about ferociousness and wearing what you wanna wear and being who you wanna be.
Only two performances. Both are free.
Monday, May 24, 8:00 p.m.
Friday, May 28, 8:00 p.m.
At MCC Studio Theatre on the glamourous University of Southern California campus, on the corner of Jefferson and McClintock (entrance 5). Parking is available on the street (but meters go until 8:00 p.m.) and in lot/parking structures near entrance 8 on Jefferson Blvd. http://web-app.usc.edu/maps/
---
Torrance Live (Torrance, CA)
In Ten Years
Written by Damon Chua
May 26, 2010
Nakano Theater at the Torrance Cultural Arts Center
3330 Civic Center Drive, Torrance CA 90503
Wednesday, May 26th (one performance only), 7 p.m.
Tickets range from $25 for regular tickets, $23 for seniors and students; $20 for Subscribers. Q and A session and reception following the event. Tickets can be reserved by calling 310-781-7171.
For more information, go to http://torrancelive.us/index_files/Page441.htm. 310-618-6342.
This is the last installment of the Torrancelive Works in Progress series that presents dramas of compelling contemporary events in the Chinese American diaspora.
In Ten Years is a comic yet pointed glimpse of two young couples whose lives become intertwined and whose fortunes reverse, set against a world where China begins to challenge the United States as a world power.
Third-generation Chinese American Millie and Greg are a high-achieving power couple with ties to business and academe in the booming Silicon Valley. The mid-90s find them upwardly mobile. Pui Mun and Ah Keung are struggling to launch a small but potentially rewarding business in the gradually changing economic environment of mainland China.
When the distant cousins, Millie and Pui Mun, reach across the Pacific Ocean in 1996, apparently it is to establish family bonds. It becomes obvious that each has an ulterior motive. The two women hope to leverage their newly discovered relationship into fame and fortune. Neither one is wholly open with the other.
The men in their lives, Greg and Ah Keung, are very suspicious of this new found family connection, and they warn their wives to be on guard. Of course, the women do as they think is best—to embarrassing consequences.
In the following ten years, the booming U.S. economy loses steam, and Greg and Millie become concerned with maintaining their success. To their chagrin, they find themselves looking to their family in China for new opportunities. Now, if only they had been honest with them at the beginning.
More info here:
http://www.torrancelive.us/index_files/Page998.htm
PLEASE CALL BOX OFFICE FOR RESERVATIONS:
310-780-7171
---
Theatre for the New City (New York, NY)
Theater of the New City festival
May 28 to 30, 2010
Jessica Devi (Desipina Creative Associate) will be performing HUSH by Rehana Mirza (Desipina Artistic Director)
with Meetu Chilana (singer/songwriter) performing an original song.

The festival is from May 28 -30 and more details can be found at this link
http://www.theaterforthenewcity.net/les.htm
---
Asian American Arts Benefit (Chicago, IL)
May 30, 2010
A big deal! This is a benefit for our Asian American theater company and the debut of our new rock band, Tiny Bones. Uh-oh, you'd better make it!
Schubas
3154 N. Southport
21+, $10
Sunday, 5/30/10
7:30PM doors open
8PM start
MCed by Giau Troung
Dawn Xiana Moon
Jon and Carly
Lama Lobsang Palden
Gintenkai Project
Tiny Bones
An aikido demonstration
Quietly Mine
Cynthia Lin
Aloha Lives!
Michi Trota
Imelda de la Cruz
Narciso Lobo
In celebration of Asian Pacific American Heritage month, this show features Chicago's best Asian Pacific American musicians. Traditional Polynesian singers, Japanese drummers, a Tibetan monk, rock musicians and more perform at this benefit for two local Asian American, 501c3, non-profit arts organizations, A-Squared Theatre Workshop and CIRCA Pintig.
A-Squared Theatre Workshop and CIRCA/Pintig
co-produce the play, The Other Shore this Autumn. Written by Chinese Nobel Laureate writer Gao Xianjing, currently living in exile in France, "The Other Shore" was banned in China.
This play addresses issues of collectivism and individualism—themes that Xingjian has addressed throughout his career, and ones that are considered to be highly political in the Communist Chinese context. Proceeds from tonight's show support this major stage production.
---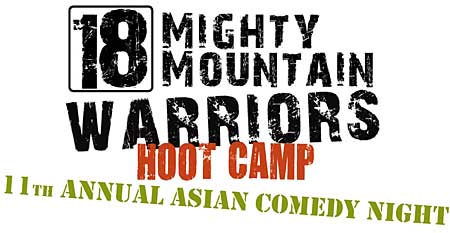 Vancouver Asian Canadian Theatre (Vancouver, BC)
18 Mighty Mountain Warriors
11th Annual Asian Comedy Night
June 5 and 6, 2010
Back by popular demand, it's the 18 Mighty Mountain Warriors from Los Angeles! Asian Comedy Night features this award winning sketch comedy group in their very own show! Expect everything from the slapstick to the political in mighty funny comedy that takes no prisoners. Tom Chin hosts.
Saturday, June 5, 2010 and Sunday, June 6, 2010 @ The Roundhouse
Buy your tickets early – sells out yearly! Go to www.vact.ca for more information.
---
East West Players (Los Angeles, CA)
Road to Saigon
May 13 to June 13, 2009
The coveted role of Kim in the musical MISS SAIGON has been performed by an elite group of talented women on Broadway and around the world. However this evening does not tell Kim's story, but the stories of the actresses who have played this powerhouse role. Hear Joan Almedilla, Jennifer Paz, and Jenni Selma in a heart-warming, passionate and musical journey as they share memories about family, relationships, careers and personal milestones on their individual roads to Saigon. Developed and Directed by Jon Lawrence Rivera, Musical Direction & Arrangement by Nathan Wang.
See News story.
---
2econdStage Theatre (New York, NY)
Year Zero
by Michael Golamco
May 18 to June 13, 2010
---
Bindlestiff Studio (San Francisco, CA)
The Bakla Show 2010
June 3 to 12, 2010
Thursdays to Saturdays
Myths retold, Realities unfold...
A theatrical exploration of Filipino Queer identities inspired by traditional myths, legend, and folktales
Thursdays thru Saturdays at 8pm
June 3rd - June 12th

The Thick House
1695 18th Street @Arkansas
in San Francisco's Potrero Hill District
TIX: $10 Advance at http://www.brownpapertickets.com/event/111608
$15 - $20 sliding scale at the door Bindlestiff Studio proudly presents the return of the very popular BAKLA SHOW opening on Thursday, June 3 and running through Saturday, June 12, 8pm each Thursday, Friday, and Saturday evening at the Thick House, 1695-18th Street in San Francisco Potrero Hill District. Tickets are $10 in advance and can be purchased at http://www.brownpapertickets.com/event/111608. Tickets will be available at the door on the night of each performance for $15 - $20 sliding scale. BAKLA Show (Bakla is the Filipino word for "gay")is a groundbreaking production that exclusively explores the extraordinary experience of individuals who reflect the distinct influence of being Filipino American and Queer. This year's show returns with an intensity to examine their queer identities through the genre of Filipino myths, legends, and folktales. Join Bindlestiff Studio, in time for SF Pride, as they uncover the awkward, painful and joyful realities of being BAKLA.
---
Cornerstone Theatre (Los Angeles)
3 Truths
A World Premiere play by Naomi Iizuka
directed by Michael John Garcés
June 4 to 12, 2010
The sixth and final show of the Justice Cycle, a four-year series of plays examining how laws can shape and disrupt L.A.'s communities.
With only 5 public performances of this show, it'll be over before you know it. Choose a date (June 4, 5, 10, 11, & 12) and write it down so you and your friends don't miss this epic L.A. event!

5 PERFORMANCES ONLY - June 4, 5, 10, 11, & 12, 2010
Nationally-celebrated playwright Naomi Iizuka's 3 Truths weaves together a sprawling cast of Angelenos from all walks of life all asking one question: What Is The Truth? As L.A.'s landmark Hall of Justice stands in the distance, Cornerstone Theater Company transforms downtown's California Plaza into a dramatic judicial arena where fates are decided and lives hang in the balance. As laws have the power to separate and confine us, we come together in our quest to uncover three truths: your truth, my truth, and the truth.
5 PERFORMANCES ONLY - June 4, 5, 10, 11, 12 @ 8pm
FREE as part of Grand Performances' 2010 Summer Series at
California Plaza
250 S. Grand Ave
Los Angeles, CA 90071
Admission is on a first-come, first-serve basis. No reservations will be taken.
Immediately following each performance, audience members are invited to join in dialogue with L.A.'s important civic and cultural leaders as they come together to discuss urgent issues of justice facing our city and beyond.
---
Lark Theare (New York, NY)
Chinglish
by David Henry Hwang
June 10 and 11, 2010
Workshop reading of the newest play by David Henry Hwang.
---
Playwrights' Arena (Los Angeles, CA)
Angels Playfest
June 12 to 13, 2010
Retreat to the seaside with Playwrights' Arena for two days of brand-spanking new plays with top L.A. playwrights.
Presented jointly with Angels Gate Cultural Center
Saturday, May 12 at 1 PM
The Lock of Five Keys
by Tom Jacobson
Directed by Deborah LaVine
When Dante journeys to India to investigate the disappearance of Professor Webster, he discovers that Sunil is more than just the last person to see the missing man. Tom Jacobson's epic tale transcends the present and the past to a legendary world where ordinary men meet Indian emperors, demons and gods.
Saturday, May 12, 4 PM
Cocks Crow
by Alice Tuan
Directed by Robert Cucuzza
Three Americans arrive in Shanghai for their share of the lucrative Green Industry, but not before locking business foils with evasive Chinese businessmen and their mysterious assistants. A look at the new China and the people who want a piece of it.
Sunday, May 13, 1 PM
The Wiggle Room
by Oliver Mayer
Directed by Don Boughton
When Luke and Phil inherit their father's rundown hotel, evicting its sorry lot of crazy tenants and turning it into a parking lot seems obvious - until they become entangled with three attractive sisters who have other plans.
Sunday, May 13, 4 PM
The Sweetness of You
by Michael Premsirat
Directed by Nathan Singh
Joon and Lolly are a brother and sister rock band stuck playing in dive bars, but when an important manager shows up at the club, will Joon thrash on with the band or settle down and marry his new girlfriend - and will his obsessed sister allow it? Based on 'Tis Pity She's A Whore, The Sweetness of You bites down hard on the '80's rock scene and the taboo of forbidden passion.
Reception with the artists following each reading.
---
Silk Road Theatre Project (Chicago, IL)
100 Days
by Weiko Lin
June 12, 2010
---
Pictured are: (Dennis Chun, Ryan Sutherlan, Wayne Takabayashi, Danielle Zalopany)
Photo by Firebird Photography
Kumu Kahua Theatre (Honolulu, HI)
The Hilo Massacre
by Tremayne Tamayose
May 20 to June 20, 2010
On August 1, 1938, to express their solidarity with striking workers in Honolulu, more than 200 Big Island men and women belonging to different labor unions (including longshoremen, warehousemen, teamsters, garbage collectors, quarry workers and the ladies auxiliary) attempted peacefully to demonstrate against the arrival of a ship from Oahu. They were met by a force of over 70 police officers who tear-gassed, hosed and fired riot guns into the crowd. Fifty of the demonstrators were hospitalized. Based in part on research from labor historian William J. Puette's book The Hilo Massacre: Hawaii's Bloody Monday, Tremaine Tamayose's teleplay, originally produced for the PBS labor history series Rice and Roses, infuses historical events with personal stories of the workers, police and politicians. It is brought to the theatrical stage for the first time by Kumu Kahua Theatre.
See News story.
---
Pulse Ensemble Theatre (New York, NY)
Chaos Theory
by Anuvab Pal
---
Pan Asian Repertory Theatre (New York, NY)
Acting/Writing Lab presentation of new work!
June 17, 2010
Time: 7:00pm - 10:00pm
Location: Bruce Mitchell Room
Street: 520 8th Ave (between 36 and 37th) 3rd Floor

Presentation of new work followed by Q&A and wine and cheese reception.
Participants are Maria Alegre, Nancy Eng, Azalea Huang, Dorim Lee, John Quincy Lee, Sue Ann Pien, Allen Sermonia, Dara Simms, Jessica Yee, Jen Yip
RSVP to info@panasianrep.org or call 212-868-4030
Doors open at 6:30
Suggested $10 donation collected at the door
---
La Mama ETC (New York, NY)
The Diamond Trade
Written and directed by Kyoung H. Park
Choreography by Yin Yue
June 17 and 19, 2010
Assistant Director: Amanda J. Crater
Set, Lighting & Costume Designer: Ji-Youn Chang
Performed by: Maryelin Barahona, Veracity Butcher, Mieke Duffly, Amy F. Gironda, Yanghee Lee, Sandhya Jain, and Alice Yorke.
Part of La Mama Moves Dance Festival 2010, NY International Series.
Where: La Mama ETC First Floor Theater
74A East 4th Street
(between 2nd Ave. and Bowery)
When: June 17th and 19th, 8 PM.
Tickets are $15
THE DIAMOND TRADE is based on the mysterious history of the Kooh-I-Noor, an Indian diamond stolen by the English East India Company and split up into affordable, little pieces. The story is set in modern times and explores the lives of seven women from around the world, who now wear pieces of the Kooh-I-Noor.
As a global economic breakdown ensues, world currency falls flat and diamonds become the new financial reserve. People start hunting down diamonds and through the lives of a Brazilian supermodel, a Qatari princess, a Korean professor, a Chilean housewife, a French senator, an American widow, and an Indian goddess, we piece together how the Kooh-I-Noor is reassembled after centuries being torn apart.
THE DIAMOND TRADE is a recipient of the 2010 UNESCO-Aschberg Award.
---
Kultura Arts (Seattle, WA)
---
Will Geer Theatricum (Topanga Canyon, CA)
The Territory of Dreams
by Velina Hasu Houston
June 20, 2010

Time: 11:00am - 1:30pm
Location: Will Geer Theatricum Botanicum, 1419 N Topanga Canyon Blvd, Topanga, CA

Join us for a reading of a new play written by Velina Hasu Houston and directed by Luis Alfaro. Bring a picnic lunch and enjoy theatre in the beautiful California outdoor theatres of the Will Geer Theatricum Botanicum in Topanga Canyon -- in LA, yes, but so magically far away in milieu.
---
2g (New York, NY)
In the Works: Experimentation and Play
June 8 to 21, 2010
2g's lighting some fires this June and invites you to 5 works-in progress.
Some of these plays are brand new. In fact, they're being written right now. A few are in later stages of development but the artists wanted to experiment with a few things to see how they fly.
But all these writers are standing out on the ledge to tell new stories in new ways.
Lonely Leela by Rehana Mirza
Directed by Meiyin Wang
on Tuesday, June 8th at 8pm
with Jackie Chung, Sanjit De Silva, Jon Hoche, Mahira Kakkar, Kyle Knaupf, Angela Lin, and Debargo Sanyal
Leela's boyfriend has disappeared. So she goes into the Internet to find him. An Alice in Wonderland-type adventure where malicious codes and white knight bloggers meet in a shifting world of everything's at your fingertips but you can't quite find what you're looking for...
Lyme Park: An Austonian Play of an Indian Nature by Nandita Shenoy
Directed by Michael Babin
on Thursday, June 10th at 7pm
with Cindy Cheung, Jennifer Graves, Ryan King, Nandita Shenoy, and Paco Tolson
Kavita loves Jane Austen so much that she drags her pregnant best friend on a Pride & Prejudice tour of England in hopes of escaping romantic disappointments at home. But where fantasy ends and reality begins is where Kavita finds herself facing her worst fears about love, identity, and finding Mr. Darcy.
Sharksucker by Dustin Chinn
Directed by Moritz von Stuelpnagel
on Monday, June 14th at 7pm
with Jackie Chung, William Jackson Harper, Jennifer Ikeda, Bobby Moreno, Matt Park and Jon Norman Schneider
Will and Lio have a comedy team that you've never heard of, though not for lack of trying. When the city's big festival approaches, the group's egos and questionable tastes threaten to make this show their last ... as well as their funniest. A love letter to sketch with a side of platonic failure.

Subterranea by Jon Hoche and Paco Tolson
Directed by Robert Ross Parker
on Tuesday, June 15th at 8pm
with Jackie Chung, William Jackson Harper, Jennifer Ikeda, Bobby Moreno, Matt Park and Jon Norman Schneider
Subterranea is the story of two long lost brothers thrust together by fate who must make their way to the center of the Earth in order to fight Nazis. A video, puppetry and improvisation play.
Happy by Sung Rno
on Monday, June 21st at 7pm
What happens when Leo Park, an antidepressant sales rep, starts feeling a bit moody himself? He descends into the blinking lights of the happiness machine, where he confronts anxiety, pills, and the eye of the euphoria storm himself: Doctor Happy.

All readings will take place at DANY Studios at 305 W. 38th Street between 8th and 9th and are FREE to the public. Seating is limited.
---
The Waves Festival (Toronto, Canada)
The Blind Woman
by David Yee
Friday June 18 - Sunday June 20
The Young Centre Library
Performance times vary
FREE FREE FREE!!!!!!!!!!!!!
Check out Interim Artistic Director David Yee's "The Blind Woman" featuring the talents of Karen Ancheta, John Ng, Marjorie Chan, Nicco Lorenzo Garcia, Jenna Rodgers and Benny Min.
For more info check out http://www.youngcentre.ca/productions/10_season/waves_festival.html.
---
Artwallah (Los Angeles, CA)
June 18 to 20, 2010
"Mamta" is a theater and dance portrait of a 62 year-old South Asian woman with schizophrenia whose fantastical world full of Kings and Queens, coconuts, and a fear of corn chips, disappears as she peers through a Thums Up bottle into a Bollywood re-imagining of her own past. "Mamta" is created and performed by Shyamala Moorty in collaboration with Sheetal Gandhi (director), Kashyap Trivedi (dramaturg), Yatin Parkhani (visual artist) and Loren Nerell (composer).
JUNE 18-20
Fri + Sat 8:30pm Sun 7:00pm
Artwallah Festival 2010: Afterlife
Highways Performance Space
1651 18th Street, Santa Monica, CA
www.highwayspeformance.org <http://www.highwayspeformance.org>
Other artists at this years' Artwallah include Shilpa Agarwall, Ghalib Shiraz Dhalla, Sheetal Gandhi, Cynthia Lee, Bhargavi Mandava, Rasika Mathur, Achinta McDaniel, Shaheen Sheik, and more. Artwallah, North America's renowned producer of dynamic South Asian diasporic art, now in its 10th year, partners with Highways in presenting Afterlife. Classically grass-roots in nature but modern in form and context, Artwallah's fringing of music, dance, solo performance/stand-up, literature, poetry, film and visual art, digs deeply into its ethnic roots: Bangladesh, Bhutan, India, the Maldives, Nepal, Pakistan and Sri Lanka to find its fusion in a uniquely American expressionism.
$20/$15
TICKETS ON SALE NOW - http://www.highwaysperformance.org/
VIP TICKETS AND MORE AT http://artwallah.southasianartists.org/
---
PEN USA
USC (Los Angeles, CA)
Customs and Departures: An Evening with Thai American Writers
June 24, 2010
Featuring readings from this country's foremost Thai American authors:
novelist/TV writer Cherry Chevapravatdumrong
playwright/blogger Prince Gomolvilas
memoirist Ira Sukrungruang
poet Pimone Triplett
Followed by a Q&A and a Thai Food Reception
Thursday, June 24, 2010 @ 7:30PM

University of Southern California
Mark Taper Hall, THH 102
3501 Trousdale Parkway
Los Angeles, California 90089

Admission: Free and open to the Public

Please RSVP: mpw@college.usc.edu
---
Fluid Motion (New York, NY)
The Chingghis Khan Project
by Michi Barall
June 2010
A workshop of The Chingghis Khan Project, a new multi-art play by Start the Story Wickshaw Productions Fellow Michi Barall.
---
East West Players (Los Angeles, CA)
New Works Festival
June 22 to 29, 2010
From Writing Is Rewriting
(Workshop Leader: Prince Gomolvilas)

TUESDAY, June 22 @ 8pm
Fortune Wheel
by Joey Damiano
John, a former U.S. Marine, has recently come home after serving in Iraq. He wants what any self-respecting American desires: a good job, a nice house, and an existence free of family drama. However, when John's never-do-well mother Betsy moves in, traumas old and new threaten to derail their lives. The story of a son and mom who combat alcoholism, post-traumatic stress, an addiction to America's longest running syndicated game show, and worst of all, each other.

WEDNESDAY, June 23 @ 8pm
Postal Americana
by Alison M. De La Cruz
For the last five years Joanne has been sleep walking through her life. She daydreams flashbacks of her childhood hero, Joseph the Mail Man, and wakes in 2004, to the nightmare of losing her house and marriage. Forced to move back in with her Dad and reconcile the losses of her life, she seeks advice from the angel of Joseph Ileto. Is it coincidence, signs from the universe, or simply 5 years of unopened bills?

FRIDAY, June 25 @ 8pm
American Video Game International Champion of the Universe
Music, Book, & Lyrics by Howard Ho
A musical reading! It's 1979, and the Tendo Video Game era is just about to begin. Billy's got troubles with his alcoholic single mother. But with the help of his best friend Sally and arcade owner Walter, Billy enters a video game championship that will change all of their lives and maybe even that of Tendo itself.

SATURDAY, June 26 @ 1pm
Three Steps Back
by Peter J. Kuo
Buddy Christ has started following Cassandra on Twitter. Angela is seconds away from going Lorena Bobbitt on her adulterous husband (unless he commits suicide first). Once you think you've pinned down everyone's quirks, a new perspective will have you retracing your steps in this dark comedy.
SATURDAY, June 26 @ 3pm

Head Aches
by Aurelio Locsin
Middle-aged Ricardo, a Filipino-American canine cop, wants to make peace with his son, wife, father and dog. Unfortunately, his coma makes communication impossible. Can the objects of his affection help him handle family, child-rearing, sexuality and love before it's too late?

SATURDAY, June 26 @ 5pm
Wrinkles
by Paul Kikuchi
Unbeknownst to his daughter and grandson, 73 year-old Nisei Harry Fukutani is an internet sensation! But to view his work, one has to turn off the parental filter and have a valid credit card. A sticky comedy about sex, lies, and Tiger Balm.

SATURDAY, June 26 @ 8pm
The Midnight Makeout Session
by Dante Basco
3 friends faced with life after their 20's... Looking ahead for what's to come while yearning to recapture the magic moments of their teens in regards to women & love. Slowjams, slowdancing & revisiting your first kiss: "The Midnight Makeout Session".

*****************************
From Playwriting Workshop
(Workshop Leader: Dorie Baizley)

SUNDAY, June 27 @2pm

My First Husband Married My Second Husband's First Wife
by Judith Allen
When a friendship between two young Army couples, stationed in Germany during the Cold War, turns into wife swapping, their lives fall apart.

No I.D.
by Aly Mawji
An Indian in Africa. An African in America. An American in Canada...
A first-generation Canadian struggles to get in where he fits in and seeks out his place in the world through hip-hop.

SUNDAY, June 27 @5pm
Excerpts from: PAiNT! A NeW MuSiCaL
by Gary Kuwahara and Bryan McCormick
When gay meets straight and love meets hate, pantyhose can't keep them safely tucked. Drag is their life and death is a drag--who has the balls to wear the heels?

MONDAY, June 28 @ 7:30pm
Songs From the Field
by Steven Tran
An Iraq vet visits the family of his injured sergeant. Can promises made in battle save a family from peacetime strife?

Journey from the Shadows
by D.N.Higa
An intimate drama about two people overcoming disability stereotypes. They did it! Can you?

TUESDAY, June 29 @ 8pm
Psyche
by Meghan Brown
As Peter's family unravels below him, he finds himself increasingly drawn to the attic, where he is visited by the mythical character Psyche. A story of betrayal, obsession, and the redemptive power of love.

All readings held at
THE DAVID HENRY HWANG THEATER
120 Judge John Aiso Street
Los Angeles, CA 90012
213-625-7000

$5 Suggested Donation

Questions? Contact Literary Manager
Jeff Liu at JLiu@EastWestPlayers.org
or get more information at www.EastWestPlayers.org

Special Thanks to ABC, CBS, NBC, FOX, Koji Sakai, & The California Community Foundation for their support to EWP's Arts Education Programs.
---