---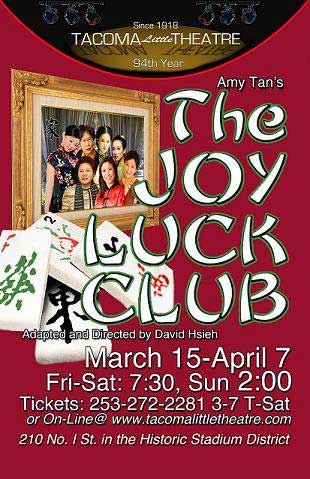 Tacoma Little Theatre (Tacoma, WA)
Joy Luck Club
by Amy Tan
adapted by David Hsieh
March 15 to April 7, 2013
Through a series of flashbacks, four young Chinese women born in America and their respective mothers born in feudal China, explore their past. This search will help them understand their difficult mother/daughter relationship.
Review here.
---
Bindlestiff Studios (San Francisco, CA)
A Kind Of Sad Love Story
An Indie Romantic Comedy
by Jeffrey Lo
March 21 to April 6, 2013
Thu thru Sat at 8pm, Sat matinee at 3:30pm
Location: Bindlestiff Studio 185 6th St. SF, CA
Tickets: $10 - $20
See show for FREE: Volunteer and see show for free, contact Dave at Dave AT Bindlestiff dot org for availabilites and duties

In South Bay playwright Jeffrey Lo's indie romantic comedy, receiving its World Premiere at Bindlestiff Studio, Andrew and Emily are a mid-twentysomething couple whose time together is about to run its course as the realities of maturing sensibilities set in. A Kind of Sad Love Story is the bittersweet story about a relationship between two nice kids who, in order to move on with their lives, must first break each other's heart.
---
Magic Theater (San Francisco, CA)
Virgin Play Reading Series
Madame Ho
by Eugnie Chan
April 1, 2013
6 PM at the Commonwealth Club of California, San Francisco .
Madame Ho tells the story of a formidable woman in the Barbary Coast, a real-life 19th-century brothel madam, Chinese immigrant, wife and mother. Within the confines of the bordello, Madame tries to raise her daughter Daisy right. But headstrong Daisy is spoiled by her father and infatuated with a new servant girl. Madame Ho explores the epic history of the Chinese American West through a shape-shifting tale of one woman¹s struggle to forge a life for herself and her daughter.
Asiansploitation (Toronto, Canada)
The Monthly Comedy Lab
April 5, 2013
It's time again for Asiansploitation's monthly Comedy Lab in April! You'll join a workshop of interactive games and exercises designed to introduce you to sketch comedy and improv. Afterwards, you'll get to see some of Asiansploitation's newest comedic material on stage, and maybe even help shape some new ideas or try some of your own!
Come with your friends, exchange ideas, meet some new people and workout your comedic muscle as we open up the stage to the community!
NOTE NEW TIME START:
Doors Open at 6PM and the workshop starts promptly at 6:30PM.
For this session, in addition to regular warm-ups, you can choose one of the following sub-groups to have fun in: Improv, Sketch-Comedy, or Stand-Up. We'll explain all this when we meet up! No experience necessary. If you're interested in joining us for dinner afterwards, come along. We'll go to Chinatown for a bite.
COMMUNITY TESTING GROUND
If you want 3 minutes of stage time to test any comedic material with the audience, please arrive by 7:15PM and ask for Byron from Asiansploitation. We'll slot you in.
Suggested $5 donation
For more info and to RSVP, e-mail us at: asiansploitation@gmail.com
---
National Asian American Theatre Company (New York, NY)
A Dream Play
By August Strindberg
Adapted by Sung Rno and Andrew Pang
Directed by Andrew Pang
March 22 to April 13, 2013
In A Dream Play, Agnes, a god's daughter, has lost her way and finds herself falling to the third sphere from the sun, "the densest and heaviest of the spheres that roam in space." Her father encourages her to descend and to observe the "Creator's children" saying that the world is "not the best for sure, but not the worst. Have courage, child, 'tis but a trial." Agnes observes at first but, drawn to the human beings she encounters, decides to participate in their lives to better understand why pain and suffering seem to be their constant state.
---
Pan Asian Repertory Theatre (New York, NY)
Three Trees
by Alvin Eng
March 24 to April 14, 2013
This historical drama explores the unique relationship between 20th century Parisian artist Alberto Giacometti and his muse model, Japanese existential philosopher Isaku Yanaihara. Friends and scholars of Giacometti who have attended staged readings of THREE TREES, have said the following:

"Three Trees is a magic wand that wishes the past into the present. I was often with Alberto and company from 1949 to 1961. I had intimate talks with all the actors there. This play moves me in the deepest way by how well it recalls those challenging and so rewarding times."
HERBERT LUST
Author of "Giacometti: The Complete Graphics"

"Three Trees by Alvin Eng is an astonishingly moving play about Alberto Giacometti, his wife Annette, his brother, Diego, and his good friend, Isaku Yanaihara. Eng has perfectly captured the personalities of each as well as the steamy and stormy interactions that wove them into a tight triangle. Eng's deep appreciation for and comprehension of Giacometti's art sheds a brilliant light on the complex human drama that unfolds before our eyes."
LAURIE WILSON
Author of "Alberto Giacometti: Myth Magic and the Man."

The Pan Asian production will feature Jean-Pierre Stewart, Marcus Ho, Leah Cogan and Scott Klavan, under the direction of Ernest Abuba.

Tickets are now on sale via the following links.
http://www.panasianrep.org/three_trees.shtml
http://www.facebook.com/panasianthreetrees
---
Seattle Public Theatre (Seattle, WA)
Edith Can Shoot Things and Hit Them
by A. Rey Pamatmat
March 29 to April 21, 2012
After being all but abandoned by their widower father, Filipino teenagers Edith and Kenny form a latchkey family.
---
Vancouver Asian Canadian Theatre (Vancouver, BC)
Open House
April 19, 2013
The Vancouver Asian Canadian Theatre has new office space! With the generous support from Prospero International Realty Inc., VACT will be moving to #228 ­ 475 Main Street, Vancouver as of April 1st!
Save the Date! Open House on Friday, April 19th from 5pm ­ 9pm! RSVP to associate@vact.ca so we can accommodate everyone!
---
Thick House/AATC Incubator (San Francisco)
Aurora
by Jeannie Barroga
April 20, 2013
Obsessions, Loss, Resilience
Grady consumes true crime episodes - WonderJay is mesmerized by video games - Hank needs to bag a buck
--a family's coping methods.
Tenacious D lyrics: "Wonder boy what is the secret of your power
Wonder boy won¹t you take me far away From the mucky muck now. . ."
Actors (some are multi-cast):
Joe Cascasan
Roczane Enriquez
Lauren Garcia
Julie Kuwabara
Chuck Lacson
Rajiv Shah
Alice Shikina
Tony Williams
---
Zeb's (New York, NY)
Jude Narita
April 20, 2013
Award-Winning Theater Artist and Activist JUDE NARITA, whose plays have celebrated Asian women while exploding stereotypes, will perform some of the women she has created and also discuss her work. For over two decades, Narita has created and performed her plays, bringing Asian and Asian American women to the front of the stage with humor, courage, and fearless celebration. Narita explores then transcends Asian issues, celebrating our differences, while illuminating the universal humanity of us all.
"In an astonishing solo performance, Jude Narita, a versatile actress and fearless writer, sheds an authentic, humorous and deeply moving light on the dilemma of the Asian American woman." --Critic's Choice / L.A. Reader.
Tickets: general $15; students, seniors, 4A, teachers, Cobi's members, and Zeb's members $10. Pay at door. Reservations 516-922-2010 . ZEB'S, 223 W. 28th St (between 7th & 8th Aves), 2nd fl. Walk-Up, NYC
---
Vancouver Asian Canadian Theatre (Vancouver, BC)
Deep Water
by Loretta Seto
April 21, 2013
See News story.
---
Kumu Kahua Theatre (Honolulu, HI)
All That Remains
A World Premiere
By Mona Z. Smith
March 28 to April 28, 2013
A ghostly World War II epic
March 28 – April 28, 2013

"We are at the very beginning of our warrior play, our military drama, our soldier's story: the lies, the hatred, the betrayal."
In this sweeping epic of World War II, the ghosts of 442nd and 100th Battalion soldiers return. Telling a story of loyalty and betrayal, courage and cowardice, they re-create an act of violence that torments both the living and the dead.
Using an experimental style drawing from Japanese Noh theatre, Mona Z. Smith's All That Remains offers a challenging, controversial look at the heroism and despair of war.
See News story.
---
Asian Arts Initiative (Philadelphia, PA)
2013 Benefit Banquet and Silent Auction
Friday, April 26, 2013
6 - 9 p.m.
Ocean City Restaurant | 234 N. 9th Street, Philadelphia, PA 19107
Join us for a fun-filled night that includes an eight-course Chinese meal, performances by artists affiliated with our programs, raffle prizes, and a Silent Auction!
And get ready to bid! Our silent auction items include:
Gift certificates and packages for local restaurants, message and spa services, shopping, and luxury hotel stays.
Memberships and tickets to cultural venues from A-Z, the Pennsylvania Academy of Fine Arts, the Philadelphia Zoo, and everything between!
Events and entertainment at Bartram's Garden, InterAct Theater, Longwood Gardens, Mann Center for the Performing Arts, Philadelphia Orchestra, Wilma Theatre, and more!
---
American Conservatory Theatre (San Francisco, CA)
Stuck Elevator
by Byron Au Yong and Aaron Jafferis
April 4 to 28, 2013
A.C.T. continues its tradition of introducing eclectic, unforgettable musical projects to the stage with Stuck Elevator, a visionary new work based on the true story of a Chinese deliveryman who was trapped in a Bronx elevator for 81 hours. Sounding the alarm will open the doors to freedom, but calling for help also means calling for attention—with dire consequences for this undocumented immigrant. Inventively staged by internationally acclaimed artist Chay Yew—and introducing the prodigious work of a brilliant young composing team—Stuck Elevator unleashes an evocative collision of stories, sounds, instruments, and ideas.
A modern opera with all performances sung in English, Spanish & Mandarin with Chinese supertitles.
---
Community Asian Theatre of the Sierra s(Nevada City, CA)
Journey to the West
April 11 to May 4, 2013
Information here.

Ma-Yi Theatre (New York, NY)
We Couldn't Find Any
A Spring LabFest Dedicated to our Female (Asian) Writers
April 28 to May 7, 2013
Five New Play Readings By Naveen Choudhury, Mrinalini Kamath, Rehana Lew Mirza, Jiehae Park And Nandita Shenoy!

SAVE THE DATES!

Sunday, April 28 @ 3pm: JIEHAE
Monday, April 29 @ 7pm: NANDITA
Sunday, May 5 @ 3pm: NAVEEN
Monday, May 6 @ 7pm: REHANA
Tuesday, May 7 @ 7pm: MRINALINI
---
GENSeng (Geneseo, NY)
Ching Chong Chinaman
by Lauren Yee
Directed by Randy Barbara Kaplan
May 2 to 4, 2013
Black Box Theatre, SUNY Geneseo
---
Columbia University (New York, NY)
Kurukulla: A New Play by Zhao Binghao
May 3 to 5, 2013
KURUKULLA – a stimulating new piece exploring love in a world of culturally induced powerplay - by emerging playwright Zhao Binghao (???), mentored by Tony Award-winner and Pulitzer finalist David Henry Hwang.
Wang Chong (??), artistic director of Beijing-based Théâtre du Rêve Expérimental and The Beijing News' "Experimental Artist of the Year 2012", directs the production. Serene Lim (???), Columbia MFA Theatre Management and Producing candidate 2014, produces this piece.
This premiere presentation stars Wei-Yi Lin (???), Dan Bielinski*, Rachel Kaplove, Shuhei Kinoshita, and Rashad Brown. It features cinematography by Mu Ge (??), scenic design by Aaron Ethan Green, lighting design by Dante Olivia Smith, and projection design by Shawn Duan.
Performances begin Friday, May 3rd, at The Pershing Square Signature Center (480 West 42nd Street, NYC).
You may attend any of the following performances:
Friday, May 3rd 2:30 PM (sold out! wait list only.)
Friday, May 3rd 8:00 PM (sold out! wait list only.)
Sunday, May 5th 8:00 PM (sold out! wait list only.)
To RSVP, please email: newplays@columbiastages.org
You will receive ONE confirmation within 3-5 business days.
YOU MUST RSVP BY FRIDAY, APRIL 26TH TO ENSURE TICKETS.
Ticket reservations are subject to availability.
KURUKULLA is a part of NEW PLAYS NOW, the annual festival of new plays by emerging artists from the MFA Theatre Program at Columbia University School of the Arts. The festival will run from April 17th to May 11th.
---
Mu Performing Arts (Minneapolis, MN)
---
Company One (Boston, MA)

She Kills Monsters
by Qui Nguyen
Directed by Shira Milikowsky
April 12 to May 11, 2013
BCA Plaza Theatre
After the totally weird Tilly dies, oh-so-average Agnes doesn't know what to make of the geekery her sister left behind. In an effort to understand the gulf between them, she embarks on a quest of Tilly's own design, rife with hostile faeries, randy ogres, awkward high schoolers, and broadswords. Will Agnes discover her innerbadass, or will the bugbears get her first? Qui Nguyen, resident playwright of Brooklyn's Vampire Cowboys theatre, serves up a comedic nerdgasm – an homage to the outcast in all of us.
---
MOCA (New York, NY)
SLANT: 18 YEARS
May 11, 2013
from 6:30pm – 8:30pm
What ever Happened to Big Dicks, Asian Men?

Please join MOCA and Richard Ebihara, Perry Yung of SLANT for an informal evening of stories from behind the wings (songs). In 1995, SLANT premiered Big Dicks, Asian Men in the downtown theater scene of New York City. The Village Voice called them "A pent up explosion of dancer buff bodies and rock and roll hearts". Shortly after, Time Out New York reviews The Second Coming with "a karate chop to the senses, SLANT kicks some comic ass." Where are they now?
---
Leauge of Chicago Theatres (Chicago, IL)
Flip the Script: Closer
by Patrick Marber
May 13, 2013
Victory Gardens Resident Theaters Rasaka Theatre and Bailiwick Chicago in cooperation with The League of Chicago Theatres presents Flip The Script, an all Asian American staged reading of Closer by Patrick Marber at Victory Gardens Theater's Richard Christensen Theater on Monday, May 13, 2013 at 7:30 PM. Flip the Script is an effort to stage a reading of an established play (traditionally cast as predominantly Caucasian) performed by actors of color, and may grow to become a larger series. This event strives to broaden perspectives by showcasing talent that represents the multicultural world we live in and is curated by Asian American theatre artist Danny Bernardo. Flip The Script is free and open to the general public, but reservations are highly recommended. There will be a post-show discussion immediately after the reading.
Email tickets@victorygardens.org for reservations.
Closer is the third play written by English playwright Patrick Marber. It premiered at the Royal National Theatre's Cottesloe Theatre in London in 1997, and made its North American debut at the Music Box Theatre on Broadway on January 25, 1999. Set in contemporary London, Closer explores the minutiae of sex and the geometry of relationships in the entanglement of four people: an obituary writer about to launch his first novel, a mysteriously young erotic stripper, a photographer whose favorite subject are strangers, and a dermatologist, who claims to be a clinical observer of the human carnival. A series of chance encounters act as a catalyst for emotional motion between the four characters and the reaction caused by the shock of sexual passion painfully reveal the underscoring of sex in each life. In 2004 it was made into a feature film starring Julia Roberts, Jude Law, Clive Owen, and Natalie Portman.
The cast for the Flip the Script reading of Closer will include Danny Bernardo (Porchlight's Pacific Overtures, Bailiwick Chicago's Mahal), Joel Kim Booster (New Colony's Down & Derby, webseries Kam Kardashian), Stephenie Park (Profile's After, Silk Road Rising's Re-Spiced), Eliza Shin (Halcyon's Family Devotions, NBC's Chicago Fire) and directed by Rasaka Theatre Company Artistic Director Lavina Jadhwani.
---
2g Productions and
La Mama Theatre (New York, NY)
Community Voices:
The Next GenderAsian
May 14, 2013
A concert reading of six ten-minute plays offering raw and outrageous perspectives on what it's like to be queer and Asian-American today. "Community Voices" features new plays written by Alain Chan, Joseph F. Lin, Avinash Rajagopal, Lolan Buhain Sevilla, Ryan Shen, and Jason Tseng, directed by Kyoung H. Park.
---
Bindlestiff Studios (San Francisco, CA)
Community Works presents a Rising Voices Performance: Word To Your Mother
May 15 to 16, 2013
at 7pm
Location: Bindlestiff Studio 185 6th St. San Franisco, CA
Tickets: $10

What happens when we get in trouble with the law and have to tell our mothers? How do we get past their anger and sometimes rejection at a time when we need them the most? Then, how do we, as new mothers ourselves deal with the overwhelming judgment from society when we are incarcerated?
---
TEADAWORKS (Los Angeles, CA)
Delicious Reality
Directed by Corky Dominguez
Dramaturgy by Ova Saopeng
May 10 to 19, 2013
Performed by Gloria Baraquio, Oakland Bautista, Kimiko Broder, Yayoi Hara, Cayetano Juarez, Christina Sanchez, Ova Saopeng, Amy Shu
Who really cooks your meal? TeAda brings you tantalizing and provocative tales from LA¹s restaurant scene. In stark contrast to cooking shows on reality T.V., this new ensemble theater performance uncovers the untold experiences in the kitchens and dining rooms of today's restaurants.
This multicultural ensemble mixes together a series of tasty images, stories, and mythology from the front and back of the house*, with a healthy dose of worker and immigrant perspective.
*²Front and back of the House² is a term used in both restaurants and theater. ³Front of the House² meaning the dining room, or the audience. ³Back of the House² meaning kitchen or backstage.

Only Six performances May 10-19:
May 10 (Friday) @ 8PM Preview pay-what-you-can, suggested donation $20
May 11 (Saturday) @ 2PM Opening Show and Special Event Fundraiser for ROC-LA, SEACA & TeAda*** [For tickets to the fundraiser click here]
May 11 (Saturday) @ 8PM
May 17 (Friday) & 18 (Saturday) @ 8PM
May 19 (Sunday) Closing Matinee @ 2PM
This project is made possible in part by a grant from the City of Santa Monica and the Santa Monica Arts Commission; the California Arts Council, a state agency, as well as the National Endowment for the Arts, a federal agency.
---
Bindlestiff Studios (San Francisco, CA)
Angel in a Red Dress - Staged Reading
May 18 at 8pm
Location: Bayanihan Community Center 1010 Mission St. San Francisco, CA
Tickets: Pay what you will

Tim and Gabbie refuse to let go of their dream to have a child despite suffering miscarriage after miscarriage. Their failed attempts at having a baby pushes their marriage to the brink, especially when Tim meets a young Filipina girl named Angel on an online forum who is willing to go through an unconventional surrogacy
---
Cobi Narita (New York, NY)
Presents for Asian Heritage month Award-Winning Theater Artist and Activist Jude Narita
Sunday May 19 at 7:30 PM at Zeb¹s
Encore performance of An Evening with Jude Narita
A magical evening of theater as Jude celebrates Asian and Asian American women.
Award-Winning Theater Artist and Activist JUDE NARITA, whose plays have celebrated Asian women while exploding stereotypes, will perform some of the women she has created. For over two decades, Narita has brought Asian and Asian American women to the front of the stage with humor, courage, and fearless celebration. Narita explores then transcends Asian issues?celebrating our differences, while illuminating the universal humanity of us all. "In an astonishing solo performance, Jude Narita, a versatile actress and fearless writer, sheds an authentic, humorous and deeply moving light on the dilemma of the Asian American woman." --Critic's Choice / L.A. Reader.
"Jude Narita's inspiring show traverses the broad scope of Asian American women's experiences here in the United States. From a polished news broadcaster to a new Cambodian immigrant stunned by the plenty at her local supermarket to a Japanese picture bride from the early 1900s, these vividly portrayed women show us the vibrant diversity of an Asian American experience that has been too often ignored. The writing is tender, hilarious, and always spot on. This heartfelt--and sometimes heartbreaking--performance by Ms. Narita shows all of us the power that the stage has to change the world." Andrea Louie, Executive Director, Asian American Arts Alliance 4/20/2013
Zeb's
223 W. 28th St, NYC
(between 7th & 8th Aves), 2nd fl. Walk-Up
Tickets: general $15;
Students, seniors, 4A members, Pan Asian Rep actors, Cobi's, and Zeb's members $10.
Pay at door. Reservations 516-922-2010
More info on Jude and her work: www.judenarita.com
---
Mu Performing Arts (Minneapolis, MN)
---
Silk Road Rising (Chicago, IL)
The Lake Effect
Written by Rajiv Joseph
A WORLD PREMIERE
April 23 to May 26, 2013
Directed by Timothy Douglas
In a depressed Cleveland neighborhood amidst a fierce winter storm, an Indian American brother and sister, long estranged, are reunited by the sudden death of their father. Enter their late father¹s African American confidante and gambling bookie, and a slew of family secrets get unearthed. The Lake Effect sets in motion a complicated web of relationships and conflicts that challenge our perceptions of race, gender, and success.
---
Impact Theatre (San Francisco, CA)
Jukebox Stories: The Secrets of Forking
stories written and performed by
PRINCE GOMOLVILAS
songs written and performed by
BRANDON PATTON
May 9 to June 9, 2013
After two critically acclaimed shows at Impact Theatre, Jukebox Stories returns to the Bay Area for the first time in five years?with all-new stories and songs about Prince and Brandon's real-life adventures in ghost-hunting, kickboxing, and general rabblerousing. This year, the theatre has been transformed into the seediest fortunetelling den this side of Chinatown, where tarot cards will be picked, minds will be read, futures will be told, and lives may very well be ruined. As always, the set list will be decided randomly by the audience, fabulous prizes will be awarded to lucky winners, and every single performance will be different than the last!

May 9-June 9, 2013
Preview Performances: May 9 & 10
Opening Night: May 11
Run: May 12-June 9
Thursdays & Fridays & Saturdays @ 8PM
Sundays @ 7PM

Tickets:
$10-$20
Impact Theatre
La Val's Subterranean
1834 Euclid Ave
Berkeley, CA 94709

FOR TICKETS AND MORE INFORMATION:
http://impacttheatre.com/season/1213/js3.php
---
La Mama Theatre (New York, NY)
Deadly She-Wolf Assassin at Armageddon!
featuring original music and a concept by Fred Ho,
co-written by Fred Ho and Ruth Margraff
May 16 to June 2, 2013
New York, NY ­ La MaMa, in association with Crossing Jamaica Avenue, is proud to present the New York Premiere of the acclaimed Deadly She-Wolf Assassin at Armageddon!, featuring original music and a concept by Fred Ho, co-written by Fred Ho and Ruth Margraff, directed by Sonoko Kawahara, with martial arts choreography by Emmanuel Brown (Broadway¹s Spiderman) and Japanese sword fighting choreography by Yoshi Amao. The show runs from May 16 - June 2, 2013 at La MaMa¹s Ellen Stewart Theatre, located at 66 East 4th Street between 2nd Avenue & the Bowery. Previews begin May 16 for a May 18 opening at 7:30pm.
Performances are Thursdays ­ Saturdays at 7:30pm and Saturdays and Sundays at 2:30pm Tickets are $30 / $25 (students and seniors), Appropriate for ages 10 and up. Available online at http://LaMaMa.org, by phone 212-475-7710 and at box office
Running time is 90 minutes including intermission La MaMa is accessible from the F train to 2nd Ave. or the #6 train to Bleecker St. Follow the show on Twitter at @DEADLYSHEW0LF or
https://www.Facebook.com/DeadlySheWolf. For more info about the artists and performers visit
http://www.CrossingJamaicaAvenue.org
Raised as a weapon by a brutal conspirator, a young female assassin discovers that her target has spun the empire of Japan into crisis and ruin. Torn between loyalty to her mission, her nation and her soul, she must face the unimaginable at the twilight of an imperial epoch in a cathartic story of desperation, revenge and intrigue.
A daring and imaginative homage to the 1970s Japanese raging cult manga, comic book, film and TV hit, Lone Wolf and Cub, Deadly She-Wolf Assassin at Armageddon! is a martial arts-samurai-sword-fighting-music/theater-fantasy-action-adventure-blockbuster. Deadly She-Wolf explodes with a ferocious stylistic mix of Japanese Noh theater and modern-day anime and manga influences, incorporating unique multi-martial arts and sword fighting choreography along with a glorious score fusing traditional Japanese music and soul-jazz. Featuring the Afro Asian Music Ensemble led by Masaru Koga.
The cast includes Yoshi Amao, Ai Ikeda, Marina Celander, Rick Ebihara, Bradley Fong, Jerry
Ford, Takemi Kitamura, Luca Nicora, Koji Nishiyama, Teake, Jet Yung and Perry Yung. The creative team includes Anka Lupes (Production Design), Chad McArver (Lighting Design) and Youn Jung Kim (Stage Manager).
Fred Ho (Composer, Co-writer) is a noted Asian American, musical composer, saxophonist, cancer survivor, radical activist and public intellectual. He leads the Afro Asian Music Ensemble, Green Monster Big Band and Monkey Orchestra. Ho won the 2011 John P. Simon Guggenheim Fellowship for Music Composition, received the 2010 American Music Center¹s Letter of Distinction and he¹s the 2009 Harvard Arts Medalist. He has won two National Endowment for the Arts Fellowships, three New York Foundation for the Arts fellowships and six awards from the Rockefeller Foundation. Ho has over 25 recordings as a band leader, has published eight books, and composed a dozen operas. His martial arts ballet-opera, Voice Of The Dragon, toured 33 cities in the U.S.
For more info on Fred Ho visit http://www.BigRedMediaInc.com.
---
Madame Ho
by Eugenie Chan
In NYC:
@ New Dramatists
424 W. 44th bet. 9th & 10th
Directed by Ken Prestininzi. With the fabulous Alexis Camins, Cindy Cheung, Tina Chillip, LeeAnne Hutchinson, Natalie Kim, Sue Jean Kim, Angela Lin, Paolo Montalban, & Ching Valdes,
Thurs, May 16, 4 p.m.
http://newdramatists.org/
In Omaha:
@ the Great Plains Theatre Conference
Directed by Elena Araoz
Thurs, May 30, 9:30 a.m.
http://www.mccneb.edu/gptc/2013Schedule.asp
---
Black Lab Theatre and Asia Society Texas Center (Houston, TX)
Chinglish
by David Henry Hwang
May 9 to 23, 2013
See News story.
---
Seattle Public Theatre (Seattle, WA)
The Language Archive
by Julia Cho
May 17 to June 9, 2012
---
Pan Asian Repertory Theatre (New York, NY)
Dojoji: The Man Inside the Bell
By Ernest Abuba
Choreography by & in collaboration with Sachiyo Ito
Directed by Tisa Chang
May 18 to June 9, 2013
Tue-Sat at 7:30, Sun at 2:30
Clurman Theatre at Theatre Row, 410 W 42nd Street
(btw 9th and 10th)
ETERNAL LOVE, DESTINY and power of TRANSFORMATION. From Pan Asian veteran artists comes a visually stunning reimagining of a classic tale that spans Japan 929 AD to the Anime and Harajuku worlds.
Tickets: $50 - call Telecharge at 212-239-6200, visit www.telecharge.com or the Theatre Row Box Office
Discounts available at www.broadwayoffers.com | 212/947-8844
or the Box Office:
**Performances (excluding Opening Night 5/23) through 5/31 have 25 tickets available at $25 use code TR25425
All other performances:
**Seniors (65+) $40 use code TRSNR40
**Groups (10+) $35 use code TRGroup
**Students (25 and under, w/ valid ID, 1 per ID) $25 use code TRSTU25
Contact Pan Asian Rep: 212/868-4030 or info@panasianrep.org to purchase tickets for:
Opening Night ($100): May 23 at 7:30 w/ Party
School Matinees ($12 per middle or high school student, free for teachers): May 21 or 22; 29 or 30, June 4 or 5 at 11am
Or to arrange a talk-back for your group
PAN ASIAN REP continues its long association with DOJOJI choreographer Sachiyo Ito, who will also portray the dancing Spirit of Kiyohime, and the cast stars Kiyo Takami, Toshiji Takeshima, and John Baray, Don Castro, Dinh Q. Doan, and David Shih.
Production Stage Manager: Elis C. Arroyo
Assistant Stage Manager: Miriam Hyfler
Sets: Kaori Akazawa
Lights: by Jiyoun Chang
Costumes: Carol Pelletier
Video and Animation: Robin Starbuck
Sound: Kevin Brouder
---
Vancouver Asian Canadian Theatre (Vancouver, BC)
Ga Ting - a staged reading
by Minh Ly
May 24, 2013
Writer, actor, and Studio 58 grad, Minh Ly, tackles the taboo subject of homosexuality in cultural communities with his new play Ga Ting. Vancouver Asian Canadian Theatre will present a free staged reading of this emerging writer¹s work-in-progress on Thursday May 24 at 7:30pm at the Richmond Cultural Centre Performance Hall as part of its new play development series.
This heartbreaking story of two parents struggling to come to terms with their sons' sexuality in the wake of his death will be brought to life by a talented local cast - Linda Leong Sum (The Forbidden Phoenix, Red Letters), former city councillor and veteran actor BC Lee, and Jessie Award winner Brian Sutton. The production is directed by Leo Award winning actor Rick Tae (Godiva¹s) and dramaturged by C. E. Gatchalian (The Frank Theatre Company, formerly Screaming Weenie).
This is the second staged reading of Minh Ly¹s first play, Ga Ting. Minh is a Toronto-based performer who is currently touring Axis Theatre's theatre for young adults show, 'Raven Meets the Monkey King' across BC and Saskatchewan, and will star in the upcoming production of Proof by David Auburn at the Vancouver East Cultural Centre, May 30th - June 9th. Read more about Minh here: http://www.minhly.ca
VACT aims to to provide support and mentorship to emerging and established Asian-Canadian writers with its new play development series. The next work in this series is Governor General Award nominee JJ Lee¹s The Measure of A Man - A Play in June (date TBA).
Ga Ting by Minh Ly - a staged reading
(Richmond Cultural Centre Performance Hall, 7700 Minoru Gate, Thursday May 24 at 7:30 pm)
TICKETS
FREE, but space is limited. Email tickets@vact.ca to reserve tickets and ensure you don't miss out.
MORE INFORMATION: www.vact.ca
---
Vancouver Asian Canadian Theatre (Vancouver, BC)
Etch-YOUR-SketchOFF 5! The Last & De-Lirious - 14th annual Asian Comedy Night
Wednesday, May 29 and Thursday, May 30, 2013
8pm nightly at the Roundhouse
Due to an unforeseen circumstances, this year¹s Etch-YOUR-SketchOFF!#$%!! 5 will now be on Wednesday, May 29th and Thursday, May 30th @ the Roundhouse Performance Centre.
Banana Drama, The Yangtzers, and SFUU MAN CHU have already registered to return ­ all are previous winners! ­ it will be a very funny & competitive show as the teams vie for the coveted Vancouver Rice Bowl judged by celebrities on Wednesday night and for the People¹s Choys Award judged by audience applause on Thursday evening. Same Show ­ both nights ­ just judged differently. Teams have a chance to win up to $500! Funny Man and Poster Icon ­ Tom Chin ­ also returns as Host for this year.
---
East West Players (Los Angeles, CA)
A SPECIAL PRESENTATION
BROWN GIRL IN THE RING
Books and Lyrics By Velina Hasu Houston
Music By Nathan Wang
Directed by Michael Arabian MONDAY, JUNE 3, 2013 | 7PM
AT DAVID HENRY HWANG THEATER
120 JUDGE JOHN AISO ST., LOS ANGELES CA 90012
East West Players is a proud community partner for Velina Hasu Houston and Nathan Wang's Brown Girl in the Ring. A reading of the musical will take place here at EAST WEST PLAYERS.
Produced by Giselle Gilbert
Production Stage Manager, Bernice Mendez
Graphic Design, Michele Thompson
Cast: Esperanza America, Tiffany-Marie Austin, Takayo Fischer, Ren Hanami, Maegan McConnell, Arthur L. Ross, Katy Tang
Community Partners: East West Player (Producing Partner), Pasadena Playhouse, California African American Museum
What happens when two worlds that differ in class and race clash, and a young woman is caught in the middle ­ in the ring ­ trying to figure out where she belongs?
Brown Girl in the Ring centers on the journey of Afro-Cuban Japanese Olivia Takahashi Fuentes in the aftermath of the sudden death of her parents, the closure of her high school in Kansas, and her unexpected and precipitous move to Los Angeles where she must contend with a Japanese relative she has never met before and an Afro-Latino low-income medical world where she chooses to volunteer.
The development of this project and this special presentation are supported by an Advancing Scholarship in the Humanities and Social Sciences grant, University of Southern California.
---
Planet Connections Theater Festivity (New York, NY)
The Procedure
by Marcus Yi
May 31 to June 20, 2013
A gay couple must decide between love or liberty in Marcus Yi's latest Drama The Procedure
Presented at the 2013 Planet Connections Theater Festivity
An interracial gay couple is faced with a microchip implant in order to remain together in Marcus Yi's serio-comedy The Procedure, a dystopic fairy tale pitting government control against love and sacrifice. A Living Room Theater production, written and directed by Sonia Nam and Marcus Yi, The Procedure will be performed on Friday 5/31/13 at 5:00pm, Tuesday 6/4/13 at 9:00pm, Saturday 6/8/13 at 12:30pm, Friday 6/14/13 at 9:00pm, Monday 6/17/13 at 4:30pm, and Thursday 6/20/13 at 5:00pm as part of the Planet Connections Theater Festivity. The Festival will take place at the Gene Frankel Theater, at 24 Bond St New York 10012.
Adrian, a man in his mid-thirties, is living the dream. He is a lawyer, married to a loving husband, Jacob, and is about to become a citizen of the United States. Everything seems rosy until the immigration interview, where he learns that the path to citizenship requires a microchip implant. In his eye. In the end, Adrian has to choose between the staying with the people he loves, and standing up for what is right.
Cast includes Stephen Thornton, Reynaldo Rivera, Fenny Novyane, Shubhra Prakash, Lauren Gralton and Richard Glucksberg. The running time of the show is approximately 75 minutes.
Originally from Singapore, Marcus Yi is a writer/director and performer based in New York. He has created work in Singapore, Atlanta and New York and is the artistic director of Living Room Theater. He has worked on over 100 productions and his recently created work include Micro Shrimp The Musical, 29x/y, Lost At Sea, The Ephemeral Lightness of Dreams: the dream plays, Thicker Than Water: the blood plays and Baby Baby!
Created to produce works made in the living room of Marcus Yi, Living Room Theater runs the gamut of styles, genres and pushes the boundaries of the theatrical in creating new work for the American stage.
THE PLANET CONNECTIONS THEATRE FESTIVITY is New York's premiere eco-friendly theatre festival. Fostering a diverse cross-section of performances, the festival seeks to inspire artists and audiences both creatively and fundamentally, in a festive atmosphere. At the heart of the festivity are like-minded individuals striving to create professional, meaningful theatre, while supporting organizations, which give back to the community at large.
---

Infusion Theatre (Chicago, IL)
Fight Girl Battle World
by Qui Nguyen
May 14 to June 16, 2013
---
pLAylist
June 1 to 16, 2013
LA VIEWS 6: pLAylist has been extended for one weekend only June 14-16th!
L.A.Views: pLAylist hits `play' on some of the best L.A. Songs. It's a (playwrights') mix-tape to Los Angeles, to its freeways and palm trees, traffic and culture, language and the Hollywood dream. Our pLAylist goes Drag Queen to Transgender teen cruising, "Whittier Blvd" on the Eastside, Hipster "Free Fallin' " on the "405″. It's Ice Cube meets the Music Center in downtown. It's a mix of current day Hollywood Blvd evoking Hollywood past, Thee Midniters with a Morrissey clash or an Asian Girl Rapper to the MacArthur Park Undocumented, we mix-it up like that! This is "Dedicated to you.." so hit play and/or rewind to replay the feeling when someone gives you a mix-tape. Time to hit pLAy!
Many of the plays feature Asian American talent and have Asian American themes. The cast includes Michelle Cho, Howard Ho, Jully Lee, Mike Park, and Robert Paterno. The writers include Lesley Anne Asistio, Howard Ho, Mayank Keshaviah, and Nic Cha Kim. The directors include Rena Heinrich, Justin Huen, West Liang, and John Miyasaki.
You can get tickets online, general admission is $20. Use the code "jully" to get a discount: https://web.ovationtix.com/trs/cal/29315
Shows are Fridays & Saturdays at 8pm, and Sundays at 7pm running through June 9th. We're located on the 3rd floor of the Alexandria Hotel on the corner of 5th and Spring St. in downtown LA. Company of Angels is LA's oldest non-profit repertory theatre, founded by Richard Chamberlain and Leonard Nimoy.
PLAYWRIGHTS:
Howard Ho, John Dubiel, Julie Taiwo Oni, Lesley Anne Asistio, Lui Sanchez, Mando Alvarado, Mayank Keshaviah, Michael Patrick Spillers, Nic Cha Kim
DIRECTORS: Armando Molina, John Miyasaki, Jully Lee, Justin Huen, Lui Sanchez , Michael Patrick Spillers, Nadine Nonn, Rena Heinrich, West Liang
STARRING:
Alex Ximenez, Amy Urbina*, Bruce Lemon, Devanny Torres, Eva Ceja, Gregory D. Alexander, Howard Ho, Javier Ronceros, Joe Robert Mejia, Joel Abelson, Jully Lee, Michelle Young Cho, Mike Park, Robert Paterno, Rufus Burns, Shon Fuller*, Timothy Casto*
---
Asiansploitation (Toronto, Canada)
Asianploitation: The Text Generation
An all-new sketch comedy show
June 12 to 15, 2013
WHERE: George Ignatieff Theatre
15 Devonshire Place, St. George & Bloor
Tickets: $20 at www.asiansploitation.com
Early bird: $15 May 6-May 17
For group discounts and more info, contact: asiansploitation@gmail.com
Asiansploitation: The Text Generation explores the virtues and tragedies of our digital age.
Leave Captain Kirk and his crew at the edge of the universe and join the troupe behind the Toronto Fringe hit Asiansploitation Spanks the Tiger as they bring their unique "slant" on sketch comedy back to the George Ignatieff Theatre.
Asiansploitation: The Text Generation features all-new material that will take you on a comedic voyage of cosmic proportions. The crew will "engage" your funny bone as they tackle a broad range of issues from the beautiful drudgery of a morning commute to our culture's dependency on technology and the deliciousness of Asian sauces. You¹ll see the Cookie Monster reveal a life-changing secret, George Takei meet his son and you¹ll see what every Trekkie would die to see ­ Data falling in love. If our flight path holds true, you might even spot the elusive Space Shark. Step into Asiansploitation¹s world as our capable crew entertains with new scenes, audience-influenced scenes, and several new signature song parodies. Set your phasers to funny as you assimilate into Asiansploitation: The Text Generation!
---
fu-GEN (Toronto, Canada)
10th Annual Potluck Festival
June 15, 2013
The beloved Potluck Festival returns for our 10th Season featuring 5 exciting emerging Asian Canadian playwrights: JENNY ALEXANDER, QASIM KHAN, GARY MOK, LIAM MORRIS, VIVIAN OR.
After a bit of a false start on venue, we will be returning to our home at St. Luke's United Church this year. The date is June 15th. Doors open at 7:30pm. Show at 8pm. Tickets are Pay-What-You-Can but you can secure your tickets in advance by purchasing them online starting June 1st at fu-gen.org
As always, the evening will conclude with a Potluck Feast courtesy of the Playwright¹s Kitchen, fu-GEN staff, board and volunteers.
---
East West Players (Los Angeles, CA)
Chess
Music by Benny Andersson and Björn Ulvaeus; Lyrics by Tim Rice
May 9 to June 9, 2013
extended to June 23
CHESS: From the lyricist of JESUS CHRIST SUPERSTAR and the composers of MAMMA MIA! the story involves a romantic triangle between two top chess players - an American and a Russian - and the woman who manages one and falls in love with the other. All of this takes place within the context of the Cold War, as both countries vie for international chess victories for propaganda purposes. Music by Benny Andersson and Björn Ulvaeus; Lyrics by Tim Rice; Directed by Tim Dang; Musical Direction by Marc Macalintal. CHESS runs May 9-June 9, 2013. Generous support for this production is provided by the S. Mark Taper Foundation Endowment for East West Players.
See News story.
---
Theatre Esprit Asia (Denver, CO)
Dust Storm
by Rick Foster
Spirit and Sworded Treks
by Maria Cheng
May 30 to June 23, 2013
A drama about a Japanese-American youth named Seiji who's interred during World War II, begins the season on May 30, with a 7 p.m. start. Performances will be at 8 p.m. Thursdays, 4:30 and 8 p.m. Saturdays, 1:30 and 4:30 p.m. Sundays and 1:30 p.m. for the final performance on June 23. The play is triple cast with Dale Li, Peter Trinh and Zachary Drake as Seiji. Warren Sherrill is directing "Dust Storm."
Spirit & Sworded Treks also will run from May 30-June 23. Cheng and Xiong are co-directors. The play is double cast, with Cheng and Michelle Hurtubise in the role of Woman. As TEA describes the play: "Cheng weaves tai-ji forms, storytelling, stir-fry cooking and stand-up comedy in a tour de force performance work addressing the struggles of following a spiritual path by a Chinese American woman." The performance dates are 8 p.m. Fridays and Sundays, 1:30 p.m. Saturdays and 4:30 p.m. on its closing day, June 23.
---
The Flea Theatre (New York, NY)
A Cautionary Tale
by Christopher Oscar Peña
May 29 to June 30, 2013
A play of impossible choices – set in a world of magical characters.
First generation Chinese-Americans growing up in New York City, Vivienne and Luke confront a confused tangle of family, a diverse array of friends, and their rampant sexuality. In our digital age, how can they navigate the traditional expectations of their mother with their American culture of individuality?
"In a time when very few Latino playwrights seem to grace the stages of New York Theater, identity politics are often severely over-simplified. After a year of shocking and offensive yellow-facing on some of the worlds most prominent stages, I couldn't be more thrilled to be having the world premiere of a cautionary tail happen at The Flea with diverse cast of actors who represent not only New York, but what America looks like to me," says christopher oscar peña.
a cautionary tail was commissioned by NYU's Tisch School of the Arts' Graduate Acting Program (Mark Wing-Davey, Artistic Director).
Talkbacks
"I am an American": issues of racial representation in American Theater
May 30th following the 7pm performance
Ralph B. Peña (Artistic Director of MaYi Theater Company), Angel Desai and Kenneth Lee (Steering committee members of AAPAC – Asian American Performers Action Coalition), are special guests in this post-show conversation about the disproportionate representation of Asian-Americans in New York theater.
---
Photos by Orrin Nakanelua
Kumu Kahua (Honolulu, HI)
Sound & Beauty
by David Henry Hwang
Two One-Act Plays About Dark Attractions
May 30 to June 30, 2013
This house...my loneliness is etched into its walls.

The dark corners of human attraction are explored in David Henry Hwang's Sound and Beauty, two one-act plays performed together in a full evening of theatre. In The Sound of a Voice, a samurai encounters a mysterious woman in a lonely cottage, and begins to suspect her powers are not of this world. In The House of Sleeping Beauties, a modern-day writer seeks out an exclusive brothel where the girls all share a haunting trait.

First performed off-Broadway in 1983, Sound and Beauty reveals the strange and lyrical world of David Henry Hwang, the Tony Award-winning author of M. Butterfly and Chinglish.
---
Yangtze Repertory Theatre (New York, NY)
The Empress Dowager
May 31 to June 23, 2013
---
Mo`olelo Performing Arts Company Presents
Extraordinary Chambers
By David Wiener
Directed by Seema Sueko
June 6 to 30, 2013
Performances at
Mo`olelo at The 10th Ave Theatre
930 10th Ave, San Diego, CA 92101
Extraordinary Chambers is the story of an American couple who travel to Cambodia for an innocent business trip, but become personally entangled with Khmer Rouge victims and survivors. The genocide, complicity, survival, and greed collide in this play that shines a light on the Cambodian experience and asks how far are we willing to go to survive?
Preview Performances $12 - $20
June 6, 7, 8, 12, 13 at 8:00 PM
June 9 at 2:00 PM

Press Opening Night Performance and Post-Show Party $30 - $40
June 14 at 8:00 PM

Regular Performances $15 - $30
June 15, 19, 20, 21, 22, 26, 27, 28, 29 at 8:00 PM
June 16, 23, 30 at 2:00 PM
For more information or to purchase tickets, visit http://moolelo.net/extraordinary-chambers/
Mo'olelo offers group discounts for groups of 10 or more. Email Samantha at samantha@moolelo.net or call 619-342-7395 for more information.
---
Crowded Fire Theater (San Franciso, CA)
410[GONE]
by Frances Ya-Chu Cowhig
June 6 to 29, 2013 (Press Opening June 10)
Thick House
1695 18th St, San Francisco
Crowded Fire Theater (CFT) presents the World Premiere of Frances Ya-Chu Cowhig's 410[GONE], opening Monday June 10 with a press night at the Thick House in San Francisco, (Previews June 6-8) running through June 29.
In 410[GONE] Cowhig creates a buoyant underworld landscape run by punk operatic Chinese gods and goddesses soaring with energy, humor, tricks, and avatars Winner of the Yale Drama Series Award, Cowhig has established herself as a fearless, fiercely intellectual writer.
"Cowhig's voice pulses with raw, heartbreaking honesty as she examines the loving and fractured relationship between a dead brother and a sister who reunite in the underworld." States Artistic Director Marissa Wolf.
In 410[GONE] a brother and sister are suspended in the interstitial spaces between their American culture and Chinese heritage as they wrestle within the lines of life and death.
Where do we go when we die? In Frances Ya-Chu Cowhig's dark and dazzling play 410[Gone], that all depends on how you play the game - the stakes are high. Under Taishan, a sacred mountain in China, the powerful Goddess of Mercy, Guan Yin, patiently awaits the arrival of the souls of the dead, freeing them from the pain of memory and releasing them into their next life. Told in richly poetic language, 410[GONE] looks at the bonds of love between siblings when a sister
searches for her lost brother in the Land of the Dead. In this underworld brother and sister must face the ultimate question: if there is no love without pain, what does it mean to love?
Evren Odcikin directs this World Premiere of Frances Ya-Chu Cowhig's 410[GONE], featuring Cindy Im as Twenty-One, Chris Cortez as Seventeen, Charisse Loriaux as the Goddess of Mercy, Alexander Lydon as the Monkey King, and Michael Uy Kelly as the Ox Headed God. Lead video designer, Wesley Cabral, creates the landscape of the underworld in 410[Gone], he has worked with CFT on The Hundred Flowers Project, Invasion, and Wreckage.
---
Mu Performing Arts (Minneapolis, MN)
and Skylark Opera
The Mikado
by W.S. Gilbert and Sir Arthur Sullivan
June 15 to 23, 2013
See News story.
---
International Festival of Arts and Ideas (New Haven, CT)
Stuck Elevator
music by Byron Au Yong
book by Aaron Jafferis
June 20 to 29, 2013
Stuck Elevator is a project of Creative Capital & was developed with support from the Sundance Institute Theatre Program, Asian/Pacific/American Institute at NYU + Yale Institute for Music Theatre. Stuck Elevator premiered at the American Conservatory Theatre (Carey Perloff, Artistic Director; Ellen Richard, Executive Director), April 4-18, 2013.
---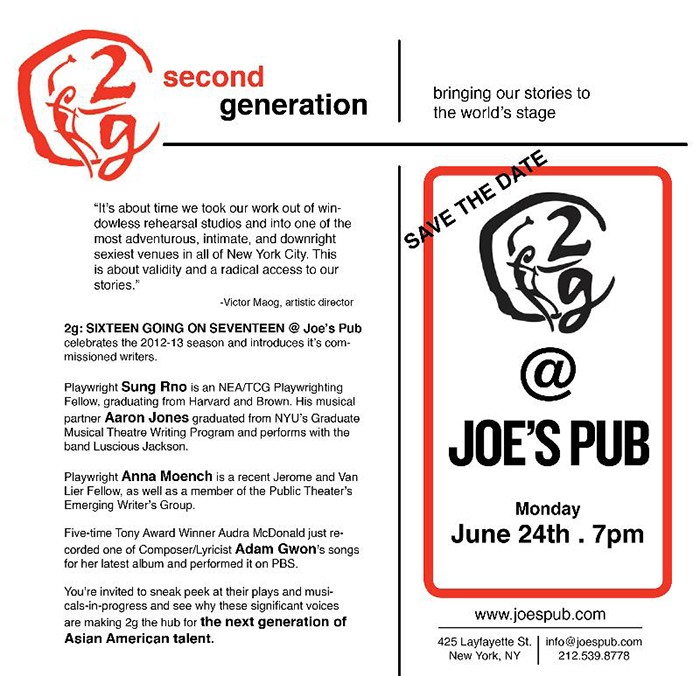 ---
Vancouver Asian Canadian Theatre (Vancouver, BC)
presents a staged reading of:
The Measure of A Man ­ A Play
by JJ Lee
June 28, 2013
VANCOUVER, BC ­ The award award-winning memoir The Measure Of A Man by Vancouver Fashion columnist and author, JJ Lee, is set to make its stage debut. Lee is currently adapting his novel as a play and this work-in-progress will be showcased at a staged reading presented by Vancouver Asian Canadian Theatre (VACT) at New Westminster Public Library Auditorium on Friday, June 28 at 7:00 pm.
This reading is the latest of VACT¹s play reading series focusing on local Asian-Canadian voices. The one-man play will be performed by Vancouver actor Raugi Yu, best known for his current role as Dang in the YTV and Disney hit tween comedy Mr. Young. He also recently directed Mnemonic Theatre's production of Proof at the Cultch.
ABOUT THE PLAYWRIGHT - JJ Lee grew up in Montreal and studied fine arts at Concordia University and holds a Master of Architecture degree from UBC. The Measure of a Man: The Story of a Father, a Son, and a Suit was shortlisted for the Governor-General's Literary Award for Non-Fiction, the Charles Taylor Prize, and the Hubert Evans Non-Fiction Prize (BC Book Prizes). He writes about menswear for The Vancouver Sun and contributes essays to ELLE Canada. He lives in New Westminster.
"A deftly crafted memoir. . . ." - Montreal Gazette
EVENT DETAILS
The Measure of a Man - A Staged Reading
Friday, June 28 at 7:00 pm, New Westminster Public Library Auditorium, 716 6th Ave, New Westminster.
TICKETS
FREE, but space is limited. Email tickets@vact.ca to reserve tickets and ensure you don't miss out.
MORE INFORMATION: www.vact.ca | http://jj-lee.com
---
Silk Road Rising (Chicago, IL)
Conference of the Birds - A Staged Reading
Based on a Poem by Farid ud Din Attar
Adapted by Meena Natarajan
Directed by Dipankar Mukherjee
June 28 to June 30, 2013
Conference of the Birds metaphorically maps out the journey of the human ego and the quest for truth.
"Come on, birds, put on the cloak of nothingness, drink from the cup of annihilation! Let's go. The journey is many years ahead."
In this classic tale, the birds of the world take flight on a pilgrimage to find their celebrated king, but the dangers and hardships encountered along the way cause many in the flock to abandon their search. In the end the small number of birds that survive uncover a profound secret.
VENUE
The Historic Chicago Temple Building
77 W Washington St, Chicago
DATES
Friday, June 28 at 8pm
Saturday, June 29 at 8pm
Sunday, June 30 at 4pm
TICKETS
Tickets are $10 each.
---
East West Players (Los Angeles, CA)
David Henry Wang Institute New Play Festival
June 28 to July 1, 2013
FRIDAY, JUNE 28 - MONDAY, JULY 1 | TIMES VARY
David Henry Hwang Theater
120 Judge John Aiso St., Los Angeles 90012
The David Henry Hwang Writers' Works In Progress is back for the DHHWI New Works Festival! Join Workshop Leader Dorie Baizley along with playwrights Timothy Tau, David Hideo Maruyama, Joy Regullano, Judy Soo Hoo, Gene Lee, Evan Moua, Anna Woo, Neelanjana Banerjee, and Michael Mason for their readings being held on Friday, June 28 - Monday, July 1 at the David Henry Hwang Theater.
This event is free and open to the public.
FRIDAY, June 28 @ 7:30pm
BROS/HOS/FOES by Timothy Tau
Two Asian American Hollywood Actors stumble upon "The Limitless Eternity," a space outside of time that allows them to see all of time. They use it to reflect on the past, present and future of their calling and the harshness of "The Industry," as well as their shared camaraderie (Bros), their relationships with women (Hos), and the competition and sometimes veiled antagonism of the creative community that they struggle to thrive in (Foes).
DOUBLE EXPOSURE by David Hideo Maruyama
Mix a shrink, an A-list White Actress, A celebrity chef and a Transvestite Fortune-Telling Thai Cooking Show host of the Third Sex. Stir fry with sweet, salt, sour and spicy relationships. Serve hot and bothered.
SATURDAY, June 29 @ 2pm
UNDOCUMENTED by Joy Regullano
Not all undocumented people work on farms or hang around Home Depot. Some of them are high school seniors in magnet schools.
Try getting a girlfriend when you can't get a job or a driver's license.
4pm
THE NORMS by Judy Soo Hoo
Norm and Norma discover their late dear mom and dad were happy swingers. But as more secrets are uncovered, what more will they inherit?
6pm
LADIES AND GENTLEMEN by Gene Lee
A heavyweight contender gets the opportunity of a lifetime, but must choose between the two men she loves.
SUNDAY, June 30 @ 2pm
I WON'T MISS YOU by Joy Regullano
When 17-year-old Janey's best friend Tim begins to appear in her bedroom at night after dying in a car crash, their awkward undeclared feelings begin to surface. Will he still take her to prom like he promised in the B.D. era (Before Death) or must she move on?
ALDEN AND THE JANITOR by Evan Moua
The untold story of Aladdin, the magic lamp, and his high school years at Sultan Prep.
4pm
LIFE CYCLE OF A GIRL by Anna Woo
When Happily Ever After goes terribly wrong, what is a girl to do?
COWGIRLS by Neelanjana Banerjee
When the Wild West's Calamity Jane and Radha--the consort of Hindu mythology's blue-skinned God, Krishna--find themselves trapped together, they discover that they have a surprising amount in common.
6pm
YELLOW SHAKESPEARE by Timothy Tau
A long-lost Shakespeare play is discovered that is the first and only play from the bard to feature Asian characters. As the play becomes a worldwide phenomenon, a theater troupe led by an ambitious young academic prepares to adapt it for the very first time on stage. When Hollywood comes knocking, will the theater troupe sell out or will they remain true to their artistic integrity? And, is the play for real?
MONDAY, July 1 @ 7:30pm
MASKS by Michael Mason
Have you ever been stuck in a dream before? Or smoked a Bob Baker? Our main character has. BAM!
---
Kumu Kahua Theatre (Honolulu, HI)
K'l'-Bash Fundraiser and Silent Auction
July 6, 2013
The Bash/Fundraiser will be held on July 6, 2013 from 5pm to 9pm at 46 Merchant Street, in the theatre and on the lanai and courtyard. Tickets are $50 each - call the box office to get yours (536-4441).
We'll have great music, delicious food, a fabulous silent auction, and the best people on earth, all celebrating and supporting our amazing theatre.
Please join us - it wouldn't be the same without you!
---
East West Players (Los Angeles, CA)
His Girl Friday
SATURDAY, JULY 6 | 7:30 PM
David Henry Hwang Theater
120 Judge John Aiso St., Los Angeles 90012
An ace reporter is torn between her marriage and thriving career, what choice will she make?!
SAVE THE DATE and join us for the EWP Actors Conservatorys Studio Lab Project presentation of His Girl Friday, the film script based on the play The Front Page by Ben Hecht and Charles MacArthur! The Studio Lab Project (SLP) is a culmination of work by students who have studied with the East West Players Actors Conservatory for one year or returning SLP alumni. The goal is to simulate as much as possible a real life experience of working on a stage production which culminates in a performance before a live audience.
RSVP to Arts Education Director Marilyn Tokuda at mtokuda@eastwestplayers.org.
This event is free and open to the public. Suggested donation is $7.00.
Join us for an entertaining and fun romp of theatre! The performance will include actors: Amy Shu, Don Sato, Lucas Maw, Michelle Cho Young, Russell Fung, Vance Lanoy and Victor La.
Parking can be found across the street at the Garage is a $3.00 lat rate after 5:00 pm. Please be aware that parking lot closes at 2:00 am.
---