---
Pork Filled Players (Seattle, WA)
Summertime Spam*O*Rama
June 20, July 10 and 11, 2009
At the Theatre Off Jackson (409 7th Ave. in Seattle's International District)
July 10 and 11, at 8 pm, with
the Darin' Joes, award winning Asian Canadian sketch comedy

Anita Absolut
the world debut of Killer Donut, Seattle's newest sketch comedy group.
---
Asian American Theatre Company (San Francisco, CA)
Fayette-Nam
by Aurorae Khoo
June 25 to July 11, 2009
Set on the outskirts of Fort Bragg, a troubled Asian American woman returns to her family's donut/egg roll shop in the army town of Fayetteville, North Carolina. During one momentous night, she tries to iron out her relationship with her mother and meets a young African American army private about to be deployed to Iraq. All three try to connect despite uncertainty of the future, and the soft-spoken racism and claustrophobia of those stuck on the fringes of military life.
---
Mu Performing Arts (Minneapolis, MN)
Flower Drum Song
Music by Richard Rogers, Lyrics by Oscar Hammerstein
Book by David Henry Hwang
June 27 to July 12, 2009
McKnight Theatre, Ordway Center for the Performing Arts
---
Asian American Theatre Company (San Francisco, CA)
New Works Incubator Showcase
June 30 to July 5, 2009
AATC NEWWORKS INCUBATOR SHOWCASE:
readings of excerpts of new plays
Tuesday, June 30, 7:30pm
- QUANTUM LOVE by Amisha Veda
Do the laws of love and sex obey the laws of Quantum Mechanics?
- SOUTHERN SAILS by Alex Park
In the tradition of K-horror films, the vengeful forces of ill-fated love haunt this ghost play.
Wednesday, July 1, 7:30pm
- DUBLIN by Lisa Kang
An exploration of father/daughter relationships and the likelihood of finding romance and a good used elephant in San Jose, California.
- LU SHEN THE MAD by Christopher Chen
An English translation of a Chinese adaptation of the Greek play "Herakles."
AATC NEWWORKS INCUBATOR WORKSHOPS:
full staged readings of new plays with Q&A and panel discussion
Sunday, July 5, 6:00pm
- BEIJING, CALIFORNIA by Paul Heller
A mini-series in theater form that explores a future in which China invades America...and the U.S. devolves into a third world nation.
October 2009, TBD
- BLOOD IS THICK by Duy Nguyen
A thriller unfolding in a whirlwind across four stages surrounding the audience. Hitting rock bottom, desiring a normal life, a drug-dealer invades a family and ensnares them in a horrific deception--it takes a bit of madness to be normal.
LOCATION FOR SHOWCASE AND WORKSHOPS:
Thick House
1695 18th Street (near Arkansas)
San Francisco
Admission is free
Meet the artists at Lingba Lounge (one block away) after each of the readings!
---
East West Players (Los Angeles, CA)
The Marriage of Cruz & Chu: Our Big Fat Filipino-Chinese Wedding
Banquet
July 11, 2009
East West Players' Actors Conservatory is pleased to present its annual Studio Lab Project - a madcap interactive dinner theatre show! Join Romeo and Jenny for a wedding and reception where everything that can go wrong, does.
Dine and mingle with crazy in-laws, offbeat bridesmaids and groomsmen, exboyfriends and less-than-polite guests. Ceremonial malfunctions, Asian culture clash, family secrets, barongs and cheongsams, drunk wedding dedications, unexpected romances, musical numbers and more!

Admission: All seats $25
Includes dinner - Mama Cruz won't let you leave hungry!
No Host Bar located across from the banquet room.
Proceeds go to supporting the Actors Conservatory and East West Players' educational programs. The goal of the Studio Lab Project is to give students who have been studying with the program for a minimum of one year the opportunity to use their newly learned performance skills before a live audience and to create an environment that simulates a professional theatre process.
---

Ford Amphitheatre (Los Angeles, CA)
ON ENSEMBLE ROCKS THE FORD IN
BIG!WORLD!FUN! FAMILY SHOW
JULY 11, 2009
AT 10 A.M.
Children admitted FREE to one-hour programs for families.
Arrive early for crafts and fun at 9:00 a.m.
All-original, ground-breaking music played on Japanese drums resounds at the Ford Saturday, July 11 at 10 a.m. when the On Ensemble visits the Ford's Big!World!Fun! family series. This season's family performances are inspired by the four elements – earth, air, fire, water - and science-based crafts and fun begin at 9:00 a.m.
With Japanese drums at the foundation of its world fusion mix, On Ensemble takes the ancient instruments of taiko into new realms. Infusing the powerful rhythms of ensemble Japanese drumming with elements of hip-hop, rock, and electronica, On Ensemble seeks to create music that reflects the diverse interests of its four members - Masato Baba, Shoji Kameda, Kelvin Underwood and Kristofer Bergstrom. They will explain the instruments they play and their historical roots, providing context for their modern take on traditional Japanese drums.
Admission to all events is FREE for children and $5 for adults, plus all Big!World!Fun! attendees receive coupons for discount admission to the Natural History Museum of Los Angeles County.
Parking is only $1. To reserve/purchase tickets, call the Ford box office at 323 461-3673 or visit www.FordTheatres.org .
Big!World!Fun! family events are hour-long performances designed for children ages 4 to 10 and their parents and grandparents. The series continues with the invigorating mix of Masanga Marimba's "Musical Raindrops: Songs, Stories & Dances from Zimbabwe" (July 25); J.U.i.C.E. and the Hip Hop Handbook's "A Hurricane of Hip Hop" (August 1); DreamDance's journey into the Chinese landscape, "Dancing in the Rain" (August 8); the reverberating foot beats and high intensity of Celtic Spring's "An Earthquake of Irish Dance" (August 15); Helios Dance Theater's sea voyage, "The Lotus Eaters" (August 22); and Hula Halau Ka Lehua Uluwehi I Ka Lani demonstrating the graceful, expressive elements of hula in "Hawaiian Breezes" (August 29).
The Big!World!Fun! Family Series is sponsored by The Nissan Foundation, Sony Pictures Entertainment, Supervisor Zev Yaroslavsky, The Kenneth T. and Eileen L. Norris Foundation and Macy's and presented by the Ford Theatre Foundation.
The media sponsor of Big!World!Fun! is ABC7.
---
Japanese American National Museum (Los Angeles, CA)
Allegiance
words and music by Jay Kuo
July 13, 2009
A world-premiere reading presentation of selected scenes and songs from Allegiance, starring Lea Salonga (Miss Saigon, Les Miz, Flower Drum Song) & George Takei (Star Trek, Heroes).
Music & Lyrics by Jay Kuo
Book by Jay Kuo and Lorenzo Thione
Arrangements and Music & Vocal Direction by Frank Johnson
Allegiance is a new musical about love, loss and heroism during the Japanese American internment. This concert presentation of selected songs and scenes features actors "on-book" at music stands, without costumes, props or sets. This format permits attendees to listen to and appreciate the work's potential in its purest and rawest form.
Also Starring: Mike Hagiwara (Manzanar), Michael Lee (Miss Saigon, Pacific Overtures), Jose Llana (Spelling Bee, Rent, Flower Drum Song); Jennifer Paz (Miss Saigon, Flower Drum Song), Enrico Rodriguez (Mamma Mia, Rent), James Snyder (Cry-Baby, Bare Cast Recording) and Tamlyn Tomita (Karate Kid II, Joy Luck Club, Heroes).
PROGRAM
7:00 PM - Performance (Free Admission with RSVP)
8:30 PM - Wine Reception benefiting SFNTW ($50 tax-deductible donation)
Please RSVP to this event via Facebook and CONFIRM by sending email to ceci@sfntw.org

For more information on our plans for Broadway and how to get involved with this groundbreaking work, please contact us at info@sfntw.org.
---
Vampire Cowboy Theatre (New York, NY)
Fight Girl Battle World
July 14 to 19, 2009
SOUL SAMURAI may have closed, but fan favorite FIGHT GIRL BATTLE WORLD returns this summer!
---
Lodestone Theatre (Los Angeles, CA)
KARAOKE IDOL FUNDRAISER:
KARAOKE IDOL
July 19, 2009
A fundraiser to support Lodestone's 10th season and the production of CLOSER THAN EVER. Come out to sing and compete for cool prizes. Don't want to sing, cheer on your favorites plus free appetizers, raffle prizes, drink specials and great friends to hang with. Karaoke Idol's celebrity judges include: MICHAEL ORLAND, assistant music director and vocal coach from American Idol; RYAN O'CONNOR from the YouTube The Ryan O'Connor Show and more to come. Plus, a special sneak peek performance from the cast of CLOSER THAN EVER.

Café Bleu
3470 W 6th St
Los Angeles, CA 90020

Sunday, July 19th, 2009
6:00pm - midnight
Doors Open at 6pm
Karaoke Idol Starts at 7pm
TICKETS AT THE DOOR:
$12 General Admission
$25 General Admission & Entry fee for Karaoke Idol contest
SPECIAL LOW PRESALE PRICES (If checks received by July 17):
$10 General Admission
$20 General Admission & Karaoke Idol Contest
Please make checks out to Lodestone Theatre Ensemble and mail to:
Lodestone Karaoke Idol Fundraiser
PO Box 1072
Studio City, CA 91614
All pre-sale tickets must be received by July 17th, 2009. No "prizes" won are redeemable for cash or have cash value. Please include your name, # of tickets you're buying and phone/email for confirmation. Please include all names of karaoke entrants separately.
---
(L) Jazzmin (Karen Kuioka Hironaga) appreciates the musical talents of (R) Big Al (Stu Hirayama) in Da Mayah.
Kumu Kahua Theatre (Honolulu, HI)
Da Mayah
by Lee Cataluna
July 9 to 26, 2009
Returning for an encore run.
---
2009 Bay Area Playwrights Festival (San Francisco, CA)
New Plays
by Christopher Chen and Lauren Yee
July 17 to 26, 2009


Anomienaulis
by Christopher Chen
Sat, July 18, 2009, 4 pm
Sun, July 25, 2009, 8 pm

Directed by Mark Routhier
Dramaturgy by Beatrice Basso
Starring Robert Parsons, Soren Oliver, Ryan Tasker, Liz Anderson, Peter Ruocco, Julia Brothers, Aaron Wilton, Kalli Johnson, Lily Balsen and Torie Laher
An absurdist adaptation of Euripides' Iphigenia at Aulis in which an entire army of young, virile, waiting men entertain themselves with video games and sitcoms -- while King Agamemnon prevaricates the sacrifice of his youngest virginal daughter, Iphigenia. Seen against the cruelty of ancient Greek sacrificial rituals, the ennui of contemporary culture reveals its dark psychic stain.

TICKETS: https://www.brownpapertickets.com/event/69967

Our Peculiar Institution
by Lauren Yee
Featured in the Bay Area Shorts (BASH!) program
Sun, July 19, 2009, 12pm
Sun, July 26, 2009, 12pm

Directed by Lila Neugebauer
Dramaturgy by Jayne Wenger
Starring Robert Hampton, Cathleen Riddley, Anthony Nemirovsky and Arwen Anderson
Through the lens of minstrelsy, the institution of slavery and concepts of ownership are tilted into comic relief in this style play in which a newly married man returns the family's long-abandoned ancestral plantation, ready to start a new life. What they encounter there threatens the nascent marriage, and the very ground he treads.
TICKETS: https://www.brownpapertickets.com/event/69979
Christopher Chen's piece was selected as one of five full-length plays, chosen from over 400 submissions, and Lauren Yee's one-act play was specially commissioned by the Festival. Join us to see these exciting new works!
---
Capital Fringe Festival (Washington, DC)
Children of Medea
by Sue Jin Song
July 12 to 25, 2009
Winner of 08' Capital Fringe Director's Award. Four years after being abandoned by their mother, two Korean-American sisters struggle with growing up. One dreams of being Alice, but Wonderland ain't no fairy tale. Medea could have told them that. 75 minutes.
---
Silk Road Theatre (Chicago, IL)
will present a staged reading
Ching Chong Chinaman
by Lauren Yee
July 24 to 26, 2009
at Chicago DCA's Storefront Theater, July 24-26. Lavina Jadhwani will direct.
The comedy riffs on Asian American stereotypes and expectations, as an "ultra-assimilated" Chinese American family acquire a Chinese indentured servant. The cast will include Danny Bernardo, Gordon Chow, Christine Lin, Nick Shoda, Kimberlee Soo, and Tiffany Villarin. The production team will include Christine Ferriter (lights) and Tamar Daskin (set).
Yee's play was a finalist for the 2008 Princess Grace Award and the winner of Kumu Kahua Theatre's 2007 Pacific Rim Prize. It has previously been produced at Mu Performing Arts in Minneapolis, Impact Theatre in Berkeley, and the New York International Fringe Festival.
---
Vancouver Asian Canadian Theatre (Vancouver, BC)
Yuk-o-Rama Comedy Show
August 1, 2009
VACT presents Elliot Chan, Art Factora and the Darin' Joes for 25 minutes of Funny.
Elliot Chan is a fresh new talent in Vancouver with a wide array of snappy materials. Art Factora is the youngest of 4 children and he became the family comedian to get attention. Art is also an on air personality for the Joe Leary Show on Talk 1410AM. The Darin' Joes are a Vancouver based sketch comedy group with low morals and even lower self esteem. Members are Robert Castillo, Jonathan Endo and Simon Yang and others who decided to take the long weekend off.
---
Company One (Boston, MA)
After the Quake
Written by Haruki Murakami
July 17 to August 15, 2009
Writer Haruki Murakami, author of The Wind-Up Bird Chronicle and Kafka on the Shore, is one of the most acclaimed writers of our time, winning a Yomiuri Award, Japan's equivalent of the Pulitzer. Frank Galati, Tony Award–winning director and adaptor has fashioned an enchanting and deeply moving play out of two of Murakami's short stories. AFTER THE QUAKE is a gentle tale of life in the wake of earth-shaking disaster. A timid man woos an old flame, enchanting her anxious daughter with whimsical bedtime stories of a six foot frog's fight to save Tokyo. Company One invites you to experience a testament to healing and hope in an increasingly vulnerable world with what promises to be a beautiful and mesmerizing evening of theatre.
---
East West Players (Los Angeles, CA)
That's Soooo Vegas
August 15, 2009
See News story.
---
18 Mighty Mountain Warriors (Los Angeles, CA)

Bow Down To Your Asian Masters
July 31 to August 23, 2009
Start Time: Friday, July 31, 2009 at 8:00pm
End Time: Sunday, August 23, 2009 at 8:00pm
Location: the Complex's Dorie Theater
Street: 6476 Santa Monica Blvd.
City/Town: Hollywood, CA
ALL NEW theatrical comedy sketches from the 18mmw! Comedy at the speed of laugh!
---
Toronto Centre for the Arts and
Asianploitation (Toronto, Canada)
We Will Wok You
August 20 to 22, 2009
Back by popular demand after selling out their Toronto run in May, Asiansploitation heads north of the 401 to remount a delicious buffet of comedy gold! The menu includes a number of hilarious songs that span the genres of Rock, Opera, Country, Broadway and Children's Theatre. Yes, Children's Theatre! You won't want to miss this! Directed by Andrew Currie, Asiansploitation features the talents of
past Banana Boys Darrel Gamotin and Byron Abalos and a host of Asian talent including Gene Abella, Susan Austin, Lana Carillo, Sandy Chen, James Cheng, Franco Nguyen and Jeff Santos.
General admission tickets are $15 and are available through Ticketmaster or through the Toronto Centre Box Office (5040 Yonge Street - front entrance). Doors open at 7:15PM for the 8PM show. Must be 18 or older to attend. Proof of age may be required upon entry, or at the bar. Group rates for parties of 8 or more are available. To purchase your group tickets, please contact Darrel by August 9.
Go to http://www.asiansploitation.com for more information.
---
San Francisco, CA
Maria the Korean Bride
August 21, 2009

For one night only! Stop by and witness Maria's soon to be 40's wedding in San Francisco.
Location: Artists' Television Access Gallery, 992 Valencia Street, San Francisco, CA 94110
Date: Friday, August 21st, 2009
Time: 5:00 p.m. to 6:30 p.m.
Cheers,
Maria
www.mariathekoreanbride.com

Maria the Korean Bride is fiscally sponsored project of the Lower Manhattan Cultural Council and an on-going multi-media performance designed to bring attention to the social pressure that I have endured as a first generation Korean-American unmarried woman.

Korea is a small country steeped in many traditions. Its people are proud of their hard fought heritage, divided by communism to the North and still coming to terms with Japan's brutal thirty-six years occupation in the early part of the 20th Century. Its people are protective of its rapidly fading ethnic purity and culture. Its male dominated society has for countless generations insisted on arranged marriages with strict adherence to both ethnicity and class. It may seem to Western eyes as somewhat outdated cultural mores but for many Korean American women, marriage has often meant choosing between families and following their hearts.

Maria the Korean Bride challenges and explores what marriage is as I document my cross-country journey as a forever Korean bride in my Korean bridal garb. It includes my random marriage proposals, interviews with various participants and mock wedding ceremonial performances with them. When complete, Maria the Korean Bride will be a feature documentary including highlights from most of the fifty states where these marriages take place.

Additionally, Maria the Korean Bride has also been formatted and memorialized as a collector's
set of playing cards representing all 50 states plus Puerto Rico and the US Virgin Islands. This
series of work is also in the collection of the following institutions: Temple University, University of Chicago, Museum of Modern Art, Wellesley College, Haverford College, Scripps College, Smith College, Otis College of Art and Design.
---
Lodestone Theatre (Los Angeles, CA)
Closer Than Ever
A musical revue with words by Richard Maltby, Jr.
and music by David Shire
Directed by Chil Kong (The Mikado Project)
August 8 to 30, 2009
Conceived by Steven Scott Smith, the dialogue-free two-act musical features classic songs about life, love and everything in-between.
See News story.
---
18mmw in
Showtime 2009 at JAT
fundraiser for AADAP!
August 29, 2009

Celebrating 37 Years of Service
"Changing Lives and Saving Families"
FEATURING A SPECTACULAR LINE-UP OF TALENTED ASIAN AMERICAN PERFORMERS:
* R & B TRIO TATUM JONES, FORMERLY KNOWN AS "AT LAST" FROM NBC'S
"AMERICA'S GOT TALENT",
* THE PSYCHOTICALLY HILARIOUS COMEDY TROUPE, 18 MIGHTY MOUNTAIN WARRIORS, AND
* THE DYNAMIC B-BOYS OF QUEST CREW, SEASON 3 CHAMPIONS OF MTV'S "AMERICA'S BEST DANCE CREW".
at the Aratani/Japan America Theatre
244 South San Pedro Street
(between 2nd and 3rd Streets)
Los Angeles (Little Tokyo), CA 90012
6pm Silent Auction
7pm Show
9pm dessert reception/drawing
General Admission Tickets $40 (it's a fundraiser!)
reserve at: http://www.aadapinc.org/donations/raffle.shtml
For more about AADAP:
The Asian American Drug Abuse Program | AADAP, Inc.
Main Office: 2900 S. Crenshaw Blvd., Los Angeles, California 90016
Phone: (323) 293-6284 | Fax: (323) 295-4075
http://www.aadapinc.org/
---

Brava! For Women in the Arts (Bay Area, CA)
personal journeys written and performed by clients of AARRS --- one performance only
MONDAY GOLDEN SUN
'journeys...maps...alternate ways"
September 4, 2009
Produced by Joan Osato
dramaturgy/direction by Jeannie Barroga
reservations not necessary - head count preferred: ICDTRESERVATIONS@GMAIL.COM

www.brava.org
415-647-2822
WHERE: Brava Theater Center
2781 24th Street @ Cesar Chavez - SF
WHEN: 8PM Friday September 4, 2009
FREE to the Public
Donations accepted, a light reception will follow the performance

Please note: The Labor Day weekend closure of the Bay Bridge will begin at
8 p.m. on Thursday, Sept. 3.
transportation alternatives at 511.org
MONDAY GOLDEN SUN is made possible through the San Francisco Arts Commission Arts & Communities Initiative.
---
HocoFest (Tucson AZ)
Mama/Baba/Dada -
An investigative play date
for young children and their parents
September 5, 2009

FACILITATED BY Natalie Brewester Nguyen & Denise Uyehara
DATE: Saturday, September 5, 2009
TIME: 3pm - 4:15pm
LOCATION: Maynard's/Historic Train Depot, in the north patio
400 N. Toole (across from Hotel Congress) downtown Tucson
Admission: FREE!
Looking for a fun family activity? Bring your young children (4 years and under) to participate in a special play date in which children play while parents trace their pathways with colored markers, creating a "map" of their activities. This event is part of an ongoing performance that explores the boundaries of work and play. Please note this workshop will be videotaped.
Part of the Family Festival, HOCOFest 2009
with special thanks to Out of Pocket Productions
---
Bindlestiff Studios (San Francisco, CA)
Filipino Center of the San Francisco Main Public Library
and Arkipelago Books is excited to present the staged reading of...
The Strange Case of Citizen de la Cruz
a new play by Luis H. Francia
September 5, 2009


A plague seems to be affecting the virile young men of a police state, and a patriot can't figure out if he ought to be a lover or a warrior. Is his bedroom the nation in microcosm? And why does he get turned on by the flag? Shrinks, spies, and betrayals figure in The Strange Case of Citizen de la Cruz. In this absurdist tale Bayani de la Cruz, civil servant extraordinaire, turns uncivil by deciding to live up to his name—and regain his manhood
This event is FREE
Saturday, Sept 5 at 2pm
Koret Auditorium, SF Main Public Library
---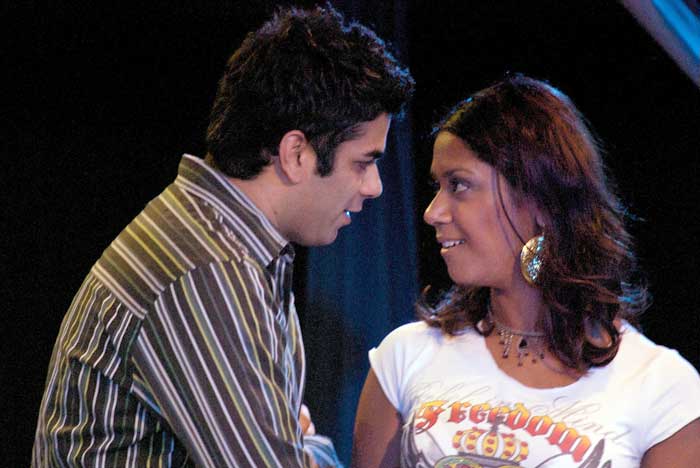 Anand Bhatia (L) and Nadia Anwar (R) in "Midnite's
Vultures," one of the three plays in "culture/clash." Photo courtesy of
Tom McGrath, TCMcG Photography.
Rasaka Theatre (Chicago, IL)
culture/clash
August 13 to September 5, 2009
Instant Recall by Anita Chandwaney: Madhu can't seem to recall why she asked Nigel to meet her at the café—or can she?
Night Shift by Angeli Primlani: A young girl and an older woman face danger and each other in the middle of the night in a motel lobby on a quiet North Carolina highway.
Midnite's Vultures by Pushkar Sharma: Two Indian-American poets in their twenties confront the paradoxes of their identity when asked what it means to be an Indian in America.
See News story
All Sunday performances of 'culture/clash' will now be at 4 PM.
---
Circa Pintig (Chicago, IL)
Sister Outlaw
by Lani T. Montreal
August 13 to September 6, 2009
A comic yet touching story of Marina, a "femme Filipina" lesbian and Joey, a high spirited dyke who's set to move heaven and earth to keep Marina in her life even if it means getting her brother Jason involved in this relationship of hidden love and unexpected liaisons. The three strike a deal each one discovering feelings unfelt and unsaid until bonding becomes deeper. Joey is stricken with jealousy as Marina and Jason get more intimate forcing Joey to confront her real feelings for Marina. Carrie, a ramp-swaying transgender friend of the family adds her wit and panache in analyzing the ensuing 'love triangle'. The situation goes wacky when Joey and Jason's Mother makes a surprise visit turning the whole event into a 'coming out' party for everyone.
See News story.
---
Victoria Fringe Festival (Victoria, BC)
Japanglish
performed by Yumi Ogawa
August 28 to September 6, 2009
Yumi Ogawa's semi autobiographical solo show preimering at this years Victoria Fringe Festival. Growing up Canadian with newly immigrated Japanese parents, one must be able to speak Japanglish!
Showtimes/details:

Japanglish
BMM Productions
by Yumi Ogawa
Vancouver BC
Comedic/Dramatic/Solo
60 mins
Regular $9
Student/Senior $7
All Ages

Venue 3 - Wood Hall (907 Pandora)
Fri Aug 28, 9:45
Sun Aug 30, 6:15
Wed Sept 2, 8:15
Fri Sept 4, 5:00
Sat Sept 5, 9:15
Sun Sept 6, 3:45
---
Bindlestiff Studios (San Francisco, CA)
The Strange Case of Citizen del la Cruz
a new play by Luis H. Francia
Saturday, Sept 5 at 2 pm
Koret Auditorium, SF Main Public Library
Bindlestiff Studio in partnership with the Filipino Center of the San Francisco Main Public Library and Arkipelago Books is excited to present this staged reading.
A plague seems to be affecting the virile young men of a police state, and a patriot can't figure out if he ought to be a lover or a warrior. Is his bedroom the nation in microcosm? And why does he get turned on by the flag? Shrinks, spies, and betrayals figure in The Strange Case of Citizen de la Cruz. In this absurdist tale Bayani de la Cruz, civil servant extraordinaire, turns uncivil by deciding to live up to his name—and regain his manhood.
Bindlestiff Studio in collaboration with The Filipino Center of the SF Main Library and Arkipelago Books presents a full-staged reading of this new play by celebrated Filipino American author, Luis H. Francia. This event is FREE.

JUST CONFIRMED: Luis H. Francia will be in attendance!

Saturday, Sept 5 at 1pm
Koret Auditorium
San Francisco Main Public Library
100 Larkin St. @ Grove St.
near Civic Center BART

Directed by Allan S. Manalo
Featuring Apollo Madayag, Esperanza Catubig, Jamie Nallas, Franz Judis and more....

ABOUT THE AUTHOR
Luis H. Francia is a New York-based poet, nonfiction writer, journalist, and playwright. His poetry collections include Museum of Absences and The Arctic Archipelago and Other Poems. His semiautobiographical Eye of the Fish: A Personal Archipelago (2001) won both the 2002 PEN Center Open Book and the 2002 Asian American Writers literary awards. He is the editor of Brown River, White Ocean: An Anthology of Twentieth Century Philippine Literature in English, and co-editor of Fiippin': Filipinos on America, and Vestiges of War: The Philippine-American War and the Aftermath of an Imperial Dream, 1899-1999. He is included in the Library of America anthology of immigrant writing, due out in late 2009. Among the works he has written for the stage are a poetry theater piece, The Beauty of Ghosts, which premiered at New York's Topaz Arts in 2007, and The Strange Case of Citizen de la Cruz, his first full-length play. He teaches at New York University's Asian/Pacific/American Studies program.
---
Top Row (L. to R.) Tyler Tanabe, Joshua Weldon, Bottom Row (L. to R.) Stephanie Keiko Kong, Ryan Sutherlan, and Maile P. Rondero in "Statehood Day" at Kumu Kahua Theatre.
Opening on Statehood Day, Friday, August 21, 2009 - the world premiere of a new play - The Statehood Project, conceived by Fat Ulu and Kumu Kahua Theatre will play at Kumu Kahua Theatre, 46 Merchant Street in downtown Honolulu, from August 21st through September 20th, 2009.
Photo by Firebird Photography
Kumu Kahua Theatre (Honolulu, HI)
The Statehood Project
August 21 to September 13, 2009
See News story.
---
The Community Asian Theatre of the Sierra (CATS)
Asian Film Festival
a documentary film on
Anna May Wong
Frosted Yellow Willows: Her Life, Times, and Legend
directed and produced by Elaine Mae Woo
narrated by Nancy Kwan
Sunday, September 13, 2009

Center for the Arts
314 West Main Street
Grass Valley, CA 95945

2:00 p.m.

$10 advance $15 door

The Community Asian Theatre of the Sierra (CATS), in its Asian Film Festival debut, features a documentary on the Chinese-American Hollywood movie star, Anna May Wong, in Frosted Yellow Willows: Her Life, Times and Legend. Anna May Wong was the Chinese-American Hollywood legend, who graced the silver screen from the silent era in the 1920's to the 1960's. She was the first Asian American movie star to achieve national and international acclaim. Her career included movies with Hollywood greats such as Douglas Fairbanks ("The Thief of Bagdad", 1924) and Marlene Dietrich ("Shanghai Express", 1932). "Piccadilly", in 1929, is considered her best work. In addition to films, Anna May was a star on stage, radio, and television. Her natural acting ability, with its fluidity, charm, and exoticism, often "upstaged" the main star. She was one of the few actors who successfully transitioned from silent films to talking films.

In Frosted Yellow Willows, viewers will experience Anna May's humble beginnings in a laundry in Los Angeles Chinatown and the confines of her culture and her uphill climb to stardom in the midst racism and discrimination. She was a Chinese-American woman ahead of her time, restricted by the laws of the United States against the Chinese during that era and hindered by the practices of old Hollywood. Her talent and achievements, nevertheless, were recognized back then - and even more so today - some 100 years after her birth. She became an inspiration to anyone facing challenges in the midst of pursing their dreams. She was a trailblazer for Asians in the performing arts.

Frosted Yellow Willows has screened throughout California, nationally and internationally since 2007, including Italy, London, and it had just screened in Melbourne, Australia, last week. It had also been on Turner Classic Movies. Meet the filmmaker Elaine Mae Woo at the screening, who spent ten years making this documentary and hear of her plans to continue to promote Asians and Asian Americans in early cinema. A must-see for any fan of Hollywood classic movies. The film is narrated by Nancy Kwan. See www.anna-may-wong.com

Tickets are available at www.brownpapertickets.com. Visit www.catsweb.org . E-mail info@catsweb.org 530-265-2990.

The second day of CATS' Asian Film Festival takes place on Sunday, September 20, 2009, at St. Joseph's Cultural Center in Grass Valley, California, with the screening of Pride's Deadly Fury, a kung fu martial arts film, starring Master Li Jun Feng, who is a present-day qigong master, with a local following in Grass Valley and Nevada City. After the screening, hear his talk on his journey "from kung-fu to qigong!" CATS will present the PSA on Pride's Deadly Fury the following week.

---
---

Featuring Randy Reyes and Arnold Felizardo. Photos by Stephen Geffre.
Mu Performing Arts (Minneapolis, MN)
The Romance of Magno Rubio
by Lonnie Carter
September 4 to 20, 2009
See News story.
---
San Francisco Fringe Festival (San Francisco, CA)
OPM
Fists of Funny
September 11 to 20, 2009
OPM (Opening People's Minds) unleashes FISTS OF FUNNY, a new ass-kicking, non-stop, 1-hour melee of sketch comedy at the San Francisco Fringe Festival for two weekends in September!
OPM is L.A.'s multicultural, award-winning sketch comedy troupe whose topical and edgy sketches have garnered numerous awards at the San Francisco Fringe Fest ("Best Sketch Comedy" last year and in 2006, "Best of the Fest" in 2002, and "Best Box Office" for 5 years) and multiple wins at Vancouver's Sketchoff Competition (1st place three years in a row). They are also regular performers at the semi-annual L.A. Comedy Festival.
FISTS OF FUNNY
FRIDAY, 9/11 at 10:00 PM
SATURDAY, 9/12 at 7:00 PM
SUNDAY, 9/13 at 1:00 PM
FRIDAY, 9/18 at 8:30 PM
SATURDAY, 9/19 at 10:00 PM
SUNDAY, 9/20 at 2:30 PM

The EXIT Theatre
156 Eddy Street
San Francisco, CA 94102
(between Mason & Taylor)
Tickets $10 at the door, $12 online...RECOMMENDED!
http://www.brownpapertickets.com/event/74236
Starring: Julia Cho, Ewan Chung, Pam Hawley, Lanny Joon, Charles Kim, Rodney To, and Dave Wilder
Directed by Esther K. Chae
Please forward to all your friends!
http://www.sffringe.org/fringe09/09plays/fists.html

1. At least 50% of a show's tickets will be available at the door on a first-come, first-served basis starting 30 minutes before the show. Get in line at least 45 minutes early to be safe!
2. Door sales are cash only. Limit 4 tickets per person
3. Shows start ON TIME
4. No late seating, no exceptions!
5. Comps are not reserved seats, come early to be sure to get in. Putting someone on the comp list means they do not have to pay if they get in, but they still must be in line and at the box office before the house fills up in order to get a seat.
6. Audience reviews can be posted on line at http://www.sffringe.org for all to see.
---
Assaulted Fish (Vancouver, BC)
WIRED MONK SHOW DETAILS
Thursday, September 24

Time: 8:00pm to 9:00pm
Place: 2610 West 4th Avenue (at Trafalgar) in Vancouver
Cost: FREE
Parking: Lots of free street parking
Menu/Directions/Info: www.kitsmonk.com

*Directed by Shane Howarth
---
SECOND GENERATION Productions (New York, NY)
presents
Thunder Above, Deeps Below
a new play by A. Rey Pamatmat
directed by Pat Diamond
September 8 to 26, 2009
In this world premiere production, a trio of homeless kids begs on the streets of Chicago for money to bus westward. But as winter nears, a journey through coffee shops, drag clubs,
and mythic Lake Michigan waters brings change of a far queerer kind.

starring Darian Dauchan*, Phyllis Johnson*, Rafael Jordan*, Rey Lucas*, Jon Norman Schneider*, Maureen Sebastian*

sets Sandra Goldmark
lights Scott Bolman
costumes Camille Assaf
sound The Broken Chord Collective
production stage manager Lyndsey Goode*
assistant stage manager Danielle Buccino*
produced by Suzette Porte

at The TBG Theatre
312 W. 36th Street, 3rd Floor, New York, New York

SEPTEMBER 8-26
previews September 8-12 at 8pm
opening night Sunday, September 13 at 3pm
September 16-26, Wed-Sat at 8pm
matinee performances Sep 20 & 26 at 3pm

CLICK HERE FOR TICKETS! ORDER NOW!

ALL TICKETS $18
Early Bird Special: use code EBS for $10 preview tickets
2 for $25: use code $25, good through length of show

*appears courtesy of Actors Equity Association An Equity approved showcase
---
Intersection's Rental Series (San Francisco, CA)
APAture Festival of Emerging Asian American Artists
September 25, 2009
7pm - 9pm | please go to kearnystreet.org/apature
As part of the 11th annual APAture festival of emerging Asian American artists, Kearny Street Workshop presents a performing art showcase featuring Kenny Yun, Sand Chang, hoboFish Improv, Lexationships, Jay Loyola, Nicole Maxali and Andrew Saito.
Visit www.kearnystreet.org/apature for tickets and more information.
This project is part of Intersection's Rental Presentation Series. For more information on Rental Information please go to our "Rentals" Page-
---
Ensemble Theatre (New York, NY)
Sloppy Second Chances
written by Mrinalini Kamath, directed by Kel Haney
with Vedant Gokhale and Nandita Shenoy
September 12 to 27, 2009
When Amita, a business-like thirty-something when it comes to dating, meets her latest desi website suitor, the seemingly strange Nikhil, will she chalk him up as another bad date or is there something more going on? A short comedy about two people who want the same thing but have completely different game plans.
Part of The River Crosses Rivers one-act play festival, Series B at the Ensemble Studio Theatre.
September 12, 13, 14, 18, 19, 23, 24 & 27
Sunday performances at 3 p.m.,
all other performances at 7 p.m.
Ensemble Studio Theatre
549 West 52nd Street (btn. 10th and 11th aves.)
New York, NY 10019
Tickets are $12 using the code RIVERNEW. To buy tickets, please go to https://www.ovationtix.com/trs/cal/134 or call 866-811-4111.

---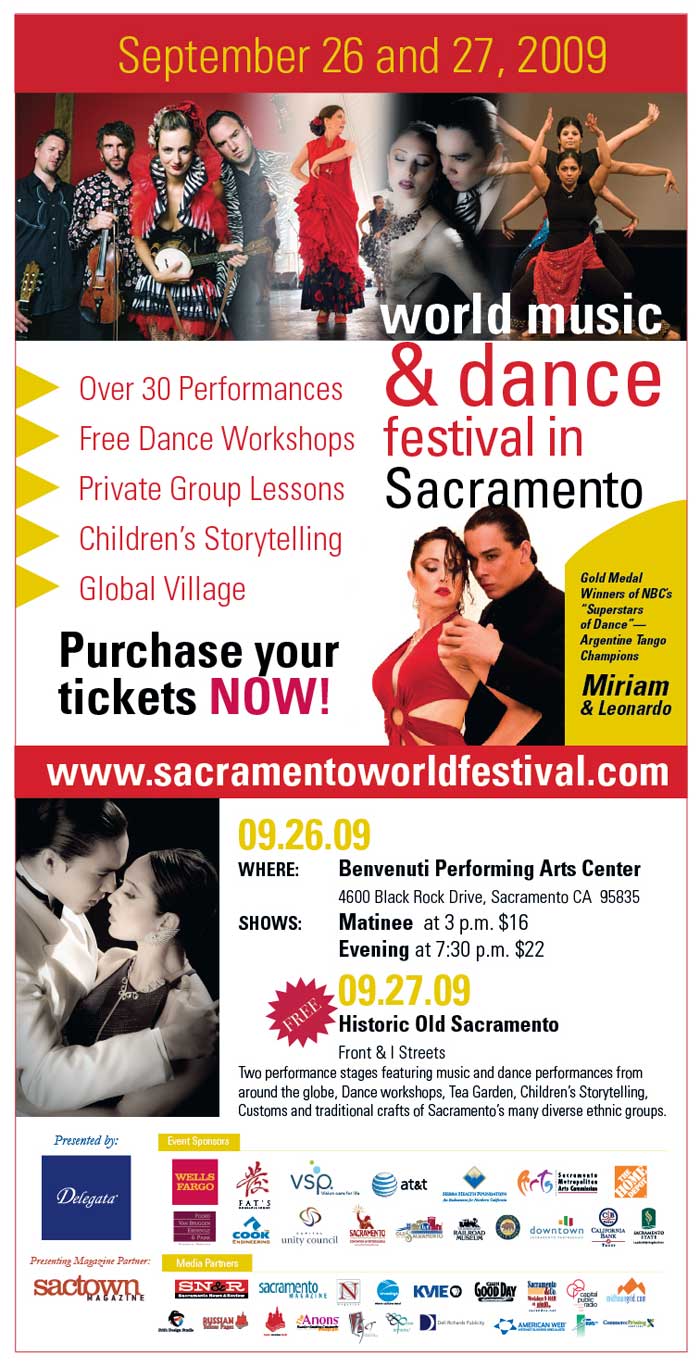 ---