East West Players (Los Angeles, CA)
Steel Magnolias
by Robert Harling
September 5 to October 6, 2013
Steel Magnolias is the classic comedy-drama play that later became a popular film about the bond among a group of Southern women. The action centers on Truvy's beauty parlour and the women who regularly gather there
News story here.
---
RADAR LA (Los Angeles, CA)
Uncle Ho to Uncle Sam
By Trieu Tran with Robert Egan
Directed by Robert Egan
September 17 to October 6, 2013
Downtown Culver City
Trieu Tran and his family barely escaped Vietnam when he was six years old, but his perilous adventure was only beginning. An attack by pirates, a cold reception for refugees in Saskatchewan, a turbulent home life with an abusive father, poverty, Boston gang life, sexual assault.Uncle Ho?is a fight for survival against insurmountable odds, a story of redemption through education and art and ultimately an overwhelming act of bravery.
Do you believe in the American Dream?
TICKETS ON-SALE NOW! ALL PERFORMANCES $25
To order call (213) 628-2772 or visit www.centertheatregroup.org/tickets/Uncle-Ho-to-Uncle-Sam
Uncle Ho to Uncle Sam is presented in rotating repertory with a power trio of solo performers as part of the celebrated RADAR L.A., An International Festival of Contemporary Theater.
---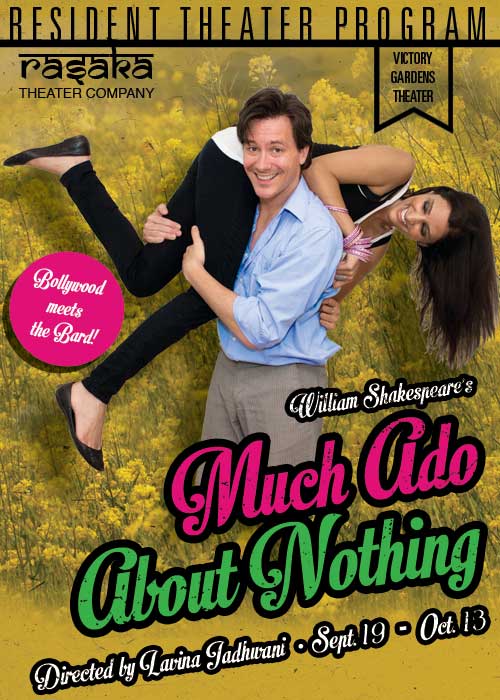 Rasaka Theatre Company (Chicago, IL)
Much Ado About Nothing
September 19 to October 13, 2013
Bollywood meets the Bard!
---
True Heart Theatre (Great Britain)
Golden Child
by David Henry Hwang
October 2 to 12, 2013
Coming to the NEW DIORAMA THEATRE
with Director Ng Choon Ping
2-12 October 2013
Eng Tieng Bin returns home to his daughter and his three wives after three years away on business. He brings a newfound interest in 'occidental' culture to their traditional Confucian household – with a Christian missionary as a guest.
Golden Child is a gripping and entertaining tale about a Chinese family caught between traditional values and the modern world.
Written by the Tony Award-winning playwright of M. Butterfly, Yellow Face and Chinglish, Golden Child examines the politics of cultural conversion at the dawn of an intercultural world.
Award-winning Ng Choon Ping directs a strong team of East Asian talent led by Jacqueline Chan. Designer Moi Tran creates a poignant contemporary set which brings early 1900s China into the 21st century.
---
CIRCA-Pintig (Chicago, IL)
Mr. and Mrs. LaQuesta Go Dancing
October 3 to 12, 2013
---
Japanese American National Museum
East West Players (Los Angeles, CA)
Hannah and the Dread Gazebo
By Jiehae Park
Directed by Jennifer Chang
National Center for the Preservation of Democracy
111 North Central, Los Angeles 90012
October 17, 2013 | 7:30 PM
Inside the FedEx box are two things: a 100% bona-fide-heart¹s-desire-level wish and a suicide note. Hannah tracks the package back to Seoul, where her grandmother recently jumped from the roof of her retirement home onto the wrong side of the Demilitarized Zone. They'll need North Korea's permission to retrieve the body, but Kim Jong Il just kicked the bucket, and things in the DMZ are even stranger than they seem.
---
Ma-Yi Theatre (New York, NY)
Bike America
by Michael Lew
September 24 to October 20, 2013
In partnership with the Studio Ensemble Theatre.
BIKE AMERICA is a wildly picturesque journey that crams the 48 contiguous states onto one stage. The play unfolds as a cross-country bike trip from Boston to Santa Barbara, with stops in big cities and small towns along the way. Our feckless heroine Penny is looking to bring more meaning into her life, so she drops her clingy boyfriend and takes off for the Pacific. Along the way, she befriends a colorful crew of bikers in this multi-state, multi-generational, Blue and Red mash-up. BKE AMERICA was originally produced at the Alliance Theater.
---
Artists at Play (Los Angeles, CA)
Cowboy vs. Samurai
by Michael Golamco
September 28 to October 20, 2013
See News story.
---
SIS Productions (Seattle, WA)
Revealed: In Search of Bruce Lee
October 3 to 19, 2013
A theatrical tour (with snacks!) of Seattle's Chinatown/International District presented by SIS Productions and its Writers Group as part of Arts Crush. FREE!
Experience the International District as never before, as 5 local Asian American playwrights go in search of the man, the myth and the mysterious allure that Bruce Lee still holds over his legion of fans world-wide. We can't guarantee any Bruce Lee sightings, but we do hope to explore this international icon through brief theatrical vignettes on this walking tour of one of Seattle's most unique neighborhoods.
Thursday, 10/3 at 6pm
Saturday, 10/5 at 10am
Saturday, 10/12 at 10am
Saturday, 10/19 at 10am
Space is limited. Please register to attend at:
http://www.artscrush.org/categories/index/39/0/FEATURED_EVENTS
[Scroll down the page and look for Revealed and the date you want to attend, the click on the button to RSVP. Be sure you've clicked on the RSVP button for the performance date you're interested in. =)]
Featuring the talents of: Leilani Berinobis, Daniel Cook, Tom Dang, Julie Hoang, Kathy Hsieh, Denny Le, Maggie Lee, Kevin Lin, Henry Mark, May Nguyen, Miko Premo, Tomoko Saito, Karissa Samples, Melissa Slaughter, Tim Takechi, Roger Tang, Henry Vu Zheng Wang, Owen Yen, and more!
Special Thanks to 4Culture, ArtsWA and the National Endowment for the Arts for their support. This event is part of Theatre Puget Sound's Arts Crush.
Video report here.
---
Japanese American National Museum (Los Angeles, CA)
Our American Voice
Directed by Jennifer Chang
Stories by D¹Lo, Vivian Keh-Hue, Giovanni Ortega, Jeanne Sakata and Ova Saopeng, Judy Soo Hoo
Japanese American National Museum Gallery
100 N Central Ave.Los Angeles, California 90012
October 10 to 26, 2013 | Saturdays 1PM-2PM
In conjunction with the exhibition I Want the Wide American Earth: An Asian Pacific American Story, Our American Voiceis a two-person show exploring the diverse stories of Asian Pacific Americans. Presented in partnership with East West Players. Featuring Traci Kato-Kiriyama and Johnny Kwon.
For more information about the exhibition, visit http://www.janm.org/events/nmpresents/.
Our American Voice will be the upcoming 2014 EWP Theatre for Youth tour and is booking now!
The first Chinese-American female pilot; Korean American childhood friends who reunite by chance at a local club; Laotian siblings conflicted about their homeland; a Japanese American man during WWII whose civil rights are tested; a Sri Lankan woman who yearns for love; and a Filipino migrant activist are the many voices within Our American Voice. Their lives are brought to the stage by six Asian/Pacific American (APA) playwrights, each with their own unique stories. East West Players celebrates the achievements, failures, hopes and dreams of the APA experience.
---
Mixed Blood Theatre (Minneapolis, MN)
Displaced Hindu Gods
A Trilogy of Plays by Aditi Brennan Kapil
October 5 to 27, 2013 (Previews October 2 to 4)
A festival of three world premieres based on the trinity of Hindu deities- Brahma, Vishnu, and Shiva- each displaced into the contemporary Western world. This theatrical marathon features a variety of styles: a stand-up comedy routine, a girl-gang thriller, and a science fiction fantasy. While each play stands alone, they co-exist in a common universe where displacement, identity, post-colonialism, immigration, and puberty are explored through the lenses of creation, survival, and destruction. The three shows are cast with seven actors (some in multiple roles), designed by one team, and can be seen singly or as a marathon in a never-before-seen configuration of the Alan Page Auditorium.
Brahman/i: A One-Hijra Stand-Up Comedy Show
Directed by Jeremy Cohen
This hilarious stand-up comedy routine/play takes on history, mythology, gender roles, and high school through the distinct comic lens of Brahman/i: an intersex boy/girl tethered by neither gender nor culture, and wildly curious and inventive in his/her examination of both.
The Chronicles of Kalki
Directed by Bruce A. Young
A comic-book infused girl-gang thriller chronicles the adventures of Kalki, a young girl who may or may not be the final Avatar of Vishnu, come to rid the world of demons and evil.
Shiv
Directed by Risa Brainin
Exploring the psychological residue of post-colonialism, Shiv is a fantastical journey to liberation from one's past, from one's present, and of the destruction that makes rebirth possible.
---
South Coast Repertory Theatre (CA)
Fast Company
by Carla Ching
October 6 to 27, 2013
Blue is a student at Brown. H is a sports writer. Francis, an illusionist. On the side, they're grifters, and Blue has a great con going that involves a $1.5 million comic book. Problems arise when the comic is stolen from Blue … who calls in help from Francis … who contacts H … who finds himself face to face with the best career grifter of them all. Fast, funny, dark and dangerous—this skewed look at family and ambition keeps us guessing about who's on top and who's getting conned.
---
Mu Performing Arts (Minneapolis, MN)
Kung Fu Zombies Vs. Cannibals
A World Premiere
by Saymoukda Duangphouxay Vongsay
October 12 to 27, 2013
directed by Randy Reyes
The Southern Theater
Take a ride into a post-apocalyptic world where zombies have taken over and cannibals hide in the mountains. Developed through the Mu/Jerome Foundation New Performance Program, Vongsay's new play features martial arts battles and a hip hop score, spun by a live DJ. Based on the five Buddhist tenets, follow two women as they struggle to maintain their personal moral code in a world gone wrong.
See News story.
---
Vancouver Asian Canadian Theatre (Vancouver, BC)
MSG Lab:
Edith and Sara
by Chris Lam
October 25, 2013
In this sensitive and absurdist play: Julio, Edith, Sarah, and Derek will engage in an evening of shared secrets and disturbing lies that will challenge their friendship forever.
MSG Lab:
Trig Variations
by Carolyn Nakagawa
What can happen when three people meet on a stage? It turns out, just about anything. Each scene is a different story, with different relationships to play out. We start with Ray and Cynthia, a young couple about to make an important decision, but the play continues in a Vancouver apartment, a remote family home, a house rented by students, and not one but two coffee shops. Some characters meet for the first time, others have known each other all their lives, but this doesn't necessarily mean anything. Does anything?
The Vancouver Asian Canadian Theatre's MSG Theatre Lab is a development program where two to three playwrights (emerging or established) are chosen yearly to work with a dramaturge on their manuscript for 4 months culminating in a stage reading in the 4 month for further feedback from actors, directors and audience members.
---
Assaulted Fish (Vancouver, BC)
Heart of the City Festival
Belly Laughs, A Night of Comedy
October 25, 7pm–9pm
Gallery Gachet, 88 E. Cordova
Free
The Heart of the City Festival is tickled silly to present an evening of stand up and sketch comedy that celebrates the resilience and diversity of Vancouver's Downtown Eastside. The first half of the evening features comics from Stand Up for Mental Health with guest host Randy Goodchild and our local favourite funny guy Paul Decarie. What's so funny about mental health? Come and find out!
The second half of the evening we are thrilled to welcome back Vancouver's longest-running Asian-Canadian sketch comedy collective, Assaulted Fish (aka Diana Bang, Marlene Dong, Kuan Foo and Nelson Wong). With edgy writing and energetic performances, everything from birth to reincarnation is fair game for the comedy troupe. Assaulted Fish is delighted to celebrate its 10th anniversary with the 10th Annual Heart of the City Festival.
---
GENseng (Geneseo, NY)
Bengal Tiger at the Baghdad Zoo
by Rajiv Joseph
Directed by Kimberly R. Olsen
Black Box Theatre, SUNY-Geneseo
October 21 to 24, and October 26 to 27, 2013
---
Eth-No-Tec
CATS (Nevada City, CA)
Tales of Terror
Robert Kikuchi-Yngojo and Nancy Wang of Eth-Noh-Tec
October 27, 2013
Asian myths, folk tales and lore to shriek the living daylights out of you! IN FACT, just because this concert of Asian ghost stories will take place in the day time, doesn't mean it won't raise the dead in your imagination. Eth-Noh-Tec exhumes the traditional lore of the underworld, other worldly, blood curdling, nerve peeling tales from the Asian cultures. Listen if you dare. Broad daylight won't help you!
Please join CATS as we present world-renowned Eth-Noh-Tec at the Nevada Theatre stage (401 Broad Street) in Nevada City, CA, on Sunday, October 27, 2pm. Eth-Noh-Tec's unique style of storytelling and physical theater is unparalleled, incorporating gestures, vocal nuances, mime, and choreography to fascinate and enchant. In Asian Tales of Terror, Eth-Noh-Tec will thrill, scare, rub your funny bone and generally celebrate the season with fright! Get ready to shiver, shake and scream with delight!

For age 8/9+. Tickets at www.catsweb.org, and in Grass Valley, at the Briar Patch and Book Seller. For more information on Eth-Noh-Tec, see www.ethnohtec.org. Wear costumes!
---
For VC's 12th Season, "NYC's Best Army of Geeks" brings back its critically acclaimed show,
ALICE IN SLASHERLAND, to NYC!
Now featuring an updated script, new fights, new special FX, and introducing VC's own Robert Ross Parker in the role of Edgar the Demonic Bear! This Halloween, come party with the Geeks and see the show TIMEOUT NEW YORK praised as "Easily the most fun you'll have Off-Off Broadway!"
When Lewis Park accidentally resurrects the soul of a brutally slain girl named Alice, he unwittingly unleashes a literal hell on Earth. Now it's up to Lewis and his newly undead girlfriend along with her trash-talking demonic teddy bear and his longtime crush Margaret to save the world!
---
The Children's Theatre (Minneapolis, MN)
The Wong Kids In The Secret Of The Space Chupacabra Go!
by Lloyd Suh
October 8 to November 17, 2013
Violet and Bruce Wong are a couple of nerdy weirdos, but they also have superpowers. They're not very good superpowers, but now that the fate of the universe hangs in the balance, they will learn that sometimes the strangest powers are the best ones. But first they have to travel to the furthest reaches of space, ward off Woofenwolves and Bandersnatches, climb the Giantest Mountain and take an epic sci-fi action adventure to uncover the secret of the Space Chupacabra.
---
Stir Fri-day Night (Chicago, IL)
Whitewash Rinse Repeat
October 18 to November 8, 2013
Theater Wit
1229 W Belmont Ave

Stir-Friday Night! is an 18-year-old Asian-American comedy ensemble. Come celebrate our first revue as an adult:
WHITEWASH, RINSE, REPEAT
Directed by Anneliese Toft
Music Direction by Tilliski Ramey
Written & Performed by
Dacey Arashiba, Kannan Arumugam, Gilbert Galon, James Kannookadan,
Melissa Kong, Avery Lee & Christina Seo

Tickets can be purchased for
$10
$5 students / seniors / industry
SFN alumni include Danny Pudi (NBC's Community), Steven Yeun (AMC's The Walking Dead), Rasika Mathur (MTV's Wild 'N Out), Mary Sohn (Second City Mainstage), and Broadway's Christine Lin (Chinglish).
---
Theatre Esprit Asia (Denver, CO)
99 Histories
by Julia Cho
October 24 to November 17, 2013
Christy Montour-Larson is directing the play about a 29-year-old Korean-American named Eunice who is pregnant and unmarried and must mend her relationship with her Korean mother. "99 Histories" will be performed 8 p.m. Thursdays, Fridays and Saturdays and 7 p.m. Sundays.
---
All For One Theater Festival (New York, NY)
presents
Knyum
by Vichet Chum
October 27 to November 8, 2013
To supplement his meager artistic life, Guy works graveyard shifts at the Hotel East Houston in New York City. Between the hours of 11pm and 7am, the hotel lobby transforms into a theater for Guy's dreams and nightmares. In this space, he encounters his parents, Ma and Ba and their stories of sacrifice as survivors of the genocide in Cambodia. Meanwhile, he attempts to learn Khmer to document his parents' stories and more immediately, prepare for his very first trip to Cambodia. The hours drudge on as Guy tries to find relative answers to the questions that plague him the most: Where are you from? Where are you going? With the great pressure of his parent's histories weighing on his guilt, Guy searches for a bit of pardon to, at the very least, finish his shift.
---
Ma-Yi Theatre (New York, NY)
LabFest Fall 2013
November 9 and 10 2013
SATURDAY, NOVEMBER 9TH @ 2:00PM
A POWER PLAY
by A. Rey Pamatmat

SUNDAY, NOVEMBER 10TH @ 7:00PM
PEOPLE SITTING IN DARKNESS
by Clarence Coo
---
---

The Hansberry Project, eSe Teatro, SIS Productions, Pratidhawni (Seattle, WA)
Represent! A Multicultural Playwrights' Festival
November 12 to 17, 2013
he Hansberry Project, in a joint venture with eSe Teatro, SIS Productions, and Pratidhwani, will host "REPRESENT!: A Multicultural Playwrights' Festival" Nov 12-17. The festival will feature staged readings of four new full-length plays, an evening dedicated specifically to showcasing the work of six very talented local writers and a new play sampler featuring 20 minute snippets of all four plays.

Nov 12, 7:30pm, Local Playwrights Showcase
Nov 13, 7;30pm, The Tiger Among Us, by Lauren Yee (SIS Productions)
Nov 14, 7:30pm, The Many Faces of Nia by Lenelle Moise (The Hansberry Project)
Nov 15, 7:30pm, The Divorce by Sonal Champsee (Pratidwhani)
Nov 16, 7:30pm, No Number Home by Tencha Avila (eSe Teatro)
Nov 17, 2:00pm, New Play Sampler- Snippets of all four plays read in one day!

---
Bay Area Playwrights' Foundation (San Francisco, CA)
Go On Living
by Frances Ya-Chu Cowhig
November 12, 2013
This is a 3 pm show.
Go On Living captures Chinese Poet Liao Yiwu's political imprisonment for the incendiary poem, "Massacre", written in response to the student protests in Tiananmen Square. Brutally funny and shockingly poignant within its bleak prison reality, we follow Liao's journey from a hedonistic, womanizing apolitical avant-garde poet to Prisoner 0-9-9, finding the societal microcosm between cell walls.
---
Pan Asian Repertory Theatre (New York, NY)
Saigon Sisters
by D. S. Lee
November 15, 2013
A staged reading of a retelling of Chekhov's THREE SISTERS set at the fall of Vietnam, directed by Theatre Mu's Rick Shiomi. This should be a treat to work on, with a bunch of Leviathan Lab affiliated artists in attendance, including Ariel Estrada, Dave Shih, Brian McCormick, Yan Xi, Leanne Cabrera, Marcus Ho, Ryan McCarthy, Karen Lee, and Tina Chilip, along with friends Tiffany Villarin, Tony Vo, and Doan MacKenzie.
---
San Diego Repertory Theatre (San Diego, CA)
Ching Chong Chinaman
by Lauren Yee
November 15 to 24, 2013
San Diego Asian American Repertory Theater (SDAART) presents... "Ching Chong Chinaman" a comedy written by Lauren Yee and directed by Peter James Cirino.
Featuring: Gina Ma, Patrick Mayuyu, Jane Mezzino, Tony Perez, Katie Rich, Shaun Tuazon, & Trinity Van Williams
When: November 15, 16, 22, and 23 at 7:30 PM & November 17 and 24 at 2:00 PM
Where: The White Box Theatre, 2590 Truxtun Road, Studio 205, San Diego (corner of Truxtun and Roosevelt roads).
How much: Tickets are $25 & $15 for students, military and seniors.
Synopsis: The Wongs are as American as apple pie. Desdemona dreams of Princeton, but could use some help with her calculus. Her brother, Upton, wants to be a World of Warcraft champion, but needs more free time to train. Their Mom feels unappreciated as her children become independent, while their Dad just wants the family to be happy. Upton tries to solve his own problems by bringing home an indentured servant, but they soon discover that "Ching Chong" has an American dream of his own!
More information @ http://www.asianamericanrep.org/
---
The SIS Writers Group (Seattle, WA)
Insatiable! Seattle's 8th Asian American Playwrights' Festival
Monday, November 18, 2013 at 7:30pm
SIS Productions is thrilled to present Insatiable! Seattle's 8th Asian American Playwrights' Festival, a one-day showcase of scenes from new plays by local Asian American playwrights.With pieces by Kathy Hsieh, Maggie Lee, May Nguyen, Roger Tang, and Zheng Wang and featuring lots of multicultural actors!
...
Prima Vera Arts Center
112 5th Ave N, 2nd Floor (Susan G. Komen Foundation Building)
Just north of Denny Way, enter through the narrow alley between 5th Avenue & Taylor Avenue N.
It's a little hard to spot the building behind the fenced-in construction site, but we are here!
Tickets are all Pay-What-You-Can!
---
Kumu Kahua Theatre (Honolulu, HI)
The Squeaky Wheel/Homage to Amy
by Brian Shaughnessy
November 24 to 26, 2013
See News story.
---
Mu Performing Arts (Minneapolis, MN)
A Very Asian Christmas Concert
The Southern Theater
November 30 to December 1, 2013
Jasmine and her friends are moving to The Southern Theater for a bigger, crazier dysfunctional holiday celebration. Join Jasmine as she cavorts with friends old and new, including her newest gem, Mu Daiko!
Ages 21+
---
Kati Karoda as Mary V. and Jacob Song as Eddie
Kumu Kahua Theatre (Honolulu, HI)
Flowers of Hawai'i
A world premiere by Lee Cataluna
November 7 to December 8, 2013
extended to December 15, 2013
Ten vignette playlets capture the essence of family relationships.
See News story
---
East West Players (Los Angeles, CA)
The Nisei Widows Club: How Tomi Got Her Groove Back
by Betty Tokudani
November 7 to December 8, 2013
East West Players continues its 48th Anniversary Season Making Light, with Nisei Widows Club: How Tomi Got Her Groove Back, written by Betty Tokudani and directed by Amy Hill. Hula choreography is by Keali¹i Ceballos.
The third installment of a comic trilogy following the lives of a group of widowed Nisei (second generation) women who only have each other in the face of loss and the search for love in their golden years. Tomi loses her only son to a heart attack at the early age of 45, and the other widows gather around her during this time of grief. Hilarity ensues when they embark on an unforgettable trip to Hawaii, which unleashes the cougar in all of them at a hula retreat.
The production brings back the original four "Nisei Widows" - Takayo Fischer as Sumi, Emily Kuroda as Hana, June Kyoko Lu as Betty, Jeanne Sakata as Tomi. EWP introduces Tui Asau as the object of their desire ­ Kimo the hula teacher.
---
Silk Road Rising (Chicago, IL)
Paulus
Written by Motti Lerner
A WORLD PREMIERE
November 12 to December 15, 2013
Directed by Jimmy McDermott

Set between 58 A.D. and 64 A.D., Paulus imagines the Apostle Paul, who bridged Christianity from a Jewish sect to a global religion. Framed as an intra-Jewish debate, Paul¹s quest to universalize monotheism provokes strong opposition from the Jewish Establishment, the Jerusalem Church, the Emperor Nero, and a skeptical 62 year old Jesus.
---
CircaPintig (Chicago, IL)
ShortActs!
November 22 to December 8, 2013
See News Story
---
Playground LA (Los Angeles, CA)
Inspired by a Song:
Building a Better Bordello
by Felix Racelis
December 9, 2013
The theme is Inspired by a Holiday Song. Building a Better Bordello will be directed by Peter J. Kuo (song: Baby It¹s Cold Outside), and joins five other pieces inspired by a holiday song.
---
East West Players (Los Angeles, CA)
David Henry Hwang Institute New Works Festival
December 9 to 14, 2013
TIMES VARY
David Henry Hwang Theater
120 Judge John Aiso St., Los Angeles 90012
The David Henry Hwang Writers' Works In Progress is back for the DHHWI New Works Festival! Join Workshop Leader Dorie Baizley along with playwrights Warren Sata, David Hideo Maruyama, Joseph Wong, Alex Duong, Gary Kuwahara, Jyoti Dugal, Bryan McCormick, Karen Huie, D.N. Higa, and Terry Holzman for their readings that will be held on December 9, 11, 12, 13, and 14 at the David Henry Hwang Theater.
This event is free and open to the public. $5 suggested donation.
DHHWI NEW WORKS FESTIVAL SCHEDULE:
MONDAY, December 9 @ 7pm
FAREWELL TO MOONLIT TIDES
by Warren Sata
To have loved and lost…
Is there no greater challenge?
China's most renowned explorer sets sail again!
DOUBLE EXPOSURE
by David Hideo Maruyama
Mix a shrink, an A-list White Actress, A celebrity chef and a Transvestite Fortune-Telling Thai Cooking Show host of the Third Sex. Stir fry with sweet, salt, sour and spicy relationships. Serve hot and bothered.
WEDNESDAY, December 11 @ 7pm
THE 4TH OF CHINATOWN
by Joseph Wong
As July 4th approaches, Alex will be forced to betray himself or everyone around him.
UNSUNG MELODY
by Alex Duong
After witnessing the death of her boss, an Orange County woman is targeted by a notorious gang. At the same time, she must pull her estranged younger brother away from the very gang that put a bounty on her head.
THURSDAY, December 12 @ 7pm
GOOD AS DEAD
by Gary Kuwahara
Death. When it's the only thing you're good at.
PINK SHADOWS
by Jyoti Dugal
Sixteen and pregnant… Indian style. The hysterical telling of three generations of Indian women under one roof.
FRIDAY, December 13 @ 7pm
JACK IN COMMON
by Bryan McCormick
Jack's family secret… Strong enough for a man, but made for a woman.
RETURN FROM GOLD MOUNTAIN
A new musical by Karen Huie
Music by Howard Ho, Lyrics by Karen Huie
A musical set in China, 1885. The Chinese character for CHAOS is a man and two women under one roof. The story of the writer's great great grandfather returning to his first wife in China with his Irish wife.
SATURDAY, December 14 @ 12pm
FADED MEMORIES
by D.N Higa
If you could turn back time to yesteryear would you? Would those precious memories prevail despite the cloudy mist that falls?
THE STICKY-FINGERS MONOLOGUES
by Terry Holzman
Eight women, ages 16 to 76, reveal their heartbreaking and humorous stories about shoplifting.
---
DramaWest
DramaWest Holiday Spectacular
A Christmas Presence
by Felix Racelis
December 14, 2013
The afternoon features holiday themed plays, music, comedy & film and best of all it's free!
---