Kumu Kahua Theatre (Honolulu, HI)
Mahalo Las Vegas
by Edward Sakamoto
August 25 to September 25, 2006
extended to October 8

Aloha Las Vegas
by Edward Sakamoto
August 25 to September 23, 2006
Mahalo Las Vegas by Edward Sakamoto, where having left Hawai'i, Wally Fukuda lives happily ever after in Vegas – until Wally's luckless friend, "California" Harry, moves in to hide out from his creditors and two tenacious women looking for love pursue a reluctant Wally and Harry. Mahalo Las Vegas is the sequel to Sakamoto's popular Aloha Las Vegas.
Sakamoto's Aloha Las Vegas, which precedes the action of Mahalo Las Vegas and deals with Wally's decision to sell his house in Honolulu and make the move to Vegas, will receive special Kumu Kahua Theatre Benefit performances Friday evenings and special added Saturday matinees. Don't miss this unique opportunity to see both plays in repertory.
See News story.
---
Stir-Friday Night! (Chicago, IL)
The Caste and the Furious: Tokyo Drift
September 8 to October 6, 2006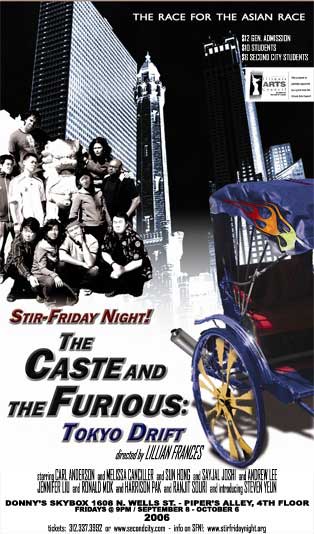 See News story.
Review! CHICAGO READER:
THE CASTE AND THE FURIOUS: TOKYO DRIFT
Like the movie title spoofs, Stir-Friday Night!'s 18th revue includes some racing (a Japanimation-esque contest between skaters) and some Asian-underground drama (a noirish bit involving outlawed Chinese food). Both expertly executed sketches are hilarious. As in previous SFN! productions, the cast lampoons Asian cliches: Bollywood, martial arts, conservative parents. But the also look at raceless subjects like marriage counseling and the electric slide. Musical director Shane Shariffskul has crafted some catchy numbers, and director Lillian Frances nicely mixes light and heavy subjects, including the making of a PB&J and a partial recitation of FDR's 1942 executive order resulting in the relocation of Japanese-Americans. Charismatic newcomer Steven Yeun steals the show. -Ryan Hubbard
---
Repertory Actors Theatre (Seattle, WA)
Uncle Hideki and the Empty Nest
by Jean Okimoto
September 14 to October 8, 2006
Virginia Gabby and Eloisa Cardona in ReAct's Uncle Hideki and the Empty Nest.
Ten years have passed since we last visited the Suyama family. Helen has remarried, Rodney and Suzanne have grown, and Uncle Hideki is back for another visit in this world premiere of the amusing sequel by local playwright and bestselling children's author, Jean Davies Okimoto.
See News story.
---
Bindlestiff Studios (Bay Area, CA)
Stories High 2006
9th Annual Workshops & Performance for Emerging Artists
September 22 to October 7, 2006
Bindlestiff Studio Proudly Presents: Stories High 2006

A break-up sparks voices from heaven and hell. Mother and father freak out when they discover a condom in their daughter's laundry. A BART rides into people's lives. Two couples, one in love and the other questioning love, are stranded in an elevator. A war from the past haunts a married couple, now they must fight for their love. And a mother commits the unthinkable to her baby.

Show Dates:
Thursday thru Saturday
September 21, 22, 23
September 28, 29, 30
October 5, 6, and 7
Ticket Prices:
Sliding scale donation of $10-15 Showtime:
8pm @ Bindlestiff Studio, 505 Natoma (Between Howard and Mission), San Francisco, 94103 To Purchase Tickets:
Please call for reservations @ (415) 255-0440, or purchase tickets online through www.Brownpapertickets.com

Featuring Original Plays:
Vacation Sensation by: Andrea Almario
Boxing Rule by: Darah Macaraeg
The Kiss by: Ed Mabasa
Stuck by: Mike Ricca
Train Song by: Adrien Salazar
LoveStoneHeart by: Cheri Mims

About Stories High:
Stories High is a series of theater workshops culminating to a show. Artists and anyone who is interested in getting involved with community arts is invited to choose from acting, playwriting, directing, backstage managing, technical, marketing, and producing workshops, all free of charge. Stories High hopes to discover, cultivate, and nurture new emerging artist. This is Bindlestiff's ninth Stories High workshop and show.
---
Mu Performing Arts (Minneapolis, MN)
Filipino Hearts
Book by Rick Shiomi and Allen Malicsi
Music and Lyrics by Kurt Miyashiro
September 23 to October 8, 2006
The Theater Mu World Premiere musical, Filipino Hearts is written by R. A. Shiomi and Allen Malicsi with music and lyrics by Kurt Miyashiro (The Walleye Kid: The Musical), this original musical blends Filipino folktales, music, dance and movement with a modern story in signature Mu style. When Benny, a poor aspiring theater artist, is sent to the Philippines for a family gathering, his simple vacation becomes an entangled adventure of arranged marriages, unexpected romance, and obstacles of antagonism from the local people. Pre-conceived notions shattered, Benny's self-understanding unfolds in relation to the land, the people, and the stories of his heritage.
See News story.
---
Celebration Theatre (Los Angeles, CA)
Manimal Crackers
a full-length play by Felix Racelis
directed by Peter Bedard.
October 2, 2006, 8pm
WHERE: Celebration Theatre, as part of their New Works Reading Series
7051B Santa Monica Blvd. (1/2 block east of La Brea)
This is a dramedy about a Pilipina American zoo keeper, her Korean American partner who's undergoing female to male transgender therapy, and her narcissistic former fashion model mother who's going into politics. Just another American family Norman Rockwell forgot to paint.
For more info: (323) 662-6861.
---
Kitchen Theatre Company (Ithaca, NY)
From Inner Worlds to Outer Space
Dan Kwong (L.A.) in solo performance
October 6, 7, 8, 2006
Fri/Sat showtimes 8:00PM, Sun 4:00PM.
Kitchen Theatre Company
116 N. Cayuga Street
Ithaca, NY
(607) 273-4497
Sword-swinging, baseball-pitching, yarn-spinning, mind-expanding performance artist Dan Kwong performs tasty excerpts from his recently published book of the same title.
www.kitchentheatre.org
www.dankwong.com
---
Long Wharf Theatre (New Haven, CT)
Durango
by Julia Cho
September 13 to October 15, 2006
Julia Cho is back. Ms. Cho's BFE, a study of isolation and superficiality, was one of the company's spring 2005 offerings and then went on to Playwrights Horizons in New York. Ms. Cho continues her examination of Asian-American identity and alienation in the story of an unemployed man who takes his two sons on a road trip to Colorado. The cast includes James Yaegashi, making his Long Wharf debut, and James Saito, who played the central character's lonely uncle in BFE. Chay Yew will direct. Durango is scheduled to move to the Public Theater in New York later this season.
---
Dixon Place (NYC, NY)
THE LAST EMPEROR OF FLUSHING
A new memoir monologue
written and performed by Alvin Eng
&
PÉRE W: AMERICAN HELPINGS
Excerpt from a new offbeat oratorio-in-progress
by Margot Newkirk & Alvin Eng
Oct. 5 & 12, 2006
Dixon Place, 258 Bowery, 2nd Fl, between Houston & Prince
Tickets $15 or TDF, $10 student/senior discounts available
At 8 pm
Advance tickets at www.dixonplace.org / Reservations: 212-219-0736
The sequel to The Flushing Cycle, Eng's acclaimed memoir monologue play, THE LAST EMPEROR OF FLUSHING explores the irony/tragedy of a child who struggled mightily to adjust to "Father Knows Best" Americana Flushing, only to find that struggle irrelevant in 21st Century pan-cultural Flushing (NYC's second Chinatown). It's the end of an era. Sort of like China's "Last Emperor" paying admission to enter The Forbidden City, that was his childhood palace. The piece has been developed at Urban Stages' Mondays at the Merc new play reading series, Queens Theatre in the Park's 1st Annual Asian Cultural Festival and at Pan Asian Repertory Theatre's "2 Nights Only" series. Newsday wrote of Eng's work: "Audiences smile and find their own immigrant assimilation trials reflected in his words." This is Eng's third appearance at Dixon Place, he has performed at all three of their locations.
The evening will begin with excerpts from PÉRE W: AMERICAN HELPINGS a new off-beat oratorio by Margot Newkirk and Alvin Eng. In this music-movement-based piece, Pataphysics meet a certain President of the U.S.A. in an iconic showdown in the deep hot south. There, a musical portrait of American Icons from (Muddy) Waters to Warhol to West (Kanye, Adam & Jerry) forms within its rhythmic confluence of art, politics, and pop culture.
ALVIN ENG has shown work at Dixon Place, La MaMa, P.S. 122, Urban Stages, Pan Asian Rep., Immigrants Theatre Project, Queens Theatre in the Park, The Nuyorican Poets Café, PACT and the A Train Plays among others. The editor/compiler of play anthology/oral history, Tokens? The NYC Asian American Experience on Stage (that also includes his play, "The Last Hand Laundry in Chinatown"), his plays and poetry have also been published in American Theatre Magazine, The Nuyorican Poets Café anthologies, Action and Aloud, and in Performing Arts Journal.
MARGOT NEWKIRK is a playwright and theater practitioner in New York City. She has worked for the Atlantic Theater, New Dramatists, and Voice & Vision Theater in new play development. She most recently co-produced Shakespeare's Measure for Measure, the inaugural production of the newly formed Hipgnosis Theatre Company, an ensemble-based classical theater company.
For more information: www.dixonplace.org, or www.alvineng.com.
---
Vampire Cowboys Theatre (NYC, NY)
Songs of the Dragons Flying to Heaven
by Young Jean Lee
September 21 to October 14, 2006
A show about white people in love.

Produced by HERE Arts Center
September 21-October 14 (Thurs-Sun @ 8:30pm, with an additional show on Monday 9/25 @ 8:30pm)
At HERE Arts Center
145 Sixth Avenue (between Spring and Broome)
Purchase tickets at www.here.org or 212-352-3101

With:
Brian Bickerstaff
Juliana Francis
Jun Sky Kim
Haerry Kim
Jennifer Lim
Becky Yamamoto

Video and choreography by Dean Moss
Set and Lights by Eric Dyer
Sound by Jamie McElhinney
Costumes by Colleen Werthmann
With assistance from Campbell Ringel
Technical Direction by Billy Burns
Stage Management by Melissa Heller

Young Jean Lee has directed her plays at P.S. 122 (Pullman, WA), Soho Rep (The Appeal), and the Ontological-Hysteric Theater (Groundwork of the Metaphysic of Morals). She has worked with Radiohole (None of It) and performed with the National Theater of the United States of America (What's That On My Head?!?). She is a member of New Dramatists and 13P, a resident artist at HERE Arts Center and Brooklyn Arts Exchange (BAX), and has an MFA from Mac Wellman's playwriting program at Brooklyn College. Her plays have been published in New Downtown Now (University of Minnesota Press, 2006), an anthology edited by Mac Wellman and herself, and in Three Plays by Young Jean Lee (Samuel French, 2006). She is the 2006 recipient of grants from the Foundation for Contemporary Arts, the Rockefeller MAP Foundation, and the Greenwall Foundation. She will direct Songs of the Dragons Flying to Heaven at the Walker Art Center from January 18-20, 2007, at the Warhol Museum in 2007, and at the Flynn Center in 2007-08. She will present a Slovenian translation of Pullman, WA at Glej Teater in Slovenia in December 2006, direct her new play Church at BAX and PS 122 in spring 2007, and direct an untitled new show at The Kitchen in January 2008. She was featured in the Village Voice as one of New York's finest emerging playwrights and in Time Out New York as one of 25 People to Watch in 2005.

Songs of the Dragons Flying to Heaven was developed through HERE 's unique residency program (HARP), which commissions and develops hybrid performance work through long-term relationships with artists over a 1-3 year period.
---
Japanese Cultural and Community Center of Northern California
Asian Americans on Broadway: Opening Doors
October 13 and 14, 2006
Broadway and television's leading Asian American performers are coming to San Francisco's Brava Theatre on October 13th and 14th in ASIAN AMERICANS ON BROADWAY: OPENING DOORS. Alan Muraoka (television's Sesame Street, Broadway's Miss Saigon and The King and I) directs and performs with six other Asian American Broadway veterans: Christine Toy Johnson (The Music Man, Bombay Dreams, and Flower Drum Song), Deborah Lew (The Threepenny Opera), Hazel Anne Raymundo (Pacific Overtures), Michael K. Lee (Rent, Jesus Christ Superstar, and Pacific Overtures) and Alvin Ing (Flower Drum Song) along with special local guest appearances by 14 year-old sensation Sophie Oda (Star Search, Annie) and Japantown's legendary diva Colette Ikemi singing songs from such classic shows as West Side Story, Miss Saigon, Follies, Les Miserables, Rent, Wicked, and Avenue Q. The concert proceeds will benefit the Japanese Cultural and Community Center of Northern California cultural arts programs for children and youth in the community. Directed by Muraoka, the show will be Musical Direction by Edward G. Robinson, and choreography by Francis Jue.
This concert performance is the return of the "Salute to the Stars" performers from last year's gala event which honored the lifetime achievements of some of the greatest Japanese American performers to grace the silver screen and Broadway stage. This New York produced 90-minute concert will feature Broadway's biggest hits over the years with personal anecdotes from the performers on how these songs have influenced or inspired them on their path to success in theater. These talented Asian Americans are traveling from New York exclusively for this JCCCNC production. Don't miss this latest segment of the "Salute to the Stars" series, the JCCCNC's tribute to live theater and performers from our community.
Asian Americans on Broadway: Opening Doors is a presentation sponsored by Citibank. Other corporate sponsors include: Gold Level: Union Bank of California; Silver Level: Comcast; Bronze Level: The Seligman Family Foundation. Also sponsored by Kristi Yamaguchi's Always Dream Foundation and 3D Investments.
Tickets are now on sale online at Ticket Web at www.ticketweb.com. Single tickets are $50 and $30. Group discount tickets are available for groups of 15 or more. VIP tickets are only available for the Friday show and also include a post-show cocktail reception with the performers. The Friday performance will also include a pre-show silent auction featuring autographed memorabilia from the performers. For more information, or to purchase VIP tickets or group discount tickets, please call JCCCNC at 415.567.5505.
About JCCCNC
Envisioned by the Japanese American community, JCCCNC will be an everlasting foundation of our Japanese American ancestry, cultural heritage, histories and traditions. The JCCCNC strives to meet the evolving needs of the Japanese American community through programs, affordable services and administrative support and facilities for other local service organizations. The JCCCNC is a 501(c)(3) non-profit community center based in San Francisco.
---
2g Productions (NYC, NY)
an In The Works staged reading
Boom
a new play by Mrinalini Kamath
directed by Gita Reddy
October 15, 2006
with
Diksha Basu, Sanjit DeSilva, Sanjiv Jhaveri, Deepa Purohit, Debargo Sanyal, Nandita Shenoy
First seen in 2g's SUMMER SHORTS, we are proud to present a two-night public workshop of this expanded and full-length BOOM. What happens when the country your parents left for better opportunities becomes the new land of opportunity? BOOM is an imaginative rethinking of cultural and personal identities, based on a dramatically changing global landscape.
ONE NIGHT ONLY
Sunday, October 15
7:00 PM
Theatre for the New City
155 First Avenue
(between 9th and 10th Streets)
New York, NY

FREE (donations are always welcome)
Seating is limited. Reservations are required.
A post-show talkback will follow the performance with Mrinalini Kamath, Gita Reddy and the cast, moderated by Lloyd Suh.
In The Works represents the developmental, literary wing of Second Generation's productions. Since 1999, the series has presented more than a dozen new plays by emerging Asian American writers its mission to identify, nurture and introduce young artists to New York audiences, as well as to foster the development of a new generation of Asian American dramatic literature. Previous plays presented In The Works have earned awards from the New York Foundation of the Arts and the New York Asian American Film Festival, and received production at theatres throughout the country, including San Jose Repertory, the Village Theatre, East West Players and the National Asian-American Theatre Company (NAATCO), among others.
actors appear courtesy of Actors Equity Association Supported in part by public funds from the New York City Department of Cultural Affairs.
On the date of the event, you must check in at least 15 minutes prior to the reading. All readings will begin promptly.
---
Rasik Arts (Toronto, Canada)
Gandhi Marg
by Anita Chandwaney
October 17, 2006
Set in Chicago's Little India, Gandhi Marg is a very clever updated desi version of A Streetcar Named Desire in which newlyweds Shanti and Shardul are visited by her sister Bina a recently fired teacher and a perfectionist.
---
Alter Ego Productions (New York, NYC)
A First Class Man
by David Freeman
October 5 to 21, 2006
Alter Ego's next production, David Freeman's A First Class Man, is the story of Srinivasa Ramanujan, widely considered twentieth century's most famous mathematical prodigy, and his fortuitous and successful collaboration with the Cambridge don and mathematician, Professor GH Hardy.
See News story.
---
Bindlestiff Studios (San Francisco, CA)
FOB Show: TnT (Tour ng Tour)!
October 19 and 21, 2006
The show from somewhere between two shores hits the road with FOB Show: TnT (Tour ng Tour). The mega-hit immigrant-themed production is coming to a theater near you! Watch a rich mix of sketch comedy, scripted drama, shadow puppetry, animation, video, and movement pieces that tackle issues and situations near and dear to our hearts.
Join us as we delve deeper into the immigrant's world from a uniquely Filipino perspective. Feel what it's like to leave something behind, face culture shock, and see the world from a place we've all been to, but rarely visit. Be preapred to laugh, cry, think and feel your way through the immigrant experience. If you've ever felt like you didn't belong, welcome home.
FOB Show: TnT makes its first stop at:
Skyline College Main Theater
3300 College Drive, San Bruno, CA
October 19 and 21, 8pm (two nights only!)
The show is co-produced as a joint educational effort with the Kababayan Program and the Filipino Student Union of Skyline College.
Get you tickets now before it leaves town!!!
---
Contemporary Asian Theatre Scene (San Jose, CA)
6th ANNUAL ASIAN COMEDY NIGHT
October 20, 2006
Featuring headliners Amy Anderson, Tony Dijamco and Paul Varghese!
Montgomery Theater, downtown San Jose

These cats are headlining comedy clubs around the nation, featured in AZN TV's Asia Street Comedy and have the coolest blogs around. Wide range of comedic perspectives (Korean, Filipino/Irish and South Indian) keep Asian Comedy Night real!

Amy Anderson, just released her new CD, "I Failed Math" and is a self-described "all around groovy girl". You may have seen Amy's current TV commercial for SouthWest Airlines amongst her many talents.
This Korean born, Minnesota-raised comedian brings a new side of life that you won't want to miss!
www.amyanderson.net
www.myspace.com/amyandersoncomic
Tony Dijamco - Is it Tony's boyish charm or boy-next-door good looks the reason this accomplished national has headlined with folks like Robin Wiliams, George Lopez, Brett Butler and Richard Lewis? This Filipino/Irish comedian proves no subject is too personal and no topic is beyond approach. This Bay Area native is sure to entertain with his sardonic sense of humor!
www.armyofturtles.com

Paul Varghese is back by popular demand from last year's ACN! This Indo-American has an amazingly cool delivery with refreshingly unique humor that catches you off guard. He was a semi-finalist on Last Comic Standing and writes a brutally honest blog. His latest entry, "
My hair is starting to reach levels of mulletness not seen on an Indian man since my dad immigrated here in June of 1970..." Find out where he takes it from there....
www.paulvarghese.com
myspace.com/paul_and_oates

Buy your tickets now. Better yet, buy for your friends who wait until the last minute! We've sold out Asian Comedy Night for nearly every year - please don't be the ones standing outside.

7:00 pm (Rated PG- more tickets available), Hosted by NBC11's Mike Inouye!
9:30 pm (Rated R)

$25/VIP, $20 Orchestra, $15 Balcony
www.brownpapertickets.com or 1-800-838-3006
If you have any questions, contact us at (408) 298-2287 or catstheater@gmail.com or visit www.asiantheater.org
---
Pratidhwani Drama Wing (Seattle, WA)
Birbal's Vegetable Stew
Written and Directed by:
Agastya Kohli
October 22, 2006
**Featuring:
**Sneha Mathan, Sagar Khare, Pankaj Kakkar, Gurvinder Pal Singh, Vikas Jain,
Manav Bhatia, Neeraj Garg, Sunitha Kumar, Jyotsna Kapur, Amal Sharma, Aniruddha Kulkarni

*October 22, 2:00pm
* Barnes and Nobles
626 106th Ave NE, Downtown Bellevue
(425) 451-8463
Free Admission
---
Diverse City Theatre (NYC, NY)
Noon Day Sun
by Cassandra Medley
October 23, 2006
Diverse City Theater Company ("DCT") announces Green Room Series ("GRS") 2006, a festival of staged readings featuring original plays that portray social diversity from various cultural perspectives. The series will present five full-length works during October, November and December 2006 at the New Georges at 520 Eighth Avenue, 3rd Floor, in New York City. Suggested donation $10.
The play is a poignant story about an African-American woman passing for white in the 50's.
---
Mo`olelo Performing Arts Company (San Diego, CA)
Since Africa
by Mia McCullough
October 12 to 29, 2006
A West Coast premiere.
What must America look like to someone who's spent most of his life in an African refugee camp?
Since Africa is the story of Ater - a "Lost Boy of Sudan," and the two volunteers who try to acclimate him to life in urban America: Diane - a recently widowed socialite, and Reggie - an African-American Deacon in the Catholic Church. As the three clash and tangle, they confront some difficult questions about identity, loss, ritual, and grief.
A uniquely American story about the search for where we belong.
Featuring Rosina Reynolds*, Mark Christopher Lawrence*, Erika Beth Phillips*, Nyeda Lane, and, making his stage debut, Alephonsion Awer Deng, a "Lost Boy of Sudan," and co-author of the book about the Lost Boys' experience, They Poured Fire On Us From The Sky.
*Member of Actors Equity Association, the Union of Professional Actors and Stage Managers in the United States.
---
Pangea World Theatre (Minneapolis, MN)
The Island
by Athol Fugard
October 12 to 29, 2006
October 12 - 29, 2006
@ 7:30 p.m.

Devised by Athol Fugard, John Kani & Winston Ntshona
Directed by Dipankar Mukherjee
Featuring: Andre Samples
& David Wiles


Pangea World Theater Studio; 711 West Lake St, Suite 101
Box Office 612 203 1088
The Island, set in the South Africa's notorious Robben Island maximum-security prison, is a tribute to men and women who were imprisoned there during the fight for a free and democratic country. Performed the world over, The Island is a powerful tale about two political prisoners who prepare to perform a two-person play of Sophocles' Antigone for other inmates and staff.
Spiritually uplifting, funny and poignant, this award-winning play will make you believe in the power of art to transcend the highest prison walls.
Tickets: $18 (discount for students and seniors)
To make a reservation, please call 612 203 1088
The Island's PANELS
Play is just the beginning!
Apartheid has only changed its name.
Freedom is still a dream for many.
Join us for open discussions after Saturday performances of The Island!
October 14: Legality of incarceration of political prisoners
October 21: From Robben Island to Guantanamo to Abu Ghraib
October 28: Race issues and the current demographics in the U.S.
Facilitators:
Robin Phillips, Exec. Director of MN Advocates for Human Rights
David Schultz, Professor, Hamline University

Pangea World Theater
711 West Lake Street, Suite 101
Minneapolis, MN 55408
612-822-0015
www.pangeaworldtheater.org
---
CIRCA
Pintig (Chicago, IL)
Short Acts
October 19 to 27, 2006
A daughter, a mother and a grandmother confront hidden secrets from their past.† A lesbian couple grapple with getting pregnant and sex change surgery. A neurotic social climber from colonial Philippines whips the wits out of a deranged woman. A rebellious daughter clashes with her parentís elitist ways. A one-night stand between two friends shake up the marriage of one of them. Two friends find themselves on opposite ends about same sex marriage. These are themes that will unfold in an anthology of new works called Short Acts, a drama incubator showcase production by the Center for Immigrant Resources & Community Arts (CIRCA). Featuring short works by Lani Montreal, Larry Leopoldo, Thelma Virata de Castro, Louie Pascasio and Felix Racelis, Short Acts is a tapestry of works-in-progress illuminating issues and stories not often spoken in dinner table chatters.
---
Fish
by Toni Bajado
October 29, 2006
Fish is about a Filipino immigrant family with a young woman poised for college -- its rich -- its about identity, alcoholism, healing and more.
---
Pan Asian Repertory Theatre (NYC, NY)
Yohen
by Philip Kan Gotanda
October 14 to November 5, 2006
James, an African American soldier during WWII, marries Sumi after the war and they return to the states. Their relationship echoes the worlds of John Dix, an American potter living in Japan ("You really have no idea how the pots will come out the kilm, but you expect some to be great. You also expect many of them to be broken, as it is a violent area in a violent process"). James and Sumi must come to terms with the difficult circumstances surrounding their marriage as their past collides with their present. Are they beautiful or are they broken. Perhaps it is possible to be both.
---
Fluid Motion Theater & Film
presents the world premiere of
The Great Conjurer
by Christine Simpson
October 20 to November 4, 2006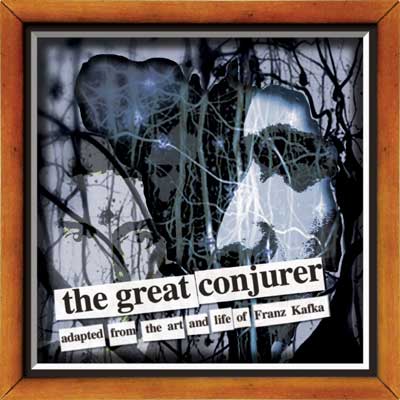 Drawn loosely from Franz Kafka's art and life, THE GREAT CONJURER depicts the struggle of "K," a character forced to choose between the life that his parents wanted him to live—career, marriage, security—and the art that wanted to have life.

A new play by Christine Simpson
Directed by Kevin Bartlett
Produced by Michelle Chen

Featuring Michael Jerome Johnson*, Roseanne Medina*, Tzahi Moskovitz*, Brian Nishii, Kelly Paredes, Andy Place*, Sara Thigpen*, Paula Wilson* (*Actors appearing courtesy of Actors Equity Association)

Lighting Designer: Christine Abella
Technical Director: Gregg Bellon/Production Consolidated
Costume Designer: Deborah J. Caney
Mask Maker: Melissa Crawford
Musical Director: Benjamin Ickies
Graphic Designer: Mike Jou
Photographer: John Ko
Stage Manager/Assistant Director: Corinne Neal
Choreographer: Wendy Seyb**
(**By agreement with the Society of Stage Directors and Choreographers)
Publicity: Spin Cycle

The Kirk Theatre at Theatre Row Studios
410 W 42nd Street, btw 9th & 10th Avenues
(A, C, E, 1, 2, 3 to 42nd Street)
October 20 – November 4, 2006
8 PM Performances, Tuesday - Sunday
3 PM Matinee on 10/28 and 11/4

Tickets available in person at the Theatre Row Box Office, by phone at 212-279-4200, and online at TicketCentral.com

This production is generously supported by Dr. & Mrs. David A. Cofrin, Charles & Cerise Jacobs, the Fund for Creative Communities/New York State Council on the Arts and Manhattan Community Arts Fund/NYC Department of Cultural Affairs administered by the Lower Manhattan Cultural Council, the Katherine Dalglish Foundation, the Audrey Love Charitable Foundation, and State Senator Thomas K. Duane.

Fluid Motion Theater & Film: Evolution Through Adaptation
www.fluid-motion.org | www.myspace.com/fluidmotiontheaterfilm
---
Pangea World Theatre (Minneapolis, MN)
Ways of Knowing
November 2 to 4, 2006
Thursday - Saturday
7:30 p.m.
Pangea World Theater Studio
711 West Lake Street, Minneapolis
Box Office 612 203 1088
Featuring:
Beverly Cottman
Bill Cottman
Steve Hirsh
Tom Kanthak
Mankwe Ndosi
Michael O'Brien
J. Otis Powell!
Roxane Wallace
Ways of Knowing is performance art co-produced by an ensemble of artists working in collaboration to tell individual and communal stories that evoke the spirit of both descendants and ancestors. This performance explroes diverse perspectives of contemporary "negritude" through improvisation, dance. storytelling, projected images, live music and literary narrative. It offers commentary on the metamorphosis of the African-Americans from moral debate and historical controversy to self-realized human being, from formula and fiction to flesh and bone.
---
Theater for the New City
SALAAM Theatre
and the
Rising Circle Theater Collective (NYC, NY)
Invites YOU, THE PEOPLE to
a FREE reading of
PULLING THE LEVER
an award winning original play by the Rising Circle Theater Collective,
Lead writers Deepa Purohit and Sanjit De Silva
November 5, 2006
with a stellar cast that includes:
Geeta Citygirl, Sanjit De Silva, Catherine Jhung, Ephraim Lopez, LethiaNall, Arlando Smith, Jeff Pagliano, Tijuana Ricks, David Sajadi, & Ragini Shah

Sunday, November 5, 2006
3:00pm
at
Theater for a New City
155 First Avenue
(btwn E.9th and E. 10th Streets)
East Village, NY 10003

no reservations necessary.
Post-performance moderated dialogue to follow!
Pulling The Lever, an original play created by the Rising Circle Theater Collective, is based on real interviews from a unique cross-section of Americans˜an Ecuadorian restaurant worker, a white, Republican single mom, an African-American actor obsessed with politics, a young South Asian activist, a successful Jewish entrepreneur (to name a few)˜about a pivotal time in our country's history and its effect on their personal lives. Pulling The Lever captures those voices that were not heard in the media during the 2004 election˜everyday people in America spanning race, class, religion, age, gender and politics to create a bold, humorous, surprising and truthful theatrical piece that draws the curtain to reveal how a diverse group of Americans really feels about pulling that lever.
Co-sponsors (list in formation):
Alter Ego Productions
Blackout Arts Collective
Cardozo Students for Human Rights
Connection Theatre Company
Cool Grove Press
LAByrinth Theater Company
Nibras
Nirali Magazine
Q-Entertainment and Films
Rising Circle Theatre Collective
SAATh (South Asian American Theatre)
SAHI (South Asian Health Initiative, NYU)
SALAAM Theatre
Shaun Singh Productions
South Asian Youth Action (SAYA!)
thestrongbuzz.com
Theater for the New City
---
Wong Flew Over the Cuckoo's Nest
Written and performed by Kristina Wong
Direction and Dramaturgy
By Katie Pearl & Leilani Chan
Wednesday November 8, 2006
Show starts 7pm Rackham Amphitheatre Rackham Building 4th floor
University of Michigan 915 East Washington Ann Arbor
Incisive writer-performer Kristina Wong mixes sharp humor and shaky psychology in her solo staged reading of Wong Flew Over the Cuckoo's Nest, a semiautobiographical, seriocomic quest for a cheap fix to eradicate depression, anxiety and all-out neuroses. Wong's irreverent and provocative work has given her a national cult following for "politically charged art with unapologetic humor" (Bitch Magazine). Performance is free of charge.
---
Disha Theatre
In collaboration with The Company of Angels (Los Angeles, CA)
SURRENDER (A screenplay)
by Ambika Samarthya
Directed by Kila Kitu
November 12, 2006 - 8pm
The Company of Angels
2106 Hyperion Ave., Los Angeles CA 90027
Sarita's anxiety disorder doesn't allow her to live in the moment because she needs to be ready for the next. But then how does one prepare for all of life's good surprises?
---
SIS Productions (Seattle, WA)
Cowboy versus Samurai
by Michael Golamco
October 20 to November 18, 2006
Richard Hugo House
An exquisitely written romantic comedy with depth, Cowboy Versus Samurai re-imagines the Cyrano de Bergerac story with an Asian American twist. The lives of the only two Asian American dudes in a tiny Wyoming town are turned upside down when the beautiful Veronica Lee, a Korean American teacher from New York moves to town. Through irony, humor, and social commentary, Cowboy Versus Samurai cleverly exposes the struggle of Asian Americans to find their place in the vast American landscape - and with each other. A politically edgy exploration of inter-racial dating and identity through irony, humor, and social commentary. A hit around the country, Cowboy Versus Samurai will be published in New Playwrights: Best Plays of 2006. Rated "PG-13" - Contains some mature language.
Review here (go a third of the way down), here and here. Feature story here.
Post play discussion with Michael Golamco, dirctor Miko Premo, Khanh Doan, Jose Abaoag and producer Kathy Hsieh.
Pork Filled Players
Go East, Young Ham
October 27 to November 17, 2006
More late night madness from Seattle's longest (more or less) surviving (if you can call it that) sketch comedy group!
---
East West Players (Los Angeles, CA)
Surfing DNA
by Jodi Long
November 1 to 19, 2006

Born in a trunk to vaudevillian parents on the Chop Suey circuit, Jodi Long, winner of LA's Ovation award for her role in Flower Drum Song, surfs a hilarious and poignant voyage from the Ed Sullivan Show to medieval Japan to the Scottish Highlands, inescapably steered by the forces embedded in her DNA.
See News story.
---
Asian American Theatre Company (San Francisco, CA)
Walls
by Jeannie Barroga
November 3 to 19, 2006
Walls is a play by Jeannie Barroga, winner of the prestigious National Endowment for the Arts (NEA) award. Walls depicts the stories of soldiers of the Vietnam Era and their loved ones preceding the unveiling of Maya Lin's controversial Vietnam War Memorial in Washington, DC. It is a timeless play that explores our society's conflicted relationship with war and finding ways to honor the dead.
Unique to this production is an interactive "My Walls" Letter Project. The "My Walls" Letter Project and Exhibit allows audience members to write a letter addressed to themselves about their personal 'walls' about war. Letters will be sealed and mailed back to audience members at the end of the Iraq war.
---
Diverse City Theatre (NYC, NY)
Counter Offence
by Rahul Varma
November 13, 2006
Set in Montreal at present time and filled with characters of South Asian, Black, Iranian, White Anglo and Francophone backgrounds, "Counter Offence" is a play about the collision of moral and cultural values: the struggle to end violence against women comes in conflict with the struggle to end racism.
---
Pangea World Theater (Minneapolis, MN)
and Intermedia Arts co-present
Falemalama - House of Understanding
Written and performed by Dianna Fuemana
November 16 to 18, 2006
Sensitively and powerfully weaving together themes of immigration, indigenous identity, exile and womanhood, Falemalama is the brand new, must-see one-woman show by acclaimed international performer and playwright Dianna Fuemana!
Falemalama traces the story of a Samoan woman who moves to New Zealand in the 1970's from American Samoa as she goes through the painful process of adaptation and survival in a new place as a non English-speaking migrant.
Please join us in experiencing the artful storytelling of Fuemana's original piece.
November 16 - 18, 2006
Thursday - Saturday
7:30 p.m.

Intermedia Arts
2822 Lyndale Ave South, Minneapolis

Box Office 612 871 4444
---
Asian American Alliance (NYC, NY)
CULTURE SHOCK: FAST FORWARD
November 17th, 2006
At the Roone Arledge Auditorium of Alfred Lerner Hall, Columbia University.
Acts include:
Stir Friday Night
Saurabh Tak
Stone Forest Ensemble
Monique Kim
Heather Park
CU Bhangra
Raw Elementz
Kelly Tsai
Ryan Fukumori & Steph Chou
Lion Dance -
Radiance
Tickets cost: $10 advance, $15 day of the show.
Dinner will be provided.
CULTURE SHOCK is Asian American Alliance's annual show that hosts scores of performances (from dance to musical theater to spoken word) by student organizations and Asian-American celebrities from across the nation.
Year after year our show receives over 500-600 people in a packed Lerner auditorium as we represent the many diverse cultures part of Asian-America to the Columbia community.
---
Silk Road Theatre Project (Chicago, IL)
Caravaggio
Written by Richard Vetere
Directed by Dale Heinen
October 7 to November 26, 2006
Set in 17th century Rome, Malta, and Naples, Caravaggio is the story of the great Italian painter Michelangelo Merisi da Caravaggio, the father of the Baroque, whose daring art and volatile personality attracted the favor and wrath of the church he both loved and reviled.
---
SALAAM (NYC, NY)
Purgatory Row,
written by Anne Marie Cummings
and directed by Ludovica Villarhauser.
Monday, November 20th at 7PM
Starring Margo Passalaqua, Jeremy Strong and Anne Marie Cummings. A new play, currently in development, about how three people find freedom in an un-free world. A play about connecting to one another...and seeking redemption. Set in a prison in Montgomery Alabama, 1931, two women on death row are each given hope when they encounter someone other than the prisons ruthless newjack.
---
Diverse City Theatre (NYC, NY)
American Tet
by Lydia Stryk
November 20, 2006
Diverse City Theater Company ("DCT") announces a reading presentation of Lydia Stryk's play, American Tet directed by Lucie Tiberghien, as part of its Green Room Series ("GRS") 2006, on Monday, November 20th at 7PM at the New Georges located at 520 Eight Avenue, 3rd Floor, in New York City.

Launched in 2005, GRS is DCT's annual reading festival of new works that tackle cultural diversity by emerging playwrights. Recipient of the Disney Foundation's Cast Community Fund Award and the Irvin Stern Foundation Grant, DCT is a non-profit theater developing and producing organization based in New York City and the producer of the acclaimed festival of one-acts at Theatre Row, FOUR PLAYS: The Equality Playwrights Festival, in August 2006.

American Tet enters directly into the lives of a military family living through these times to look at the battlefield on the home front. ELAINE KROMBACHER, a career military wife, teaches voluntary classes on life as a military spouse. And then her world collapses.

Lydia Stryk's plays include MONTE CARLO, LADY LAY, her 'House Trilogy' :THE HOUSE OF LILY, THE GLAMOUR HOUSE, and SAFE HOUSE and most recently, ON CLARION, AMERICAN TET and GHOST MALL. Her work has been seen at festivals and in reading series around the country and in Europe, and produced at, among others, Denver Center Theatre, Perseverance Theatre, Alaska, Steppenwolf Theatre Company, Victory Gardens, HB Studios, New York, The Contemporary American Theatre Festival, and in Germany at Schauspiel Essen and Theaterhaus Stuttgart. She has been commissioned by Pittsburgh Public Theatre and Geva Theatre, Rochester and is the recipient of a Berrilla Kerr Playwright Award. She holds a doctorate in Theatre from the Graduate Center of the City University of New York and is a member of PEN American Center. American Tet will feature Kathryn Rossetter, David Newer, Kaci Gober, Matt Unger, Ako, Quincy Tiler Bernstein. Suggested donation: $10.
---
Theatre for the New City (NYC, NY)
Walk The Mountain
a play about Vietnam after the war
Written and performed by Jude Narita
November 8 to December 3, 2006
A one-woman play which explores the lingering effects of the war in Vietnam. Narita portrays different Vietnamese and Cambodian women, affirming their humanity and spirit-their joys and sorrows, their courage, and their dreams for the future.
TUE - SAT 8 PM SUNDAY 5 PM
THEATER FOR THE NEW CITY
155 FIRST AVE. (between 9TH & 10TH STREETS)
NY NY 10003
TICKETS $20
Buy online at ww.theatermania.com (212) 352-3101
$15 Preview week Nov 8 - 12
Pay what you can performances Tues. Nov. 13, 20, 27
Tickets for pay what you can performances available only at Theater box office (212) 254-1109
No performance Thanksgiving Day Nov. 23
General seating for all performances
For more play and ticket info please go to www.judenarita.com
Presented by Theater For The New city, Crystal Field Executive Director, in association with Cobi Narita & the Jazz Center of New York, and Paul Ash & Sam Ash Music Stores

Jude Narita's one-woman play Walk The Mountain powerfully affirms the dignity, humanity and spirit of the Vietnamese and Cambodian people while examining the lingering effects of the Vietnam war, (or as it's called in Vietnam-the American War) on the people in those countries. It examines the legacy of misinformation that exists in the United States about that war, and thru it we can begin to see how history is distorted by the media and actually re-written by Hollywood movies. The humanity affected by U.S. bombing is kept from us. We may know some of the statistics, but they have no faces. In war, the enemy is purposely kept faceless. Without family. Portrayed as less than human. Having less feelings than us. Thusmaking it easier to kill them. This is a crucial and essential element of war, and can be felt and see to this day.
In Walk The Mountain we meet some of the "faceless enemy". Among them are a doctor working in the jungle hospitals, a freedom fighter imprisoned in a tiger cage, a mother searching for her sons, and an immigrant in America who dreams of flying. Narita takes you into their lives-their joys and sorrows, their courage, and their dreams for the future.
Similarities to the American wars today are unintentional, but unavoidable. Walk The Mountain is directed by Darling Narita, with lights and set by Jerry Browning.
---
Japanese American National Museum (Los Angeles, CA)
Farewell to Manzanar
by Jeanne Wakatsuki Houston
adapted by Cynthia Gates Fujikawa
November 16 to December 3, 2006
---
Rasik Arts
Factory Theatre (Toronto, Canada)
Ek Qatra Khoon--A Drop of Blood
by Ashwatthama JD
November 23 to December 3, 2006
Ashwatthama JD to Toronto to encore his Dora Award-winning performance of A Drop of Blood, an English-language version of his Urdu performance piece, Ek Qatra Khoon, translated and adapted by Sally Jones and Ashwatthama JD. This unique cross-cultural collaboration will run at Factory Theatre for two weeks only from November 23 to December 3, 2006.

"Ek Qatra Khoon transcends the boundaries of religion and connects it to humanity" (Hindustan Times, Chandigarh Live)
"an epic work" (Lynn Slotkin, CBC Radio 1, Toronto)
"...succeeds in buffing Islam to a heroic sheen in whose reflection we look to understand our past, to struggle for truth, to live life purposefully." (Ron Csillag, National Post)

Ek Qatra Khoon—A Drop of Blood describes the historic Battle of Karbala and the martyrdom of the grandson of the Prophet Mohammed, Imam Hussein, 1400 years ago. A moving and inspiring account, the play draws its relevance to contemporary times, becoming a plea for religious tolerance and the basic rights of all humankind.

Originally written and performed in Urdu by actor Ashwatthama JD, this one-man show received critical acclaim all over India and garnered an award at the International Fadjr Theatre Festival in Tehran. Sally Jones brought it to Canada in May 2003 as an English-language performance, where it was nominated for three Dora Awards, and won "Outstanding Performance by a Male" in the Independent Theatre Division. Ashwatthama JD became the first, and thus far only, South Asian actor to win a Dora in this category.
---
Kumu Kahua (Honolulu, HI
Aging is Not for Sissies...!
Pratibha Eastwood
November 26 and 27, 2006
A SHOW CHALLENGING THE MYTH THAT WOMEN OVER SIXTY HAVE ONE FOOT IN THE GRAVE, AGING IS NOT FOR SISSIES...!
Kumu Kahua Theatre as part of its Dark Night Series presents Aging is Not for Sissies...!, an eclectic array of funny and poignant monologues, "real stories told by real women," that give the audience a first hand glimpse into the inner workings of single women 60-100 years old in a culture that worships youth. The show plays Sunday, November 26 and Monday, November 27 at 7:30pm at Kumu Kahua Theatre, on the corner of Merchant and Bethel.
Dr. Pratibha Eastwood, Honolulu psychologist, author of Nine Windows to Wholeness, and creator of Aging is Not for Sissies...! began interviewing these women after an epiphany just 6 months away from her own 65th birthday. "I wanted to create an entertaining presentation that would challenge the myth that being over sixty means a woman is "over the hill with one foot in the grave!"
Aging is Not for Sissies...! is performed in concert reader's theatre style with a cast including Writer/Actor Pratibha Eastwood; veteran Director/Actor Sharon Adair, and Award-Winning Actors Jo Pruden, Sylvia Hormann-Alper, Blosssom Lam-Hoffman and Roshani Shay.
Tickets are only $8 at the door. The box office opens one half hour before the start of each performance. Call 536-4441 for information or reservations.
---
Lodestone Theatre Ensemble (Los Angeles, CA)
presents the next installment in the Yellow Box play reading series:
Yi Sang Counts to 13
By Sung Rno
Directed by Chil Kong
November 29, 2006
Blue loves Green. Green likes Red. Red is Blue's best friend. Blue could be the Korean surrealist author Yi Sang. On the other hand, he could just be a guy who wants a cigarette. A dark poetic comedy about love, geometry and the mysteries of Diet Coke from the acclaimed writer of wAve and CLEVELAND RAINING.
WEDNESDAY, NOVEMBER 29th, 2006
8:00 PM
GTC BURBANK
1111-B West Olive St.
Burbank, CA 91506
(inside George Izay Park, just west of S. Victory Blvd.)
FREE ADMISSION (but donations gladly accepted and encouraged).
FREE PARKING: Park near the jet plane in front of George Izay Park at 1111 W. Olive. St. Walk into the park, past Olive Recreation Center. GTC Burbank is behind the Rec. Center, facing the softball fields.
NO RSVPS required, however, please arrive at least ten minutes before curtain for seating (which is limited and on a first-come basis).
THERE WILL BE NO LATE ADMISSION!
---
GENSeng (SUNY Geneseo)
Kim Chee & Chitlins
by Elizabeth Wong
November 30 to December 2, 2006

---
Theatre Arts Japan (New York, NY)
Theatre Arts Japan's Reading Series Vol.2
November 30 to December 2, 2006,
at Taipei Cultural Center of TECO in New York (42nd Street and 5th Avenue).
Theatre Arts Japan is NY-based Japanese Theater artists, whose mission is to adopt their classic and contemporary plays into American soil and promote their Performing Arts and Culture here in the States.
---
Bindlestiff Studio (Bay Area, CA)
Pinoy Playback Theatre
November 30 to December 2, 2006
What is Playback Theater? Playback Theater is an improvisational theater form created in 1975 by Jonathan Fox in New York. Audiences members provide stories and content for the performance which the conductor (facilitator) helps relay to the actors and musician. The stories are told, actors are cast into roles, and the story is acted out improvisationaly in a way to reflect back the essence of the telling. Performances focus on various themes reflecting the experiences of the audience. Unlike some forms of improv theater, the goal of Playback Theater is first to reflect back and honor the experience of the Teller, vs. make the audience laugh. This form of theater is practiced in more than 30 countries across the world and is being used by larger numbers of people to heal the effects of war, oppression, to promote cooperative spirit, empathy and to have a lot of fun!
---
SIS Productions (Seattle, WA)
Insatiable!
Seattle's First Asian American Playwright's Festival
December 2, 2006
Hungry for more from Seattle's current theatre scene? Sample new work from six Seattle writers. Insatiable! is a day-long festival of readings by Seattle's next generation of Asian American playwrights.

Kimber Lee's TBA
A Work In Progress
A new play from local writer Kimber Lee.

Richard Sloniker's Cracks in the Ceiling
A man slips into Germany in the 1930s to conceal self-inflicted wounds, oblivious to the looming political storm enveloping Europe. He discovers that even a fraction of a second is all that is needed to decide whether to really live.

Serin Ngai's Peace & Truth
Peace & Truth explores the approaching death of an elderly Chinese American woman.

Roger Tang's Third Generations Nikkei
Examining the lives of three Japanese American women as it spans their lives and the times they lived in, from World War II to the turbulent 60s to the extremely uncertain present.

Kathy Hsieh's B4
Three couples. Three time periods. One apartment. Grace and Jimmy are re-starting their lives after their internment during World War II. Walter tries to support his family by breaking the blacklist. Christina desperately searches for information about her husband after he leaves for the World Trade Center on the morning of 9/11. Apartment B4 contains the intimate stories of ordinary people and how those who lived before provide lingering lessons for those who live today.

Daniel Arreola's Dome Light
Set against metropolitan living, two friends set out to test their self-worth . . . to each other and themselves. Travis and Veronica are two twenty-some-things dealing with the ups and downs of self-medication and the socio-logical norm per se. There's never a sober moment in this witty, crass, and hysterical look at what friends do to each other and what they don't want their friends to know.
---
Ballet Bellevue (Bellevue, WA)
Bolly'hood : Men in Churidar
December 2 to 3, 2006
Bollywood with a Robin Hood twist!
Featuring:
Shweta Arora, Seema Bhat, Binu Chacko, Saurav Chatterjee, Anjli Chaudhry, Zainab Hakim, Kavita Jhawar, Sachin Jhunjhunwalla, Akshay Johar, Rootu Joshi, Shama Joshi, Joyeeta Kakkar, Pankaj Kakkar, Sagar Khare, Agastya Kohli, Archana Kumar, Amruta Moktali, Anurag Pandit, Manisha Powar, Girish Premchandran, Sarika Punjabi, Swaroop Rane, Mahi Saraf, Samrat Sarkar, Seema Shetty, Arundhati Tamhankar, Yvette Zepfel.
And
Mok Moser
as
Robin Hood
---