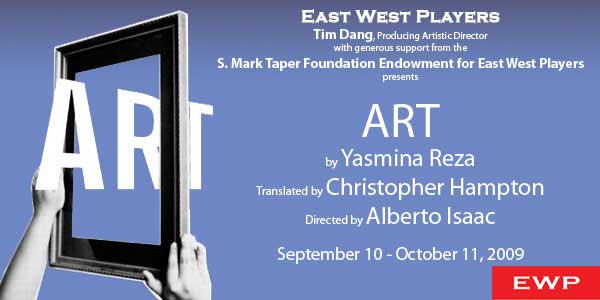 East West Players (Los Angeles, CA)
Art
by Yasmina Reza
September 10 to October 11, 2009
Imagine: A 4' x 5' white canvas, painted with fine white diagonal lines. Is this art? Serge believes it is and is willing to pay 200 grand for it. When Marc flat out laughs at the ridiculousness of the situation, a third party is brought in for an objective opinion. Yvan agrees with both. When three opinions clash, three friendships are put to the test. At the breaking point, Serge hands Marc a felt tip pen and dares him: "Go On."
See News story.
---
Reprise Theatre Company (Los Angeles, CA)
East West Players (Los Angeles, CA)
Getting to Know You: Rodgers & Asia
October 5, 2009
The two theatres host a symposium exploring the successes and controversies surrounding THE KING AND I, FLOWER DRUM SONG and SOUTH PACIFIC.

The evening, presented in association with East West Players, will be moderated by Tony Award-winning playwright David Henry Hwang and will include musical performances by Jose Llana and Jennifer Paz.

**********
DATE: Monday, October 5, 2009
TIME: 8:00 p.m.
LOCATION: David Henry Hwang Theater
120 Judge John Aiso Street
Los Angeles, CA 90012
ADMISSION: $40 - $50 Order Tickets On-Line: Here
Or by Phone at 310-954-1595 *********

Want to get David Henry Hwang's impression of Richard Rodgers? Want to see how he feels about having East West Pl