History for
Faigao-Hall, Linda
BIO: Linda Faigao-Hall has written fourteen plays, all but three of which have been produced. Before joining Starfish Theatreworks, Linda had only been produced by Asian-American theatres. Since becoming a member of the Mainstage Company she has been produced on our Mainstage three times; took our company class to learn how to teach our Literacy-Through-Theatre Method; and joined the faculty of our Teen Training program. Linda is currently at work setting a play we commissioned last season, about a Philappina mail-order bride, to music. She has now been produced by such theatres as The Working Theatre; Lark Theatre Company; Expanded Arts; East West Players; Ma-Yi Ensemble; Henry Street Theatre Arts Center; and the Pan Asian Repertory Theatre.
Pidgin' Hole (Women's Project & Productions, New York, NY 1996)
God, Sex, and Blue Water (Women's Project, 1997)
This unconventional farce about religion and family love, set in the Filipino community of Hoboken, focuses on the Kintanar family's attempts to assimilate in America. Laling, a deeply religious woman, plans on crucifying herself during the Easter pasyon, which puts her in conflict with the local parish priest. Her brother Dadong runs a successful business and tries to discourage her. Her daughter, a Clarita, a healer with a secret, has just arrived in the US from a childhood in a convent, and has met Brian, an American "master of the universe" badly in need of salvation.
Woman from the Other Side of the World (East West, 1997)
The disillusionment of escaping a troubled past in an adopted culture emerges when Emiliya, a seemingly Americanized Filipina, encounters Ines, her new yaya (nanny) and a "Woman From the Other Side of the World." Their oft comical confrontations gradually darken to reveal the world as well as the secrets of Emiliya's past.
The St. Nicola Cycle (Starfish Theatreworks, 2001)
The St. Nicola Cathedral in Italy is the focus of The St. Nicola Cycle, two new short plays being given their world-premiere productions by Starfish Theatreworks. Pusong Babae (Heart of a Woman) by Linda Faigo-Hall is about a young Filipina who travels to America as a mail-order bride in order to support her mother and ailing brother. Double Cross by Gail Noppe-Brandon is about the plight of a 49-year-old nun who becomes pregnant following a sexual assault.
Walking Iron (Working Theatre, 2002)
Walking Iron explores homophobia in a working class setting: a gay iron worker outs himself on the construction site and to his straight best friend. Seen from the iron worker gang's perspective, it examines homosexuality from the point of view of sympathetically drawn heterosexual working class men, forced to confront their own feelings about homosexuality, friendship and loyalty..
Salad Days and Other Stories (Ma-Yi Theatre)
Three short plays: "Duet" is a one-act play about two talented and accomplished Asian-American siblings competing for a music scholarship offered by their clan which only one can win. "The Interview" is one-act play about a Filipino woman fleeing from her painful past in the Philippines looking for an apartment in New York City. "Salad Days" A 15-minute play set in a restaurant about a woman who must absolutely have the perfect meal.
The Female Heart (nee A Woman at Heart) (Diverse City Theater Co., 2004)
A Woman at Heart revisits "Smokey Mountain, "the infamous garbage dump outside Manila. Although demolished in 1993, it has been replaced by several dumpsites that still exist today. In July 1996, one of them, in the city of Payatas, collapsed killing hundreds of people living at its base. The play takes place in the late 1980's and tells the story of two siblings living in the so-called "Smokey. "When Anghel, the elder sibling, succumbs to a life-threatening disease, Adelfa, his sister, decides to become a mail-order bride to a Brooklyn man who is willing -- at a price -- to send money to pay for Anghel's medical expenses.
The A-Word (Diverse City Theatre, 2005)
A mother is confronted by her son about her past.
God, Sex and Blue Water (2005)
This unconventional farce about religion and family love, set in the Filipino community of Hoboken, focuses on the Kintanar family's attempts to assimilate in America. Laling, a deeply religious woman, plans on crucifying herself during the Easter pasyon, which puts her in conflict with the local parish priest. Her brother Dadong runs a successful business and tries to discourage her. Her daughter, a Clarita, a healer with a secret, has just arrived in the US from a childhood in a convent, and has met Brian, an American "master of the universe" badly in need of salvation.
Falagan, Ted
He Came Out of the Closet (Faultline, 2000)
Jim, your typical Nisei, is enjoying life, hosting a B-movie TV show and partying weekends. But when his younger brother Tony announces he's gay, he and sister Takako have to deal with the fallout from their first-generation father...And it doesn't help that the TV station management wants him to dress up like a Pokemon for Halloween!
Filloux, Catherine
Eyes of the Heart (SDAART, 2005)
After witnessing the atrocities collectively known as the "killing fields" in the chaos of Cambodia in the 70's, a 50 year old Cambodian woman suffers from psychosomatic blindness as she adjusts to life in the United States.
Florentino, Alberto
The Dancers (Bindlestiff Studio, 2004)
Foley, Melinda Corazon
The Coconut Masquerade (TnT/Bindlestiff Studios, 2002)
FLASH! whirlwind family images of a haunted past descend upon Maya's brainlike testament to attention deficit disorder. Driven by profound longing, and the encouragement of Ima, a wild ghostly elder, Maya returns to the people she most wanted to understand. That childhood foundation. Where something went bitter at the roots....
Down and Out (EWP, 2005)
Poppa died of a broken heart and Momma was a missing princess from the island of Mauritius, when the eldest of three children charged into an alley one night and never returned. Thirteen years later, as the remaining brother and sister battle with debt and disillusionment, one more fateful mistake threatens to wipe them out as well. Could a comic book vigilante be the answer to their prayers?
Behind the Glass (EWP, 2005)
How do you fix what's broken? One young-anxious person and her ailing-neurotic elder seek antidotes to fear in the Kingdom of Los Angeles.
Fong, Christopher
Space. Race. (East West, 2008)
American, Chinese, and European astronauts onboard the International Space Station survive a terrorist attack, only to find that they are left with a broken radio, a gun, and the final cure to a previously unknown disease: race.
Fong, Howard
Yut Ho (EWP, 2009)
Yut Ho is a teenage girl who lives with her widowed mother in San Francisco Chinatown in the 1890s. Upon hearing that her mother is about to sell her to pay off her late father's gambling debt, she escapes to the Presbyterian Mission House, carrying a few treasured things in a silk handkerchief. Years later, the Mission Mother finds her a suitable Chinese man to marry. They stroll through the streets of Chinatown to 12 Bartlett Alley, which turns out to be a dimly-lit opium den. As they say in the Ballad of Portsmouth Square,"...a Chinaman's luck is the Devil's own luck..."
Fong, Jason
BIO: Jason Fong has written two stage plays, "Fentor" and "A Nickel's Worth"; receiving productions at the San Diego Asian American Repertory Theatre and hereandnow Theater Company in East L.A. Most recently, Fong wrote and directed the stage play "Oymun's 11" at the GTC Burbank Theater. From his humble beginnings as an actor, Fong has been on stage in over seven-hundred performances, and he has also been an improvisation teacher for five years.
fentor (hereandnow, 1999)
The Lee family is in a state of transition as they learn to deal (or not deal) with their mother's death and move on with their lives. Andrew Mason Lee, affectionately called "Fentor" by his family, is the youngest child and is having a difficult time accepting the loss of his mother. Despite his hardships, Fentor's closest friends, an eclectic trio of furniture, are there to support and nurture him.
A Nickel's Worth (EWP: Paper or Plastic, 1999)
The Story of a Chinse American family dealing with divorce. A whimsical and precarious ride through the compelling imagination of a young girl mixing her reality of family turmoil with her very own wonderland. It follows the plight of Penny, a quiet and observant girl in search of security. She witnesses her parents' marriage crumbling, the slow deterioration of her grandfather, and the ups and downs of blossoming romance as her beloved brother falls in love.
Old People Play: A Musical for Old People (EWP: 2002)
A Bunch of Old People are dead. Yes! Begin the Story---Old People Play is a musical about aging Ben who is about to die. Ben is given the chance to find closure, control fate, and manipulate death. Would you want to be Ben?
Violins and Flutes (EWP, 2005)
A story about "PAT".
Pat is FAT.
Don't eat the CAT, Pat!
Don't eat the CAT!
Oymun's 11 (GTC,)
Elevator/Elevate Her (ART 168, 2007)
A story about Neil, a young college graduate with a degree in "lostwithoutanydirection". In this beautifully lyrical piece, Neil contemplates his life and love for a muse with a hidden secret.
Foster, Rick
Dust Storm (Theater Mu, 2003)
A Japanese American man recounts his internment experiences as a teenager during the second world war.
Fujikawa, Cynthia Gates
Old Man River (LA, 1998)
A one woman play about the author and her father.
The Vaudevillians (EWP, 2001)
Who are you, if not your memories? A woman on the verge of turning 60 gives her daughter the treasured but scribbled "family history," which include six generations of women in vaudeville. Can they survive the changing of the guard?
Gabucan, Vincent
The Apple Of Our Eyes (EWP, 2008)
Four friends in San Francisco's Chinatown during the years following the Chinese Exclusion Act. Are they destined to live in a state of sexual and social limbo?
Gamalinda, Eric
Resurrection (Diverse City, 2010)
The unexplained suicide of a young woman triggers a series of relentless changes in a family, tearing it apart.
Gates, Matt Yoshikazu
The Tiger, the Rat and the Horse (Scripting Aloud, 2007)
One Act.
Gee, Sophie
Da Jia (Big House/Everyone) (fu-GEN, 2016)
A contemporary, Asian Canadian meditation on Arthur Miller's classic All My Sons. During Chinese New Year, a young Chinese Canadian man tries to reconcile his guilt over the deadly collapse of his father's garment factory in China with the comfortable life the business has given him.
Ghosal, Mita
The Poetry of Vegetables (EWP, 2009)
Love. Dancing Vegetables. Poetry. Death. A young South Asian-American Woman explores her relationship with all four. Is she tossed, grilled, pan-fried or frozen?
Glynn, Gavin
My Name is Diana (EWP: Paper or Plastic, 1999)
Wicked (Hudson Mainstage Theatre, 2001)
Golamco, Michael

Golamco is of Chinese and Fillipino ethnicity originally from the Bay Area. Now a Los Angeles-based writer, his plays have been performed at the Joseph Papp Public Theater and the 45 Bleecker Theater in New York City, The Smithsonian Institution, Dartmouth College, Stanford University, UCLA and U.C. Berkeley.
Achievers (2001)
A play about five college graduates who must confront their own pasts in order to proceed on with their futures.
Pho 69 (ASIA, 2001)
Finding himself recently dead, 56 year-old Bernard Chan spends his afterlife watching the world go on without him. His eldest son Freddie is still working at the Copymat; his 19 year-old runaway daughter Caitlin has come home pregnant, father unknown. And his middle son Charlie is turning the family's Chinese restaurant Vietnamese -- a temple to his girlfriend, whose name also happens to be Charlie. Pho 69 is a new serio-comic play about building temples and tearing them down, and searching for a God who may likewise still be searching for us. It's a play about a silence that seems absolute, and a family whose silence must be broken.
Cowboy vs. Samurai (ASIA, 2002; 2G Productions, 2003)
Cowboy Versus Samurai is Cyrano De Bergerac spun on its head! In the hilarious setting of rural Wyoming, a quick-witted (and handsome) Korean American man attempts to get into the heart (and pants) of a beautiful mensch of a Korean American woman. The only obstacle is… she only dates white men. But, of course, LOVE finds a way! It's a no-holds-barred romantic comedy that makes the problems of race as plain as the nose on your face.
Some reviews here.
Other reviews here and here and here and here and here
Shadows on the Moon (2g Productions, 2005)
A SHADOW ON THE MOON takes place in an eerily snowbound Los Angeles, where siblings reunite for a battle over newly sacred ground; it is a battle about obligation, devotion, and a place where spirituality and mental illness collide.
Year Zero (2g, 2008)
Vuthy. 16. Cambodian American. Loves hip hop and Dungeons and Dragons. A weird kid in a place where weirdness can be fatal –Long Beach, California. And since his best friend moved and his mother died, the only person he can talk to is a human skull he keeps hidden in a cookie jar. The Year Zero is a comic drama about death and how long we can keep running from it.
Please Stand By (Thumping Claw, 2008)
A one act play, about Wendy, a young autistic woman who has been institutionalized by her sister, Audrey.
Gomolvilas, Prince
BIO:
Read it on his website
Donut Holes in Orbit ()
Modesto, California--a place that Mrs. Lee, a Chinese immigrant, calls "the capital of hell." She and three other characters face small crises and big phobias in this barren town. The Village Voice wrote: "Gomolvilas writes sensitively about the empty spaces in the middle of our lives."
Big Hunk O' Burnin' Love (East West, 1998)
A young Thai American is informed that he's heir to an unusual family curse: If he is unmarried when he turns 30, he will spontaneously combust in a ball of flame. By the way...he turns 30 next month...
Seat Belts and Big Fat Buddhas (Intar Theatre, 1999)
Seat Belts and Big Fat Buddhas throws a new age twist on the familiar story of twentysomethings and thirtysomethings facing relationship neuroses and angst. Henry has been dumped by his girlfriend who never really thought they were going out. Judith has left her husband after seeing Ellen DeGeneres come out on national TV. And Lisa doesn't know what the hell to do with her man who has just popped the question. Throw in a therapist obsessed with his cat and a traffic school instructor with a gun, and you've got a wildly funny comedy with a metaphysical center.
(Cast Breakdown: 2 Asian-American males, 3 Caucasian-American males, 2 Caucasian-American females.)
The Theory of Everything (Ma-Yi Theatre, 1999)
Seven Asian Americans (Thai, Filipino, Chinese, Japanese) gather atop a Las Vegas wedding chapel every week for a UFO watch. One particular night brings about profound changes in all their lives when the impossible becomes a reality. This vibrant and moving new comedy won both the International Herald Tribune Playwriting Competition and the Julie Harris Playwright Award Competition.
Debunking Love (Bay Area Playwrights Festival, 1999)
Start with a young Asian American novelist. Pour in crazy romantic entanglements. Add intense writer's block. And throw in a neurotic friend or two. Stir. Sex and romance, rice queens and snow queens, Asian America and White America: they all come to a boil in this new comedy about looking for love in all the wrong races.
Cause and Effect on Clement Street ()
One Act play.
BEE (Lorraine Hansbury Theatre, 2001)
BEE tells the fascinating story of an Asian American man, who is invisible, and an African American woman, who is the only person in the world who can see him. On their quest for a cure, they explode contemporary views of race, class, and gender. Part comedy, part drama, part social commentary, part parable-BEE is a new play that dares to see the world in more than black and yellow.
Cyclops (Theatre Rhinoceros, 2001)
Two men face a very unusual crisis. Fifteen minutes of comedy, drama, absurdity, and hot guys! That's, like, everything!

Boyz of All Nationz: The Rise and Fall of a Multi-Ethnic Boy Band (ASIA)
Mysterious Skin (New Conservatory Theatre, 2003)
Based on the acclaimed novel, MYSTERIOUS SKIN follows the story of an 18-year-old in Kansas searching for the answers behind the traumatic events of his childhood. The possibility that he may have been abducted by aliens arises, leading him deep into an investigation of the paranormal and his own troubled past. All trails eventually lead to another 18-year-old, a New York hustler who holds the key to the terrifying truth.
Emophiliacs (Bay Area Playwrights Festival, 2005)
music written and performed live by INVERNESS
The Fabulous Adventures of Captain Queer (New Conservatory Theatre Center, 2006)
After he gets bitten by a radioactive ladybug, a high school nerd is transformed into a superhero. Donning a skintight costume complete with a rainbow cape, he must save the world from a diabolical plot hatched by Reginald Screamingbottom, the leader of an ex-gay ministry; Doctor Octopussy, his nefarious sidekick; and Gustav Lederhosen, a former Nazi war criminal who mentors them both. And when the hot high school jock gets carted away to the villians' underground lair, Captain Queer will stop at nothing to come to the rescue. Will good overcome evil? Do superheroes stuff? And what's better when you're wearing tights˜boxer or briefs? All these questions will be answered in The Fabulous Adventures of Captain Queer, a rollicking new comedy in which even good taste is in danger.
The Brothers Paranormal (Japanese American National Museum, 2012)
Two Thai-American brothers launch a ghost-hunting business in order to capitalize on the nationwide increase in sightings of "Asian-looking ghosts." When the enterprising siblings meet a married couple who claims to be haunted by a terrifying spirit, everyone's notions of reality, fantasy, and sanity clash against the shocking truth.

Gordon, Cynthia Ignacio
The Charlatan (East West, 2013)
After one too many smarmy con jobs, Danton attracts unwanted attention, including that of fellow illusionist Liona De Maur, whose mission is to debunk all charlatans. Despite Liona's relentless public challenges, Danton still manages to swindle the city of Niagara into building an outrageous theme park. This ambitious project threatens to self-destruct when Danton's business partners turn out to be more dangerous than he bargained for.
Gotanda, Philip Kan
BIO: Read it on his website
The Avocado Kid (1978, East West Players)
Semi-punk musical, telling the story of the kid of who came AFTER Momotaro, the Peach Pit Kid.
Bullet Headed Birds (1979)
Song for a Nisei Fisherman (Stanford Asian American Theatre Project, 1980)
The Wash (1987, Eureka Theatre Company)
Yankee Dawg, You Die (Berkeley Repertory Theatre, 1988)
Two very different generations and two very different sensibilities clash when veteran actor Vincent Chang meets up-and-coming star, Bradley Yamashita at a Hollywood party, in this now classic Asian American exploration of where film, identity, politics and art converge. Philip Gotanda takes a look at stereotypes and hard choices in this serio-comic valentine to Asian American actors, past and present.
Fish Head Soup (Berkeley Repertory Theatre, 1991)
Day Standing on its Head (Manhattan Theatre Club, 1994)
Ballad of Yachiyo (Berkeley Repertory Theatre, 1995)
Sisters Matsumoto (Seattle Rep, 1998)
The Sisters Matsumoto explores the aftereffects of the internment camps on three sisters returning home to Stockton after World War II. Stripped of the resources developed over generations, Japanese Americans returning home were forced to start from scratch. Mr. Gotanda's deeply touching and insightful work puts a human face on the aftermath of Franklin Delano Roosevelt's Executive Order 9066.
Yohen (East West/Robey Theatre Company, 1999)
The story of an elderly African American-Japanese couple struggling to maintain their marriage.
Floating Weeds (Campo Santo, 2001)
Weeds' deals with scarred individuals struggling to scrape by on the margins. Gotanda's desperate characters -- regularly turning to desperate, sometimes hilarious measures -- have a throbbing need for any kind of acknowledgment. Perhaps none exemplifies this sad quest for recognition better than Earl, a mentally challenged young man whose sense of identity rests on his belief that
White Male Manifesto (2001)
One Act
Natalie Wood is Dead (2001)
One Act
The Wind Cries Mary (2002, San Jose Rep, 2002)
A take on Ibsen's Hedda Gabler set against the backdrop of rock 'n roll and the Civil Rights Movement. Set in San Francisco, Hedda is now Eiko, a Japanese American woman of vast gifts and intelligence hamstrung by the double burdens of gender and tradition in 1968. San Jose Rep study guide here.
A Fist of Roses (Camp Santo, 2004)
Fist of Roses has been developed collaboratively with Campo Santo, community groups working in the fields of violence prevention and intervention. This new play uses elements of personal narrative, dance, live music and beatboxing to explore what pushes someone to want to hurt - even kill - someone they love.
Under the Rainbow (AATC, 2005)
A pair of one-acts presented by AATC
natalie wood is dead
A feisty mother and rebellious daughter come to grips with life in and out of the Hollywood fast lane. 50 minutes.
White Manifesto and Other Perfumed Tales of Self-Entitlement or Got Rice?
A w.m.w.a. (white male with attitude) shares his opinion on dating, racism and hooking up with Asian women. 50 minutes.
After the War (ACT, 2006)
Fillmore Street. San Francisco. 1946. A place to call home?
When more than 100,000 Japanese Americans were imprisoned by the U.S. government during World War II, San Francisco's bustling Japantown suddenly became an urban ghost town. African Americans from the neighboring Fillmore District, rural whites from the Midwest, and other societal outcasts began to fill the vacant neighborhood. But what happened when the Japanese Americans came back?
In this world premiere commissioned and developed by A.C.T., Philip Kan Gotanda portrays an unexpected grouping of characters as they struggle to revive a community shattered by the effects of the war. Radiantly hopeful, heart-wrenchingly honest, and deeply infused with the jazz rhythms of the neighborhood, After the War is a powerful valentine to San Francisco—and to the everyday people who built this city with their lives, loves, and stories.
#5 The Angry Red Drum (Asian American Theater Company, Intersection for the Arts and Campo Santo )
Set in an apocalyptic world, the play uses mythology, memory, mysticism, fate, and fraternity to address the effects of war and loss on our psyches and culture.
I Dream of Chang and Eng (UC Berkeley, 2011)
The original Siamese twins were Chang and Eng Bunker. Though their early lives were spent as a touring "freak" exhibition, these conjoined twins bought out their contract, traveled the world, wooed members of the English court, fought duels, became successful businessmen, settled down on a Southern plantation, married sisters and fathered 21 children.
Love in American Times (San Jose Repertory Theatre, 2011)
What do a 70 year old extremely wealthy, extremely powerful Caucasian man and a 33 year old extremely beautiful, extremely intelligent Asian woman have in common? Everything if you are Mrs. Green, a modern day match maker for a highly specialized clientele looking for potential marriage partners. She thinks she may have found the right people for each other in Jackson Heller and Scarlet Mori-Yang. A match made in heaven or a merger of mutual interests? This provocative comedy takes an unflinching look at the "Rupert Murdoch Marriage Phenomenon" while skewering old prejudices and political correctness with one simple unexpected element – love.

Goto, Edward
Blue Lava Staircase
Hawaii, 1954: During the tense political power plays of impending statehood, a small time real estate broker is found murdered in the lava beds outside of Honolulu. Beneath the thin veneer of Paradise lies the truth.
Ramen with Rodney (EWP, 2005)
In a one time only event, hear veteran actor Rodney Shimamoto of TV, film, and stage fame share his thoughts on life, love, acting, and, of course, ramen. This will be your last chance to see Rodney before he leaves to study in Tibet with the world famous Super Grand Master Lama Uzyi Yok.
Goveas, Janice
Margaret In Search of Herself (Rasik Arts, 2008)
The play follows Margaret, a North American Catholic South Asian woman , as she navigates the treacherous waters of sexual mores and identity from the age of 20 to 30. Sometimes comic, sometimes surreal, sometimes realistic, the script attempts to move past the cliche of a sexually liberal (North American) culture versus a sexually conservative (South Asian) culture. The playwright will be present and welcomes your feedback.
Gray, Leslie
Reds, Whites, and Blues (Triumvirate Pi, 2002)
Two women, former elementary school classmates, who meet again at a fancy hotel where one is a maid and the other, a sophisticated guest...but appearances are always deceiving.
Grefalda, Reme
In the Matter of Willie Grayson (Qbd, Ink/Howard University, 1999)
Willie Grayson is a footnoted name in Philippine American history who allegedly fired the first shot which began the Philippine American War and America's first foray into colonial power. The play premiered in May,1999 at the Howard University Theatre in Washington, D.C.
Green, Keiko
Nadeshiko (Sound Theatre, 2017)
NADESHIKO follows the story of two women: A young woman in Japan during World War II takes on the role of caregiver to soldiers soon flying to their deaths. In 2016, Risa takes on a peculiar gig from Craigslist in order to pay her rent. As personal and sexual boundaries blur, the stories of two generations of women intersect in this discovery of power within idealized Asian beauty.
Guerrero, Wilfred Ma
Condemned (Bindlestiff Studios, 2004)
Guevarra, Jay
14 Words (East West, 2011)
Collin is intelligent, has a future, stays out of trouble and believes White America is being denigrated. When his porn-loving drug addict cousin, fueled by the 14 WORDS, takes a young black man hostage, Collin is forced to spend time with his enemy. When the captive is humanized, a struggle between dogma and truth ensues. The winner will decide the fates of all.
Guha, Dipika
Herculine and Lola (Ferocious Lotus, 2016)
The conversation around gender identity has only recently entered American mainstream culture in earnest--what might it have been like for a French schoolteacher one hundred years ago? While vacationing in Amsterdam, American teenager Lola begins to hallucinate. A century earlier, frustrated and misunderstood, schoolteacher Herculine retreats into a solitary white room. Herculine and Lola is a story about two people united by the power of their imagination and by love--inspired by the diary of the first "true hermaphrodite" Herculine Barbin.

Mechanics of Love

(Ma-Yi, 2014)
A man who forgets everything falls in love with a ballerina who forgets nothing, that is until she falls in love with him. And his wife. And the mechanic. A madcap new comedy about how we love, who we choose, and the cost of making sense of it all.
Wasted Youth
Inspired by Shakespeare's Hamlet, Blown Youth asks what happens to the universe if a woman is at its center. Dipika calls it "A feminist response to Hamlet about seven women, Blown Youth is an attempt at talking to Shakespeare while speaking from the point of view of queer women and women of colour.
The Art of Gaman
As Tomomi's steamer pulls into San Francisco from Japan, her arrival coincides with the first wave of west coast Japanese internment. So when an old man on board offers to arrange her marriage to his son who lives in New York, Tomomi knows she must accept. Funny, intimate and deeply magical, The Art of Gaman is an account of one woman's journey towards independence and self-expression through her life and American history.
Yoga Play (South Coast Repertory Theatre, 2017)
Joan has been hired to stabilize Jojomon, a yoga apparel giant, after its CEO is brought down by a fat-shaming scandal. But just as she finds her stride, more trouble surfaces and sales plummet. Joan comes up with a plan so risky that it could make or break the company and her career—and what it requires from her CFO, Raj, is far beyond the call of duty. This sharp comedy asks what it takes to find your own authenticity in a world determined to sell enlightenment.

Gunawan, Edward
Comrades (East West, 2006)
Matt, the pot-smoking, underachieving "white-washed" Asian football jock, shares a dorm room with Ken, the "Fresh off the Plane" Chinese exchange student/golf superstar. Will Matt survive? Will they ever get along? Or will Ken make a comrade out of Matt?
XY (East West, 2007)
Boy or Girl? Nature or Nurture? Monster or Barbie? In a dra-medic one person show chronicling his visit back home to attend his cousin's wedding, Edward journeys in time, across three countries where h e was born and raised, to confront and re-define his own identity as a gay man.
Craigslist Chronicles (EWP, 2008)
We search but do we even know what we're looking for? This collection of six short plays offers glimpses of the people behind the online ads, headline titles and posted pictures, navigating through our post-modern cyber world of limitless choices and instant gratification.
Gupta, Tanika
The Waiting Room (Shunya, 2008)
Priya Banerjee is dead, but her life is far from over. She has just three days left to roam the earth before she can go on to the "Waiting Room" of spirits. As she reluctantly watches and listens to her family, Priya is guided by a droll and increasingly impatient immortal soul in the guise of her Hindi film idol, Dilip Kumar. Reflecting on her life, she is driven to face unresolved relationships and suppressed events before she finally chooses to intervene.

Gustafson, Elise
Holding Achilles (EWP, 2001)
A Dark love story about a neurotic family searching for stability and humor after a tragedy.
Hagedorn, Jessica
Silent Movie (Mark Taper, 1997)
Short ten minute play. Included in The Square.
Dogeaters (The Public, 2002)
An adaption of her novel, the play is set in the Philippines, Hagedorn's birthplace (she immigrated to the United States in the 1960s) and the inspiration for much of her work. The "dogs" are an extraordinary array of homeless delinquents and disaffected youths, and the novel reflects Hagedorn's impressive ability to dramatize a wide range of social types.
Fe in the Desert (Intersection/Campo Santo, 2007)
This new play focuses around Fe, a complicated woman, and takes place in the isolated American desert inside the dramatic commotion of her broken marriage and a home invasion and burglary. The characters contend with each other's hidden fears, lost desires, and broken dreams over the course of a wild and dark night. Spiraling back in time, each character's memories take us to places far and wide - from Hollywood to the American desert to the penitentiary. In her true hybrid style, Hagedorn morphs Filipino melodrama with full fledged musicality, contemporary poetry, and intense personal struggle.
Hall, Michelle
Coffee Talk ()
Short play.
Haru, Sumi Sevilla
Iron Lotus Speaks (EWP, 2003)
An autobiographical journey of a cheerleader from Arvada, Colorado, who took circuitous routes in life in search of power and fame.
Hauch, Duane
Kieu (EWP, 2002)
Fate. Love. Spiritual Devotion. Based upon a Vietnamese epic poem, villains, madams, deceivers, and heroic warriors all provide a panorama of poignant, comical and memorable characters who move the heroine Kieu to her redemption.
Helele, Noa
Demigods Anonymous (Kuma Kahua, 2018)
Power is both a curse and a gift. As a modern demigod, Noe takes college courses, parties with her friends, and tries to stop herself from turning into a giant lizard. Her friend, Marcella, is dealing with her unwanted tendency to become a mountain lion; Blaine transforms into a shark when aggravated. These contemporary Kupua are like most people in their 20s... except for their ability to manifest ancient demigod powers and transform into animals...
Hidalgo, Michael
Michael Hidalgo is a playwright/screenwriter whose work has been featured in Peeling, a NYC-based Asian American performance group, where he was contributing writer, producer, performer and director from 2000 to 2001. In addition, his work has appeared prominently in the Lemonade reading series and Desipina & Company's Seven/Eleven Convenience Theatre. His screenplays include Dystopia (horror), Crash Diet (drama) and The Sugar Fix (fantasy). He continues to divide his time between screenwriting and playwriting. He received a BFA in Dramatic Writing from NYU's Tisch School of the Arts.
Chum
Carpenter Ward
All Goodbyes Should Be Sudden
Chinadoll Overdrive

Butcherhouse Chronicles (2004)
A suburban town is haunted by the myths and secrets of a dark house, at the edge of town. When four high school seniors search for their missing teacher, hidden agendas become revealed and the teens unearth a greater horror than they imagined.
Higa, D. N.
Journey from the Shadows (East West, 2010)
An intimate drama about two people overcoming disability stereotypes. They did it! Can you?
Faded Memories (East West, 2013)
If you could turn back time to yesteryear would you? Would those precious memories prevail despite the cloudy mist that falls?

Higa, Lori
Lady Murasaki Rides the Wild, Wild West (NWAAT, 1978)
High, Susan
Casting Venus (EWP: Paper or Plastic, 1999)
Hill, Amy
BIO: Asian-American actor-writer of stage, film, and TV who gained national attention playing the quirky outspoken grandmother (several decades her senior) on the groundbreaking sitcom All-American Girl (ABC, 1994-95). The daughter of a native Japanese mother and a Finnish-American serviceman father, Hill experienced a lonely childhood growing up in rural South Dakota. Traveling to Japan as a teen, Hill attended the Sophia International University in Tokyo and worked part-time in radio and TV. Back in the states, she attended the American Conservatory Theater and became a busy voice-over performer and improviser in the California Bay Area. Hill continues to work on stage and write. She has written scripts for The Puzzle Place, a daily preschool series stressing multicultural values, that began airing on PBS in 1995. She also briefly returned to series TV in the short-lived Marie Osmond vehicle Maybe This Time (ABC, 1995). In 1997, Hill joined the cast of NBC's revamped sitcom The Naked Truth, playing a tabloid photographer.
Tokyo Bound (East West, 1991)
Beside Myself ()
Reunion ()
From Deadwood to Hollywood (LA, 1999)
Hirohama, David
Viet Jacket (EWP, 2003)
The lingering effects of the Vietnam conflict on Asian Americans are revealed through the lives of two reunited war veterans, the mother of a deceased soldier, and a Vietnamese gang member accused of murdering a police officer.
Ho, Daniel
1 + 1 = 0 (Capital Repertory Theatre/SUNY, 2003)
A playlet set up in a cybercafe, where the audience members act as voyeurs, peeping in on an online romance between two people while simultaneously listening to the voices of the lovers' spouses commiserating at the next table.
Monica: Before and After (Thistle Dew Theatre, 2002)
Mainly a monologue except for a brief interaction with an art-gallery patron. Monica, vulnerably portrayed by Suzi Milligan, examines her life through a nude portrait of herself when she weighed 300 pounds. The painting puts her boyfriend on the art map but causes Monica to begin losing weight. Interesting thoughts are presented here, but the end isn't quite what the author wants it to be. Though meant to be an examination of self-love, none is ever shown here; Monica was self-loathing at 300 pounds, and she's self-loathing now--just smaller.
Your Eye Teeth
A young man in terrible pain from a bad tooth must make a major decision - should he spend his last bit of savings on the dentist or buy a one way ticket to Australia to join the woman he loves.
Bound (Milk Can Theatre Co., 2005)
Bound is a new play about shame, identity, family and the idea of home. The ancient Chinese practice of foot binding becomes a catalyst for several generations of women.
Ho, Howard
New Year's Play (East West, 2008)
10...9...8...7...6...5...4...3...2...1...Now. We are dealt the hand with which we are born. What will your resolution be? A tale of memories, fantasies, astrologies, and computer science majors.
Tendo: The Musical (East West, 2008)
The early days of the Japanese video game company Tendo, whose dream-like creations fly off the shelves. When the company heirs come to America, will their inventions click? Will they overcome Congressmen, Movie Moguls, and rival company Taro? Along the way, they must learn to tell their own story and make something great.
American Video Game International Champion of the Universe (East West, 2010)
It's 1979, and the Tendo Video Game era is just about to begin. Billy's got troubles with his alcoholic single mother. But with the help of his best friend Sally and arcade owner Walter, Billy enters a video game championship that will change all of their lives and maybe even that of Tendo itself.
Pretendo: A Musical (East West, 2013)


It's 1983, and Billy can't catch a break. He's bullied, and worse, he can't get past the next level of Game Wars on the Tari 260. When he meets Spaceman on Compuserve, his luck changes. But Spaceman has a secret and isn't who Billy thinks. What happens when Billy tries to find real connection in a cyber world?
Ho, Isaac
BIO: Isaac Ho was born in New York and is a Gemini. Isaac has spent much of his professional career doing a wide variety of production work including stage managing, lighting and set design and directing. Writing credits include the adapted screenplay for the upcoming short "Fall of the House of Usher" directed by David Doko. He was also a comedy writer with the 18 Mighty Mountain Warriors and is best known for his sketch "Reunion," a spoof of Asian American novelists Amy, Maxine, Gus, Ben and Frank. "Reunion" is published in the Yellow Journal.
Along for the Ride (Icicle Productions, 1997)
The play centers around Vance, a young writer who has been in a creative block for eight years. In desperation, he decides to write the biography of his self-centered lover, Jodi. Meanwhile, his friend Paul has his own problems: his girlfriend, Cassie, has forgotten about their lives ever since she came out of a coma caused by a car accident. As the 20-something couples try to find happiness in their lives, a space traveler falls to earth and wanders the land in search of companionship.
More than a Man and a Woman (EWP: Paper or Plastic, 2000)
Claim to Fame (EWP, 2001)
Sketch comedy isn't pretty. Putting eight comedians in a room doesn't always make soup. O d'laughter! O d'pain!
1,001 Ways to Enjoy the Missionary Position
Two couples, a government official, and an instruction manual. Do the math (EWP, 2003).
Holzman, Terry
The Sticky Fingers Monologues (East West, 2013)
Eight women, ages 16 to 76, reveal their heartbreaking and humorous stories about shoplifting.
Hom, Rodney
RODNEY HOM attended U.C. Berkeley where he received a degree in psychology. Psychic phenomenon led him to Art Center College of Design where he received a bachelor of fine arts. Rodney's first film The Yellow Umbrella won him the 2000 Student Academy Award and as a playwright he has won many an award as well. Rodney earns his keep as an advertising art director par excellence.
Orpheus Afloat (East West, 2001)
A mysterious letter sends Dennis and Paul on a discovery of their lives, loves and destiny. Do they dare to look back?
Oedipus Lights a Match (EWP, 2003)
Should you kill your father tonight? Weigh the possibilities in this psychological retelling of a classic thriller. It is as our anti-hero, Edison, confesses, "Death isn't what you think it is."
Hong, Howard Jonathan
Chinese Men Don't Boogie (Lodestone, 2000)
A play about how pursuing a dance career and falling in love can be hazardous to a Chinese family.
Hossain, Taniya
Mother in Another Language (SALAAM, 2004)
When Tarak, a Bengali ex-pat, and Karen, an American, decide to get married, they know they're in for some cultural difficulties. But when Tarak buys them a brownstone and asks permission to move his mother into the basement apartment, Karen knows she's getting more than she bargained for. Hoping that Tarak's mother is nothing like her own mother, Blanchˆ a brash, independent woman on her fourth marriage ˆ Karen agrees but nothing prepares her for the arrival of Meena, Tarak's mother. Instead of taking over the brownstone, Meena manages to make her apartment the center of the house. Things go from bad to worse when Karen's mother, Blanch, is suddenly broke and homeless. Blanch moves in with Meena turning them into the odd couple from hell. Blanch's modern woman ways conflict with Meena's traditional Bengali household. But the mothers stay together finding a new respect for each other. Now they have to teach their children the lesson of compromise before the engagement is called off.
Hough, Aries Mi Hae
Pinup (East West, 2006)
A former 1950's pinup tries to reinvent herself as a preacher's wife in Venice, California, 1959 . But her past comes back to haunt and tempt her, as a commercial photographer, who was also her former lover, tracks her down to offer her a lucrative contract that beckons at the fame and fortune she has forsaken for a life of austerity. Will this pinup-turned-preacher's wife choose the spiritual or sensual path?
Houston, Velina Hasu
Velina Hasu Houston's most popular work is her critically acclaimed play, Tea. It and many of her other works have been presented internationally, garnering more than three dozen writing awards. Her other critically acclaimed plays include Asa Ga Kimashita, Kokoro, The Matsuyama Mirror, Hula Heart, Ikebana (Living Flowers), Shedding the Tiger, and Waiting for Tadashi. She has been recognized three times by The John F. Kennedy Center for the Performing Arts, twice been selected as a Rockefeller Foundation playwriting fellow, and was a recipient of a Japan Foundation fellowship and a Lila Wallace-Reader's Digest Foundation grant. She was chosen as the inaugural recipient of the Remy Martin New Vision Award from Sidney Poitier and the American Film Institute. Velina Hasu Houston is also a published poet and essayist; and writes for film, radio and television as well. A specialist in Pan-Asian American feminist dramatic literature, she edited the anthologies The Politics of Life: Four Plays by Asian American Women and But Still, Like Air, I'll Rise: New Asian American Plays. She has lectured at institutions nationwide and taught screenwriting at the University of California, Los Angeles School of Theatre, Film and Television. Velina Hasu Houston teaches courses in Playwriting and Theatre History and Literature. .
Asa Ga Kimishita (UCLA, 1981)
Petals & Thorns (UCLA, 1982)
American Dreams (Negro Ensemble Company, 1984)
The Legend of Bobbi Chicago (Mark Taper, 1985)
Thirst (AATC, 1986)
Tea (Manhattan Theatre Club, 1987)
Father, I Must Have Rice (Ensemble Studio Theatre, 1988)
My Life is a Loaded Gun (Old Globe, 1989)
The Confusion of Tongues (St. Augustine's By-The-Sea, 1991)
Necessities (Old Globe Theatre, 1991)
Broken English (Odyssey Theatre, 1991)
Kapi'olani's Faith (Kumu Kahua, 1991)
Christmas Cake (Kuma Kahua, 1992)
Tokyo Valentine (East West, 1992)
As Sometimes in a Dead Man's Face (East West, 1994)
Kokoro (True Heart) (Theatre of the Yugen, 1994)
Cultivated Lives (San Diego Asian American Repertory Theatre, 1999)
The end of World War II brought more than an uneasy peace to Japan; for Misao Itamura, it ignited an inner struggle. With the help of a mysterious maid, this young heiress embarks upon a journey of renewal and discovery. Rebelling against suffocation by her domineering father, she becomes entangled with love, murder, the border between sexualities, and , ultimately, the search for the true meaning of a cultivated life.
Albatross (Old Globe)
Morning Has Broken ()
Waiting for Tadashi (George Street Playhouse, 2002)
Provocative, troubling new play by Velina Hasu Houston, depicts a half-century search for identity by an orphaned Asian-American, following its protag from Tokyo in the years after World War II to various locations in the U.S.
Calling for Aphrodite (Scene Dock, 2003)
This is a play about survival, recovery, renewal, and the fluctuations of identity in terms of gender, transnationalism, and race; explored from the perspective of a Hiroshima bombing victim, Keiko Kimura, whose life is inextricably tied to the spirit of Aphrodite, the Greek goddess of beauty and renewal. This is about the beauty of land, souls, and humanity degraded by war; and Keiko's efforts to recover her hope for grace in herself and in the world-at-large, against all odds.
House of Chaos (San Diego Asian American Rep, 2007)
This play is a contemporary adaptation of the Medea myth, investigating it in the context of a Japanese female expatriate living with her white American husband in a bleached, segregated community outside of Los Angeles. Set in the international fashion design industry, the story focuses on Mina Takahashi's struggle to preserve her honor in the face of her husband's adultery and his plans not only to banish her and her daughter, but also to confiscate her business holdings from her. Mixing themes from ancient drama and contemporary culture, The House of Chaos will be published in THE MYTH STRIKES BACK: MEDEA PLAYS BY WOMEN, edited by Velina Hasu Houston and Dr. Marianne McDonald.
Eyes of Bone (WILL GEER THEATRICUM BOTANICUM, 2007)
A single defining moment sets an extraordinary woman on an unexpected search for true vision. This mystical new work focuses on a gifted surgeon who is forced to confront her identity as a healer.
The Last Resort (USC, 2009)
The impact of tourism threatens the charm of a Hawaiian resort town and the serenity of the locals. Hostilities regarding land and love intensify, shaking everyone's ideals to the core, and revealing the fragility of ambitions and dreams. A staged reading directed by Claudia Weill.
The Territory of Dreams (WILL GEER THEATRICUM BOTANICUM, 2010)
Calligraphy (Silicon Valley Theatreworks, 2017)
Little Women, a Multicultural Transposition (Playwright's Arena, 2017)


In 1949, Josephine Mayeda and her sisters Meg, Amy, and Beth are emerging in the midst of the history of Japanese Americans who found a place for themselves in Los Angeles African American neighborhoods after WWIIs forced incarceration camps.



Hsieh, Kathy
Kathy Hsieh has acted with the Seattle Repertory Theatre, A Contemporary Theatre, Intiman, The Group, Empty Space, Northwest Asian American Theatre, Tacoma Actors Guild, Taproot Theatre Company and many more. Kathy is also a founder, producer and creator of SIS Productions' hit episodic show, Sex in Seattle. She is beginning her 6th season of touring the country in Living Voices' Within the Silence. She is also doing an afterschool radio project called Chinese Celebrations through Jack Straw Productions.
Big Nisei Broadcast (NWAAT, 1992)
Sex in Seattle: Episode 5, Intimate Secrets (SIS Productions, 2002)
Sex in Seattle: Episode 8, Doin' It Again (SIS Productions, 2003)
Join Shari, Tess, Jenna and Elizabeth on a fun-filled adventure with fate, as they journey back to the past, and explore what might have been on a delightful date with destiny.
Sex in Seattle: Episode 9, Little White Lies (SIS Productions, 2004)
Join Tess, Jenna, Shari and Elizabeth - four contemporary Asian American women looking for love in the big Gameshow of Life. Play along in this high energy contest of truth versus consequences as our spunky heroines deal with love triangles, mistaken identities, internet dating, and more! It's fun! It's sexy! And even a little quirky! It's Sex in Seattle, Episode 9: Little White Lies!
Sex in Seattle: Episode 10: Action Fantasies! (SIS Productions, 2004)
Sex in Seattle: Episode 11: The Ultimate Dating Challenge (SIS Productions, 2005)
Sex in Seattle: Episode 12: My Ultra Quirky Asian American Wedding (SIS Productions, 2005)
Sex in Seattle: Episode 13: Risking It All For Love (SIS Productions, 2006)
B4 (SIS Productions, 2006)
Three couples. Three time periods. One apartment. Grace and Jimmy are re-starting their lives after their internment during World War II. Walter tries to support his family by breaking the blacklist. Christina desperately searches for information about her husband after he leaves for the World Trade Center on the morning of 9/11. Apartment B4 contains the intimate stories of ordinary people and how those who lived before provide lingering lessons for those who live today.
Sex in Seattle: Episode 14: To Choose or Not to Choose (SIS Productions, 2007)
Sex in Seattle: Episode 15, The Anatomy of Love (SIS Productions, 2007)
Sex in Seattle: Episode 16, The Space In Between (SIS Productions, 2008)
Mixed Doubles (SIS Productions, 2008)
A romantic comedy about mixed race couples.
Sex in Seattle 17 (SIS Productions, 2009)
Sex in Seattle 18

(SIS Productions, 2010)

Sex in Seattle 19: The One That Got Away (SIS Productions, 2011)
Sex in Seattle 20: Happily Ever After (SIS Productions, 2012)
Moms & Their Sons (SIS Productions, 2015)
Following the lives of four women from high school through parenthood as they re-connect at the funeral of Stef's son. Sometimes race has the power to bridge as much as it divides.
Huang, Jessica
is a multi-racial, Minneapolis-based playwright, co-founder, producer and core writer of the Unit Collective, and a 2012 recipient of a Many Voices Fellowship at the Playwrights' Center. Various stages of her work have been produced locally at the Minnesota Fringe Festival, Pillsbury House Theatre, RedEye, and Pangea World Theater, and nationally at 2nd Generation in New York City, the University of Missouri-Columbia, the Kennedy Center and the Source Festival in Washington DC.
Elysium Blues()
Purple Cloud (Mu Performing Arts, 2014)
The play weaves together the stories of Lee, a Shanghai-born man who immigrates to America during World War II, his son, a first generation Asian American, and his granddaughter whose mixed-race identity strains her relationship with her conformist father. The three family members' stories are accompanied by a quartet of Chinese Stones, brought to America in pockets and soles of shoes, who transform slowly as the Huang family acculturates over generations.
The Paper Dreams of Harry Chin (History Theatre, 2017)
A haunting, poetic journey of secrets, identity and family.
1939. Follow the true story of Harry Chin, one of the many Chinese nationals who landed in the U.S. through a loophole in the Chinese Exclusion Act. Haunted by the ghosts of his past and provoked by the curiosity of his daughter, Harry is forced to confront his buried secrets. Through leaps of time and space, we experience the abhorrent conditions at Seattle Immigration Station, Harry's longing for the life he left in China, and the complications of love in a new land. Jessica Huang's powerful new drama explores the personal and political repercussions of making a group of people "illegal."
Huang, Steve
No Sweet Surrender (Peeling, 2003)
An Asian American couple confront love and racism, after a NYC nightclub encounter turns ugly.
Huang, Timothy
And the Earth Moved (NY Musical Theatre Festival, 2004)
Faced with the possible deaths of his overseas living parents, Will Chen steps out of his Manhattan apartment for a breath of air to find he does not recognize a single building. Suddenly thrust into a constantly changing, topsy-turvey, landscape filled with as much wonder as danger, Will finds he must first discover what his home really is before discovering how to get back to it. Between a clairvoyant 18 year old truant named Jenny, an eccentric cross-dressing restaurant owner with a penchant for Chinese Opera and The First Chinese Pentecostal Church of Harlem Gospel Choir, everyone Will encounters has something to teach him. But does he have anything to learn?
The View from Here (2005)
A nameless novelist arrives in New York intent on getting his first book published. As he recounts his daily misadventures in a series of letters to his girl back home, we see through his eyes the colorful eccentric, vibrant and wildly bizarre characters that make up his new life, and the tragic events that make up his old one.
Huang, Zoe
R.O.C. (Republic of Confusion) (fu-GEN, 2005)
Taiwan, Formosa, The Republic of China. This leaf-shape island on the edge of the Pacific has been in identity crisis for over fifty years. A Taiwanese Canadian returns after ten years to find her place in the 24 hr neon lights of Taipei city. But the identity crisis is contagious, the conflicts escalate, and the showdown is the presidential election!
Huertas, Justin
Lizard Boy (Seattle Rep)
Lydia and the Troll (Seattle Rep, 2019)
Inspired by fantasy and folklore, yet grounded in Seattle's famed landscape and landmarks.
The Last World Octopus Wrestling Champion (ArtsWest, 2019)
Senior year (and falling in love) is hard enough, but when the discovery of her mother's old trophy throws open the locked doors of the past, a young girl must reckon with a world turned upside down - and the arrival of strange new abilities that seem to hint at a destiny beyond her wildest imaginations. Taking rich threads of Puget Sound history and folklore, musical mastermind Justin Huertas weaves a thrilling modern myth of love, family, and transformation.

Huie, Karen
Maiden Voyages
Songs of Harmony
From Fairest Creatures (Lodestone, 2005)
The son of an aging Shakespearean actor brings home a runaway from Chinatown in this drama about a man, a boy and a girl who become entwined by the absence of love.
Return to Gold Mountain (East West, 2013)
Music by Howard Ho, Lyrics by Karen Huie
A musical set in China, 1885. The Chinese character for CHAOS is a man and two women under one roof. The story of the writer's great great grandfather returning to his first wife in China with his Irish wife.
Hung, Chloe
Issei, He Say (New Jersey Repertory Theatre, 2018)
About a woman reflecting on her first year living in Canada as an immigrant in 1969, when her Chinese family moved next door to a Japanese-Canadian man.
Huuska, Tapio M.
To Live A Little (SALAAM, 2003)
Safiya and Anju share tea and biscuits while discussing life, God and death in this bizarrely comedic piece. "When you have a best friend, you certainly live a little, so you might as well... well die a little."
Huynh, Christine
I Love Those Kids (East West, 2007)
Rhonda has turned her two small children into a little maid and butler. She thinks she's doing a great thing for them. Is having small children cooking all the meals and retiling the roof child labor, or just a really good idea?
Orange Chicken (East West, 2007)
When loneliness leads to food poisoning...How much will one man suffer just to make some friends?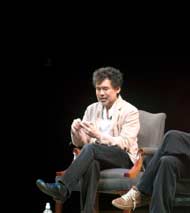 Hwang, David Henry
Bio: Probably the most prominent current Asian American playwright, Dave Henry Hwang is, with Phil Gotanda, Chay Yew and Velina Houston, one of the most produced AA playwrights. Lots of awards, lots of sound bytes (from media too ignorant to know that other Asian American playwrights exist) and a highly defined sense of responsibility flowing from his position; he's extremely generous with his time in the community (both theatrical and Asian American). He's also going to have to stand for a lot of smart ass remarks from the Revue, since we knew him when he was just "Dave."
F.O.B. (Stanford Asian American Theatre Project, 1979)
Written as a Stanford senior David Henry Hwang and winner of the 1980 Obie Award for off Broadway, this two-act play examines the interaction between Dale, a second-generation American of Chinese descent; his cousin Grace, a first-generation Chinese-American; and Grace's friend Steve, a Chinese newcomer. The moving, oftentimes hilarious story is injected with an infusion of Chinese-American folklore (Famulan and Gwangung) and deals with the stigma of being "fresh off the boat"; it also speaks to the uniquely confusing experience of growing up Asian-American in America.
The Dance and the Railroad (The Public Theatre, 1981)
Family Devotions (Public Theatre, 1981 )
House of Sleeping Beauties (The Public Theatre,1983)
Sound of a Voice (The Public Theatre, 1983)
Rich Relations (Second Stage, 1986 )
As the Crow Flies (LA Theatre Center, 1986)
M. Butterfly (Broadway, 1988)
Winner of the Tony Award.
1000 Airplanes on the Roof (libretto, 1988 International Tour)
Bondage (Humana Festival, 1992)
The Voyage (libretto, Metropolitan Opera, 1992)
Face Value (Pre-Broaway, 1993)
Trying to Find Chinatown (Humana Festival, 1996)
Golden Child (Broadway, 1998)
Winner of an Obie Award and nominated for a Tony.
Peer Gynt (adapt. Trinity Rep, 1998)
Aida (co-librettist, Broadway, 2000)
The Silver River (libretto, Spoleto Festival, 2000)
Flower Drum Song (revised version, 2002. Broadway)
Tibet Through the Red Box (Seattle Children's Theatre, 2004)
Yellow Face (South Coast/EWP/The Public, 2007)
Chinglish (Goodman Theatre, 2011)
Kung Fu (2014)
The Bruce Lee biography "dance-ical."
Soft Power (Center Theatre Group, 2018)
Book. Music by Jeanin Tesorio.

This genre-bending work "rewinds our recent political history and plays it back through a Chinese lens: a future, beloved East-meets-West musical. A Chinese executive in 2016 America finds himself falling in love with a good-hearted U.S. leader, as the power balance between their two countries starts to shift and a new world order arrives."
Hyman, Fracaswell
Beautiful (EWP, 2009)
A holdup is reported, and a tragic scene is set. Ripped from the headlines. The names have been changed to protect the WITNESSES.

Through the Bone (EWP, 2009)
Power, Perception, Race & Romance: A quartet of conflicts that cut through the bone.
Ignacio, Cynthia
Art Whores (EWP: Paper or Plastic, 1999)
Palace of Illusions (EWP, 2006)
Hailed as a genius and sometimes a maniac, artist Shojo Kaneshiro gets his thrills through morbid re-enactments of self-destruction. Ignoring death threats, screaming protestors, and irate gallery owners, Shojo continues to escalate his controversial stunts, pushing the limits of good taste, budget, and schedule. At the peak of his infamy, several traumatic events finally force him to choose between two paths -- the rock star glamor of glorious self-destruction, or rejoining the real world and possibly achieving his one true wish.
The Little Adolfs (EWP, 2005)
Like a punch in the face, the school bell at Divinity High signals the start of the daily, abusive power-struggle between teachers and students. Student Mitchell Moreau and his gang, the Little Adolfs, rule this brutal arena unchallenged — that is, until an anonymous writer publishes a series of incriminating short stories. Moreau begins a brutal and brilliant mind-game with the writer, in a violent power struggle that ends up unearthing an equally violent passion.
Rock Opera God (EWP, 2006)
Wedding bells signal the start of a war to end all wars. The gods of heaven and hell engage in a battle over the record deal of a lifetime, using the notorious rock duo, Orpheus and Eurydice, as their pawns. The path to true love and rock 'n roll fame has never been so hellish!
Ii-Epstein, Hannah
Not One Bantu (Kumu Kahua, 2015)
An intimate look at a family's struggle with the ice epidemic in Hawai'i.
Pakalolo Sweet (Kumu Kahua, 2018)
Junior Boy is a young Hawaiian man who comes from a lineage of marijuana growers and is now proudly expecting a baby with his girlfriend, Nani. During a night of karaoke, beer, and weed, the medical uses, benefits, and cultural aspects of marijuana in pre-contact Hawai'i are explored. This sequel to Not One Batu follow's Papa's family—and the inevitable hardships arising when indigenous values are systematically marginalized.
Iizuka, Naomi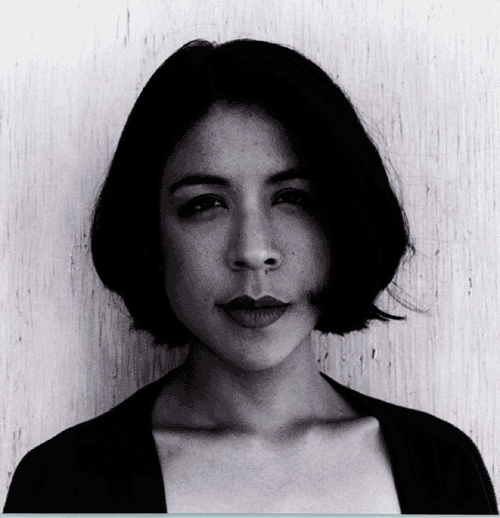 Bio: Jon Jory calls Iizuka "one of the most important playwrights now writing in their 30s." Naomi Iizuka's plays have been produced all over the country, ranging from larger repertory companies like The Public Theater and New York Theater Workshop to smaller companies like Seattle's Annex and Printer's Devil. Ms Iizuka is the recipient of the 1998 PEN Center USA award—an honor given for outstanding work by living American playwrights, a Whiting Writers'Award (past recipients include Tony Kushner and August Wilson), Princeton University's Hodder Fellowship, a McKnight Advancement Grant, and a Jerome Playwriting Fellowship. She received her BA from Yale and her MFA from UC San Diego.
36 Views (The Public, 2000)
The play explores the many layers that lie betwee truth and deception, centering around the discovery of a potentially history-changing "pillow-book," an ancient royal court diary-of-sorts.
War of the Worlds 2000 (with Anne Bogart, SITI Company, 2000)
The Language of Angels (Campos Santos,)
Polaroid Stories (Humana Festival, 1997)
Ovid's Metamorphoses meets stories from American street kids to create a new urban mythology. Set in the stark landscape of a decaying theatre, this contemporary drama weaves together ancient mythology with modern snapshots of real people pushed to society's fringe. The result is a candid and unflinching look at the beauty and tragedy of transformation.
Scheherazde ()
Marlowe's Eye ()
Aloha, Say the Pretty Girls (Humana, 1999)
War of the Worlds (Humana, 2000)
Skin ()
Tattoo Girl ()
Citizen 13559: The Journal of Ben Uchida (Kennedy Center Family Theatre, 2006)
Adapted from the Scholastic book. For ages 9 and up. In lean, poetic language and short, cinematic scenes, she tells the story of Ben Uchida, whose family was forced into an internment camp in the desert when he was 12. Recalling the events with the help of his journal, Ben comes to understand why his dad, a kindly optometrist, lost his self-respect there.
Strike-Slip (Humana Festival, 2007)
In the urban sprawl of Los Angeles, three diverse families each carry a dream, but a recent shooting creates an unexpected seismic shift that rocks each family's foundation. Faults that were once inactive or dormant suddenly appear and abruptly change the way they think about themselves, their community and their dream.
Ghostwritten (Seattle Rep, 2007)
An American woman hitchhiking through Southeast Asia strikes a bargain with a mysterious stranger. Twenty years later, she's an acclaimed chef specializing in Asian cuisine with an adopted Vietnamese-born daughter and a life that is successful beyond her wildest dreams. Into her life the stranger from her past reappears collecting on an old debt. A retelling of the fable of Rumpelstiltskin, Ghostwritten explores the legacy of the Vietnam War and what it means to come face to face with the ghosts from your past
3 Truths (Cornerstone Theatre)
The Scarlet Letter (Intiman, 2010)
Iko, Momoko
Gold Watch ( )
One of the classics of early Asian American theatre, Gold Watch explores the personal impact of the beginning of World War II on the Japanese American farming community of Pasco, WA as seen through the eyes of the Murakami family and their neighbors. Masu Murakami, is a stubborn, independent, spirited Japanese immigrant. He struggles to maintain not only his farm in a harsh climate but also his family as they face uncertainty against the backdrop of Executive Order 9066 and the evacuation of an entire community.
Flowers & Household Gods ( )
Inouye, Lisa Toishigawa
Reunion (Kumu Kahua Theatre)
A look at Hawaiian vets.
Ishii, Leslie (with Karen Samski)
Painting By Numbers (East West, 2008)
Inspired by Jane Austen's "Persuasion"
Returning to her childhood home in Seattle, Kit Yamamoto is at a crossroads between the influences of family obligation, the legacy of cultural traditions, and her heart's true desire. Will she betray her heart, or set herself free to follow her destiny?
Isu, Emmie I.
Sitting at Bus Stops (EWP: Paper or Plastic, 1999)

Iwamoto, Gary
Miss Minidoka, 1943 (NWAAT, 1987)
The first musical about the Japanese American relocation camps in WWII.
Curse of the Dragon Lady (NWAAT, 1991)
Dreamweaver (NWAAT, 1992)
Twinkle (NWAAT, 1992)
Izuka, Scott
Mainland Education (Kumu Kahua, 2009)
Cultures mix, match and clash at the University of Kansas in the early 1980s. Jerome, a second-year graduate student, is a third-generation Japanese-American from Hawai'i. His roommate Yan is Taiwanese and still struggling comically with the English language. They meet the outgoing and assertive Cathy, born and raised in the Midwest, and her roommate Rei, a Japanese national who speaks English well but with an accent. As the four spend time together, they attempt to surmount difficulties created not only by language barriers but also by national identities and cultural mores. Jerome is self-conscious about others' interpretations of his Japanese appearance outside of Hawai'i. He begins a relationship with Cathy but is later drawn to Rei, who is pressured by her parents about being with Jerome because, to Japanese people, he is a foreigner. As the school year progresses, the friends' mutual understanding grows, but not without difficulties. A Kumu Kahua world premiere.

Shoyu on Rice

(Kumu Kahua, 2014)
Peer pressure and identity issues create comedy and drama in a private Hawaii high school. In the mid-1980s, boys attending a Catholic all-boys high school deal with their use of pidgin English when a substitute teacher from Kansas takes over their classroom. Meanwhile, the substitute struggles to learn local ways in both the classroom and the home of her Japanese-American fiancé¹s parents. And a student from a private girl¹s school faces the scorn of the boys due to rumors about her reputation.

Jagernauth, Tanuja
First Data Gold (Asian Improv Arts, 2018)
Sunny is the broke outcast of his conservative, South Asian family and the biggest Mets fan that ever lived. His girlfriend, Masiko, is a Dominican statistician with a knack for making winning bets on baseball and harnessing quantum space. Sunny is shocked when his estranged, toxic father, a die-hard Yankees fan, invites him to this weekend's Mets vs. Yankees game at Citi Field in Queens. At the game, Sunny's dad invites him to join his brand new, multi-level marketed cannabusiness, confirming Masiko's suspicions that the whole thing is a trap. Will Sunny put his conflicted family past behind him and go into business with his father for a shot at financial security and family reunification or will he remain true to the values he shares with Masiko?
Jang, Patricia
Ein Berliner (2g, 2008)
Chad, a faded collegiate track star, has used his looks to land a rich wife and a comfy, but vacuous Connecticut life. The night before moving with her to Germany, Chad's feckless childhood buddy, Jake, reappears to offer him one last shot at salvation.
Jao, Radmar
Days of Rest (East West, 1999)
Johnson, Christine Toy
The New Deal (Roundabout, 2006)
The New Deal is a comic drama about a Chinese American woman at odds with her cultural identity and propensity towards being hyper-superstitious. Her life and luck change, though, when she travels to Hong Kong to uncover a family secret and save their New York City restaurant from demolition.
Paper Son (Diverse City, 2008)
It is the summer of 1952 in New York City. Tommy Lee is a 23 year-old Chinese born U.S. army soldier, about to be shipped off to the Korean War. On a date with his All-American girlfriend Julia, he meets his match in best friend Gim's new paramour, Dorothy Chu. When Dorothy finds out that Tommy was a "paper son," the term used to describe Chinese males who immigrated into the U.S. with illegally bought identity papers, she pushes Tommy to face questions about his true family name that was lost in the transaction. Years later, Tommy comes to realize that it is the journey his family made to America that is bigger than all of them. Passing on a new family legacy with Dorothy by his side, Tommy Lee has his American Dream firmly in place.
Internal Bleeding (Barrow Group, 2009)
Internal Bleeding is loosely based on a true story about a young man who defies his conservative parents by joining an Olympic bound gymnastics team, instead of following the family business. Injured during a meet and paralyzed from the waist down, his parents turn their
backs on him for the last time, telling him his disobedience got him what he deserved. Years later when he becomes a world-renowned physical therapist specializing in spinal chord injuries, his most difficult challenge comes when he?s forced to make amends with them.
Adventures of a Faux Designer Handbag (Leviathan Labs, 2010)
ADVENTURES OF A FAUX DESIGNER HANDBAG is a comedy about three friends frantically trying to find a replacement for a priceless special edition handbag. They are catapulted through space and time from the maze of Chinatown, New York, to the Splendid China theme park in Orlando, Florida, where they try to find out if authenticity is really in the eye of the beholder.
Tanforan (Barrow Group Theatre, 2011)
TANFORAN is the story of a Caucasian woman married to a Japanese American man during WW II who must reconcile the identity the U.S. government gives her with the only home she knows: her family.
Johnson, Jay
Senju No Mae (EWP: Paper or Plastic, 1999)
Jones, Silas
Canned Goods (AATC, 1999)
An Asian orphan of unknown ethnicity, forces himself to become an Asian stereotype. He owns a grocery store in a black ghetto and is loved by all. He doesn't look "Asian" but he "acts" Asian and everybody loves this kind, gentle man. Until the day he sells the store to his son ("tradition"), who is an unabashed racist
Jue, Mark
Sunday on Statue Square (EWP: Paper or Plastic, 1999)
Set in Hong Kong, a bittersweet tale of a Filipina maid and her Chinese employers.
Chinatown Correspondent (1997)
Winner of the C. Y Lee Award. San Francisco 1968: Summer of Love, Haight Ashbury, the Vietnam War, Marijuana, Clown Alley Hamburgers and two Chinese American reporters trying to solve a murder
Juhn, Paul
Works of Art (Mu Performing Arts, 2007)
Art is an Asian American Actor in the Big Apple and it ain't easy, but with a little help from his friend, he finds himself on a journey of self discovery, and true romance.
Jung, Hansol
No More Sad Thing

(Lark, 2014)
A girl catches a last-minute flight to Maui. A boy finds the girl on the shores of Ka'anapali. Something strange and familiar pulls them closer, close enough to forget things that won't stay forgotten.
Wolf Play (Ma-Yi Theatre, 2015)
A Korean boy's adoptive father un-adopts him and "re-homes" him to a new family. But when this American ex-father discovers the boy's new parents are a lesbian couple, he does whatever he can to get the boy back.
Among the Dead (Ma-Yi Theatre, 2016)
Ana is an ex-daughter, summoned to Korea to retrieve her suddenly dead father's ashes. Luke is an American soldier, sent to Myanmar to survive a world war he probably shouldn't have volunteered for. Number Four is a Korean comfort woman, camping out on a bridge in Seoul, waiting for Luke. Jesus is a bellboy. Three wars of three eras folded into one hotel room, Among the Dead is a dark comedy about a family broken apart by betrayed promises, and finding each other through spam, journals, and Jesus. Mostly Jesus.
Cardboard Piano
A church in Uganda. Two girls steal in to seal their love in a secret wedding ceremony, and a child soldier runs in, seeking sanctuary.
Wild Goose Dreams (LaJolla Playhouse, 2017)
Nanhee is a North Korean defector whose family was left behind in North Korea. Minsung is a South Korean goose father whose family has left him behind in South Korea. Nanhee and Minsung find each other on the internet. A story about modern aspirations and its betrayals, Wild Goose Dreams explores the miracle of quiet intimacy among the noise of the contemporary world.

---