Stir-Friday Night! (Chicago, IL)
Yellow!
November 26, 2005 to January 21, 2006

See News story.
---
Mu Performing Arts (Minneapolis, MN)
New Eyes Festival
January 19 to 22, 2006
THURS, JAN 19TH AT 7 PM
Rental Car
Written by Alex Park
Directed by Brian Balcom

FRI, JAN 20TH AT 7 PM
Family Lies
Written by Alexis Camins
Directed by Randy Reyes
Family Lies is a subversive new Asian-American comedy farcically inspired by the hit 80's sitcom Family Ties.

SAT, JAN 21ST AT 4 PM
Peaches
Written by Soo Jin Lee
Directed by Katie Leo
Featuring Eric Sumangil and Rose Le
The often hilarious story of two childhood friends who must confront the precarious nature of their relationship as they transition into adulthood, exposing their prejudices and pent-up desires along the way.

The Wedding Banquet
Written by Welly Yang and Brian Yorkey
Directed by Eric Sumangil

SAT, JAN 21ST AT 7 PM
Braids
Written by Clarence Coo
Directed by Jennifer Weir
Featuring Sun Mee Chomet, Katie Leo, Tina Sigel
From a temple in India to a salon in America, the journey of a single strand of hair will reveal to four women from four different countries the true value of beauty.

SUN, JAN 22ND AT 3:30 PM
Ibong Adarna: Fabulous Filipino Folktale (full-length children's play)
Written by Elizabeth Wong
Directed by Stephanie Lein Walseth
Featuring Eric Sharp, Randy Reyes, Eric Sumangil, Sherwin Resurreccion, Allen Malicsi, Katie Leo
A wildly fun romp, this children's tale follows three brothers in their quest to save their father, the king from craziness and death. Their mission: find the magical singing Adarna bird and bring her back before her poop turns them to stone.

New Taiko Composition
Compsed by Iris Shiraishi
---
Northwestern University Theatre
Interpretation Center (Evanston, IL)
The Philippine Deep
by Gail Derecho
January 20 and 21, 2006
Northwestern University presents the premiere of The Philippine Deep, written by Gail Derecho and directed by Christopher Hejl, with video by Ian Bennet. The Philippine Deep will be performed on Fri, Jan. 20, at 8pm and on Sat. Jan. 21 at 2pm and 8pm in the Struble Theater, 1949 Campus Dr. at the university's Evanston campus. Tickets are $5. A free reception will follow the Saturday night performance.
The Philippine Deep is more than a stage play. It is a rare multimedia experiences that uses captivating images and video clips from over 150 years of Filipino history to explore a woman's relationship with her brother and her family's perseverance over centuries of war and colonialism. Gail, a graduate student returns to Chicago after traveling to the Philippines to research her family history. Yet upon her return, she receives a surprise visit from her estranged brother Dennis. While Gail fulfilled her family's American dreams, the rebellious Dennis considered himself an outcast in his hard working immigrant family. Yet as they pour through their family history, from their idealistic Chinese ancestor who first settled in the Philippines, to their great grandfather who fought against the US occupation, the siblings find that both ambition and rebellion have played an equal part in their Filipino heritage.
The Philippine Deep presents a complex, mature portrait of a family across generations. Rich with rare photographs and video clips, The Philippine Deep explores one of the most unique and important traits of the Filipino culture: the ability to adapt and survive.
---
Pork Filled Players (Seattle, WA)
Rings in 2006 and the reopening of the Seattle Asain Art Museum
January 21, 2006
---
JACC (Los Angeles, CA)
THE SHAPE OF MEMORY
A visual art installation by members of the
Okinawan American Oral History & Visual Art workshop
January 21, 2006
Using paper, clay, treasured photographs and personal narratives, people from the Okinawan diaspora share their family's history through Peru, China, Hawaii and the mainland U.S., and trace their roots back to the islands of Okinawa.

- One Day Only -
Saturday, January 21, 12 pm – 2pm
George J. Doizaki Gallery at the Japanese American Cutural & Community Center
244 S. San Pedro Street, Little Tokyo
Los Angeles, CA 90012
Free Admission. Reception Follows.
For directions: (213) 628-2725 or http://www.jaccc.org
Featuring the stories, interviews and artwork by:
Pedro Agena
Lee Ann Goya
Gena Hanamoto
Pauline Kamiyama
Jane H. Kuniyoshi
Yayoi Robinson
Kio Tong-Ishikawa
Haj Uyehara
Kenrick Yoshida
Workshop was facilitated by Denise Uyehara and Lee Ann Goya, with guest speakers Chogi Higa, Sadao Tome and Aiko Tokunaga of the Okinawan Association of America.
This project is supported in part by the Department of cultural Affairs, City of Los Angeles. An API/2 Event. API/2 is supported by grants from The James Irvine Foundation, the National Endowment for the Arts and the Los Angeles County Arts Commission.
---
SALAAM Theatre (NYC, NY)
Migritude
Written and performed by
SHAILJA PATEL
January 23, 2006
ABOUT MIGRITUDE:
Shailja Patel's one-woman spoken-word theater show uses her trousseau of saris to unfold stories of women's lives in the bootprint of Empire. A third-generation Kenyan Asian, Shailja covers the spectrum from comedy to pathos to a powerful indictment of colonialism. Migritude has been described as "a Godiva bonbon laced with LSD and packed to the suicidal wazoo with truth and imagery." http://shailja.com/work/migritude.html

Q&A and complimentary hors d'oeuvres and libations following the reading.

SALAAM Theatre
16 West 32nd Street - 10th floor
Between Fifth Avenue and Broadway
New York, NY 10001

Admission by donation: (nobody is turned away due to lack of funds)
$10 suggested, $15 appreciated

Reservations RECOMMENDED:
Phone: 212.330.8097
Email: rsvp@SALAAMtheatre.org
---
Kumu Kahua Theatre (Honolulu, HI)
Teacher, Teacher
by Anthony Michael Oliver
January 24, 2006
The second Kumu Kahua Playreading of the 2005-2006 Season features Teacher, Teacher by Anthony Michael Oliver. The play is about a relationship that develops when a local teacher helps to make her student a better man. Playwright Anthony Michael Oliver was the winner of the 2002 Kumu Kahua Theatre and University of Hawai'i-Manoa Playwriting Contest Hawai'i prize for his play Theme Park. The reading is on Tuesday, January 24 at 7:30pm at Kumu Kahua Theatre, 46 Merchant Street, downtown. Admission is free, with complimentary refreshments and discussion following the reading. For more information call 536-4441.
---
Lodestone Theatre (Los Angeles, CA)
A reading of a new play
The Journeys of Yuzu
by Tom Jacobson
January 25, 2006
Directed by Jeff Liu
featuring Alberto Isaac, Kennedy Kabasares, Elaine Kao, Eddie Shin, Peter James Smith & Ryun Yu
From celebrated local playwright Tom Jacobson (OUROBOROS, BUNBURY) comes an action-adventure about the lost years of the young Jesus, in which he travels to Egypt, Persia and India, seeking clues to his origin and discovering secrets that will change the world.

WEDS, JANUARY 25th, 2006
8:00 PM

GTC BURBANK
1111-B West Olive St.
Burbank, CA 91506
(inside George Izay Park, just west of S. Victory Blvd.)

FREE ADMISSION (but donations gladly accepted and encouraged).

FREE PARKING: Park near the jet plane in front of George Izay Park at 1111 W. Olive. St. Walk into the park, past Olive Recreation Center. GTC Burbank is behind the Rec. Center, facing the softball fields.

NO RSVPS required, however, please arrive at least ten minutes before curtain for seating (which is limited and on a first-come basis).

THERE WILL BE NO LATE ADMISSION!
---
Community Asian Theater of the Sierras (Nevada City, CA)
Immortal Heart
by Amy Tan
January 26 to February 4, 2006
CATS is proud to bring to Nevada County this professional all-Asian touring group from San Francisco. Immortal Heart is written by Amy Tan (Joy Luck Club) and directed by Delia MacDougall. This is "The New Yorker" short story that became the inspiration for her 2001 bestseller, The Bonesetter's Daughter. Immortal Heart is a heartwarming tale of exploration into a secretive and hidden world, governed by the powers of family and destiny, and the strict doctrine of women's roles in rural China in the 1900's. It is a complex and riveting piece, which tells two dovetailing histories, one of a child blossoming into a headstrong young woman, and one of her mute caregiver, whose silence belies a strong and colorful past, when she too was once a headstrong and independent girl.
---
Highways Performance Space (Southern CA)
Sleeping with Strangers
Dan Kwong
Peng Jingquan
February 2 to 5, 2006
Sleeping With Strangers
A collaborative duet between DAN KWONG and PENG JINGQUAN

World Premiere at Highways Performance Space in Santa Monica
February 2, 3, 4, 5
Thurs – Sat. 8:30PM / Sunday 7:30PM
Reservations: (310) 315-1459
Tickets: $20
More info: (310) 453-4544
HIGHWAYS: 1651 18TH Street, one-half block north of Olympic. On-site free parking lot.

U.S.A. – since World War II, the undisputed dominant nation on the planet.
China – the Middle Kingdom, one of the world's most ancient civilizations, and a serious future contender for America's crown as global leader.

The tempestuous, mercurial and volatile relationship between these two international giants is the subject of Sleeping With Strangers, played out in the friendship between Dan Kwong, a Chinese American multimedia performance artist and Peng Jingquan, a veteran of traditional Chinese opera.

Sleeping With Strangers is an ironically funny and unflinchingly honest dive into the consciousness (and unconsciousness) of the two countries, as embodied in the personas of Kwong and Peng. The two men ruthlessly - and hilariously - skewer the irrationalities of governments, cultures and individuals as they explore relationships - between East and West, between Karl Marx and Bill Gates, fathers and sons, the known and the unknown. The artists utilize an array of performative approaches: monologue, Chinese opera, Western-style theater, multimedia, poetry and slapstick comedy. Sleeping With Strangers challenges the slumber of ignorance, antagonism and separation, ultimately leaving us with questions about a global vision of mutual respect, awareness and understanding.

Review here.
---
Kumu Kahua Theatre (Hawaii)
Ulua: The Musical
lyrics by Lee Cataluna
Music by Sean TC O'Malley
January 12 to February 12, 2006
extended through February 12
With book and lyrics by Lee Cataluna and music by Sean T. C. O'Malley Ulua: The Musical deals with life, love, and fishing on Maui. Local boy Kayden Asiu leaves his job, his Soloflex, and his fiancée Lylas on O`ahu to explore life's options on Maui. Butchie and Clyson, two co-workers, introduce him to the joys of all-night ulua fishing. But Lylas follows him to Maui, Butchie's fiancée gets upset, and eventually the women follow their men to the ulua, and the sea. First staged by Kumu in 1999, this musical comedy comes to the intimate KKT stage for the first time. Ulua: The Musical opens in January 2006.
See News story.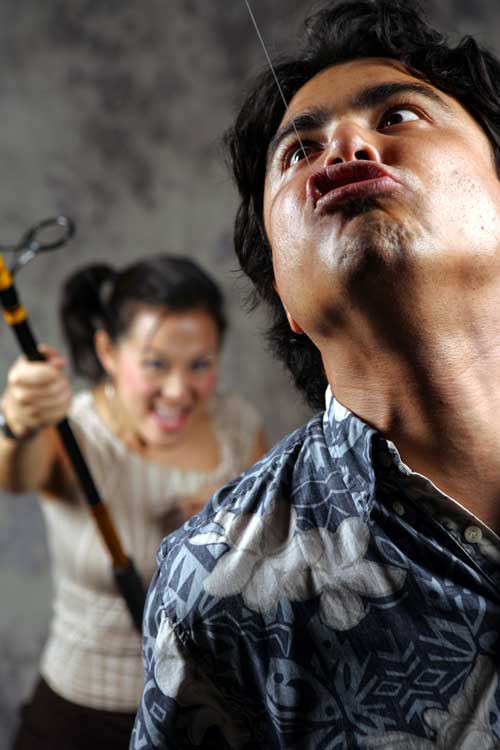 After years of fishin' clubs and bars Lylas (left: Meredith Desha) hooks the man of her dreams (right: Jason Kanda) in Kumu Kahua Theatre's production of Ulua: The Musical with book and lyrics by Lee Cataluna and music by Sean T.C. O'Malley. Shows runs from January 12 through February 12. Call 536-4441 for ticket information.

Photo by Brad Goda
---
InterACT (Sacramento, CA)
Yellow Fever
by Ric Shiomi
January 20 to February 12, 2006
Performances at: THE SPACE - 2509 R Street (corner of 25th St.), Sacramento
January 20th through February 12th, 2006
Thursday Feb. 2nd: 8 pm
Fridays & Saturdays: 8 pm
Sundays - Jan 22 & 29, Feb 12: 3 pm
Reservations & Info: 916 267-7280 or via email: iactmail@earthlink.net
Featuring: Matt Robinson, DeeDee, Don Draughon, Steve Suwabe, Melanie Amano, Bill Powers, John Wong
Yellow Fever follows Sam Shikaze, a no-nonsense Japanese private detective who prefers life in the streets with a good bottle of whiskey. When the Miss Cherry Blossom Queen is kidnapped, everyone comes to see what Sam knows . . . and, of course, he knows plenty. First in line is an ambitious young reporter, Nancy Wing, who's after the "Big Scoop." Superintendent Jameson sends Capt. Kadota & Sgt. MacKenzie to tell him to "stay off the case," while Rosie & Chuck help him sort out the pieces to the puzzle.
---
18 Mighty Mountain Warriors (LA, CA)
Asian Flu Over the Cuckoo's Nest
February 1 to 12, 2006

New sketch comedy from the great grandaddy of Asian American sketch comedy groups.

GTC Burbank
1111-B W. Olive Ave.
Burbank 91506

Reservations info
818-754-4500 (vm)
e-mail info@18mmw.com
web: www.18mmw.com
---
Bindlestiff Studios (San Francisco, CA)
The Love Edition
February 2 to 11, 2006
See News story
---
Assaulted Fish (Vancouver, BC)
SketchFest Vancouver
February 12 to 15, 2006
Assaulted Fish @ 2006 SketchFest Vancouver
Vancouver's own Assaulted Fish comedy troupe gets fresh and funny in February! One of six sketch comedy troupes performing at SketchFest Vancouver 2006, presented by Pink Vixen Comedy Arts, February 15 - 18. Snack Pack preview night, Wednesday, Feb. 15 - tickets $15, 8 pm. Solo show, Thursday, Feb. 16 - tickets $10, 8 pm. Waterfront Theatre (Granville Island). Tickets available at www.ticketstonight.ca or at the door. More details at http://www.xanga.com/assaultedfish and http://www.sketchfestvancouver.com
Assaulted Fish members Kuan Foo, Diana Bang, and Darcey Johnson bring their comedic skits on Chinese astrological superstition, the fictitious Ninja Party of Canada, an interpretive "lychee" dance, and more to SketchFest Vancouver on Feb. 15 and 16, 8 pm at the Waterfront Theatre (Granville Island).
---
Wing Luke Museum and others (Seattle, WA)
DAY OF REMEMBRANCE
A dramatic reading of Momoko Iko's
two-act play, Gold Watch
Sunday, February 19
1:00 - 3:00p.m.
Theater Off Jackson
409 Seventh Ave S.
(Below the Wing Luke Asian Museum)

Free to public and family friendly
GOLD WATCH is set in Wapato, WA between Labor Day 1941 and June of 1942. The play dramatizes the consequences of Pearl Harbor for the Japanese Americans in this rural, farm community and how they respond to the internment orders.
First performed in Seattle in 1977, the play this year features four members of the "original" Seattle cast: Bea Kiyohara (who is also directing the performance), Steve Sumida, Norm Kaneko, and, returning to her Seattle hometown from Hollywood to do this show, Amy Hill. The performance will introduce new members of the cast reading major roles: Tri Hoang, Isaiah Stanback, Sheldon Arakaki and Ciony Bellande.
Other community members will also read parts in this multigenerational, multiethnic, multiracial presentation of GOLD WATCH, on a history that matters to all people of this nation.
Sponsored by the Seattle, Lake Washington, and Olympia Chapters of the Japanese American Citizens League, Nisei Veterans Committee, the UW Office of Minority Affairs, the UW Department of American Ethnic Studies, Wing Luke Asian Museum and the Northwest Asian American Theater.
A reception will follow the performance. Questions? Call 206-623-5124 x110.
---
The APA Program (Washington, DC)
Question 27, Question 28
A Play by Chay Yew
February 19, 2006
2:00 – 5:00 p.m.
Carmichael Auditorium
National Museum of American History
14th Street and Constitution Avenue, NW
The APA Program is proud to present the Washington premiere of award-winning playwright, Chay Yew's exceptional play, Question 27, Question 28, starring Dian Kobayashi, Emily Kuroda, Tamlyn Tomita, and Shannon Holt.
In the wake of America's entry into World War II, more than 120,000 Americans of Japanese ancestry were forced to leave their homes, possessions, and communities and report to relocation centers and internment camps. This federal action, authorized by President Franklin Delano Roosevelt on February 19, 1942 through Executive Order 9066, led to the suspension of many civil rights of Japanese Americans. Every February 19, the internment of Japanese Americans is remembered both for the hardship it caused and the lessons that can be learned with the hope that history will not repeat itself.
---
Three Wise Monkeys Theater Company in association with the Eureka Theatre (San Fracisco, CA)
Bay One-Acts V Festival with producing theater
Asian American Theater Company present
My Friend Morty
by Jeannie Barroga
February 16 to 20, 2006
(1 of 12 plays A Bay One-Act, Week 1 of 3 (Women and Drama - Fil-Am Playwright/Director team: Jeannie Barroga and Michelle Talgarow)

Directed by Michelle Talgarow:
Annalisa deLena, Roberto Divina, Jordan Phillips, Jose Saenz, Don
Wood, Ruth Virata, and Zac Jaffee.
My Friend Morty is one of four one-acts presented the first of three weeks under the theme, Women and Drama. Week 2's theme is Political Drama; Week 3 is Mostly Comedies.
Performances:
February 16-20, 2006. Wed-Sat @ 8PM, Sun. @ 2PM (Opening Night Afterparty)
Eureka Theater, 215 Jackson Street (between Battery and Front), SF
$17 Thursday $20 Friday, Saturday, Sunday (2pm)
Festival Pass (3 performances during the 3-week Festival) $50
Book of plays to be sold for $12
Call 415-776-7427 or visit http://www.threewisemonkeys.org
Alice Shikina, Artistic Director
---
SALAAM (NYC, NY)
Mystic T.V.
by Mary Elizabeth Shanahan
February 20, 2006
MYSTIC T.V.
Paradise is not lost. Find it on MYSTIC T.V....where wisdom, understanding, knowledge and fear of the Lord are. Tune into God. Tune into you. Join hosts Carla Carmalot and Doug Forthright along with special guests, Herb Sage, Martha Wright, Ajay and Maya Daswani and hip-hop dance/rapper - D.Whit.
Written by Mary Elizabeth Shanahan
Performed by: Deepti Gupta, Noshir Dalal, Mary Elizabeth Shanahan, Darryl Reilly, Jennifer Pearson, Steve Sirkis and the dynamic, D.Whit.
Stage Manager: Zhen Staniec Heinemann
Production Assistant: Eliyas Qureshi
Q&A and discussion moderated by Geeta Citygirl
Complimentary hors d'oeuvres and libations following the reading.
SALAAM Theatre
16 West 32nd Street - 10th floor
Between Fifth Avenue and Broadway
New York, NY 10001
Admission by donation: (nobody is turned away due to lack of funds)
$10 suggested, $15 appreciated
Reservations RECOMMENDED:
Phone: 212.330.8097
Email: rsvp@SALAAMtheatre.org
---
Asian American Theater Co. (San Francisco, CA)
The Sarimanok Travels
by Francis Tanglao-Aguas
February 10 to 25, 2006
the sarimanok travels*
A solo epic in dance, movement, and song by
Francis Tanglao-Aguas
Ayeta, the beautiful queen of Mahallikha spurns royal suitors from more powerful lands, earning their wrath which they pass on to their descendants. But the Mahallikhenos are resilient, with the magical sarimanok bird on their side, thriving in the paradise that is their land.
But what happens when the sarimanok bird is stolen by foreign powers? Francis Tanglao-Aguas' explores his version of the mythical roots of the Philippines, hoping to answer why Filipinos find themselves leaving their beloved motherland.
---
Flushing NY Council on Culture and the Arts at Flushing Town Hall
Main St.'s Next Generation: Asian American Art Culture Festival
February 24 to 26, 2006
Flushing Town Hall
137-35 Northern Blvd.
at the corner of Linden Place,
a block and a half east of Main Street in Downtown Flushing
Box office phone: (718) 463-7700 x222
FREE PARKING
Members and people with disabilities parking is located behind the building.
Nonmembers can park at the lot located at Linden Place and 35th Avenue.
Subway: Take the 7-train to Main Street, Flushing


February 24-26
This three-day celebration showcases some of Asian America's most exciting young performers and creative minds. With work that fuses traditions, crosses cultural boundaries, and challenges expectations, these artists are reshaping and reinterpreting what it means to be Asian in America.
Tickets to each event: $15/$12 members/ $10 students/ $8 student members
TakeOut Comedy
Friday, Feb. 24th at 8 PM
Asian America's kings of the mike come to Queens for an evening of sidesplitting standup comedy. Featuring Jami Gong, Air Tabigue, Rio, Shecky Wong Josh Kaufman! Adult humor.
Tickets: $15/$12 members/$10 students/$8 student members
SLANT in Performance
Saturday, Feb 25th at 8 PM
Cutting-edge theater company SLANT brings a confluence of puppetry, original music, guitars, drums, voice and bamboo fluters to the Flushing Town Hall stage! "a deftly calibrated explosion of dancer buff bodies and rock roll hearts."
-Village Voice
Tickets: $15/$12 members/$10 students/$8 student members
The Color of Funny: Screen Comedy, Asian American Style
SUNDAY, FEBRUARY 26, 2006, BEGINS AT 2 P.M.
Screenings: SAVING FACE (Alice Wu); AMERICAN DESI (Piyush Dinker Pandya); THE MOTEL (Mike Kang)

Panel (8 p.m.-9:30 p.m.): Author Jeff Yang (Eastern Standard Time; Once Upon a Time in China) moderates a panel discussion on humor, culture, and the generation gap, as seen in Asian American cinema, with Piyush Dinker Pandya, and stars of SAVING FACE and THE MOTEL
Tickets: $15/$12 members/$10 students/$8 student members

Flushing Council on Culture and the Arts at Flushing Town Hall
email: mbecker@flushingtownhall.org
box office phone: 718-463-7700 x222
web: http://www.flushingtownhall.org
---
Diverse City Theatre (NYC, NY)
Queen for a Day
by Kristine Reyes
February 27, 2006
Diverse City Theater Company (DCT) announces the presentation of its "First Draft" Fellowship ("FDF") playwright fellow, Kristine Reyes, and her new play, QUEEN FOR A DAY. The presentation—-in a staged reading format—-will be held on Monday, February 27th at 6:30PM at Kalayaan Hall, 556 Fifth Avenue, 2nd Floor. Andrew Eisenman directs.
The "First Draft" Fellowship program is DCT's commitment to developing emerging playwrights and new works. Launched in 2005, the 10-week fellowship program provides beginner playwrights the opportunity to learn the basic elements of a play's dramatic structure—-plot, characters, conflict and dramatic language—-and its organic relationship to theme. In her play, QUEEN FOR A DAY, playwright fellow Kristine Reyes tackles a young girl's rite of passage into adulthood brought about by the death and dying of a beloved aunt, exploring the profound changes that affect her relationship with her own mother and her extended family.
Kristine Reyes is DCT's first FDF playwright fellow. She has been involved in the theater for many years performing diverse production responsibilities and has worked with theater companies such as Imua! Theatre, Ma-yi Theatre and Mr. Miyagi Theatre Company. She assisted director Jamie Richards in DCT's production of THE FEMALE HEART in 2005. In the past year, Reyes has completed playwriting workshops at Ensemble Studio Theatre with Curt Dempster and Romulus Linney. QUEEN FOR A DAY is her first full-length play. Its first draft was developed under DCT's FDF program.
QUEEN FOR A DAY's reading will feature Liz Casasola*, Mia Katigbak*, Banaue Miclat, Nicholas Stannard* and Lorli Villanueva.
---
Borderlands Theatre (Tucson, AZ)
Mixed Messages
by Cherylene Lee
February 16 to March 5, 2006
Wai Lin-Lawson, a young anthropologist and Jake Ramírez, a Native American activist struggle over "ownership" of a 9,000-year old human skull from the La Brea Tar Pits. As they uncover the skull's past, Wai and Jake are forced to confront their own identities as people of mixed race. Emotions spark, pitting culture against science and heritage against ethnicity.
---
Mu Performing Arts (Minneapolis, MN)
Cowboy vs. Samurai
by Michael Golamco
February 17 to March 5, 2006
The regional premiere of the comedy Cowboy Versus Samurai by Michael Golamco opens in February 2006. This no-holds-barred romantic comedy re-imagines the Cyrano de Bergerac story with an Asian American twist. The lives of the only two Asian Americans in the tiny western hamlet of Breakneck, Wyoming are turned upside down when the beautiful Veronica Lee, a Korean American teacher from New York City moves to town. Through irony, humor, and social commentary, Cowboy Versus Samurai cleverly exposes the struggle of Asian Americans to find their place in the vast American landscape and with each other. (Contains some mature language.) Cowboy Versus Samurai will be performed Thursdays–Saturdays at 8pm with Sunday matinees at 2pm from February 17 – March 5, 2006 at Mixed Blood Theatre (1501 South Fourth Street, Minneapolis). Tickets are $16 with $2 discounts for students and seniors. Groups of 10 or more receive $4 off per ticket. A preview performance takes place Thursday, February 16 at 8pm for $8. The AD/ASL performance takes place Saturday, March 19th. Tickets are available at 612-338-6131.
---
Vancouver Asian Canadiat Theatre (Vancouver, BC)
Sex in Vancouver: Doin' It Again
by Kathy Hsieh
February 23 to March 5, 2006
---
East West Players (Los Angeles, CA)
Six Women in Search of a Real Man
New Play Readings
February 26 to March 3, 2006
EAST WEST PLAYERS will proudly present brand-new writing from the DAVID HENRY HWANG WRITERS INSTITUTE

Sunday, February 26 @ 7:30 pm
The Toad
By Daniel Bayer
A short play adapted from the famous tale by Hans Christian Anderson.

Junior's Black Star
By Angie Browne
After 13 years behind bars, Junior has been released to the loving care of his Aunt Pearl, only to discover that he is imprisoned by his own mind.

Motherpieces
By Sara Truitt
Who am I - what is my place in the world - in relation to my mother? Three actors play three generations of mothers and daughters in conflict.

Monday, February 27 @ 7:30 pm
Biotica
By Gilanie E. De Castro
Pasadena, CA, 1985. Genius begets genius at BIOTICA Industries ˆ the world's first sperm bank where the donors are geniuses and celebrities. As a group of scientists struggle to save BIOTICA from bankruptcy, they turn to Darwin Sugarbee ˆ BIOTICA's first test tube baby ˆ as their hope for survival.

Happy Nail Tyme Nail (or You Pick Color)
By Marita de Lara
Explore the secret world of a family run, Van Nuys nail salon as owner Gigi Van Tran battles market forces and longtime rival, Mimi Nguyen of Dragon Nails.

Tuesday, February 28 @ 7:30 pm
Dry Hours
By L. Tang
"The threshold has been crossed, ladies." A man mysteriously haunts three friends as they struggle with the choices they need to make today. And the ones made for them in the past.

Palace of Illusions
By Cynthia Ignacio
Hailed as a genius and sometimes a maniac, artist Shojo Kaneshiro gets his thrills through morbid re-enactments of self-destruction. Ignoring death threats, screaming protestors, and irate gallery owners, Shojo continues to escalate his controversial stunts, pushing the limits of good taste, budget, and schedule. At the peak of his infamy, several traumatic events finally force him to choose between two paths ˆ the rock star glamor of glorious self-destruction, or rejoining the real world and possibly achieving his one true wish.

All readings to be held at the DAVID HENRY HWANG THEATER at EAST WEST PLAYERS
No reservations necessary.
Suggested Donation ($5)

(EWP's David Henry Hwang Writers Institute and other literary programs are made possible by the generosity of The James Irvine Foundation and the National Endowment for the Arts.)
---
LODESTONE THEATRE ENSEMBLE (Los Angeles, CA)
PRESENTS
THE 6TH ANNUAL OSCAR PARTY FUNDRAISER
March 5, 2006
Hosted by ROGER FAN (Annapolis), CAMILLE MANA (UPNs One on One) and EDDIE SHIN (WBs upcoming Misconceptions)
Ticket price includes: Academy Awards viewing on a BIG SCREEN with SURROUND SOUND.... ALL-YOU-CAN-EAT BUFFET from 6-8 PM (w/free soda & coffee from 6-8 PM)...
Hang out with your favorite Asian American celebrities including stars from the upcoming films Fast and the Furious: Tokyo Drift and Americanese
Enter to win COOL PRIZES IN OUR RAFFLE... Fully-stocked bar with DRINK SPECIALS all night (featuring L.A.'s largest martini menu with over 100 selections)...
Enter our annual Oscar pool and try to guess the winners (Pool closes before the announcement of first award). Only $5 to enter... Karaoke rooms available upstairs during and after Oscars program at no additional cost. Meet the cast/crew of Lodestone's upcoming production of The Golden Hour
All this and more at Koreatown's hottest nightspot:
Orchid Restaurant and Cafe
3900 W. 6th Street (Corner of Oxford and 6th)
Los Angeles, CA 90020
http://www.orchidlosangeles.com/
Sunday, March 5th, 2006
Doors open at 4:00 PM /Oscars start at 5:00 PM
Arrive EARLY for best seating!
Valet parking available
Tickets: $20 pre-sale (if received by March 3rd) $25 at the door (early arrival suggested) VIP tickets $35 (includes reserved VIP seating, free access to VIP karaoke room and gift bag. Only a limited number available.)
To order advanced tickets, send a check (made out to: Lodestone Theatre Ensemble) for $20 per ticket (or $35 for VIP) to: Lodestone Theatre
Ensemble c/o Oscar Night
PO Box 1072, Studio City, CA 91614
Please include your phone number and e-mail address so we can confirm your order. Tickets will be waiting for you at the door. All checks MUST be received by March 3 for pre-sale price ($20).
---
Fluidmotion (NYC, NY)
2nd Annual Movieoka
March 10, 2006
See News story
---
East West Players (LA, CA)
Sweeney Todd
February 2 to March 5, 2006
extended to March 19
The rare instance of a musical thriller, this chilling, suspenseful, heart-pounding masterpiece of murderous barber-ism and culinary crime tells the infamous tale of the unjustly exiled barber who returns to 19th century London seeking revenge against the lecherous judge who framed him and ravaged his young wife. His thirst for blood soon expands to include his unfortunate customers, and the resourceful owner of the pie shop downstairs soon has the people of London lining up in droves for her mysterious new meat pie recipe! East West Players 1994 production of Sweeney Todd earned five Theatre LA Ovation Awards, five Drama-Logue Awards and a LA Weekly Theatre Award.
See News story.
Ronald M. Banks as "Sweeney Todd" and Marilyn Tokuda as "Mrs. Lovett" in SWEENEY TODD. Photo by Michael Lamont.
---
hereandnow (Southern CA)
Foreword: A Homecoming
March 9 to 18, 2006

hereandnow theatre company and Teatro Nueva Alma celebrate their new home at the Armory Center of the Arts Northwest with this new performance, Foreword: A Housewarming. Inspired by personal stories and experiences, the show is a collaboration effort between two different cultural backgrounds, Asian and Latino, exploring the threads of culture that bind and break us.
As with any good book, a foreword generally covers the story of how the book came into being, or how the idea for the book was developed; this is often followed by thanks and acknowledgement of the people who were helpful to the writer at the time it was written. This holds symbolic meaning for the two companies as this show is a celebration of their cultural heritages as well as an acknowledgement of the support they have received from within the community.
---
Kennedy Center Family Theatre (Washington, DC)
Citizen 13559: The Journal of Ben Uchida
adapted by Naomi Iizuki
directed by Chay Yew
March 9 to 19, 2006
Dramatist Naomi Iizuka adapted Citizen 13559 as a young person's play (ages 9 and up) from Barry Denenberg's novel in Scholastic's "My Name Is America" series. In lean, poetic language and short, cinematic scenes, she tells the story of Ben Uchida, whose family was forced into an internment camp in the desert when he was 12. Recalling the events with the help of his journal, Ben comes to understand why his dad, a kindly optometrist, lost his self-respect there.
The journal was a gift from his father. "The gifts parents give their children are immeasurable," says Yew, who hopes kids will come away knowing "to be American is most invaluable. For example, when your rights are infringed, fight for them. . . . The promise is there. It's written on paper. We should never forget."

After Friday's opening performance, Transportation Secretary Norman Y. Mineta, whose family was among the 120,000 Japanese Americans interned, will join a panel discussion with the director and playwright.
---
Shunya Theatre (Houston, TX)
Italian American Reconciliation
Written by John Patrick Shanley
Directed by Ninaad Vaidya
March 10 to 19, 2006
A Love Story. Sorta....Love has not been kind to Huey Maximillian Bonfigliano. Bereft of his wife, he has taken to the arts, but bad poetry and worse clothing can't replace his ex. Against the advice of his best friend, Aldo Scalicki, and to the chagrin of his girlfriend Teresa, he decides to win back his ex-wife Janice, even though she killed his dog. Enlisting Aldo's help, what follows is a hilariously over-the-top balcony scene as Huey, a man driven by desires he doesn't understand, fights for a love no one else understands. Amid the antics of this comic play, we learn that, in the end, "the greatest--and only--success is to be able to love."
---
Donny's Skybox at Second City (Chicago, IL)
Arranged Marriage
by Foo Nguyen and Mary Sohn
March 4 to March 26, 2006
THE CEREMONY BEGINS THIS SATURDAY
We cordially invite you to our Asian-American Sketch comedy show written, produced, performed by Foo Nguyen and Mary Sohn and directed by Lillie Frances.
ACT NOW BECAUSE THIS IS ONE WEDDING THAT WILL SELL OUT VERY QUICKLY!
The Ceremony begins THIS Saturday, March 4th at 10:30pm at Donny's Skybox Theatre at 1608 N. Wells and runs every Saturday at 10:30pm until March 25th.
For more information contact Donny's Skybox at www.secondcity.com or call 312.337.3992
---
Urban Stages (NYC, NY)
presents of a reading of
The Last Emperor of Flushing
written and performed by Alvin Eng
March 20, 2006
At 6 PM
A memoir monologue written and performed by Alvin Eng, directed by Paul Couzyn
Urban Stages' MONDAYS AT THE MERC New Play Reading Series
Mercantile Library, 17 E. 47th St., (bet. Madison and 5th Aves.), NYC

THE LAST EMPEROR of FLUSHING, the sequel to the acclaimed memoir monologue, The Flushing Cycle, explores the irony of a child who struggled to adjust to Father Knows Best Americana Flushing, only to find that struggle irrelevant in 21st Century pan-cultural Flushing (NYC's second Chinatown). It's the end of an era, sort of like The Last Emperor paying admission to enter The Forbidden City, once his childhood home.
---
SALAAM (NYC, NY)
March 20, 2006
Monday, March 20, 2006 - 7:00 PM
doors open at 6:45pm
SALAAM 3rd Mondays
Geeta Citygirl, Artistic Director
invites you to celebrate Women's History Month
FEATURING three short plays written & performed by
Desi Girls On Da' Rise
ABOUT THE GROUP: Desi Girls On Da' Rise is an all-girls leadership group at SAYA! comprised of young South Asian women ages 14-19. The group meets weekly throughout the year from September to June. Through discussions, informational workshops and youth-led projects, program participants develop greater self-awareness and self-esteem, a stronger sense of community, and healthy alternatives to gender stereotypes. The group is a safe space for young South Asian women to voice their opinions, share experiences, and express themselves creatively to each other and their community.
At SALAAM Theatre, the young women of "Desi Girls On Da' Rise" will present three short plays they have written which address various issues they face being South Asian females living in the United States. These issues include gender discrimination, conflicts with parents, interracial relationships, dual-identity, and the immigrant experience. The plays offer a glimpse into the lives of these young women, the challenges they face, and the similarities they share with other young American teenage girls. Through the plays the young women of "Desi Girls On Da' Rise" hope to entertain, educate, and raise awareness among various audiences and communities about the South Asian American female experience.
Description of the Plays:
I Got In!- Amira has just found out she's been accepted into her first choice college, out of state, but there's one big problem. Can her father step beyond his patriarchal and traditional mentality to let his daughter go and pursue her dreams?
Truth Out of Lies- Anita and her mother used to always get along, until high school happened. To her mother's dismay, Anita began to slowly change into a more "Americanized" girl that she no longer recognized who dressed, spoke, and acted differently. Can their relationship survive in spite of their conflicting views on how a young adult should be?
A Daughter's Confession - Sameera is home visiting from college and has something to confess to her mother. She has secretly been dating a white boy from school fully knowing that her traditional Bengali family would disapprove. Can Sameera explain to her mother that even though she is dating outside of her race, it does not take away from her own cultural values and personal identity?
Plus other special guests to be confirmed and added to the program. Q&A with performers and Tara Devineni, Girls Program Coordinator at SAYA -- moderated by Geeta Citygirl Complimentary hors d'oeuvres and libations following the performances.
SALAAM Theatre
16 West 32nd Street - 10th floor
Between Fifth Avenue and Broadway
New York, NY 10001
Admission by donation: (nobody is turned away due to lack of funds)
$10 suggested, $15 appreciated
Reservations RECOMMENDED:
Phone: 212.330.8097
Email: rsvp@SALAAMtheatre.org
---
Lodestone Theatre Ensemble presents
the next installment in the Yellow Box series:
1,001 Ways To Enjoy The Missionary Position
by Isaac Ho
directed by Elaine Kao
March 21, 2006
featuring Jared Asato, Dennis Dun, Emily Liu, Dom Magwili, Freda Foh Shen & Leonard Wu

Two couples, a restricted instruction manual and a government official. You do the math.

TUES, MARCH 21st, 2006
8:00 PM

GTC BURBANK (Grove Theatre Center)
1111-B West Olive St.
Burbank, CA 91506
(inside George Izay Park, just west of S. Victory Blvd.)

FREE ADMISSION (but donations gladly accepted and encouraged).

FREE PARKING: Park near the jet plane in front of George Izay Park at 1111 W. Olive. St. Walk into the park, past Olive Recreation Center. GTC Burbank is behind the Rec. Center, facing the softball fields.

NO RSVPS required, however, please arrive at least ten minutes before curtain for seating (which is limited and on a first-come basis).

THERE WILL BE NO LATE ADMISSION!
---
Impact Theatre (San Francisco, CA)
Jukebox Stories
stories written and performed by
PRINCE GOMOLVILAS
songs written and performed by
BRANDON PATTON
March 23 to 25, 2006
Thursday-Friday-Saturday
Doors 7:30PM/Show 8:00PM
Limited Engagement! Limited Seating! Arrive Early!
Admission: $10
La Val's Subterranean
1834 Euclid Avenue
Berkeley, CA 94709
(Located in the basement of a pizza parlor, you can eat pizza and drink beer while watching the show!)
Jukebox Stories is a genre-bending event that mixes the bitingly comic and strange stories of Prince Gomolvilas with the sharply observant and clever songs of Brandon Patton. Prince and Brandon tell stories ripped from the headlines and from their own unpredictable lives--including tales about real-life exorcisms, about the epic history of LSD, about the dangers of computer solitaire, and about Prince's sister and her adventures with her new breast implants. The stories and songs are interwoven to create a cohesive and dynamic evening of performance.
---
Improv Hawaii (Hawaii...duh)
Screwbuki
March 24 and 25, 2006
Respect my authority! says Jubei (left, Garrick Paikai), as he and Neko (right, Lani Jones) go sword to sword in "Screwbuki" tradition. See what other situations Loose Screws creates at Tenney Theatre, St. Andrew's Cathedral. Show runs on Friday March 24th and Saturday March 25th at 8:00p.m. Email L.screws@gmail.com for ticket information.
---
Second Generation (NYC, NY)
an In The Works staged reading of
Shui Jia (Dumpling)
a new play by Wesley Du
directed by Lloyd Suh
March 26, 2006
With: Ron Domingo, Mel Gionson, Jackson Loo,
James Saito, Jade Wu
ONE NIGHT ONLY
Sunday, March 26th at 7:00pm
The Culture Project
45 Bleecker Street
New York, NY
FREE (donations are always welcome)
Seating is limited. Reservations are required.
Click here for online reservations
Shui Jiao (Dumpling) is a bold new work by 25-year-old newcomer Wesley Du, in which Daniel Lai, a former boxer and Vietnam War veteran, is confronted with the bitterness and mistakes of his past as he struggles to hold on to his estranged wife and rebellious teenage son. Shui Jiao (Dumpling) is an initimate, comic and ultimately heartbreaking saga of a Chinese American family and post-war generational conflict.
---
East West Players (Los Angeles, CA)
Asian Pacific Tales
February 27 to March 31, 2006
See News story.
---
Mu Performing Arts (Minneapolis, MN)
New Directions Festival
March 24 to April 2, 2006
Mu Performing Arts is proud to present the Fifth Annual New Directions Festival showcasing emerging directors as they perfect their craft by working on one-act and full-length plays across the spectrum of Asian and Asian American drama. This year's festival features directorial work from Brian Balcom, Randy Reyes, Eric Sumangil, and Jennifer Weir. The Festival runs March 24 – April 2, 2006 at the Mu Performing Arts Studio Space in NE Minneapolis.

Schedule:
FRIDAY, MARCH 24 at 7PM
A Shadow of the Moon by Michael Golamco (Cowboy Versus Samurai)
Directed by Brian Balcom

SATURDAY, MARCH 25 at 7PM
A Shadow of the Moon by Michael Golamco (Cowboy Versus Samurai)
Directed by Brian Balcom

SUNDAY, MARCH 26 at 7PM
FOP (Fresh Off The Plane) by Sean Lim
Directed by Randy Reyes

FRIDAY, MARCH 31 at 7PM
Two short pieces directed by Eric Sumangil
Jade Flowerpots & Bound Feet by David Hwang
Nicholas Cage Is Not His Real Name by Hal Cropp
and
Dipped In Love by Sarah Jane Moore
Directed by Jennifer Weir

SATURDAY, APRIL 1 at 7PM
Two short pieces directed by Eric Sumangil
Jade Flowerpots & Bound Feet by David Hwang
Nicholas Cage Is Not His Real Name by Hal Cropp
and
Dipped In Love by Sarah Jane Moore
Directed by Jennifer Weir

SUNDAY, APRIL 2 at 7PM
FOP (Fresh Off The Plane) by Sean Lim
Directed by Randy Reyes
---
PACT (Playwrights/Actors Contemporary Theatre) (NY, NY)
Presents a staged reading of
The Mourning After
Written by Alvin Eng, Directed by Michael Montel
March 27, 2006
Featuring Margot Avery, Susan Hyon, DeLance Minefee
ABC Films & Video, 303 Fifth Ave - 10th Floor (@ 31st St.) NYC
Suggested Donation $7, or by subscription
PACT: 212.242.5888
Two years after the 9/11 attacks, Mimi Okamoto is returning home to her native Far Rockaway, Queens, for the first time in 15 years. She is lost on the subway-alone in a train car with Jackson, a young hip-hop kid, who fiercely guards his privacy. Both are feeling the suspicious shadows of a post-9/11 NYC and find surprising refuge in each other. The Mourning After was first written as a ten-minute play for the 24-hour A-Train Plays series on September 11, 2003. This is the first public reading of the expanded play.
---
GENseng (Geneseo, NY)
Photographs from S-21
by Catherine Filloux
March 29, 2006
A staged reading of PHOTOGRAPHS FROM S-21, along with performances of Cambodian classical dance by Mme. Sam-Oeun Tes and Ms. Bonavy Chhim of Cambodian American Heritage Dance Company.
---