National Asian American Theatre Co. (NYC)
Air Raid
by Archibald MacLeish
March 13 to April 6, 2003
The National Asian American Theatre Company (NAATCO), Mia Katigbak, Artistic/Producing Director, responds to the impending war on Iraq and presents Air Raid by Archibald MacLeish at HERE Arts Center in NYC, 145 6th Avenue.
AIR RAID's only previous known production was as a radio play, which reached a vast American audience in 1938 when it was broadcast by CBS (Columbia Broadcasting System). MacLeish -- a playwright, cultural adviser to President Franklin Delano Roosevelt, and poet known as "America's Poet Laureate" -- used powerful poetic language in AIR RAID to address Americans' fears as World War II loomed on the horizon. Sixty-five years later, the play's warnings about the perils of fascism remain shockingly timely, in reverse, as the U.S. prepares to wage a war with Iraq, largely without the support of governing world bodies.
Directed by Stephen Stout

with: Irma Adlawan-Marasigan, Michi Barall*, Jennifer Chang, Geeta Citygirl, Joel de la Fuente*, Reena Dutt, Siho Ellsmore, Mel Gionson*, Nancy Kim, Jodi Lin*, Han Ong, Gita Reddy, Eileen Rivera*, Aaron Yoo
---

Pan Asian Repertory (NYC)
EMPRESS OF CHINA
By Ruth Wolff
March 12 to April 13, 2003
Starring Tina Chen as Tzu-Hsi, The Dowager Empress
A compelling look at the final years of the Manchu Dynasty's Dowager Empress. Tina Chen stars as the "Dragon Empress" who ruled China for nearly 50 years and at the dawn of a new century, is challenged for the control of China's destiny.

Previews begin March 12,2003, running through April 13, 2003.
---
Split ID Staged Performances (Southern CA)
Memoirs of an Almost Geisha
(a work in progress)
by Penny Wei and Justina Walford
April 10 to 13, 2003
Memoirs of an Almost Geisha, a series of monologues and confessions by and about the trials, tauntings, and tribulations of Asian American women. (work-in-progress)
PERFORMANCES: Thu-Sun, April 10-13, 8pm weeknights
Sun matinee @ 4pm.
---

Bindlestiff Studios (San Francisco, CA)
Live Mo' Life
$8-15 sliding scale
Thursday thru Saturday
April 3 - 5 & April 10 - 12

All shows start 8pm
185 6th St. @ Howard in San Francisco
for reservations call 415.974.1167

Couldn't get enough? Well, here's more! More Loving! More Waxing! More Bomba! Featured members of Overseas Artists and Bindlestiff Players present some of their best sketches from the past four years (plus a couple of new ones to keep us on our toes.) This is the show you can't miss! None of that weak stuff. We're serving up only the best for your viewing pleasure.
---
THE 18 MIGHTY MOUNTAIN WARRIORS
PSYCHO KARAOKE
Fridays and Saturdays, April 4, 5, 11 and 12 at 8 pm
$18 general; $15 students, seniors and groups of 10+

A special LA engagement at East West Players
For tickets call (323) 692-5517, e-mail info@18mmw.com or visit http://www.18mmw.com.

In Conjunction with Contemporary Asian Theatre Scene (Sam Jose, CA)
April 18 and 19, 2003
---
Association for Viet Arts (San Jose, CA)
Love's Shadow
April 20, 2003
Vietnamese American Dance and Theater featuring Danny Nguyen Dancers and Musicians and San Khau Viet CALI
As part of the Downtown Arts Series of the City of San Jose's Office of Cultural Affairs, the Association for Viet Arts proudly presents Love's Shadow, a unique performance of contemporary Vietnamese American dance and theater on Sunday April 20, 2003 at 2pm. Love's Shadow will showcase the work of San Khau Viet CALI (SKVC) and the Danny Nguyen Dancers and Musicians (DNDM). The "STAGE" Theater, located at 490 South First Street in downtown San Jose, will host this event.
San Khau Viet CALI will perform a modernized, bilingual Vietnamese folk play, whose central theme revolves around war and its effect on love and human relationships. Victoria Rue, PHD, will direct this performance. Founded in 1997, SKVC has developed and cultivated a unique style of Vietnamese American Performing Arts in the Bay Area. The group's innovative work includes the writing and performance of original plays both for the theater and the radio. In the past, SKVC has performed in San Jose's Downtown Art Series (DAS) and in many varied venues such as San Jose State University and Saigon Radio.
Danny Nguyen Dancers and Musicians will perform its own distinctive mix of contemporary and traditional Vietnamese dance. With its multicultural performance troupe of dancers and musicians, DNDM has performed in a multitude of Bay Area venues and events including Oakland's Chinatown Street Festival. Danny Nguyen who has both a B.F.A. and a M.F.A. in dance and choreography from the California Institute of the Arts and Mills College respectively, founded DNDM.
Tickets are $12 general, $25 for honored seating and are available at the following locations: Hoa Glassey: 408.586.9006, Thuy Tien Music: 408-262-6100 (both in Milpitas,) and General Wireless: 408.238.6441 (in South San Jose.) General admission tickets also available from the San Jose Stage box office: 408.283.7142.
---

SALAAM (NYC)
To Live a Little
by Tapio M. Huuska
April 21, 2003
A reading of Tapio M. Huuska's new one-act play, TO LIVE A LITTLE featuring Vitória Setta and Geeta Citygirl. Safiya and Anju share tea and biscuits while discussing life, God and death in this bizarrely comedic piece. "When you have a best friend, you certainly live a little, so you might as well... well die a little."
Check http://www.SALAAMtheatre.org for more details.
---

East West Players Writers' Gallery and the Japanese American National Museum (LA, CA)
99 Histories
by Julia Cho
April 24, 2003
99 HISTORIES
By Julia Cho
Directed by Alberto Isaac

What is remembered is made up. The only homelands that exist are imaginary. Love is nothing; there is only chung. Eunice comes home to decide what to do with the baby that has unexpectedly taken root inside her. But first she has to confront the lessons of a difficult past. A cellist, a missionary, a mysterious aunt,who knew a Los Angeles suburban home could hold so many ghosts? 99 Histories is a play about memory, legacy and the unbreakable bond between mother and child.
WHERE:
JAPANESE AMERICAN NATIONAL MUSEUM
369 East First Street, Los Angeles, California 90012
phone: (213) 625-0414

WHEN:
Thursday, April 24 2003
7:30 PM
---
Lodestone Theatre (LA, CA)
Sweet Karma
by Henry Ong
April 24, 2003
A reading of a new play
SWEET KARMA
The Life and Death of Dr. Haing S. Ngor
by Henry Ong
directed by Ryun Yu
produced by DC Wolfe
featuring
Elaine Kao
Jae Suh
and guest artist Long Nguyen (from GREEN DRAGON) as Dr. Haing S. Ngor
SWEET KARMA tells the story of Dr. Haing S. Ngor who was an obstetrician and gynecologist in his native Cambodia, when the Khmer Rouge took over. Dr. Ngor escaped from the infamous "Killing Fields", came to the United States and was cast in the role of Dith Pran, another real life survivor of the Cambodian holocaust, in the movie THE KILLING FIELDS for which he won the Best Supporting Actor Oscar. He became a tireless worker for Cambodian causes and was gunned down under mysterious circumstances outside his home 1996.
THURSDAY, April 24th, 8:00pm.

The Victory Little Theatre

3324 West Victory Blvd (1 block east of Hollywood Way), Burbank 91505. Please park on Victory or the library parking lot across the street from the theatre. Please do not park on the side residential streets.

---

LCC Productions (NYC, NY)
Hard Lemonade
April 25 to 26, 2003
Hard Lemonade, the third in the Lemonade one-act staged reading series, will be staged at the Asian American Writers' Workshop at 7 PM Friday April 25 and 7 PM Saturday April 26.
Hard Lemonade will feature writers and actors you know and love, and some you will grow to know and love. As you well know, we only feature the best that the world of stage has to offer.
Mark it on your calendar and show up. If you're not there, who knows where you'll be?
The Asian American Writers' Workshop is located at 16 West 32nd Street, 10th floor. Their phone number is (212) 494-0061.

Brought to you by LCC Productions:
Carla Ching
Dustin Chinn
Ed Lin
---
KULARTS (SF, CA)
in association with the Asian Pacific Islander Cultural Center
RE-DISCOVERING SINGKIL
April 25 to 27, 2003
April 25-27, 2003; Friday, April 25th, 8pm; Saturday, April 26th, 8pm; Sunday, April 27th matinee, 3pm.
SomArts Theater, 934 Brannan Street, between 8th & 9th Streets, in San Francisco
Tickets: $8-$10 sliding scale
The Kularts Performing Arts Training Program performs RE-DISCOVERING SINGKIL. Performances Friday through Sunday, April 25-27, 2003, at SomArts Theater, 934 Brannan Street, San Francisco; Friday and Saturday at 8pm, Sunday at 3pm. Tickets are available at the door, $8-$10 on a sliding scale.
An original multidisciplinary work created by the next generation of Pilipino American artists (emerging writers, dancers, poets, actors, spoken word artists, all in their early 20s) RE-DISCOVERING SINGKIL is anchored in the traditional Singkil legend. A princess pursued by a lustful forest spirit survives its vengeful earthquake by dancing through falling trees; the bells on her anklets ring out her triumph above the rhythmic clapping of bamboo poles. This core myth of the Philippines, immortalized in dance, has been transmitted through so many generations, across so many oceans and cultures, it has become little more than pretty girls with fans dancing in and out of bamboo poles. Blending elements of poetry, movement and theater, this exploration into the complexities of growing up Pilipino in urban America re-contextualizes the ancient Singkil myth and investigates self-image and cultural identity. With RE-DISCOVERING SINGKIL, a group of young Pilipino Americans reveals how their experiences in the urban jungle reflect the strength and spirit of their homeland.
---

FirstStage (LA, CA)
and then he met a woodcutter
by Felix Racelis
April 26, 2003
FirstStage presents a one-act, "and then he met a woodcutter," as part of their annual fundraiser Playwrights Express, Sat. April 26, 1:00 p.m., 6817 Franklin Ave (at Highland) in Hollywood, CA. The play is performed by members of Asian American Repertory Theater of San Diego (Chad Sakamoto) and is set in 17th century Japan. Anyone mentioning this e-mail will get admission for only $2 (versus a $10 regular admission). Free parking is available in the lot directly adjacent to the building, but since it's a busy intersection, please allow extra time.
FirstStage member and EWP DHWWI alum Felix Racelis will also have two one-acts presented in the second weekend of Playwrights Express, Sat. May 3, 4 pm ("Tel Aviv Take-Off") and 5pm ("Uncommon Threads"). More than 100 plays are presented over the course of two weekends (Apr. 26 & 27, May 3 & 4).
Now in its 23rd year, FirstStage is a nonprofit devoted to the development of new and original material for stage and screen. For more info, please call 323.850.6271, or send e-mail to Firststagela@aol.com.
---
Asian Stories in America (Washington, DC)
Bee
by Prince Gomolvilas
April 10 to May 3, 2003
BEE tells the fascinating story of an Asian-American man, who is invisible, and an African-American woman, who is the only person who can see him. In their search for a cure, they explode contemporary views of race, class, gender, and friendship. Part comedy, part drama, part parable--BEE is an exciting play that dares to see the world in more than black and yellow.
"[Bee is] a brainy, sassy, refreshing amalgam of kitsch and sociology."
San Jose Mercury News
Previews: April 10-11, 2003
Opening Night: April 12, 2003
Running Through: May 3, 2003
Thursdays-Saturdays @ 8:00 p.m.
Sundays @ 2:00 p.m.
Theatre on the Run
3700 S. Four Mile Run Drive
Arlington, Virginia

For more information, call 703.979.0875
or visit http://www.asianstoriesinamerica.com.
---
East West Players
37th Anniversary Visionary Awards Dinner & Silent Auction
April 28, 2003
Westin Bonaventure Hotel and Suites
6 pm No Host Cocktails & Silent Auction
7 pm Dinner and Awards Show
RSVP Deadline is April 18!
The James Irvine Foundation, actress Nancy Kwan, playwright Cherylene Lee, and volunteer Ken Takemoto will be honored at the East West Players 37th Anniversary Visionary Awards Dinner and Silent Auction. This award-winning fundraiser pays tribute to those who have raised the visibility of the Asian Pacific Islander community, with proceeds benefiting the nation's premier Asian Pacific American theatre company.
Scheduled to perform are members of Halau Keali'i o Nalani; lead singers of Disney's California Adventures production of Aladdin; and EWP talent. More than 800 guests are expected to attend what has been described as the most entertaining event of its kind in the Asian Pacific community. EWP's 38th season of programming will also be announced during the evening.
Platinum sponsors include George and Sakaye Aratani, David Mauss and Tenet Healthcare, Walt Disney Co./ABC Entertainment, CBS, and FOX Television, with the VIP reception sponsored by Bank Julius Bär and dessert reception sponsored by Click2Asia. Silent auction items include R/T Business Class airfares donated by American Airlines, Cathay Pacific Airways, and Malaysia Airlines; a Philips LCD Flat Screen TV and DVD Player; an L.A. County Sheriff's Department Helicopter Ride; a Mountain Bike from Health Net; entertainment packages; collectibles; and much much more.
Tickets are $150, $275, $500, and $1,000 and must be purchased by April 18 by check or Visa/MC. For more information, e-mail ryazzie@eastwestplayers.org; or send your name, address, day phone, e-mail, and payment to:
East West Players Visionary Awards
120 Judge John Aiso St., Los Angeles, CA 90012
East West Players is a 501(c)(3) nonprofit organization. Tax ID#95-6151775. Donations are deductible as permitted by law. Police Commission Charitable Services Division permit on file.
---
Room to Improv (LA, CA)
Hot Improv Nights
May 2 to 4, 2003
Room to Improv, an all-Asian American comedy troupe, will premiere their new flavor of improv theater in four shows titled, "Hot Improv Nights" at The Raven Playhouse in the North Hollywood Arts District the weekend of May 2nd.
Sponsored by the Pilipino Artists Network (PAN), the evening also features stand-up comic, Mark Fernandez, winner of NBC's National Comedy Search and San Diego's comedic dance troupe Abalos Pros.
Unlike stand-up and sketch comedy, improvisational theatre is not scripted and completely made up on the spot. The show's scenes and games will be based on audience suggestions that make each show a unique experience for the audience.
Room to Improv brings together each member's experiences in various theatrical and performing arts productions in Southern California. The troupe is planning an ambitious local tour sparked by premier performances at the Festival of Philippine Arts and Culture, Cal State Northridge's SPAHM Showcase, 21XL's LIVE! Showcase, Northridge Medical Center and the "Best Damn Comedy Show Period."
Room to Improv members are: JoJo Abuan, Lisa Casabar, Mary Joy Deocariza, Krizia Ebalo, Sage Ebalo, Anthony Foronda, James Kyson Lee, Elvin Lubrin, Marc Macalintal, and George Meier.
Look for more Room to Improv in the Bay Area, the Anaheim House of Blues and in San Diego as well as at the University of Southern California and Cal State University, Los Angeles.
Show times are Friday, May 2nd at 8pm, Saturday, May 3rd at 8pm and 10pm and Sunday, May 4th at 7pm. Doors will open 15 minutes prior to the beginning of each show. The Raven Playhouse is located at 5233 Lankershim Blvd. with free ample street parking and in an adjoining parking lot on Magnolia Street. This performance is sponsored by FilAm Arts and Flavor Magazine in association with the Raven Playhouse. Cost for the event is $10. To reserve tickets or for questions, contact us at roomtoimprov@yahoo.com or call (818) 590-8312.
http://www.ravenplayhouse.com/directions.htm

---

Japanese American Cultural and Community Center (LA, CA)
I Was Born With Two Tongues
May 3, 2003
The Japanese American Cultural & Community Center is pleased to present Chicago's I Was Born With Two Tongues, one of the hottest young Asian American spoken word ensembles, in a special one-night-only performance!
Over the past few years, spoken word/performance poetry has grown to become a strong conduit of creative expression for this generation of young Asian Pacific Americans. The 2 Tongues are at the forefront of this exciting movement, blending a fiery passion for empowerment with the rhythms of acoustic stand-up bass and mind-twisting wordplay.
Opening for the 2 Tongues are local poetics Balagtasan Collective and spoken word trio, zero 3. Don't miss the 2 Tongues on their only west coast appearance this spring!
Saturday, May 3, 8:30 pm
The Aratani/Japan America Theatre
$20 orchestra, $17 balcony
$16, $13 JACCC Members
$15, $13 Students, Groups
For more information, email yamami@jaccc.org
To purchase tickets call The George & Sakaye Aratani /Japan America Theatre Box Office
213-680-3700
open Mon. - Sat.,12 noon - 5 pm, Sun. - show days only
and evening shows until intermission.
Parking is located across from the theatre on So. San Pedro St.

Check out:
www.jaccc.org/2tongues
www.2tongues.com
www.zero3.org
www.balagtasan.com
---
---

FirstStage (LA, CA)
Tel Aviv Take-Off and
Uncommon Threads
by Felix Racelis
May 4 and 5, 2003
---
Repertory Actors Theatre (Seattle, WA)
Wonderland
by Chay Yew
May 4, 2003
At 12 noon at Elliott Bay Book Company: A staged reading. Wonderland, written by Chay Yew and directed by Kathy Hsieh, is a gorgeous play with rich characters, lyrically written. Chay explores the lives of a mother, a father, and a son, and how wonderful life is when we have a dream worth pursuing. But what happens when we wake up one day and realize that our life has slipped us by and the dreams we once aspired to are only could-have-beens and not our reality? As a writer, Chay experiments with style by infusing the words of the script with the power to transcend mere language, creating a lush lyrical landscape of memorable characters trying to communicate their humanity.
---
Asian Pacific Islander Cultural Center presents:
Eth-Noh-Tec (SF, CA)
Takashi's Dream and Other Tales of Wisdom
May 3, 2003
Takashi's Dream is the tale of one man's journey from hatred and revenge to a place of healing through forgiveness. Eth-Noh-Tec brings alive this true story of Hiroshima survivor Takashi Tanemori with spoken word, movement theater, Taiko drums and shakuhachi flute. Following the performance Eth-Noh-Tec will engage in a facilitated dialogue about violence, reactions to this piece, and its relevance to our current political climate.
SomArts Cultural Center, 934 Brannan St, SF
Admission: $12 adults, $6 children
(This performance is suitable for those over 10.)
For info/reservations: (415) 864-4126 or info@apiculturalcenter.org
www.ethnohtec.org
---
AATC (SF, CA)
The CURE
by Joel Tan and Ginu Kamani
April 26 to May 9, 2003
Set in Hollywood in 1993, The CURE blends Indian spirituality into a gripping romantic tale entrenched in the AIDS crisis. Performed by Bay Area actors, the CURE weaves the story of Winston Chao (Leon Goertzen) as the "new face of AIDS" battling with his viatical-digging lover Harmony (Keileil-DeLeon Frazier) at a the Living OM weekend retreat run by Jeanne (Rosemary Maciel) and Polly (Sareeka Malhotra). Elvis (Rajiv Shah), who descends from the heavens as the Indian spiritual god, Shiva, represents the both the beacon of hope and messenger of loss as those mortal on earth struggle to find a cure for AIDS.
"The CURE cuts through the politics of AIDS profiteering and human pain with sharp humor and intense emotionality," says Joel Tan, co-author of The CURE, "Because of the participatory nature of the play, The CURE Audiences should not expect to watch but to actively participate in the history of AIDS."
"People often forget that the recognition of AIDS by our own US government involved a united political movement," says Ginu Kamani, "The CURE chronicles the events and causes that changed AIDS work from a street movement to establishment."
---

Women of Color Arts & Film Festival (NYC, NY)
Yit, Ngay (One, Two)
written and directed by Michael Lew
May 1, 7:30 pm
May 3, 2:30 pm
May 4, 2:20 pm
May 6, 7 pm
May 7, 6 pm
May 8, 8:15 pm
May 10, 4 pm
This one-woman show is based on the separated childhood of four Chinese women; two were born and raised in Toi San, China and two were born and raised in Fresno, CA. Actress Ali Ahn (Yale undergraduate) plays all four sisters in a performance that encompasses 60 years of family history across 2 continents and features monologue and self-dialogue, flashback and ongoing event.
Yit, Ngay will be going up at the 5th Annual Women of Color Festival under artistic director Jaqueline Wade. The festival runs at Henry Street Settlement/Abrons Artist Center in downtown NY just minutes away from Chinatown.
---
RIVERSCOPE Entertainment (LA, CA)
Blind Street
a new play by Weiko Lin
May 2 to 10, 2003
8 lives are about to collide.
On a street corner in LA, a blind musician plays on as an eclectic group of hardened city natives meet by pure chance. Through the eyes of a dying British backpacker and his pregnant girlfriend, the lives of a homeless vet, a delusional prostitute actress, a grave digger, a Beverly Hills runaway, a sex-craving bully, and a Hollywood screenwriter intersect via love, sex, and death.
CENTURY CITY PLAYHOUSE
10508 W. Pico Blvd.
Los Angeles, CA 90064
(next to the Rancho Park Golf course)
4 performances only! May 2 - 10
FRIDAY at 8pm, May 2, 9
SATURDAY at 8pm, May 3, 10
TICKETS: $18 general ($3 off for students and seniors)
ADVANCED RESERVATION:
Please call (310) 826-3876
or email: tickets@riverscope.com
Please include the following information.
1) NAME
2) EMAIL
3) PHONE
4) # OF TICKETS (how many students/adults)
5) DATE OF PERFORMANCE:
*May 2, Friday.
*May 3, Saturday.
*May 9, Friday
*May 10, Saturday
For more info, please contact: info@riverscope.com

(310) 826-3876

WWW.RIVERSCOPE.COM
---
Scene Dock Theatre (LA, CA)
Calling Aphrodite
by Velina Houston
May 4, 2003
Seamless
by Dorinne Kondo
May 18, 2003
TRANSNATIONALISM, WAR, AND IDENTITY
A Theatrical and Critical Collaborative Investigation
?????????????????????????????????????????????
Two Staged Readings of New Plays
by Velina Hasu Houston and by Dorinne Kondo
at the Scene Dock Theatre, USC*
?????????????????????????????????????????????
May 4, 2003, 2 p.m.
CALLING APHRODITE by Velina Hasu Houston
Directed by Brian Nelson
This is a play about survival, recovery, renewal, and the fluctuations of identity in terms of gender, transnationalism, and race; explored from the perspective of a Hiroshima bombing victim, Keiko Kimura, whose life is inextricably tied to the spirit of Aphrodite, the Greek goddess of beauty and renewal. This is about the beauty of land, souls, and humanity degraded by war; and Keiko's efforts to recover her hope for grace in herself and in the world-at-large, against all odds.
May 18, 2003, 6:30p.m.
SEAMLESS by Dorinne Kondo
Directed by Darrell Kunitomi
What are the enduring effects of global war? SEAMLESS stages the persistence of the historical memory of Japanese American internment in generations born AFTER the camps, as shards of family and racial memory pierce the seamless perfection of WOMAN's life as an Ivy League, corporate lawyer. Surreal, funny, poignant, SEAMLESS is especially resonant in a post-9/11 world.
Transnationalism captures the distinctiveness of our contemporary historical moment, when boundaries among races/ethnicities and nations have never been so porous and complex. What happens when persons hold dual, even multiple attachments to their countries of origin and their countries of residence? How do geopolitical events such as war resonate in the lives of people whose identities are formed in these intersections? Moments of historical crisis reinforce conventional assumptions of citizenship and essentialized racial identities, as we have seen during World War II and in the present "war on terrorism."
Post-play discussion following each reading.
*Directions: From the 10 Freeway, go south on Vermont, east on Jefferson,
right (south) on McClintock. Stop at USC Parking Kiosk, state you are
attending an arts event, and obtain directions to the Scene Dock. Directions and map online at usc.edu.

---
Lodestone Theatre (LA, CA)
The All Star Asian American Comedy Jam
sponsored by Fox Broadcasting
May 10, 2003
Hosted by "Sixteen Candle's" Long Duk Dong himself GEDDE WATANABE (Gung Ho, ER) and featuring headline performances from BOBBY LEE (star of FOX's MAD TV) and ALEC MAPA (star of UPN's Half and Half and the solo shows I Remember Mapa and Mapa Mia). Also starring AMY ANDERSON, DAN GABRIEL, DR. KEN JEUNG, MARK FERNANDEZ, KAYO, PHIL NEE, DAT PHAN and other surprises to come!
Produced by Ray Chang, Erin Quill & Phil Young
Plus FOX will premiere a brand-new, surprise television show exclusively at
this event.
All proceeds from the comedy jam will go to support Lodestone Theatre Ensemble's ongoing programs including our new theatre campaign, our Asian American teen theatre programs and our upcoming co-production of Angela Kang's When Tigers Smoked Long Pipes opening June 14 at the Victory Theatre.
WHERE: ROSEN'S BREWERY (4th and WESTERN in L.A.'s Koreatown). Call (213) 388-0061 for dinner reservations. Valet parking only $2.
WHEN: SAT - MAY 10th - doors open at 7PM (comics scheduled to take stage 8:30 PM), Drink specials from 7-9 PM: microbrew pints @ $3 and pitchers @ $9 TIX: $20 in advance 'til May 8th (includes free event t-shirt while supplies last), $25 at the door (t-shirt not included), and $30 VIP (Shirt and Reserved seating). To order advance $20 tickets, send checks (made out to Lodestone Theatre) to: Lodestone Theatre Comedy Jam, P.O. Box 1072, Studio City, CA 91614. Checks MUST be received by May 8 to received discounted price. Please include your phone number and e-mail address so we can confirm your tickets.
Lodestone Theatre Ensemble is an L.A. based Asian American theatre company founded by Alexandra Bokyun Chun, Philip W. Chung, Chil Kong and Tim Lounibos with a mission to develop, create, promote and present edgy, compelling and impassioned works that bridge communities through truthful and entertaining artistry.
---

Ma-Yi Theatre (NYC)
Last of the Suns
by Alice Tuan
April/May 2003

---
La Mama ETC and Kinding Sindaw Company (NYC)
LEMULUNAY
May 1 to 18, 2003
La Mama E.T.C. presents the Kinding Sindaw Company in LEMLUNAY: A dramatized adaptation of the epic myth of the T'boli people, southern Philippines.
From the company of artists that premiered Rajah Mangandiri, the Philippine Ramayana in New York City in December 2000
"Kinding Sindaw created magic on the stage of La Mama"- New York Times

Original adaptation and choreography- Potri Ranka
Manis, (founder and artistic director)
Directed by Wayland Quintero (SLANT/La Mama artist)
Readapted by Potri Ranka Manis and Wayland Quintero
Visual & Set design- Jun Maeda (Award-winning designer)
Lighting design- Tom Lee (La Mama resident artist)
---

Pan Asian Repertory Theatre (NYC)
Stage Reading Series
May 7 to 21, 2003
The Richness & Diversity of Asian Heritage
3 Different cultures on 3 Different days
READING ONE: May 7th, Wednesday @ 7:00pm
BELTED BLUE, BLEEDING YELLOW
by Qui Nguyen
directed by Chuck Smith
READING TWO: May 14th, Wednesday @ 7:00pm
THE LEGACY CODES
by Cherylene Lee
directed by Ron Nakahara
CHERYLENE LEE (Playwright) – is a 4thgeneration Chinese-American former child performer/playwright/poet/novelist, whose writing examines the broad spectrum of Asian-American experience. Some ofher plays produced by Pan Asian include: (Mainstage) Arthur &Leila, and Carry the Tiger to the Mountain; (Staged Readings) Lost Vegas Acts and Yin Chin Bow.
READING THREE: May 15th,Thursday @ 7:00pm
OBAKE
by Edward Sakamoto
directed by Ron Nakahara
It is 1920's Hawai'i, an immigrant Japanese community on the Big Island. Two couples living a hardscrabble plantation life become friends. The leader of the two takes up with a dissatisfied, predatory woman of the community and then kills and buries his wife. Obake means "ghost" in Japanese.
EDWARD SAKAMOTO (Playwright) – was born and raised in Hawai'i and was the 1997 recipient of the Hawai'i Award for Literature. He has written 15 plays, Aloha Las Vegas have been produced by Pan Asian Rep.
---
Pork Filled Players (Seattle, WA)
at the University of Washington
North Husky Den
May 22, 2003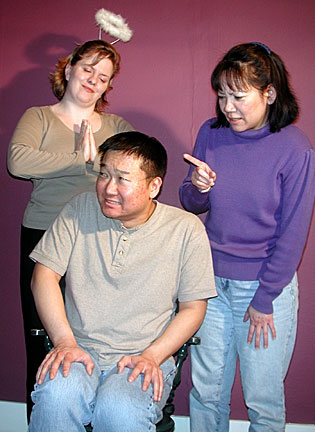 ---
As part of Taper Too's
HOTHOUSE
[A Laboratory For New Work] Series
LAsians
Solo performances about being Asian in L.A.
Ivy Substation in Culver City
Fri May 16 & Sat May 17, 8PM
Tickets are $5

some scheduled performers include:
Alison De La Cruz, Kip Fulbeck, Shishir Kurup, Dan Kwong, Jude Narita, Meera
Simhan, Denise Uyehara, and Kristina Wong.

Directed by Chay Yew
This program is part of the Asian Theatre Workshop

For more information you can visit www.taperahmanson.com (click on HOTHOUSE)
HOTHOUSE
All Tickets $5 each
and are available online or by calling
213-628-2772

The Ivy Substation
9070 Venice Boulevard
(at the intersection of Venice Blvd. & Culver Blvd.)
Culver City, CA 90232
---
OPM (LA, CA)
FRESH OFF THE MEI-FROWER
May 1 to 31, 2003

Thursdays & Fridays at 8pm
Saturdays at 8pm & 10pm

Directed by Eddie Mui
Assistant directors: Fred Wu & Heeli Kim-Jeng
Produced by Ewan Chung & Charles Kim

Starring: Pearl Chen, Ewan Chung, Teddy Chen Culver, Becky Jones, Robin Jones, Charles Kim, Heeli Kim-Jeng, Mai Lee, Russ Riggins, Jae Suh, Maurissa Tancharoen, DC Wolfe
Sketches written by: Leroy Chin, Melissa Chiu, Ewan Chung, Becky Jones, Charles Kim, Heeli Kim-Jeng, Pang-Ni Landrum, Russ Riggins, Maurissa Tancharoen, Sharon Wong
The Flight Theater @ The Complex
6472 Santa Monica Blvd
(between Wilcox & Cole)
Hollywood, CA 90038
Tickets $10
(Industry comps available)
Valet parking
For RSVPs & more info, call 323.428.7532 or e-mail opmcomedy@yahoo.com.

---
dueEast Theatre Co. (Chicago)
The Theory of Everything
by Prince Gomolvilas
May 10 to 31, 2003
See News story.
---
BINDLESTIFF STUDIO PRESENTS... (SF, CA)
Bomb Shelter
May 25, 2003
Featuring Mush, Theresa Vu and Direct, Irene Duller from 8th Wonder, Geologic from Isang Mahal and Jason Bayani, Rupert Estanislao, Mesej 1, Leonard Shek from the Proletariat Bronze
This is family reuniting, a moment to catch ourselves breathing before we meet again in Chicago for the 2003 APIA Spoken Word/Poetry Summit. There are movements in art and poetry going on in different cities, and we're limited to catch small glimpses of what our community is doing, a community that has grown coast to coast. All proceeds will in turn be given to the APIA National
Spoken Word and Poetry Summit for August.
Where: Bindlestiff Studio (185 6th Street @ Howard)
When: May 25, 2003, 8pm and 10:30 pm
Reservation and phone: 415/974-1167 (reserve now!!!)
Information: bounceback@hotmail.com
---
East West Players Writer's Gallery in conjunction with the Japanese American
National Museum presents a reading with music of:
THE ABDUCTION OF LADY WEN CHI
conceived, written and composed by Mimi Seton, additional music and
arrangements by James Peterson
May 29, 2003
Directed by Glen Chin
Violin: Nicole Garcia Cello: Peggy Baldwin Drums: MB Gordy
The Abduction of Lady Wen Chi is an imaginative re-working of a Chinese tale of a fifteen-year-old upper -class girl, schooled in Confucianism but still unworldly, who is violently kidnapped by Hsiung-Nu nomads at the end of the Han Dynasty. Her journey through fifteen years in the desert takes her from naïve girl parroting her parent's values to powerful woman whose ethics of non-violence are personal and hard-won.
WHERE:
JAPANESE AMERICAN NATIONAL MUSEUM
369 East First Street, Los Angeles, California 90012
phone: (213) 625-0414

WHEN:
Thursday, May 29, 2003
7:30 PM

ADMISSION IS FREE
---
The Asian American Writers' Workshop (NYC, NY)
A Women's Solo Performance Series
featuring Denise Uyehara, Maura Donahue and Dawn Akemi Saito
May 29-31st @ the Workshop
Thursday, May 29, 2003
7-9 PM
Denise Uyehara
performs Big Head, an interdisciplinary work that links the memory of the World War II internment of Japanese Americans with the present-day treatment of those suspected of being "the enemy". This interdisciplinary performance is inspired by voices from members of the Arab American, Muslim and South Asian American communities, and letters Uyehara's great uncle composed in 1942 while incarcerated at Rohwer Relocation Center in Arkansas.
Friday, May 30, 2003
7-9 PM
Maura Donahue
performs SKINning the surFACE—SOLO, which uses the 1987 Amerasian Homecoming Act between Vietnam and the U.S. as a springboard into a heated exploration of the bi-racial body and its personal and political repercussions. The work combines original text, as well as passages from Thomas Bass' "Vietnamerica" and Ho Chi Minh's "Poems from a prison diary", with various lullabies from around the world, striking multimedia images and an athletic combination of traditional Asian and contemporary movement forms.
Saturday, May 31, 2003
7-9 PM
Dawn Akemi Saito
performs Blood Cherries, a solo theater piece woven from text, Butoh dance, music and visual imagery in which a woman sets off on a fantastical journey into memory and the imagination in search of the spirit that has left the body of her dying father. Closing night wine reception follows.
The Asian American Writers' Workshop is located at
16 West 32nd Street, 10th Floor
New York City
(between 5th Avenue & Broadway)
tickets only $5 each night! to rsvp call 212-494-0061.
---
KULARTS (SF, CA)
Asian Pacific Islander Cultural Center
Alleluia Panis Dance Theatres
HEROES
A world premiere production combining dance, Pilipino warrior arts and theater
May 30-31, 2003, 8pm.
Where: SomArts Cultural Center, 934 Brannan Street, bet! ween 8th & 9th Streets,
in San Francisco
Tickets: $12 advance/$15 at the door; call 415/864-4126 or e-mail info@apiculturalcenter.org
Kularts presents in association with APICC, Alleluia Panis Dance Theatre (APDT) in the world premiere of HEROES, 8pm Friday- ! Saturday May 30-31, 2003, at SomArts Cultural Center, 934 Brannan at 8th Street in San Francisco. Tickets are $12 in advance, $15 at the door and $10/ticket for advance sale of 10 ! tickets or more. Call: 415/864-4126 or e-mail: info@apiculturalcenter.org. On Saturday only, there will be a special appearance by the San Jose-based traditional Pilipino string music ensemble, Fil Am Veterans Rondalla.
Directed and choreographed by Alleluia Panis with escrima choreography by Maestro Dexter Labonog, musical score by Jeff Stott and video projections by Gaidi Nkruma, Heroes is told through a synthesis of escrima warrior arts movement, theater, and dance. With script based on escrima Grandmaster Leogivildo Giron&Mac226;s W.W. II memoirs Memories Ride the Ebb of Tide and the recollections by families of Pilipino American soldiers, the new work explores, courage, brutality of war, romance and victory of W.W.II Pilipino American soldiers who fought in the Philippines.
Commissioned by the National Endowment for the Arts and SF Art Commission Cultural Equity Initiative, Heroes is performed by 18 escrima artists, dancers and actors. Perfomers include: Fides Enriquez, Rona Fernandez, Tom Flores, June Gotico, Gene Inis, Jesse Joven, Terry Joven, Lisa Juachon, Joel Juanitas, Sam Juanitas, Dexter Labonog, Tricia Ong, Tisay Opaon, Marcus Quelinderino, Carolina San Juan, Daryll Santuray, Jose ŒFlipchild&Mac226; Saenz and Edward Talisayan.
While developing The Warrior Project, Alleluia Panis worked with Bahala Na Escrima of Stockton, CA founded by Grandmaster Leo Giron, a deeply respected grand master of Pilipino fighting arts. Grandmaster Giron was born in the Philippines, and emigrated to the U.S. at the age of 15. During World War II, he, along with thousands of other immigrant American-Pilipino farm workers, were "allowed‰ to enlist in Pilipino Regiment Infantry of the U.S. Army. Because he knew the language and the land, Grandmaster Giron was chosen to be a special agent of the Allied Intelligence Bureau. Heroes is dedicated to Leovigildo Giron. 1911-2002.
Kularts was founded in 1985 to inform and expand the understanding of American Pilipino culture through works that address contemporary issues in our community; to preserve the spirit and integrity of ancient Pilipino art forms through research, education and documentation; and to nurture the artistic development of Pilipino American artists.
---
Seattle Repertory Theatre
Malaya
by Chay Yew
June 1, 2003
directed by Rosa Joshi
featuring: Hans Altwies, Stan Asis, Bridie Harrington, Kathy Hsieh, Bea Kiyohara, Richard Lopez, Amy Waschke
In South East Asia's Colonial Malaya during the 1920's three individuals play out their destiny. Fast-forwarding to the present, the same city is now urban and fiercely independent. But will these three new lives repeat the same cycle or break away from it? Fate, love, politics, and culture collide in this new play inspired by Federico Garcia Lorca's Blood Wedding.
---
Theater Mu (Minneapolis, MN)
New Eyes Festival
May 31 to June 1, 2003
Theatre Mu in Minnesota
May 30 - June 1, 2003
Patrick's Cabaret
3010 Minnehaha Avenue South, Minneapolis

11th Annual New Eyes Festival
co-presented by Patrick's Cabaret

This year's staged readings are unique in that they represent works primarily from the national landscape of Asian American playwrights. Add your voice to the dialogue with the directors and performers and be a part of the creative process!

Friday, May 30 @ 7:30 pm*
From Shadows to Light - by Ka Vang, directed by Rick Shiomi
A shimmering tale of a heavenly bride-to-be on a mission, first read at New Eyes,
2002 and headed for the mainstage in April, 2004.

Saturday, May 31 @ 5pm
Dust Storm - by Rick Foster
A Japanese American man recounts his internment experiences as a teenager
during the second world war.

Saturday, May 31 @ 7:30 pm*
Texas - by Judy Soo Hoo, directed by Katie Leo
A Shepard/Pinter-esque tale of two damaged, loony trailer-trash brothers who
take in an unsuspecting college student as a boarder.

Sunday, June 1 @ 5pm
Along for the Ride - by Isaac Ho, directed by Kiseung Rhee
Two couple's lives start to disintegrate as their dissatisfaction with choices made
earlier in life surfaces.

Sunday, June 1 @ 7:30 pm*
99 Histories - by Julia Cho, directed by Angie Ahlgren
About to become a mother herself, a young woman confronts the memories and
mystery of her mother's past.

* Shishi Mai, the traditional Japanese lion dance, will be performed at each 7:30
show.

Tickets: $6 single show
$10 two shows / $20 festival pass

---

Wait What Productions (Seattle, WA)
China Dolls
April 18 to June 2003
extended!
"Critic's Pick" - SEATTLE TIMES

"Unpretentious Entertainment" - SEATTLE PI

"Gleeful send up of Asian American sterotypes...Writer/Director Quill devises the perfect vehicle to make her jabs...in the manner of an MGM Musical" - SEATTLE WEEKLY

"CHINA DOLLS provides a great evening of fun entertainment... a hoot and a
half." - Milton W. Hamlin, SEATTLE GAY NEWS
STARRING: Rei Matsumoto, Tracey Wagner, Leilani Wollam, ARNALDO!, Chil Kong
AUTHORS: Chil Kong & Erin Quill
DIRECTED & CHOREOGRAPHED: Erin Quill
The Standard - 527 S. Main St. in Seattle's International District. http://www.ticketwindowonline.com or call (206) 325-6500 $20 in advance, $25 at the door - $18 for groups of 10 or more Must be 21 to enter THE STANDARD CAFE.
CHINA DOLL FUN - SEATTLE GAY NEWS

China Dolls...A Love Story is described as "a new retro-burlesque cabaret," and that works well enough. Really a musical revue with a smidgen of a plot, China Dolls brings a bright bit of nightlife to Seattle's International District. The newly named (and handsomely refurbished) Standard Lounge in the ID hosts China Dolls as "one of many events" the new owners plan for the historic club. So far, so good.

A laughing, clapping, cheering audience of family, friends and real just-off-the-street customers welcomed the spirited show to Seattle at last Friday's opening night. The show is a slight, silly concoction that claims to reexamine stereotypes of the Asian community using the same songs that established the stereotypes. So, pop songs of yesteryear show up with tongue-in-cheek delivery '"Chinatown, My Chinatown," "Slow Boat To China," even Monty Python's "I Like Chinese." The clearly racist but humable 'novelty number "Nagasaki" (with a lyric that goes, "Back in Nagasaki where the men all chew tobaccy/and the women wicky wacky woo") is offered as one of the show's alternative endings.

Like the recent Broadway revival of Rodgers and Hammerstein's Flower Drum Song, the new Seattle show doesn't succeed as a commentary on racial or ethnic stereotypes or a reexamination of cultural diversity. But 'like Flower Drum Song (which is headed to Seattle on a national tour) China Dolls provides a great evening of fun entertainment.

The wisp of a plot revolves around Johnny Song. Johnny, brought to life in a solid performance by Chil Kong, who also provided the show's "concept" and script, isn't sure if he loves the beautiful Mae Wong (obviously part MaeWest and Anna May Wong), a spirited Rei Matsumoto, or Sally Stunning, the long-legged Caucasian blonde who is hot for Asian men, especially Johnny. Two chorus "girls" provide musical commentary and plot complications. The "non-Siamese, non-twin Siamese Twins," Wei and Tee, also give the show much of its oomph. Leilani Wollam is Wei (with a never ending series of bad puns '"Wei To Go") and Arnaldo! is Tee. Arnaldo, of course, is Seattle's favorite "drag chanteuse" and is a total success here. The show pays no attention to the gender-bending casting until the audience votes on the ending.

All in all, China Dolls is a hoot and a half. Advance tickets are available at (206) 325-6500 with a $5 savings over the $25 "at the door" price. Group rates are also available. China Dolls continues weekends through June 11 with several late night performances on the production calendar. One hint 'bald headed men should avoid front row or aisle seats unless they don't mind wet lipstick kisses that mark them for life 'and laughs.

China Dolls performs in a classic cabaret setting with the audience at tiny tables with limited food and drinks available. It's a fun night check it out.
---
East West Players (LA, CA)
The Nisei Widows Club
by Betty Tokudani
May 14 to June 8, 2003
A new comedy about love and loss and living in the Nisei (second generation Japanese American) tradition. A group of Nisei band together to form a support group for bereaving spouses. One night, unexpected visitors attend their weekly gathering and all hell breaks loose. THE NISEI WIDOWS CLUB is supported in part by The James Irvine Foundation.
See News item
---
Bindlestiff Studio (SF, CA)
Like White on Rice
May 29 to June 7, 2003
Thursday-Saturday at 8pm
Bindlestiff Studio 185 Sixth Street (at Howard), San Francisco
$8-15 Sliding Scale
Reservation and phone: 415-974-1167

Information: Dan Weil at danbindle@yahoo.com

Using sketch comedy, poetry, physical theatre and drama, the cast explores what makes our art, what makes us who we are, and how far we can push the line between driving a point home and driving the audience home. And how much we can make them laugh. The cast has been rehearsing with the idea that if they can't affect themselves, if they can't make themselves question their beliefs, if they can't laugh at themselves, how can they make the audience? Come explore with us.
---
Yangtze Repertory Theatre (NYC)
The Soongs: By Dreams Betrayed
by Joanna Chen
May 30 to June 8, 2003
Before the Shah, before the Marcoses, there were the Soongs...
---
Seattle Repertory Theatre
B. F. E.
by Julia Cho
June 4, 2003
Meet Penny: fourteen and bored. It is, as she would put it, "A very dangerous time." Out in B.F.E. anything can happen. Girls can disappear. A security guard can find love in a department store. A beautiful woman can give her not-so-beautiful daughter the gift of plastic surgery. Welcome to the wacky world of B.F.E.
---

Vancouver Asian Canadian Theatre
SKETCH OFF!#%!!
4th Annual Asian Comedy Night
June 6 and 7, 2003
At 8 pm at the Roundhouse Performance Centre, 181 Roundhouse Mews, Vancouver. $20 in advance, starting in May 2003 from (604) 713-1800, or $25 at door.
Featuring: Seattle's Pork Filled Players, Philadelphia's Asians Misbehavin', LA's OPM and Vancouver's Hot Sauce Posse and Assaulted Fish.
On Friday, June 6th, 5 sketch comedy groups will compete for the coveted Vancouver's Rice Bowl. Each group will have 20 minutes to strut their stuff while local Artistic & Programming Directors will be judging them on humour, timing, delivery and marketablity. One winner takes all - A $500 cash prize! Come see which team is the hottie to steam the rice and take home the Bowl!
On Saturday, June 7th, the 5 sketch comedy groups will once again compete, but this time, you, the audience will determine the PEOPLE'S "CHOYS" Award by casting your vote with hoots & howlers. First place takes home $300, 2nd place is worth $200 and 3rd place is $100. Be part of the fun and help determine the destiny of the competitors!
---
San Diego Asian American Repertory Theatre
Fentor
by Jason Fong
May 17 to June 14, 2003
The Lee family is in a state of transition as they learn to deal (or not deal) with their mother's death and move on with their lives. Andrew Mason Lee, affectionately called "Fentor" by his family, is the youngest child and is having a difficult time accepting the loss of his mother. Despite his hardships, Fentor's closest friends, an eclectic trio of furniture, are there to support and nurture him.
Featuring: Gary Chun, Kim Miller, Nina Lee, Jason Hwang, Jolene Hui, Ryan Phan, Thomas Villegas, Willy Henry, Michelle Wong & Angie Chan
May 17 through June 14, 2003
Fridays and Saturdays - 8 P.M.
Sundays - 3 P.M.
Thursday, June 12 - 8:00 P.M.
"Pay What You Can Nights‰ Mondays, May 19th & 26th 8 P.M.

City Heights Performance Annex
3795 Fairmont Ave, San Diego, CA 92105
---
EXIT Theatre (SF, CA)
E.O. 9066
June 1 to 14, 2003
E.O. 9066 found object puppetry, a family caught in the national hysteria of World War II ad Japanese internment. Lunatique Fantastic. THU/FRI/SAT 8PM Extended from DIVAfest through June 14.
---
Highways Performance Space (LA, CA)
Grand Dystopia
Two Performers Unleash Fantastic Wonderlands
Free?
by Kristina Sheryl Wong
June 13 &14, 2003
8:30PM
Highways Performance Space
1651 18th St. Santa Monica 90405
Reservations 310.315.1459
www.highwaysperformance.org
Classical Conditioning is a multi-layered interdisciplinary solo performance work that examines the innate knowledge each child possesses and the critical importance of environmental experiences on that child's development. Conceived and Performed by Nurit Siegel with Erin Rae and Krista Bermeo. Directed by Courtney Vine
"...glaring honesty and a wry sense of self aware humor." BackstageWest
Kristina Sheryl Wong performs Free? part- dream, part- nightmare performance-hybrid that takes on SARS, Los Angeles, and "freedom" with a theatrical punch! "Highly Amusing..." -LA Weekly
visit Kristina's site at kristinasherylwong.com

in association with Toxic Shock Stage toxicshockstage.org
---
Bindlestiff Studio presents...
Halo-Halo: A Queer Pin@y Revue
June 13-14, 2003
Fri and Sat 2 NIGHTS ONLY!
Bindlestiff Studio,185 Sixth Street (at Howard), San Francisco Tickets: $15, $10 students (w/ID), disabled and senior citizens (60 and over w/ID)
Reservations (by phone only): 415-974-1167
Information: Lolan Sevilla, pinayjive1@yahoo.com
http://www.bindlestiffstudio.org/
Halo-Halo: A Queer Pin@y Revue, back by popular demand, will be making it's encore showing at Bindlestiff Sudio, the epicenter for Pilipino Arts in the San Francisco Bay Area. It will be the celebration and reclamation of Pilipino culture through music, word and movement; an insertion to the annals of our history that documents our existence. Based upon the variety programs of the Philippines, Halo-Halo will show the complexity of identity through the artists' individual pieces: some humorous and light, others stinging with heartbreak
---
SALAAM Theatre (NYC)
Life, Love and EBITDA
by Anuvab Pal
June 17, 2003
EPIC THEATRE CENTER
In Association With
Indo-American Arts Council, Rising Circle & SALAAM Theatre
presents a staged reading of

Anuvab Pal's
Life, Love and EBITDA
Directed by Shilarna Stokes

Featuring: Carolyn Ladd, Sakina Jaffrey, Geeta Citygirl, Gita Reddy, Tirlok Malik, Sunita Mukhi, Poorna Jagannathan, Brett Epstein and Andy Brown.

Venue: Theatre 3
311 West 43rd Street, 3rd Floor
between 8th and 9th Avenues
Manhattan, NYC

For reservations, call 212.874.5300 Ext.1499
Suggested Donation: $5 - $10

Life, Love and EBITDA - a new play, is a dark comedy about women in the corporate world and women who are affected by them. The play dives into an exploration of female relationships tied to the fate of an Indian Manhole Cover company. It tries to understand, through the hurried events of a Christmas weekend, through the hurried interactions taking place in three large world cities, the role global business has begun to undertake in manipulating free will and collective hope.

While reserving tickets, please be sure to mention Life, Love and EBITDA - as several plays are running in repertory.
---
GAIA AND CUCHIPINOY (NJ)
Now I Lie
by Lesli-Jo Morizono
June 19, 2003
Cuchipinoy Productions, in collaboration with _gaia, is proud to announce the first reading to launch the NINE MUSES READING SERIES, a quarterly reading series that showcases work for and about women. The first reading will be on June 19, 2003 at 7:30 PM and will be held at _gaia Studio in Hoboken, NJ. Admission is $3.
NOW I LIE, by Lesli-Jo Morizono, was a semi-finalist in the Cherry Lane Theatre's Mentor Project. It tells the story of three generations of Chinese-American women who are on the run from their past, a curse on their bloodline in the form of a witch-dog that hunts their offspring. The reading will feature Anna Payumo, Sacha Iskra, and Lisa Gill in the roles of the three women, and will be directed by Jonathan Calindas. The reading will be stage managed by Genevieve Toscano.

---

New Conservatory Theatre Center (San Francisco, CA)
presents the World Premiere of
Mysterious Skin
a play by PRINCE GOMOLVILAS
based on the novel by SCOTT HEIM
directed by ARTURO CATRICALA
April 23 to June 28, 2003
featuring RICH DYMER, REBECCA FISHER, JOSEPH PARKS, MEGAN TOWLE, TAYLOR VALENTINE
Based on the acclaimed novel, MYSTERIOUS SKIN follows the story of an 18-year-old in Kansas searching for the answers behind the traumatic events of his childhood. The possibility that he may have been abducted by aliens arises, leading him deep into an investigation of the paranormal and his own troubled past. All trails eventually lead to another 18-year-old, a New York hustler who holds the key to the terrifying truth. Together, they move towards an unforgettable conclusion.
Previews: April 23, 2003-May 2, 2003
Opening Night: May 3, 2003
Running Through: June 28, 2003

Wednesdays-Saturdays @ 8:00 p.m.
Sundays @ 2:00 p.m.

Tickets:
$38 opening night
$28 Fridays & Saturdays
$25 Thursdays & Sundays
$18 Wednesdays & Previews
Pay-What-You-Wish on April 24

New Conservatory Theatre Center
25 Van Ness Avenue
San Francisco, California

For tickets, call 415.861.8972.
Or buy tickets online at http://www.ticketweb.com.
---
ReAct (among others; Seattle, WA)
Yankee Dawg, You Die!
by Philip Kan Gotanda
June 12 to 22, 2003
YANKEE DAWG YOU DIE confronts the ever-present dilemma of Asian American Actors in Hollywood. Should they accept demeaning, stereotypical roles in order to make a living or should they refuse to compromise their dignity and become obsolete? Bradley Yamashita and Vincent Chang, two men from two generations journey to find not only their dreams, but what it means to be actors, Asians, and Americans.
This production is sponsored by The Graduate Actors Professional Society (GAPS) in conjunction with the Washington Asian American Theater (WAAT), the Ethnic Cultural Center, Graduate Opportunities & Minority Achievement Program (GO-MAP), UW President's Office, UW Office of the Vice President for Student Affairs, the ASUW and with advisory support from the Repertory Actors Theatre (ReAct).
YANKEE DAWG YOU DIE
by Philip Kan Gotanda

PERFORMANCES: Ethnic Cultural Theatre, 3940 Brooklyn Avenue NE

Thursday, June 12 at 8pm
Friday, June 13 at 8pm
Saturday, June 14 at 8pm
Sunday, June 15 at 8pm
Wednesday, June 18 at 8pm
Thursday, June 19 at 8pm
Friday, June 20 at 8pm
Saturday, June 21 at 8pm
Sunday, June 22 at 2pm

Admission at the door $7 Student, $12 General
For reservations for Groups of 10 or more, please email: jsy@u.washington.edu

A Post-play Discussion will follow the Thursday, June 19th Performance.

Directed by DAVID HSIEH
Featuring TONY K. NAM, and JOSEPH S. YANG
Stage Managed by NADIA KABOUL with set design by ELIZA FURMANSKY, lighting by
DIRK SANDERS, sound by COREY HARRINGTON, props by EUNICE YANG and choreography
by ROCKI DUCHARME.

---
Lodestone Theatre Ensemble (LA, CA)
the next installment in the Yellow Box series:
A reading of the classic Broadway smash
THE WOMEN
by Clare Boothe
June 23, 2003
Directed by Stevie Stern
featuring Angela Chiu, Lynn Delgado-Chang, Elizabeth Hong, Arisa Kim, Mai Lee, Emily Liu, Camille Mana, Edelyn Okano, Ginni Ramos, Angie Suh and May Wang
It's New York City in 1937, and society women live a seemingly charmed life -- days spent getting mud packs, nights out on the town, at the theatre or at parties. But all the while they face the difficult task of holding onto their most prized assets -- their rich husbands. Gossip and backbiting are ways to survive. So when the nails are sharpened and the innuendoes fly, keep your head down. You're in the world of THE WOMEN.
MONDAY, JUNE 23rd, 7:30 PM. (Please Note The Earlier Start Time)

The Victory Theatre
3326 West Victory Blvd, Burbank, 91505
Please park on Victory Bl. or the library parking lot across the street from the theatre. Please DO NOT park on the side residential streets.
FREE ADMISSION (but donations gladly accepted and encouraged)

NO RSVPS required, however, please arrive at least ten minutes before curtain for seating (which is limited and on a first-come basis).
---
Artwallah (LA, CA)
Raisins Not Virgins
by Sharbari Ahmed
Chaos Theory
by Anuvab Pal
June 26 to 29, 2003
ArtWallah 2003 in Los Angeles, CA
Thursday thru Sunday, June 26 to 29, 2003
SALAAM Theatre goes west! Geeta Citygirl, Puja Lalmalani and Julio-Alexi Genao join Rashmi and Mikhail Islam in Sharbari Ahmed's RAISINS NOT VIRGINS while Anuvab Pal's play, CHAOS THEORY is showcased and Vijai Nathan emcees. ArtWallah is an annual non-profit festival showcasing expressions of the South Asian diaspora. Presented by the Indo-American Cultural Center and the South Asian Artists' Collective. Venue & Ticket information at http://www.artwallah.org
---
Cold Tofu (LA, CA)
Tofu Summer Vacation
June 26, 2003
Free Cold Tofu performance on June 26
TOFU SUMMER VACATION
Summer is here! Pack your bags, grab the family and hop in the car. Join Cold Tofu, the nation's premier Asian Pacific American comedy improv performance group, for some summer vacation fun & laughs! Also, come support Cold Tofu's Level II improv class as they perform for the first time with the regular cast! Admission is FREE!
Thursday, June 26
7:30 pm
Japanese American National Museum
369 E. First St., Los Angeles, CA 90012
(213) 625-0414
Cold Tofu is dedicated to promoting diverse images of Asian Pacific Americans through comedy and to developing multiethnic talent through education and performance. Visit us at www.coldtofu.com.
---

FUSE Festival (NYC)
The Virginity Monologues
by Aileen Cho
June 27, 2003
Aileen Cho is working on a new one-woman show, The Virginity Monologues to be performed June 27 at Here Theater as part of the FUSE Festival. Peeling artistic director Dan Bacalzo is dramaturg and Daniel Luna, who recently directed AC in Sonnets For A New Century will also do so for Virginity.
---
Asian Pacific Health Care Venture, Inc.
Lodestone Theatre Ensemble (LA, CA)
Youth and Identity
featuring an all teen cast!
June 27, 2003
With a special screening of Huy Chheng's trailer from her directorial debut of Sweet and Sour. As well as other films.
Location:
East West Players' David Henry Hwang Theater
At the Union Center of the Arts
116 Judge John Aiso Street (formerly San Pedro),
Los Angeles, CA
(between Temple and First Street)
7:00 p.m - 9:00 p.m.

Asian American Community Teen Theater (AACTT):
Featuring:
REAL Youth Center
Asian Youth Center
Chinatown Service Center
Korean Youth Community Center

To see video samples of last year's show, go to http://www.youthandidentity.com

FREE ADMISSION

RSVP: 323-644-3887 or email: LVentura@aphcv.org
For more information: www.REALyc.com
---
The Oyoyo Sisters (Seattle, WA)
Friday, June 27, 8 pm
Saturday, June 28, 2 pm & 8 pm
@Richard Hugo House
1634 11th Ave. Seattle (Capitol Hill)
(corner of 11th Ave. & Olive St.)
Admission:$13
Reservation & info: 206-324-5124 or oyoyosisters@hotmail.com
This is the full evening of Japanese vaudeville show that includes slap-stick skits performed to Japanese pop music, a Samurai period drama, Japanese dances and 'Broadway Musical' style dances. The show can be enjoyed by all ages.
---
AATC (SF, CA)
Question 27, Question 28 (formerly known as Unbound)
by Chay Yew
June 27 to 28, 2003
Starring Tamlyn Tomita
Friday, June 27th
Saturday, June 28th
8PM
Noh Space, 2840 Mariposa Street, San Francisco, CA
Tickets - $20, (415) 543-5738 to reserve

Join us for a star-packed evening at San Francisco's beautiful Noh Space for a limited engagement of CHAY YEW's workshop production of UNBOUND.

What happened to the women of the Japanese American internment?
What did their real voices say about this horror?
How did these brave women keep hope alive in the American dream?

Starring Tamlyn Tomita, UNBOUND weaves a story of the struggles, plights and courage of Japanese American female detainees of the American internment camps of WWII. Funded by the National Endowment for the Arts (NEA), the Zellerbach Fund, and the Asian American Theater Company, nationally-recognized playwright, Chay Yew drew from the special archives of the Japanese American National Museum to create a documentary theater project based on the testimonials, transcripts, documents and interviews with Japanese American female internees living in California during World War II.
Come celebrate the spirit and history of the Japanese American women who fought to keep their faith in American freedom alive in an evening of theater with the Asian American Theater Company.
For reservations, please contact the Asian American Theater Company at (415) 543-5738 or info@asianamericantheater.org.
---