Rasik Arts (Toronto, Canada)
Roundtable
April 1, 2008
We'll be reading & discussing Indian Ink by Tom Stoppard. Flora Crewe, a young poet travelling in India in 1930 has her portrait painted by a local artist. More than 50 years later, the artist's son visits Flora's sister in London.
Rasik Arts Roundtable sponsored by MyBindi.com your online destination for cool South Asian stuff!
7-9:30pm
5th Elementt, 1033 Bay St. (South of Bloor - on the East side, corner of Irwin & Bay - across from St. Mary and St. Joseph streets)
Script: "Indian Ink"
There is no admission charge. All are welcome to participate.

---
Rasik Arts (Toronto, Canada)
The Misfit
by Anita Majumdar
April 3. 4 & 5th, 8pm
Four years after Fish Eyes, Anita Majumdar returns to the stage with a new work, The Misfit.
Having sold out to houses in Vancouver and Edmonton, The Misfit is coming to Toronto!
This dark comedy about honour killings introduces us to Naznin, formerly a respected classical Kathak dancer. Naznin runs away to India to be with her aspiring pop singer lover, Lucky Punjabi, a boyfriend of her own choosing - the results are dire when Lucky is killed by angry villagers, disgusted with Naznin for running away with a man who isn't her husband. Naznin is disowned by her Canadian family and finds asylum as choreographer for the Taj Mahal Dance Company, a group of classically trained dancers who perform traditional Mughal-era Indian dance at Indian wedding receptions to English MTV pop music.
The Misfit joins director Mark Cassidy, dancer/choreographer Joanna De Souza and actress Anita Majumdar together for their first collaboration.
Tickets only $20 and available at 416-973-4000/ www.harbourfrontcentre.com
For more info http://www.themisfit.ca
---
2 g (New York, NY)
Eleven
March 3 to April 5, 2008
TBA
by Carla Ching
directed by Denyse Owens
starring Michi Barall*, Dustin Chinn, J. Julian Christopher, Ken Leung*, Nedra McClyde*
When Silas Park's girlfriend leaves him, he becomes a shut-in, pumping out blistering autobiographical writings in his little East Village apartment. Just as Silas finds himself unexpectedly on the verge of literary stardom as the next Asian American wunderkind, his brother Finn shows up on his doorstep, accusing Silas of stealing his life. A play in two acts, in the crevice between fact and fiction.
*appears courtesy of Actors Equity Association
SIX
featuring

Round And Round by Julia Cho
directed by Kate Whoriskey** | starring Joel de la Fuente*, Jennifer Ikeda*
George is a linguist. He speaks many, many languages. But when his marriage starts to unravel, he suddenly finds himself utterly at a loss for the right words.
Ein Berliner by Patricia Jang
directed by Ralph B. Peña | starring Steve Sanpietro*, Hanson Tse*
Chad, a faded collegiate track star, has used his looks to land a rich wife and a comfy, but vacuous Connecticut life. The night before moving with her to Germany, Chad's feckless childhood buddy, Jake, reappears to offer him one last shot at salvation.
Moustache Guys by Michael Lew
directed by David Ruttura | starring Ali Ahn*, Jessica Jade Andres, Jackie Chung*, Paul Juhn*, Jason Liebman*, Matthew Park, Steve Sanpietro*, Hanson Tse*, Tiffany Villarin
Ali is worried. Her husband Paul has just joined the International Order of the Moustache Guys. So she dons a fake moustache and pursues her husband, exposing a secret world of shady characters and shadier facial hair.
A Dose of Reality by Rehana Mirza
directed by Jon Kern | starring Jackie Chung*, Jason Liebman*, Matthew Park
Gemna is tired of watching reality TV. So she's decided to make everyone else watch her. Find out what happens when you stop being yourself, and start being real.
Tail by Ralph B. Peña
directed by Graeme Gillis | starring Jodi Lin*
Finding the Mr. Right requires the right set of tools. Armed with binoculars,a GPS navigation system, and a rental car, a post-modern Manhattanite sets out to track her man. How far are you willing to go?
The Trajectory of a Heart, Fractured by Sung Rno
directed by Victor Maog** | starring Ali Ahn*, Jessica Jade Andres, Jennifer Ikeda*, Paul Juhn*
Orville thought he was in love with Joanne, and now he's wondering why he's on a plane with Yumi, who is beginning to wonder also. Orville just wishes he could fly. And Joanne just wishes. A meditation on gravity's emotion.
*appears courtesy of Actors Equity Association
**member of the Society of Stage Directors and Choreographers, an independent national labor union
If/Then Among The Taureans by Michi Barall
A contemporary, freewheeling adaptation of Euripides' play, Iphigenia Among the Taureans with influences from Goethe's version and the Gluck opera. Like the Greek original,the play is a dance-theatre romance about how individuals (and societies) go on after the wreckage of war, domestic or global, and how they begin to return home.
The Year Zero by Michael Golamco
Vuthy. 16. Cambodian American. Loves hip hop and Dungeons and Dragons. A weird kid in a place where weirdness can be fatal –Long Beach, California. And since his best friend moved and his mother died, the only person he can talk to is a human skull he keeps hidden in a cookie jar. The Year Zero is a comic drama about death and how long we can keep running from it.
Blood In America by Qui Nguyen
Hung Tran has finally made it to America after a tumultuous escape from Vietnam that cost the lives of both his parents and his brother. Now living with his Aunt and rebellious cousin in the state of Arkansas, Hung must learn to adapt to a new life filled with southern drawls, trailer parks, and Super Mario Brothers while being haunted by the sins of his past.
Beautiful Day by A. Rey Pamatmat
Felicia, Joey, Kat, and Matthew reunite for a wedding in their small hometown of Port Huron, Michigan — a town that changes only as much as it stays the same. Navigating through their old haunts, a traditional marriage, sexual experimentation, a trouble-making bridesmaid, and their own dead hurts, the four friends are forced to examine the people they were, are, and want to be in the six nights preceding one beautiful day.
---
Shunya (Houston, TX)
The Waiting Room
A play in English by Tanika Gupta
March 21 to April 6, 2008
Priya Banerjee is dead, but her life is far from over. She has just three days left to roam the earth before she can go on to the "Waiting Room" of spirits. As she reluctantly watches and listens to her family, Priya is guided by a droll and increasingly impatient immortal soul in the guise of her Hindi film idol, Dilip Kumar. Reflecting on her life, she is driven to face unresolved relationships and suppressed events before she finally chooses to intervene.
---
Kumu Kahua Theatre (Honolulu, HI)
we take
March 30, 31, April 6, 7, 9, 2008
As part of its Dark Night Series, Kumu Kahua Theatre presents we take, a dance piece choreographed/directed by Abel Coelho that treats the dancers bodies at times as puzzle pieces, at times as animalesque figures that lend themselves to multiple readings and elicit a vast range of emotional states.
Process
In the creation of we take, Coelho has first trained cast members in his unique dance vocabulary, which centers around unusually asymmetrical poses which require meticulous weight transfer techniques and unpredictable rhythmic changes. The diversity of cast members in background, physical training and body types bring to the piece a dynamic of misfitting harmony and wild disarray.
Creator's background
Abel Coelho trained in Japan Noguchi Gymnastics with Mikami Kayo, and with renowned Butoh companies Dairakudakan and Torifune Butoh-sha, which led to his participation in professional level butoh productions in Japan. Coelho is currently pursuing an MFA in Asian Performance, yet, in his undergraduate productions at Antioch College, he had already begun to amalgamate his acquired techniques into his own idiosyncratic approach to movement.
The cast includes Frances Mammana, Misa Tupou, Gwen Arbaugh, James Schirmer, Marie Kuroda, Aisha Goshi-Otagua, Jyunko Mizumochi & Abel Coelho.
Fact Sheet:
Performance dates: Mar 30, 31 & April 6, 7, 9
Performance Time: 8pm
Price: $5 at the Door.
Phone: 536-4441
For more information about this and other productions, visit www.KumuKahua.org.
Kumu Kahua productions are being supported by the State Foundation on Culture & the Arts, celebrating more than thirty years of culture & the arts in Hawai'i; the Mayor's Office of Culture & the Arts, Mufi Hannemann, Mayor; The Hawai'i Community Foundation; Hawai'i Council of the Humanities; and Foundations, Businesses & Patrons.
---
Pangea World Theatre (Minneapolis, MN)
Strange Voyage
Written By: Meena Natarajan
Directed by: Dipankar Mukherjee
April 6 to 8, 2008
In 1968, nine sailors, mostly independently of one another, decided to try and become the first to sail around the world alone without stopping. This was in an era before satellite weather radar or advanced communication equipment. One of the sailors, Donald Crowhurst, set out on a trimaran called the Teighnmouth Electron in an attempt to sail around the world. Lying about his position, Crowhurst ultimately committed suicide. This is an exploration of Crowhurst's journey interspersed with his wife's story.
Post-performance discussions following Friday and Saturday performances.
---
Mu Performing Arts (Minneapolis, MN)
Mu Performing Arts 2008 Gala
sponsored by Ellerbe Becket
April 7, 2008

The New MacPhail Center for Music
(South 2nd St. and 5th Ave. South in downtown Minneapolis)
Doors open at 6:00 pm
Program starts at 7:00 pm
$35 in advance
$45 at the door
Tickets available online now!
Mark your calendar for the Mu Performing Arts 2008 Gala! Join us at the beautiful new MacPhail Center for Music for an exclusive preview of upcoming performances, a silent auction, a chance to meet Mu artists, great food and wine, and the announcement of our 2008-2009 season. Also, be there for the presentation of the first annual Award for Achievement in Asian American Performing Arts, presented by Mu Performing Arts and Ellerbe Becket* to acclaimed playwright David Henry Hwang and taiko artist Iris Shiraishi.
---
Kumu Kahua Theatre (Honolulu, HI)
The Romance of Magno Rubio
by Lonnie Carter
March 13 to April 13, 2008
Held over to April 18 and 19
Kumu Kahua presents the Hawai`i premiere of an award-winning play based on a short story by Carlos Bulosan, a migrant worker in the Depression-era California canneries who became a respected writer and activist. Magno Rubio was originally produced by the Ma-Yi Theater Company of New York. Set in a bunkhouse for migrant Filipino farm workers, the play tells the story of Magno Rubio, an idealist and dreamer who is both admired and taunted by his fellow workers. Nick, the resident intellectual, narrates Magno's long-distance courtship (via letters) of Clarabelle, an Arkansas woman he meets via a lonely hearts magazine. He sends her jewelry and money. Has Magno Rubio found true love? How do we define happiness or measure love? The play poses these questions while also dealing with the larger political issues of stoop labor and racism. Parts of Magno Rubio are written in rhyming verse and set to music.
See News story.
Wayland Quintero's "Claro" has a mouthful, in Kumu Kahua Theatre's The Romance of Magno Rubio.
Photo by Michael Harada
---
Pan Asian Repertory Theatre (NYC, NY)
The Missing Woman
April 2 to 12, 2008
Performed in Vietnamese and English, this lyrical 60 minute play centers on a painter's yearning for his portrait subject who comes to life. Using historical figures, Vietnamese legend, poetry, live music and movement, The Missing Woman examines the lives of women in contemporary Vietnamese society. Presented by Pan Asian Repertory Theater with The Institute for Vietnamese Culture & Education.
---
Desipina (New York, NY)
Desipina CoLab presents....CoLapse!
April 14 to 15, 2008
What: An evening of one-act performances and readings by Desipina CoLab Writers: Naveen Bahar Choudhury, Deen, Uday Jhunjhunwala, Jon Kern, and Sundar Natarajan Featuring:Arjun Gupta, Melanie Maras, Shetal Shah, Nalini Sharma and MORE!
When April 14 15Seating begins at 6:30 pm - Show starts at 7:30 pm
Where: No. 43 Stage @ Jimmy's No. 43 - http://www.jimmysno43.com/ 43 East 7th St. ~downstairs~ New York, NY 10003 Arrive early and enjoy the great food and beverages at Jimmy's No. 43! Jimmy's No. 43 has earned the following honors for its menu:
"Best of New York - Best Bar With Good Food" - New York Magazine
"Tastiest Wine and Beer Bar" - Time Out NY 2007
Slow Food NYC's Snail of Approval for a commitment to using local, greenmarket ingredients

Tickets: Tickets are $10 and available at the door (CASH ONLY!) starting at 6:30 pm (food/beverages not included) Seating is limited, so arrive early to avoid disappointment! Save your seat by emailing rsvp@desipina.org with your name number of tickets needed
CoLab is Desipina Co.'s new works development wing. The CoLab is led by Co-Artistic Directors Naveen Bahar Choudhury and Uday Jhunjhunwala, and Managing Director Rakesh Chaudh
---
Aspen Theatre (New York, NY)
Take 10 Short Play Fest
April 15 to 18, 2008
Aspen's Theater Masters' second annual festival of ten-minute plays, Take 10, will be presented at 59E59 Theaters April 15-18.

Tony Award-winning actor John Lithgow helped Theater Masters associate director Pesha Rudnick and artistic director Julia Hansen choose the Take 10 works from over 100 submissions.
The works presented in Take 10 include
Back Story by Benjamin Viccellio;
The Big Exit by John-Paul Nickel;
The Echo by! Jennifer Fawcett;
Fernando and the Killer Queen by Kyle J. Schmidt;
Frogs by Sam Marks;
The Hiding Place by Melisa Tien;
Higher Up by Annette Lee;
Man up and Away by Joe Tracz; and
Rocky Road by Stephanie Andrea Timm.
Represented in the productions will be actors Mark Boyett, Hannah Cabell, Birgit Huppuch, Paul Iacono, Jacob Knoll, Hubert Point-Du Jour, Ivan Quintanilla, Wesley Savick, Nick Sullivan and Susan Wands. Directors for the ten-minute plays include actor Wesley Savick as well as Heath Cullins and Pesha Rudnick. Tickets for Take 10, priced $18, are available by phoning (212) 279-4200 or by visiting www.ticketcentral.com.
---
Pangea World Theatre (Minneapolis, MN)
Ramble-Ations: A One D'Lo Show
April 17 to 19, 2008
Written and performed by: D'Lo
"Gay Hindu Hip Hop- These 3 things make me but don't allow for one another. This is my attempt at fusing these elements of my being (and my imaginary friends) onto the stage"
– D'Lo
Ramble-Ations: A One-D'Lo Show draws on parts of many of D'Lo's projects over the past years. Weaving personal stories through poetry, music, comedy and video, D'Lo also presents a parade of characters, real and imaginary. These diverse, flawed characters come to the stage to share their stories – stories filled with contradictions of existing in America where one's traditions and culture are constantly challenged; stories reflecting the experiences of being a person of color and/or from an immigrant community; stories showing the battle against ignorance even in friendships and relationships; and finally, stories of love that reflect D'Lo's belief that "you can't call yourself a revolutionary if you have a problem being nice."

---
Fluid Motion (NYC, NY)
Pious Poetic Pie
A new spoken word play adapted from "Medea"
by Yubelky Rodriguez
April 18 to 19, 2008
"It's happening now never trust the eyes that see blindly because it... felt right.... to reveal simple verses... my heart....
exposing cuts, now strategic plans... a vendetta to heal internal wounds injuries that will bleed eternally seeping slowly through my skin."

Pious Poetic Pie uses the explosive nature of slam to adapt Medea's timeless journey of love, loss, and revenge to the multi-cultural community of a rapidly gentrifying Brooklyn--where race and economics walk hand in hand.

FREE workshop readings and talkbacks:
April 18 & 19 @ 7:30 pm
April 19 @ 9:30 pm
At the Wings Theatre
154 Christopher Street (btw. Greenwich & Washington Streets)
New York, NY
To RSVP, email info@fluidmotiontheaterfilm.org and be sure to include the date of the performance and the number people attending.
---
Asian American Theater Company,
Intersection for the Arts and
Resident Theatre Company Campo Santo present
#5 The Angry Red Drum
Special showings of a new play by
Philip Kan Gotanda
April 18 and 19, 2008
With movement direction by Erika Chong Shuch and live music by Dwayne Calizo
Two long time supporters and developers of Mr. Gotanda's work--The Asian American Theater Company and Intersection for the Arts with Resident Theatre Company Campo Santo--are working together to create two opportunities to experience this new play as it comes into creation.
Come see an Open Rehearsal of this play as it is workshopped or come to the Open Process Series exploration which includes a discussion with the collaborators about the piece.
Set in an apocalyptic world, the play uses mythology, memory, mysticism, fate, and fraternity to address the effects of war and loss on our psyches and culture.
#5 The Angry Red Drum is a multi-layered theatre experience implementing a live music score, choreography and ensemble acting.
More information is available at www.theintersection.org or by calling the reservations hotline at 415-626-3311
---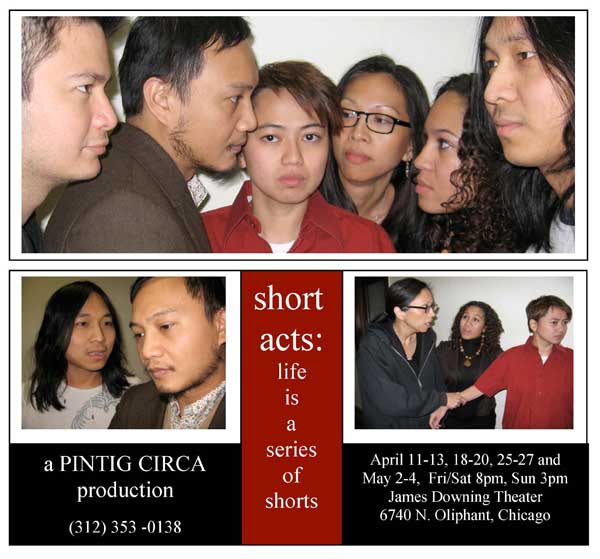 Pintig/CIRCA (Chcago, IL)
Short Acts: Life is a series of shorts
April 11 to May 4, 2008
I Dream Electric by Dan Finley. A science fiction piece about a man trapped inside his apartment during a bizarre power outage,
Elias Y Ibarra by Larry Leopoldo. Two freedom loving men from two different class backgrounds debate about revolution and sacrifice, adapted from Jose Rizal's epic novel, Noli Me Tangere and set against a backdrop of colonial oppression,
Identity Theft by Lani Montreal. An incident of stolen identity opens up a mystery of human connection,
Charlie by Louie Pascasio. A middle school teacher goes an extra mile to help out a young kid deal with gender issues,
South of the Border by Louie Pascasio. A monologue about an undocumented immigrant who gathers her thoughts after getting arrested for deportation,
High Stakes by Ruth Palileo. Four women exchange candid comparisons of who gets to adopt the best child from yet another impoverished third world country,
Dahil sa Iyo by Lorely Trinidad. A young woman confronts the pains of a childhood past as echoed by the strains of a familiar Filipino love song,
Caregiver by Lorely Trinidad. A migrant care provider receives an emergency long distance call from home while in the middle of feeding a helpless elderly.
See News story.
---
University of Texas New Theatre (Austin, TX)
Why Koreans Don't Hug
by Soo-Jin Lee
April 18 to 27, 2008
Intimacy. Betrayal. Misplaced love. A Korean immigrant family, through an unexpected act from their Reverend, is forced to deal with the elephant in their room.

UTNT presents Soo-Jin Lee's new play, W H Y K O R E A N S D O N ' T H U G, which will be performed at UT's Lab Theatre on April 18, 19, 20, 25, 26 at 8:00p.m. and April 27 at 2:00p.m., along with Robert Sanchez's The Chev and Erica Saleh's Split.

For info, please contact Soo-Jin Lee at 703.772.9403
or via email at tiredblackdress@yahoo.com.
Playwright Soo-Jin Lee.
Director Luke Leonard.
Dramaturg Kristin Leahey.
UTNT Curator Steven Dietz.
Stage Manager Eamon Corrigan.
Composer James "Face" Yu.
Costumes Xuan Nguyen.
Featuring UT undergrads Rachel Myhill, Xuan Nguyen and Chase Van Haselen and Austin artists Linda Czopek, k. terumi shorb, and James "Face" Yu.

The Lab Theatre is listed as LTH (between JGB and WIN) on the University Directory, and viewable through the UT map online at http://www.utexas.edu/maps/main/areas/eastmall.html.
---
---
Asian Arts Initiative (Philadelphia, PA)
Benefit Banquet and Silent Auction
Friday April 25, 2008

5:30 – 9:00 p.m.
Ocean City Restaurant
234-236 N. 9th Street
Chinatown, Philadelphia
5:30 pm Silent Auction & Cash Bar
6:30 pm Eight-Course Chinese Banquet
Entertainment highlighting our programs and artists from our community!
BUY individual tickets online! http://www.brownpapertickets.com/event/31682
For volunteer opportunities, or inquiries about subsidized tickets for low-income artists and youth, please contact Mytili Jagannathan at 215-557-0455 or mytili@asianartsinitiative.org.
For sponsorship and advertising opportunities, contact Mytili Jagannathan, Development Director, at 215-557-0455 or mytili@asianartsinitiative.org.
---
First Voice (San Francisco, CA)
Ghost Festival
April 25 and 26, 2008

Make sure you save Friday, April 25th, and Saturday, April 26, on your calendar because it is our annual Ghost Festival. We are approaching our 8th festival and we are showcasing Ghosts and Girls: the Legend of the Morning Glory, a haunting love story from the Kabuki told through music, drumming and spoken word. The showcase will feature our good friends: master teller, Brenda Wong Aoki; dynamic women drummers, Maze Daiko; Tokyo's master shakuhachi artist, Christopher Yohmei Blasdel; gagaku trained jazz musician, Mark Izu; and Hip-hop dancer, KK Aoki Izu.

Performances take place at the Jewish Community Center of San Francisco's Kanbar Hall (3200 California St. @ Presidio) on Friday, April 25th, 8pm, and Saturday, April 26th, at 2pm. Tickets are $25.00 Public, $22.00 Member, $15 Student and are available through the JCC SF Box Office (415) 292-1233 or online at jccsf.org. For more information on the work of Brenda Wong Aoki, visit the website at www.firstvoice.org
---
Performance Space 122 (New York, NY)
In Association With Queens Theatre In The Park
And The Immediate Theatre Company Present
Vengeance Can Wait
By Yukiko Motoya
directed by Jose Zayas
April 25 to May 4, 2008

Translated by Kyoko Yoshida and Andy Bragen
With: Pun Bandhu*, Paul H. Juhn*, Jennifer Lim*, and Becky Yamamoto

APRIL 25 – MAY 4 at Performance Space 122.
$15 tickets available with discount code: VENGEANCE
See below for ticket details

Vengeance Can Wait, making its US Premiere, is a comedy about love, submission, and sweet revenge by one of Japan's leading contemporary female playwrights. Hidenori Yamane and Nanase Ogawa have the perfect domestic relationship: he spends his days planning the perfect revenge, while she awaits her perfect punishment. Dark, twisted and touching, the couple come to understand the "kinks" in their relationship – and embrace them.

Performances
Friday, April 25 through Sunday, May 4
Tuesday through Friday, 8:00pm; Saturday, 2:00 & 8:00pm; Sunday, 4:00pm.
Tickets: $18 each, $15 (students/seniors), $10 (P.S. 122 members).
150 First Avenue at East 9th Street, New York.
Purchase tickets online at http://www.ps122.org/performances/
or by phone at (212) 352-3101.

*Appearing courtesy of Actors Equity.

This co-production is partially funded by the David Schwartz Foundation. Further supported has been provided by the Japan Foundation New York.
---
Queen's Theatre (New York)
Wong Flew Over the Cuckoo's Nest
Thursday, April 24 8pm
Sunday, April 27 3pm

Wong Flew Over the Cuckoo's Nest explores mental health of the Asian American women.
Incisive writer and performer Kristina Wong mixes sharp humor and psychology in Wong Flew Over the Cuckoo's Nest. Wong's performance is a swear-to-god-not-autobiographical, serio-comic portrayal of the high incidence of anxiety, depression and mental illness among Asian American women. Wong Flew over the Cuckoo's Nest is a National Performance Network Creation Fund Project commissioned by Asian Arts Initiative and La Peña Cultural Center. Funding for Wong Flew Over the Cuckoo's Nest has also been provided by the National Endowment for the Arts, The Ford Foundation, and La Peña's New Works Fund supported by The James Irvine Foundation. Wong Flew Over the Cuckoo's Nest is also a Project of Creative Capital.
Kristina Wong is a nationally presented solo performer, writer, actor, educator, culture jammer, and filmmaker. Described by the East Bay Express as "brutal but hilarious... a woman who takes life's absurdities very seriously," her body of performance work includes short and full-length solo performance works, outrageous street theater stunts and pranks, subversive internet installations, and plays and sketch comedy. Kristina was recently selected to write and perform in the 2008 CBS Multicultural Comedy Showcase. www.kristinawong.com <http://www.kristinawong.com/>
For Tickets, call (718)760-0064 OR www.QueensTheatre.org <http://www.queenstheatre.org/> Queens Theatre in the Park is located in the Flushing Meadows Corona Park. Free Parking at the theatre and free shuttle from #7 train at Shea Stadium.
---
East West Players (Los Angeles, CA)
42nd Annual Visonary Dinner
April 28, 2008
East West Players 42nd Anniversary Visionary Awards Dinner & Silent Auction will be on...
Monday April 28th, 2008 at the...
Universal Hilton...
Be there! (See News story)
---
Rasik Arts (Toronto, Canada)
Doongaji House
by Cyrus Mistry
April 29, 2008
We'll be reading Doongaji House by Indian writer Cyrus Mistry. It won the Sultan Padamsee Award and is about the aging patriarch of a family that has fallen on hard times. It is called a "play that moves from comedy to pathos and sentimentality, through heights of great dramatic tension and moments of deep tragedy. Though rooted in the life of one small, unique community, the play's themes are universal and existential: the common human yearning for joy in life thwarted by incomprehensible forces."
---
GENseng: Geneseo's Asian American Performance Ensemble (Geneseo, NY)
Carry the Tiger to the Mountain
by Cherylene Lee
May 1 to 3, 2008
This year GENseng: Geneseo's Asian American Performance Ensemble proudly presents a play that reminds us of what happens when racism is institutonalized: Cherylene Lee's Carry the Tiger to the Mountain, about the 1982 murder of Vincent ChinPerformance dates are May 1-3, 2008 in The Black Box Theatre on the SUNY Geneseo campus, Geneseo, NY. Directed and choreographed by Randy Barbara Kaplan.
Contact
kaplanr@geneseo.edu
585-245-5806
Tickets are on sale now at
http://bbo.geneseo.edu
---
Stanford Asian American Theatre Project (Stanford, CA)
R&L
by Takeo Rivera
May 1 to 4, 2008
"R&L" is an ode to a modern Asian America through a combination of vignettes and collaborative spoken word poetry. It is the collective story of eight women and men struggling to find a sense of self in an era in which "we've killed the heroes in ourselves." From car maintenance to violin lessons, from college impostors to true love, it is a confrontation of the ugly and the beautiful in the 21st century Asian America.

Written by Takeo Rivera
Directed by Rachel Anderson
Produced by Kenneth Lam, Gloria Lin
Stage Managed by Holly Rogers
The Red Fountain (in front of Cecil Green Library)
Stanford University Campus
557 Escondido Mall
Stanford, CA 94305

Cast:
Rich Liu - Tom Fukunaga
Rachel Yong - Helen Matsuri
Mark Marzona - Pete Ramiro
Brian Yoo - Washington Chen
Natalia Duong - Ju Cho
Nguyen Pham - Tiff Wong
Charlie Wang - Patrick Nguyen
Yin Yin Wu - Alicia Sung
Violetta Taing - Chorus
Laurel S - Chorus
Adrian Johnson - Chorus
Kate Hyder - Chorus
Henry Tsai - Chorus

Co-sponsored by Okada House, the Asian American Students Association, and the Institute for Diversity in the Arts
---
Rasik Arts (Toronto, Canada)
Finding Tagore
May 4, 2008

On Sunday, May 4, at 2pm, Ishwar Mooljee will be reading Rasik's play-in-development Finding Tagore at Equity Showcase Theatre. The material for this one-man show is drawn from the last ten years of Nobel Poet Laureate Rabindranath Tagore's life (1931-1941), illuminating his ideas, philosophies, and creative work in the face of impending world war and his own mortality.
Admission is Pay-What-You-Can and will go towards the further development of this work.
"Finding Tagore"
Sunday, May 4, 2008
time: 2PM
admission: PWYC
Workshop Reading
Equity Showcase Theatre
651 Dufferin St., Toronto
Equity Showcase Theatre is on the north-east corner of Dufferin and Dundas, located in St. Anne's Parish Hall. (sorry, not wheelchair accessible)
BY TTC:
Subway: Bloor Subway Line to Dufferin Station, take Dufferin Bus (#29) South to Dundas St.
Streetcar: Dundas Streetcar to Dufferin St. Walk north on Dufferin St.
DRIVING: from QEW take Jamison exit; bear Left (north) to Queen St; turn Right (east) on Queen St. and immediately Left (north) on Lansdown Ave.; turn Right (east) on Dundas St. to Dufferin St.
phone - (416) 654-9231 for more info.
---
Theatre Rice (UC Berkeley)
Click Click Bang Bang
Friday, May 2, and Saturday, May 3, 2008
Theatre Rice is graciously sharing the proceeds of this show with AATC, so your attendance benefits AATC!
Doors open at 7:00 pm and the show begins at 7:30 pm.
Tickets are on sale this week in Sproul Plaza for only $3.
Tickets will also be sold at the door (if they aren't sold out by then) for $5.
Mark your calendars and invite your friends!
---
Ma-Yi Theatre (New York, NY)
LabFest08
April 22 to May 11, 2008
ADMISSION IS FREE but seating is limited
Reserve seats at www.ma-yitheatre.org
Be sure to check out these new plays:
Tue, 4/22, 7pm Lost Accents by Qui Nguyen
Wed, 4/23, 7pm Great Wall Story by Lloyd Suh
Fri, 4/25, 7pm disOriented by Kyoung H. Park
Sat, 4/26, 7pm Do Clones Dream of Identical Sheep? by Jon Kern
Sun, 4/27, 3pm if it's sad, i don't want to see it by Rehana Mirza
Tue, 4/29, 7pm Pure by A. Rey Pamatmat
Thu, 5/1, 7pm Aces, Kings, Queens by Eugene Oh
Fri, 5/2, 7pm As Yet Untitled Jane Austen Play by Nandita Shenoy
Sat, 5/3, 3pm Evidence by Maureen Sebastian
Sat, 5/3, 7pm The American't Dream by Nora Chau
Tue, 5/6, 7pm Electric Dreams by Michi Barall
Wed, 5/7, 7pm 10,000 Years: A Brief History of the United States of Asian America by Dustin Chinn
Thu, 5/8, 7pm Samson and Delilah by Suzanne Kim Lee
Fri, 5/9, 7pm Yellow Peril 3.0 by Patricia Jang
Sat, 5/10, 3pm Big Blind/Little Blind by Carla Ching
Sat, 5/10, 7pm Galois by Sung Rno
Sun, 5/11, 3pm Stockton by Michael Lew
---
FirstStage (Hollywood, CA)
Off the Wall, an evening of short plays
House of Sticks
a short play by Felix Racelis
April 30, May 2, 7 and 9, 2008

In the play, a young homeless shelter director escorts a major donor on a tour to seal the deal on a major gift, until a homeless client throws a wrench into her plans. Felix Racelis directs a cast that includes Camille Ameen, Arnie Weiss and Jennifer Hugus.

Wed. & Fri., April 30, May 2, May 7 and May 9, all at 8pm. Tickets: $10. Info & Reservations: (323) 850-6271.
---
Lodestone Theatre (Los Angeles, CA)
Trapezoid
by Nic Cha Kim
April 19 to May 25, 2008
Written by Nic Cha Kim
Directed by Scott Horstein
Produced by Stephanie Chang & Vic Chao
Cast: Julia Cho, Antonia Grace Glenn, Alberto Isaac, Lanny Joon, Elaine Kao, Charles Kim, Leonard Wu, Elpidio Ebuen, John Fukuda, Grace Kim, Stephanie Lincoln & Enoch Wu
Lodestone's first presentation of a play in the science-fiction genre, TRAPEZOID tells the story of a Korean American poet in love hired by a technology think tank to put the "art" in artificial intelligence. When the robot creation falls in love with the human creator, it's man-made versus mankind with sometimes comic and sometimes tragic results.
See News.
---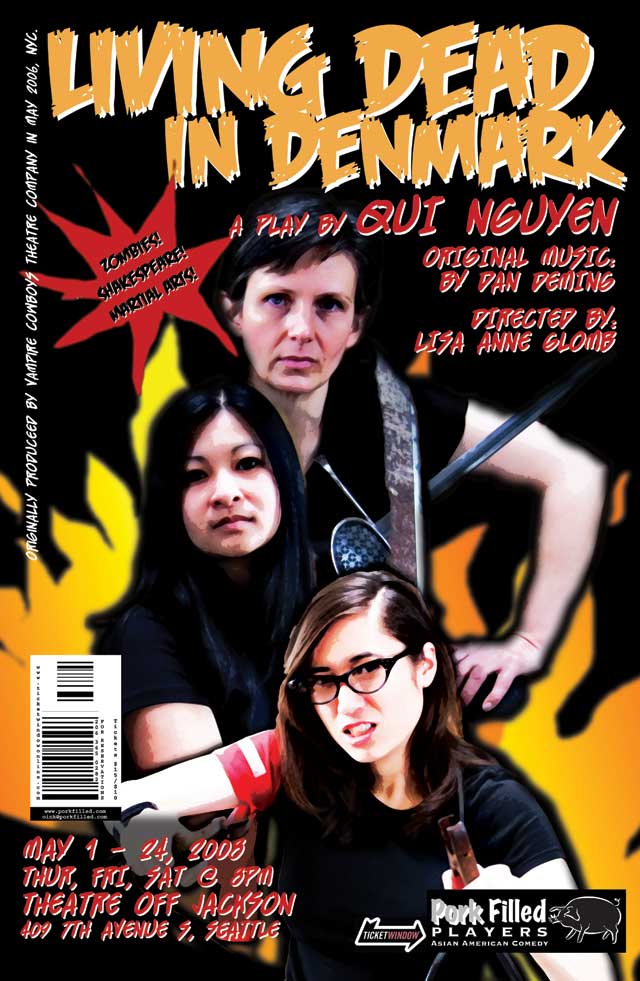 Pork Filled Players (Seattle, WA)
Living Dead in Denmark
by Qui Nguyen
Original music by Dan Deming
May 1 to 24, 2008
Living Dead is the unauthorized action adventure sequel to Hamlet!
Blazing Kung fu action(tm)! The walking dead! The immortal Bard (that's Shakespeare, folks)! A post-apocalyptic Denmark faced with an impending zombie invasion! All stuffed into a blender and set to puree!
Only Lady Macbeth, Juliet and a really pissed off Ophelia have a chance at staving off this threat—but will they do or die (and maybe die again for good measure)? Directed by Lisa Anne Glomb with arrangements and orchestration by Brad Nelson.
"Living Dead in Denmark is inspired and offbeat theatre. It is entertaining and raucous, occasionally crass, surprisingly moving in places, and entirely original."
– Michael Criscuolo, NYTHEATRE.COM

"Fast paced, fresh, full of action, clever lines and wrapped in classic youthful fearlessness."
– Lee Bines, RETROVISIONMEDIA.COM

"Highly entertaining . . . a full-out assault on Shakespeare in the form of B-movie madness and some seriously kick-ass stage combat. ."
– Sean Michael O'Donnell, OFFOFFONLINE
More unpredictable fun from Seattle's comedy institution! Featuring Jose Abaoag, Tadd Alexander
, Bryan Bender, Deniece Bleha, Philip Clarke, Benjamin Elterman, Andrea Nelson, Marvin Newton, May Nguyen and Miko Premo. Purchase tickets now at www.ticketwindowonline.com.
Rated PG-13 for strong language, violence, affirmative action towards Zombie Americans and other attitudes offensive to neoconservatives.
Reviews here. And here. And here.
---
OPM
LA Comedy Festival
May 1 to 18, 2008
Thursday May 1 at 8pm, Sunday May 4 at 8:30pm, Monday May 5 at 9:30pm, Sunday May 18 at 8:30pm!
---
18 Mighty Mountain Warriors
LA Comedy Festival
Bite the Wax Tadpole
May 4 to 9, 2008
Featuring ALL NEW never before seen MATERIAL!!!

Including:
- Dueling Koreas!
- China's Penis restuarant!
And more!

FOUR SHOWS ONLY!
Sunday, May 4
7:00
Jazz Hand
18 Mighty Mountain Warriors
Monday, May 5
8:00
Olga Karavaeva
The Comedy Jesus Show
18 Mighty Mountain Warriors
Tuesday, May 6
9:30
Penny Bear
Marco Timpano
18 Mighty Mountain Warriors
Friday, May 9
8:00
The 3 Actorteers
Video: Dutch West
18 Mighty Mountain Warriors
NOTE: The format of the LA Comedy Festival is a 90 minute show shared by 2-3 acts doing half hour sets. We'll be performing at the above dates and times with our fellow comedy performers listed above. Our set will be ALL NEW! All the acts are great so come enjoy a full evening of comedy!

LOS ANGELES COMEDY FESTIVAL
http://www.lacomedyfest.com/

Ticket Prices:
$12 for a single show
and passes are 5 shows for $50
and 10 shows for $90
The Venue:
The McCadden Theatre
1157 N. McCadden Place
Los Angeles, CA 90038
(1 block East of Highland and 1 block N. of Santa Monica Blvd.)
Parking in lot at 1149 N. McCadden Place and ample street parking
Buy Tickets ONLINE
http://www.lacomedyfest.com/tickets.html
---
The Cooking Show con Karimi Castro
in the Bay Area!
May 8 to 18, 2008

The Revolution begins in the kitchen!
A live, comedic cooking show for your heart, mind, stomach and funny bone...Starring Robert Karimi and John Castro. Free food for the audience!
AATC is a community co-sponsor for this Asian Pacific Islander Cultural Center presentation in association with kaotic good productions.
Preview Performance, Thursday, May 8, 2008, at 8:00pm
Performances:
Saturday-Sunday, May 10-11, 2008
Thursday-Sunday, May 15-18, 2008
Thursday, Friday and Saturday Performances at 8:00 pm
Sunday Performances at 7:00 pm
VENUE: SomArts Cultural Center (Brannan near 8th St)
ADMISSION: $20.00
Students/Seniors and Advance: $18.00
Tickets at http://www.apiculturalcenter.org/
---
VACT (Vancouver, BC)
9th Annual Asian Comedy Night:
Etch-YOUR-Sketch 2 – SKETCHOFF!#$%!!
May 9 and 10, 2008
@ The Roundhouse Performance Centre
Etch-YOUR-Sketch 2! - SKETCHOFF!#$%!! RETURNS!
Come and BE IN the SHOW!
So you think you're funny or you've said "I can do that!" well here's your chance to strut your stuff!
We invite anyone who wants to play with us to Get a team together - Write 6 to 10 minutes of sketches with 1 of 2 randomly selected factors – Don't worry you'll get 1 hour's worth of help from a comedy consultant! Rehearse, rehearse, rehearse and then on Friday, May 9, you'll Perform your sketches to a sold-out audience and Wow the judges to win the coveted Vancouver Rice Bowl AND on Saturday, you'll Goad the audience and take home the People's Choy's Award!
Don't have any friends and still want to play? Contact producer@vact.ca and we'll place you on the orphans' team!
Check out the Rules & Regulations on www.vact.ca
Register your team by 6pm April 18th, 2008. Your team could win up to $350!
JUST WANT TO COME AND BE THE AUDIENCE?
It's our 9th Annual Asian Comedy Night – who knew 9 years ago we would still be this funny... get your friends together and see if you can pick the same winner as the judges on Friday OR hoot and holler for your favourite on Saturday – the People's CHOYS Award.
Friday, May 9th - Vancouver Rice Bowl Competition
Saturday, May 10th - People's Choy's Award
8pm @ the Roundhouse Performance Centre, @ Davie & Pacific Blvd., Vancouver
Buy your tickets early – sells out yearly!
Tickets:
In person at the Roundhouse Community Centre
By phone at 604.713.1800
Or online at www.vact.ca
Group Rates, please call 778.885.1973

[Visit http://www.vact.ca/sketchoff.htm for more information]
VACT is in its ninth season and continues as Western Canada's only theatre group devoted solely to staging theatre focused on the N. American Asian experience.
---
Cold Tofu (Los Angeles, CA)
Edamame Nights
May 9 and 10, 2008
Join the cast of COLD TOFU at the Edamame Lounge as they improvise scenes and music to create a complete 40-minute show! Each night a different headline lounge singer will thrill you with (made up) songs that you know and love, while the lives of the Edamame Lounge patrons unfold before your very eyes and in their own (improvised) karaoke favorites.
Featuring Cold Tofu members J. Stephen Brady, Denise Iketani, Kevin Ocampo, Helen Ota, Michael C. Palma and Zakiyah Reagan; and musician Scott Nagatani.
Friday, May 9 and Saturday, May 10 at 8 pm.
All tickets $12
To purchase tickets visit www.ColdTofu.com or (213) 489-0994 ext. 107.
Los Angeles Theatre Center
514 S. Spring Street
Los Angeles, CA 90012
---
Boston Theatre Marathon
Stick and Move
by Greg Lam
May 11, 2008
An annual series, which performs up to 50 original 10 minute plays in the space of one day by 50 different local theatre companies. If you're near Boston come check it out. Tickets are $25 for the entire day
---
New Plays/New Voices at UCLA
English Only: a fight for words in America
a reading of a new play by Annette Lee
May 14, 2008

Time:
3:00pm - 6:00pm
Location:
UCLA Young Research Library - Presentation Room
City/Town:
Los Angeles, CA

1986. Everything is big. The hair, the shoulder pads, the prom dresses... but nothing is bigger to 17 year old Scarlett Wong than what's going on at City Hall. A look into race, culture, and the Official English referendum in Monterey Park, California.
---
Highways Performance Space
Word(4)
May 15 to 17, 2008
Continuing its tradition of presenting the top performance poets in L.A. and the nation, Highways Performance Space presents its 4th Annual Poetry/Performance Festival with Word(4), curated by LeVan D. Hawkins, Thursday-Saturday, May 15-17 at Highways (see detailed
show listing below) --- a three-day, four-show examination of the many ways performance poets present their work, using theatrics, vocal skills, music, film, and costumes to enhance the written word. WORD(4) features Asian artists three-time National Slam Champion Regie Cabico and political theater artist, poet and writer D'LO. D'Lo is featured May 16th and Cabico, May 17th. Visit www.myspace.com/word4poetryperformance for more details. Highways Performance Space is located at 1651 18th Street, in Santa Monica, CA, 1⁄2 block north of Olympic Blvd. Ticket prices range from $5-$40 (see below). Buy your tickets on-line @ www.highwaysperformance.org.
Call 310-315-1459 for show information.
---
Pangea World Theatre (Minneapolis, MN)
Pangea World Theater Benefit
May 18, 2008
We invite you to join us on May 18, 2008 5-9pm for an evening with Pangea World Theater celebrating new aesthetics in our international community.
DATE: May 18, 2008
LOCATION: The Depot, 225 Third Avenue South, Minneapolis
"Festive Dress" "Black Tie Optional"
All proceeds from the Pangea World Theater 2008 Benefit provide support to Pangea World Theater and its commitment to educating communities about international works, styles and traditions that illuminate the human condition, end divisiveness and celebrate differences.
Click here to reserve your tickets.
---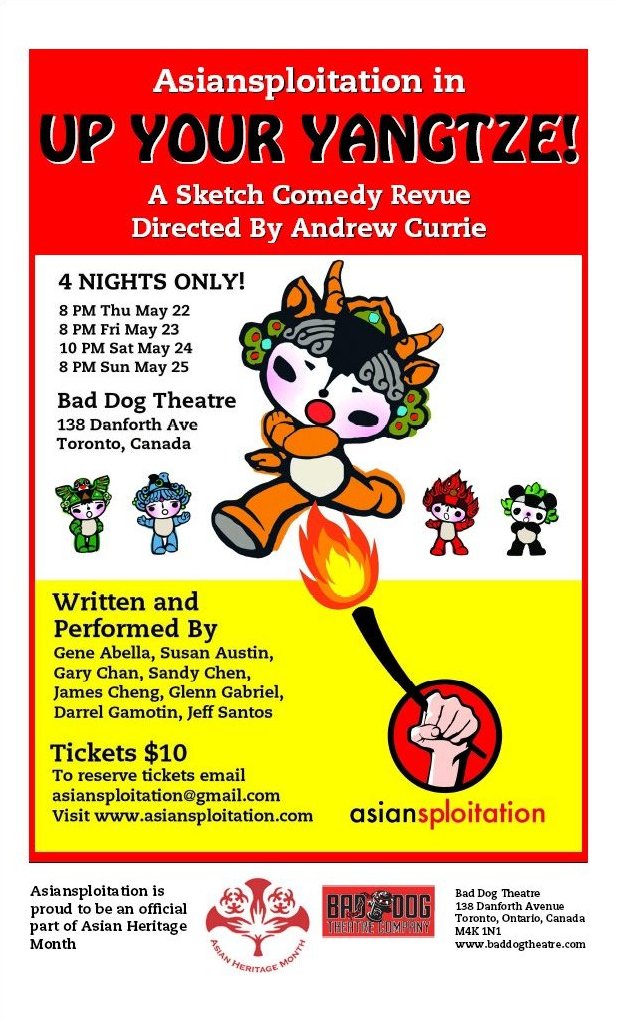 Why fly to Beijing this summer when Asiansploitation can paddle you "UP YOUR YANGTZE!" instead? We're back with our brand new full length comedy revue just for you and right in time for Asian Heritage Month!
Toronto's Premiere All-Asian Comedy Troupe brings you gold-medal winning comedy with *ALL NEW* never-before-seen sketches, stand-up comedy, and songs. And new this year we've got COMEDY VIDEOS that will split your sides with laughter.
We've got all the comedy covered. Hilarious Torch Relays! Romance Gone Wrong! Earth Hour Surprises! Its all there and more so don't miss out on this once-a-year COMEDY EXTRAVAGANZA! It's comedy with an Asian-Pacific twist that everyone will enjoy (non-Asians too!).
---
Vancouver Asian Canadian Theatre (Vancouver, BC)
Etch-YOUR-Sketch 2! SKETCH ON
May 29, 2008
Kwantlen University College
8771 Lansdowne Road, Richmond
7:30pm
---
The Asian Arts Initiative (Philadelphia, PA)
Flashpoints/Unbreakable Objects
Saturday, May 31, 2008 7:30pm
Asian Arts Initiative Salon Space
1223 Vine Street, Philadelphia, PA 19107
(215) 557-0455
Tickets: sliding scale $8-$12 Buy online. Tickets may also be purchased in advance in person at 1223 Vine Street, or by phone at (215) 557-0455.
A bowl, a broom, a cup, and a piece of paper unleash a theatrical experience where family obligation, regret, and loss are examined. Created and performed by participants in Regie Cabico's "Flashpoints" writing and performance workshop, the ensemble comes together on stage in a culmination of their 10-week collective journey using poetry, puppetry, and everyday objects to present a collaged play honoring the resiliency of the human heart. Featuring performers: Lovella Calica, Misia Denea, Jo Louie, J. Mason, Charles Ramirez, Manny Son, Omar Telan, Hannah Utain-Evans, and Tyrell White.
---
Mu Performing Arts (Minneapolis, MN)
The New Performance Program
May 10 to June 8, 2008

Mixed Blood Theater, 1501 S Fourth St, Minneapolis
Thursdays, Fridays and Saturdays at 8:00 pm; Sunday at 2:00 pm
Tickets: $18 adults; $16 student/senior; $14 groups 10+
Preview: Friday, May 9: $10
AD: Saturday, May 31; ASL: Saturday, June 7
Pay-what-you-can: Monday, May 19 @ 8:00 pm
Featuring artists from Mu's Jerome New Performance Program, this production promises to push the envelope of Mu's work. With a grant from the Jerome Foundation, Mu commissioned seven independent artists to create works that bring together their own individual vision and Mu's overall mission. Through an intense selective process- also called Mu's own version of Survivor- one or two of these works will be produced for this run.
---
Mixed Blood Theatre (Minneaplis, MN)
Q & A
by Juliana Pegues
May 22 to June 8, 2008
Directed by David Mura
Three characters, known only by their numbers, take a mysterious trip from speed dating to prison interrogations. Q & A is a funny, fanciful, and frightening journey into the heart of who we are and how we define ourselves in America today.
This program is funded, in part, through the Jerome New Performance Program.
See News story.
---
East West Players (Los Angeles, CA)
EWP's Next Generation Community Night"
June 4, 2008
Starting at 8 pm.
Event: EWP's Next Generation Community Night
"PIPPIN, Pizza & Pop...& chance to win a Wii"
What: Performance
Host: East West Players
When: Wednesday, June 4 at 8:00pm
Where: East West Players - David Henry Hwang Theater
To see more details and RSVP, follow the link.
---
2nd South Asian American Theatre Conference
Desi Drama: Act II
Minneapolis, MN
June 4 to 6, 2008
Eep! Almost forgot this!

---
The 2nd Asian American Theatre Conference
Shaping Our Voice + Vision
Minneapolis, MN
June 5 to 7, 2008
Website is now open.
More pictures.
Summaries coming
---
Secret Rose Theatre (Los Angeles, CA)
Sweet Ginger: Hot and Blue
by P. H. Lin
June, 7, 2008

Saturday, June 7
5:00 p.m.
Secret Rose Theatre
11246 Magnolia Blvd.
NoHo Arts District
(1½ blocks west of Lankershim)
North Hollywood, CA
call or e-mail for reservations
818-760-4155
info@FireRoseProductions.com

**************
Ginger Chan, the teenage daughter of a Chinese immigrant, struggles against her father's expectations. Will her effort to gain independence succeed, or will it destroy what's left of their family? A 95 year-old Jewish woman, a female Buddha, and the spirits of Ginger's mother and dead brother complicate this "coming of age" story.
---
Diverse City Theatre (New York, NY)
Green Room Readings:
Youth in Asia
June 7, 2008
DCT Green Room
DCT's 4th Annual Reading Series Presents Original Plays About FAMILY, LOVE & WAR
Written by Andrew Berg, Jordan Beswick, Alexis Camins, Amy Hartman, Maxine Kern, James McManus, Cassandra Medley, Lydia Stryk and Christine Toy Johnson
Television and Broadway Stage Veteran Laila Robbins (Heartbreak Hotel, Frozen, The Real Thing) Stars in the GREEN ROOM Premiere of Beswick's YOUTH IN ASIA directed by Victor Maog on Saturday, June 7th at 7PM, at The Barrow Group Studios, 312 West 36th Street, 6th Floor, The Garrett Room.
ABOUT YOUTH IN ASIA: Eric is a 43-year-old man who is not insane. It's true. Ask his therapist. But when he hears his abusive father is terminally ill and is asked to join his estranged family around what is most likely his deathbed, Eric begins to sweat ...
---
Grove Theatre Center (New York, NY)
Film Chinois
by Damon Chua
June 9, 2008

Players Theatre
http://www.theplayerstheatre.com/
115 McDougal Street (between 3rd St. & Bleecker)
New York City, NY
Price: FREE, 7 pm
Tickets are limited and reservations are required!
WHAT YOU NEED TO DO
Call (212) 714 7628 to reserve tickets.
EVENT DESCRIPTION
Jack Batman, the producer of Broadway's Enchanted April, together with Grove Theater Center present the 2007 Ovation Award-winning play FILM CHINOIS in a staged reading format in NYC. This one night only event is followed by a reception and a Q&A panel with Broadway producers. Come and support this play by Damon Chua who won Best New Play at the Ovation Awards, beating six other nominees including David Henry Hwang and Arlene Hutton. This reading is presented as part of the TRU Voices New Play Reading Series.
ABOUT THE PLAY
The place: Peking, China. The year: 1947, an uneasy time between WWII and the imminent Communist takeover two years later. Randolph, a fresh-faced CIA agent, has been sent to the Raymond Chandler-esque imperial city with a specific mission. He makes progress, but soon chances into staunch communist Chinadoll, his would-be adversary and lover. Is their relationship doomed from the start? How does the couple navigate the thin line between personal happiness and honoring their respective causes? And how is their cat-and-mouse game linked to the amoral Belgian Ambassador and his current squeeze, Simone, a willful local songstress? As Randolph plunges deeper and deeper into the heart of darkness that was once the most beautiful city in the world, he finds his life imperiled, even as he begins to unravel the mystery of a piece of old home-made film, and a beautiful woman who seemed to have vanished into thin air.

>> Find out more about the play:
http://www.filmchinois.com
>> Find out more about the TRU Voices New Play Reading Series:
http://www.truonline.org/TRUPlays.htm
---
Silk Road Theatre (Chicago, IL)
Durango
by Julia Cho
May 1 to June 15, 2008

To the outside world, the Lee boys look like the perfect Korean American sons: Isaac plans to be a doctor and his younger brother, Jimmy, is a champion swimmer with a bright future. But when their widowed father, Boo-Seng, decides to take them on a road trip to Durango, Colorado, all three find themselves grappling with old memories and unhealed wounds. As tempers flare and secrets break open, the difference between who they are and who they've pretended to be threatens to tear the family apart.
---
TV reporter "Merrilee" (Mish Raboteau) interviews "Dee" (Jodie Yamada) in Hostage Wife at Kumu Kahua Theatre. Photo by Michael Harada
Kumu Kahua Theatre (Honolulu, HI)
Hostage Wife
by Nancy Moss
May 15 to June 15, 2008
A Kumu Kahua world premiere, Hostage Wife is an award-winning play which has received a reading in New York. It tells the story of Dee Fernandez, a woman whose husband works as a private-sector security guard watching over a power station in Iraq. When her husband is taken hostage, Dee is visited by Alan Baker, a government agent who offers her comfort, companionship and, as they grow closer and when it is revealed that Dee's husband is violent, racist and abusive, the possibility of a new and brighter future. As the negotiations proceed, Dee's daughter returns from the mainland to help field phone calls from the media and visits from nosy neighbors and Dee herself, who, wafted into a semi-dream world through sleeping pills and pain pills, becomes ambivalent about herself, her marriage, and her desires for the outcome of the hostage situation.
See News.
---
Thumping Claw One Acts (Los Angeles, CA)
Thumping Claw 2008
May 22 to June 22, 2008
See News story.
Last year a group called Thumping Claw put together a great show made up of one acts; this year they're coming back with a brand new show written by some great writers and great friends of mine.
Proceeds go to charity so it's a good cause. And it's going to be an interesting night: A young woman is inundated with life in general; an old man's family and world has changed around him; and a woman with Autism has to get her Star Trek script to Joss Whedon in an attempt to gain her freedom.
May 22nd thru June 22nd: Thursdays to Saturdays at 8pm, Sundays at 3pm

Tickets: $22 at the door, $18 online; Discounts available for groups, seniors, students.
Tickets Available Online at http://www.thumpingclaw.com

The Actors' Playpen: 1514 N Gardner Street, Los Angeles, CA 90046
Plays include
"Post It" (written by Julia Cho and directed by Leslie Ishii)
"Please Stand By" (written by Michael Golamco and directed by Heidi Helen Davis)
"Happy Birthday William Abernathy" (written by Lloyd Suh and directed by David J. Lee)
"Dissipating Heat" (written by Carla Ching and directed by Darrell Kunitomi.)

---
Pan Asian Rep (New York NY)
China Earthquake Relief
June 14, 2008
Pan Asian Rep is very happy to participate in a very important benefit presentation this weekend, to assist the relief effort in China, in the wake of the recent Sichuan earthquakes. Please join us for a fun afternoon of theatre and music and help out with this tremendous cause.

Hands together:
New York Artists Gather for China Earthquake Relief to Benefit UNICEF presented by Matrix Music Collaborators

June 14, 2008 at 3pm
115 MacDougal Street
(between W 3rd and Minetta Lane) in Greenwich Village

Admission is $45

Package of Four for $125 Use Code: 4UNICEF

All proceeds will go to U.S. Fund for UNICEF.

Tickets can be obtained through TheaterMania (http://www.theatermania.com <http://www.theatermania.com/content/show.cfm/section/synopsis/show/144637> ) at (212) 352-3101.

This special performance will feature an international line up of artists to include Min Xiao-Fen; Wu Na; Huang Ruo; members of the Pan Asian Repertory Theatre; Asian American Writers' Workshop; the cast of puppeteers from Peter and the Wolf and Matrix Music Collaborators. It is geared for all ages.

Program:

Drunken Man by Jiu Kuang, based on a famous poet of the western Jin dynasty (265 -420)
Blue Pipa (inspired by Miles Davis) by Min Xiao-Fen
The North of Sunset by Thelonius Monk, arr. by Min Xiao-Fen
Mo (dedicated to the victims of the Sichuan earthquake) by Min Xiao Fen and Wu Na
Performed by Min Xiao-Fen, pipa / Wu Na, qin
Four Fragments for solo violin by Huang Ruo
Performed by Yoon Kwon, violin
Oblivion by Astor Piazzolla
Performed by Matrix Music Collaborators
Excerpts from The Joy Luck Club
A play by Susan Kim
Adapted from the novel by Amy Tan
Direction by Tisa Chang
Performed by three stars from the Joy Luck Club - Sacha Iskra, Kathleen Kwan and Rosanne Ma
"Super Cop World" video installation featuring mighty Mario and Jackie Chan
Designed by Eric Siu
Peter and the Wolf, Op. 57 by Sergei Prokofiev
Performed by puppeteers: Deborah Hertzberg; Serra Hirsch; Daniel Irizarry; Mary Robinette Kowal; Chris McLaughlin; Jessica Scott; Meghan Williams, directed by Jane Catherine Shaw and Terry
O'Reilly with Matrix Music Collaborators under the direction of Sheryl Lee
Readings by published authors from Asian American Writers' Workshop
---
East West Players (Los Angeles, CA)
Pippin
Book by Roger O. Hirson and music and lyrics by Stephen Schwartz
May 14 to June 8, 2008
extended to June 22
Pippin is a coming of age story following the travels of Charlemagne's oldest son. As Pippin wanders the world of politics, love and war you are exposed to classic numbers such as "Magic to Do" and "Corner of the Sky." Directed by EWP Artistic Director Tim Dang, Pippin promises to bring excitement and fun with a twist of Anime and hip-hop styles.
See News.
---
Desipina (New York, NY)
Seven.11 Convenience Theatre 2008
June 4 to 22, 2008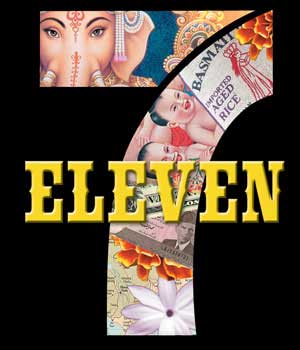 Desipina & Company's award-winning series Seven.11 Convenience Theatre is back! Featuring seven 11-minute plays all set in America's favorite convenience store. With stories of dreams, love, and desperation, written by today's hottest South Asian and Asian Pacitic American playwrights, Seven.11's sixth year promises to be the best yet!
JUNE 4 - JUNE 22
Wed - Sat @ 8pm | Sun @ 3pm
additional performance on Tuesday, June 17 @ 8pm
Richmond Shepard Theatre
309 East 26th Street, NY, NY 10010
ORDER TICKETS @ www.desiclub.org
99 Problems
by Vishakan Jeyakumar
A love-struck loser wants to score the girl of his dreams. When the emergency calls, two of NYPD's finest are only too happy step in.
A Minor Inconvenience
Book by Rehana Mirza,
Lyrics by Matt Schatz,
Music by Naomi Lee
An underage college student embarks on a quest for his magical elixir of love –alcohol –to score with his dream girl. But will he get denied in more ways than one?
One Dollar Box by Eugene Oh
A provocative tribute about anybody's father, anybody's son and the desperate measures that arise when life boxes you in. Working man, work it man.
Scenery by Jon Kern
A Slurpee® machine in Ashland, Kentucky has just come to life. Now the hard part: winning the girl of his dreams.
Selfish by Deen
Anita confronts her runaway brother Vikki who is trying to deal with his parents' disappointment. An intimate look at the nature of honesty.
Soul Saving Sundays by Uday Jhunjhunwala
Since his break-up with Rekah, Guru Ganesh has been saving souls in his back room confessional. But when Rekah returns from India, the truest confession may be his own.
What Not to Sell by Naveen Bahar Choudhury
Tracy and Vinton's Convenience Store Makeover television show may be the answer to shop clerk Yasmina. But what will she sell to appeal to main stream America?
---
Jukebox Stories
Prince Gomolvilas
June 2008 tour
Prince and Brandon were planning to spend the summer visiting red-light districts in different parts of the world, but they have both evolved into curmudgeons who would rather watch TIVO-ed episodes of "Deal or No Deal" nonstop. However, they have agreed to emerge from their bilateral, Howie Mandel-induced hypnosis for four public performances of JUKEBOX STORIES in Boston, DC, Minneapolis, and Brooklyn in June. Details below. So we ask you: "Deal...? Or no deal?"
June 5, 2008 @ 7:00PM ($12)
BRYANT LAKE BOWL
810 West Lake Street
Minneapolis, Minnesota 55408
http://www.bryantlakebowl.com
June 12, 2008 @ 8:00PM ($10)
THE WONDERLAND BALLROOM
1101 Kenyon Street NW
Washington, DC 20010
http://www.thewonderlandballroom.com
June 14, 2008 @ 7:00PM ($10)
LIVING ROOM LOUNGE
245 23rd Street
Brooklyn, New York 11215
http://www.myspace.com/livingroombrooklyn
June 15, 2008 @ 8:00PM ($8)
KENNEDY'S MIDTOWN
42 Province Street
Boston, Massachusetts 02109
http://www.kennedysmidtown.com
---
Pratidhwani (Seattle, WA)
Gaare Ki Deevar
by Narendra Kohli
June 20 to 21, 2008
See News story.
---
SKETCH COM-AGEDDON (Toronto, Canada)
Asiansploitation
June 20, 2008
at the COMEDY BAR in a throw down against Toronto's hottest sketch troupes in a RED HOT SKETCH COMEDY SHOWDOWN!!!
20 Troupes!
1 Sketch Each!
4 Finalists Advance to the Last Round on Saturday Night!
The winner of Saturday's Final Round gets automatic entry into the 2008 Toronto Sketch Comedy Festival and riches beyond their wildest imagination! Asiansploitation is thrilled to take part in the first ever Sketch Com-Ageddon. We'd like you to be there to witness Toronto Sketch Comedy History In The Making! Not only that but YOU, YES YOU, can help vote us to victory. The winners are decided by a combination of audience voting and the Sketchfest Panel. So we'd love to have all of our Asiansploitation peeps out to vote us to sketch comedy glory!
PRELIMINARY ROUNDS
8 PM Thu June 19 & Fri June 20 (Asiansploitation Performs Friday!)
FINAL ROUND
8 PM Sat June 21
WHERE
Comedy Bar
945B Bloor St West (Between Dovercourt and Ossington)
TICKETS
$10 At The Door or Reserve Here:

BUT WAIT!!!!!!
There's more... On the road to Sketch Com-Ageddon Asiansploitation is making a stop at The Rivoli 9 PM TUE JUNE 17TH for the Sketch COMedy Lounge. Hosted by Andrew Johnston we'll be performing along with the following funny-makers:
The Newsdesk with Ron Sparks
Asiansploitation
The Chappuda Bros
The Mom and Pop Shop
I Hope It's Potatoes
Chucky Ar La
BI+CH
BE THERE!
The Rivoli, 332-334 Queen St West At Spadina
Tix $10. Doors open 8:30 PM. Show starts 9 PM.
http://www.sketchcomedylounge.com/index.php?id=scl
---
Teada (Southern California)
Teadaworks 2008: Healing Aloud
June 21, 2008
Saturday at 2PM Baldwin Hills Branch Library
2906 La Brea Ave
Los Angeles, CA 90016. TeAda Productions presents a one-day festival of workshop performances by local artists who are participating in TeAda Productions' new program HEALING ALOUD. Are we really taking care of ourselves? How many of us are active in our healing processes? How do we gain and maintain physical, emotional, and mental health? These questions are asked and explored in the new multi-disciplinary theater and performance works by Los Angeles artists Corky Dominguez, D'Lo, Maria Martinez, Shyamala Moorty, Marcella Pabros-Clark, and Raquel Salinas on the issues of dementia, degenerative diseases, fear, sexuality, and prescription drugs in today's environment. This program was funded in part by the City of Los Angeles Department of Cultural Affairs and the Los Angeles County Arts Commission.
---
Diverse City Theatre (New York, NY)
Green Room play readings
June 21 and 28, 2008
June 21st @ 7PM
Family Lies by Alexis Camins
directed by Adam Fitzgerald
Starring Deborah S. Craig (Spelling Bee), Cindy Cheung (The Lady in the Water), Steven Stafford (Spamalot), Sean Logan, Shyaporn Theerakulstit and Darcy Fowler Family Lies is a subversive comedy inspired by the hit 80's sitcom that made Michael J. Fox famous. More than a simple parody of the classic TV show, its underbelly is a dark commentary on being Asian in America. From the lack of representation on prime time, to how we've inherited a twisted view of assimilation, Family Lies bounces from sitcom to farce and back again, warning us and making us laugh at the same time.
June 28th @ 7PM
Paper Son by Christine Toy Johnson
directed by Victor Lirio
It is the summer of 1952 in New York City. Tommy Lee is a 23 year-old Chinese born U.S. army soldier, about to be shipped off to the Korean War. On a date with his All-American girlfriend Julia, he meets his match in best friend Gim's new paramour, Dorothy Chu. When Dorothy finds out that Tommy was a "paper son," the term used to describe Chinese males who immigrated into the U.S. with illegally bought identity papers, she pushes Tommy to face questions about his true family name that was lost in the transaction. Years later, Tommy comes to realize that it is the journey his family made to America that is bigger than all of them. Passing on a new family legacy with Dorothy by his side, Tommy Lee has his American Dream firmly in place.
---
Diverse City Theatre (New York City, NY)
Diverse City Theatre Benefit
June 23, 2008
Lea Salonga
DCT Benefit
Tony Award Winner Lea Salonga Invites You to a Musical Event Celebrating Diversity in the Theater
Leading Broadway Artists Norm Lewis (currently starring in Disney's The Little Mermaid), Nikki Renee Daniels (Aida, Beauty & the Beast), Rona Figueroa (Miss Saigon, Nine), Julie Danao Salkin (Lennon), Angel Desai (Company), Jose Llana (The Flower Drum Song, 25th Putnam County Spelling Bee), Ali Ewoldt (Les Miz), Amy Spanger (The Wedding Singer, Kiss Me Kate), Allison Blackwell (Les Miz) and THE WIRE's Melanie Nicholls-King Headline Diverse City Theater's "Summer Benefit Soiree" on Monday, June 23rd at 6-9PM at The Helen Mills Event Space & Theater.
---
The New Group (New York, NY)
Rafta, Rafta
By Ayub Khan-Din,
based on the play All in Good Time by Bill Naughton
May 8 to June 21, 2008
extended to June 28
No Sex, Please, We're British Indians - a comic farce on the wedding night of two East Indian newlyweds.
---
Ramble-Ations
A One D'Lo Show
Friday and Saturday, June 27 + 28, 2008
8:30pm
Tickets: $15/20
Click Here to RSVP
---
Stir-Friday Night (Chicago, IL)
Stir-Friday Night! Improvises!
Thursday nights in June, 2008
Where & When
The Playground Theater

3209 N. Halsted
(Corner of Halsted and Belmont)

8 p.m.
Thursdays in June

Tickets
$10

RSVP
(773) 871-3793
SFN! Serving Up the Funny
Improvisation Rules!
Stir-Friday Night! is bringing their unique brand of humor to The Playground Theater starting this Thursday and for all the Thursdays in June (5th, 12th, 19th, and 26th) with their own improv showcase. Because it's improvisation, no two shows will be the same so you can keep coming back!
Tickets are only $10!

Stir-Friday Night!
P.O. Box 268560
Chicago, Illinois 60626
312-965-0247
Stir-Friday Night! is celebrating their 13th year in existence. Your continued support helps SFN! be a voice for the Asian American community. Thank you!

This project is partially supported by a CityArts Program 1 grant from the City of Chicago Department of Cultural Affairs and by a grant from the Illinois Arts Council.
---
Guthrie Theatre (Mineapolis, MN)
After a Hundred Years
by Naomi Iizuki
June 7 to 29, 2008
A haunting drama that examines a legacy of guilt, while seeking possibilities of forgiveness and redemption. An American journalist arrives in Phnom Penh, granted a rare, careermaking interview with a Khmer Rouge general accused of war crimes on the eve of his trial in front of a UN tribunal. But how well can the general defend his actions? How savvily can the journalist wade through his subject's lies and accusations? And what surprising information is lurking behind a mysterious woman's happy facade?
---
fu-GEN Theatre Company (Toronto, Canada)
with the generous assistance of The Factory Theatre
presents
The 5th Annual Potluck Festival
June 20 to 29, 2008
The Factory Theatre, 125 Bathurst St.
PWYC per show ($15 Suggested)

The Potluck Festival has been and remains to be the only new-play-development festival dedicated to Asian-Canadian playwrights in Canada. For four years, this festival has nurtured 26 Asian-Canadian playwrights with some plays going on to further development with other theatre companies, and some being successfully entered and produced in festivals.

And now, to celebrate its 5th year running, we are taking this one-night-only event and expanding it to a 6-night festival, focusing on the development of 7 plays in various stages of creation and culminating in public readings over six days/nights. Come early and enjoy tasty treats and delectable delights compliments of one of our sponsors!

FESTIVAL DESIGNERS:
Set Design by Jackie Chau
Lighting Design by Aaron Kelly

STAGE MANAGEMENT by Dale Yim
Brown Balls
A Stage Play
By Byron Abalos
Dramaturgy and Direction by Philip Akin
JUNE 20, FRIDAY 8:00 PM
Sponsored by The Sun Barbecue Company
Under the guise of an Import Car/Cellular Phone/Karaoke Conference, three young Asian men dressed as Bruce Lee, Charlie Chan and Fu Manchu take the audience hostage and force them to listen to their grievances that result from their struggle to justify and redefine their maleness. Brown Balls is an unapologetic, honest, touching and often hilarious exploration of Asian masculinity in a Western context.
Stroke
A Stage Play
By Marie-Leofeli R. Barlizo
Dramaturgy and Direction by Marie Beath Badian
JUNE 21, SATURDAY 3:00 PM
Sponsored by Tia Celang Catering
Between the hours of dusk and dawn a catastrophic event occurs forcing a family to confront the secrets of the past. Stroke explores the meaning of family, responsibility, forgiveness and how we choose to remember our sins.
A Taste of Empire
Presented by Cahoots Theatre Projects
A Site-Specific Performance Piece
By Jovanni Sy
JUNE 20, FRIDAY 8:00 PM
JUNE 21, SATURDAY 8:00 PM
JUNE 22, SATURDAY 2:00 PM and 8:00 PM
Location: Nella Cucina - 876 Bathurst Street
Tickets $25 - includes food sampling
*Please note that seating is limited to 30 people. Call 416.920.2828 to book tickets.
Iron Chef meets the Noam Chomsky Lectures. Jovanni Sy examines links between colonialism and cuisine while preparing and cooking Rellenong Bangus in a functioning kitchen.
The Kitchen Showcase
JUNE 22, SUNDAY 3:00 PM
Presenting excerpts from a series of original works-in-progress by fu-GEN's very own playwriting unit, the Kitchen.
Tale of a Mask
A Stage Play
By Terry Watada
Dramaturgy and Direction by Nina Lee Aquino
JUNE 27, FRIDAY 8:00 PM
Sponsored by New Generation Sushi
Tale of a Mask is a haunting tale of a Wife and Mother who struggles against a new life she did not choose. Based on actual events of an immigrant Japanese family.
Kim's Convenience
A Stage Play
By In-Surp Choi
Dramaturgy and Direction by Jovanni Sy
JUNE 28, SATURDAY 3:00 PM
Sponsored by Korea House
The humorous story of a family in Toronto's Koreatown and the last day of their convenience store.
Pu-Erh
A Stage Play
By Norman Yeung
Dramaturgy and Direction by Keira Loughran
JUNE 28, SATURDAY 8:00 PM
Sponsored by Wen Long Tea
An exploration of the barriers between parent and child, Pu-Erh explores identity, youth, and the responsibility of each new generation.
lady in the red dress
A Stage Play
By David Yee
Dramaturgy and Direction by Guillermo Verdecchia
JUNE 29, SUNDAY 3:00 PM
Sponsored by Bright Pearl Restaurant
Set against the backdrop of the Chinese-Canadian redress lawsuit, lady in the red dress is the story of a lawyer without a conscience, a woman without a past, and vengeance for a cause that had been ignored too long. A darkly comic revenge story about the skeletons in our closets, and the consequences of our (in)actions.
---
InterACT (Sacramento, CA)
Carnival De L'Amour
June 25 to 28, 2008
Carnival of fun and more, intertwines passion and love with music, dance with dinner original script & most music by Artistic Director, Dennis Yep
---
Another Chicago Theatre Company (Chicago, IL)
Happy Talk: a romantic urban fairytale
by Annette Lee
June 28 & 29, 2008

Gina loves Bob, but Bob isn't free to love anyone until he's free of his mother. Could the answer be in a pair of a fabulous ladies shoes?
presented by
Two shows: Sat. June 28 at 2:30 and Sun. June 29 at 7:30
RedTwist Theatre, 1033 W. Bryn Mawr, Chicago IL
$12 gen, $7 industry (w/headshot, resume, business card)
http://www.anotherchicago.org/lps/index.html
This is part of the Last Play Standing competition and this is the final round with one other play. Audience plays a part in the selection of the winner. If anyone is in the Chicago area, please come see the show.
---
East West Players (Los Angeles, CA)
Transfigurations
new play readings
June 28 to 30, 2008
TRANS/FIGURATIONS - SPRING 2008 Reading Series
Eleven New Works In Progress from the David Henry Hwang Writers Institute at East West Players

At the David Henry Hwang Theater
120 North Judge John Aiso Street Los Angeles, CA 90012

$5 Suggested Donation

SATURDAY, June 28 @ 1pm

The Night Rehearsal
By Steven Tran
Directed by Suzanne Karpinski
Till intends his new play to shake up the establishment. His ingredients: a night rehearsal, a young lady, his midlife woes and the Bogeyman. Will he reach the pinnacle of his art in one night?

SATURDAY, June 28 @ 4pm

Time After Time: A Catalog Of Traumatic Events
By D Hideo Maruyama
Directed by Ann-Giselle Spiegler
The world composed of snapshot after snapshot of small and global tragedies that make up daily life; it's a series of photographs in words: how daughters can become fathers of men.

SATURDAY, June 28 @ 6pm

New Years Play
By Howard Ho
Directed by Prince Gomolvilas
10...9...8...7...6...5...4...3...2...1...Now. We are dealt the hand with which we are born. What will your resolution be? A tale of memories, fantasies, astrologies, and computer science majors.

SUNDAY, June 29 @ 1pm

Myopia
By Rima Anosa
Directed by Benjamin Pohlmeier
"Love may be blind, but it sure isn't color blind."

The Rusty Nail Competition
By Lia Tu Directed
by Kipp Shiotani
"What if I told you I could make this nail worth hundreds of dollars? You'd think I was crazy. Well, you would be right. I can actually make it worth even more, thousands of dollars."

SUNDAY, June 29 @ 4pm

Novenas
By Vanessa Tamayo
Directed by Michel Henry
The Manong generation is dying, and prayers for the dead seem to line up night after night. Set against the droll rituals of mourning, a daughter returns to care for her dying father in the community that she destroyed.

Lito Loves Buck
By Jennifer Almiron
Directed by Darrell Kunitomi
The sun sets, night presses in-and two boys miss the bus home from Model U.N. In the "crackle-pop" of a night in the wilderness, the boys rise to the challenge of darkness. And war games, gunshots, and strange preteen urges go bump in the night.

SUNDAY, June 29 @ 7pm

Conversations with Sasquatch
By Carmen Balas
Directed by Kelvin Han Yee
Bob is not your average tourist. When Bigfoot meets the Big City, expectations implode and worldviews shatter. Which raises the question: What is human?

MONDAY, June 30 @ 7:30pm

Monsters in the Closet
By Elizabeth Mitsunaga
Directed by Cindy Marie Jenkins
What happens when you're re-introduced to the childhood monsters that lurked in your closet? Are they just silly "boogie-men" or perhaps something even more frightening? Come see if you recognize some of them for yourself.

Fixtures at an Exhibition
By Gary Kuwahara
Directed by Alberto Isaac
Old people can haz sex. Fo' shizzel.

Doggy Style
By Gary Kuwahara
Directed by Alberto Isaac
When you treat people like dogs, sometimes they bite back. Well, they're dogs...they do doggy things.

Questions? Contact Literary Manager Jeff Liu
JLiu@EastWestPlayers.org

The David Henry Hwang Writers Institute is supported in part by the James Irvine Foundation.
---