the Bindlestiff Pinay Collective(SF, CA)
Summer's Eve
July 4 to July 20, 2002
Ahhhhhhhh.......Summer's Eve.....Come join the Bindlestiff Pinay Collective as they flush away their insecurity with a floral geyser that will tickle you pink. This year they are revisiting their childhood and the recent past; taking a look at what it means to grow up pinay in the United States. Delving into sexuality, taboo, memory and nationalism- journals, debuts, gyno visits and indecisive girlfriends reign. "Coming of age" takes on different meaning as the BPC celebrates and pokes fun at the milestones of womanhood. Unconventional use of comedy, puppetry, shadow light, movement and estrogen prove to be a success in this years long awaited group collaboration. Principal writers include Lorna Aquino-Chui of Shadow Light productions and Tongue in a Mood, Gayle Romasanta of the Legendary Bobby Banduria and Tongue in a Mood and Rhoda Gravador of 18 Mighty Mountain Warriors. Performers and comedy divas include Sam Chanse and Bernie Sibayan of Bindlestiff Studio...and special appearance by the explosive PINAYTRATION.
seats are limited so reserve NOW!!!
Bindlestiff Pinay Collective
Summer's Eve
Bindlestiff Studio
epicenter of Filipino American Arts
185 6th St. @ Howard
Thursdays through Saturdays, July 4-20, 2002 at 8pm


For reservations call 415.974.1167
$15 General Admission $12 Students (no credit card please)


Information: lorna@bindlestiffstudio.org

---

East West Players (LA)
DHH Writers Institute readings
July 15 to 17, 2002
The readings are a culmination of works in progress by workshop members. This is a great opportunity to hear new Asian Pacific American voices. Save the dates July 15-17, 22-24 at the David Henry Hwang Theatre. For more information contact Marilyn Tokuda at mtokuda@eastwestplayers.org or (213) 625-7000 x28.
Monday, July 15 @ 7:30 pm
CAMERA SHY by Gary Kuwahara
Bad modern romance gone wrong for a new Millennium. Immature material for mature audiences only.

Tuesday, July 16 @ 7:30 pm
SON by Curtis Chin
Photographs. Memories. Baseball. Three generations of men in an Asian American family find themselves at a crossroads when a son must make a decision about his aging father's situation.

Monday, July 22 @ 7:30 pm
OLD PEOPLE PLAY: A MUSICAL FOR OLD PEOPLE by Jason Fong
A Bunch of Old People are dead. Yes! Begin the Story ...

Tuesday, July 23 @ 7:30 pm
THE AMULET by Michelle Tandoc-Pichereau
A magical stone. A dying man. And a family who's about to discover that life, indeed, is in the smallest details.

KIEU by Duane Hauch
Fate. Love. Spiritual Devotion. Based upon a Vietnamese epic poem, villains, madams, deceivers, and heroic warriors all provide a panorama of poignant, comical and memorable characters who move the heroine Kieu to her redemption.

Wednesday, July 24 @ 7:30 pm
ALL THE EARTH by Edgar Mendoza
It began as a paradise on Pangea. But as soon as the Earth divided itself, so did its people.

KABUKI UNDERGROUND by Miki Nishikawa-Hirano
Ghosts who love too much, an old man and his granddaughter, an alcoholic underground Kabuki actor, an agorophobe with a camera...and a Mime. Who can save them?

The David Henry Hwang Writers Institute is made possible in part by Disney/ABC, The James Irvine Foundation and National Endowment for the Arts.
---
Lincoln Center Festival (NYC)
The Silver River
music by Bright Sheng
book by David Henry Hwang
July 16 to 21, 2002

---
In Mixed Company
July 19 and 20, 2002
IMC is performing Friday, July 19 at 7:15 for the Hapa Issues Forum Conference at San Francisco State University. Cesar Chavez Student Center. Visit Hapa Issues Forum
(http://www.hapaissuesforum.org/conference/) for info.

IMC is performing this Saturday, July 20 at 2:30 for the New York State DanceForce Conference at Danspace Project at St. Marks Church, NYC. Maura is also speaking on a panel "Fostering Asian Diaspora Performance" at 10:15 as part of the conference.
---
The Flip Side
July 16, 2002
"THE FLIP SIDE"
Opens Friday, July 19
Century 20 Great Mall, Milpitas
1010 Great Mall Drive

SHOWTIMES
10:05 AM
12:15 PM
2:20 PM
4:30 PM
6:55 PM
9:00 PM
11:10 PM

Tickets available at www.fandango.com
Visit us at www.flipsidemovie.com
MEET THE CAST!!!
Verwin GatPandan
Ronalee Par
Ester Pulido
MEET THE WRITER-DIRECTOR!!!
Rod Pulido
*****************************************
IT'S A FAMILY COMEDY!
Just to let all of you parents know, "The Flip Side" is a FAMILY COMEDY with some profanity. It is suitable for children under the age of 13 if they are accompanied by a parent or guardian. IN FACT, it's a great movie for the whole family to enjoy because there's something in it for everyone, young and old alike!
*****************************************
WE NEED YOUR SUPPORT!
Right now "The Flip Side" is the ONLY Filipino American movie playing in the Bay area. We NEED you to come out and represent to show that there's an audience for Filipino American movies. So before you check out "Eight Legged Freaks" or "Stewart Little 2," check out "The Flip Side," the ONLY Film Am feature film to World Premiere at the Sundance Film Festival.
*****************************************
"FLIPSIDE" MERCHANDISE!

Want some cool "Flipside" memorabilia? Well you?re in luck, because at every theatre we play at our staff will be selling Official "Flipside" Merchandise. We?re talkin? cool T-shirts, posters and "The Flip Side" book, "The Making of a Filipino American Comedy." This one of a kind, behind the scenes look includes "The Flip Side" screenplay, the making of the movie, director Rod Pulido's Sundance Film Festival journal, plus a hilarious forward by the everyone?s favorite Filipino comedian, Rex Navarrete!
---
Peeling (NYC)
Vampire Geishas of Brooklyn
July 11 to 27, 2002
Infused with fresh blood as it enters its seventh year, the Asian American theater group Peeling is gearing up for its sharpest-edged, most ambitious show ever - Vampire Geishas of Brooklyn. The show plays July 11-27, Th-Sa nights at 8pm at the Kraine Theater, 85 E. 4th Street in Manhattan. For reservations, call 212-561-9185 or e-mail peelthis@yahoo.com.
Seething playwrights, playas and politically correct Transylvanians are just some of the manifestations broiling in the darkest corners of Peeling's psyche. Will there really be vampire geishas biting and bowing? Has Peeling sold out commercially by using stereotypes of Asians and vampires? Will there be gratuitous nudity, martial arts sequences and a self-indulgent musical number? The answer might lie in a South Asian Sex Ed PSA trailer. But to find out for sure, you'll have to come see for yourself.
Peeling invites you to join us on a journey between autobiography and fiction, from past to future, on a quest for answers to who we are as Asian Americans. No, it's not another slew of skits about self-identity, food, and family. It's a seamless, multifaceted play about New York City, theater, survival, the flux of relationships in an urban tribe, and sexaholics.
Peeling uses the performing arts and theater as vehicles for Asian Americans to explore individual stories, community building, leadership, and social activism through creative workshops, staged productions, readings, and related activities. Autobiography becomes a departure point for exploring race, gender, class, ethnicity, age, sexuality, and similar politics facing Asian Americans today.
The show is directed by Jin Auh, and produced by Dan Bacalzo. It features the writing and performing talents of a pan-Asian American ensemble including Jennifer Ahn, Roger J. An, Jin Auh, Dan Bacalzo, Joe Chan, Nora Chau, Dustin Chinn, Celena Cipriaso, Aileen Cho, Erwin Falcon, Steve Huang, Lara Jayasanker, Tazeen Khan, Puja Lalmalani, Fitz Mangubat, Sesh Mudumbai, Ngo Thanh Nhan, Gita Reddy, Bushra Rehman, and Judy Yu.
WHO: Peeling
WHAT: Vampire Geishas of Brooklyn
WHEN: July 11-27, Th-Sa at 8pm
WHERE: Kraine Theater
85 East 4th Street
Manhattan
Nearest Subways: F to 2nd Ave; N/R to 8th Street;
6 to Astor Place
PRICES: $15 ($12 students/seniors, $10 groups of ten or more)
RESERVATIONS: 212-561-9185 OR e-mail: peelthis@yahoo.com
---
SIS Productions (Seattle)
Sex in Seattle, Episode 5: Intimate Secrets
by Kathy Hsieh
July 12 to August 3, 2002
Richard Hugo House
---
Bindlestiff Studio (SF, CA)
Live Yo' Life
July 25 to August 3, 2002
Bindlestiff Studio epicenter of Filipino-American Arts is excited to present for Summer Season...
LIVE YO' LIFE! a new sketch comedy show featuring members of the Overseas Artists and Bindlestiff players. Relax. Let it all go. Pamper yourself. You deserve it.
Every Thursday, Friday and Saturday
July 25 through August 3 (2 weekends only)
Show starts at 8pm
$10 show price (everyone)
for reservations call 415.974.1167 and please +++CLICK+++ our website http://www.bindlestiffstudio.org/
---
Rad Asians Performance Art Workshop 2002
A Showing
July 27, 2002
Join us for an afternoon of in-progress performance that springs from movement, choreography, narratives, poetry and visuals. This is a culmination of an eight-session interdisciplinary performance workshop led by Denise Uyehara, with master classes taught by award-winning artists Elia Arce, Danielle Brazell and Yutian Wong. Participants will share process-oriented work based on impulses from their lives and memories -- including the real, surreal and unreal -- work that does not fall back on convenient answers to race, class, sexual orientation or gender issues, but instead sheds light on their complex truths.
Workshop participants: Uyen Huynh , Pete Lee, Mari Hashimoto, Bernice
Doefleur, Han Pham, Kristina Wong, Harry Du Young, Jayvee Mai, Marcella
Pabros-Clark, Viet Le.
Saturday, July 27, 2:30 p.m.
The Electric Lodge (in the theater)
1416 Electric Ave., Venice, CA 90291
Admission: $5 donation, but no one turned away for lack of funds.
Directions: From Lincoln Blvd., go west on Venice, right on Abbott Kinney, right on California, right on Electric Ave. As a courtesy to the neighbors, please park in the Electric Lodge's free parking lot, not on the street.
For more info: www.deniseuyehara.com or call (310) 285-3698. This workshop has been funded, in part, by a grant from the City of Los Angeles Cultural Affairs Department.
---

Youth For Asian Theater (SF, CA)
A Wok Across the Golden Gate
A sweet & sour collection of original plays
Saturday, August 3, 2002, 7:30 p.m.
Herbst Theatre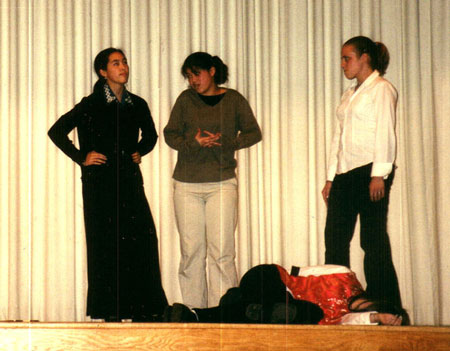 Youth for Asian Theater is proud to present an unforgettable night of original short plays written, directed, and performed by talented San Francisco youth. A Wok Across the Golden Gate introduces six new plays penned by some of the Bay Area's most up-and-coming talent. So join us for the FREE August 3rd performance at the historic Herbst Theatre.
The Dinner written and directed by Megan Sham.
The House written and directed by Terence Thang.
100% written by Morgan Ho, directed by Alisa Farenzena.
Madame White Snake adapted and directed by Aldrich Tan.
Introducing Sam written and directed by Lauren D. Yee.
The Difference between Dreams and Time Warps written and directed by Lauren D. Yee.
Cast members include Timothy Cheng, Cliffton Chin, Jacqueline Chow, Aga De Castro, Alisa Farenzena, Brianna Lee, Sel Lee, Lorraine Ling, Regina Liu, Pooja Patel, Lily Sham, Megan Sham, Aldrich Tan, Stella Tan, Terence Thang, Katy Yan, Lauren D. Yee, Tina Yu.
FREE Admission
Saturday, August 3, 2002, 7:30 p.m.
Herbst Theatre in the War Memorial Building
401 Van Ness, San Francisco
(across from City Hall)
Visit our Web site at www.geocities.com/londoncheesecake/yfat.html

For more information, call Lauren at (415) 831-3888



Parking around City Hall will be easily accessible. Security will be provided.
---

LOS ANGELES PUBLIC LIBRARY AND PEN CENTER USA PRESENT
"READINGS BY THE EMERGING VOICES ROSENTHAL FELLOWS"
WEDNESDAY, JULY 31, 7 P.M.
MARK TAPER AUDITORIUM, DOWNTOWN CENTRAL LIBRARY
530 WEST 5TH STREET, LOS ANGELES
The Los Angeles Public Library and PEN Center USA host an "Evening of Readings by the Emerging Voices Rosenthal Fellows," the participants in PEN's program of literary mentorship, Wednesday, July 31, at 7 p.m. in the Mark Taper Auditorium of the Central Library at 630 West 5th Street, downtown. Hosted by poet Peter J. Harris of KPFK's "Inspiration House: VoiceMusic for Whole Living," the program will feature poets Viet Le, Princess Peter-Raboff and Ariel Robello, and writers Kayla Allen, Nzingha Clarke, Carolina Rivera and Kristina Wong. Poet and PEN VP of Programs, Donna Hilbert, will co-host the event. Admission is free. Parking is $6.25. Call (213) 365-8500 for more information.

Now in its seventh year, Emerging Voices is an eight-month program involving one-on-one sessions with mentors, workshops with established writers and editors, classes in the UCLA Extension Writers' Program and literary readings. Writers are recommended by community-based arts organizations or apply at large. This year's mentors and instructors include Jervey Tervalon, Sherman Alexie, María Amparo Escandón, Shonda Buchanan, Brian Lane, Russell Leong, Leslie Schwartz, Judith Searle and Diana Wagman. Other authors and literary professionals who volunteered their time to the program were Noël Alumit, Betsy Amster, Jenoyne Adams, Gioconda Belli, Laurel Ann Bogen, Bebe Moore Campbell, Stellasue Lee, Douglas Messerli, Greg Sarris and Louise Steinman.

Peter J. Harris is producer/host of "Inspiration House," a weekly program featuring poets reading to recorded music on KPFK 90.7 FM, Mondays from 10-11 p.m. He is publisher of the Los Angeles magazine Drumming Between Us: Black Love & Erotic Poetry; author of Hand Me My Griot Clothes: The Autobiography of Junior Baby, winner of the Oakland PEN Josephine Miles Award in 1993; and he has been an educator and cultural worker since the 1970s.

---
Strange Company (LA)
Harm's Way
by Mac Wellman
July 27 to August 11, 2002
In cooperation with Inshallah Gallery:
"Are you gonna kill everyone, Mister?" In a selective, surreal dark tour of violence, Harm's Way shows a timeless journey and an outlaw named Santouche who solves the problems of other people with his gun. Broken watches, a Guyanousa, baloney sandwiches, Grover Cleveland, wizards, homicidal mothers, carnies, and a man begging to be buried alive, everyone drinks from the same poisoned well in the unruly world of Mac Wellman's comically dark fantastical quest.
Mac Wellman is a two-time Obie award winning dramatist whose work is widely performed. He has won Rockefeller, NEA and Guggenheim fellowships, and the 1997 Lila Wallace-Reader's Digest Writer's Award.
Directed by Grady Johnson, Harm's Way features an eclectic ensemble cast that includes Sam Mercer, Sarah Horvath, Lindsey Dann, John O. Nelson, Carlos Martinez, Lou Walters, William H. Powers, Suzanne Gutierrez, Lane Maser, Christy Bigelow, Michelle Hilyard, Simona Morecroft, Jonela Ruka, Andy Harlan, and Jeff Ash.

Founded by Grady Johnson, Ray Wickel, and Nic Cha Kim, Strange Company is proud to present their first ever collective show. Their Mission Statement: Reality is the most fascinating moment when you are in Strange Company.

A three-week engagement, Harm's Way plays Saturday and Sunday at 9pm, starting July 27, 2002 and ending August 11, 2002. Inshallah Gallery 244 S. Main St. LA, CA 90012. Tickets $10. Students and Seniors $8. Reservations: (213) 221-0486. Info: (818) 341-0906.

For more information, visit our website at www.strangecompany.net

---

RAINIER VALLEY YOUTH THEATRE
The Carabao Cries Too
written by Nancy Calos-Nakano
directed by Mervin P. Antonio
with music by Roger Rigor and Paul Thomas
July 31st (preview), Aug 1, 2, 3, 7, 8, 9, and 10 at 8 PM
at Rainier Valley Cultural Center on the SW corner of Rainier and Alaska
Tickets are $5 for adults, $3 for students and seniors - July 31 and Aug 7
are FREE.
call 725-7169 for more information
Whose Family? Whose Identity? Whose Culture? These are the universal questions that resonate with every American family. Through this musical story of three generations of a Filipino family, we watch their struggles and joys in their quest to answer these questions, while we discover how these similarities transform our families and how the story repeats - the first generation struggles to maintain their cultural heritage, the second fights to find their own identity and the third searches for a bridge to bring these worlds together.
SummerSTAGE is an intensive theater-training program for youth ages 12 to 21 that results in a 2-week public performance for the community. Over the past 6 years RVYT has produced six successful SummerSTAGE productions including last summer's lively Afro-Cuban hit, MABAIRE! Every production features a diverse cast of young people along with a unique cultural or artistic theme. As NW Asian Weekly stated in 1999, "What would a community youth theater be without "Our Town," "Guys and Dolls," and "Romeo and Juliet?" or any other standard American play? It would be the Rainier Valley Youth Theater."
RVYT is a program of Southeast Effective Development (SEED). Founded in 1995, it is a multi-cultural, community-based theatre that fosters the personal and artistic development of all participants through teaching the total craft of theatre. Its programs include resident drama classes, curriculum based school residencies such as the Cultural Heroes & Mentors project and the Young Playwrights Festival, and SummerSTAGE
SPECIAL INTEREST:
* COLUMBIA CITY GALLERY will host a special visual exhibition from July 24 to August 10. This show titled, "Self(less): Identity in the Filipino American Family," will feature two- and three-dimensional works by ROMSON REGARDE BUSTILLO, JAMES LAWRENCE ARDENA and members of the ISANGMAHAL ARTS KOLLECTIVE. Part of the proceeds from the sale of the art will benefit Rainier Valley Youth Theatre. Columbia City Gallery is located at 4916 Rainier Avenue South.
* On Aug 3, ISANGMAHAL ARTS KOLLECTIVE will bring their signature style of urban music and spoken words to the Rainier Valley Cultural Center. Show time is 10:15 PM and tickets are $5 at the door.
---
Theatre Passe Muraille (Toronto)
Little Dragon
by Keira Loughran
August 1 to 10, 2002
At the SummerWorks Theatre Festival in Toronto: LITTLE DRAGON, a fiery comedy about a young woman who believes she's the long lost daughter of Bruce Lee. Little Dragon is written by Keira Loughran and features a great ensemble cast of Angela Besharah, Richard Lee, Keira Loughran, Michelle Polak and Jean Yoon.
The show is co-directed by Marion de Vries and Keira Loughran, with fight arrangement by Keira Loughran and Richard Lee; and sound design by Lyon Smith.

Little Dragon is playing at the Theatre Passe Muraille
Mainspace, 16 Ryerson Avenue, on the following dates:

Friday, August 2 at 5:00 pm
Sunday, August 4 at 2:00 pm
Monday, August 5 at 12:30 pm
Monday, August 5 at 8:00 pm
Friday, August 9 at 5:00 pm
Sunday, August 11 at 2:00 pm.

Tickets are $9.00, available the day of the show, one hour before the first show at that venue on a first come-first serve basis. No latecomers are admitted and all sales are final.
Please note the somewhat unusual scheduling, including 2 shows on Monday, August 5, because one of our actors, Michelle Polak, is also playing Hermia in CanStage's Dream in High Park. If you've already seen it, you'll have one more reason to come see Little Dragon, and if you haven't, you'll sure want to after seeing Michelle in Little Dragon!
For more information, go to www.summerworks.ca and look up "Little Dragon" or K'Now Theatre, or call (416)588-5784.
---
Theatre Rhinoceros (SF)
Post-Matinee Tristesse
by Felix Racelis
August 8 to 11, 2002
The Purple Circuit called "Post-Matinee Tristesse," Felix Racelis's short play skewering the Dec/May romance of an erudite professor for a delectable youth "delightful." It runs during Weekend Two (Aug. 8-11, 2002) of Theatre Rhinoceros's "Playwright's Stew," the sixth festival of new works co-directed by Joan Grinde and Megan Murphy in Theatre Rhinoceros's Studio space. On the bill are other short plays by Aoise Stratford, Trevor Allen and Claudia Barr. Theatre Rhinoceros is the nation's longest-running lesbian, gay, bi-sexual & transgender theatre company.

Tickets are $10-$12. Theatre Rhinoceros is located at 2926 16th St. in San Francisco, between Mission and South Van Ness in the heart of the Mission District. For Reservations: (415) 861-5079; Website: http://www.therhino.org/studio.htm
---
Bindlestiff Studio (SF)
Pinoykio
August 8 to 17, 2002
Bindlestiff Studio

Home of the Filipino-American epicenter of the Arts
185 6th Street (@Howard) 415.974.1167 for ALL RESERVATIONS


P i n o y k i o
Long version title of Pinoykio:
afilipinoamericandeconstructionoftheoriginalstoryratherthanthatstupidddisneyversion
Filipino American avant garde theatre? Performance art at Bindlestiff Studio? Experimental theatre that I won't fall asleep to? These questions and many more will be graciously answered by theatre artist, Ramon Abad, in his solo performance piece to be premiered at Bindlestiff Studio. After comparing and contrasting the sugary-sweet Steven Spielberg film "A.I." to Carlos Collodi's original dark version of "Pinocchio", Ramon was inspired to further mess things up with a non-traditional re-telling of the story through the round glasses of a Filipino-American artist. By experimenting with puppetry, video projections, shadow theatre and other funky theatre arts, Ramon will attempt to strip the sugar coat that Disney had lavishly daubed on the story of a wooden puppet, struggling to escape poverty.

Using Collodi's "Pinnochio" as a reference point, Ramon will bridge it's themes and imagery with those from a Filipino American experience.

Ramon is leaving San Francisco for London and is composing these performances as a Valentine to every single person who has supported Bindlestiff Studio over its extensive history from performers, administration, stage crew, and the myriad of beautiful audience members.



First Installment: Thursday to Saturday August 8-10
Second Installment: Thursday to Saturday August 15-17

All performances @ 8PM Sharp
Artist Benefit Show, Sliding Scale $7-$15

(all proceeds go to Ramon Abad and his future...for all his dedication and hard work for Filipino American Performing Arts)


---

Village Theatre (Issaquah, WA)
The Wedding Banquet
adapted from the Ang Lee movie
by Welly Yang, Derek Nguyen, Woody Pak and Brian Yorkey
Sunday, August 18, 2002
Staged reading as part of the Village Originals series.
---
TeAda Works:
New Performance Development Lab
Live Mutant Art -
a festival of boundary-breaking performance that blow off the cutting edge!
August 22 to 25, 2002
Works-in-progress that go beyond the cutting edge
Featured Artist Lab:
"self (the remix)" by Robert Karimi and DJ Special K
Core Artist Lab:
"Blutoh" by Pat Payne with Malia Oliver and Reina Prado
"Welcome to LSL: Lao as a 2nd language" by Ova Saopeng
"Miss Chinatown 2nd Runner Up" by Kristina Sheryl Wong (((EV)))
(goto www.teada.org for more info on performers)
Community Artist Lab (2 Performances ONLY on August 24 & 25 only at 4:30):
Alfie Ebojo, Bonnie Lee, Yi Lin, Shyamala Moorty, Ulli Ryder, Raquel Salinas, Felicia Taylor E.
Where:
Angel's Gate Cultural Center, 3601 S. Gaffey St., Building H, San Pedro, CA
Take the 110 S. to the very end, turn LEFT on Gaffey St, drive 2 mi. look for the entrance on your right. Expand your Neighborhood boundaries and see where the 110 ends!

Prices:
Thursday 8/22 7:30PM - pay what you can night
Friday 8/23 7:30PM - $10 advance $12 at the door
Saturday & Sunday 8/24 & 25 7:30PM - $12 advance $15 at the door
Community Artist Lab (8/24&25 @ 4:30PM) - FREE (donations requested)

Call 310/998-8765 to make reservations for advance ticket sale price
---
2g productions (NYC)
The Children of Vonderly
By Lloyd Suh
Directed by Chris Smith
Friday, August 23, 2002, 8pm
The Joseph Papp Public Theater, Lu Esther Theater
Hosted by The Joseph Papp Public Theater
Kim Montelibano, Program Coordinator
with Sharon Tinati, Brandon Kuwada, Lynn Cohen

remaining cast TBA



Suggested donation: $5



log onto <http://www.2g.org/>www.2g.org to make reservations

performance is expected to fill immediately



Itzak Vonderly is dead, and his multi-ethnic generation of adopted and disabled children sit ritualistic "shiva" over a family era. The search for new roles begins: this is a house in its mourning.

This is a Second Generation production not a Public Theater production.

Hosted by the country's most prestigious theaters, including the Joseph Papp Public Theater and New York Theater Workshop, Second Generation's In the Works reading series provides a vital stage for emerging writers to develop quality scripts and showcase their daring works with the aide of Second Generation&Mac226;s cadre of professional actors and directors. The mission of the series is to bring attention to and develop the work of Asian American writers, or works that reflect the Asian American experience. Over the past few years, the series has proven itself to be a remarkable launching pad for new works and their playwrights to blossom, with many past readings going on to productions across the country. An open dialogue with the audience follows directly after each reading, allowing the audience a rare insight into the artistic process.
---
Ma-Yi Theatre (NYC)
Project: Balangiga
by Ralph B. Pena and Sung Rno
August 22 to 25, 2002
Ma-Yi Theater Company presents a workshop of a new play PROJECT:BALANGIGA, written by Ralph B. Pena and Sung Rno. PROJECT:BALANGIGA is a contemporary investigation into the events surrounding the Balangiga Massacre, one of the darkest episodes of the Philippine American War (1898 to 1902). 54 American soldiers were killed by Filipino revolutionaries during a surprise attack on Sepetmber 28, 1901. In retaliation, the Americans ordered the killing of every male above the age of ten on the island of Samar, killing nearly 50,000 Filipinos, and turing the island into a "howling wilderness." This was America's first Vietnam. Before they left, the Americans took the three bells from the Balangiga church that had been used to signal the start of the surprise attack. Today, two of those bells are in F.E. Warren Air Force Base in Cheyenne, Wyoming. The Philippines has asked for their return. The United States has refused.
PROJECT:BALANGIGA examines the myths that coat history, and takes us to the heart of the current issues surrounding ownership, patriotism, and race. Who owns the bells? What is the value of an American life. Of a Filipino? Who is the more aggrieved?
$5.00 Admission
AUGUST 22 to 25 Only
THE BLUE HERON ARTS CENTER
123 East 24th Street (between Park and Lex)
New York City
Thursday - Saturday at 8PM
Saturday and Sunday at 3PM
---
Lodestone Theatre Ensemble presents
A reading of the new play
DAMNED RIGHT
by Jay C. Rehak
directed by Jess Bard
September 8, 2002
featuring Tim Chiou, Harry Du Young, Annie Lee, Edelyn Okano, Russ Riggins, Robert Shinso and Jae Suh

DAMNED RIGHT is a romantic comedy about people who attempt to gain an edge on the world by spending their lives in front of a computer screen. A play for and about people who think they know everything. It is written for the Palm Pilot crowd who know how to laugh at themselves.
FREE ADMISSION (but donations gladly accepted and encouraged)
Sunday, September 8th, 7:30pm.
The Victory Theatre
3326 West Victory Blvd, Burbank 91505
Please park on Victory or the library parking lot across the street from the theatre. Please do not park on the side residential streets.
---
Vancouver Asian Canadian Theatre (Vancouver, BC)
Gooks & Spooks
Vancouver Fringe Festival
September 6 to 15, 2002
In association with the Vancouver Asian Canadian Theatre (I'm the Prez), please drop by the Fringe Performance of GOOKS & SPOOKS with Hot Sauce Posse, Vancouver's FULL COLOUR sketch comedy troupe.

GOOKS & SPOOKS mixes blistering stand-up on Asian stereotyping and hyper-dynamic sketches. There's the one about the Dalai Lama being kidnapped by frat boys...then, there's the one about a virginal Siamese twin taking advantage of an escort service on their birthday...and an audience favourite that involves a Chinese grannie bringing down some whoop-ass on her wannabe-gangsta chigger grandson. Come for the sex. Stay for the laughs. Be haunted by the profundity.

Show times: 7pm, 8:30pm or 10pm
Show dates: Friday, September 6th
Saturday, September 7th
Friday, September 13th
Saturday, September 14th

Location: NIC'S GARAGE, 120 West 1st Avenue,
Vancouver, Free Street & lot parking
Tickets: $8 at door (cash only),
$10 in advance by calling
Festival Box Office at 604.257.0366
with a $2 Fringe Passport

'hope to see you there! feel free to spam it to your friends and family. Thanks everyone...word of mouth is ever so powerful for selling non-mainstream theatre.
---
OPM
Me Laugh You Long Time
San Francisco Fringe Festival
through September 15, 2002
---
Disha South Asian Theatre Co. (NYC)
Barriers
by Rehana Mirza
HERE Art Center
September 6 to 22, 2002
Welcome to the Abbas Household.
An Un-typical Asian/Muslim-American Family.
Fighting Against Each Other.
Post 9/11.
FOR A LIMITED TIME ONLY:

Sept 6th - 22nd, 2002
fri-sat 7:30pm
sun 3:00pm & 7:30pm; Talkbacks follow Sun matinees; Tickets $15
Opening Night tickets available for $35 and includes a cast & crew reception

Join us and witness one of only twelve moving performances brought to life by a talented and stunning cast:
Catherine Jhung*, Krishen Mehta*, Amit Patel, Tyler Pierce, Deepa Purohit, David Sajadi*, Debargo Sanyal, Jade Wu*

* Appearing Courtesy of the Actors Equity Association.

@ HERE Arts Center, 145 Sixth Ave (b/t Spring and Broome)
For tickets & info: www.here.org or 212 /647 - 0202

Check out our snazzy website for details: www.desipina.org
Production Designed by: David Morris (Set), Juliet Chia (Light), Chris Webb (Sound), Kirche Zeile (Costume), and Isheeta Ganguly (Music Arrangement )
* Assistant Director: Sandeep Parikh * Stage Manager: Julia Cole * Dramaturg: Darrow Carson * Director of Media Relations: Gitesh Pandya * Media Rep: Alexandra Mace * Graphic Designer: Nilou Moochhala * Photographer: Omar Mullick
**This performance was made possible in part by the Manhattan Community Arts Fund/ New York City Department of Cultural Affairs administered by the Lower Manhattan Cultural Council. In addition, this production is being presented through HERE's Supported Artist Program which provides artists with subsidized space and technical and administrative support.
---

SLANT (NYC, touring)
Wa Zu!
a world premiere
September 12 to 26, 2002
Slant premieres WA ZU, a multimedia adventure tale of an aspiring performance art and garage band on the way to their most ambitious and star-making gig yet, only to be kidnapped for an overseas tourist main attraction- the monkey & dragon and indigenous folk dance circus show conducted by a pop song-singing blow-up puppet doll.
"Slant has a way of throwing sticks of theatrical dynamite." Village Voice
WHEN: Opening night September 12th through 29th, 2002. Thursday, Friday, Saturday, and Sunday nights at 7:30 PM with Sunday matinees at 2:30 PM.
WHERE: La Mama Annex Theater, 74-A East 4th Street, between 2nd Avenue and Bowery in the East Village, New York City
TICKETS: $20 general admission. Group, student, and senior discounts available. Call the box office for reservations and discount arrangements.
BOX OFFICE NUMBER: 212-475-7710

SUBWAY & PARKING: F or V train to 2nd Avenue stop, N or R train to 8th Street/NYU stop, 6 train to Astor Place stop. Street meters and parking lots in the area.
WA ZU is a story told through SLANT's dynamic tapestry of original vocal and percussive score in the tradition of Bobby McFerrin, acoustic music in the tradition of film composer Hans Zimmer played on Japanese bamboo flute, Korean drum, and Middle Eastern lute, drum machine in the tradition of House and Pop icon Moby, synthesized orchestra in the tradition of rock band legend Emerson, Lake, and Palmer with live drum and gong music, physical acting, dance in the tradition of Martha Graham and Chinese opera, shadow puppetry, and large video projection.
SLANT is Rick Ebihara, Wayland Quintero, and Perry Yung
With direction by Ron Nakahara, Associate Director of Pan Asian Repertory Co.
Lighting by Tom Lee, La Mama Resident Artist
Video by Francisco Aliwalas, Award-winning independent filmmaker
www.slantperformancegroup.com, slanttrio@yahoo.com,
---
Yangtze Repertory Theatre (NYC)
One Family, One Child, One Door
by Joanna Chen
September 12 to 22, 2002
An encore presentation in observance of Yangtze Rep's 10th season.
---
Asian Stories in America (Washington, DC)
presents the world premiere of
BOYZ OF ALL NATIONZ:
THE RISE AND FALL OF A MULTI-ETHNIC BOY BAND
a play by PRINCE GOMOLVILAS
with songs by PRINCE GOMOLVILAS & KEVIN KIRBY
directed by EDU. BERNARDINO
September 6 to 28, 2002
Before 'N Sync. Before the Backstreet Boys. Before O-Town. One band was poised to change the face of pop music. They had rhythm. They had soul. They had color. BOYZ OF ALL NATIONZ is a bubblegum ride behind the scenes of a groundbreaking group that (almost) took the world by storm. Their talent was in question, their lives were ridiculed, and their hair didn't move. But with number one hit singles such as "Put Your Eggs In My Basket" and "Oh Let Me Lay You Down (I Want to Lick You Up)" and their prominent place on the shelves of preteen girls, their growing popularity and power could not be denied. This new play delves into the catchy tunes, the controversy, the choreography, and the clothing of four boys who had the brawn, one manager who had the brains, and a million fans who had the money.

SEPTEMBER 6-28, 2002

Thursday-Saturday @ 8 p.m.
Sunday @ 2 p.m.

Tickets: $15

Theatre on the Run
3700 Four Mile Run Drive
Arlington, Virginia 22206

For tickets, call 703.979.0875
---
Theater Mu (Mineapolis)
Of Hope and Courage
September 14 to 29, 2002

Adaptions of Korean and Japanese folk stories co-presented by Intermedia Arts

Distant Song
by Kiseung Rhee
directed by Jennifer Weir
A poor young man takes a journey to find the hermit of Bul-gak-san, a sacred mountain in Korea. Along the way, he encounters a woman obsessed with scratching, a roaring river dragon and an aging odd couple.

Demons of Noto Hanto
written by Jennifer Weir
directed by Rick Shiomi
In one of the most famous Japanese folk tales, the villagers of Noto Hanto stave off samurai marauders with wild dancing and drumming.
---

Pork Filled Players (Seattle)
Goin' Steady-The Musical?!
Seattle Fringe Festival
September 19 to 29, 2002
Sept. 19 11:30 pm
Sept. 21 9:15 pm
Sept. 22, 8 pm
Sept. 24, 7:30 pm
Sept. 27, 6 pm
Sept. 28, 1 pm
Superheroes! Relationships! Show Tunes! And who REALLY does the cleaning in a nontraditional household after you've finished fighting crime in a tight job market! An original musical comedy from the Pork Filled Players, a perennial Fringe favorite--"...poking fun (with a red hot dagger, directly to the eyes) of every politically correct or incorrect cliche." City Collegian.
Superheroes, relationships and show tunes...oh, my!
At the Richard Hugo House, 1634 11th Ave., Seattle, WA.
"Here's a show that mixes up humor, music, and a melodramatic plot in a comic frolic which reveals that even super hero lesbians can have relationship problems. There's lots of kidding around with some zany to sweet songs, and one with a beautiful five part harmony reminiscent, strangely enough, of Mozart! May Lei (Christine Mary Chin) is feeling that her relationship with Captain Victory (Danielle Reierson) is on the skids. They move to Seattle to become protectors of the city, to increase their intimacy, and to come out, all at the same time. The plot thickens as more characters enter. May's unemployed brother PJ (Edward Tonai) moves in. The Asian Shadow (David Ige) comes to our heroes' aid. And young reporter Darla Green (Erin Knight) arrives to document it all. All of this silliness is greatly assisted by some clever multi-use set pieces. You may feel a little pork-filled yourself when it's all through, but it is great fun". -Rollin Thomas
-Review Rag (Sep 23)

"...clever music, Goin' Steady is B-movie fun"
The Stranger
---