East West Players (Los Angeles, CA)
DHHWI New Works Festival
June 30 to July 3, 2012
East West Players presents Works In Progress from the David Henry Hwang Writers Institute
(Workshop Leader: Dorie Baizley)
The David Henry Hwang New Works Festival returns on June 30 - July 3! Admission is FREE to all of our readings at the David Henry Hwang Theater. $5 minimum donation suggested.

SATURDAY, June 30
1pm
IN CASE OF EMERGENCY, BREAK UP by Skye Kang
SO YOU WANT TO BE KOREAN by Joy Regullano
3:30pm
UNTITLED by Evan Moua
5pm
THE WAY OF THE WARRIOR: VIETNAM TO FALLUJAH TO VIETNAM by David Hideo Maruyama

SUNDAY, July 1
1pm
NO STRINGS QUINTET by Bryan McCormick
3 pm
STEP AND CHANG by John Brooks
5pm
UNFORGETTABLE by Rochelle Perry
7pm
YELLOW SHAKESPEARE by Timothy Tau

MONDAY, July 2
7:30pm
I HEART L.A. by Ruffy Landayan
HOLEY NIGHT by Gary Kuwahara

TUESDAY, July 3
7:30pm
CHANCE TO DREAM by Gene Lee
When: June 30 - July 3, times vary
Location: David Henry Hwang Theater at the Union Center for the Arts
Address: 120 Judge John Aiso St. | Los Angeles CA 90012
For more information, visit www.eastwestplayers.org.
For questions, please contact Jeff Liu at (213) 625-7000 x 27 or via email at jliu@eastwestplayers.org.
Special thanks to the James Irvine Foundation.
---
See News story.
Newsflash! My Asian Mom extended! June 1 to July 7! See updated News story!
---
Kumu Kahua Theatre (Honolulu, HI
K'mau A'e
A Kumu Kahua Revival by Alani Apio
May 31 to July 1, 2012
The Hawaiian Sovereignty movement, with its complexities and controversies, takes the stage in this powerful drama. Fresh out of prison, Michael Kawaipono Mahekona joins a group of activists on a mission to reclaim Hawaiian land. As the group splinters over whether to stand firm or compromise on its principles, Michael must decide how to stay true to what he believes. First produced in 1997, K?mau A'e returns to Kumu Kahua, sharing its message with a new generation of audiences. This play contains strong language.
See News story.
---
Bootleg Theatre (Los Angeles, CA)
Going Green the Wong Way
by Kristina Wong
June 28 to July 15, 2012
---
ACT, Lorraine Hansbury Project, Ptatidhwani and SIS Productions(Seattle, WA)
Represent!
a multicultural playwrights festival
July 17 to 22, 2012
The Hansberry Project, in a joint venture with eSe Teatro, SIS Productions, and Pratidhwani, will host "REPRESENT!: A Multicultural Playwrights' Festival" July 17-21. The festival will feature staged readings of four new full-length plays. The festival will open with an evening dedicated specifically to showcasing the work of six very talented local writers and panel.

July 17 - Local Writers Showcase
July 18 - eSe Teatro: Don Quixote: Homeless in Seattle by Rose Cano
July 19 - Pratidhwani: The Banyan Tree Trilogy by Tulika Kumar
July 20 - SIS Prod: Flight by Kimber Lee
July 21 - Hansberry Project: Paradise Blue by Dominique Morriseau
July 22
1:00pm eSe Teatro - Don Quixote: Homeless in Seattle
3:00pm Pratidhwani - The Banyan Tree Trilogy
5:30pm SIS Productions - Flight
7:30pm Hansberry Project - Paradise Blue
---
Pork Filled Players (Seattle, WA)
Porktacular!
July 13 to 28, 2012
See News story.
Tickets available at http://www.brownpapertickets.com/event/252462.
---
Repertory Actors Theatre and
Pork Filled Productions (Seattle, WA)
Yellow Face
by David Henry Hwang
July 13 to 29, 2012
ReAct and PFP remount their award winning production of Yellow Face, the not-quite-autobiographical written by and starring the foremost Asian American playwright in the world. Featuring BroadwayWorld Seattle's award winners for Best Leading Actor in a Play (Local) and Best Supporting Actor in a Play (Local).
---
Kumu Kahua Theatre (Honolulu, HI
Saturday Night At The Pahala Theatre
by Lois Ann Yamanaka
July 19 to August 5, 2012
See News story.
---
World Theater, Cal State Monterey
From The Heart
Jude Narita
Wed. July 25 at 7 PM
Award-winning theater artist and activist Jude Narita celebrates the lives,and brings to life the dreams, of different Asian and Asian American women in her playFrom The Heart. For over two decades, she has created and perform her one-woman plays, bringing Asian and Asian American women to the front of the stage with humor, courage, and fearless celebration. Narita's women are stompin' on stereotypes, creating true identity, surviving war and internment, cherishing family, and holding onto their dreams for the future. Narita explores then transcends Asian issues, celebrating our
differences, while illuminating the universal humanity of us all.
www.judenarita.com
http://csusummerarts.org/public_events_calendar_2012/july25.shtml
---
Pacific Beat Collective (New York, NY)
Tala
by Kyoung Park
July 28 to 31, 2012
Kyoung H. Park, TALA is a meta-theatrical play that merges the playwright's autobiography with the story of two lovers caught on the Chilean island of Chiloé the night before Pinochet's military coup, to explore the surreal parallels between life, performance, and the creation of art as an act of revolution.

July 28-31 at 7PM & July 29 at 2 PM
HERE Arts Center
145 6th Ave.
(Enter of Dominick, 1 Block South of Spring)
For tickets: visit here.org or call 212-352-3101
Box Office: open after 5pm on show days or 2 hours before any performance.
Show Website: http://www.here.org/shows/detail/990/
---
Assaulted Fish (Vancouver, BC)
the 36th Annual Powell Street Festival
August 4, 2012
Time: 4:15 pm to 4:45 pm
Place: Firehall Arts Centre, 280 East Cordova St. (@ Gore Ave.)
Cost: FREE!
Info: Event details at www.powellstreetfestival.com. Map/Parking info at http://www.firehallartscentre.ca/.
Notes: General admission seating. Rated ³G². No latecomers.
Director: Laura McLean | Stage Manager: Ann Chow | Photography: Dan Jackson
Hope to see you Saturday!
PS. If you haven't visited our website in a while, please do! You'll find updates, videos, and a link to our recent interview with Schema Magazine. http://www.assaultedfish.com/
---
Mu Performing Arts (Minneapolis, MN)
Into the Woods
July 20 to August 5, 2012
Mu does the Sondheim classic with an Asian twist.
Reviews here:
http://www.howwastheshow.com/2012/07/into-the-woods-by-mu-performing-arts-at-park-square-theatre/
http://www.twincities.com/stage/ci_21127900/theater-review-mus-take-into-woods-lively-fresh
http://www.startribune.com/entertainment/stageandarts/163418086.html
Into the Woods at Mu Performing Arts Shows the Dark Side of Fairy Tales
http://www.cherryandspoon.com/2012/08/into-woods-by-mu-performing-arts-at.html
---
2econd Stage Theatre (New York, NY)
Warrior Class
By KENNETH LIN | Directed by EVAN CABNET
July 11 to August 11, 2012
When Assemblyman Julius Lee makes a bid for Congress, the ghosts of his college days come back to haunt him. Nothing reveals true colors like a sprint to the finish, when friends become enemies and allies can turn on a dime. Warrior Class is a political battle of race, romance, forgiveness and debt.
---
Shunya (Houston, TX)
The Adventures of Hanuman
Aug 3 to 12, 2012
This will be Shunya's first every production of a youth musical, complete with live music and original songs. This is certain to be a fantastic family event.
---
Kumu Kahua Theatre (Honolulu, HI)
Co-Lab Kaka'Ako
August 13, 2012
See News story.
---
Kaya Press (Los Angeles, CA)
Hop Fong and the Slave Girl: The Musical
Music, Book, & Lyrics by Howard Ho
Based on a story by C.Y. Lee
Directed by Randy Guiaya
Sponsored by Kaya Press
Produced by Jully Lee
Tuesday, August 14th, 8:00 PM
A musical comedy tale of a Chinese American in the Old West.
Set in Northern California in the 1880's, HOP FONG AND THE SLAVE GIRL is about a Chinese laundryman, formerly involved with the Tong gangs, who is seeking a quieter life in the rural town of Rough and Ready. He is drawn back to that world when a Chinese runaway prostitute seeks his asylum. Based on the short story by C.Y. Lee, author of Flower Drum Song.
Cast: Randy Guiaya, Karen McClain, Reggie de Leon, Nathan Bouldin, Robert Covarrubias, Gary Patent, Katie Kitani, Tedd Szeto, Antoine Diel, Dan Amerman, Shannon Martinous, Jennifer Jung, and Steven Flowers
Musicians: George Ramirez, Albert Meng and Howard Ho
University of Southern California
Taper Hall of the Humanities (THH), Room 101
3501 Trousdale Parkway
Los Angeles, CA 90089-0355
Free and Open to the Public
---
Stir-Friday Night (Chicago, IL)
This Asian American Life
July 27 to August 24, 2012
Stir-Friday Night! is a 17-year old ensemble with alumni such as Danny Pudi (NBC's Community), Steven Yeun (AMC's The Walking Dead), The Second City's Mary Sohn (Who Do you Think We Are?), and Broadway's Christine Lin (Chinglish).
SFN presents "This Asian American Life" a sketch comedy revue.
Written and Performed by Dacey Arashiba, Kannan Arumugam, Gilbert Galon, Samantha Garcia, James Kannookadan, Sonia Khaleel, Avery Lee, and Irene Tu.
Director - Anthony LeBlanc
Musical Director - Marques Stewart
Stage Manager - Dujuan Pritchett
Friday, 10:30pm, July 27, August 3, 10, 17, 24
$13 General Admission | $10 Students | $8 Training Center Students
---
Company of Angels and
hereandnow (Los Angeles, CA)
The Brahmin & the Tiger: And Other Stories of Love, Loss and Courage In Between
August 3 to 26, 2012
Company of Angels and hereandnow theatre company are proud to present, "The Brahmin & the Tiger: and other stories of love, loss and courage in between," a collection of fairy tales gathered from throughoutAsia and the Pacific Islands. Blending oral tradition with originalmusic and movement, these stories will entertain and delight people of all ages.

Directed by John Miyasaki
Composed by Masato Baba
Produced by Rudy Marquez
Stage Manager: Dennis Bover
Assistant Stage Manager: Alex Ximenez
Scenic Design: Sasha Monge
Lighting Design: Bosco Flanagan
Costume Design: Ken Takemoto
Graphic Design & Typography: Xavi Moreno

Featuring
Michael Hagiwara*
Diana Toshiko*
Tripp Pickell
Rona Par (8/4 evening, 8/5, 8/11 both performances, 8/17, 8/19,8/25 both performances)
Jully Lee
Samantha Valdellon (8/3, 8/4 matinee, 8/10, 8/12, 8/18 both performances, 8/24, 8/26)
Kamil Haque
Victor Chi*
Masato Baba
Jen Baik
*Equity Actors

WHEN: August 3 - August 26
Fridays at 8 p.m., Saturdays at 2 p.m. & 8 p.m., Sundays at 2 p.m.

WHERE: Inner-City Arts
The Rosenthal Theater
720 Kohler Street
Los Angeles, CA 90021
TICKET PRICES: General Admission $25, Seniors (with ID) $20, Students (with ID)/Groups (+8) $15
TO PURCHASE TICKETS: https://web.ovationtix.com/trs/cal/29315
---
Diverse City Theater (New York, NY)
Two Rooms
by Lee Blessing;
August 9 to 25, 2012
Originally commissioned and produced by La Jolla Playhouse in 1988 and named Best Play of the Year by Time Magazine, Two Rooms is about Michael, an American professor who is held hostage in a dark room in Beirut. His wife holds a vigil for him in an empty room in their home outside of DC. As events in the Middle East begin to spin out of control, the possibility of bringing Michael safely back home becomes more tenuous.
---
NY Fringe Festival (New York, NY)
August 10 to 25, 2012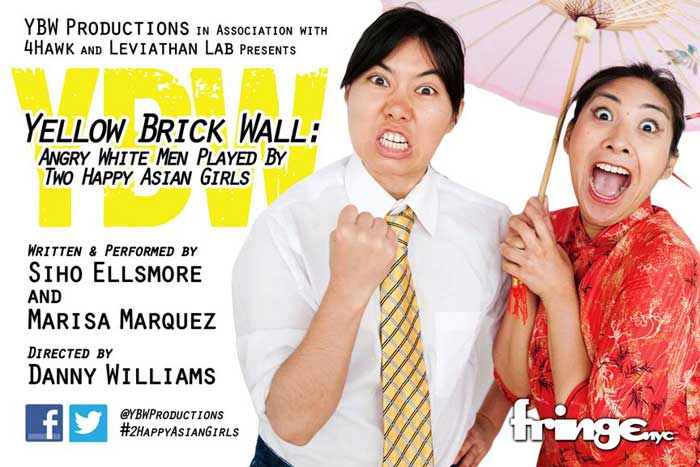 ---
New York Fringe Festival (New York, NY)
Yellow Dress
by Marissa Lichwick-Glesne
August 10 to 25, 2012
Venue 11
Steve and Marie Sgouros Theatre @
The Players Theatre
115 McDougal Street
NYC
FRI 8/10 @ 6:45
SUN 8/12 @ Noon
THU 8/16 @ 5:00
SUN 8/19 @ 5:15
THU 8/23 @ 4:30
SAT 8/25 @ 7:45
"Lichwick is a star. She creates a world unto herself and carries this show the way a solo artist should: with confidence, practice and immense talent. This show is genuine and satisfying, thanks to Lichwick's hard work and her compelling life story." – Dan Rangel, LA Theatre Review
New York, NY -After a stunning run at the Hollywood Fringe Festival in 2011, Marissa Lichwick is proud her solo piece, Yellow Dress, is accepted into the 2012 New York International Fringe Festival. Tickets available starting July 20, 2012 at fringenyc.org or 866.468.7619. Advance tickets are $15 (24 hrs or before); $18 at the door. Sr/Fringe Jr discount: $10. Industry and Press comps available.
"Yellow Dress was born out of an experience I had in December 2006, when I suddenly received a letter from my estranged birth father after twenty one years of living with my adopted family in America," says Lichwick. "I decided to go back to Korea to reunite with my biological family, not quite understanding what it meant to go back as an Ebyoung (adoptee). I don't think I'll ever fully understand my trajectory in Korea, but I'm grateful for the lifetime of stories that came as a result of that visit."
Inspired by Lichwick's life, Yellow Dress is the deeply personal story of Rachel, a young Korean orphan, and her experiences as an adoptee in America. It chronicles Rachel's early years on the streets of Seoul, abused and unwanted by her caretakers, and her strange journey to a new and bewildering land when she is adopted and becomes part of a family of ten in upstate New York. A kaleidoscopic one-woman performance featuring over twenty characters, Yellow Dress is a tapestry of fantasy, humor, and pathos that delivers a powerful human experience.
www.yellowdress-soloshow.com
www.FringeNYC.org
---
Pratidhwani (Seattle, WA)
The Compleat Works of Wllm Shkspr (Abridged)
August 10 to 26, 2012
See News story.
---
Ma-Yi Theatre (New York, NY)
You for Me for You
by Mia Chung
August 15 to 26, 2012
Developed in partnership with one of the most exciting theaters in the country, The Woolly Mammoth Theater in Washington DC. You for Me for You tells the story of two North Korean sisters who make a deal with a smuggler to flee to the United States. When one of the sisters is denied passage, the other races across time and space to save her.
---
Community Asian Theatre of the Sierra
Japanese Ghost Stories at the Nevada Theatre!
Brenda Wong Aoki
2pm, August 26, 2012
$18 in advance, $20 at the door

Tickets available at the Nevada City Box Office at the Miners Foundry (530-265-5462), Briar Patch Coop and the Book Seller in Grass Valley, CA.
---
Juilliard (New York, NY)
presents a workshop production of:
Bike America
written by Mike Lew
directed by Hal Brooks
September 7 to 9, 2012

Featuring:
Fiona Cheung, Tom Datnow, Adam Farabee, Michael Shaw, Jeremy Tardy, Natasha Warner, & Kerry Warren
Penny is damaged. She doesn't know who she is or her place in the world. So she drops everything to go on a cross-country bike trip from Boston to Santa Barbara. Along the way she befriends a crew of fellow adventurers, from the lesbian couple who've decided to get a marriage license in every state to the mysterious Man with the Van who transports their belongings. Set in iconic towns from the deep North down to the deep South (and the highways between), Bike America captures the restlessness of a Millennial generation that will go to any length to find a place that always seems just out of reach.

Winner of the Kendeda Grad Playwriting Competition! World premiere upcoming at the Alliance Theater in Atlanta...
Performances:
Fri 9/7 @ 8pm
Sat 9/8 @ 9pm
Sun 9/9 @ 2pm & 7pm
Juilliard. 144 West 66th St betw. Broadway and Amsterdam. Room 301.
---
Ma-Yi Writers Lab and Desipina & Co (New York, NY)
Only four workshop performances of:
Lonley Leela
written by Rehana Lew Mirza
directed by Robert Ross Parker
produced by Ying Le
September 5 to 8, 2012
Featuring:
Quinlan Corbett*, Andrew Guilarte*, Anna Kull*, Maria-Christina Oliveras*, Matt Park, Lipica Shah* and Dave Shih*
(and puppets, and video, and songs, oh my!)

Leela's boyfriend has disappeared. So she goes into the Internet to find him. An "Alice in Wonderland" inspired multi-media adventure where malicious codes and white knight bloggers meet in a shifting world of everything's at your fingertips but you can't quite find what you're looking for.

Tickets are just $15!

Wed, Sept 5., 2012 at 7pm
Thurs, Sept. 6, 2012 at 7pm

Fri, Sept. 7, 2012 at 7 pm
Sat, Sept. 8 2012 at 7 pm

Production Stage Manager: John Nehlich
Lights/Video Designer: Jake Witlen
Set Designer: Jason Simms
Puppet Designer: Spica Wobbe
Sound/Music Designer: Ien DeNio
Costume Designer: Jenny Fisher
Choreographer: Dax Valdes
Graphic Designer: Nilou Moochhal
This workshop is presented with the help of Ma-Yi Writers Lab and Desipina, and is fully rehearsed in the New Georges room.

*These actors are appearing courtesy of Actors' Equity Assocation. Equity approved showcase.
---
Bindlestiff Studio and SF State Theatre Arts present:
A Pinoy Midsummer...
where anything is possible
September 6 to 15, 2012
Thurs - Saturday at 8pm; also Saturday matinees at 2pm
Location: Bindlestiff Studio 185 6th St. San Francisco, CA
Tickets: $10 - $20 Click here for ticket info...

Do you believe in fairies? Love at first sight? Pinoy Midsummer is a re-imagining of William Shakespeare¹s classic A Midsummer Night¹s Dream, merging the classical text with Tagalog, Philippine folklore, shadow puppetry, movement, Original Pinoy and Kulintang music. It begins in a world bounded by class, law and tradition. Characters find their way into the fairy world of the woods where boundaries are rendered invisible, anything becomes possible, and events/choices/actions are unpredictable. The Filipino American cast and live music bring this strange land to life. Find yourself in the classics and then get lost in another world that is wild, fascinating, and freeing. Click here for more details...
View the trailer for A Pinoy Midsummer!
---
Pacific Asian Actors Ensemble of San Diego
Two Weeks from Sunday at Five
Written by Douglas Baker
September 12 to 14, 2012
---
HERE ARTS CENTER (New York, NY)
Say You Heard My Echo
by Kelly Zen-Yie Tsai
September 12 to 16, 2012
145 Sixth Ave. (enter on Dominick Street one block south of Spring)
FB Event Invite: http://on.fb.me/NiivGX I Website: www.sayyouheardmyecho.com
What connects a Catholic burlesque dancer who survived the Twin Towers, a Buddhist Iraq war veteran and hip hop emcee who returns home, and a Muslim librarian whose family suffers detention and interrogation?
An evening-length spoken-word poetry theater project written by Kelly Zen-Yie Tsai (500 performances worldwide including the White House & three seasons of the award-winning Russell Simmons Presents HBO Def Poetry), Say You Heard My Echo explores the lives of three fictional Asian American women in New York City a decade after 9/11. With choral poems, prayers, activist folk songs, and raps, the play weaves together the characters¹ struggles with survivorship and faith and their intimate relationships with Mary Magdalene, Guan Yin, and Aisha.
Performed by Kelly Zen-Yie Tsai, YaliniDream, and Adeeba Rana with stage direction by Jesse Jou.

Performances:
Wednesday, September 12 @ 7pm
Thursday, September 13 @ 7pm
Friday, September 14 @ 7pm (A talkback is scheduled with the artists after this performance)
Saturday, September 15 @ 7pm
Matinees at 2pm: Saturday and Sunday, September 15-16
$18/$15 for students
Tickets can be purchased: http://www.here.org/shows/detail/1014/
---
fu-GEN (Toronto, Canada)
Yellow Fever
by Rick Shiomi
September 13, 2012
SEASON LAUNCH PARTY
featuring a reception and special reading of Yellow Fever by Rick Shiomi
2012/13 also commemorates the 30th anniversary of Yellow Fever, popularly regarded as the first produced Asian Canadian play. Come out to our launch to see a professional reading of the play that started it all. And what's even more exciting? Rick Shiomi will be directing the reading! Don't miss this community event!
DATE: Friday, Sept 14, 2012
COST: FREE (share the love!)
TIME: Doors open at 6pm
WHERE: Regent Park Arts & Cultural Centre, Studio Theatre, 585 Dundas Street East
---
Eventual Ashes (Toronto, Canada)
Hiding Words (for you)
by Gein Wong
Directed by Esther Jun and Gein Wong
September 13 to 23, 2012
Nothing stays hidden forever...
"Can you decipher.
Words within fabric.
Songs that sound like secrets.
My sworn sister,
I'm hiding this,
for you..."
Hiding Words (for you), delves into nushu, a secret language created in 400 A.D. when Chinese women were not allowed to read or write. Set in China during its biggest 19th Century rebellion, a modern Canada where national security is at a heightened state, and a hip urban Hong Kong on the eve of the Beijing Olympics. This interdisciplinary play examines the relationship between women connected through space and time, following their pursuits to influence social change.
Hiding Words (for you) seamlessly blends together theatre, poetry, hip hop, western and chinese classical music, modern dance, performance art, and the visual arts.
Enwave Theatre, Harbourfront Centre
Sept 13-23, (previews Sept 13, 14, opening Sept 15)
Tues-Sat 8pm
Sat-Sun 3pm
Featuring:
Rebecca Applebaum, Stephanie Jung, Traci Kato-Kiriyama, Soomi Kim, Richard Lee, Susan Lock, John Ng.
Dramaturge: Jean Yoon
Set/Costume Design: Jung-Hye Kim
Costumes/Props Assistant: Faline Park
Production Management/Lighting Design: Shawn Henry
Sound/Video Design: Gein Wong
Stage Management: Neha Ross
Assistant Stage Management: Beth Wong
Producer: Donna-Michelle St Bernard
Buy tickets here:
http://www.harbourfrontcentre.com/whatson/music.cfm?id=4286
https://www.facebook.com/EventualAshes
Supported by Canada Council for the Arts, Ontario Arts Council (an agency of the government of Ontario), Toronto Arts Council, Canadian Stage, New Harlem Productions, fu-GEN Theatre and Native Earth Performing Arts
---
All For One Theater Festival (New York, NY)
Speak Up Connie
written & performed by Cindy Cheung
directed by BD Wong
Seprember 15 and 23, 2012
A finding-your-voice extravaganza! Featuring original songs accompanied by the ukulele, "nice Chinese girl" Cindy (not Connie) Cheung tells the story of being raised Conflict-Avoidant in suburban Southern California and learning to speak up - as an Asian American, an actor and a daughter.
---
Bus Stop Dreaming
at the Museum of Contemporary Art
(MOCA) - Tucson
Saturday, Sept. 29, 7:30pm

MOCA - Tucson
265 South Church Avenue Tucson, AZ 85701
$5 for members, $8 for non-members
Tickets available at the door the evening of the performance.
A collaboration between documentary filmmaker Jason Aragon of Pan Left Productions and performance artist Denise Uyehara, Bus Stop Dreaming responds to the thousands deportations of undocumented immigrants in the Tucson. Featuring performance by Yvonne Montoya of Safos Dance Theater, interviews with Alex and video/audio artistry by Adam Cooper-Terán, Made possible in part by the MAP Fund and the P.L.A.C.E./Open Society Fund from the Tucson Pima Arts Council.
This work is part of Indebted/Enduedado, a visually striking evening of multi-disciplinary, multi-lingual visual art, performance art and dance, exploring what it means to be in debt. Other artists appearing include Paco Velez, Sarah K. Smith, Logan Phillips, Heather Gray and Cyndi LaFrese. Curated by Sarah K Smith and Paco Velez. Indebted/Endeudado is presented by Studio ONE and Arizona Between Nosotros (ABN), in partnership with MOCA.
---
Kumu Kahua Theatre (Honolulu, HI
One Comedy of Erras
A World Premiere
By Taurie Kinoshita
August 30 to September 30, 2012
Shakespeare's rollicking farce, local-style.
"Because you have da same blood, you tink you related. You tink dat's wat makes you you?"
twin brothers, separated at birth — one raised on the Mainland, the other in Hawai'i — accidentally cross paths in downtown Honolulu. As their friends mistake one for the other, the slapstick and insults fly, and chaos ensues. The result is a true comedy of errors, a Shakespearean romp told with a pidgin flair.
In the tradition of Twelf Nite o WATEVA! comes Taurie Kinoshita's deft and dizzying farce about all the pilikia of local life.
See News story.
---
Vancouver Asian Canadian Theatre (Vancouver, BC)
VACT's Brand New brink festival
September 20 to 23, 2012
Coming this September, VACT will be bringing another fantastic theatrical experience to everyone. Following in the footsteps of the Fringe Festival, three acts are coming together to showcase their talent at our festival?mark your calendars because you do not want to miss these acts!
Event Details:
September 20, 21, 22 & 23, 2012 at Studio 1398 on Granville Island

$12.50 - advance purchase - general admission
$15 - at door - general admission
PANCITY
Asian Canadian culture as seen through the eyes of custodial engineers
By F.O.B. (Filipinos on Board)
With Chris Casillan, VJ Delos Reyes & Dave Dimapilis

Showtimes:
Thursday, Sept 20 at 6:45 pm
Friday, Sept 21 at 9:15 pm
Saturday, Sept 22 at 8:00 pm
Sunday Sept 23 at 1:45 pm


Why Weight?
A dark comedy about one woman¹s discovery of what really feeds her
Written by Loretta Seto
With Gemma Isaac

Showtimes:
Thursday, Sept 20 at 8:00 pm
Friday, Sept 21 at 6:45 pm
Saturday, Sept 22 at 9:15 pm
Sunday Sept 23 at 3:00 pm


Keep on Loving You
A wife makes light of her husband¹s mid-life crisis until one day he brings his lover home
Written by Leroy Chin
With Michael Gehsperz (left photo)

Showtimes:
Thursday, Sept 20 at 9:15 pm
Friday, Sept 21 at 8:00 pm
Saturday, Sept 22 at 6:45 pm
Sunday Sept 23 at 4:15 pm
Go to brinkfestival.com for more information.
---