Women CenterStage (NYC, NY)
That Takes Ovaries!
Rivka Solomon and Bobbi Ausubel
July 5, 2003
Rivka Solomon and Bobbi Ausubel's THAT TAKES OVARIES!: Bold Females & Their Brazen Acts
Directed by Geeta Citygirl
is part of Women Center Stage: A festival celebrating women in the performing arts happening from June 27-July 13th, 2003.

THAT TAKES OVARIES!: Bold Females & Their Brazen Acts is a collection of real-life stories from women and girls about the gutsy, outrageous, audacious, courageous things they have done. The play is packed with multi-culti, short, fun, sassy, touching true tales of estrogen-powered deeds that range from playful to political, including women fighting for their human rights.

Venue: The Culture Project
45 Bleecker Street
New York, NY 10012
Info: 212-253-7017
Ticket info: 212-253-9983
http://www.45bleecker.com/wcs.html
---
Lodestone Theatre (LA, CA)
When Tigers Smoked Long Pipes
by Angela Kang
June 14 to July 20, 2003
A new play weaving together five folktales, updating them for today's diverse audiences. By turns silly and sublime, enchanting and enlightening, the "once upon a time" of TIGERS transports audiences to a land where tigers disagree with bears about being human and beautiful maidens encounter gods of the sea and sky.
Starring: Jennifer Aquino, Esperanza Catubig, Laurel Devaney, Jason Grimley, Rachel Morihiro, Kipp Shiotani, Phil Young, Genevieve Lee, Yi Lin, Brian Wang and DC Wolfe.
Produced by Heather Ashton and Ramsey Naito.
Associate Produced by Cynthia Liu.
---
Peeling (NYC)
Under the Skin
July 10 to 27, 2003
NEW YORK (May 28, 2003) A man sees his love life being staged, bedroom and all. A girl loses her innocence over a glass of water at Bennigans. On-line dating, masturbating and copulating in the closet. Coming out, coming on and coming close to the edge of a suspension bridge.
Peeling's 2003 one-act festival, Under the Skin, will take you from lust and economics in a Vietnam "hugging bar" to love and racial politics in a New York club, from gesticulations at an open mike coffeehouse to gyrations at a swingers' sex party. It examines the trials of having relationships with drug addicts, non-committers and of course, playwrights. In telling tales both familiar and foreign, humorous and heartfelt, Asian American yet universal, the theater ensemble Peeling presents its most ambitious work yet-a festival of one-act plays that delve deeper than ever into the psyches of Asian Americans as they face love, lust, identity politics, culture clashes and a lot of e-mail in New York City and beyond. Intimately personal yet crafted for drama, these eight stories will cut down to the bone and into your imagination-regardless of your skin color.
The festival will be performed at the Pelican Studio Theatre, 750 Eighth Avenue, Suite 601. There are three rotating programs of one-acts. Performances are July
10-27, Thursday-Saturday at 8pm, with Sunday matinees at 3pm. Tickets are $12 (Students/Seniors $10), and can be purchased through TheaterMania at 212-352-3101, or http://www.theatermania.com. Festival passes available.
Program A
No Sweet Surrender, written and directed by Steve Huang.
An Asian American couple confront love and racism, after a NYC nightclub encounter turns ugly.

Still Breathing by Celena Cipriaso.
Directed by Celena Cipriaso and Rich Kiamco.
An innocent teenager begins to uncover the shadier layers of the mysterious youth who captivates yet evades her.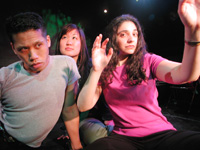 Endings: A Collection of Love Stories Gone Wrong and Two Commercials by Nora Chau.
Directed by Celena Cipriaso and Erwin Falcon
When love goes south - A real, surreal, bittersweet and sometimes downright painfully funny look at breakups. Which ending is yours??

Program B
The Virginity Monologues by Aileen Cho.
Directed by Dan Bacalzo.
A Korean American woman's quest for personal and familial resolution leads her to New York City, where Freudian memories and sexual adventures await.

Say Something by Dan Bacalzo.
Directed by Aileen Cho.
Is he really the One? Tackling monogamy, domesticity and love from top to bottom, a gay couple explore the matrix of a long-term relationship-largely through a staged version of themselves.

Program C

Unaccessorized by Rich Kiamco.
Directed by Dan Bacalzo.
A gay Filipino diva escapes the cornfields of Illinois and begins a coast-to-coast odyssey among millionaires, con artists and salmon-colored fabrics.

Hugging Beer Bar by Ngo Thanh Nhan.
Directed by Erwin Falcon.
A married, traveling Vietnamese businessman mixes romance and capitalism at a bar where girls make a living as best they can.

Oriental Playas written and directed by J.P. Chan
In the sequel to Peeling's 2002 hit Vampire Geishas of Brooklyn, a motley crew of Asian American performers search for love, or at least sex, via slam poetry and on-line dating.

SCHEDULE
Week 1
Program A: Thursday, July 10 at 8pm; Saturday, July 12 at 8pm
Program B: Friday, July 11 at 8pm; Sunday, July 13 at 3pm
Week 2
Program B: Thursday, July 17 at 8pm; Saturday, July 19 at 8pm
Program C: Friday, July 18 at 8pm; Sunday, July 20 at 3pm
Week 3
Program A: Friday, July 25 at 8pm; Sunday, July 27 at 3pm
Program C: Thursday, July 24 at 8pm; Saturday, July 26 at 8pm

Peeling is a pan-Asian, community-based arts collective. Our mission is to use the performing arts as a vehicle for Asian Americans to explore their individual stories, community building, leadership, producing & directing skills, and social activism through creative workshops, trainings, staged productions, readings, and related activities. Autobiography is our common departure point into the realities of race, gender, class, ethnicity, religion, age, sexuality, and similar politics facing Asian Americans today. Visit our website at http://peelingonline.com.
---
Lodestone Theatre (LA, CA)
A reading of a new play
ENTWINED
by Sunshine Pearl Lampitoc
July 13, 2003
directed by Nelson Eusebio III
featuring Melody Butiu, Isaac Ho, Elaine Kao, Jae Suh, Marie Wong, and Ryun Yu
A stranded woman and her unexpected savior. Two girls, one engagement ring, and three thousand miles to go. An eight year-old and a lawn gnome. Three stories about the friendships we weave and how the ties that bind sometimes unravel.
SUNDAY, JULY 13th, 7:30 PM
(Please Note The Earlier Start Time; This Is A Short Play So There Will Be NO
Late Seating!)
The Victory Theatre
3326 West Victory Blvd, Burbank, 91505
Please park on Victory or the library parking lot across the street from the theatre. Please do not park on the side residential streets.
FREE ADMISSION (but donations gladly accepted and encouraged) NO RSVPS required, however, please arrive at least ten minutes before curtain for seating (which is limited and on a first-come basis. NO ONE WILL BE ADMITTED INTO THE THEATRE ONCE THE READING HAS STARTED.).
---
HERE Theatre (NYC)
Mango Tribe (everywhere)
Sisters in the Smoke
July 17 to 19, 2003
July 17 - 19, 2003
Mango Tribe Debuts "Sisters in the Smoke" in New York City
Acclaimed Asian American women's performance collective, Mango Tribe, will debut their show, "Sisters in the Smoke", in New York City on HERE's Mainstage. "Sisters in the Smoke" is the original theatrical production from the cast and crew of Mango Tribe, the first to be produced by the Asian American Artists Collective-Chicago. The show focuses on violence in the Asian/Pacific Islander American (APIA) community and how artistic expression can be a healing force.
Mango Tribe promotes multi-arts collaboration and encourages artistic activism through theater and education. It is a multiethnic, multilingual, and multidisciplinary ensemble comprised of APIA women from Chicago, New York City, Los Angeles, and Minneapolis. This particular Mango Tribe production is partially supported by the Rockefeller Foundation's prestigious Multi-Arts Production Fund grant.
For More details visit our website: www.mangotribe.com

Show Details:
"Sisters in the Smoke"
July 17-18, 2003 at 8:30 pm
and July 19, 2003 at 3:00 pm and 8:30pm
$15 / $12 students
***A brief Q&A will follow each performance except Saturday evening.

HERE Arts Center
145 6th Ave. (between Spring and Broome)
New York, NY

Tickets will be available on-line at
www.here.org or through SmartTix at (212) 868-4444
***Limited engagement &Mac247; ONLY FOUR PERFORMANCES!***
---
Bindlestiff Pinay Collective
THE FRILLY CRUCIFICTIONS
July 17 to July 26, 2003
Where: Bindlestiff Studio
185 Sixth Street (at Howard), San Francisco

Tickets: $10-15 sliding scale

Reservation and phone: (415) 974-1167

visit our website too www.bindlestiffstudio.org

The Virgin Mary discusses her sex life. "Tribal" filipinos hoodwink the National Geographic. A suicide bomber debates Pocahontas. A new brand of Jerry Springer, maybe? No--the 2003 Bindlestiff Pinay Collective show: THE FRILLY CRUCIFICTIONS.
For 2003 the BPC takes to shattering some of our deepest-held beliefs around the personal and the political. With BPC's refreshingly off-kilter blend of comedy, masks and absurdity they'll present scenes from a world that's not what it seems. A world where spin doctoring is the truth, and nothing is sacred. So come share an energizing evening with these spirited and irreverent performers, as nuns fall in love with construction workers and Asian French Canadians vent about their lot in life. Get ready to laugh and envelop yourself in a jumble of fact and fiction. And brace yourself for the politically incorrect theatrics of BPC's: THE FRILLY CRUCIFICTIONS.
Featuring: Rhoda Gravador, Samantha Chanse, Lorna Chui and Gayle Romasanta

---
TSI (NYC)
Forever Fog and
Post-Matinee Tristesse
by Felix Racelis
July 19 & 20, 2003
Times:Both dates at 5 pm
A finalist in Theatre Forty's One-Act Play Contest, Forever Fog recounts the travails of a romance writer whose latest novel has been relocated to the underground San Francisco S&M leather scene.
In Post-Matinee Tristesse a flamboyant academic pulls out all the stops in an attempt to hold on to a young waiter.
The evening also features works by other writers.
Advance tickets are $15 (adults) and $12 (students & seniors). All tickets at the door are $18.
For tickets call: (212) 352-3101 (Credit card info) or (212) 719-0500 for info. Or via the web: http://www.theatermania.com (credit card only)
TSI is located at 750 Eighth Avenue, Suite 200, New York, NY 10036.
---
ReAct Theatre (Seattle)
Wonder of the World
by David Lindsay-Abaire
July 20, 2003
ReAct's 4th Annual PLAY READING SERIES at Elliott Bay Books wraps up!
Featuring new and classic works by local, national and international playwrights, this noteworthy series continues with a special staging of David Lindsay-Abaire's hilariously recent Broadway hit WONDER OF THE WORLD.
This fully staged reading, directed by Cyndie Mastel-Rokicki, will take place at 2pm on Sunday, July 20th at Elliott Bay Books and will feature the talents of Deniece Bleha, Emjoy Gavino, Gordon Hendrickson, Kathy Hsieh, Tony Nam, Keith Nicholai, Leslie Jean Warner and more! Running time: approx. 115 minutes
Lindsay-Abaire's other hit, Muddy Feers, ammused Seattle audiences during a successful, extended run at A Contemporary Theatre last season. In Wonder of the World, the playwright shows his genius knack for offbeat characters and laugh-out-loud humor as we meet Cass, a firm believer in destiny. Inspired by a Marilyn Monroe movie, she dumps her husband, boards a bus to Niagara Falls and embarks on a hilarious and moving journey.
---
2g Productions (NYC)
Songs from Making Tracks
July 19, 2003 - 8:30 p.m.
Second Generation (2g) is proud to present a special concert performance ofsongs from our first musical, Making Tracks , for our friends and supporters. After a long hiatus from New York,Songs from Making Tracks will feature the music from the rocking musical thathas sold out all over the world. Enjoy what the New York Times has called "the energy and hopefulness of Rent" as2g Founder/Artistic DirectorWelly Yang joins Julie Danao, Hazel-Anne Raymundo, and Herman Sebek for this one-night-only engagement.
The evening will also give you an opportunity to find out about 2g's exciting new productions: The Wedding Banquet: The Musical and our Third Annual Concert of Exellence this fall.
The Cutting Room
19 West 24th Street (b/t 5th Ave & 6th Ave)
New York City
All Tickets: $15*

---
Foreign Trousers: American Passport
July 24, 2003, 7:30pm
The Tenement Theater
97 Orchard St.
(Lower East Side)
New York City
Created and performed by Maura Donohue, Anida Yoeu Esguerra and Gita Reddy, plus special guests.
Foreign Trousers: American Passport is a biting, multimedia look at who "wears the pants" of national identity. 3 Asian diaspora women break down ideas of race, nationalism and gender in a look back, and a look around, at fashion and patriotism across the globe.
The Lower East Side Tenement Museum is proud to join the Immigrants' Theatre Project in presenting the fifth annual American Dreams: Plays About New York City and the Immigrant Experience. The staged readings of new plays include playwrights and theatre artists from India, Ireland, Colombia, France, the Philippines, Romania, Senegal, Russia and the U.S.
General Admission $6
http://www.tenement.org/prog_theater.html
---
East West Players
Kabuki Underground
by Miki Nishikawa
July 24, 2003
Writers Gallery presents staged reading of KABUKI UNDERGROUND
EWP's Writers Gallery in conjunction with the Japanese American National Museum presents a staged reading of:
KABUKI UNDERGROUND
By Miki Nishikawa
Six people who live in an apartment complex where the circuit breakers go out all too often: an ailing grandfather and his recently widowed granddaughter, an agoraphobic photographer, a husband who doesn't just water the lawn on his day off, an alcoholic underground kabuki actor and a mime. When the lights are turned back on, so are the secrets. And, alongside the living, a ghost or two singing and waltzing to melodies of old.

Free admission, Thursday, July 24 @ 7:30 pm

Japanese American National Museum
Manabi & Sumi Hirasaki Theater Gallery of the Historic Building
369 E. First St. in the Little Tokyo District of Downtown Los Angeles
(213) 625-0414
---
SIS Productions (Seattle)
Sex in Seattle: Episode 7 Graphic Images
at the Richard Hugo House
July 11 to August 2, 2003
Join Elizabeth, Shari, Tess and Jenna on a sultry night out filled with personal ads, on-line escapades, booty calls, and plenty of graphic images in Sex in Seattle, Episode 7: Graphic Images. Plus! Catch the Seattle PI article on SIS here!
---
Immigrants' Theatre Project
and the Lower East Side Tenement Museum (NYC)
present
Mango Lassi
a refreshing Summer Salon
with New Voices from SALAAM
directed and curated by Geeta Citygirl
as part of the series
American Dreams V: Plays about NYC & the Immigrant Experience
featuring voices from the South Asian community.
July 31, 2003
Lower East Side Tenement Theater
97 Orchard Street
between Broome & Delancey
Lower East Side, Manhattan, NYC
Admission $6.00
$5.00 for Museum members

Reservations highly recommended:
212-431-0233 x 440

http://www.tenement.org

---
2nd ASIA Spoken Word & Poetry Summit
Augst 1 to 4, 2003
Chicago, IL
The Asian American Artists Collective-Chicago proudly presents the 2nd National Asian/Pacific Islander American Spoken Word and Poetry Summit to be held August 1-4, 2003, in Chicago, Illinois. Co-sponsored by the Hostelling International-Chicago and DePaul University's Women Studies Department, the Summit highlights the oral tradition of story-telling and poetry as a fundamental medium for creating culture, preserving history and transforming community. Over 175 people are expected to attend the four-day gathering, building upon the historic, inaugural event in 2001. The theme of the summit, "first there was the WORD...then there was the FIST!" underscores the need to build a progressive, national dialogue among APIA artists and community.
Incorporating workshops, showcases and regional meetings, the four-day Summit will prove to be challenging work for its participants. In emphasizing a true intergenerational dialogue, a special youth day is planned for the expected 60 teens attending and special invitations have been sent to many pioneering APIA artists.
Summit events include:
feature performances by Mango Tribe, Robert Karimi, Zero 3 and Isangmahal
and more
master classes on poetry, performance storytelling, and playwriting
intensive workshops on artist and career management, art as an organizing tool, race as performance, multi-racial identity, and self-publishing
group and panel discussions facilitated by participating artists and
organizations from across the country
an entire day devoted to APIA youth activities including group-building exercises, performance and writing primers, and youth-led workshops from Young Asians with Power (Chicago), GenerAsian Next (Philadelphia) and Spokes (Seattle)
a showcase highlighting work from all participants
a series of round-table discussions and "family meetings" to review and re-envision the state of Asian America as it pertains to the artist as activist, organizer and conscience in the community
As in 2001, the Summit will precede the National Poetry Slam, to be held August 6-9, 2003, in Chicago. Participants are encouraged to stay through the duration of the Summit and NPS 2003 to help support those APIA artists competing in the slam, and to contribute to the Asian American Showcase, an NPS sponsored day-activity.

Register Now!!!!!
For more details visit www.wordfist.org

For more information, contact Anida Esguerra anida@mangotribe.com
tel. 312.933.4426
---
I Was Born With Two Tongues (Chicago, IL)
Homecoming Show
August 4, 2003
"Yep that's right. for real y'all. we've enjoyed the ride and all the support but it's time for us to take a break! 2Tongues as an ensemble is taking a much needed hiatus so that we can each focus on our individual endeavors. after this year's APIA summit, we will have a final homecoming show somewhere in Chicago. Venue TBA. it'll be
sometime in the evening.
"we're sure that we will take the stage again in the near future but just not sure when. so save this date and check the site for more details. All of us will be reunited for this roast of sorts as we close out this chapter in the city that gave birth and breathed new life into each of our artistic careers. we love chicago. we love our people. always."
www.2tongues.com

for info contact: jona@2tongues.com
---
Bindlestiff Pinay Collective's
FRILLY CRUCIFICTIONS
EXTENDED!!!
Friday 8/1 and Saturday 8/2, 8pm Shows
Online tickets available! http://bindlestiffstudio.org/bpc.html
this year's festival of original works raises the standards of our black box theater. This is a MUST-SEE show - tickets are selling fast .
---
Desilicious [ Unpeeled ] (both NYC)
Summer Sound Session at Pepper
Part of the proceeds benefit Desipina & Company and Peeling,
Asian American Theater Arts Organizations
August 1, 2003
Two Floors ThreeDeejays Hip-Hop / House/ R&B / Bhangra /
Bollywood / Arabic Sounds

Friday August 1st Doors open at 10pm
UPSTAIRS
DJ Sharee (Wonder Bar, Bar d'O) serves Hip Hop, R&B, and Old School House

DOWNSTAIRS
Ambassador Falafel mixes Desi-Arabic / Global House
Ashu Rai spins Bhangra / Bollywood / Hard House


Desi + Queer + Fabulous = Desilicious

$15 / $10 with flyer or e-mail printout

18 to Party / 21 to Drink (bring ID)

Pepper 95 Leonard Street @ Broadway
1/9 to Franklin St
A/C/E to Canal 5 blocks south of Canal St.

<http://www.mail2web.com/cgi-bin/redir.asp?lid=0&newsite=http://www.sholayevents.com>www.sholayevents.com
---

The Living Room presents...
DJS AND PJS BEDTIME VINYL STORIES
DJ and Pajama party
Saturday, August 2nd
Romeo 5, Webster St #210, Japantown, San Francisco
Time: 9pm - 2am
21 and Over
Pajama Attire

Cover: $7 (receive 1 star); $10 (receives 5 stars).
Benefiting: Asian American Theater Company and 18 Mighty Mountain Warriors
Strip down to your bare essentials to check out a vinyl showcase featuring 5 local DJs. Try your luck at winning the best bedtime attire. No whips and chains please. Join the Living Room crew, Asian American Theater Company staff, and 18 Mighty Mountain Warriors for games, PS2, and dancing till 2 am. Proceeds goes to Asian American Theater Company and 18 Mighty Mountain Warriors.
The contest: See what you like - cast your vote for the best "bare essentials" by placing stars onto your favorite outfit/s. Additional stars can be purchased at the door:
$1 - One star
$5 - Six stars
$10 - Fifteen stars
$50 Gift Card to Best Buy, $50 Gift Card to Victoria's Secret, or MYSTERYBOX for best PJ outfit.
RSVP at thelivingroomsf@hotmail.com by 7/30 and get 5 additional stars at the door.
ABOUT THE LIVING ROOM
The Living Room is a fundraising event and founded to develop supportive relationships between young professionals and not-for-profit organizations in a causal setting. All proceeds raised from the event are donated to a selective nonprofit group.
---
TDRZ Productions, (LA, CA) in association with
Playwrights' Arena presents
Songs For A New World
a musical revue by
JASON ROBERT BROWN
July 11 to August 9, 2003
Cast (alphabetically):
Jill Marie Burke, Rick Cornette, MJ Deocariza, Steven Janji, Casey Jones, Merrick McMahon, Jennifer Paz
Musical Direction by
BRENT CRAYON
Choreography by
KAY COLE
Directed by
JON LAWRENCE RIVERA
Preview July 10
Opens July 11, thru Aug. 9 @
Los Angeles Theatre Center (LATC)
514 S. Spring St. (between 5th & 6th)
Performances: Thursdays & Fridays 8PM, Saturdays 3 & 8PM

For tickets and info call: (310) 578-2378 or Playwrights' Arena box office: (213) 473-0640.
---
Youth for Asian Theater presents
East Side Story
Friday, August 8, 2003, 7:30 p.m.
Herbst Theatre
401 Van Ness, San Francisco
Admission FREE
Join Youth for Asian Theater for an evening of original plays and monologues written, directed and performed by San Francisco youth. The award-winning playwrights have had their work performed in New York, Sonoma, Philadelphia, Boston, and Santa Cruz. Featured plays include:
"First Comes Love, Then Comes Mom" by Yvonne Li. Customs clash in this tale of intercultural romance in the '60s.
"A Particularly Nasty Stroke of Disingenuousness" by Alexander Hawthorne-Foss. Chaos reigns when a disgruntled author tries to teach the characters in her play a lesson. While the writer is controlling her characters, who is controlling her?
"Songs of Fortune" by Terence Thang. Can psychics lead you to your soul mate? Marissa finds out when she visits the Three Sisters to discover what fate has in store for her.
"Help Wanted" by Tina Yu and Jean Long. Renée gets more than she bargains for when she goes job-hunting.
"Altered States of Marriage" by Lauren D. Yee. Mrs. Lim is all set to see her daughter tie the knot in an arranged marriage to long-forgotten family friend Brian. See how far Debra will go to escape this nuptial nightmare.
"My So-Called Prom" by Megan Shum and Regina Liu. Mrs. Wong has elaborate plans for Xander's prom. The only problem is that Xander doesn't have a date — or so he thinks.
"Over the Asian Airwaves" by Lauren D. Yee. Missing cast members. Atrocious dialogue. Bickering divas. For the crew at a 1940s Asian radio station, it's business as usual.
Featured monologues written by Morgan Ho, Yvonne Li and Lauren D. Yee
Cast includes Timothy Cheng, Aga De Castro, Alisa Farenzena, Alexander Hawthorne-Foss, Florence Kwo, Brianna Lee, Sel Lee, Yvonne Li, Jordan Lilienstein, Lisa Lin, Lorraine Ling, Regina Liu, Jean Long, Pooja Patel, Lily Sham, Megan Shum, Stella Tan, Constance Tang, Terence Thang, Alanna Wong, James Yao, Lauren D. Yee, Tina Yu
Youth for Asian Theater is a student-run organization that seeks to promote pride in Asian heritage through theater. Now in its third year, YFAT operates entirely through the efforts of its teenaged cast and crew members, who oversee the production from script to stage. YFAT is sponsored by private donors and Youth Initiated Projects.

Visit Youth for Asian Theater's Web site at www.geocities.com/londoncheesecake/yfat.html for details
---
NAATCO (NYC)
Fluid Motion Theater & Film, Inc., and the
7th Annual New York International Fringe Festival
A R S A T
Based on Joseph Conrad's short story "The Lagoon"
Adapted & Directed by Christine Simpson
Produced by Michelle Chen
August 8 to 23, 2003
Amidst the political turmoil of 1890's Malaysia, a noble warrior must choose
between fraternal loyalty and his love for a woman. ARSAT weaves the art of storytelling, traditional Malaysian dance, and live Taiko drumming into a theatrical experience about two men whose relationship is at an impasse - their futures uncertain until they can resolve their pasts.
Featuring Pun Bandhu,* Jovinna Chan, Eric Hanson,* & Kurt Uy
Malaysian Choreography by Christine Hew
Original live percussion score by John Ko and Wynn Yamami
Dramaturg: Ivanna Cullinan
Stage Manager: Maggie De Castro
Assistant Director: Jesse Jou
(*Actors appearing courtesy of Actors' Equity Association)
The Play Room, 440 Lafayette St (@ Astor Place), 3rd Floor
Sat 8/9 @ 2:15pm, Sun 8/10 @ 8:15pm, Tues 8/12 @ 8pm,
Fri 8/15 @ 3pm, Mon 8/18 @ 7pm, Thurs 8/21 @ 5:45pm &
Sat 8/23 @ 5:15pm
For tickets ($15; $8 seniors or groups of 20+) and information:
Inside NY 212.279.4488; Outside NY 1.888.fringeNYC
www.fringenyc.org or www.fluidmotiontheaterfilm.org
Love... Death... Brotherhood... Betrayal... A R S A T.
---
Imua! Theatre Co. (NYC)
Karaoke Stories
by Euijoon Kim
August 8 to 23, 2003
Extended to August 31!
Go to www.imuatheatre.org for more info
---

Vancouver Asian Canadian Theatre (Vancouver, BC)
Sex in Vancouver
Episode 1: Deceptions and Reflections
August 15 to 22, 2003
Sex in Seattle crosses the border and becomes Sex in Vancouver, as this serial theatre show makes its international debut.
8 pm & 10 pm nightly
Performance Centre, Roundhouse Community Centre
@ Davie & Pacific Blvd., Vancouver
$12 in advance, $15 at door
Tickets: Festival Box Office (604) 257-0366
Special VACT Showings:
Wednesday, August 20, 10 pm show is "2 for 1"
Thursday, August 21, 10 pm show is the "Singles" show
(Couples welcome too)
We've seen it in HBO's Sex and the City. We've read it in Bridget Jones' Diary. The life of the single girl is made up of a unique (and endlessly entertaining) set of struggles, dramas, and friendships.
Sex in Vancouver is a romantic comedy about 4 women, their friendships, relationships and struggles. The play showcases the dynamics of four hip, modern women brought together by a wedding. There's Shari (the bride), Elizabeth (the groom's heartbroken ex-girlfriend seeking "closure"), Jenna (the groom's sister disappointed in her brother's marital choices), and Tess (Elizabeth's source of moral support, but herself stuck in a loveless marriage with a gay man).
Once these female forces collide with their male counterparts (their judgement impaired by cocktails and emotion), a complicated and hysterical set of circumstances ensue!...(Check back often to this page for future details!).
---
NY Fringe Festival (NY)
The Semen Tree
by Angel Abecde
August 15 to 23, 2003
See News story
---
Edmonton Fringe Festival (Edmonton, Canada)
Yellow Peril
by Nancy Ng
August 15 to 22, 2003

---
EWP's Writers Gallery
Japanese American National Museum
Old People Play
Script and Lyrics by Jason Fong
Music by Shin Kawasaki
Directed by Dom Magwilli
August 21, 2003
OLD PEOPLE PLAY is a musical about aging Ben who is about to die. Ben is given the chance to find closure, control fate, and manipulate death. Would you want to be Ben?
WHEN: Thursday, August 21 @ 7:30 pm
WHERE Japanese American National Museum
369 E. First St. in the Little Tokyo District of
Downtown Los Angeles
(213) 625-0414
Jason Fong is a playwright whose previous works include FENTOR (scheduled for Asian-American Repertory Theatre in San Diego, 2003), and A NICKEL'S WORTH (produced in 2001). Jason is a writing instructor at East West Players Summer Conservatory, as well as the founder/director of the "HAROLD Improvisation Program." Most recently, he wrote and directed a piece for "Fresh Tracks" at the Japanese American Cultural & Community Center in Los Angeles and performed as an actor in the concert reading of "Manzanar" at the Japan America Theater, Los Angeles.
---
Cuchipinoy Productions (NYC)
At The Next Great American Playwright Festival
The 4 AM 'Lizbeth
By Jonathan Calindas
Thu. Aug. 21 @ 3:00 pm
Sat. Aug 23 @ 2:30 pm
Sun. Aug 24 @ 3:30 pm
Featuring: Rob Moretti, Anthony Go, Orlando Velez
Chashama Theatre
135 W. 42th St., New York, NY (btwn. 6th Ave. and Broadway)
Tickets: $15
Order tickets at (212) 352-3101 or www.theatermania.com
Visit the Spotlight On Festivals website at: www.spotlighton.org
A tribute to the Elizabeth, New Jersey, the author's hometown. Three lifelong friends come of age as they hang out on an abandoned railroad track supposedly haunted by the ghost train 'The 4am 'lizbeth'. A play about the common man's hopes and dreams in small city America, Jerry, Jay, and Eddie come to terms with the breaks life has given them.
This new full-length version of THE 4AM 'LIZBETH was originally presented last October as part of the Spotlight On Halloween Festival. This production was one of three shows from the past year's festivals to be selected to return for three performances in The Next Great American Playwright Festival, a showcase geared towards attracting producers and investors in taking the shows to the next level.
The 4AM 'LIZBETH is also nominated for several Spotlight On Awards, including Best Full Length Play, Best Set Design and Best Writer of a Full Length Play.
---
---
Lodestone Theatre Ensemble
A reading of the new play
CLAIM TO FAME
by Isaac Ho
directed by Jeff Liu
featuring Ray Chang, Diana Lee Inosanto, James Lee, Yi Lin, Eddie Mui, Michelle Sekine, Robert Shinso, DC Wolfe and Leonard Wu
STRIP CLUBS! DRUGS! JAIL! Complete humiliation by the one you love! An inside look at an Asian American sketch comedy troupe . . .
SUNDAY, AUG 24th, 7:00 PM. (Please Note The Earlier Start Time)
The Victory Little Theatre
3324 West Victory Blvd, Burbank, 91505 (one block east of Hollywood Way)
Please park on Victory or the library parking lot across the street from the theatre. Please do not park on the side residential streets.
FREE ADMISSION (but donations gladly accepted and encouraged)
NO RSVPS required, however, please arrive at least ten minutes before curtain for seating (which is limited and on a first-come basis).
---
TeadaWorks (LA, CA)
TeAda Works 2003
August 16 & 17, 28 to 31, 2003
OPEN REHEARSALS
August 16 & 17
@ Angel's Gate Cultural Center (Building H, 3601 S. Gaffey St., San Pedro, CA)
NOON - Community Artist
Wynee Hu, Erica Jean, Sachi Kikuchi, Gabriela Lopez, Maria G. Martinez, Sherie Mateo, Marcella Pabros-Clark, Mycele Sims, Maria Turnmeyer
3PM - CORE ARTIST
Bonne Lee, Yi Lin, Shyamaly Moorty, Monica Sanchez, Albert Wong
For artists' biographies & performance descriptions connect to www.teada.org or call 310/998-8765
Reservations for Open Rehearsals are not required. These are pay-what-you-can events. Come and join the processby seeing these artists wrestle with form and topics the push performance beyond the hybrid. Audiences are invited intot he process by giving feedback to artists and facilitators. Then, see what the artists do with your in put by attending...
Festival Performances @ Highways Performance Space
1651 18th Street in Santa Monica
CORE ARTIST LAB Performances
August 28-30 @ 8:30PM, tickets are $16.
COMMUNITY ARTIST LAB Performances
August 30 & 31 @ 2PM, tickets are $12.

For Reservations call 310/315-1459.
---
Alter Ego Productions (NYC)
Indian Ink
by Tom Stoppard
directed by ASHOK SINHA
August 16 to 31, 2003
Extended to September 7!
Set against the backdrop of Indian independence, Indian Ink lyrically tells the story of an Indian painter and an English poet. Fluidly shifting between pre-Independence India and Thatcherís Britain, the play is a passionate exploration of art and empire. All tickets $15/-
call: 212.868.4444

---

Asian American Theater Company (SF) and
Desipina & Co (NYC) presents
Barriers
directed by Ravi Kapoor
written by Rehana Mirza
September 4 to 14, 2003
Welcome to the Abbas household.
Not your typical multi-ethnic, muslim-american family.
Fighting against each other.
Post 9/11.
September 4th -14th, 2003
Thurs – Fri 8pm, Sat & Sun 2pm** & 8pm performances
With: Diana Tanaka*, Meera Simhan*, Rodney Jao, Sunkrish Bala, Tyler Pierce, Wajid
Location: Noh Space, 2840 Mariposa Street, San Francisco, CA
Tickets: $20 general admission, $15 students & seniors
Purchase your tickets in advance at www.tickets.manja.org or call 415/543-5738.
** Special talkbacks with cast & crew to follow matinee performances.
* Denotes Equity
Additional information at www.asianamericantheater.org or www.desipina.org.
---
OPM (CA)
I CAN'T BELIEVE THEY'RE NOT ORIENTAL!
EXIT Theatre
156 Eddy St. (btw. Mason & Taylor)
One block from the Powell St. BART
Saturday 9/13 10:00 pm
Sunday 9/14 4:00 pm
Winner of 2002's Best of the SF Fringe, returns with all-new Sketch Comedy Extravaganza. Full of irreverent wit and high energy, OPM's hour-long line-up features rappers, superheroes, villains, dirty dancers, and ordinary Asian Americans in not-so- ordinary situations!
Tickets $8
---
Theatre-Studio Inc. (NYC)
Post-Matinee Tristesse
by Felix Racelis
as part of their Seventh Annual Bicoastal Playwrights Festival
September 17 and 19, 2003
A flamboyant academic pulls out all the stops in an attempt to hold on to a delectable young waiter with a mind of his own. The play has delighted audiences in Los Angeles, San Francisco and now New York.
Dates are: Wed. & Fri., Sept. 17 and Sept. 19, 2003, both at 8pm
Location: Theatre-Studio, Inc., 750 Eighth Ave., Suite 200, New York City
Advance tickets: $15 and $12 students and seniors
At the door: $18
Credit card only: Theatermania (212) 352-3101 or www.theatermania.com
---
Jude Narita (touring)
New York performances
September 20 and 21, 2003
For more info, visit her website at http://www.judenarita.com
---

ACT (San Francisco)
Yòhen
by Philip Kan Gotanda
September 6 to 27, 2003
At the Zeum Theatre.
Yòhen, the Japanese name for the changes that take place when kilning pottery such as yakishime ware, is the latest play by Philip Kan Gotanda, one of America's leading playwrights and a Bay Area resident.
Yòhen tells a poetic and compassionate love story illustrating the challenges between an African-American World War II veteran and his Japanese wife after 30 years of marriage.
Playing at Zeum Theater in Yerba Buena Gardens September 6-27,
---
Pan Asian Repertory Theatre (NYC)
Havana Theatre Festival
Rashomon
September 18 to 28, 2003
---

Seattle Fringe Festival
Unaccessorized
by Rich Kiamco
September 18 to 28, 2003
Solo performer Rich Kiamco romps through Unaccessorized, his autobiographic decathlon of laughter and tears. A queer Filipino boy escapes the cornfields of Illinois to the streets of New York City and embarks on a global odyssey among fashionistas, millionaires, and con artists, searching for love, enlightenment, and the perfect shade of beige. Dan Bacalzo directs.
The show performs September 18-28 at the Northwest Actors Studio, 1100 East Pike Street, as part of the Seattle Fringe Festival. Tickets are $12.00 ($9.00 seniors/students/festival). Call 206-322-2018.
Schedule
Thursday, September 18 at 10:30pm
Saturday, September 20 at 3:30pm
Sunday, September 21 at 8pm
Monday, September 22 at 9pm
Thursday, September 25 at 6pm
Saturday, September 27 at 9:30pm
Sunday, September 28 at 3:30pm
Rich Kiamco has been seen in Las Vegas, on The Howard Stern Show, and across the country performing with comedienne Judy Tenuta as her love slave/go-go dancer/drag sidekick. An excerpt of his writing can be found in Take Out: Queer Writing From Asian Pacific America, Temple University Press.
Dan Bacalzo is the Artistic Director of Peeling, an Asian American performance collective based in New York City. Previous directing credits include The Virginity Monologues by Aileen Cho and Reddy or Not by Gita Reddy. He is also the writer/performer of two one-man shows. He is completing his Ph.D. in Performance Studies at New York University, and teaches in the Undergraduate Drama Department at NYU.
For more information, visit www.richkiamco.com
---
Repertory Actors Theatre (Seattle, WA)
Seattle Fringe Theatre Festival
The Book of Liz
by Amy and David Sedaris
Thursday, September 18th at 9:30pm
Friday, September 19th at 6:00pm
Saturday, September 20th at 4:30pm
Sunday, September 21st at 2:30pm
Wednesday, September 24th at 9:15pm (2 for 1 night)
Saturday, September 27th at 7:30pm
Sunday, September 28nd at 12:00noon

Come meet Sister Elizabeth Donderstock, a hardworking cheeseball maker with a sweating problem in the religious community called "the Squeamish." Overworked and under-appreciated, she sets forth to try her luck in the strange modern outside world filled with recovering alcoholics, foreign immigrants and other unusual roadside attractions. Don't miss this irreverently funny new play from the talented sibling team of AMY and DAVID SEDARIS!

Starring LESLIE JEAN WARNER, SAMUEL READ, T.J. LANGLEY, MARY ANN BOYD, SHAWN J. WEST and KATIE TUPPER! Directed by DAVID HSIEH.

---

East West Players (LA, CA)
David Henry Hwang Institute Playwrights Series
CHARLIE CHAN FOR GOVERNOR READING SERIES:
Plays for a State in Crisis
Fall 2003
September 21 to 28, 2003
Sunday, Sept. 21
FIRST THANKSGIVING
By Lina Patel
A rumination on suburban life in the new landscape.
MASCOT
By Vic Bonekrusher Chao
After being fired from the Chicago Bulls, a would-be mascot is forced to work for a Developmental League team. There, the only things stopping him from being "the greatest mascot ever" are an unusual crowd, strange co-workers, and a bunch of rocks.
Monday, Sept. 22
INNOCENT WHEN YOU DREAM
By Ken Narasaki
At the end of our lives, can any of us be judged innocent? Or can we all?
Tuesday, Sept. 23
ACCIDENTAL NEXUS OR AN ILLUSTRATION OF BILLIE HOLIDAY'S RENDITION OF "WHAT A DIFFERENCE A DAY MAKES"
By D. Hideo Maruyama
A woman is killed in a random pointless mass killing. Her death turns out to be a nexus point.
IN THE NAME OF HOWARD
By Gary Kuwahara
Couples therapy beyond all boundaries.
Sunday, Sept. 28
IRON LOTUS SPEAKS
By Sumi Sevilla Haru
An autobiographical journey of a cheerleader from Arvada, Colorado, who took circuitous routes in life in search of power and fame.
BODY BY GOD
By Curtis Chin
Lately, God has been testing the Lee family: the dad has a heart attack, the overweight daughter gets a divorce, and the gay son wants to adopt a baby. But Mrs. Lee is hoping for better days with the new Garden of Eden diet, a hilarious diet straight out of the Bible. As they join this program, will this dysfunctional family return to better days or is paradise lost forever?
Monday, Sept. 29
TO HIS SEN$ES
By Andrew Chu
In the rough-and-tumble world of investment banking, anything goes. Confronted with the woman, who is at once his rival, his lover, and his boss, Willy Lee must finally ask himself, "Where does the American Dream end... and mine begin?"
Tuesday, Sept. 30, 7:30 pm
VIET JACKET
By David Hirohama
The lingering effects of the Vietnam conflict on Asian Americans are revealed through the lives of two reunited war veterans, the mother of a deceased soldier, and a Vietnamese gang member accused of murdering a police officer.
---
Theater Mu (Minneapolis, MN)
Interior Designs
by Kiseung Rhee
September 2003
Sherwin Resureccion stars in Theater Mu's new work by company member Kiseung Rhee. "Interior Designs" focuses on a young Vietnamese American full of secrets, ambitions and frustrations that he can no longer control. Rhee developed the play on a commission from the Asian American Writers' Workshop. It is based on the Vietnamese American anthology of poetry and prose, "Watermark." Some of the identity issues addressed are bi-culturalism and homosexuality. Artistic director Rick Shiomi said the play is about the desire of people to seek the warmth of light at the same time they try to hide from it. (8 p.m. Thu.-Sat.; Minneapolis Theater Garage, 711 W. Franklin Av., Mpls. $12-$14. 612-824-4804.)
---
Seattle Fringe Festival (Seattle, WA)
Fringe the Puyallup!
by Serin Ngai
September 24, 25 and 26, 2003
FRINGE THE PUYALLUP!
Starring actress Keiko Ichinose, and a 12 minute play written by: Serin Ngai
WHAT THE HECK IS FRINGE THE PUYALLUP!?
A theatrical adventure. A tale of two cities. A death-defying attempt at a production so immediate, it will test the most talented artists! Fringe the Puyallup! joins high and low cultures, with results that threaten to change the way we see theatre &Mac246; or the Fair. Or both.
Part 1: For three days, groups of writers, videographers, and the general public make trips to the Fair to find and develop stories. Part 2: For three days, actors and directors, musicians, and the same videographers feverishly create a fully staged production. Part 3: For three days only! the show goes on stage at the Capitol Hill Arts Center, as part of the 13th Annual Fringe Theatre Festival.
Inspired by 14/48, "the world's quickest theatre festival" (and sponsored by One World Theatre), Fringe the Puyallup! brings together two startlingly different institutions in a producti! on that pushes the boundaries of theatre &Mac246; and promises a story worthy of one of the nation's largest spectacles.
PERFORMANCES:
at the Capitol Hill Arts Center
1621 - 12th Ave. (off Pine)
Tickets are $15 ($12 for students and seniors). Three nights only!

Wednesday, September 24 6:00 pm
Thursday, September 25 10:30 pm
Friday, September 26 8:00 pm
TICKETS:
To the performance: $15 ($12 students and seniors)
To participate (general public): $20

(206) 322-2018 (box office)
www.seattlefringe.org
in person at the Capitol Hill Arts Center (call the box office for hours of operation)

---
Desipina & Co.
The LOS ANGELES premiere of
BARRIERS
One Weekend ONLY
September 25th to 28th, 2003.
Thurs - Sun 8:00pm, * Sun 2:00pm performance
Tickets $20
Stages Theatre Center
1540 McCadden Place

Purchase tix for the Los Angeles production only at www.sulekha.com/losangeles
---
The Art of Rice Traveling Theater
Sept 27 at 7:00pm
Sept 28 at 2:00 pm
George & Sakaye Aratani/Japan America Theatre,
244 South San Pedro Street
Little Tokyo, downtown Los Angeles(convenient parking
located on San Pedro
Street)
TICKETS: $23 orchestra, $20 balcony. Special Group & Student discount prices. Call (213) 680-3700.
In a world that is increasingly divided, eleven internationally celebrated artists come together from India, China, Indonesia, Myanmar, Japan, Dominican Republic and USA to tell the story of RICE through traditional and contemporary music, movement, multimedia and theater. The Art of Rice Traveling Theater is an original work created in Bali - one of greatest rice cultures of the world.
Rice is not merely a commodity to be bought and sold. Its spirit is an offering for the gods, its history unites the world-past and future, East and West. Rice is culture, religion, politics, science and nature. Now come --see it as performance!
Featuring: South Indian Kathakali dance theater, Japanese Taiko, Chinese Opera, Balinese music & dance, Mask & shadow Puppetry, Burmese drum-circle, Theater, Modern/post modern dance.
For more information, log onto www.wac.ucla.edu/cip/artofrice
---