Chinatown 90210 Theatre Company (Glendale, CA)
Chinatown Correspondent
by Mark Jue
June 23 to July 8, 2007
San Francisco 1968: Summer of Love, Haight Ashbury, the Vietnam War, Marijuana, Clown Alley Hamburgers and two Chinese American reporters trying to solve a murder as Chinatown 90210 Theatre Company presents the world premiere of Chinatown Correspondent." A comedy by Mark J. Jue. Directed by Peter Kuo.

Featuring: Carin Chea, Carlos Duarte, Joseph Falesca, Ed Gunawan, June Mock, Alden Ray, Todd Silver, Elbert Traister, Pamela Woo, Davis Wyn, Harry Du Young and Adrian Zaw.

At the Luna Playhouse, 3706 San Fernando Road, Glendale, California 91204.

Tickets: $20.00. $5 off group discounts with groups of 5 or more. Group sales by reservations only. For reservations email Chinatown90210 or call (310) 838-8862.
---
Pratidhwani (Seattle, WA)
Everyone Loves a Good Tsunami
by Sujit Saraf
June 29 to July 8, 2007
Set in San Francisco Bay Area, this satire explores human nature in the face of adversity. Sunil Ahuja and Naresh Panjwani find themselves on the two sides of a political divide, just as a tsunami devastates many countries in the Indian Ocean region. Instead of coming to the rescue of survivors, these community leaders discover an opportunity to prove their own importance and assert their higher standing in the social hierarchy. The play also stars Basavaraj Biradar, Vishal Chugh, Latika Kirtane, Mukta Manavi, Sandeep Shyamsunder, Nanda Tewari and Shreya Tewari.
Ethnic Cultural Theatre,
UW 3940 Brooklyn Ave NE
Seattle, WA 98105
June 29th - July 8th, 2007
Fridays at 8pm
Saturdays at 2pm and
8pm Sundays at 2pm
General Admission: $10 advance, $12 at the door Pratidhwani Members: $7 advance, $9 at the door Students/Seniors: $5 advance, $7 at the door Tickets available online at http://www.sulekha.com/pratidhwani
---
Theatre of the Yugen (San Francisco, CA)
The Cycle Plays
July 7, 2007
After three years of gestation, Theatre of Yugen presents The Cycle Plays, a day-long event featuring five new plays informed by the ritualistic Japanese Noh theater, written and directed in an ensemble process by Yugen's Artistic Associate and playwright Erik Ehn, with musical composition by Allen Whitman and Suki O'Kane. This marathon theatrical event presents American stories told in the signature poetic, dance-drama style of Yugen, with its roots in the spirit of Noh, reaching up to new movement and narrative forms through original, cutting-edge contemporary music. The day will commence with a ritual performance piece created with Yuriko Doi and founding company members, and the five plays will alternate with performances by invited groups.
Presented at Project Artaud Theater in San Francisco
FREE! (Reservation strongly recommended.)
(Time TBD)
---
Ford Amphitheatre (Los Angeles, CA)
The Years of Lying Dangerously
Kristina reads a new piece:
Double bill with Guillermo Gomez-Pena!
July 7, 2007
Innocent White Lies, harmless fibbing, and monumental social distortions. Kristina Wong stacks up the lies we're sown from and the ones we spit forth. But most importantly, what we'll dry hump to get ourselves out of trouble.
[Inside] the Ford, under the Ford Amphitheater
Tickets are $10
Ford Box Office: 323-461-3673
2580 Cahuenga Blvd. East
Hollywood, CA
---
The Hearing Place & Flying Buddhahead Productions (Los Angeles, CA)
Falling Into the Sky
FALLING INTO THE SKY
Solo & Shared Performance by Bobby & Colleen Tani Nakamoto
Saturday, July 7th, 2007, 2:00 & 8:00 pm

David Henry Hwang Theatre
120 North Judge John Aiso Street
LA 90012
Come to FALLING INTO THE SKY for some soulful, hybrid, mixed-genre theatre @ the David Henry Hwang Theatre in LA on July 7th!
...Ever go to a reading and get antsy, needing physicality and movement?
...Ever go to a dance concert and crave some spoken word, narrative, poetry, or some kind of text to kick-up the experience?
...Ever want more real dance in theatre works? Real musicianship too? Ever get tired of the talking, talking, TALKING??
...Tired of the same old JA internment camp stories, & ready to dig for the root of that wound, beyond the usual images & rhetoric, & pull it up, watch it breathe?
...Interested in Buddhahead culture? Curious about how a Sansei guy makes it over cultural and familial obstacles to finally throw down on his sax?
...Tired of presumptions around "people of color," and interested in places where Buddhahead and Black cultures have crossed paths, even exploded?
It's time! Mark your calendars, reserve your tickets and join us for our organization's debut. We are The Hearing Place and Flying Buddhahead Productions, native to LA & the Bay Area! We've enjoyed much of y'all's works over the years & hope you'll come & enjoy ours too!
Tickets: 800-838-3006 or brownpapertickets.com
More info at thehearingplace.org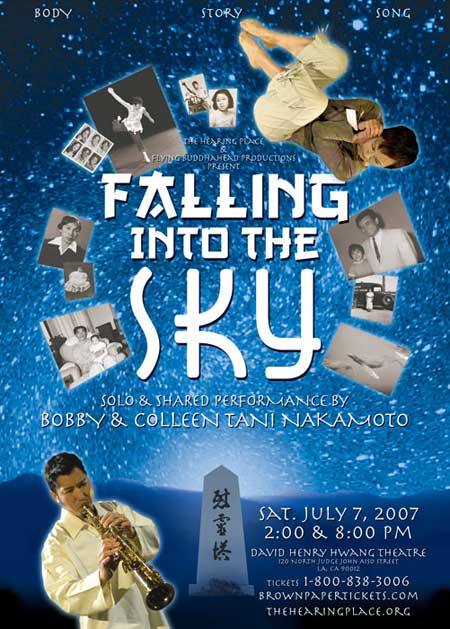 ---
Richard Rodgers Theatre (Broadway, NY)
Tarzan
book by David Henry Hwang
score by Phil Collins
previews March 24
opens May 10, 2006, closes July 8, 2007
http://www.tarzanonbroadway.com/
---
Pan Asian Repertory Theatre (NYC, NY)
Actor/Writer's Workshop Presentations
July 11, 2007
---
A New Reading Series at
A Different Light Bookstore In L.A.
Curated By Noel Alumit
Featuring Prince Gomolvilas, Giovanni Ortega, Serena Lin
July 12, 2007
7:30PM
A Different Light Bookstore
8853 Santa Monica Boulevard
Los Angeles CA 90069
310.854.6601
Admission: Free!
A brand, spankin' new reading program will debut at A Different Light Bookstore in West Hollywood on July 12th. It's called the Promising Series with the goal of exclusively featuring established and emerging gay, lesbian, bisexual, and transgender writers.
"I think that it's important that writers at varying points in their literary careers meet to share work and ideas," said series coordinator Noel Alumit. "New GLBT writers in particular need a space where they can express themselves. More established writers can inspire hope for those just beginning a career."
The Promising Series first reading will feature writer Prince Gomolvilas. His plays include Big Hunk O' Burnin' Love, The Theory Of Everything, Bee, and the stage adaptation of Mysterious Skin. He received the Beverly Hills Theatre Guild/Julie Harris Playwright Award, International Herald Tribune/SRT Playwriting Award, PEN Center USA West Literary Award for Drama, East West Players' Made in America Award for Outstanding Artistic Achievement for the Asian Pacific Islander Community, and a screenwriting fellowship with The Chesterfield Writer's Film Project, sponsored by Paramount Pictures. Up and coming writers who will be showcased are Giovanni Ortega, a performer and poet with a MFA from UCLA, and Serena Lin, an attorney, who recently left the practice of criminal law to pursue the equally difficult path of a free spirit.
More Information:
http://www.adlbooks.com/events.cfm
---
Bindlestiff Studio (San Francisco, CA)
The Movement
July 5 to 14, 2007
Join us! The movers and shakers of Bindlestiff Studio's sold out The Movement are back with a brand new show! Don't miss out as we utilize experimental dance, captivating shadow puppetry, and live music in bringing you the story of a young activist's life, Andre, his family, and dreams.

Through a series of workshops this year's The Movement was developed by a group of Filipino American artists whose performance backgrounds varied, but were eager to share a different perspective of the Filipino American story through dance and movement. The Movement is a collaborative project, in which cast members contributed ideas, inspiration, choreography, visual pieces, and beats.

This year's The Movement show will be the LAST production at the theatre's temporary space, so don't miss out and reserve your tickets right away!

Reservations are being taken immediately at (415) 255-0440 or go to: www.BrownPaperTickets.com/event/16861
** for a limited time only type "savebindlestiff" for $5 off ticket price ** only available through BPT
Ticket prices are on a sliding scale from $10-15.

Please visit our website: http://www.bindlestiffstudio.org/movement
---
Kumu Kahua Theatre (Honolulu, HI)
Kamau
by Alani Apio
July 5 to 15, 2007
Kumu Kahua brings back this hit. See News story for details.
---
Mixed Blood Theatre (Minneapolis, MN)
Dipped in Love
by Sarah Jane Moore
July 12 to 14, 2007 at 8pm

at Mixed Blood Theatre
1501 South 4th Street
Minneapolis, MN 55454
Directed by Jennifer Weir
Featuring Carolyn Poole, Maria Kelly, and Katie Leo
Emerging from Mu's New Directions Festival 2005, this fully staged workshop production of Dipped in Love follows the transformation of the lives of three women through loss, love, and the power of their friendships.
Tickets: $6 Thursday and $10 Fri. and Sat.
Please call Mixed Blood at (612) 338-6131 for reservations.
---
East West Players (Los Angeles, CA)
Twelfth Night (or what you will) (2nd year & up students)
By William Shakespeare
July 14, 2007
Please join us for a night of theatre as EWP's scene study conservatory students perform Shakespeare's Twelfth Night. This one night only production is the culmination of a years study with veteran actor/director/instructor Leslie Ishii. Students are required to enroll in a series of classes before qualifying for the Studio Lab Project. We hope to see you there!
When: Saturday, July 14, 2007
Time: 7:00 PM
Where: The National Center for the Preservation of Democracy
369 East First Street
Los Angeles, CA. 90012
FREE ADMISSION, however, donations greatly appreciated! Seating is based on a first come first serve basis.
---
SALAAM (NYC, NY)
Marrying Nandini
written by Nandita Shenoy
July 16, 2007
What happens when parents take their daughter's marriage into their own hands. Nandini's parents find out when they decide to fill out her Match.com profile and learn more than they bargained for about their daughter and themselves.
---
Asian American Theatre Company (San Francisco, CA)
Cowboy vs. Samurai
by Michael Golamco
July 5 to 22, 2007
A no-holds-barred romantic comedy, Cowboy vs. Samurai re-imagines the "Cyrano de Bergerac" story with an asian twist. The lives of the only two Asian Americans in the tiny western hamlet of Breakneck, Wyoming are turned upside down when the beautiful Veronica Lee, a Korean American teacher from New York City moves to town. Through irony, humor, and social commentary, Cowboy vs. Samurai cleverly exposes the struggle of Asian Americans to find their place in the vast American landscape...and with each other. Contains some mature language. Best for audiences 16 and up.
See reviews.
---
Grove Theatre Center (Los Angeles, CA)
Film Chinois
by Damon Chua
July 5 to 21, 2007
---
Shunya (Houston, TX)
Beats, Rhymes, & Life
July 19, 2007
Bar Bollywood-Downtown Houston

Houston has many South Asian artists, musicians, and other creative individuals who never seem to get the type of attention that their counterparts in New York, L.A., and D.C. receive. This summer it's time to change all that. Join us on Thursday, July 19th from 8:30-11:00 p.m. at the new downtown venue "Bar Bollywood" (basement of the Butterfly High Lounge) for a FREE night of Spoken Word, Live Music, and Visual Arts. DJ Raj Swift will also be on hand to! bsp;lay down the backbeat.

If you are an artist of any kind and want to perform (especially a spoken word, literary, or dance piece) or just want more information, then email abhi [at] sepiamutiny.com ASAP.

Although this event is meant to spotlight South Asian artists, ALL are welcome and encouraged to attend. Spread the word.

Finally, Roopa Vasan will be on hand to cheek swab people for the South Asian Bone Ma! rrow Registry in hopes of finding a match to save her cousin Vinay's life.

Bar Bollywood
902 Capitol Street
Houston, TX 77002
---
Kumu Kahua Theatre (Honolulu, HI)
Aging is not for Sissies...!
July 20 to 22, 2007
The show plays Friday evening, July 20 at 7:30pm, Saturday evening, June 21 at 7:30pm and Sunday afternoon, June 22 at 2:00pm at Kumu Kahua Theatre, on the corner of Merchant and Bethel. Tickets can be purchased with a credit card by calling 536-4441, or by visiting our box office between 11am and 3pm Monday through Friday. Tickets for Aging is Not for Sissies...! are now on sale for $10 apiece. For more information about this and other productions, visit www.kumukahua.org.
---
East West Players (Los Angeles, CA)
The Fundamentals of Acting Studio Lab Project!
A Classic Comedy (1st year students)
Saturday July 21st, 2007

Time: 8:00pm
Where: David Henry Hwang Theater
120 North Judge John Aiso St.
Los Angeles, CA 90012
FREE ADMISSION, however donations greatly appreciated! Seating First-Come, First-Serve
---
Bathwater Productions (San Francisco, CA)
the world premiere of
Ching Chong Chinaman
A new play by Lauren Yee
Directed by Anne Marie Bookwalter
Designed by Brian Bookwalter
July 21, 2007


Winner of Kumu Kahua Theatre's 2007 Pacific Rim Prize and the 2007 Yale Playwrights Festival.

Starring Sandy Chen, Cirocco Dunlap, Sean Finerty, Randy Nakagawa, Wilton Yeung, and Jamie Yuen-Shore
SAN FRANCISCO FUNDRAISER
San Francisco - July 21st 2007, 7:30pm
The Randall Museum Theater
199 Museum Way
One performance only!

Buy tickets for SF performance at www.brownpapertickets.com/event/17475
Adults $25 / Students $15
A privileged life. A stable home. Indentured servitude in the name of galactic conquest. Upton Wong has it all. But when his Chinese slave starts romancing his mother, will the Wongs ever learn how to be Asian American? A dysfunctional, madcap comedy that redefines what it takes to grow up Asian in America. CHING CHONG CHINAMAN is an incisive, no-holds-barred comedy that turns the question of Asian-American identity on its head.
---
Mu Performing Arts (Minneapolis, MN)
New Performance Works
July 21, 2007
Q & A.
by Juliana Pegues
Dramaturge and Director: David Mura
Featuring Katie Leo, Laurine Price, and Bao Phi
From speed dating to police line-ups, Asian Americans question and answer social and political interrogation starting with the most-posed question, "where are you from?" Our three characters are labeled yet unnamed: "9066" for the WWII executive order which interned her ancestors, "187" for the gangsta rap allusion to murder, and as "½" says, "it's kinda obvious, isn't it?" When their self-constructed masks come down, each character must ask (and answer) what they are ultimately more guilty of: self-hate or self-love?

Anatomy of Hmong Girl: A Memoir Told in Body Parts
by May M. Lee
Dramaturge and Director: Robert Karimi
Featuring Katie Vang and May M. Lee
The Hmong believe that when someone is born their placentas are buried underneath their homes, so when someone dies, they can find their way back home. What happens when you don't know where your placenta is? ANATOMY is an exploration into the search for home. Part memoir, part political statement, this peice focuses on how Hmong Americans have been continuously dissected and how we attempt to flesh out and re-assemble our real voices and experiences.
WHEN: Both peices will perform this Sat. July 21st
WHERE: at the Mu Studio.
Q & A at 3pm and ANATOMY at 5:30pm
Admission is FREE, FREE, FREE.
---

New Ivar Theatre (Los Angeles, CA)
N*gger, Wetb*ck, Ch*nk
June 7 to July 29, 2007
Lock your doors. Watch your daughters. Study your math.
The smash comedy with the title nobody wants to say is back in Los Angeles after a two year national tour.

"Jaw-Dropping…Infectious…Explosive…Inspiring" – L.A. Times
"Guaranteed to stay relevant to the race debate for years to come" – Seattle Weekly
"…Talented young men with ambition and imagination… Remarkably well timed…" – N.Y. Times

N*GGER WETB*CK CH*NK runs June 7th to July 29th at the New Ivar Theater in Hollywood , 7 shows a week! (Who said minorities are lazy?)
For more information and tickets go to www.NWClive.com
---
San Diego Asian American Repertory Theatre (San Diego, CA)
The House of Chaos
by Velina Hasu Houston
July 13 to 29, 2007
This play is a contemporary adaptation of the Medea myth, investigating it in the context of a Japanese female expatriate living with her white American husband in a bleached, segregated community outside of Los Angeles. Set in the international fashion design industry, the story focuses on Mina Takahashi's struggle to preserve her honor in the face of her husband's adultery and his plans not only to banish her and her daughter, but also to confiscate her business holdings from her. Mixing themes from ancient drama and contemporary culture, The House of Chaos will be published in THE MYTH STRIKES BACK: MEDEA PLAYS BY WOMEN, edited by Velina Hasu Houston and Dr. Marianne McDonald.
---
Aparna Sindhoor Dance Theater (Boston, MA)
A Story and A Song
Fri & Sat July 20, 21, 27, 28 - 8pm

Boston University Dance Theater
(915 Commonwealth Ave. handicap accessible)
Tickets: $20 & $15 (Students, artists and seniors)
For tickets: 1-866-811-4111
or www.theatermania.com or www.navarasa.org
Inspired by Kannada folklore, Native American stories and narratives from contemporary women, A Story and A Song is a tale of women, environment, sensuality and love.
Critics in India have called Sindhoor's choreography for A Story and A Song, "breathtaking!" "rare, relevant and romantic" and "seductive"
Choreography & Direction
Aparna Sindhoor
Concept and Script
S.M. Raju
Performance
Aparna Sindhoor, Anil Natyaveda &
Pratheesh Sivanandan
Directions: http://fitrec.bu.edu/programs/dance/documents/map.pdf
Partially funded by Ford Foundation, India, Chahara Foundation and Boston Women's Fund.
---
2007 Berkshire Fringe (Great Barrington, MA)
Where Children Play: The Story Of Tank & Horse
written and directed by Deen
July 24 to 27, 2007
The world premiere is at The 2007 Berkshire Fringe in Great Barrington, Mass, from July 24-27. In this dark fairy-tale, dragons are disguised as people you love, the queen keeps trying to lock you in the tower, sex is something to sing about, and though you want desprately to save the princess, you're not the guy she's looking for. You're not a guy at all. For more information and tickets, check out www.berkshirefringe.org .
---
Pan Asian Repertory Theatre (NYC, NY)
July 28, 2007
---
Shunya (Houston, TX)
Brought from India by JAINA for the JAINA convention 2007
Apurva Avasar
(The Life Story of Shrimaad Rajchandra, The Man who Inspired Mahatma Gandhiji)
Will be here in Houston, one time only!!!
July 28, 2007
Time: 8pm
Place: Vallabh Priti Seva Samaj (VPSS) Hall
11715 Bellfort Village Drive, Houston, TX 77031
---
Vancouver Asian Canadian Theatre (Vancouver, BC)
Cowboy versus Samurai
By Michael Golamco
July 20 to August 3, 2007
A politically edgy and exquisitely written romantic comedy, Cowboy Versus Samurai explores the sexual dynamics that surface around race when an attractive Korean American woman moves to town. Golamco's social commentary examines interracial dating and identity through irony and laugh-out-loud humor. A hit in New York, Minnesota, Seattle & San Francisco, Cowboy Versus Samurai will be published in New Playwrights: Best Plays of 2006.
Due to the impending city-wide Vancouver civic workers strike looming, Cowboy Versus Samurai's location and show dates have changed. Please make note on your calendars and feel free to contact VACT if you have any questions.
UPDATED SHOW DATES: July 20 - August 3, 2007
NEW LOCATION:
Firehall Arts Centre, 280 East Cordova Street
See revised News story.
See Reviews. Also, here and here.
---
5th Annual APIA Spoken Word Summit
New York City
August 3 to 5, 2007
See News story.
---
Ford Theatre (Los Angeles, CA)
OPM
August 4, 2007
See News story.
---
Powell Street Festival (Vancouver, BC)
Assaulted Fish
August 4, 2007
The Fish will once again be performing at the Powell Street Festival, the largest Japanese Canadian festival and the longest running community celebration in Vancouver. They will be performing a half-hour show on Saturday, August 4th at 4:00 PM in the main theatre at the Firehall Arts Centre at 280 East Cordova
Street. This show is free.
---
Drama West Productions (Los Angeles, CA)
House of Sticks
by Felix Racelis
August 4, 2007
A free staged reading of Felix Racelis's House of Sticks, a finalist in Fire Rose Productions' Ten-Minute Play Festival.

An outspoken, flamboyant homeless shelter resident goes on the attack of his shelter's biggest donor, with hilarious results.

DATE: Saturday, August 4, 2007

TIME: 2pm

PLACE: Edendale Library, 2011 W. Sunset (at Alvarado), Los Angeles

The afternoon features four other original works by L.A. writers.

Info: Drama West
---
Summerworks Theatre Festival (Toronto, Canada)
Stage One Productions
Jasmine
by Norman Lup-Man Yeung
August 2 to 12, 2007
Norman Lup-Man Yeung / Playwright
Keira Loughran / Director and Dramaturge
Janet Lo, Richard Tse, Norman Yeung / Performers
Jackie Chau / Set and Costume Designer
Joshua Van Tassel / Sound Designer
Steve Minnie / Stage Manager

SUMMERWORKS THEATRE FESTIVAL
Thursday, August 2: 6.00PM
Saturday, August 4: 10.30PM
Sunday, August 5: 1.30PM
Monday, August 6: 9.00PM
Thursday, August 9: 7.30PM
Saturday, August 11: 3.00PM
Sunday, August 12: 6.00PM
The Factory Studio Theatre
125 Bathurst Street (at Adelaide Street)
Toronto
$10 / $12 advance tickets at www.totix.ca
No latecomers admitted
www.summerworks.ca for more information
*******************************************
Mother cannot forgive her son for abandoning the family, for his selfishness, for his betrayal. The son returns. On her journey to amends, Mother explores being young and ambitious in China during the Cultural Revolution, young and limited in Canada as an immigrant, and being a mother for the rest of her life.

JASMINE is a portrait of a family that has endured the destructive effects of moving away. JASMINE is the shock of waking up from the North American Dream, the New World Dream shattered.
JASMINE is the sequel to the SummerWorks 2005 hit PU-ERH, which NOW Magazine designated a Critic's Pick and Outstanding New Play. The script is supported by Canada Council for the Arts and Toronto Arts Council.
JASMINE is written by actor, filmmaker, and visual artist Norman Lup-Man Yeung, and directed by Dora Award nominee Keira Loughran. The actors are Janet Lo, Richard Tse, and Norman Yeung, with set and costume design by Jackie Chau, sound design by Joshua Van Tassel, and stage management by Steve Minnie.
---
Disoriental (Vancouver, BC)
Chinatown Festival
August 12, 2007
WHEN: This Sunday, August 12th, 2007
TIME: 12:00 noon
WHERE: The corner of Keefer & Columbia, kitty-corner to the Andy Livingstone Park
WHY: It's the Chinatown Festival! A half hour (or so) set, with some old material from their SKETCHOFF!#$%!! win in May, and a whole bunch of new material,
---
New York International Fringe Festival Debut (NYC, NY)
Ching Chong Chinaman
by Lauren Yee
August 18 to 25, 2007
Flamboyan Theatre @ CSV Center
107 Suffolk Street (between Rivington & Delancey Streets)
Five performances only!
SAT 8/18@ 9:45 – 11:15pm
SUN 8/19@ 2:45 – 4:15pm
TUE 8/21@ 9:30 – 11pm
FRI 8/24@ 5:15 – 6:45pm
SAT 8/25@ 5:15 – 6:45pm
Buy tickets for NYC performances one of two ways:
1. Call the New York International Fringe Festival hotline
In New York: (212) 279-488
Outside New York: 1-888-FringeNYC
2. Buy tickets online at www.FringeNYC.org
General $15
A privileged life. A stable home. Indentured servitude in the name of galactic conquest. Upton Wong has it all. But when his Chinese slave starts romancing his mother, will the Wongs ever learn how to be Asian American? A dysfunctional, madcap comedy that redefines what it takes to grow up Asian in America. CHING CHONG CHINAMAN is an incisive, no-holds-barred comedy that turns the question of Asian-American identity on its head.
---
East West Players (Los Angeles, CA)
DIVAS: Move over Tenors, It's our turn!
August 25, 2007
Starring Ramona Dubarry, Liza Del Mundo, Jenni Selma, Kathy Villanueva, and more to come!
The women of East West Players take the stage! These ladies will have you dancing on your feet all night long with musical hits, pop songs, and the feel good classics. Packed with powerhouse voices, amazing stage charisma, and a true diva attitude, this will be a night to remember.
Tickets $60 - $250
Sponsorships Packages $1,000 - $5,000
More information to come!
Check the East West Players website
Monday, July 16th, 2007
---
Lodestone Theatre (Los Angeles, CA)
My Man Kono
By Philip W. Chung
Directed by Jeff Liu
August 25, 2007

A reading, from the writer of The Golden Hour and One Nation, Under God
The true story of Toraichi Kono, who worked as movie star Charlie Chaplin's personal valet for 17 years before being arrested as a Japanese enemy spy on the eve of World War II.
[Inside] the Ford
2580 Cahuenga Bl. East
Hollywood, CA 90068
Sat., Aug. 25, 1 PM
$5 admission
Www.FordTheatres.org, (323) GO 1-FORD
---
AATC (San Francisco, CA)
Fundraiser at Club NV
August 25, 2007
YOU'RE INVITED!
Synergy SF & Asian American Theater Company
Location: Club NV
525 Howard Street, San Francisco, CA
When: Saturday, August 25, 10:30PM
Please come out to enjoy a night of dancing in support of The Asian American Theater Company at Syngery SF's production at Club NV.
RSVP to:
Tina Hui
to be on the $10 guestlist all night with proceeds going towards Asian American Theater Company's efforts. Simply RSVP here by responding with the first and last names of everyone in your party and the number of guests who will be responding!
For event details and further inquiries, including VIP package deals for birthday celebrations, please visit this site: www.synergysf.com
Thank you for supporting the Asian American Theater Company's efforts in our community!
---
Repertory Actors Theatre (Seattle, WA)
Wonder of the World
by David Lindsay-Abaire
The Richard Hugo House
August 2 to 26, 2007
A Seattle Premiere!
After making a disturbing discovery about her seemingly perfect husband, Cass sets forth on an adventure to Niagara Falls in a quest to find herself and the meaning of Life. Along the way, she meets a suicidal alcoholic with a giant pickle barrel, a strange pair of elderly honeymooners, and Captain Mike, the navigator on The Maid of the Mist who just may be the man Cass was actually meant to marry. David Lindsay-Abaire's hilarious and touching play about flight, fate and the pursuit of happiness takes us on a wild ride we will not soon forget.
---
Lodestone Theatre Ensemble (Los Angeles, CA)
The Trojan Women
written by Euripides
directed by Alberto Isaac
August 4 to 26, 2007
This play is one of the classics of dramatic literature and has also been called "the greatest piece of anti-war literature there is in the world" (by Edith Hamilton). Twenty-four centuries ago, a playwright set down with perfect clarity the effects of war--in a play that still resonates with relevance in our time. Our first mainstage production that tackles both a classic work and is not a world premiere.
See News story.
See review.
---
Teada (Southern CA)
at Highways Performance Space
Outflow
August 24 to 26, 2007
OUTFLOW presents new performance work of local and multicultural artists who have been collecting personal and public oral histories from the residents of Santa Monica. This investigation highlights the community's radically shifting racial and cultural situation in times of gentrification. How important are the intersections of culture and community? How does one affect the other?
August 24-26, 2007
Fri-Sat at 8pm; $20/$15
Sun at 3pm; $15/$10
At Highways Performance Space
1651 18th Street
Santa Monica, CA 90404
We want to hear your stories! If you've had an experience with gentrification and would like to share it with us, please send your stories to teadaworks@gmail.com, and we will post them on our new blog teadaworks.blogspot.com!
See you at OUTFLOW
---

ART 168 (A Rabbit and a Tiger Production) (Los Angeles, CA)
The Thumping Claw One Act Series
Writers: Judy Soo Hoo, Jason Fong, Wesley Du
August 9 to 27, 2007
Includes
Elevator/Elevate Her, a one-act play written and directed by Jason Fong
Peanuts, by Judy Soo Hoo
Jupiter & Nebula by Wedley Du
See News story.
---
hereandnow theatre company &
Teatro Nueva Alma (CA) presents
New Traditions
June 30 to September 1, 2007
WHO: hereandnow theatre company & Teatro Nueva Alma presents
WHAT: New Traditions, an exciting new collection of pieces created and developed in collaboration between these two innovative companies. Rooted in the belief that everyone has stories to tell, New Traditions explores the magic and power of history and oral tradition, how stories have shaped us, and where they can lead us. We invite you to share in the experience of adding our own words to the stories that have bred us.
WHEN: SATURDAYS, June 30 to September 1, 2007
WHERE: Armory Northwest
965 N. Fair Oaks Ave.
Pasadena, CA 91103
Stories. Tales. Folklore. Oral Traditions. Created to pass on, to share, to remember that we come from some place. This new collaborative work by hereandnow and Teatro Nueva Alma focuses on exploring our pasts and our heritage and finding ourselves along the journey. Inspired by stories rooted in ancestry along with personal experiences, New Traditions combines elements of storytelling, movement, singing, and poetry and is a reminder that we are all universally connected by the human experience.
Performances will run Saturdays, June 30, 2007 to September 1, 2007. Showtimes are 8:00 p.m. General Admission: $14, Advanced Sale: $10, Groups of 10 or more: $8 per person, and Season Passes:$20 (includes New Traditions, Sin Titulo, and Boba Stories). For tickets or more information, visit www.myspace.com/hereandnowtheater or call (626) 375-5219.
BACKGROUND ON THE PRODUCTION
Founded in 1990 by John Miyasaki, hereandnow theatre company began as a touring company that brought its original show to festivals and college venues across the nation. The shows consist of a combination of storytelling, improvisation, and scripted pieces based on personal and community issues.
In 1998, hereandnow theatre company became Artists-in-Residence at East Los Angeles College and produced original works such as "Romeo & Juliet: Pinoy/Pinay Style" in 1998 and 1999, the world premieres of "Fentor," and "A Nickel's Worth," both by Jason Fong, and "Boba Stories: Tales from the hereandnow Kitchen" in which Backstage West raved, "Personal and Touching. A Many Layered look at Asian American experiences in Los Angeles." Miyasaki also received praise for his "expert staging" in LA Weekly.
During its residency at East Los Angeles College, Miyasaki then began to workshop with a group of ambitious and talented students and Teatro Nueva Alma was born. Their first show, "Cries for the Soul," was met with overwhelming positive response from its sold-out performances.
The beginning of 2006 brought both companies to partner with the Armory Center for the Arts and found a home at the Armory Center Northwest. hereandnow and Teatro celebrated their new home with "Foreword: A Housewarming" featuring a collage of works collected over the years of collaboration and in which the Los Angeles Times wrote, " Notable and appealing . . .John Miyasaki weaves the personal ancedotes andhistories of two endearing casts."
Both hereandnow theatre company and Teatro Nueva Alma are ensemble-based
companies committed to creating innovative, exciting, new projects based on the idea that everyone has a story to tell.
Please go to www.myspace.com/hereandnowtheater or call (626) 375-5219 for further information or to purchase tickets.
---
Diverse City Theatre (NYC, NY)
Snapshots
Three One-Act Plays About Women and Their Generation
August 16 to September 1, 2007
See News story.
---
Vancouver Asian Canadian Theatre (Vancouver, BC)
Vancouver Fringe Festival
Bondage
By David Henry Hwang
September 6 to 16, 2007
---
Vancouver Fringe Festival (Vancouver, BC)
Assaulted Fish
Assaulted Fish For You 2
September 6 to 15, 2007
Directed by Shane Howarth
Pacific Theatre (1440 West 12th Avenue @ Hemlock)
50 minutes/14+

Thurs. Sept. 6 -- 6:45pm
Sun. Sept. 9 -- 4:00pm
Tues. Sept. 11 ˆ 6:15pm
Wed. Sept. 12 ˆ 8:45pm
Fri. Sept. 14 ˆ 5:30pm
Sat. Sept. 15 ˆ 1:30pm

Tickets available at the door ($10) or in advance ($12). Visit the Vancouver Fringe for more info. For parking details/map, visit here.
---
Lodestone Theatre (Los Angeles, CA)
Lodestone No Limit Texas Holdem Poker Showdown & Karoake Party
September 9, 2007
At Oiwake

Compete for great prizes and support a good cause as . It's fun and even if you don't play poker, there are raffle prizes, great friends and some singing not even heard on "America's Got Talent"

WHERE:
Oiwake Restaurant in Little Tokyo
122 Japanese Village Plaza

COST:
$12 Admission at the Door (includes Dinner Buffet, Entertainment and Karaoke)
$50 Poker Tournament (includes Buy-In and Admission Fee / Dinner Buffet)
$45 Pre-Sale Tickets Available for Poker Tournament (payment must be received by September 7, 2007)

For $45 Pre-paid poker tisckets, please make checks out to Lodestone Theatre Ensemble and mail to:
Attn: Lodestone Poker Fundraiser
PO Box 1072
Studio City, CA 91614

All pre-sale tickets must be received by September 7th 2007.
No "prizes" won at the poker event are redeemable for cash or have cash value.
---
Sketch Comedy Championships (Long Beach, CA)
18 Mighty Mountain Warriors
September 11, 2007
18 Might Mountain Warriors Defends Crown in Sketch Comedy Championships!
18MMW are the REIGNING International Sketch Comedy CHAMPIONS! Now watch us fight tooth and nail to REPEAT as champions at the World Famous LAUGH FACTORY in Hollywood. If we make it out alive, we move onto the finals at the not-so-world-famous Laugh Factory in Long Beach! Come to the Laugh Factories and cheer us on!
WHAT: 2007 International Sketch Comedy Championships, semi-finals
WHERE: Laugh Factory, 8001 Sunset Boulevard (at North Crescent Heights Blvd), West Hollywood, CA.
WHEN: Tuesday, September 11, 8pm
HOW MUCH: $20.
INFO: (323) 656-1336 (Laugh Factory) or email the Warriors!
---
Denise Aiko Chinen and Ron Encarnacion react in the fast-paced pidgin comedy Ala Wai by Bryan Hiroshi Wake. This production opens Kumu Kahua Theatre's 37th season of shows and runs from August 23rd through September 23rd. Call 536-4441 for ticket information.
Photo by Brad Goda
Kumu Kahua Theatre (Honolulu, HI)
Ala Wai
by Bryan Hiroshi Wake
August 23 to September 23, 2007
Bertram and Ernesto are two roommates who suddenly find themselves jobless and homeless. Ernesto has a drug habit and Bertram has an irrational but intense fear of tilapia. This fast-paced pidgin comedy turns surrealistic when Bert is stung on his privates by a portuguese man-o-war and miraculously acquires the ability to heal wounds…and clean up the waters of the canal. Will Bert use his new powers benevolently, or will greed prevail?
---
International City Theatre (Long Beach, Ca)
Calling Aphrodite
by Velina Hasu Houston
August 28 to September 23, 2007
The award-winning author of 2005's hit play Tea is back to ICT with an amazing new World Premiere play. Set in the years after World War II, this provocative play examines the destructive consequences of past mistakes and how we can learn to make the world a better place for future generations. Keiko and her sister were standing outside their home in Hiroshima on a sunny day in August 1945 when the unthinkable happened. Keiko's story in the years after the "accident" is one of anger, denial, healing and, ultimately, growth. An engrossing story of redemption and forgiveness interwoven with ethereal images and devastating history, this play will touch your heart and remind you why peace is so important in our world today.
Review here.
---
Wings Theatre (NYC, NY)
Auntie Mayhem
By David Pumo,
Directed by Donna Jean Fogel
September 6 to 26, 2007

With Moe Bertran, Ivan Davila, Mark Finley, Jason Luna Flores, Carl Ka-Ho Li & Andre Darnell Myers
Wings Theatre Company and Gato Flaco Productions present a revival of David Pumo's comedy, Auntie Mayhem (which was published in the NYTE anthology, Plays and Playwrights 2004). The following description is from the show's press release: "A thirty-something Manhattan gay couple accidentally become foster parents to three runaway-throwaway queer teens. A sexy, street-smart comedy about an alternative family with its own set of values, Auntie Mayhem adds a new voice to the 'what makes a family' debate. While
shedding light on some of the serious issues facing queer youth of all colors, Auntie Mayhem is a colorful comedy, including musical numbers, and never gets bogged down in 'the message.'"
"If you're looking for a little authentic inspiration--perhaps where you'd least expect it--this
is the show you have to see right now!...I can't recommend this show more enthusiastically. I see it being turned into a film, a TV series, and a big Broadway musical. Let's hope it gets the life it deserves." - nytheatre.com. See full review .
Sept 6th ˆ Sept 29th, Thurs ˆ Mon at 8:00, Sun at
3:30, no show Sept 7th
At Wings Theatre, 154 Christopher Street, New York, NY
10014
More Info:
http://www.wingstheatre.com/auntiemayhem.html
Tickets: http://wingstheatre.com or 212.627.2961
---
sub-Rosa (premiere)
choreographed by Cheronne Wong

September 14 to 22, 2007
Cast: Christina Guillette, Danny Herter, Naho Shioya and Kadee Stotler
Composer: Amy Denio
Sculptor: Dave Stevenson (NYC)
Videoartist: John D. Pai
Costumes: K.D. Schill
Lighting Designer: Melinda Short
When: Friday & Saturday September 14-15 and 21-22, 2007 at 8:00pm
* Thursday, Sept. 13 at 8:00pm (pay-what-you-can dress rehearsal)
* Post performance discussion following Saturday, Sept. 15 performance
Where: Langston Hughes Performing Arts Center, 104 17th Ave S (at Yesler), Seattle, WA 98144
Tickets: $14 general, $12 student/senior.
Reservations:
1.800.838.3006
www.BrownPaperTickets.com/event/17044
Blog/Info: www.Cheronne.wordpress.com
sub-Rosa premieres for 2 weekends at the Langston Hughes Performing Arts Center in Seattle on Sept 14-15 and 21-22, 2007. Using inventive movement, powerful theatricality and striking visual landscapes, this multimedia full-evening piece explores an international undercover world, the unveiling of masked identities and covert communication using numeric code. sub-Rosa is inspired by the phenomenon of shortwave numbers stations rumored to be a document of covert communications of the world's secret agencies. This project is co-sponsored by the Bossak/Heilbron Charitable Foundation, 4Culture and the Office of Arts & Cultural Affairs, City of Seattle. After the Seattle premiere, the project will tour to Tacoma School of the Arts and Western Washington University in Bellingham, WA.
---
Stage Left Studio (NYC, NY)
So the Arrow flies
written by and starring Esther K. Chae
September 20 to 24, 2007
"A North Korean Spy, The Korean American FBI Agent that chases her - who will get hit first?"

5 show Engagement in at Stage Left Studio in conjunction with Estrogenius: Sola Voce Festival, NY

Stage Left Studio : 438 W. 37th Street, NY, NY 10018

Sept 20 Thursday (Preview), 21 Friday, 23 Sunday (2 pm & 8pm) , 24 Monday all evenings at 8 PM

Reservations: (212) 838-2134

Click Here for More Information

*One Day Only* ESTROGENIUS: SOLA VOCE FESTIVAL *One Day Only*

Manhattan Theater Source - Sept 22 Saturday @ 4:30PM w/ SOLO VOCE

Reservations: (212) 352-3101
Click Here for more Information

TICKETS: $20
Running time 1hr
---
Seattle Repertory Theatre and Hedgebrook (Seattle, WA)
Women Playwrights Festival
September 20 to 23, 2007

Ghostwritten
by Naomi Iizuka
Friday, September 21, 2006 4:00pm
An American woman hitchhiking through Southeast Asia strikes a bargain with a mysterious stranger. Twenty years later, she's an acclaimed chef specializing in Asian cuisine with an adopted Vietnamese-born daughter and a life that is successful beyond her wildest dreams. Into her life the stranger from her past reappears collecting on an old debt. A retelling of the fable of Rumpelstiltskin, Ghostwritten explores the legacy of the Vietnam War and what it means to come face to face with the ghosts from your past. Naomi was born in Tokyo and raised in Japan, Indonesia, Holland, and Washington, D.C. She is the recipient of a Whiting Award, a McKnight Fellowship, an NEA/TCG Artist-in-Residence Fellowship, Princeton's Hodder Fellowship, a Jerome Fellowship, and a PEN Center USA West Award for Drama.
---
The Way Home
September 21 to 23, 2007
Portland Taiko in collaboration with poet/performer Lawson Inada, composer Byron Au Yong and set designer Valerie Otani.


Newmark Theatre
1111 SW Broadway
Portland Oregon 97205
Phone 503 248-4335
---
LA Sketch Comedy Competition (Los Angeles, CA)
September 25, 2007
SEPTEMBER 25, Tuesday, 2007!
18 Mighty Mountain Warriors in Sketch Championships FINALS!
WHAT: 2007 International Sketch Comedy Championships, FINALS
WHERE: Laugh Factory, 8001 Sunset Boulevard (at North Crescent Heights Blvd), West Hollywood, CA.
WHEN: Tuesday, September 25, 8pm
HOW MUCH: $20. (plus 2 drink minimum)
INFO: (323) 656-1336 (Laugh Factory)
The Warriors against groups from LA, New York and elsewhere! Attend and root them on to victory!
---
Asian Story Theare (San Diego, CA)
Dear Miss Breed
by Joanne Oppenheim
September 16 to 30, 2007
See News story.
---
Bamboo Productions (San Francisco, CA)
Bondage
by David Henry Hwang
September 20 to 30, 2007
---
Yangtze Repertory Theatre Of America (NYC, NY)
Beyond Time And Place
A Full Length Dance Work By David Chienhui Shen
September 28 & 29 (3 performances)

Friday at 8 PM; Saturday at 3 PM & 8 PM
Flushing Town Hall, 137-35 Northern Blvd., Flushing NY
Tickets: $15
Reservations: 718-263-8829 (English & Chinese) or
online at office@yangtze-rep-theatre.org
With dancers: Kyla Barkin, Kate Hirstein, HeeJung Lee, Ling Liu, Justin Montalvo, Jesse Sani, Aaron Selissen, Mark Thrapp and Sarah Wagner
Yangtze Repertory Theatre is proud to present Beyond Time and Place," a full-evening work by Taiwanese choreographer David ChienHui Shen, September 28 & 29 at Flushing Town Hall. Shen's nine-member company appears as the eighth in Yangtze's Variations in a Foreign Land dance series.
Beyond Time and Place consists of eight vignettes that offer a contemplation on the cosmos, combining ancient martial art forms with folk elements, using such familiar items as flags and long silken sleeves in contemporary idioms. The evening opens with "Ode to the All Pervading Power," followed by "Stillness." Choreographer Shen then takes his inspiration from the five elements - metal, timber, liquid, flame and bhumi - and concludes with "Journey Toward Stillness."
---
Berkeley Art Museum (Berkeley, CA)
Shedding Light: Performance and Illumination
Denise Uyehara
September 28, 2007
Los Angeles-based artist Denise Uyehara's recent book Maps of City & Body collects the last fifteen years of her compelling performance work, which examines individual and collective memory through theater, movement, video projection, and light. In celebration of the book's publication, Uyehara performs excerpts from her works, including a piece that explores Japanese American internment during World War II in relation to the experiences of Arab Americans, South Asians, and Muslims in the United States today, as well as postpartum work that asks, "When do babies begin voting Republican?" A booksigning will follow. Sponsored by the Center for Japanese Studies, Consortium for the Arts, and Department of East Asian Languages and Cultures at UC Berkeley.
Friday, September 28, 7pm - 9pm, Berkeley Art Museum, Museum Theater
2621 Durant Avenue, Berkeley, CA. Admission is free
General recorded info: (510) 642- 1412; or visit http://www.bampfa.berkeley.edu/events/education
Or contact: Lynn Kimura; (510) 643-1002; email here.
---
Fluid Motion's
5th Anniversary Benefit Reading:
Unsaid: new takes on Ernest Hemingway's short story "Hills Like White Elephants"
October 1, 2007
4 emerging playwrights tackle one of the greatest short stories ever written in an exploration to discover what's really being said in all those pregnant pauses.
A cocktail reception will follow in the Theatre Row Lounge.
Featuring new work by: Nora Chau, Jesse Jou, Tina Lee, and Caridad Svich
Performed by: Andrew Eisenmann, Nedra McClyde, Roseanne Medina, Andrew Place (All actors appear courtesy of Actor's Equity)

Where: Theatre Row Studio Theatre, 410 West 42nd Street, 4th Floor
When: Monday, October 1, 2007, 7:00 - 10:00 pm
Suggested donation: $25 in advance/ $30 at the door
RSVP: Fluid Motion
CLICK HERE TO PURCHASE ADVANCE TICKETS!
Plus, UNSAID Raffle Tickets are on sale now!!! Enter to win one of our fabulous prizes:
* Tickets to the Opening Night of The New Group's production of Things We Want, directed by Ethan Hawke
* Tickets to The Colbert Report
* MoMA passes and book

Purchase raffle tickets online at www.fluid-motion.org - $5 each or 3 for $10
Winners will be drawn at the UNSAID Fluid Motion Fundraiser on October 1. Ticket holders need not be present to win.
Special thanks to The New Group, Mark Malkoff, The Colbert Report, MoMA, and Barbara Toy.
---
Home | News | Calendar | Directory | Bookstore | Plays
---
Copyright 2007, Roger W. Tang
Questions? Email