Urban Stages (NYC, NY)
Comfort Women
by Chungmi Kim
October 23 to November 28, 2004
Oct. 23 - 27 - Previews
Opening Night October 28
Tuesdays - Saturdays 8pm, Sat. & Sun. matinees at 3pm
Urban Stages Theatre, 259 West 30th Street, betw. 7 & 8 Ave
The Japanese Imperial Forces abducted thousands of young women during World War II to be used as sex slaves. Chungmi Kim's powerfully lyrical play depicts the collision of past and present when a young Korean NYU student and her grandmother meet two of these "comfort women" during the 1994 UN protests.
For Tickets ONLINE: or call (212) 868-4444
Group Sales (212) 421-1380
Previews, Oct. 23 - 27- $15 [USE CODE PREVU]
Opening Night, Oct. 28 - $70;
Beginning Oct. 29: General Admission $35; Students $20, Seniors $25
Groups 10-15- $30, 15 and above - $25
Patrons' Night, Nov. 4 - $125 (cocktails, show, dinner)
---
La MaMa E.T.C. (NYC, NY)
KINDING SINDAW,
Parang Sabil
November 18 to 28, 2004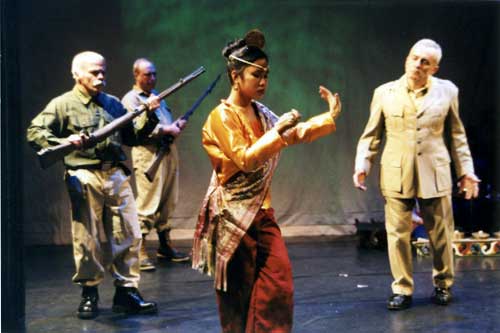 La MaMa E.T.C.
74A East 4th Street
New York, NY 10003
Showtimes:
November 18-21, 2004: Thurs-Sat 7:30 pm, Sun at 2:30 and 7:30 pm.
November 26-28: Fri-Sat 7:30 pm, Sun at 2:30 pm only.
Tickets: $20.00. Student, Senior and Group Discounts Offered.
Box Office: 212-475-7710
Online Ticketing: www.lamama.org
Parang Sabil (Sword of Honor) is Kinding Sindaw's dance and music drama of the conquest of the Tausug people by the Americans, a historical event of the previous century. This story, now largely forgotten in Philippine and American histories, is immortalized in the "Parang Sabil" ballad of the Tausugs.
Kinding Sindaw's powerful adaptation intertwines Tausug dance, music and storytelling with the recreation of the 1906 massacre of the Tausugs, an event of American imperialism that particularly outraged the writer and journalist Mark Twain. His commentaries -- a criticism of United States' mission to "civilize" the Philippines that began in 1899 -- are also woven within the dance drama.
Tausug dances depict the ebb and flow of the ocean waves, the lightness of butterflies, and the playfulness of turtles and fish. Some dances are also regal for their fluid, yet disciplined forms of outwardly curved hands, subtle head and shoulder gestures, and serene, meditative gazes.
A maiden ready for marriage performs the "Pangalay," a classic Tausug dance. Wearing long golden nails called janggay, she emulates the mythical Sarimanok bird, a reincarnation of a goddess who loved a mortal man. After completing the dance, the maiden removes her nails and drops them to the ground, hoping that a man will gather them and claim her for his bride.
Kuntaw Silat, akin to Indonesian Silat, and Kali martial arts will be performed in battle scenes between the Tausugs and the Americans.
---
LODESTONE THEATRE ENSEMBLE
and
HIGHWAYS PERFORMANCE SPACE (TREASURE IN THE HOUSE SERIES) (Los Angeles. CA)
Aziatik Nation '04
Written & Directed by Philip W. Chung
Conceived by & Starring Nechelle Fabiana, Yi Lin, Jeff Liu, Leonard Wu & Eve
Yeung
Produced by Annie K. Rollins & Marie Wong
Music Supervision/Sound Design by Dennis Yen
Choreography by Michelle Sekine
November 19 to 27, 2004
The new show from the creator of past Lodestone hits including THE ADVENTURES OF B.Y.O. BOY and LAUGHTER JOY & LONELINESS & SEX & SEX & SEX & SEX...
A "fair and balanced" journey through the post-9/11 political landscape from a distinctly Asian American slant. Welcome to the Aziatik Nation. Where ya at?
FOUR PERFORMANCES ONLY!!!
Nov. 19-20, 26-27, 2004
(Plus Low-Priced Preview Nov. 18)
8:30 PM
(Please note date change: The Nov. 28 show has been cancelled but a Nov. 26 has been added)
Tickets:
$15 General Admission
$13 Students with Valid ID
$12 Groups of 10 or More (Group tickets must be purchased in advance)
$10 November 18th Preview
To Reserve Tickets, call Highways: (310) 315-1459
(Advanced RSVPs strongly recommended)
Highways Performance Space
1651 18th Street
Santa Monica, Calif.
(half-block north of Olympic)
www.highwaysperformance.org
---
2g productions (NYC, NY)
Concert of Excellence
November 22, 2004
---
East West Players (LA, CA)
As Vishnu Dreams
by Shishir Kurup
November 10 to December 5, 2004
As Vishnu Dreams is a contemporary adaptation of the epic Hindu poem The Ramayana. The play explores the association of the lightness and darkness of skin with good and evil in the Hindu cosmology by examining the complicated relationship of the "fair" Queen Sita, the "wicked" Ravana and the "hero" Rama. Drawing on materials from Indian classical literature transformed to reflect the contemporary experience of South Asians in Los Angeles, As Vishnu Dreams is an intriguing exploration of the nature of morality, spirituality and the power of myth upon modern culture.

See News story.
---
ROUGH SKETCH! (Los Angeles, CA)
The Next Stage
November 10 to December 1, 2004
1523 N. La brea Ave, 2nd Floor (above the LAVA LOUNGE)
Los Angeles, CA 90046

November 10th ˆ December 1st
Wednesdays at 8pm
Admission: $10

Directed by Ryan Fox
Produced by Ghetto 2 Ghetto Productions

http://www.jameskysonlee.com/
---
GENseng (Geneseo, NY)
S.A.M. I Am
by Garrett Omata
December 2 to 4, 2004
Celebrating their FIFTH BIRTHDAY December 2-4, GENseng presents with Garrett H. Omata's S.A.M. I AM in the Black Box Theatre at State University of NY at Geneseo.
---
A whole S@#!%load of Chicago Asian American groups
Saving Face Festival
December 4 and 5, 2004
See News Story. And then go see dueEast, Stir Friday Night, Silk Road Theatre Project and a whole lot more...
---
Denise Uyehara
December 5, 2004
What do Latino stand-up comedian Bill Santiago (San Francisco), slam poet/playwright Letta Neely (Jamaica Plain, MA), dramatically eloquent Everett Dance Theatre (Providence, RI) and gender-bending circus troupe Eye of Newt (Los Angeles) have in common? These critically-acclaimed, cutting-edge performers are all supported by the National Performance Network, and they'll all be in Los Angeles when NPN celebrates its 20th Anniversary with Three Evenings of Contemporary Performance, December 4 through 6 at the Aratani/Japan America Theatre. Others scheduled to converge on L.A. include Deeply Rooted Dance Theatre (Chicago); spoken word artist Marc Bamuthi Joseph (Oakland, CA); and Liz Lerman Dance Exchange (Takoma Park, MD). Also performing are Los Angeles-based companies and solo performers in an evening hosted by John Fleck and curated by Leo Garcia, artistic director of NPN Partner Highways Performance Space: African-American performance artists LeVan D. Hawkins & Alexander Thomas; Hae Kyung Lee & Dancers; choreographer Victoria Marks; kitsch-culture archivist Charles Phoenix; modern dance company Tongue; writer/actor/comedian Herbert Siguenza; and interdisciplinary performance artist Denise Uyehara.
Denise Uyehara (Sunday, December 5) is a critically acclaimed performance artist, writer, and playwright. She will present excerpts from "Big Head," and interdisciplinary work that examines the treatment of Japanese Americans during World War II, and racial profiling of Muslims, Arab Americans, and South Asian Americans who are perceived as "the enemy" in a post-September 11 world.
---
East West Players (LA, CA)
The Nisei Widows Club On Thin Ice
December 10 to 19, 2004
Inspired by the success and outstanding support from the Japanese American community of East West Players 2003 production of The Nisei Widows Club, Producing Artistic Director Tim Dang, Arts Education Director Marilyn Tokuda and actor/writer Denise Iketani will once again collaborate to create this holiday initiative.
Join us as the women of The Nisei Widows Club return to sing, dance and act in a variety show for the Little Tokyo Community.
The Nisei Widows Club On Thin Ice opens December 10, 2004 and closes December 19, 2004. Support is provided in part by The James Irvine Foundation.
See News story.
---
Fluid Motion Theatre and Film (NYC, NY)
T h e G r e a t C o n j u r e r
By Christine Simpson
December 13, 2004
Adapted from the personal and private writings of Franz Kafka, The Great Conjurer, explores the five-year span of Kafka's life during which he wrote some of his most famous work (The Judgment, Metamorphosis, and The Trial) and loved a woman who would never forget him.
The Great Conjurer examines the kind of sacrifices we make for the things we love.???
Monday, December 13, 2004
at
Where Eagles Dare Theatre
347 West 36th Street (Ground Floor)
7 PM, with a talkback aftewards
RSVP to info@fluidmotiontheaterfilm.org.
(We strongly suggest you RSVP. The theatre only seats 40.)
---
Pan Asian Reportory Theatre (NYC, NY)
Holiday Readings
December 13 and 15, 2004
DECEMBER 2004 STAGED READINGS
At the A.R.T./NY Spaces at 520 8th Avenue (between 36th & 37th Streets)
3rd Floor, in the Bruce Mitchell Room
ON MONDAY, DECEMBER 13 @ 7pm
TEXAS
By Judy Soo Hoo
Directed by Ron Nakahara
TEXAS is a bleakly comic, Shepardesque journey into the heartland of America. It is a journey fraught with danger, absurd tableaus, and a deep longing for something better. Something else. TEXAS is a dark slice of the American Dream.
JUDY SOO HOO: Judy's plays include 29 1⁄2 DREAMS: WOMEN WALKING THROUGH WALLS (C0-COLLABORATOR), TWICE-TOLD CHRISTMAS TALES, REFRIGERATORS, TEXAS, BEASTLY BEAUTIES OF AMERICAN MONSTERS, and SOLVE FOR X. She is a recipient of the EWP and AT&T New Voices Play Award, Yukon Pacific New Play Award, and PEN/WEST Emerging Voices Fellowship. Excerpts of her plays have been published in the Best Male Stage Monologues, Best Stage Scenes (Smith & Kraus), and Bold Words: A Century of Asian American Writing (University of Rutgers Press).
ON WEDNESDAY, DECEMBER 15 @ 7pm
CHINA DOLL
By Elizabeth Wong
Directed by Tisa Chang
(w/ Pan Asian Rep's Annual Holiday Potluck to follow!!!)
CHINA DOLL is the re-imagined life of Anna May Wong, Hollywood's first Asian American international film star. Beginning in the 20's until her death in 1961 CHINA DOLL interweaves Anna May's relationships with legendary icons such as Marlene Dietrich, Douglas Fairbanks, Irving Thalberg and others to triumph in a casting system of limited access for Asian actors
ELIZABETH WONG has written plays, KIMCHEE & CHITLINS, DATING & MATING IN MODERN TIMES, THE LOVE LIFE OF A EUNUCH as well as an opera libretto for Oscar Wilde's THE HAPPY PRINCE, was a Disney Writing Fellow, and staff writer for ABC's ALL AMERICAN GIRL starring Margaret Cho. Her plays are published by Dramatic Publishing Co.
Suggested Donation: $5
Limited seating for both readings; RESERVATIONS A MUST!
Call Pan Asian Rep at 212-868-4030, M-F, 11am - 5pm.
---
DiverseCity Theatre (NYC, NY)
The Female Heart
by Linda Faigao-Hall
December 15, 2004
A staged reading.
Wednesday, December 15, 2004
7:30PM
Ensemble Studio Theatre
549 West 52nd Street, 2nd Floor (between 10th & 11th Avenues)
Written by National Endowment for the Arts award recipient playwright Linda Faigo-Hall, the play revisits "Smokey Mountain," the infamous mountain of garbage outside Manila. The play tells the story of two siblings, Anghel and Adelfa, living in the so-called "Smokey." Confronted by extreme poverty and her brother's life-threatening disease, Adelfa decides to become a mail-order bride to a man from Brooklyn who is willing - at a price - to support her family and pay for Anghel's medical expenses. It is here, in America, where she discovers how poverty corrupts and absolute poverty corrupts absolutely.
---
Bindlestiff Studio (SF, CA)
The 4th Annual "Midnight Mass" sketch comedy show
December 16 to 18, 2004
Bindlestiff Players are at it again with 3 Nights of mischevious antics writhing with sacrilege that will garauntee you wanting passage through any holy vestibule... not for yourself but to pray for our hopeless and nefarious souls.

here's what people have said about it...

"I was rollin'!" Steven Hawking

"Sweet Baby Jesus!" Scott Peterson

"Cream of the crop, Clearly the best. I went home and rubbed myself!" Barry Bonds


seating is limited so RSVP early
show is @ 8pm
doors open @ 7:30pm
Bindlestiff Alley
505 Natoma St. @ 6th St. (between Howard and Mission)
SF, CA 94103
415.255.0440
www.bindlestiffstudio.org
---