NAATCO (New York, NY)
Blind Mouth Singing
by Jorge Ignacio Cortinas
September 14 to October 6, 2007
Reviews are here, here, here, here. And here.
---
Mu Performing Arts (Minneapolis, MN)
Bahala Na (Let It Go)
A World Premiere
Written by Clarence Coo; Directed by Jennifer Weir
September 14 to October 7, 2007
Spanning decades from the 1920's in China to the 1990's in America, BAHALA NA is about a dying Chinese woman who conjures up memories of her life in China and the Philippines, in hopes of transforming her gay grandson. Her memories, steeped in conflicts about race, ethnicity, gender, sexuality and generational differences, open doors to the past, grip her heart, and lead her to an unexpected ending.
Tickets are available at 612.338.6131 or www.mixedblood.com.
---
For Three Nights Only In Berkeley!

Wong Flew Over The Cuckoo's Nest
Written and Performed by Kristina Wong
Direction by Nurit Siegel
October 4-6, 2007 8pm

La Pena Cultural Center in Berkeley
3105 Shattuck Ave.
Tickets are $7-15 on Thursday (sliding scale)
$12 advance/$15 door on Friday and Saturday
For more information and advanced tickets: http://lapena.org/calendar/2007/10
For group tickets! Call Sarah Guerra at 510-849-2568 x11
"Wong's one person show injects her trademark IRREVERENT HUMOR into a work of unblinking social commentary."
–San Francisco Bay Guardian

"One woman show keeps the laughs coming as it tackles issues of depression."
-- Philadelphia Metro
Incisive writer and performer Kristina Wong mixes sharp humor and shaky psychology in Wong Flew Over the Cuckoo's Nest, a swear-to-god-not-autobiographical, serio-comic portrayal of the high incidence of anxiety, depression and mental illness among Asian American women. Tangling, spinning, and unravelling yarns, she asks: Which came first? The sky-high suicides of Asian American women? The maddening world? And when the heck do we get to climax? Wong's irreverent and provocative work has given her a national cult following for "politically charged art with unapologetic humor." –Bitch Magazine.
Knitters—cuckoo and not—are invited to knit in the audience during the shows.

FOR MORE INFO VISIT: http://www.kristinawong.com

Wong Flew over the Cuckoo's Nest is a National Performance Network Creation Fund Project commissioned by Asian Arts Initiative and La Peña Cultural Center. Funding for Wong Flew Over the Cuckoo's Nest has also been provided by the National Endowment for the Arts, The Ford Foundation, and La Peña's New Works Fund supported by The James Irvine Foundation. Wong Flew Over the Cuckoo's Nest is also a Project of Creative Capital.
---
Pangea World Theatre (Minneapolis, MN)
a Disease called Freedom
October 4 to 7, 2007 (Thursday - Sunday)

7:30 p.m.
AVALON THEATRE
1500 East Lake Street in Minneapolis (home of In the Heart of the Beast)
After two sold-out shows last year, Pangea World Theater Presents The Ways Ensemble in their new show, a Disease called Freedom, opening this Thursday at the Avalon Theater.
Featuring improvisational dance and jazz, spoken word, and projected images from artists: Tom Kanthak, Steve Hirsh, Roxane Wallace, Rene Ford, Michael O'Brien, Mankwe Ndosi, Kenna Sarge, J. Otis Powell!, Bill Cottman and Beverly Cottman. Their spirits bounce together to turn you upside down!
Box Office: 612.203.1088
or buy online at www.ticketweb.com
Presented by Pangea World Theater
---
Plug-In (NYC, NY)
A Staged Reading in Japanese & English
Rythm Method
by Sanae Iijima & Yumi Suzuki
October 5 and 6, 2007
Reading dates: 10/5(Fri) & 10/6(Sat) : 7 PM @ TBG Arts Center (The Garret studio)
A story of a Japanese obstetrician called Kyusaku Ogino; who was first in the world to determine the timing of ovulation. Birth control practice is known as "Ogino method" in Japan and because it involves no device or drugs it became the only method of birth control acceptable to the Roman Catholic Church.
The story covers the 3 years of his life in 1910's and on how he determined the timing of ovulation, his personal life, his patients, birth and death.
---
East West Players (Los Angeles, CA)
Durango
by Julia Cho
September 19 to October 14, 2007
Boo-Seng Lee who is laid off from the job to which he has devoted the last 25 years of his life. He decides to take his two sons, Jimmy and Isaac, on a road trip to Durango, Colorado. As they make their way across the Arizona desert, they confront family secrets, peeling back the layers of identity, alienation and duty that define being Asian in America. Durango promises to be a thought-provoking examination of the fears, fantasies, and failures of a family standing in the shadow of the American Dream.
See News story. Reviews here, here, here, here, here.
---
Ma-Yi Theatre
The Children of Vonderly

by Lloyd Suh
September 22 to October 21, 2007
Ma-Yi Theater Company presents the World Premiere of Lloyd Suh's new play The Children of Vonderly at The East 13th Street Theatre from September 22 through October 21. After intensive in-house workshops in July, the cast and creative team are set to bring this uniquely American story to life.
See News story.
---
Theater Wit (Chicago, IL)
Men of Steel
by Qui Nguyen
September 25 to October 28, 2007
---
Timescape Arts Group &
Japanese American Museum (Los Angeles)
Innocent When You Dream
by Ken Narasaki
October 6 to 28, 2007
See News story. See feature story.
Reviews are here.
---
Aono Jikken Ensemble (Seattle, WA)
Featured In The Silent Film - Live Performance Extravaganza
Brand Upon The Brain!
October 10 & 11 , 2007
The Cinerama
Seattle, Washington
Tickets & Information:
October 12 & 13 , 2007
Cinema 21
Portland, Oregon
October 23 , 2007
Auditorio Ibirapuera
Sao Paulo, Brazil
Seattle's Aono Jikken Ensemble (AJE) has been commissioned to create and tour a live foley/sound score for the acclaimed new silent film Brand Upon The Brain! by award-winning filmmaker Guy Maddin. This will be part of special limited engagements in which the film is accompanied by a live orchestra, narrator, castrato singerand a team of foley/sound artists (AJE).
Equal parts childhood reminiscence, expressionist horror movie, teen detective serial and Grand Guignol reverie, Brand Upon The Brain! is an extravagant silent film movie event custom concieved for the pomp and ceremony of a grand movie-palace. Produced by The Film Company and shot on location in Seattle, Brand Upon The Brain! received it's world premiere at the 2006 Toronto International Film Festival and has been touring the world festival circuit to great acclaim since.
Told in flashback the film'sstory finds 12 year-old Guy lazing away his under-stimulated youth with his teenage sister on the mysterious island that one day, he stands to inherit. They share this island with a horde of orphans all living together in the lighthouse which doubles as the orphanage. Their every move is vigilantly watched over by Guy's overbearing and tyrannical mother from the top of the lighthouse while his father, a scientist and inventor, secretly works away in the basement morning noon and night. When children adopted from the island are found to have mysterious head wounds, teen detectives Wendy and Chance Hale - brother and sister sleuths known as the Lightbulb Kids - visit Guy's island to investigate. Guy and Sis fall hard for the dynamic duo but things are not what they seem to be. Hormone driven crushes, gender confusion and a love that dare not speak its name must be kept hidden from Mother at all costs. As the investigation progresses, it leads the kids into the darkest regions of revelation and repression and spins dangerously out of control as the terrible secrets of Guy's family are laid bare...
Director and co-writer Guy Maddin, one of film's most iconoclastic auteurs, has made previous forays into cinema's past with acclaimed work like Dracula: Pages From A Virgin's Diary, a collaboration with the Royal Winnipeg Ballet, in which the vampire tale is told through dance and shot in the style of a classic silent film. He conjured up the 1930's era of early talkie films with The Saddest Music In The World, in which a Canadian amputee beer baroness (a regal Isabella Rossellini tottering on beer-filled glass legs) plots to corner the world's beer market via a rigged song contest. Brand Upon The Brain! continues in this vein and is an exhilarating exercise in stretching film vocabulary to its limits and represents Guy Maddin's work at its paradoxically most sophisticated and incautious!
The Brand Upon The Brain! live extravaganza features an orchestra performing Seattle composer Jason Staczek's lush score which includes a solo for a castrato singer (don't ask); a celebrity narrator (tba) providing a seperate but companion commentary to the film's inter-titles; and the Aono Jikken Ensemble providing all manner of odd sounds. AJE's contribution is part traditional foley work, part experimental sound art, part performance art. AJE, silent film score veterans with a dozen projects under their belt, are taking the baton from the film's original foley artists to provide on-the-money sound effects for everything from footsteps and doors opening to the sounds of nature inherent in the story's island setting and sonic representations of the fantastical inventions on display. AJE will also incorporate it's more impressionistic style using their unique mix of traditional instruments, found objects, childrens toys and invented sound devices. Encouraged by the film's producers to follow the director's wish to expose modern audiences to the art of film sound AJE, featuring Susie Kozawa, William Satake Blauvelt and Dean Moore, will be upfront and center giving a performance-within-a-performance.
Brand Upon The Brain! will recieve it's Northwest premiere courtesy of the Northwest Film Forum with these live performance extravaganzas in Seattle at The Cinerama (2100 4th Ave.) on October 10th and 11th at 8 pm. Since these live shows are such a large and expensive undertaking they are a once-in-a-lifetime type of event not to be missed. In a bonus, since the film was shot in Seattle using a mostly locally-based cast and crew this will be the film's homecoming/premiere and director Guy Maddin will be in attendance on October 11. The Seattle screenings are part of Northwest Film Forum's 10th Annual Local Sightings Film Festival. This leg of the Brand Upon The Brain! tour goes on to Portland, Oregon on October 12th and 13th at Cinema 21 and then on to Brazil at Sao Paulo's Auditorio Ibirapuera on October 23rd. Catch it while you can!
Note: Brand Upon The Brain! is not rated and contains material that may be unsuitable for children.
---
Asian American Theatre Company (San Francisco, CA)
Stop Kiss
by Diana Son
October 11 to 28, 2007
Cancelled
See News story.
---
Small Pond Entertainment
Always Family
by Jeremy Lum and Simmone Yu
October 12 to 27, 2007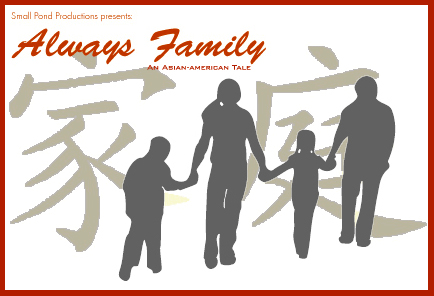 The Kirk @ Theatre Row
(410 West 42nd St.,
(btwn 9th & 10th Aves.)
Website: www.AlwaysFamily.net
ALWAYS FAMILY is a tale of an Asian-American family's struggle through expectations of perfection while coming to the realization that no matter where you are from, you're ALWAYS FAMILY.
Discount offer:
$14.75 (Regularly $18.00) - Valid for all performances WITH STUDENT ID.
3 Ways to order:
1. Visit www.TicketCentral.com Use code: KIDS
2. Call (212) 279-4200 and Use code: KIDS
3. Bring a printout of this offer to The Kirk Theatre box office
(410 West 42nd St., btwn 9th & 10th Aves.).
Restrictions:
Offer is subject to availability and prior sale; not valid on prior purchases; cannot be combined with any other discounts or promotions. Blackout dates may apply. Limit 8 tickets per order. No exchanges or refunds. Telephone and Internet orders subject to standard service fees.
---
fu-GEN (Toronto, Canada)
fiRE GALA
an annual fundraising banquet
performances * silent auction * raffle
Monday, October 22, 2007


Doors open 6:30 pm * Dinner 7:00 pm
BRIGHT PEARL RESTAURANT
346 ? 358 Spadina Avenue (N. of Dundas)
Tickets 1/$40 * Table of 10/$350

---
Latino Theatre Festival (Los Angeles)
Ma-Yi Theatre
The Romance of Magno Rubio
by Lonnie Carter
October 25 to 28, 2007

Thursday - Saturday: 8pm; Sunday: 3pm
THE NEW LATC, Theatre 2
514 South Spring St, Los Angeles, CA 90013 featuring:
Arthur T. Acuña, Bernardo Bernardo, Ramon De Ocampo, Jojo Gonzalez, Paolo Montalban Set Design: Loy Arcenas | Lighting Design: James Vermeulen
Original Music & Sound Design: Fabian Obispo | Costume Design: Clint Ramos
Movement: Kristin Jackson | Stage Manager: Jenn McNeil
For Tickets: 323-461-3673 or online at www.thenewlatc.com
Regular Price: $28 | Student/Senior/Groups: $15
For groups, call 213-489-0994
The Romance of Magno Rubio is the OBIE Award-winning story of heartache and dreams. Set in the central valleys of California in the 1930's, the play tells the tale of Magno, a short Filipino migrant worker who longs for love. Each night before going to bed, he peruses his collection of Hollywood magazines, dreaming of his own Silver Screen romance. One night, he finds a lonely-hearts ad for Clarabelle, a woman from Arkansas who is looking for a pen pal. Believing he's found the answer to his dreams, he hires a co-worker to write his blonde beauty. Working dawn 'til dusk, picking asparagus by the pound so he can buy love by the word, Magno's infatuation with Clarabelle grows with each letter received. He proposes marriage and wires money for his fantasy girl to come to California so they can start their new life together. But as Magno soon realizes, reality and dreams don't always align .
---
Barnsdall (Los Angeles, CA)
Me So Funny
Featuring: D'Lo, OPM, Lan Tran and Kristina Wong, Curated by Viet Le, Yong Soon Min and Leta Ming
October 27, 2007

8- 9:30pm
Barnsdall Gallery Theatre
(Barnsdall Art Park,
4800 Hollywood Blvd.,
Los Angeles, CA 90027)

me so funny features all-star performance excerpts highlighting a wide breath of cutting-edge humor. Come early to catch the humor us exhibition from 5-8pm and stay late to mingle with the performers at the reception. Free post-show reception with live visuals by VJ Fader 9:30-11pm
Featuring: D'Lo, OPM, Lan Tran and Kristina Wong, Curated by Viet Le, Yong Soon Min and Leta Ming
$15 assigned seating tickets available only online at http://www.humorus.net or http://www.itsmyseat.com/DisplayEvent.html?sse=316428
---
Uncle Gunjiro's Girlfriend
Japan-US Creative Fellows Performance
Featuring Brenda Wong Aoki and Mark Izu
7:00 P.M. Friday, Oct. 26, 2007
Lecture Hall, International House of Japan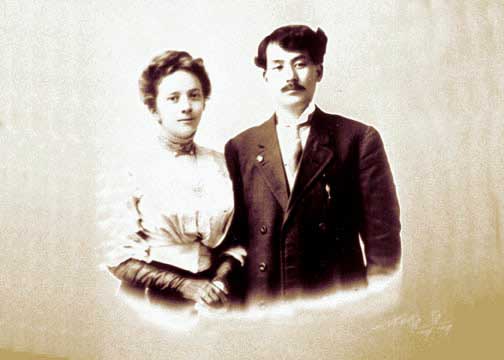 Uncle Gunjiro's Girlfriend
A family secret is unraveled to reveal an incredible tale of forbidden passion occasioned by a marriage between a Caucasian woman and a Japanese man in the US. In 1909, Brenda Wong Aoki's great uncle Gunjiro fell in love with Helen Gladys Emery, the daughter of the Archdeacon of San Francisco's Grace Cathedral. Their announced engagement triggered a media blitz of "yellow peril" headlines, provoked public outrage, death threats and culminated in the loss of Emery's citizenship. This lecture will include archival photographs, music and a performance excerpt from the full-length play Uncle Gunjiro's Girlfriend, which has been performed throughout the US and at the Adelaide International Arts Festival in Australia. The reading/performance will be accompanied with original music by Mark Izu and Kai Kane Aoki-Izu. Brenda Wong Aoki and Mark Izu US-Japan Friendship Commission
Creative Artist Fellows currently residing in Japan.
A playwright and composer, Brenda and Mark are from San Francisco (www.firstvoice.org).
Date: Oct. 26, 2007, 7:00 PMVenue: IHJ Lecture Hall
Language: English with some consecutive translation
Admission: Free (reservations requested)
Co-sponsored with the US Embassy in Japan
For information or reservations please contact the International House of Japan Program
Office: 03-3470-3211 or e-mail: ihj-arts@i-house.or.jp.
Online reservations can be made at www.i-house.or.jp
---
LODESTONE THEATRE ENSEMBLE
A staged reading of
Kitchen Table
Written by Eugenie Chan
October 29, 2007
Directed by Chil Kong
Featuring John Michael Beck, Dennis Dun, Kennedy Kabasares, Molly Mickelson, Freda Foh Shen, Angie Tsang & Juliet Wong
KITCHEN TABLE follows the heartbreak of Nicky Wong, a young Corvette-crazy Chinese American man, through the demise of his family's traditional Chinese before-dinner grace. Nicky's happiness depends on how much he pleases his iron-fisted father, the obeisant way he bids his father to "sik fan" or "please eat." When Nicky's obsession with his 'Vette and the white mechanic who helps him fix it gets in the way of the family dinner, a battle between son and father ignites, as Nicky struggles to carve out his version of manhood, both in and outside the tradition.
MON, October 29, 2007
8pm
GTC BURBANK
1111-B W. Olive St.
Burbank, CA 91506
(inside George Izay Park, just west of S. Victory Blvd.)
FREE ADMISSION (but donations gladly accepted and encouraged).
FREE PARKING: Park near the jet plane in front of George Izay Park at 1111 W. Olive St. Walk into the park, past Olive Recreation Center. GTC Burbank is behind the Rec. Center, facing the softball fields.
NO RSVPS required, however, please arrive at least ten minutes before curtain for seating (which is limited and on a first-come basis).
THERE WILL BE NO LATE ADMISSION!
---
Silk Road Theatre (Chicago, IL)
Merchant on Venice
by Shishir Kurups
September 15 to November 4, 2007
Silk Road Theatre Project at The Historic Chicago Temple Building
77 W. Washington St., Pierce Hall, Chicago
Be the first to see this exciting world premiere production of Shishir Kurups Merchant on Venice. Venice, Italy intersects with the Indian Diaspora of Venice Beach, California in a wildly inventive re-imagining of Shakespeare's Merchant of Venice. Written in iambic pentameter and vividly colored by Indian, American and Latino pop references, Shakespeare's original is transformed by injecting the story with Bollywood musical numbers, L.A. Punk, and a distinctly American landscape.
---
Second City (Chicago, IL)
The Best of Tens
The Some of All Parts
by Mrinalini Kamath
October 13, 20, 27 & November 3, 2007

Second City at Donny's Skybox presents: The Best of Tens

Six ten-minute comic plays from Chicago Dramatists, featuring The Some of All Parts, by Mrinalini Kamath
Saturdays, October 13, 20, 27 & November 3, 2007
Time: 10:30 pm
Second City at Donny's Skybox
1608 N. Wells Street
4th Floor of Piper's Alley
Chicago, IL 60610
Tickets: $12
For tickets, call 312.337.3992 or go to
https://chitickets.secondcity.com/Online/ pick the desired date and
select "2007 Skybox: The Best of Tens
---
Alter Ego Productions (NYC, NY)
The Leopard and the Fox
Written by Rajiv Joseph
Inspired by Tariq Ali's BBC teleplay
Directed by Giovanna Sardelli
October 17 to November 3, 2007
Political betrayal. Broken promises. From the last days of Zulfikar Ali Bhutto to present day Pakistan. A powerful new drama.
Starring: Michael Crane*, Andrew Guilarte, Sanjiv Jhaveri*, Rock Kohli*, Ramiz Monsef*, Gita Reddy and David Sajadi*.
Wednesdays through Saturdays at 8 pm, Saturdays & Sundays at 2 pm
TBG Theater, 312 W. 36th St (8th/9th Aves), Floor 3W
Closest train: A/C/E to 34th Street
or 1/2/3 or N/R/W/Q or B/D/F/V to 34th Street
Tickets: $18
www.smarttix.com or 212-868-4444
www.alteregoproductions.com

Review here.

---
Pork Filled Players (Seattle, WA)
at the Theatre Off Jackson present

October 19 to November 3, 2007
PFP celebrates its 10th (gulp!) Anniversary Season, returning to the Theatre Off Jackson! A video teaser is here.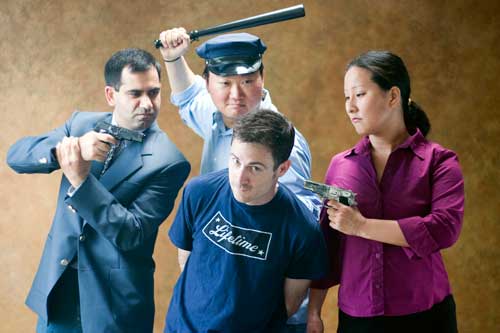 With special guest stars Assaulted Fish
and Disoriental!
See News story.
---
SIS Productions (Seattle, WA)
Sex in Seattle, Episode 15
The Anatomy of Love
October 19 to November 10, 2007
See News story.
Reviews here. Another feature here.
---
18 Mighty Mountain Warriors (Los Angeles, CA)
Louder! Faster! Funnier!
October 25 to November 11, 2007
Featuring ALL NEW comedy that is louder, faster and funnier than anything in your bedroom! Well, maybe not faster!
WHAT: Louder! Faster! Funnier! All new comedy from 18mmw!
WHEN: October 25-November 11, 2007, Thur, Fri, Sat @ 8pm, Sundays @ 2pm
WHERE: GTC Burbank, 1111-B W. Olive Ave., Burbank, CA 91506
HOW MUCH: $15 general admission, $13 students/seniors, $11 groups of 10 or more
Sundays pay what you can! (Except for closing Sunday, Nov. 11)
INFO/RESERVATIONS: Call 818-754-4500 (vm) or
email the Warriors.
or reserve tickets online at the 18MMW website.
Written and Performed by: Valiant Chow, Rhoda Gravador, Michael Hornbuckle, Todd Nakagawa, Greg Watanabe, Peter J. Wong, Pearl Wong
Review: "The 18 Mighty Mountain Warriors, a San Francisco based comedy troupe, presents their current production appropriately named LOUDER! FASTER! FUNNIER!, performing as a visiting production at the GTC-Burbank theater.

A group of six Asian American players, consisting of Valiant Chow, Michael Chih Ming Hornbuckle, Todd Nakagawa, Greg Watanabe, Pearl Wong, and Peter J. Wong (no relation), create and perform in a series of sixteen separate skits and blackouts that range from a presentation of the history of China in three minutes told in a 'rap' beat, various versions of the taking of Iwo Jima during WWII, a business person booking a trip to Thailand that isn't going for the open sex, a lesson of the appreciation of the male Asian body, and a whole lot more! Since the entire cast is of Asian decent, one can see how much of the culture of Japan, Korea, China, Taiwan, etc. is woven into their skits. However, unlike other so-called "ethnic" comics and their related comedy material, the 18MMW does not use putdowns, turn offs, or anything that is remotely self derogatory within their humor. They laugh at Asian-based stereotypes that they even think is funny! The audience laughs along without feeling any guilt or embarrassment--something that is rare to find within such humor in these post modern "politically correct" times

For those that can enjoy a good laugh, LOUDER! FASTER! FUNNIER! is a well labeled description of what the 18MMW is all about. Or to stand correct, it's not as loud as one believes--but it is faster n' funnier!"
---
Pangea World Theate (Minneapolis, MN)
Personal Effects
November 2 to 11, 2007

Inspired by the work of New York choreographer Tere O'Connor, the Personal Effects Ensemble presents an evening of kinetic storytelling through movement, media and text. By turns outlandish and serious, Personal Effects looks not only at the shape of things we fear, but at what we prize and what we keep.
Personal Effects Ensemble: Christa Yelich-Koth, Debbie Tallen, Forest Godfrey, Garry Geiken, Heidi Berg, Linda Doran, Phyllis Thorne, Sasha Walloch, Sean "Maggie" Wagner

Reception following November 2nd performance. Post-performance discussion following Saturday performances.
Personal Effects
November 2-10 (Friday - Sunday) 7:30 p.m.
November 11 (Sunday) 2:00 p.m.
Pangea World Theater Studio
Calhoun Building, 711 West Lake Street, Ste 101 - Minneapolis
Box Office: 612.203.1088
or buy online at www.pangeaworldtheater.org
---
Theater For The New City (NYC, NY)
Ryuji Sawa: The Return
November 6 to 11, 2007
Featuring The Best Of Japanese Popular Theater
An Exciting Blend Of Kabuki Dance, Taiko Drumming, Sword Fighting And Martial Arts Created By Legendary Japanese Actor Ryuji Sawa
Press Invitation: Tue 11/6 @8pm, Wed 11/7 @8pm & Thu 11/8 @8pm
Producer Toshi Hirano of TKO Entertainment is pleased to present a limited engagement of Ryuji Sawa: The Return, a Japanese show incorporating dazzling elements of Japanese popular theater, including Kabuki dance, Taiko drumming, sword fighting, martial arts and instant costume changes. Ryuji Sawa: The Return, created and directed by Ryuji Sawa, will run from November 6 to 11, 2007 at Theater for the New City (155 1st Ave.) in NYC. There is no dialogue in the show, making it entertaining for audiences of all backgrounds and ages.
---
Diverse City Theater (NYC, NY)
Pure
by Jorshinelle Taleon-Sonza
November 6, 2007
2007 "Palanca Award" Winner for Best Play,
at The Cherry Lane Theatre on Tuesday,
November 6th at 7PM
Obie Award Winner Ching Valdes-Aran and Raul Aranas Lead the Cast;
The Public Theater's May Adrales Directs
NEW YORK--Diverse City Theater Company ("DCT") announces that it will present a staged reading of Jorshinelle Taleon-Sonza's new full-length play, PURE, the grand prize winner of the 2007 "Palanca Award" for Best Play, on Tuesday, November 6th at 7PM at The Cherry Lane Studio Theatre located at 38 Commerce Street in New York City.
The "Palanca Award" or Don Carlos Palanca Memorial Award for Literature is the Philippines' most prestigious literary award and is dubbed as the "Pulitzer Prize" of the Philippines.
The play is about a family in exile and the secrets they keep from one another. Atong, a US war veteran, is confronted by his wife's gambling addiction. His wife, Paning, copes with the news of their son's life-threatening disease and their daughter's unexpected arrival from the Philippines. The story culminates at a dramatic family reunion where they are forced to face each other's secrets and all.
Playwright Jorshinelle Taleon-Sonza has won numerous literary awards and acclaim, including the prestigious Palanca Award. Her produced plays include COLD FLESH, which was part of Diverse City Theater's Equality Playwrights Festival at Theatre Row's Clurman Theater (August 2006); SANDMAN, which was part of the 2002 Actors Studio Repertory season; MIGRATION BLUES, three of her one-act plays, were presented at the New School's Tishman Auditorium as part of the University Diversity Initiative (October 2002). She earned her Doctorate from Drew University with a degree in Postcolonial Literature and Cultural Criticism in 1999 and an MA in Linguistics from the University of the Philippines. She completed her MFA in Playwriting at the Actors Studio of the New School University.
Currently working as an Artistic Associate at The Public Theater, May Adrales has directed and developed work at Second Stage Theatre, The Hangar Theatre, Long Wharf Theatre, New Jersey Repertory, The Hypothetical Theatre, West Coast Ensemble, and The New York International Fringe Festival. Recent projects include Tommy Smith's WHITE HOT (Here Arts Center), Alexandra Collier's THE WILL OF THE COCKROACH (The Production Company), Sergei's Dreznin's OPHELIA: OPERA IN BLUE (Prospect Theater Company) and Jose Rivera's CLOUD TECTONICS (Pure Theater). She is on faculty and head administrator of The Public Theater Shakespeare Lab. Adrales received her MFA in directing at Yale School of Drama.
Pure will feature Obie Award winner Ching Valdes-Aran* (Macbeth, The Wild Party), Raul Aranas* (Flower Drum Song, The King & I, Miss Saigon), Liz Casasola*, Christopher Kromer* and Victor Lirio*. Stage Manager: Phil Gutierrez.
For reservations, email rsvp@diversecitytheater.org. Suggested donation: $10 (at the door).

* Member of Actors Equity Association
The reading of Jorshinelle Taleon-Sonza's Pure is made possible due to the generous support from Warren Bodow and Joan & Richard Firestone.
---
Asian Arts Initiative (Philadelphia, PA)
Marcus Young Artist Presentation
Friday, November 9, 1:00 pm
At their temporary location: 105 N. Watts Street Philadelphia, PA
Light Refreshments provided
To RSVP contact Chon at 215.557.0455 or chon@asianartsinitiative.org.
---
Teada Productions
Refugee Nation
Cambridge Multicultural Arts Center (Cambridge, MA)
October 12 to 13, 2007
Out North (Anchorage, AK)
November 9 to 12, 2007
Bunnell Street Gallery (Homer, AK)
November 16 to 17, 2007
See here for details.
---
dueEast Theatre Company
in conjunction with A-Squared Theater Workshop (Chicago, IL)
Trial by Water
Qui Nguyen
October 26 to November 18, 2007
See News story.
---
Mu Performing Arts (Minneapolis, MN)
Mu Daiko At The Ritz
November 9 to 18, 2007
at The Ritz Theater, 343 13th Ave NE, Minneapolis
Fridays and Saturdays at 8:00 pm; Sunday at 2:00 pm
Mu Daiko Tickets: Nov 9-11: $22 adults; $20 student/senior; $18 groups 10+
Mu Daiko/TaikoProject Tickets: Nov 16-18: $26 adults; $24 student/senior; $22 groups 10+
Preview: Thursday, November 8 @ 8:00 pm: $15

Nationally-recognized Twin Cities taiko ensemble Mu Daiko unveils new work and revisits classic compositions with heart-pounding rhythms, elegant choreography and joyous energy. They are joined on the second weekend by LA's TaikoProject, the first American-based group to win the Tokyo International Taiko Contest. TaikoProject has been featured on network TV and Mitsubishi commercials in performance infused with hip-hop movement, theater, music and video.

Tickets are available at 612-436-1129 or www.ticketworks.com/ritz
---
Asian American Writers' Workshop (NYC, NY)
My Friend Has Come
by Toshiro Suzue
November 16, 2007
A staged reading, directed by James Yaegashi
A hot summer day somewhere in nowhere Japan. A friend waits. A friend comes. A friend leaves. This simple story of two friends humorously and poignantly reminds us of the sweetness and pain of connecting with another human being.
Written early in his career by Toshiro Suzue, the forerunner in the "quiet theater" movement in Japan, this play won the OMS Drama Prize, the first of many prestigious awards the playwright has received. The play is expected to have its American premier in 2009.
@ The Workshop
16 West 32nd Street, 10th Floor
(btwn Broadway & 5th Avenue)
---
University of Southern California (Los Angeles, CA)
Theatre/Language/Vision: Changing the World with Words
Visions and Voices
November 17, 2007 : 2:00pm

University Park Campus
Doheny Memorial Library
Intellectual Commons, Room 233

Free
Award-winning actress Esther K. Chae will read excerpts from several plays by Velina Hasu Houston. Following the reading, Houston and Chae will engage in a discussion with the audience on the impact of theatrical language in plays on the human spirit and condition.
A professor, resident playwright and creator and director of the USC School of Theatre's MFA in Dramatic Writing program, Velina Hasu Houston believes that language has the power to affect us in life-transforming ways. Her plays, including Tea, Asa Ga Kimashita and Calling Aphrodite, have been produced internationally. She has also received numerous awards, including the Pinter Review Prize for Drama and the Lorraine Hansberry Playwriting Award.
Esther K. Chae has returned to Los Angeles from New York, where she was teaching at NYU's Tisch School of the Arts. Chae's numerous credits span several areas of the entertainment world and include the television programs N.C.I.S., Law and Order Criminal Intent, Night Stalker, The West Wing, ER, SWAT and Days of Our Lives. Her theatre credits include Pojagi;The Korea Project (Obie nomination, La Mama); Awakening (P.S. 122); The First Line (Women's Project & Production); Measure for Measure (Yale Repertory Theater); Piano (Harvard/A.R.T.); Yellowface (Mark Taper Forum); Distant Shore (Kirk Douglas Theatre); and Masha No Home (East West Players). Chae has also written, produced and directed a short film and three stage plays and her solo performance So the Arrow Flies is currently under development for a full production.
Organized by Velina Hasu Houston (Theatre).
For further information on this event:
visionsandvoices@usc.edu
http://www.usc.edu/dept/pubrel/visionsandvoices/
---
Desipina (NYC, NY)
Prince of Delhi Palace
November 17 to 19, 2007
Desipina & Company kicks off Season 6 with The Prince of Delhi Palace a workshop production. Performances will be held November 17-19, 2007. Details coming soon on www.desipina.org!
The play adapted from Shakespeare's Hamlet takes place in a curryshop following a father's demise by a poisoned pickle and a mother's remarriage to the father's twin. The son returns from abroad in search for one good memory of the dead man's worth amongst the turmeric stained dishes, the pungent losses and the salted scars he left behind.
In the process, he is forced to wonder if he can he remain true to his own values or will he just become "...his father's little monster. The offspring of his stain?"
---
Old Dominon University (Norfolk, VA)
Sarimanok Travels
Francis Tanglao-Aquas
November 19, 2007
Play at 6 pm, reception follows!
A solo dance/poetry/song piece by Francis Tangloa-Aquas that highlights a Filipino folktale about the history and loss of a mystical bird that brings harmony to a kingdom. This bird also has the power to give gender to newborns. The Sarimanok Travels is a story of resilience, strength, sacrifice and, most importantly, national pride.
---
Rasik Arts (Toronto, Canada)
Meeting with Lord Yama
by Anju Mahhija
November 20, 2007
By a strange set of circumstances, Brinda Pillai finds herself in Yamapura, the abode of the Lord of Death according to Hindu mythology. Contrary to expectations, Lord Yama turns out to be quite a ladies' man. While Brinda wonders if he will give her a fresh lease on life, she is forced to see life itself afresh as he questions her. Adding to this unusual, oft-comic situation is the presence of Lord Yama's pet dog.

7 pm in the back room of the 5th Elementt. There is no admission charge.
---
Pan Asian Repertory Theatre (New York, NY)
Joy Luck Club
a play by Susan Kim
adapted from the novel by Amy Tan
direction & musical staging by Tisa Chang
October 28 to November 25, 2007
extended to December 1, 2007

The internationally renown classic with universal relevance of intergenerational conflict.
Set in San Francisco in the 80's, THE JOY LUCK CLUB follows four Mahjong playing mothers from different provinces in China and their relationships with their individually distinctive American born daughters. This re-envisioning captures the historical sweep and operatic grandeur of feudal China and the dynamic pulse of modern America.
---
Player 3 (David Schaeffer) 'says hello to his little friend' in Ola N? Iwi by Victoria Nalani Kneubuhl. This is the second production of Kumu Kahua Theatre's 37th season of shows and runs from November 1st through December 1st. Photo by Mike Harada
Kumu Kahua Theatre (Honolulu, HI)
Ola N? Iwi
by Victoria Nalani Kneubuhl
November 1 to December 2, 2007
First produced by Kumu Kahua during its 24th season (1994-'95), and written by a prolific playwright whose works have been regularly produced by Kumu Kahua and who has taught playwriting at Kumu, Ola N? Iwi (The Bones Live) investigates the serious issues involving the treatment of indigenous human remains while simultaneously telling a story that is tender, humorous, mysterious and filled with plot twists and turns. Kneubuhl skillfully conducts a historical exploration of the pseudo-scientific and often racist motivations behind grave-robbing via a series of historical monologues presented by 19th-century professors, physicians and phrenologists. But the central story is contemporary, with the plot set in motion when a Honolulu theater group returns from an international tour with a set of Hawaiian bones "illegally" reclaimed from a German museum. Several characters appear in pursuit of the bones, for reasons which are not immediately clear, including the enigmatic Nanea, whose knowledge of Hawaiian history indicates that she may have the deepest connection and most important motivation of all.
See News story.
---
East West Players (Los Angeles, CA)
Dawn's Light: The Journey of Gordon Hirabayashi
by Jeanne Sakata
November 7 to December 2, 2007
DAWN'S LIGHT is the story of University of Washington student, Gordon Hirabayashi who, during the Japanese Internment of WWII, refused to follow evacuation orders as an exercise of his civil rights. Convicted and placed into a federal prison, it took 45 years for his conviction to be overturned.
See News story for more details.
---
Kumu Kaha Theatre (Honolulu, HI)
Chang
by Gary A. Dias
November 27, 2007
Chang intertwines two stories; a 1937 love story that results in a murder, and a present day detective story. Perhaps most interesting is that they play is loosely based on actual police files from the 1930s.
---
Bindlestiff Studio (San Francisco, CA)
BindleBlast!
1st Annual Black & White Bindleball!
November 29, 2007

Bindlestiff Studio proudly presents
1st Annual Black & White Bindleball
Honoring:
Bayanihan Community Center,
Filipino American Employees Association of PG&E,
Lorna Chui Velasco & Dino Ignacio
Honoring ceremony STARTS at 8:00PM
Join Bindlestiff Studio on Thursday, November 29, at the 111 Minna Gallery, as it celebrates and honors outstanding community leaders and partners at the first annual Bindleball, a black and white gala. The Bindleball, Bindlestiff's hip and quirky take on a traditional cocktail party, will also serve as a fundraiser and art auction. All proceeds will help with the costs of moving back to the theater's original location on 6th Street and Howard.
Bindlestiff Studio is the only permanent Filipino American performing arts space in the nation. Rooted in SF's South of Market (SoMa) neighborhood. Bindlestiff aims to cultivate, inspire and mentor the next generation of Filipino American artists and community leaders in an affordable, community-based professional theater setting.
Founded in 1989, Bindlestiff flourished for many years as an experimental black box theater. After 18 years it has now evolved into a vibrant cultural institution, presenting hundreds of events and productions each year including theater, dance, music, comedy, spoken-word performances and film showcases. Bindlestiff also offers low to no cost workshops in script writing, stand up comedy, vocal training, acting, directing, and producing for stage.

Semi-formal black and white attire requested.
Scrumptuous food provided by Cheryl A. Andres Catering.
Including 2 Live Bands the Little Brown Brothers and Tusbibo
Bid on Bindlestiff Studio memorabilia.
Also dance to sounds of Bring That Beat Back mobile disc jockey service.
For questions or more information, please contact:
Judith Ferrer
953 Mission Street
Suite 30
San Francisco, CA 94103
415.255.0440
judith.d.ferrer@gmail.com
---
Teada (Southern California)
GIRL PLANET II
Staged Reading of Favorite Cousins
by Lindsey Haley
@ Miles Memorial Playhouse
November 30 and December 1, 2007 at 8pm
December 2, 2007 at 2pm
GIRL PLANET began in 2004 as a joined program with Center Theatre Group's New Play Development Program with a series of writing workshops for emerging Latina playwrights based in Los Angeles. This year, Teada Productions resurrects Girl Planet with FAVORITE COUSINS, a new play by Lindsey Haley that explores the socio-economic problems that arise between two Chicana cousins and the rift caused by a desire to rise above the working class. Set in present Santa Monica, FAVORITE COUSINS questions the prejudices that society projects onto Chicano culture and its struggle to survive even within the old school neighborhoods.
Tickets: $15 each, or 2 for $20
Miles Memorial Playhouse
1130 Lincoln Blvd
Santa Monica, CA 90403
GIRL PLANET was made possible in part by funding from the Santa Monica Arts Commission.
---
SIS Productions (Seattle, WA)
Insatiable!
December 1, 2007
See News article.
A New Work by Richard Sloniker
Our Last Hours by Serin Ngai
Quality Time by Serin Ngai
A New Work by Roger Tang
The Silver Key by Maggie Lee
Saudade by Kathy Hsieh
Blue Capture (a comedy) by Daniel Arreola
---
Projekt NewSpeak (Southern CA)
The Sketch Comedy Show
December 1, 2007
The Ultimate Sketch Comedy Show!
Performing on the same stage as the Hit NBC TV Show,
"Last Comic Standing"
It's called...

The Sketch Comedy Show!

"We make fun of Asians...because we can!"
"Gutbustingly funny!"
"You'll be on the edge of your seat!"

Saturday, December 1st
6:00 pm
El Portal Theater
5269 Lankershim Blvd
North Hollywood, CA 91601

Ticket price: presale $15 / at the door $20
Tickets can be bought online:
projektnewspeak.com | newspeaktv.com | myspace.com/projektnewspeak

questions? Email: info@projektnewspeak.com
A ONCE A YEAR EVENT YOU CAN'T MISS!!
---
The Media Club (Vancouver, BC)
Sketch Powerhouse
December 5, 2007
Wednesday Dec 5
The Media Club
695 Cambie St
Cost: $8.00
Doors at 7:30, show at 8:30.
Come early to EAT the fifth wall!!!
December 5
Sketch Powerhouse:
For the first half of the show you will see the twisted and literary sketch group, The Skinny. Followed by the brilliant and silly Assaulted Fish.
With special guests Officer Mazaltoff the Beat CopPoet and sketch duo Vic & Jack.
---
The Asian Arts Initiative (Philadelphia, PA)
Pappa Tarahumara performs THREE SISTERS
Wednesday, December 5, 2007 7pm

Admission is FREE
Painted Bride Art Center
230 Vine Street
Philadelphia, PA 19106
215.925.9914
Contemporary dance-theatre company, PAPPA TARAHUMARA performs for FREE this Wednesday night, December 5, at Painted Bride Art Center in Old City. The performance begins at 7pm.
Fresh from a successful run at BAM in New York City, this widely acclaimed Japanese company comes to Philadelphia for a rare performance of their eccentric, comic-tragedy, THREE SISTERS.
PAPPA TARAHUMARA adapts Anton Chekov's literary classic to the context of the Japanese countryside in the 1960s. Its seemingly sweet portrayal of three bored sisters grappling with womanhood spirals into a sensual and
charged meditation on female identity, coming-of age and the Japanese obsession with youth culture.
---
East West Players'
David Henry Hwang Writers Institute presents
SCHADENFEST:
Feel Better About Yourself By Watching Others Suffer
December 7 to 11, 2007
Schadenfest features the staged readings of eight new works in progress from the David Henry Hwang Writers Institute at East West Players. Come join us as some exciting up-and-coming playwrights share their creative process with you!
Friday, DECEMBER 7 at 7:30 PM
Quyne Paterson by Charlie Cheng
On Dec 1st, 1941, a young man walked into a diner and met himself. If you could go back in time and talk to yourself - What would you say? What would you do?
Saturday, DECEMBER 8 at 3PM
Time After Time: A Catalog Of Traumatic Events by David Hideo Maruyama
How do you move from Winter to Summer? Snapshot after snapshot of small and global tragedies that make up daily life; it's a series of photographs in words: how daughters can become fathers of men.
The Amazing Wedding Race by Peter J. Kuo
A wedding that never happens, the questionable sexuality of a brother (not really) and inappropriate attractions. Bridezilla and Will & Grace collide to create this farcical comedy.
Saturday, DECEMBER 8 at 7PM
Hospital, Airports, And Cemeteries by Grace Alcantara
There are three places that you should be for someone you love. A Hospital. Airport. And Cemetery. We all need a little help in transition between eternities.
Orange Chicken by Christine Huynh
When loneliness leads to food poisoning...How much will one man suffer just to make some friends?
Sunday, DECEMBER 9 at 3PM
Conversations with Sasquatch by Carmen Balas
Bob is not your average tourist. When Bigfoot meets the Big City, he turns everyone's expectations on their head. Which raises the question: What is human?
The Rusty Nail Competition by Lia Tu
A young man bets his friend that he can make anything valuable, even a rusty nail.
Tuesday, DECEMBER 11 at 7:30PM
Trapezoid by Nic Cha Kim
A poet in love is hired by a technology think tank to put the art in artificial intelligence. When the creation falls in love with the creator, it's man-made versus mankind.
All performances will be held at the David Henry Hwang Theatre at 120 Judge John Aiso St., Los Angeles, CA 90012. Admission is a suggested $5 donation.
Questions? Contact Literary Manager Jeff Liu at (213) 625-7000 or go to http://www.eastwestplayers.org/literary.htm
Download the Schadenfest flyer for more info
---
Lodestone Theatre (Los Angeles, CA)
Lodestone's Holiday Party!
Featuring A Japanese Buffet, Raffle, Karaoke Bash And A Poker Showdown!
At Oiwake Restaurant
Sunday, December 9, 2007
Join all your Lodestone friends and hosts Stephanie Chang, Vic Chao and Nic Cha Kim for a night of holiday cheer, tunes, raffle and poker!
Bring your friends to Oiwake Japanese Restaurant and Bar for all the holiday festivities! There will be an All-You-Can-Eat Buffet and raffle drawings for great prizes all night long. We are also hosting a No Limit Texas
Hold-Em Tournament with prize packages for the top winners! Is poker not your thing? Then join us for Karaoke! Don't want to sing? Then just hang out and enjoy the food, drink and holiday cheer!
WHERE:
Oiwake Restaurant in Little Tokyo
122 Japanese Village Plaza
Doors open at 6pm. Tournament starts at 7pm. Buffet is available from 6-9pm.
COST:
$15 Admission at the Door (includes Dinner Buffet, Entertainment and Karaoke)
$50 Poker Tournament (includes Buy-In and Admission Fee / Dinner Buffet)
$45 Pre-Sale Tickets Available for Poker Tournament (payment must be received by December 7, 2007)
For $45 Pre-paid poker tickets, please email confirmations to nckim6@yahoo.com and make checks out
to Lodestone Theatre Ensemble and mail to:
Lodestone Holiday Poker
Attn: Lodestone Poker Fundraiser
PO Box 1072
Studio City, CA 91614
All pre-sale tickets must be received by December 7th, 2007.
No "prizes" won at the poker event are redeemable for cash or have cash value
Please join our MySpace:
http://www.myspace.com/lodestonetheatre
---
Second Generation Productions (New York, NY)
an In The Works staged reading
Thunder Above, Deeps Below
by A. Rey Pamatmat
directed by Pat Diamond
December 10, 2007
starring
Ephraim Lopez, Jordan Mahome, LeRoy McClain,
Maureen Sebastian and Shelia Tapia
Three homeless young friends - a Filipina-American with a hidden past, a Filipina transsexual, and a Puerto-Rican hustler - struggle on the streets of Chicago to scrounge up enough cash to bus it to San Francisco before the winter cold hits. All is going according to plan until Theresa dreams of a bearded man searching for her on Lake Michigan, a mystery man in sunglasses stalks Gil after he becomes the star performer at a drag club, a wealthy john appears to be falling in love with Hector, and Marisol - the assistant manager of a doughnut shop - begins practicing magic on them with her cups of far-too-strong coffee. With their hopes and friendships put to the test, will the trio be able to spare some change?
A dramatic comedy loosely adapted from William Shakespeare's Pericles, from the author of DEVIANT and BEAUTIFUL DAY. His previous work with 2g includes DON'T EVER LEAVE, as part of TEN.
Monday, December 10th, 2007
7:00 PM
at Ensemble Studio Theatre
549 West 52nd Street
(between 10th and 11th Aves.)
New York, NY
FREE ADMISSION
Seating is limited. Reservations are required.
For reservations and additional information, please visit www.2g.org
A post-show talkback will follow the performance with A. Rey Pamatmat, Pat Diamond and the cast, moderated by Lloyd Suh
---
Floating in the Primordial Sea
An evening of jazz and story
Japan
December 10, 2007
The haunting eloquence of Asian American Jazz composer Mark Izu and performance artist Brenda Wong Aoki
In concert with shakuhachi artist Christopher Yohmei, double bassist Alan Gleason, vocalist Mika Kimula and 14 year old percussionist Kai Kane Aoki Izu.
A CD and Book Release Concert for:
Threading Time - the culmination of a musical journey, melding past and present, East and West, and Mermaid Meat - a book of Japanese female ghosts Buy Threading Time & Mermaid Meat Now: www.firstvoice.org/

6:30PM Saturday, Dec. 15,, 2007
¥2,800 (Reception included)
Reservations: 03 3332 1187
Hobbit Mura
Bldg. 3F
3-15-3 Nishiogi-Minami
Suginami-ku, Tokyo 167-0053
www.nabra.co.jp/hobbit/

"The music of Mark Izu is a great gift to the jazz tradition, to its ongoing transformation and revitalization into energetic and unpredictable new directions."
Down Beat Magazine
"Brenda Wong Aoki's stories, ancient and new...dominated by women battling the odds with a strength bordering on obsession."
The Washington Post
---
The Tank (New York, NY)
Let Me Tell You Something
Once upon a time's up: Stories about the End
December 12, 2007
to be held at the Tank
(279 Church Street between Franklin and White)
on Wednesday, December 12 at 9.30pm
$7 at the door.
Fête to follow.
Curators:
Eliza Bent and Greg Portz
Storytellers:
Randy Gener
Geoff Grimwood
Vicky Kuperman
Caroline Lakin
Liz Stevenson
Space is limited. Please RSVP to Kippy Winston
For more information visit www.thetanknyc.org <http://www.thetanknyc.org/>
or call 212.563.6269

BIOGRAPHY:
Born and raised in Manila, Randy Gener is the author of the plays Love Seats for Virginia Woolf (Item Design Laboratory and National Asian American Theatre Co.), What Remains of a Rembrandt Torn into Four Pieces (Dixon Place), Wait for Me at the Bottom of the Pool (HERE Arts Center); among other works. He has directed and produced new plays by Craig Lucas, Christopher Durang, John Augustine, Lanford Wilson and Luis H. Francia, and has adapted for the stage works by Samuel Beckett, Gabriel Garcia Marquez, Harold Pinter, Joseph Brodsky, Anton Chekhov, Kenneth Koch and Sam Shephard. In 2007, he was selected for the inaugural LaMaMa Umbria International Playwrights Residency and Retreat in Spoleto, Italy. He is the recipient of a 2000 Award for Distinguished Service and Contribution in Arts and Culture from the National Federation of Filipino American Associations as well as the 2007 Arts and Culture Prize from the 10 Annual Filipinas Magazine Achievement Awards for outstanding contributions in that field. In November, the 10th Anniversary issue of the gay lifestyle magazine Instinct has named him one of America's "25 Leading Men of 2007."
---
Mo`olelo Performing Arts Company (San Diego, CA)
Cowboy versus Samurai
by Michael Golamco
November 29 to December 16, 2007
The Big Mo' has a study guide.
Reviews here.
---
Pan Asian Repertory Theatre (NYC, NY)
December Staged Reading Series
The Secret Of O Sono
by Elsa Rael
Directed by Ron Nakahara
December 5, 2007, 7:00pm

Improvised Music by Jason Hwang With John Baray, Paul Keoni Chun, Chris Doi, Emi Fujinami Jones, Wai Ching Ho, Carol Honda, David Inge, Shigeko Suga, Henry Yuk

O-Sono's spirit cannot rest in fear her secret will be revealed. This play, based loosely on a 17th C. Japanese folk tale collected by Lafcadio Hearn, is composed in English using Haiku, linked-renga and choka forms of Japanese poetry.

Dumplings
by Wesley Du
Directed by Nelson T. Eusebio III
December 12, 2007, 7:00pm
With Claro Austria, Louis Changchien, Chris Doi, Glenn Kubota, Ron Nakahara

Daniel, a battle-scarred warrior who came into the world fist-first, must try and protect his son, Less, from the evils of MASH, poorly made dumplings and his mother.
A heartbreaking comedy about family, friends and the fights that bind us together.
Scenes from The Missing Woman
Written and directed by Nguyen Thi Minh Ngoc
Friday December 14, 2007 7:00pm
With Tiffany Rothman and Hanh T. Thuc Tran
A painter yearns for his subject matter who comes to life
Performed in Vietnamese and English
Dance Demonstration from Sachiyo Ito's Master Class in Kabuki and Fan Movement Followed by Christmas Party

Q&A Session with Artists, Wine and Hors D'oeuvres follow each reading
Christmas Party on December 14!

All readings held in
The Bruce Mitchell Room
520 Eighth Avenue
Third Floor
Between 36th & 37th Streets

Pan Asian Repertory Theatre
520 Eighth Ave., Ste 314
New York, NY 10018
212-868-4030 (Office)
212-868-4033 (Fax)
panasian@aol.comwww.panasianrep.org
---
Mu Performing Arts (Minneapolis, MN)
New Directions Festival
December 8 to 16, 2007
Asiamnesia & Works of Art
Asiamnesia
by Sun Mee Chomet
directed by Randy Reyes
Asiamnesia is an exploration of what it means to be an Asian American woman. This piece is evidence of what 6 creative, restless Asian American women do in a room if given time, history books, pens, and paper.
Featuring Sun Mee Chomet, Katie Leo, Mayano Ochi, Rose Tran, Katie Vang, and Katie Bradley.
Saturday Dec. 8th at 7pm
Sunday Dec. 9th at 2pm & 7pm
Venue:
Center for Independent Artists
4137 Bloomington Av. S.
Minneapolis, MN 55407
Tickets: All Tickets $7
for reservations, call 612 724 8392
Works of Art
by Paul Juhn
Directed by Victor Maog
Art is an Asian American Actor in the Big Apple and it ain't easy, but with a little help from his friend, he finds himself on a journey of self discovery, and true romance.
Featuring Paul Juhn.
Saturday, Dec 15, 7pm
Sunday, Dec 16, at 2pm & 7pm
Venue:
Mu Performing Arts Studio
2700 NE Winter St. Suite 4
Minneapolis, MN 55413

---
East West Players (Los Angeles, CA)
Tis The Season: Celebrate the Holidays with The Three Filipino Tenors
December 14 to 16, 2007

East West Players (EWP), the nation's premiere Asian American theatre company and the longest running professional theatre of color in operation in the United States, is selling out performances for its special holiday performance. EWP brings holiday cheer to the David Henry Hwang Theater in Little Tokyo with ''TIS THE SEASON: Celebrate the Holidays with the Three Filipino Tenors, a holiday concert with the Three Filipino Tenors. Performing for the first time at the East West Players 40th Anniversary Dinner and Silent Auction, the Three Filipino Tenors are performers Antoine Diel, Randy Guiaya and Lito Villareal. After performing at several major venues they return to the EWP stage with holiday tunes and a jovial spirit.
"We are very excited to see the success of the Three Filipino Tenors since its inception over a year ago," says East West Players' Artistic Director Tim Dang, "Antoine, Randy and Lito are all favorites at East West Players and no stranger to the David Henry Hwang Theater having appeared in numerous mainstage musical productions. They have an amazing energy on stage and fantastic chemistry, and we look forward to seeing them share that energy during our special holiday performance."
The Three Filipino Tenors have appeared at benefits and in concerts including, the Asian Pacific AIDS Intervention Team (APAIT), Search to Involve Pilipino Americans (SIPA), USC Asian Pacific Association of Student Services (APASS) and the National Asian American Theatre Festival. Aside from their accomplishments as a group, they individually have a strong background of singing and performing.
Antoine Diel was last seen on East West Players' stage as Pirelli in its 2006 revival of SWEENEY TODD. He originated the role of "Ninoy" Aquino in IMELDA: A NEW MUSICAL. He has also appeared on stage at the Kirk Douglas Theatre in their production of DOGEATERS by Jessica Hagedorn as Romeo Rosales.
Randy Guiaya is a graduate of the USC School of Music and a winner of the "Artists of the Future" vocal competition for aspiring opera singers (sponsored by the Los Angeles Cultural Affairs Division). For his work in East West Players' BEIJING SPRING, Guiaya received an invitation from the Vice President of Southern California Edison to sing the National Anthem for an Angels/Dodgers game at Edison Field.
Lito Villareal is the composer of two of the Philippines' biggest musical hits: THE LITTLE MERMAID (2001 Aliw Awards winner for Best Musical) and THE LION, THE WITCH AND THE WARDROBE. As an actor Villareal's credits include LES MISERABLES, PASSION, CHANG AND ENG, and East West Players' SWEENEY TODD in the role of the Beadle.
All performances of ''TIS THE SEASON: Celebrate the Holidays with the Three Filipino Tenors will be held at the David Henry Hwang Theater at the Union Center for the Arts at 120 Judge John Aiso St., Los Angeles, CA 90012. 'TIS THE SEASON: Celebrate the Holidays with the Three Filipino Tenors performs on Friday, December 14th at 8PM, Saturday, December 15th at 8PM and Sunday, December 16th at Noon and at 3PM. The performances on Friday December 14th at 8PM and Sunday matinee December 16th at 3PM are sold out.
General ticket prices are $35 in the orchestra and $30 in the balcony. Tickets are currently on sale. For ticket purchases, subscription requests or more information, please call East West Players at (213) 625-7000 or visit www.eastwestplayers.org . Group discounts are available. Dates and details are subject to change.
---
Pangea World Theatre (Minneapolis, MN)
Indigenous Voices Series
Homeless in the Homeland:
A Poetry Slam
Hosted by Indigenous Spoken Word Artist
BOBBY WILSON
December 15, 2007
Featuring TOU SAIKO of Delicious Venom and other Celebrity Judges
Live Art by PHASE ONE
Frybread Artist THOMASINA TOP BEAR
December 15, 2007 7:00pm
at the Ancient Trader's Gallery
1113 East Franklin Ave. , Minneapolis
$5 suggested donation
No one turned away for lack of funds.
No advance sales // Seating is limited
The early slammer gets the word.
For more information: 612-203-1088
---
Barnsdall Art Park Foundation (Los Angeles, CA)
Barnsdall Arts Market
December 16, 2007

The Barnsdall Art Park Foundation is proud to present the Barnsdall Arts Market on Sunday, December 16, 2007 from 11am - 5pm.. This is a free community event for those of all ages and will take place in the lower parking lot at Barnsdall Art Park, 4800 Hollywood Blvd. Los Angeles CA 90027.
The event will feature a variety of local artists showing and selling their works. It is co-sponsored by the Greater Griffith Park Neighborhood Council and presented in cooperation with the Department of Cultural Affairs of the City of Los Angeles. The Los Feliz Ledger is media sponsor and the Market also supported by Los Angeles City Council President Eric Garcetti and KPFK 90.7fm.
"We wanted a visible event at street level to draw attention to the treasure of arts activities in Barnsdall as well as the unique architecture and history of the Park" said Foundation president, Cheryl Johnson. "We envision this as a great opportunity for our community to enjoy art, meet local artists and socialize with their neighbors."

There will be nearly 40 artists exhibiting everything from paintings, sculpture, glasswork, textile art, ceramics, photography, handmade paper goods, wood works and more. The day will also include a family art workshop available at no cost. A variety of light snacks and refreshments will also be available for purchase.
The Barnsdall Art Park Foundation was formed to support the programs and the restoration of the park's historic structures. In addition to the Barnsdall Arts Market, it has worked to install new kilns for the Barnsdall ceramics program as well as provide new signage for the park. Barnsdall Art Park is home to the Los Angeles Municipal Art Gallery, the Gallery Theatre, the Junior Arts Center, Barnsdall Art Center and the world-renowned Hollyhock House designed by Frank Lloyd Wright.
For information on the Barnsdall Arts Market, call 213-364-2545 or visit www.barnsdall.org. Those interested in exhibiting or possibly sponsoring the event should contact Julie Rasmussen at julie@alittlebirdytoldme.com.
---
The Public Theatre (NYC, NY)
Yellow Face
by David Henry Hwang
November 19 to December 23, 2007

Directed By Leigh Silverman

With Francis Jue, Julienne Hanzella Kim, Kathryn Layng, Hoon Lee, Lucas Caleb Rooney, Peter Scanavino, Tony Torn
David Henry Hwang puts himself center stage with alter-ego DHH, telling his side of the explosive controversy stirred up when he led the protest against the hiring of Jonathan Pryce in the original Broadway production of Miss Saigon. Truth and fiction are hard to separate as Hwang gives us a funny and moving backstage look at his search to confront the roles that race and ethnicity play in America.
---
Metamorphisis Theatre (Southern California)
The Sun No Longer Rises in the East
by Paul Kuo
December 13 to 23, 2007
The Sun No Longer Rises in the East is an up front and personal look at a part of Chinese History that is controversial, but often overlooked. The story follows Ziyi, an active Christian living in China, in the second half of the twentieth century during the Cultural Revolution. He has been imprisoned and tortured for eighteen years by his childhood friend, Ren for his beliefs and is continually dispirited as he watches the people he comes into contact with destroyed, especially his wife Meishan who loses her faith and hope in life itself as she struggles through the darkness of the Cultural Revolution.
---
East West Players
Reincarnations
December 17 to 20, 2007
New works from the David Henry Hwang Writers' Institute, as writers give their scripts a second draft! See News for more details!
---
Bindlestiff Studios (San Francisco, CA)
The Return of Midnight Mass
December 20 to 22, 2007

Tickets on sale now!3
DAYS ONLY @ SPACE 180
Thursday - Saturday

180 Capp Street
Third Floor
San Francisco, CA 94110
$10
http://www.brownpapertickets.com/event/25227
Join Bindlestiff for a rodeo style show that will assault the senses and leave you wondering if there's a place for you in heaven or hell. Through sketch comedy, improv, and shadows, we aim to share with you the darker side of the Christmas Spirit.

For questions or more information, please contact:
Judith Ferrer
415.255.0440
judith.d.ferrer@gmail.com

---