ARTH (Washington, DC)
My Mother's Cousin-Brother's Daughter: The Ties that Bind Us
A collection of short sketches, one acts, comedies, and monologues
In conjunction with DISHA South Asian Theatre
APRIL 8th 2pm
Currican Theatre, 154 W. 29th St.
RSVP: ARTH@ARTHarts.com
Tickets are $12/ $10 (students and seniors). For more info on ARTH, check out www.ARTHarts.com
ARTH's eagerly awaited second show includes monologues, poetry interpretation, one act plays, and comical skits focusing on the complex nature of familial and romantic relationships.
Original scripts include "The Elusive Indian Male", centering around two sisters and their quest for a stable relationship; "Ricki Lake: Desi Style", an investigation into the banality of South Asian families; and an intimate monologue from a night at a college party. Other featured works include a rendition of Amitava Kumar's poem "Pure Chutney", an adaptation of Chitra Banerjee Divakaruni's short-story "Affair".
During the summer of 1999, Ambika Samarthya came up with the idea of a South Asian group that would express all these issues of culture through a new medium - theatre. ARTH is a South Asian-American theatre group focused on educating the community about issues such as inter-generational conflict, stereotypes between newly arrived Indians and those born in this country, and cultural identity. A collaboration of talented playwrights, directors, and actors/actresses, ARTH is dedicated to broadening discussion of issues of South Asians living in America. The group writes, directs, and performs its own original material as well as adapting or presenting already published material.
Performing members include Georgetown students Jay Tuli, Shikha Singh, Samina Jain, Vinoda Basnayake, Sudarsana Srinavasan, Rajni Rao, and Arsalan Suleman. As a full-time graduate student at Columbia Film School, Ambika continues to provide new material and resources to the group along with advising and maintaining the original ARTH mission. The goal of ARTH is to use drama and the arts as a vehicle for educating the community about the community. Learning about each other, sharing our lives, laughing at our mistakes, and applauding our progress: these are the themes of the group.
---
Lodestone Theatre (LA)
Catching Fireflies with Clown Hands
by Chil Kong
April 8, 2001
Lodestone Theatre Ensemble
presents
The next installment of the Yellow Box series
a reading of a new play:

Catching Fireflies with Clown Hands
Written by Chil Kong
Directed by Yuria Kim
With: Roger Fan, Elaine Kao, Jeff Liu, Ogie Zulueta, and guest artist June
K. Lu
Aimlessly bouncing through his life as a professional clown, the Clown confronts his deepest pains and darkest fears through the relationships in his life, songs from his past, the story of Alice's Adventures in Wonderland, and recurring dreams of chasing fireflies.
Sunday, April 8 at 7:30 PM
East L.A. College
Little Theatre
1301 Ave Caesar Chavez
Monterey Park 91754
Free parking on campus
FREE ADMISSION
For more info. call: (323) 993-7245

Directions to East LA College from Hollywood:
Take the 101 South to the 5 South to the 60 East, exit on Atlantic Blvd, turn Left on Atlantic. At the second light turn Left on Caesar Chavez/Riggin St., turn immediate Right on Collegian, park in the lot on the Left. The Little Theatre is on the northside of the lot.
Lodestone Theatre Ensemble was founded in 1999 by Bokyun Chun, Philip W. Chung, Chil Kong and Tim Lounibos under the guidance of Soon-Tek Oh to develop, create, promote and present edgy, compelling and impassioned works that bridge communities through truthful and entertaining artistry.
---

2g productions (NYC)
Monster
by Derek Nguyen
April 9, 2001
Jonny Bonnard was never a model student.
"I miss my son....he was the only thing I lived for."
"They don't like people like us. Not like me. They like you.
Jonny, they like. Me, they don't like."
"The boy got a gun to my head!"
SECOND GENERATION
proudly presents
a staged reading of
MONSTER
a new play written & Directed by Derek Nguyen
Monday, April 9th
7:00 pm sharp
(doors open 6:45 pm)
hosted by and Presented at
New York Theater Workshop
79 East 4th Street
east village, Nyc
(North side of 4th Street, between the Bowery and Second Avenue)
Featuring:
Saidah Arrika Ekulona, Laura Bach, Carolyn Baeumler, Cindy Cheung, Mia Katigbak, Maureen Kerrigan, Harvey Perr, Jonathan Sale, Kaipo Schwab, and Rodney To
Executive Producer: Welly Yang
2g In The Works Director: Gladys Chen
Company Manager: Laura Bach
Stage Manager: Sharon Del Pilar
for reservations, log onto the 2g website at www.2g.org
(Limit 2 per person)
free admission
A new play by Derek Nguyen, MONSTER is a film-noirish detective story set in the backdrop of the desert community of Southern California. Tang Tran, a private investigator, is hired to search for Jonny Bonnard, an adopted Vietnamese teenager, who has run away from home after the brutal beating of another Vietnamese boy. As Detective Tran interrogates the cast of characters who are close to Jonny, secrets are revealed, lies exposed, and Detective Tran is horrified to discover that he himself may be a key player in the search for Jonny's past.
Second Generation's In The Works is a staged reading series of original plays that highlight the Asian American experience. 2g is a non-profit theater company that strives to inspire social and artistic progress by giving Asian Americans a cultural voice. Most recently, 2G was honored by CBS television with the network's Fulfilling the Dream Award, in recognition of those who have furthered the legacy of Dr. Martin Luther King, Jr. The company's work has been called "promising, energetic, and hopeful" by The New York Times, and as "making Asian American history" by NBC's Today in New York.
For questions regarding this performance, submissions, or Second Generation, e-mail info@2g.org
---

ACHIEVERS
by michael golamco
March 1 & 2, 2001 Dartmouth
March 8 to 10, 2001 UC Berkeley
April 12 to 15, 2001 Stanford
Five young people, one apartment, zero life.
Kicked out of their apartment, five twenty-something members of the so-called "model minority" land in a crazed, turbulent, and often comedic real world. Achievers is a new play from a new generation of Asian Americans -- about a hunger for success and self-destruction, about confronting the past and suddenly seeing the future. Achievers is about the two Americas within each of us - the America that we can't wait to destroy, and the America that we can't wait to begin creating.
"The hilarious, searching, stressed-out voice of a new generation. With ACHIEVERS, the 'fourth wave' of Asian/Pacific American playwrights arrives with a vengeance!" -- David Henry Hwang, Author of M. Butterfly and F.O.B.
MARCH 1st and 2nd
An Achievers Workshop Production at Dartmouth College
When: Thursday, March 1st at 8 pm
Friday, March 2nd at 7pm and 10 pm
Where: The Bentley Theater in the Hopkins Center
Dartmouth College, Hanover, New Hampshire
Featuring Morna Ha, Gerald Lam, Diana Lau, Richard Park, and Wen-Kai Ying
Directed by Andrew Chu
Stage Managed by Jenna Levine
Staged by the Dartmouth Department of Drama and Far Off Broadway Productions
(Ticket Prices to Be Determined)

Q&A with playwright to follow each show)
MARCH 8th through the 10th
An Achievers Production at U.C. Berkeley
When: Thursday, March 8 at 7 pm
Friday, March 9 at 7 pm
Saturday, March 10 at 2 pm
Where: Room 7 Zellerbach
U.C. Berkeley, Berkeley, California
Featuring Stephanie Don, Mina Kurata, Ryan Morales, Aaron Niles, and Tad Yagi
Directed by Homer Rabara
Assistant Directed by Fred Chen
Stage Managed by Jane Chen
Produced by THEATRE RICE, MIXTAPE PRODUCTIONS, and STRESPHILMS
Tickets: $5
For more information, contact Homer Rabara at stresphilms@aol.com or Jane Chen at govtgus@uclink4.berkeley.edu
APRIL 12th through the 15th
An Achievers Production at Stanford University
When: Thursday, April 12th at 8 pm
Friday, April 13th at 8 pm
Saturday, April 14th at 2 pm and 8 pm
Sunday, April 15th at 8 pm
Where: Old Union Ballroom
Stanford University, Stanford, California
Featuring Dan Lee, Miki Nguyen, Ricky Wang, Erik Wong, and Winnie Yuan
Directed by Daphne Lei
Produced by Joy Wong and Helen Cheng
Staged by the ASIAN AMERICAN THEATER PROJECT (AATP)
Tickets: $5 student, $7 general
For more information, email Joy Wong at joywong@stanford.edu

Cal Poly Pomona will be presenting a production of Achievers
The play will be directed by Howard Jonathan Hong who wrote and directed Chinese Men Don't Boogie at last year's Asian Pacific Heritage Month.
Cast includes:
Lui Amador
Carlos Baldeon
Lisa Chow
Kristy Winter McCaw
Jim Tran
Erika Woo

The play will be performed in two locations, April 12-13 at the Cal Poly Pomona Downtown Center Arts Colony Space, 300 W. 2nd Street in Pomona; as well as April 14, on the campus of Cal Poly Pomona, Theater Building 25, Room 110 Studio Theater space. All showtimes are at 7pm. Admission is $3.
(Waiiiiitaminit....you mean some Cal weenies got a production up before Stanford did......)
---
Jude Narita (LA)
With Darkness Behind Us, Daylight Has Come
by Jude Narita
April 12 to 14, 2001
With Darkness Behind Us, Daylight Has Come, written and performed by Jude Narita, is a multi-media one-woman play about the effects of the internment camps on three different generations of Japanese American women in the Los Angeles area. Both funny and sad, With Darkness Behind Us, Daylight Has Come is a moving theatrical experience.
directed by Darling Narita
music by George Abe
lighting design by Jerry Browning
When: Thurs, Fri, Sat, April12, 13, 14 - 8:30 pm
Fri & Sat, April 20 & 21 - 8:30 pm
Sunday matinee April 22 - 3pm
Where: Highways Performance Space
1651 18th St in Santa Monica.
(Enter 18th St. from Olympic. Parking is available in a lot and on nearby streets.)
Tickets $12.
Reservations 310.315.1459.
For more information on Jude and upcoming gigs click on: http://www.judenarita.com/
---
Lorraine Hansberry Theatre
BEE
a play by Prince Gomolvilas
March 2001 to April 2001
620 Sutter Street
San Francisco, CA
415.474.8800
World Premiere.
BEE tells the fascinating story of an Asian American man, who is invisible, and an African American woman, who is the only person in the world who can see him. On their quest for a cure, they explode contemporary views of race, class, and gender. Part comedy, part drama, part social commentary, part parable-BEE is a new play that dares to see the world in more than black and yellow.
---
East West Players (LA)
A Funny Thing Happened on the Way to the Forum
book by Burt Shevelove and Larry Gelbert
music and lyrics by Stephen Sondheim
March 21 to April 15, 2001
Broadway's greatest farce is light, fast-paced, witty, irreverent and one of the funniest musicals ever written the perfect escape from life's troubles. East West Players moves the setting from ancient Rome to ancient Polynesia while still maintaining the infectious energy of classic vaudeville. A crafty slave struggles to win the hand of a beautiful but slow-witted courtesan for his young master, in exchange for freedom. This is the eighth Stephen Sondheim musical produced at EWP. Tim Dang directs.
LA Times reviews it.
---
Disha Theatre (NYC)
On Caring for the Beast
by Shishir Kurup
March 30 to April 14, 2001

See News story.
---


Japanese American Cultural & Community Center (LA)
fresh tracks
April 19 to 21, 2001
See News story.
---
North Avenue Productions (Chicago)
Asians in America - Again
April 6 to 29, 2001
Four Asian American writers are showcased in this North Avenue Productions show of original short plays, scenes, sketches, and monologues about their experiences growing up as Asian Americans as well as their experiences just growing up. The diverse works of Greg Nishimura, Quincy Wong, Li-Wen Huang and Steve Baz range from the sublime and humorous to thought provoking and irreverent in this revival production of "Asians In America - Again". The cast includes: Steve Baz, Dan Finley, Jennifer Gehr, Dan Halsted, LiWen Huang, Niki Lindgren, Greg Nishimura, and Quincy Wong. Performances will be held at -the Japanese American Service Committee located at 4427 N. Clark. 'Show times are Fridays and Saturdays at 8:00 PM and Sundays at 3:00 PM. The show runs from Friday April 6 thru Sunday April 29. No performance on Sunday April 15. Admission is $ 10 on Fridays and Sundays and $12 on Saturdays. Seniors and students are 1/2 price. For more information and reservations please call (773) 973-7293.
---
New School University (NYC)
Asian Americans: Solo Together
Thursday, April 19, 2001 @ 7 PM

Performance Excerpts and Discussion with:
Regie Cabico (Faith, Hope & Regie)
Alvin Eng (The Flushing Cycle)
Tina Lee (My Mom Across America)
Gita Reddy (Deep Inside)
New School University's Swayduck Auditourium
65 Fifth Ave. (betw. 13th & 14th Sts.)
* FREE *
In honor of Asian Pacific Heritage Month, New School University's Diversity Initiative Program presents Asian Americans: Solo Together, a group showing of performance excerpts from four solo autobiographical theatre pieces, followed by a discussion between the artists and the audience.
The performances and dialogue will focus on the Asian American experience in the NYC-metropolitan area. What does NYC mean to Asian Americans? What do Asian Americans mean to NYC? What is their role and acceptance as artists and citizens in this city of diversity? What are the dual expectations and realities? How does our ethnicity inform and not inform this?
This program is presented in honor of Asian Pacific Heritage Month with the support of the University Diversity Initiative, Office of the Vice President for Program Development, and was curated by Alvin Eng.
FAITH HOPE & REGIE - REGIE CABICO
SUMMARY: How does a queer Filipino boy who wants to become a child star and a saint make it in a red-necked southern Maryland town? Obsessed by the local pastor and persecuted by a Connie Francis-singing religious mother, he must make a choice between his chastity and the 80s "Dynasty." This show is the expanded first part of the onomatopoeia trilogy which won rave reviews and an artistic citation at the 1999 Seattle Fringe Festival.
"Energetic and Entertaining" Seattle Post Intelligencer
"A whirlwind of comedic timing & brilliant spoken word" Seattle Weekly

ARTIST BIO: REGIE CABICO is the winner of the 1993 New York Poetry Slam. Featured in A Magazine's "Next Margaret Cho." "The New Faces in Asian Comedy," Bust Magazine's "Men We Love." His solo performances include REGIESPECTIVE at The Kitchen, FAITH HOPE & REGIE at Queer @ Here and The 1999 Seattle Fringe Festival, onomatopeia and a quarter life crisis at Here Theater's Queer@Here Festival. The Cabico & Cho Show cowritten and starring Aileen Cho for PSNBC, The Asian Lifetime Channel at Dixon Place, The Gene Pool at Dixon Place. His poetry appears in over 30 anthologies. Cabaret performances include Joe¥s Pub, The Public Theater and The Asian American Comedy Festival.
THE FLUSHING CYCLE - ALVIN ENG
SUMMARY: The Flushing Cycle is my humorous memoir monologue that recounts my odd odyssey of growing up as one of the few Chinese kids in Flushing to now being one of the few Chinese citizens of Flushing who does not speak fluent Chinese.
"The Flushing Cycle is the latest in a long list of artistic accomplishments for the prolific Eng" - Newsday
ARTIST BIO: Alvin Eng is a Queens, NYC playwright/performer, lyricist, journalist and educator. widely produced and published. Most recently, he is the editor/compiler of a new play anthology and oral history, TOKENS? THE NYC ASIAN AMERICAN EXPERIENCE ON STAGE (Asian American Writers' Workshop/Temple University Press, 2000), that includes his play, THE LAST HAND LAUNDRY IN CHINATOWN. Excerpts from his memoir monologue, THE FLUSHING CYCLE, were published in the SECOND WORD THURSDAYS ANTHOLOGY (Bright Hill Press, 1999). His plays and poetry have also been published in The Nuyorican Poets Cafe anthologies, ACTION (Touchstone/Simon & Schuster, 1997) and ALOUD (Holt, 1994). Alvin teaches creative writing with Parsons/New School University, Teachers & Writers and City Lights Youth Theatre, among others. His honors include fellowships and grants from the New York Foundation for the Arts, and the Corporation For Public Broadcasting. Alvin has an MFA in Musical Theatre Writing from NYU and was named after the Chipmunk cartoon character.
MY MOM ACROSS AMERICA - TINA LEE
SUMMARY: Trapped on an all-Korean bus tour across Canada and the U.S., Tina Lee ponders her identity as a Korean-American, her relationship with her mother, and other hilarious baggage. Watch Tina accrue massive karma points as she steers through the prickly terrain of mother-daughter relationship and struggles to survive her family vacation from hell.
ARTIST BIO: Tina Lee earned her B.A. from Yale University and her M.F.A. in Fiction Writing from Sarah Lawrence College. She has been published in Kalliope magazine and The River City Journal. Acting credits included "The Blessed Apple Tree" (New Georges Playhouse), "The God of Blessed Apple Tree (Medicine Show), "Last Best Friend" (Turnip Theater Company), "The Glass Menagerie" (Magic Lantern Theater Company), "Lonesome" (produced by Norman Mailer), and "The Girls from H.A.R.M." (Amusement Films).
DEEP INSIDE - GITA REDDY
SUMMARY: A temporary personal assistantís permanent world invades her unusual workplace through a pink phone shaped like lips, some leftover pink silk, and the absent but looming presence of this weekís employer, Gwyneth Paltrow. Using humor, avoidance, denial and some shy singing, this day-in-the-life, solo one-act slyly gossips its way through the subtleties of sexuality, fear of intimacy, race and office politics ó proving that you can be close to love, celebrity and a real job, and yet be oh so far away.
ARTIST BIO: Gita Reddy has worked with Peeling (formerly Peeling the Banana), the Asian American writing and performance ensemble, since 1997, performing, directing and producing at such venues as Second Stage, the Puffin Room, Torontoís Desh Pardesh festival, and Highways Performance Space in Santa Monica. In December she directed Peeling's "Second Skin" show at the Asian American Writers Workshop. As an actor, she was recently Zabina in Hexacholorophene, part of Target Margin's Tamburlaine series; in the AAWW's 24-hour play event Fast, Hard and Shiny; in readings for Disha and SALAAM!, the city's two new South Asian theatre companies; in the Public Theater's New Work Now! Series; and is featured in Jyoti Mistry's new short film, anOther ny story and the upcoming Night Journey. She is the recipient of a 1999 New York Foundation for the Arts grant for Performance/Multi-Disciplinary Work. She firmly believes celebrity gossip unites the world. Deep Inside was originally curated by Regie Cabico for Queer Hot! Month at Dixon Place in July, 2000, and has been performed at Exit Art, Smith College, NYU and as a benefit show for the Audre Lorde Project in Brooklyn.
MORE INFO: Alvin Eng (718) 359 7374 / alvineng@aol.com
---

GENSeng (NY)
Trying to Find Chinatown
by David Henry Hwang
Ballad of Yachiyo
by Philip Kan Gotanda
April 20 to 21, 2001
GENseng, State University of New York-Geneseo's Asian American Play Reading Series, will present staged readings of David Henry Hwang's TRYING TO FIND CHINATOWN and Philip Kan Gotanda's BALLAD OF YACHIYO on Friday, April 20 at 4 p.m. and Saturday, April 21 at 2 p.m. Both performances are in the Robert Sinclair Theatre in the Brodie Fine Arts Building on the Geneseo campus. Admission is FREE. For more information contact Randy Barbara Kaplan at kaplanr@geneseo.edu.
---
tongue in A mood (Bay Area)
returns with a new collection of stimulants...
tongue in A mood's
EtcEtEra ...
April 20 to 22, 2001
as part of an amazing evening
with the prolific dance ensemble
STEAMROLLER in an evening called
FLIPSIDE Friday, April 20th thru Sunday, April 22nd @ 8pm

at Dance Mission Theater 3316 24th St.
(corner of 24th St. & Mission above donut store)

Tickets:
$15 General Admission
$ 10 admission for groups of 10 or more

Reservations: call 415.731.5121 PLEASE NOTE this tongue in A mood show will NOT be taking place at Bindlestiff Studio

One Night Only
Friday, April 20th at 8pm & 10pm
the return of

8th Wonder
in
WALANG HANGGAN
8th wonder, a P/F/ilipina/o Amerikan wordsmith collective of 4 Pinoys and 4 Pinays, announces the launch of yet a new movement in sight sound and speech. The stars are regrouping for a recollection of feelings and memories in celebration of member, Jeremy Bautista, and the beginning of his next chapter to be written in Seattle, WA. The experience is titled , "Walang Hanggan" meaning and being 'Eternal, without end. Expect the unexpected, for no 8th wonder experience is alike. The night is a despidida (farewell celebration), an evangelization of righteousness, and an imagination playground. Prepare to be moved.

8th wonder is 8 month old Performance Poetry collective aiming to celebrate talkstory and community discourse of Epistomology, Imagination, and Island magic with the academic, youth, and artist communities. 8th_wonder is a not for profit organization based in San Francisco, CA
Friday- April 20th, 2001
2 show- 8:00pm and 10:00pm
$7-$10 sliding scale
(cash only, sorry no credit cards accepted)

This show, like their previous,
is guaranteed to sell out!
Make reservations now at 415.974.1167.

For more information on the 8th wonder movement please visit us at www.eighthwonder.cjb.net
or email us (with questions and RSVP), 8th_wonder@pinoynetmail.com. Or contact Irene (415)260-7841
---

Proper Gander (LA)
Yellow Trash: Stories of Junk from Asian Americans at their Worst
Saturday, April 21st - 3:00 PM

Free Admission - Seating limited.

Edith Pilaf Theater
3006 Bagley Avenue
Los Angeles, CA 90034
(enter through back gate)

ProperGander is a coalition of artists. Some Good. Some Evil.

Continuing its infamous backyard series, ProperGander presents a show about Asian American Trash -- not to be confused with Trashy Asian Americans.
---
AATC (SF)
presents
The Hawaiian Sweethearts
in collaboration with the
Asian Pacific Islander Cultural Center
Showtime: 8pm
Thursday, April 26
Friday, April 27
Saturday, April 28
Venue: SomArts 934 Brannan Street between 8th and 9th Streets in San Francisco
Reservations: Asian American Theatre Company @ 415 440 5545 or
info@asianamericantheater.org
Websites: www.asianamericantheater.org or www.apiculturalcenter.org

Tickets: $12

This is a special performance in which dancer/actress/theatre arts technician Cecily Chow joins writer/musician/singer Charlie Chin, who also wrote and directed this fun-filled look at The Hawaiian Sweethearts. It could be a great act, except for two problems: they're not Hawaiian and they're not sweethearts.

Charlie Chin has been performing, composing, writing and teaching for over 30 years. An accomplished musician on several instruments, he performed classical, folk and rock music during the late 1960's. Since 1970, he has been in the forefront of Asian American artistic expression.

Cecily Chow, Polynesian Dancer, has been performing for over 20 years as guest artist, soloist and with Bay Area dance companies on tour and extensively around the Bay Area.

The Hawaiian Sweethearts is a production of the Asian American Theatre Company which celebrates its 28th anniversary season dedicated to promoting the development of theater which examines the multiple perspectives of the Asian Pacific American experience. As individual artists and as an organization, we seek to challenge our audiences artistically and politically. Special thanks to the Consortium of Cultural Centers, and SomArts.
---

SLANT
Big Dicks, Asian Men
in LA!
April 28, 2001
BIG DICKS ASIAN MEN in LA!

" Three extremely talented young Asian American men." - New York Times

See The SLANT Performance Group at the David Henry Hwang Theater for one night only! Be a part of their "SLANT Across America 2001: the film tour" .

" SLANT has a way of throwing sticks of theatrical dynamite". -Village Voice

In 1995, SLANT premiered Big Dicks Asian Men at New York City&Mac226;s landmark experimental theater, La Mama E.T.C. This critically acclaimed show is an original Rock and Roll theatrical work where racial assumptions of masculinity,specifically Asian, are identified, examined and deconstructed as a crime involving the sale of a counterfeit Gucci bag brings together three Asian American males to a police line-up. Each of their alibis become a vehicle for individual vignettes of theater, choreography, and live music that is a sonic attack of finger snapping, foot -stomping banzai celebration.
"Through dance, rock, and inventive dialogue, their pithy lesson induce convulsive laughter that makes their medicine easy to swallow and long-lasting. They polish their limber bodies and deadly wit with a chamois drenched in a winning sense of fun". -The Philadelphiaweekly.

April 28 8pm $15
THE DAVID HENRY HWANG THEATER
AT THE UNION CENTER FOR THE ARTS
is located in Little Tokyo at 120 North Judge John Aiso Street (formerly San Pedro Street), Los Angeles, CA 90012. The major cross streets are First and Temple Streets. The theatre is approximately 1/2 mile east down First Street from the Music Center.
The EAST WEST PLAYERS ADMINISTRATIVE OFFICE is located in Little Tokyo at 244 South San Pedro Street, Suite 301, Los Angeles, CA 90012. The major cross streets are Second and Third Streets.
Telephone: Telecharge at 800.233.3123, 24 hours a day, seven days a week.

Box Office: Patrons can purchase tickets at the David Henry Hwang Theater Box Office, 120 N. Judge John Aiso, Los Angeles 90012. The Box Office is open Monday-Friday,11:30am-2:00pm, and two hours prior to all showtimes.

Administrative Office: Patrons can purchase tickets at the East West Players Administrative Office, 244 S. San Pedro Street, Suite 301, Los Angeles 90012. The Administrative Office is open Monday-Friday,10:00am-6pm.
All tickets purchased via mail will be held at Will Call on the performance date unless order is accompanied with a SASE.

Patrons Requiring Disabled Access: Please notify box office that you will be needing elevator assistance as well as disabled access seating

Ticket Policies
All tickets are considered SOLD at time of purchase and FINAL -- no exchanges or refunds. All tickets must be paid for at time of reservation.
---
The Smithsonian Center for Education and Museum Studies and the Asian Pacific American Heritage Committee and
Asian Stories in America (ASIA) Theatre (Washington, DC)
Donut Holes in Orbit
by PRINCE GOMOLVILAS
directed by RUTH YAMAMOTO
May 1, 2001
featuring ADAM JUROTICH, VIRGINIA LUNG, RUSS RIGGINS, and YAN XI

A funny and moving exploration of a young Chinese-American woman's struggle to fulfill her family's goals as well as her own. Intense phobias, alien speculation, and glass eyes play against the backdrop of Modesto, California, which a middle-aged Mrs. Lee calls "the capital of hell."

"Neatly constructed. Gomolvilas writes sensitively about the empty spaces in the middle of our lives." --THE VILLAGE VOICE

A discussion of Asian-American theater follows the performance. Panelists include Edu Bernadino, artistic director of ASIA; Terry Hong, theater critic for A. Magazine; and playwright Prince Gomolvilas.

One Night Only!
Tuesday, May 1, 2001
7 p.m.

Carmichael Auditorium
Smithonian Institution
National Museum of American History
14th Street and Constitution Avenue N.W.
Washington, D.C.

Call 202.357.4005 for reservations.
For more information, visit http://americanhistory.si.edu/.
---
ASIAN AMERICAN THEATER COMPANY
In association with the Asian Pacific Islander Cultural Center's
United States of Asian America Theater Festival 2001
LE'O: PACIFIC ISLANDER VOICES ON THE RISE
FEATURING RENA OWEN
May 4, 2001
Le'o is a Pacific term meaning voice. This is an ambitious interpretation of a Pacific practice that we hope never to forget here in the diaspora. Within the Pacific Islands, Le&Mac226;o is a practice that embodies our kinship ties and our connection to each other. Moreover, Le'o is a manifestation of our commitments to always keep our kinship and community alliances alive. Thus, our links to each other are inextricable and primal.‰

Asian American Theater Company proudly presents Le'o: Pacific Islander Voices on the Rise: a night of contemporary performances featuring artists from the Cook Islands, Aotearoa (New Zealand), Hawai'i,Tonga, and Samoa. Performing and directing these diverse talents will be Rena Owen. Owen is an internationally renown actress best known for her role as the mother, Beth in Maori film maker, Lee Tamahori's masterpiece, Once We Were Warriors. Le'o will also feature the works of up-and-coming as well as known Pacific poets, John Tunui, Sauliloa Niumeitolu, Penina Ava Taesali and Lisa Hall. Performance artists Ellanora Wolfgramm, Darlene Fonua and Mahina Movement, a New York founded performance troupe will also be included in this event.

We hope that Le'o will incite a wider participation in the arts within Pacific communities and to dispel the negative myths about Pacific Islanders that exist in the mainstream imagination. We believe that the arts are a fertile space for recreating and empowering contemporary Pacific voices/Le'o in the diaspora.

Asian American Theater Company, established in 1973, is one of the nation&Mac226;s oldest theatrical organizations dedicated to the development and presentation of work by, for and about Americans of Asian Pacific Islander (API) descent. Our goal is to develop theater, which nourishes our community, encourages dialogue and understanding, and inspires new generations of APIs to tell their stories. We produce plays and readings that are visionary, breaks traditions, crosses boundaries, and lead the audience to question their aesthetic and cultural assumptions. This project was made possible with principal support from the LEF Foundation.





ASIAN AMERICAN THEATER COMPANY
28th Anniversary Season


CALENDAR EDITORS PLEASE NOTE:

WHAT: LE&Mac226;O: PACIFIC ISLANDER VOICES ON THE RISE
Presented by the Asian American Theater Company
In association with the Asian Pacific Islander Cultural Center&Mac226;s United States of Asian American Theater Festival 2001

Featuring: Rena Owen, John Tunui, Sauliloa Niumeitolu, Penina Ava Taesali and Lisa Hall. Performance artists Ellanora Wolfgramm, Darlene Fonua and Mahina Movement.

WHEN: FRIDAY MAY 4 One Night Only!

SHOWTIME: 8PM

WHERE: SomArts Cultural Center, 934 Brannan St.

TICKETS: $12

INFO & RESERVATIONS:
Joan Osato
(415) 440-5545
e-mail:
info@asianamericantheater.org
www.asianamericantheater.org
---
Thick Description (SF)
Rancho Grande
by Eugenie Chan
April 13 to May 13, 2001
---

Lodestone Theatre (LA)
A Dirty Secret Between the Toes
by Annette Lee
April 20 to May 13, 2001
See News story.
---
By special arrangement with the Asian American Repertory Theatre and
Dramatists...
Hormonally inCorrect Productions Presents...
THE WAITING ROOM
by Lisa Loomer
Directed by: Sandra Kraus
Produced by: Nina Agostine
April 20th through May 5th 2001
Thursday - Saturday @ 8PM Sunday @ 2PM & 7PM
MMPAC - 3010 Juniper St. San Diego, CA 92104

For reservations call: 619-501-5410
Tickets $10 - $15

A dark comedy about the timeless quest for beauty - and its cost. Three women from different centuries meet In a modern doctor's waiting room. Husbands, doctors, Freud, the drug industry, and the FDA all come under examination. The play is a wild ride through medical and sexual politics!
With: Fred Harlow, Anne Tran, Bob May, Laura Rooney, Kurt Hirata, Bonnie
Stone, Celeste Innocenti, Del Toro, Jonathan Kakacek
http://www.geocities.com/nagostine/TheWaitingRoom.html

San Diego Asian American Repertory Theatre
PO Box 17025
San Diego, CA 92177
619-283-6411
888-568-AART
email: sdaart@juno.com
http://aart.homepage.com

MMPAC
3010 Juniper Street
San Diego, CA 92104
---
Taper, Too (LA)
Rice Boy
By Sunil Kuruvilla
Directed by Chay Yew
April 26 to May 13, 2001
Sunil Kuruvilla's Lyrical New Play is Part of Taper, Too 2001 Season @ The Actors' Gang in Hollywood (http://www.tapertoo.com)
Sunil Kuruvilla's new play RICE BOY opens Thursday, April 26 for 30 performances only, as part of the Taper, Too 2001 season presented at The Actors' Gang in Hollywood.
Graceful and potent in its poetic imagery, RICE BOY is the magical coming-of-age story of 12-year-old Tommy, who is caught between the world of his birth, Canada, and that of his ancestry, India. Through a finely woven series of scenes flashing back and forth between these two countries, Tommy searches for a common ground with his father and other family members. Rich in lyricism and sly humor, a memory play emerges in "Rice Boy," full of love, loss and renewal.
RICE BOY is directed by Chay Yew. The cast features (in alphabetical order) Purva Bedi, Shelly Desai, Ravi Kapoor, Subash Kundanmal, Ossie Mair, Lina Patel, Noor Shic, Meera Simhan and Christopher S. Wells.
Set design is by Victoria Petrovich, costumes by Joyce Kim Lee, lighting by José López and sound design by John Zalewski. Erika H. Sellin is the production stage manager.
Sunil Kuruvilla is a Canadian of East Indian descent and a 1999 Yale School of Drama graduate. He began writing as a child, winning two United Nations' literary awards for his short stories. Kuruvilla has since won countless national and international awards including two duMaurier Arts awards recognizing Canada's best one-act plays.
RICE BOY continues through May 13. Performances are scheduled for Tuesdays through Sundays at 8 p.m., Saturdays and Sundays at 2 p.m.
FOR TICKETS: (213) 628-2772 or http://ww.tapertoo.com
Tickets are priced at:
$20 for regular performances
$15 for previews

Group Tickets: (for students or groups of 10 or more it is $15 for regular performances, $12 for previews). For group sales, call (213) 972-7231.

For the deaf community, the information and charge number is TDD (213) 680-4017.

The Actors' Gang is located at 6209 Santa Monica Blvd. (at El Centro). Valet parking is available.
---

EAST meets WEST JAMFEST 2001
At JACCC Plaza (Little Tokyo- Los Angeles)
May 6th, 2001 SUNDAY
It's the biggest & Coolest Asian-Pacific American Heritage Month Celebration & Festival
Kick- off MAY - "Asian-Pacific-American Heritage Month" right! It's a celebration of Asian-American music, food, dance and comedy performances on a LIVE STAGE in the heart of Hollywood spotlighting Asian-American celebs, comedy and musical performers. This year's Honorees include: Garrett Wang, Kiana Tom, Jet Li, Pat Morita and Coco Lee.
Get info and tickets on-line at www.HotpopTV.com/Jamfesttix. So, bring your friends to the coolest festival event and be a part of the "Awards Ceremony" celebrating Asian-Pacific-American achievements in Entertainment and hang with the stars. The VIP "Award Dinner" starts at 5:00 pm. Don't miss out!
JACCC Plaza 244 So. San Pedro St. Los Angeles (Park in 2nd St lot)
Tickets $5.00 -Main Stage Performances 12:00 noon–6pm
$20.00- VIP Award Dinner and Show 5:00pm-7:00pm
(VIP Dinner advance tickets only- Reserve by April 31st)
Reservation & info line: Tel (310) 289-4464
ALL Proceeds BENEFIT Asian-American Media Development (AAMD)- a non-profit organization, whose goals are to improve Asian-American images and promote Asian-American participation in Film and Television. Tickets and/or Donations are tax deductible .
Asian-American Media Development
Ticket Info # (310) 289-4464
---
SALAAM! (NYC)
Sunday, May 6th, 2001
12 - 6 PM
Union Square
Corner of Broadway & 17th Street
Manhattan, NYC
It's free and is always lots of fun!!!
Imagine yourself surrounded by over a hundred information tables of all kinds &Mac246; advocacy groups, arts organizations, social clubs, professional associations, social service agencies, vendors, food stands, arts &
crafts tables, even fortune tellers and Mehndi tattoo artists. A Children's program is going on in one corner, and a mini-film fest is screening in a tent in another. At one end of the park is a demonstration area where martial artists are exhibiting their skills. On the other end is a performance stage where traditional and contemporary musicians and dancers are putting on a show. And all around you are thousands of people sharing and celebrating their culture and heritage. If you can picture this, then you are at the Annual Asian Pacific American Heritage Festival. The Asian Pacific American Heritage Festival attracts more than 10,000 people of all cultural backgrounds and from all age groups from the entire New York metropolitan area.
Make sure you find our booth and stop by to say hello, pick up some goodies and find out what we're up to. Take good care. See you next week.
---

East West Players (LA)
An Afternoon with David Henry Hwang
May 6, 2001
Read News story.
---

Chicago
M. Butterfly
by David Henry Hwang
April 18 to May 20, 2001
Intrigue. Romance. Mystery.

The Tony Award Winning

M.Butterfly
by David Henry Hwang
directed by Peter Amster

starring Eddie Shin as Song Liling

"The star turn in Hwang's play inevitably belongs to the actor playing Liling, and Shin carries it off to perfection. It's a remarkable double portrayal."

--Hedy Weiss, Chicago Sun-Times http://www.suntimes.com/output/theater/fly25.html

April 18-May 20, 2001
Wed. 7:30, Fri. 8:00
Sat. 5:00 and 8:30
Sun. 3:00 and 7:00

Call 847-432-4335
Appletree Theatre
595 Elm Place
Highland Park, IL
---
NWAAT (Seattle)
AFest 2001
May 3 - 28, 2001
The Northwest Asian American Theatre's annual AFest will feature 7 innovative and provocative Asian American and Asian performance. In celebration with the Asian heritage month, AFest 2001 presents cutting edge and exciting performers from across the country and world, sparking the imagination and excitement with an unparalleled diversity.
AFest 2001 will run May 3rd through 28th, Thursdays through Sundays. Performances are $12 and will begin at 8 PM except for Sundays, which are 4 PM. (Please note that the matinee performance for Sunday, May 13 is at 2 PM) NWAAT is located at 409 7th Avenue South, Seattle, WA in the historic International District. For tickets, call Ticket Window at 206.325.6500 (www.ticketwindowonline.com). For information, call NWAAT at 206.340.1445, or go to www.nwaat.org
The Three Yells (May 3 - 6)
(Northwest Asian American Theatre)
Created by choreographer Veronica Lee and visual artist Lester Lee, The Three Yells driven by their signature passion, athleticism and detail, will debut their critically acclaimed work, Remember Me - installment 6. Physically vigorous and emotionally charge, Remember Me - installment 6 explores the interior and exterior dimensions of recollection through vignettes of imagistic movements, poetic scenes and meticulous discordant.
Cheronne Wong (May 10 - 13)
(Nippon Kan)
The Emerald Collection showcases four stunning and haunting dances and movement pieces: Exhale, 2020 Flight, Karaoke Convertible, and Boxing H. Helmed by NWAAT'S artist-in-residence Cheronne Wong, this unique collaboration features choreographer Pedro Alejandro, composers Ellen Fullman and Chris Eakins, and visual designers Etta Lilienthal, Jean Landry and Michelle de la Vega.
James Sie (May 10 - 13)
(Northwest Asian American Theatre)
Talking with my Hands is a funny and heartwarming journey about growing up in a Chinese-Italian household. Filled with humorous stories of his life in New Jersey, moving tales of his grandparents from two continents, and witty anecdotes of his career as an Asian American actor in Chicago, actor/writer James Sie searched for a place to call home and the perfect zuppa di polla (chicken soup). Chay Yew (David Schamader's Straight and Alec Mappa's I Remember Mapa) directs the Northwest Premiere for NWAAT.
Rivergrass Dance Theatre (May 17 - 20)
(Northwest Asian American Theatre)
Malaysian choreographer and dancer Mew Chang Tsing returns to NWAAT with her new opus, Re: Lady White Snake, a spectacular dance interpretation of a famous Chinese classic. Renowned RiverGrass Dance Theatre provides a unique language of movement as a result of a poignant coupling of Eastern and Western forms and features the emergence of a distinctly Malaysian identity.
Three Ring Circus (May 24 - 27)
(Northwest Asian American Theatre)
Three Ring Circus is a collection of provocative gay-themed performances by some of the most adventurous and exciting Asian American and Asian theatre artists today.

Circus
Local composer, director, performer and NWAAT alumus Byron Au Yong crosses cultural, aesthetic and temporal boundaries by weaving folk and new music with ceremony, architecture and dance in his new work, Circus. His numerous vocal and instrumental works are intensely evocative, multi-layered and fragile.

Woman Born From Dragon
Malaysian dancer/choreographer Lee Swee Keong will present Woman Born From Dragon based on a story of a charismatic and influential woman. World audiences have found an uncanny aesthetic mixture of pleasure, beauty, melancholy and humor in his work.

Lot
Created and performed by Seattle-based Andrew Kim, Lot is a vivid and captivating retelling of the Sodom and Gomorrah myth using found object puppetry, songs and a pack of matches by an outcast clown with a love/hate relationship with the Old Testament God.
For artists' information, photographs, previews and interviews, please contact Veronica Lee at 206.340.1445. For tickets, please call Ticket Window at 206.325.6500.
Northwest Asian American Theatre gratefully acknowledges the sponsors for AFest 2001:
The Washington State Arts Commission, National Endowment for the Arts, Corporate Council for the Arts, King County Arts Commission, Pride Foundation, Ignia, E. Excel International
---
Theatre Mu (Minneapolis)
Tiger Tales
Hmong Folktales
written by Cha Yang and R. A. Shiomi
May 4 to 24, 2001
Three Hmong folktales about the jungle: The stories are told to prepare children for the dangers of life. In the main story, a young Hmong girls named Yer uses her courage and wit to escape the jaws of a tiger. Theatre Mu's actors are joined by the young actors of SteppingStone Theatre.
---
InterACT (Sacramento, CA)
Song for a Nisei Fisherman
by Philip Kan Gotanda
May 4 to May 27, 2001
InterACT presents this classic Asian American play written by Stockton-born Philip Kan Gotanda. A celebration of both one man and his generation, the title character recalls his life from boyhood to maturity. These captivating experiences are told in the framework of catching, cleaning, cooking and eating fish, accompanied by live original music. Sonny Alforque directs and is featured in the cast, which also includes Elizabeth Chen, Eva Kim, Mark Punzal, and Jeffrey Ogata in the title role. The show opens on May 4 and closes on May 27, 2001 at Broadway Playhouse, 4010 El Camino Avenue in Sacramento. Performances are Friday and Saturday nights at 8 p.m., with Sunday matinees on May 13, May 20 and May 27 at 3 p.m. Ticket prices are $12 for General Admission, $10 for Seniors (ages 62 and over) and $10 for Youths (ages 13 and under). Group rates are available. For information and reservations, call InterACT at (916) 452-6174.
---
East West (LA, CA)
35th Anniversary Visonary Awards Dinner
May 14, 2001
35th ANNIVERSARY VISIONARY AWARDS AND SILENT AUCTION
Through advanced notification, EWP's gala celebration on Monday May 14, 2001 at the Bonaventure Hotel has already drawned 220 responses to our fundraising event in what has become one of the most entertaining and funny events in the Asian Pacific community. We'll let you know what celebrities, silent auction items and other festivities will be happening at this event. Don't miss out! Call the theatre for details.
---
ASIA (Washington, DC)
The Poet of Columbus Avenue
by Dennis Escudero
May 15, 2001
The Poet of Columbus Avenue" will be read at The Smithsonian (Sackler Freer Gallery's Meyer Auditorium) in association with Asian Stories In America (ASIA) on Tuesday, May 15 @ 7PM. The reading is free and will be directed by Stan Kang. To read more about this event and other ASIA productions go to asianstoriesinamerica.com.
---
LODESTONE THEATRE ENSEMBLE (LA)
The Yellow Box Series
A reading of a new play by Judy Soo Hoo
directed by special guest artist Henry Chan
REFRIGERATORS
May 16, 2001
It's the hottest day in December. What can three Asian American women desire the most on such a smoldering day? The perfect refrigerator! A play about food, love, relationships and the messy secrets that lie behind the butter dish.
Written by Judy Soo Hoo
Directed by Henry Chan
Produced by Jeff Liu
Stage Managed by Alicia Carretero-Pelfrey
Starring: Bokyun Chun, John Clark, Victoria Fang, Emil Lin, Yi Lin, Kelly
Miyashiro, Rachel Morihiro, Marcella Pabros-Clark, Tuan Tran
JUDY SOO HOO was one of the writers of Lodestone's AMERICAN MONSTERS. Her play TEXAS, which world premiered with Lodestone, will open in San Francisco, CA in June 2001 with R/EVOLUTION Theatre Company.
HENRY CHAN started his career in TV as an editor, winning an Emmy for his work on THE COSBY SHOW. He began his directing career on the TV show A DIFFERENT WORLD and his directing credits include THE KING OF QUEENS, SOUL FOOD, THE PARKERS, FOR YOUR LOVE, GIRLFRIENDS, SISTER SISTER and for the past six years he has served as the series director for MOESHA.
Weds., May 16, 2001
8:30 PM
East Los Angeles College
Little Theatre
1301 Ave. Cesar Chavez
Monterey Park, CA (see directions below)
FREE ADMISSION & FREE PARKING!!!!

Directions to East LA College from downtown L.A.:
Take the 60 East, exit on Atlantic Blvd, turn Left on Atlantic. At the second
light turn Left on Caesar Chavez (also known as Riggin St.), turn immediate
Right on Collegian (you'll see Carl's Jr. on the corner), park in the lot on
your left. The Little Theatre is on the northside of the lot.

---
Peeling (NYC)
FLEETING GLANCES, an informal evening of
performance, poetry, and works-in-progress
May 18 to 19, 2001
Join us next week on Fri & Sat, May 18-19 at 7:30 pm as some of our members emerge glistening from cocoons -- it's been a long winter!
Location: The Puffin Room
435 Broome Street, NYC
(subways N/R to Prince St. or
B/D/F/Q to Broadway/Lafayette)
Ticket price: Only $5!
Reservations: 212.592.9011 or email peelthis@yahoo.com
---
The Public Theatre (NYC)
Super Friends of Flushing Queens
by Ji-Hyun Lee
May 18, 2001
---
JACCC (LA)
Gila River
Written and Directed by Lane Nishikawa
Thursday - Saturday, May 17 to 19, at 8 pm
Sunday, May 20, at 2 pm
At the Japan America Theatre
"It is rare to be moved to tears in the theater, but here they will stream down your face throughout. Gila River is indeed a very special piece of theater." The Arizona Republic
[Author's notes here]
The Japanese American Cultural & Community Center (JACCC) presents the LA premiere of GILA RIVER, a bold, original drama that addresses the truths and tragedy of the Japanese internment at Arizona's Gila River camp during World War II, by NEA award winning writer and director Lane Nishikawa.
The production features fine theater and film actors based in Los Angeles, including: Ken Narasaki, Emily Kuroda, Sharon Omi, Emily Liu, Ryun Yu and Lane Nishikawa. Additional cast members include Paul Tan Keo, Jennifer Nool, Irene Furukawa and Terrence Moriarty.
Performances run Thursday through Saturday, May 17 to 19, at 8 pm with a matinee on Sunday, May 20, at 2 pm. Tickets are Reserved Seating $25, $20; JACCC Members $22, $17; Groups $15; Students/Seniors $10. For ticket purchases call the Japan America Theatre Box Office, 213-680-3700, Monday-Saturday, 12 noon -5 pm or Sunday after12 noon on show days.
"tender and fierce, humorous and heartbreaking...it is an impressive journey to a time and place that American culture seldom visits." The Herald
GILA RIVER confronts one of the most dramatic events in U.S. history and most infamous injustices of our time -- the internment of more than 120,000 Japanese Americans during World War II. Dramatizing the challenges, prejudices and losses faced by Japanese Americans, GILA RIVER follows the internal struggles of the Wakabayashi family and their attempts to reclaim their former lives, identities and dreams as they wander through memory to revisit their years in camp. Drawn from a collection of real-life stories and personal interviews, GILA RIVER focuses on a Japanese American family, forcibly removed from their West Coast home and imprisoned at the Gila River "relocation center" in Arizona during World War II. Intertwining themes of racism, betrayal, patriotism, identity, tradition and unrealized dreams, the play examines the unique cultural exchange between the Pima-Maricopa Indians who live on the Gila River Reservation and the Japanese Americans who were relocated there by the government. The drama reveals a hidden story about America's past as tells the story of camp prisoners, the Military Intelligence Service and the Japanese Americans who fought in the Pacific.
The play takes place in two time periods: in 1972, 30 years after the internment began, and also during the three war years of the confinement. A mother and her two teenage children live in the camp, not knowing the fate of the missing father, nor of a brother who departed for Japan right before the conflict began. A high school baseball star's dreams are put on hold when war breaks out in 1941, the FBI arrests his father, and he is forced to assume the role of the man of the family. Through moving passages of memory and reflection, the family members revisit their years in internment and the toll that it took on their family.
BACKGROUND ON THE PRODUCTION
In 1996, Lane Nishikawa was commissioned by the Scottsdale Center for the Arts to write a play about one of two internment camps that were located in Arizona during World War II. The camps at Gila River housed more than 15,000 Japanese Americans. "When I was approached to write a piece I told them I wanted to incorporate the Pima Indians, whose reservation the camp was on, and the relationship with the Japanese Americans who were interned. I also wanted to include the story of the Military Intelligence Service (my uncle served with them) the experience of the Kibei (a Japanese person born in America and educated in Japan) who were in Japan during the outbreak of the war, the hidden story of Isseis (first generation Japanese Americans) who were arrested after Pearl Harbor, and Japanese American baseball, America's favorite pastime" says Nishikawa. GILA RIVER had its first workshop production at California State University Monterey Bay and its first full production was co-sponsored by Arizona State University Public Events and the Japanese American Citizen League of Arizona. The LA premiere of GILA RIVER will be Nishikawa's fourth main stage production at the JACCC.
---
Second Generation Productions (NYC)
BRINGING ASIAN AMERICA TO BROADWAY
(with an exclusive sneak preview of scenes and songs from The Wedding Banquet and the new and internationally acclaimed production of
Making Tracks back from its sold-out engagement throughout Asia)
Taipei Theater
May 21 & 22, 2001
All tickets - $100
Contributions are tax-deductible. Your support will help Second Generation Productions bring Asian American works to the world's stage.
featuring the internationally acclaimed cast of the
Making Tracks International Tour and other 2g Artists:
Angela Ai
Sekiya Billman
RichCeraulo
Cindy Cheung
Rona Figueroa
Peter Kim
Hoon Lee
Elaine Marcus
Hazel Anne Raymundo
Tom Stuart
Welly Yang
and the Making Tracks band:
Damien Bassman, Woody Pak, Shai Bachar, Mowg, Tom Kitt
to purchase tickets for this exclusive event, call (212) 219-7530 For further information, log onto our website at http://www.2g.org or e-mail us at info@2g.org
---
Pork Filled Players
in
Crouching Pig, Not So Hidden Chopsticks
Vancouver, BC
May 23, 2001

---
Chinese Christian Schools of San Leandro, California presents...
Paper Angels
by Genny Lim
May 24 to 27, 2001
Opening Night Gala Dinner with special attendance by the author
Thursday, May 24, 6:30PM
Performances
Friday, May 25, 5:30 PM
Saturday, May 26, 5:00 PM
Special Oakland Chinatown Performance
Sunday, May 27, 4:00 PM at the Asian Cultural Center.
For more information, contact:

Chinese Christian Schools
750 Fargo Avenue,
San Leandro, CA 94579
510-351-4957

---

AATC (SF)
Œ(a)eromestiza
in collaboration with the National Queer Arts Festival and the Asian Pacific Islander Cultural Center Curated by Gigi Otalvaro-Hormillosa
May 25 to 27, 2001
Program 1: Fri. 5/25 8pm & Sat. 5/26 9pm, $12 (Lorraine Bautista, Eliza Barrios, Iraya Robles and Gigi Otalvaro-Hormillosa) Program 2: Sat. 5/26 7pm & Sun 5/27 8pm, $15 (Julie Tolentino with Julie Fowells, Madeleine Lim with Jill Togawa, Michelle Bolong, Barbara Malaran)
SomArts 934 Brannan Street between 8th and 9th Streets in San Francisco Reservations: Asian American Theatre Company @ 415.440.5545 or info@asianamericantheater.org
Websites: www.asianamericantheater.org or www.apiculturalcenter.org
This event showcases works by queer, Pinay, API and mixed heritage women from San Francisco and New York City, featuring live performance, video, and installation. Participating artists will challenge stereotypical representations of identity, community, sex, and eroticism by exploring these issues through the aerodynamic filter of a new "mestizaje" in which there is a constant, yet fluid interplay between racial and sexual identities. (a)eromestiza will offer experimental, text-based, visual, video-based, movement and theoretical perspectives on race, gender, sexuality and the endurance of the mind and body of the queer API woman as she exists and moves through the world.
New York City based performance artist and club scene legend Julie Tolentino makes her San Francisco (hometown) debut with The Bottom Project, featuring live violin by Julie Fowells and computer synthesized music by F100. The Bottom Project unfolds as a series of dramatic vignettes and startling visual landscapes to illuminate the complex secrets of modern desire and its alliance with memory, loss, and identity. Filmmaker Madeleine Lim presents Dream, a visually hypnotic video about the joy and sensuality of the hula dance with a soulful interpretation, performed by Purple Moon Dance Company&Mac226;s Artistic Director, Jill Togawa. Lorraine Bautista's Candida La Vida is a work-in-progress performance exploring aspects of process, development, and identity in a culture where convenience is a commodity that leads to saturation and overabundance. Eliza Barrios&Mac226; installation explores the concept of internal/external belief systems that arise from individual experiences of class, sexuality, gender, region, and other cultural differences. Michelle Bolong's Woman Warrior of Breath is a work in progress that combines martial arts with modern dance. Having just returned from her North East tour, curator and participating artist Gigi Otalvaro-Hormillosa will present the San Francisco premiere of her first video based on Inverted Minstrel, a performance diorama that challenges racial binary systems of thought by questioning and problematizing the politics of hip hop in various "cultures of resistance." Iso Mahal, I Have No Regrets and Mammoth are three video pieces by New York based filmmaker Barbara Malaran who creates personal narrative from travel, construction and mutating bodies. Iraya Robles&Mac226; Tragic Mestiza is a Sci-Fi-style performance and video mapping of the past and the present, of the real and the imagined. This psychic tour challenges assumptions around race, gender and class, recalling an SF-in-the-70's girlhood.
(a)eromestiza is a production of the Asian American Theater Company which celebrates its 28th anniversary season dedicated to promoting the development of theater which examines the multiple perspectives of the Asian Pacific American experience. As individual artists and as an organization, we seek to challenge our audiences artistically and politically. Special thanks to the Consortium of Cultural Centers, SomArts, Lunasea Women's Performance Project, Lesbians in the Visual Arts, Queer Latino/a Artists Coalition and Galería de la Raza.
---

Theater Schmeater (Seattle)
Language of Angels
by Naomi Iizuka
April 27 to June 2
---
WILD WISDOM
A 90 minute one-woman show written and performed by Jeannette Paulson
Hereniko based on her own life stories
May 28 and 30, 2001
Jeannette Paulson Hereniko is the founding director of the Hawaii International Film Festival (1980-1996), the first director of the Palm Springs International Film Festival and currently the director of Asian Film Connections (www.asianfilms.org) at the Annenberg Center for Communication at USC.
Wild Wisdom is "a brave look into the heart of an irrepressible storyteller who defies her family's efforts to mold her into their image."
Two performances on Memorial Day, Monday, May 28 at 5:00 PM and again on Wednesday, May 30 at 7:00 PM Admission by donation includes a reception following both performances.
The performances are presented as a benefit for a Fiji indigenous feature film, FIRE IN THE WOMB, that Jeannette is producing this summer.
Pay at the door with cash or a tax deductible check made out to NETPAC/USA, a non-profit organization recognized by the IRS
Reservations strongly suggested. Please e-mail: shaoyis@rcf.usc.edu
Location:
The Village Theater -3223 Hoover - Across from USC campus
In the University Village Shopping Center on Hoover and Jefferson
Free parking in the shopping center.
Park near Denny's.
Walk away from Denny's on Jefferson on Hoover toward Starbuck's Coffee.
Across the walk way from Starbuck's Coffee is The Village Theater. You will see WILD WISDOM flyers and posters in the windows. You cannot miss it!

For more information about the performance and film, visit www.jphmovies.com
---
JACCC (LA)
[intro] retrospective
A hereandnow retrospective
June 2, 2001
See News story.
---
East West Players (LA)
PEAC program
June 2, 2001
A special performance of EWP's Partners in Education and Arts Collaboration will be presented on Saturday, June 2 at 10:30 AM at the David Henry Hwang Theatre. The performance is free and open to the public by reservation only. EWP's 12-week pilot program, sponsored by the California Arts Council, culminates in a performance written by and performed by eighth graders at Brightwood School in Monterey Park. This collaboration's goal is to help young students improve grades, improve communication skills (written and verbal) and have a better understanding of each other. The student population at Brightwood School is 50% Asian and 40% Latino. Come out and support our younger artists. Call 213.625.7000, ext 20 (Sylvia Becerra) to make your reservations.
---
East West Players
David Henry Hwang Writers Institute Reading Series (LA)
June 4-6, 11-13 2001
East West Players' Our semi-annual David Henry Hwang Writers Institute Reading Series, NEW WRITING TO GO! is set for 7:30pm , June 4, 5, 6, and June 11, 12, and 13 at the David Henry Hwang theatre in the Union Center for the Arts, 120 N. Judge John Aiso (formerly San Pedro) in Little Tokyo. As always, the work is fresh, exciting, and read by some of your favorite EWP actors! Come to the reading series that has spawned works like MY TIRED BROKEASS PONTIFICATING SLAPSTICK FUNK, TEXAS, LEON AND CLARK, A DIRTY SECRET BETWEEN THE TOES, SLEEPWALK, S.A.M. I AM, VISAS AND VIRTUES and so much more of the latest in Asian American drama! The work is free, though a suggested $5 donation will be appreciated to help support our Writers Institute.
The David Henry Hwang Writers Institute
Summer 2001 Reading Series

* Monday, June 4
Elise Gustafson' s HOLDING ACHILLES

* Tuesday, June 5
Gary Kuwahara's PLAY; ONE NIGHT
directed by Rodney Kageyama

* Wednesday June 6
Sunshine Pearl Lampitoc's A VIRGIN/WHORE DUPLEX
directed by Ogie Zulueta
Keshni Kashyap's NOISE
directed by Naila Azad

* Monday June 11
Issac Ho's CLAIM TO FAME
directed by Denise Iketani

* Tuesday, June 12
Jade Chang's NEXT BIG THING---AN UPSTART MUSICAL
directed by Deb Nishimura
Teru Sheehan's HEX
directed by Heidi Helen Davis

* Wednesday, June 13
Cynthia Fujikawa's THE VAUDEVILLIANS
(director TBA)
---
AATC (SF)
The Clouds, the Ocean and Everything in Between
by Michael Premsirat
May 18 to June 17, 2001

extended for one week!
Clouds was the winner of East West Players Y2K New Voices Playwriting Competition and will be read at the May 2001 New Work Now Festival at the Public Theater in New York.
Everything you have ever known will be proven false. Everyone you have ever loved will betray you. Everything you touch will turn to shit. Pledge allegiance to the flag of the Divided States of America, let go of the steering wheel and see where you end up. A dark comedy about three friends of mixed heritage from the optimism of college to the harsh realities of our post-dot-com apocalyptic landscape.
Previews Friday-Saturday, May 11 & 12, 8pm; Sunday May 13, 7:00pm, Wed. May 16, 8pm. The show opens Thurs. May 17 and runs through Sun. June 10. Performances are Wednesday through Saturday, 8:00pm; Sunday 7:00pm. All previews, $8. Tickets are priced $15-18 with group discounts available. Tickets for opening night's special benefit performance for AATC's 28th Anniversary are $30 on Thursday May 17th.
For reservations call 415-440-5545 or e-mail info@asianamericantheater.org
---
Ma-Yi Theater (NYC)
Watcher
by Han Ong
May 18 to June 17, 2001
A noiresque excursion into pre-Disney Times Square where loneliness and innocence are legal tender. Han Ong crafts a trenchant story about people in constant negotiation for their desires. A masterful play
from one of the country's most original thinkers. Don't miss this highly-anticipated work from the author of MIDDLE FINGER, and the critically-acclaimed novel FIXER CHAO.
Designed and Directed by Loy Arcenas.
Lighting by James Vermuelen
Original Music by Fabian Obispo
Costumes by Clint Ramos

With: Anthony Ruivivar (from the hit television series Third Watch), Orlando Pabotoy, Mia Katigbak, Ching Valdes-Aran, Jojo Gonzales, Harvey Perr, Gilbert Cruz, Virginia Wing, and Marty Zentz

At the CAP 21 THEATER
15 West 28th Street (off Fifth Avenue)
2nd Floor
New York, New York

May 18 - June 17, 2001
Wednesdays through Saturdays at 8PM
Saturdays and Sundays at 3PM
---
San Diego Asian American Repertory Theatre
SISTERS IN BONDAGE: A Night of One-Acts
Where rosaries and whips are optional...but open minds are not.
Bondage
by David Henry Hwang
Sister Mary Ignatius Explains It All For You
by Christopher Durang
May 19 to June 17, 2001
BONDAGE
by David Henry Hwang
Directed by Rhys Greene

From the tony award winning playwright of M. Butterfly and FOB! With your identity concealed from head to toe beneath a costume of leather, you could play out every fantasy about who you are, whom you desire, orwith whom you may find love....
"This eccentric romance... examines the politically incorrect ways in which race and sexual attraction remain bound."
-Humana Festival
SISTER MARY IGNATIUS EXPLAINS IT ALL FOR YOU
by Christopher Durang

Directed by George Ye

Vicious comedy ensues when Sister Mary Ignasius joins five former student "failures" for a demented class reunion.
"Durang is one of the most ferociously funny young American dramatists and Sister Mary is his most ferociously funny work."
-Jack Kroll, Newsweek
Mature audiences, please.

May 19 through June 17, 2001
8 P.M. Fridays and Saturdays, and 7 P.M. on Sundays
Additional performances:
Thursday, June 14 at 8 P.M.
Sunday, June 17 at 2 P.M.

"Pay What You Can/Actor's Night"
Monday, May 21 at 8 P.M.
Monday, May 28 at 8 P.M.

General: $15
Student/Military/Senior: $12
Special group rates available

Advance Tickets availiable online at SeatAdvisor.com
Information & Tickets: (888) 568-AART

Hiroshi McDonald Mori Performing Arts Center (MMPAC)
3010 Juniper St., San Diego, CA 92104
---
East West Players (LA)
Yankee Dawg, You Die
by Philip Kan Gotanda
May 23 to June 17, 2001
Two very different generations and two very different sensibilities clash when veteran actor Vincent Chang meets up-and-coming star Bradley Yamashita at a Hollywood party, in this now-classic Asian American exploration of where film, identity, politics and art converge. As relevant today as when it was first workshopped at EWP, Philip Gotanda takes a look at stereotypes and hard choices in this serio-comic valentine to Asian American actors, past and present.
---
COLD TOFU (LA)
CTN: COLD TOFU NETWORK
May 25 to June 10, 2001
directed by Brian Lohmann

CTN: Cold Tofu Network is a new and hilarious sketch and improv comedy show, spoofing America's favorite dramas, sitcoms, news hours, game shows, soap operas, talk shows, and commercials.
The cast of CTN: Cold Tofu Network includes Janice Bremec, Davis Choh, Corinne Chooey, Phil Nee, Tom Oshiro, Helen Ota, Shawn Patrick, Zakiyah Reagan, Aaron Takahashi, Kristina Wong.
WHEN:
Friday, May 25 - Sunday, June 10
Friday and Saturday evenings at 8:00 p.m.
Sunday matinees at 2:00 p.m.

WHERE:
Secret Rose Theatre
11246 Magnolia Boulevard
North Hollywood, CA 91601

TICKETS & INFO:
General Admission: $18.00
Student and Seniors: $15.00
Groups (10 or more): $13.00

Call Cold Tofu at (213) 739-4142 or visit www.coldtofu.com

Cold Tofu is dedicated to promoting diverse images of Asian Pacific Americans through comedy and to developing multiethnic talent through education and performance.
---

San Diego Asian American Repertory Theatre
and the Asian Story Theatre
Present
THE ASIAN AMERICAS PROJECT
JUNE 10 @ 2:00
JUNE 11 @ 7:00
At the Hiroshi McDonald Mori Performing Arts Center (MMPAC)
3010 Juniper St. in San Diego
Admission by suggested donation at the door.

Reservations and info: 619-527-2816

Through the collection and adaptation of oral histories and personal interviews, the artists of AART and AST are continuing to develop this exciting new work about the people of our city and community. Join us in this workshop performance for an evening of theatre and storytelling, and a post performance reception.
Featuring new material from Kent Brisby, Ed Cha, Andy Lowe, Gingerlily Lowe, Arnold Marquez, and Ed You.

THE ASIAN AMERICAS PROJECT
What is it that binds and unifies the very different and separate cultures and communities of Asian America? Asian Story Theater and the Asian American Repertory Theatre, working with various other community cultural organizations, has been developing a series of new theatrical works based on the real-life histories of individual artists, performers and community members from different Asian communities that are part of San Diego.
Traditionally and historically, San Diego's Asian and Pacific Islander communities are separate, isolated, hidden, and in many instances, rarely interact with one another. Yet in a broader perspective, each is an integral part of what gives San Diego its unique intercultural identity.
ASIAN AMERICAS gives a glimpse into our myriad of "Asian American" cultures and the rich diversity of our own Asian America.
---
Presented during the NoHo International Theatre Festival
PEANUT BUTTER
by Felix Racelis
June 16 & 17, 2001
Directed by John Ewaniuk, with Cathy Chang, Kennedy Kabasares, John Ewaniuk, Emmie Hsu & Barbara Scolaro.

Sat. & Sun. 2 pm - NoHo Actors Studio, 5215 Lankershim (no. of Magnolia)
Sat. & Sun. 3:30pm - El Portal Theatre, 5269 Lankershim

All events are free--tickets available at central ticket booth.

This wacky 10 minute play is a Finalist in the West Coast 10 Minute Playwriting Contest and was developed in East West's David Henry Hwang Writers Institute
---

Yangtze Repertory Theatre (NYC)
Butterfly Dreams
adapted by Cao Lu-Sheng
June 14 to 24, 2001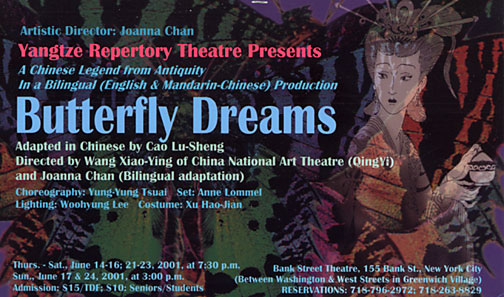 ---
Asian American Theater Company (SF)
presents
Junglee Juice: A Weekend of South Asian Performance and Film
June 21 to 23, 2001
AATC is proud to present "Junglee Juice: A Weekend of South Asian Performance
and Film" from June 21-23 at New Langton Arts, 1246 Folsom St. (between 8th and 9th), San Francisco. The weekend will begin Thursday night (6-21) with SOUTHERN EXPOSURE, a night of spirited south asian erotica from Ginu Kamani, Mary Anne Mohanraj, Abha Dawesar, Sandip Roy Chowdhury and Allan de Souza.
The program continues on Friday (6-22) with a staged reading of the new play LIVING OM: A TRAGIC COMEDY ABOUT THE HIV/AIDS CARE INDUSTRY, written and directed by Joel Tan and Ginu Kamani.
The weekend will conclude on Saturday (6-23) with DESI SHORTS, a night of short films, featuring the work of Aparna Malladi, Madhurika Jain, Tony Sehgal, Nina Davenport, Hima B and Eliza Barrios. For more information and reservations please contact AATC @ 415-440-5545.
www.asianamericantheater.org

June 21-23
1246 Folsom St. San Francisco (New Langton Arts) Admission: $5-$10 sliding
scale (Thurs & Fri), $7-$10 sliding scale (Sat)
For info/reservations: AATC @ (415) 440-5545 or
email info@asianamericantheater.org
---
AA Theatre Revue Home Page | Directory | Calendar | News | Reviews | Library
---
E-mail to gwangung@u.washington.edu
---
[A&E Program Guide] [Home] [ABC Info] [E-mail]
---
Copyright © 2001 Click2Asia, Inc. and Roger W. Tang


"ABCFLASH" and ABCFLASH logo are trademarks of Click2Asia, Inc.