HERE Arts Center (New York, NY)
oph3lia
by Aya Ogawa
June 11 to July 2, 2008
We know what we are, but know not what we may be... Three disparate stories of displacement, inspired by Shakespeare's character, are interwoven in this haunting and playful exploration of identity in a globalized world.
Set and costume design by Clint Ramos
Lighting and video design by Jeanette Oi-Suk Yew
Sound design by Rich Kim
Music by Andy Gillis
Assistant Director Joan Jubett
Featuring:
Laura Butler, Drae Campbell, Dawn Eshelman, Connie Hall*, Ikuko Ikari, Hana Kalinski, Eunjee Lee*, Mark Lindberg, Alanna Medlock, Jy Murphy*, Jorge Alberto Rubio, Magin Schantz, Maureen Sebastian*
Stage Manager: Stacey Haggin*
Assistant Stage Manager: Nicole Greene
Written & directed by Aya Ogawa
June 11 - July 2
At HERE Arts Center - 145 6th Ave.
(between Spring & Broome, enter on Dominick)
---
Yangtze Repertory Theatre (New York, NY)
Forbidden City West
by Joanna Chan
June 16 to July 2, 2008
An original musical in English with 3 scenes in Cantonese and Toishanese Chinese, with bilingual subtitles, on 100 years of Chinese American experience through the life and times of the legendary entertainer, Jadin Wong.
See News story.
---
Ma-Yi Theatre (New York, NY)
Staged Reading
July 3, 2008
CULTURAL CENTER OF THE PHILIPPINES,
LITTLE THEATER
OPEN TO THE PUBLIC
The reception that follows is by invitation only.

These are readings of selected excerpts from four plays, three of which are included in Ma-Yi Theater Company's anthology "Savage Stage," edited by Joi Barrios-Leblanc. The three plays from the book include "Project: Balangiga" by Sung Rno and Ralph Peña, "peregriNasyon" by Chris Millado, "and Middle Finger" by Han Ong. The fourth play takes selected scenes from Ma-Yi's upcoming production of Ralph Peña's new work "Nebraska," which will premiere in New York City in 2009.

Reading Cast:
Nonie Buencamino, Shamaine Centenera-Buencamino,Nar Cabico, Red Concepcion, Jm De Guzman, Jj Ignacio, Irma Adlawan-Marasigan, Joel Torre.

ABOUT THE PLAYS AND PLAYWRIGHTS:

Project: Balangiga by Sung Rno and Ralph Peña is a documentary-style inquiry into the ongoing debate surrounding the proposed repatriation of the church bells taken by American soldiers from the town of Balangiga during the Philippine American War. The excerpted scene imagines a virtual town meeting between the residents of Balangiga and Cheyenne, Wyoming, where the bells are presently installed. Sung Rno is an award winning playwright and member of the Ma-Yi Writers Lab. He is a graduate of Harvard and Brown University.

peregriNasyon is Chris Millado's trenchant play about the itinerant lives of the Manongs, the Filipino migrant workers who plied the labor routes of California's Central Valley and the Alaskan canneries during the Great Depression. Millado's play bends time and space in drawing parallel journeys between two brothers separated by distance, but bound by a common struggle to locate "home." Chris Millado is the author of several award-winning plays, and was instrumental in the founding of Ma-Yi Theater Company. He is the current Associate Artistic Director of the Cultural Center of the Philippines.

Han Ong's Middle Finger is a coming-of-age story set in an all-boys Catholic school. Riffing on Frank Wedekind's "Spring's Awakening," Middle Finger gives the familiar turfs of teenage angst, sex, and religion a new dose of contemporary sizzle. Han Ong is one of the youngest recipients of the MacArthur Foundation "Genius" grant. Apart from "Middle Finger," Ma-Yi Theater also produced the world premiere of Han Ong's "Watcher." He is a guest lecturer at Columbia University.

Nebraska is Ralph Peña's new play about Immigration and extreme American Right-Wing Politics. The play imagines what might happen when an ancient Hindu goddess decides to take up residency in Nebraska, and finds herself pulled into the inner sanctum of a radical Christian organization. Ralph is the current artistic director of Ma-Yi Theater Company and one of the lead organizers of the first U.S. Artists contingent to the 2007 World Social Forum in Nairobi, Kenya.

Ma-Yi Theater Company is today the leading professional Asian American theater company and incubator of new Asian American plays in the United States. Since its founding in 1989, Ma-Yi Theater has won multiple Obie Awards, Drama Desk, Hewitt Design Awards, and was named a Theater of Excellence by the Drama League. The Ma-YI Writers Lab is the largest assembly of professional Asian American playwrights in the country, with 21 full-time writers. Ma-Yi Theater is headed by Executive Director Jorge Ortoll.

Joi Barrios-Leblanc has published: two volumes of poetry, "Ang Pagiging Babae ay Pamumuhay sa Panahon ng Digma," and "Minatamis at Iba Pang Tula ng Pag-ibig." She has won more than a dozen literary awards.. In 1999, Joi was among the 100 women of the 20th century honored as "Weaver of History" by the National Centennial Commission Women's Sector. In 2004, she was honored as one of the Ten Outstanding Women in the Nation's Service (TOWNS). Joi is the literary manager of Ma-Yi Theater Company.

Lighting Design: Barbie Tan-Tiongco
Stage Manager: Ave Uy
Directed by: Ralph B. Peña

Ma-Yi Theater Company's participation is made possible by the support of the Asian Cultural Council (New York and Manila), and the Cultural Center of the Philippines. Special thanks also go to Tanghalang Pilipino and the Writers Bloc.
---
End of the Pavement: Micro New Works Festival (Portland, OR)
The Bathhouse
a short play by Annette Lee
July 5, 2008

A Man, a Woman, a Masseur. Is this afternoon in the Bathhouse the beginning or the end? (Originally written at the DHH Writers Institute at East West Players)
Presented by
An "anthology" performance of short plays built around a theme: Ubu Lives!, readings of eight plays inspired by Albert Jarry's Ubu Roi.
All End of the Pavement shows open at 8:00 PM, and all admissions are pay-what-you-will. For reservations or further information, call 503-312-6665 or e-mail Steve Patterson at splatterson@mindspring.com
http://blog.oregonlive.com/onstage/2008/06/end_of_the_pavement_micro_new.html
---
Highways Performance Space (Southern CA)
It's Great 2b _N American
by Dan Kwong
July 10 to 13, 2008

IT'S GREAT 2B _N AMERICAN is Dan Kwong's first full-length solo in 9 years, as he explores the implications of having a U.S. passport and an Asian face, with all the delicious irony that includes, both domestically and internationally.
Along with some pointed (and sometimes funny) stories from his many travels in Asia, it's loaded with juicy video imagery and lots of dance/physicality with the brilliant directorial assistance of Shishir Kurup.
Here's the basics:
July 10-13
Thursday - Sunday (for some reason, Highways' website doesn't list Sunday)
Showtimes: 8:30PM
Tickets: $20 / $15 seniors/students
Phone: (310) 315-1459
Online: www.highwaysperformance.org
Highways Performance Space
1651 18th Street
Santa Monica 90404
(half block north of Olympic)
---
Edge Of The World Theatre Festival
Presents
2008 Los Angeles History Project
featuring workshop productions of six plays by six L.A. theater companies including--
Lodestone Theatre Ensemble's
My Man Kono
(Act One: The Chaplin Years)
Written by Philip W. Chung (The Golden Hour)
July 17, 2008
Directed By Jeff Liu
Featuring: Garrett Wang (Star Trek: Voyager) as Toraichi Kono with J. Stephen Brady, Paul Byrne, Elizabeth Ho, Stephanie Lincoln, Nghia Luu, Donovan Oakleaf & Ryan Wilkins
The story of Toraichi Kono, who worked as movie star Charlie Chaplin's personal valet for 17 years before being arrested as a Japanese enemy spy on the eve of World War II. This is an off-book workshop presentation of Act One of the play which covers Kono's years with Chaplin.
FREE ADMISSION, NO RSVP required.
Sunday, July 13 at 3:30 PM
Autry National Center of the American West (in L.A.'s Griffith Park, across from the L.A. Zoo)
Griffith Park Campus, 4700 Western Heritage Way, Los Angeles, CA, 90027-1462
Info: information@edgeoftheworld.org
---
Chicago Dramatists (Chicago, IL)
Year Zero
by Michael Golamco
July 19, 2008
Chicago Dramatists presents a staged reading of
YEAR ZERO
by Michael Golamco
Saturday, July 19, 7:30 p.m.
Chicago Dramatists
1105 West Chicago Avenue (Chicago Blue Line Stop)
Vuthy Vichea is a sixteen year-old Cambodian American. He loves hip-hop and Dungeons and Dragons. He has thick-ass glasses. He is a weird kid in a place where weirdness can be fatal: Long Beach, California. And since his best friend moved and his mother died, the only person he can talk to is a human skull he keeps hidden in a cookie jar. Year Zero is about being chased across an ocean by death, standing firm, and finally confronting it head on.
Michael Golamco is a writer for both stage and screen whose works include Cowboy Versus Samurai, Build, and Year Zero. He is a Top 50 Project Greenlight screenwriter and was selected for the Tribeca Film Festival's All Access Programs. His short film Dragon of Love is currently running on the Sundance Channel.
Tickets $5.00
Call (312) 633-0630
or visit www.chicagodramatists.org
---
Redcat Now (Los Angeles, CA)
Cat Lady
written and performed by Kristina Wong
July 31, August 1, 2, 2008
CAT LADY premieres at the REDCAT NOW Festival July 31, August 1-2!
"After trying to save all Asian American women from suicide in Cuckoo's Nest, I decided it was high time to create work about my cat and his spraying problems. It's usually a bad sign in an artist's career when she starts doing work about her cat—and an even worse sign when she insists that it's political or socially relevant. So you must come and witness the downfall of Wong!

"****There will be a lot of surprises, including a video collaboration with one of my favorite reality tv stars!!!! ******
Animal psychics, aggressive pick-up artists and musty cat ladies come together in the hilarious and slightly frightening mind of writer and performer Kristina Wong. With incisive wit and delectable comic timing, Wong bends the parallel worlds of the pathetically lonely into an intersection of characters living at the margins of gender and society, while boldly attempting connection with the opposite sex, confronting inter-species betrayal, and seeking solace and celebrity on reality TV.
With guest performers Ova Saopeng and Lidet Viravong!
Directed by Nurit Siegel
Art Direction and Dramaturgy by Marcus Kuiland-Nazario
Costume by Monica Moran
Drawings by Cindy Pop.
Also on the bill: Rosanna Gamson and Ann LeBaron and Douglas Kearney!
TICKET INFO HERE: http://redcat.org/season/0708/dan/now3.php
July 31, August 1, 2 at 8:30pm (Thursday- Saturday)
REDCAT, 631 West 2nd Street Los Angeles, CA 90012
---
Assaulted Fish (Vancouver, BC)
Powell Street Festival
August 2, 2008
---
Projekt New Speak(Los Angeles, CA)
The Sketch Comedy Show: Episode 2
August 3, 2008
SEASON 2 of THE SKETCH COMEDY SHOW
DATE: Sunday, August 3rd
TIME: Doors open 5:30 pm | Show starts at 6:00 pm
LOCATION:
East West Players
The David Henry Hwang Theater
120 N. Judge John Aiso St.
Los Angeles, CA 90012
(Little Tokyo….1st and San Pedro)
TICKET PRICE: Presale: $15 | At the door: $20
SPECIAL GUEST PERFORMER: BIG PHONY

Also performing:
ROGER FAN | Finishing the Game
DANTE BASCO | Hook, Take the Lead, Entourage
KARIN ANNA CHEUNG | Better Luck Tomorrow
KAILA YU | Nylon Pink
DANNY CHO | Feat. on MadTV
SPECIAL GUEST DJ: Ultraman (Cerritos All Stars)
BUY TICKETS AT:
http://www.projektnewspeak.com
http://www.sketchcomedyshow.com
CAST INCLUDES:
Earl Baylon
Kris Clemente
Jason Owsley
Susane Lee
Jeena Yi
John Wrot
Surina Jindal
Jeremy Lalas
Davis Choh
and Eddie Kim
Directed and Produced by: Brian Corpuz
Writer/Associate Producer: Justin Quizon
For more information, check out:
http://www.projektnewspeak.com
http://www.sketchcomedyshow.com
questions, email: info@projektnewspeak.com
FUTURE SHOWS:
Episode 3: December, TBA
---
Repertory Actors Theatre (Seattle, WA)
Angels in America, Part 2: Perestroika
by Tony Kushner
July 17 to August 10, 2008
In tandem with Absurd Reality Theatre's production of Angels in America: Millenium Approaches. See News story.
---
Cornerstone Theatre (Los Angeles, S)
attraction
Written by: Page Leong
Directed by: Michael John Garcés
August 7, 8, 9, 2008
Explore what draws people to place, to one another, and what pulls them apart, at the intersection of an urban global village experiment- at Traction Avenue. Dive in to our neighborhood's kaleidoscopic spirit, its magic, history and mystery.
Cornerstone Theater Company
DATE: August 7, 8 & 9
TIME: 8:30 PM
LOCATION: 708 Traction Ave, Downtown LA
TICKETS: Pay-What-You-Can with a Suggested Donation of $20
TO RESERVE: Call 213-613-1700 x 814
or to purchase $20 tickets
---
Mu Performing Arts (Minneapolis, MN)
Dipped In Love
at the Minnesota Fringe
August 1 to 9, 2008
Friday, Aug 1 at 7:00 pm
Saturday, Aug 2 at 10:00 pm
Monday, Aug 4 at 10:00 pm
Friday, Aug 8 at 8:30 pm
Saturday, Aug 9 at 4:00 pm
Mixed Blood Theatre
1501 S 4th Street, Minneapolis
---
Victory Gardens (Chicago, IL)
Ignition: Emerging Playwrights of Color
August 7 to 10, 2008
Festival Passes - $20 (includes six reading and all special events)
Individual Readings - $5
IGNITION Festival Passes are available by calling the Box Office at (773) 871-3000 or emailing tickets@victorygardens.org

IGNITION has a dual goal: to introduce exceptional new writers under the age of 40 to Victory Gardens and to jump start future productions of the winning plays around the country. The six plays were selected out of 120 submissions from throughout the U.S. and internationally. The six plays chosen for IGNITION and their performance times are:
The Imagine Man
by Christopher De Paola (Chicago)
Thursday August 7th, 7:30p
In an unnamed country, it is illegal to buy and sell real estate. That doesn't stop Daniel from brokering dangerous deals for people desperate to fulfill their dream of home ownership.
A Better Babylon
by Michael Lew (New York)
Friday August 8th, 7:30p
In 1960s UC Berkeley, a wave of student radicalism engulfs a young Chinese couple, a black protester, and a Chicana biologist. Personal dreams collide with political conscience, testing the limits of mentorship, friendship, and love.
The Elaborate Entrance of Chad Deity
by Kristoffer Diaz (New York)
Saturday August 9th, 3:00p
Macedonio Guerra is a pro wrestler who has discovered the next big thing: an impossibly charismatic hip-hop-influenced Indian kid from Brooklyn. His boss has the perfect idea for their characters: terrorists. An in-depth comic look at pro wrestling, geopolitics, and refrigerator crispers.
Bathing Van Gogh
by Brian Tucker (New York)
Saturday August 9th, 7:30p
Bathing Van Gogh is a generational glance at four friends negotiating a dying friendship and coping the best they can—with drugs, booze, sketchpads, and jazz.
Year Zero
by Michael Golamco (Los Angeles)
Sunday August 10th, 12:00p
Year Zero is a comedic drama about young Cambodian Americans in Long Beach, California – about reincarnation, redemption, and everything that we try to leave in the past… but we can't leave behind.
Fati's Last Dance
by France-Luce Benson (Pittsburgh)
Sunday August 10th, 3:00p
Can an aging Ballet diva, a princely break dancer, a reality show reject, and a Brazilian Guru move a sleeping beauty off the couch and into the spotlight? Fati's Last Dance, a touching, off-beat comedy tells the story of a young Haitian woman's journey from self-loathing to self-acceptance, and her family's gracefully awkward steps towards overcoming grief.
All six winning playwrights are coming to Chicago to participate in the festival, and leading theater artists of color from Chicago and nationally are being tapped to direct and perform the new play readings.
An IGNITION Festival Pass, offering entry to every reading and special event, is only $20. Single tickets to individual readings and select special events are $5. For tickets, information, and the complete IGNITION schedule of events, call the Victory Gardens Biograph Theater box office, 773.871.3000, or purchase tickets online at VictoryGardens.org.
In addition to the readings, IGNITION will boast an invitation-only pre-festival kick-off event on Wednesday, August 6, a late night party with music on Friday, August 9, break-out sessions, and a celebrated keynote speaker to be announced.
---
Tokyo Engeki Ensemble (Tokyo, Japan)
Calling Aphrodite
by Velina Hasu Houston
August 10, 2008
About the famed Hiroshima Maidens Project. In the aftermath of the Hiroshima bombing, Keiko Kimura is a reluctant participant in a U.S.-initiated project to provide free reconstructive surgery to 25 young Japanese women who were injured in the bombing. As she comes head to head with an American surgeon who suffered his own traumatic loss in the war, she learns the sacrifices that the hope for peace demands.
---
VACT (Vancover, BC)
The Odd Couple
by Neil Simon
July 17 to 27, 2008 @ Richmond Cultural Centre
August 13 to 21, 2008 @ The Roundhouse Performance Centre
The Odd Couple by Neil Simon tells the story of two mismatched roommates, Felix and Oscar. Felix, a neat and tidy health-nut newswriter, recently comes face-to-face with an end to his doomed marriage. In desperate need for a place to live, he moves in with his long-time friend, Oscar, a sloppy, slovenly divorced sports journalist. In the process of battling for their undying friendship, their differing lifestyles inevitably lead to cataclysmic conflicts and laughs! The Vancouver Asian Canadian Theatre adds an extra twist to the story - one is a Canadian born Asian and the other is an immigrant. Directed by Rick Tae.
Rated General
Tickets In Advance - $22 on-line at www.vact.ca starting June 2008
Tickets at Door - $25 (cash only)
General Admission Seating
Show at 8pm nightly or 2pm Sunday matinee
Box Office Opens 90 minutes before showtime
For more information, visit www.vact.ca
For group rates, call 778.885.1973
Save a date!
[More information at http://www.vact.ca/oddcouple.htm]
See News story.
---
Bindlestiff Studio (San Francisco, CA)
Stories High - 10th Anniversary
July 31 to August 16, 2008
See News story
---
Bone to Pick by Eugenie Chan
Commissioned by The Cutting Ball Theater and Magic Theatre / Z Space New Works Initiative
Bone to Pick sets the story of Ariadne in a diner at the end of the war-torn world. Here, Ariadne, now reconfigured as Ria the Waitress, has been stranded in a military base diner for three-thousand years. Depleted by millennia of foreign occupation, Ria enters the labyrinth and confronts her part in the murder of her brother, Steer #576. A dizzyingly postmodern look at the costs of love, war and womanhood.
For tickets and more information, contact: 415-419-3584 \http://www.cuttingball.com
---
18 Mighty Mountain Warriors (Los Angeles, CA)
Just Like White People!
August 1 to 24, 2008
(preview July 31 Thursday)

ALL NEW sketch comedy that is SAVAGELY FUNNY yet STRANGELY CIVILIZED!
Thur, Fri, Sat, Sun @8pm
at the
6476 Santa Monica Blvd, Hollywood, CA 90038
(west of Highland Ave.)
$15 General
$12 Students/Seniors
$10 groups of SIX or more
$5 for Preview July 31st
Buy out the house for $8 each!
2 for 1 every Sunday! (sorry, no doubling on discounts!)
Special: if you pay to see the show once, you can see it again for FREE if you bring a paying friend!
Valet Parking $5 after 7pm
Info/Reservations: 818-754-4500 or email 18mightymountainwarriors@gmail.com
---
A Squared Theatre Workshop (Chicago, IL)
The Wind Cries Mary
by Philip Kan Gotanda
August 1 to 24, 2008
See News story.
---
Lodestone Theatre (Los Angeles, CA)
Suddenly Last Summer
by Tennessee Williams
August 2 to 24, 2008
He was a pleasure seeker, corrupt and corrupting, she was the beautiful young cousin he had chosen as a victim... One of Tennessee Williams most haunting plays, the past meets truth in this Techno-Video inspired retelling of an American Classic.
See News story.
---
New York International Fringe Festival (New York, NY)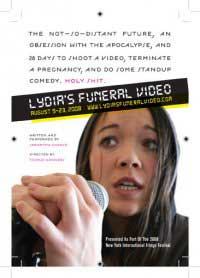 Lydia's Funeral Video
by Samantha Chanse
August 9 to 23, 2008
Lydia's Funeral Video runs August 9 - 23 at the New York International Fringe Festival at the Milagro Theatre at Clemente Soto Velez Center, 107 Suffolk Street (between Rivington & Delancey Streets).
Performance dates/times:
SAT 8/9 @ 2:45pm
MON 8/11 @ 9:30pm
SAT 8/16 @ 5:15pm
WED 8/20 @ 5:15pm
SAT 8/23 @ 7:00pm
---
Rhino Theare (San Francisco, CA)
Finding Ways to Prove You're NOT an al-Qaeda Terrorist When You're Brown And Other Stories of the gIndian
written and performed by Snehal Desai
August 13 to 15, 2008
what it means to be at once South Asian, American, gay, brown, Hindu and short." It's also a journey of self-discovery leading from rural Nebraska to the clubs of London and encounters with "the butch lesbians of Mumbai."
---
LATC (Los Angeles, CA)
Innocent When You Dream
by Ken Narasaki
August 21, 2008
A reading:
The New LATC
514 S. Spring Street (between 5th and 6th downtown)
Los Angeles, CA 90013
---
Pangea World Theatre (Minneapolis, MN)
LATITUDES- A showcase of art from our community
Directed by: Dipankar Mukherjee
August 21 to 24, 2008
7:30PM
$8.00
Pangea World Theater
711 West Lake Street- Minneapolis
For more infomation: www.mizna.org
Mizna presents an interactive performance with its Latitudes granting recipients. This year's artists spent a year in workshops and intense rehearsals to create a collaborative performance. Directed by Pangea World Theater's Dipankar Mukherjee, this performance explores the themes of visibility, journey, struggle, and body. The program was designed to facilitate and support original artistic work created by community members who identify as Arab, Muslim, Berber or Iranian.
Featuring: Sarah Ahmed, Charlotte Albrecht, Naj Bagdadi, and Saed Kakish.
This exhibition is made possible, in part, by funds provided by the Metropolitan Regional Arts Council through an appropriation by the Minnesota Legislature.
Breaking The Silence - A Program to Empower Refugee and Immigrant Women and their Communities
Hosted by Pangea World Theater, Immigrant and Refugee Battered Women's Task Force, The Advocates for Human Rights and Minneapolis Central Library
BREAKING THE SILENCE:
A Program to Empower Immigrant and Refugee Women and their Communities.
When: Tuesday August 26, 2008 1:00 - 5:00 P.M.
Where: Minneapolis Central Library 300 Nicollet Mall- Minneapolis, MN 55401
Schedule of Events:
- Resource Fair
- Journey To Safety Performance
by Pangea World Theater
-Know Your Resources/Rights Training
-Panels/Discussions
REFRESHMENTS PROVIDED
---
Asian American Theatre Company (San Francisco, CA)
NewWorks Incubator Playwrights Workshop
Staged Readings of 3 New Plays
August 22 and 23, 2008
"A Line" by David Wonpu
"Macho Bravado" by Alex Park
"War Harvest" by Pireeni Sundaralingam
Directed by Duy Nguyen
Staged Readings
August 22 and 23, 2008, 8:00pm
Q&A, Panel Discussion and Feedback on each Play following the Readings
Diego Rivera Theatre
City College of San Francisco
50 Phelan Avenue
San Francisco

---
Kidnapping Water: 64 Operas
August 2008
Seattle, WA
Connecting the ideas of surviving as an artist in America with living as a global citizen, composer Byron Au Yong premieres 64 portable operas inspired by the ancient Chinese text I Ching (Book of Changes) and the environment.
Scientists and global leaders worry that the world's future challenges revolve around water. Kidnapping Water emotionally addresses these aspects in a new way. "These Bottled Operas are meant to be carried through catastrophes. I think about straining water resources and compose songs of survival," says Au Yong.
Opera singers and percussionists perform Au Yong's Kidnapping Water: Bottled Operas in waterways throughout the Pacific Northwest this August. The 64 mini-operas explore operatic themes in an accessible format.
By taking opera out of the opera house, the Bottled Operas connect the power and beauty of traditional operatic voices with a musical experience intimately connected to nature. The site-specific performances allow Au Yong to take his music directly to places where people interact with many forms of water, creating opportunities for audience members from all walks of life to experience heightened awareness, understanding, and awe of the powerful forces of nature and humanity in a natural environment.
Percussionists play the water found at these locations with instruments that include wood, stone, bamboo, bone, rope, hide, plants, and metal. Libretti are written by eight writers from diverse cultural and artistic traditions not often represented in opera; the 64 Bottled Operas will be anything but a traditional operatic experience.
Kidnapping Water: Bottled Operas will be performed by opera singer/water percussionist duos in rivers, lakes, fountains, ravines, and other waterways as part of 4Culture's Site-Specific Performance Network on August 4, 11, 16, 17, 18, 23, 24, and 26.
4Culture Site-Specific Performances are FREE to the public.
Locations include Beaver Lake Park, Cedar River Trail, Chinook Beach Park, Des Moines Marina, Echo Lake, Environmental Park, Kubota Gardens, Pritchard Beach Wetlands, Ronald Bog, Salmon Creek Ravine, Saltwater Park, Seahurst Park, and White River, just to name a few.
(more)
Kidnapping Water: Bottled Operas Creative Team
Composer Byron Au Yong
Opera Singers Josie Davis, Emily Greenleaf, Ani Maldjian, David Stutz
Water Percussionists Stuart McLeod, Dean Moore, Benjamin Morrow, James Whetzel
Librettists Eugenie Chan (San Francisco), Bret Fetzer (Seattle), Aaron Jafferis (New Haven), Archana Kumar (Chicago), Carola Luther (Yorkshire), Caroline Murphy (New York), Vivian Umino (Los Angeles), Edisa Weeks (Brooklyn)
Production Pike Pin (Project Manager), Emily Carlsen (Costume Designer), Eric Rockey (Videographer), Ben Kasulke (Filmmaker), Jean-Stephane (Photographer, Multimedia), Erica Howard (Researcher, Writer)
Kidnapping Water: Bottled Operas, staged by director Bret Fetzer in the DuPen Fountain, will be at the Bumbershoot Festival of the Arts on August 29, 30, and 31. Telephone info 206 281-7788
Light/Sound Installation by Byron Au Yong and interactive media artist Randy Moss at the Jack Straw New Media Gallery from September 12 to October 10, 2008; Opening September 12, 7pm with Artist Talk September 25, 7pm. Telephone info 206 634-0919
Byron Au Yong creates ceremonial musical events for voices with Asian, European and hand-made instruments. His works have been performed in Canada, China, England, Germany, Japan, South Korea, and the United States. Local projects include Piao Zhu: Flying Bamboo created for the Seattle Asian Art Museum and YIJU: Songs of Dislocation presented at the Jack Straw New Media Gallery. Au Yong was the only American selected for the Jerwood Opera Writing Programme where his mini-opera The River Museum was performed at Aldeburgh Music.
Performance Schedule available online at hearbyron.com and sitespecificarts.org.
Kidnapping Water: Bottled Operas is thankful for support from the Multi-Arts Production (MAP) Fund, 4Culture's Site-Specific Performance Network and the Jack Straw New Media Gallery Residency Program.
---
East West Players (Los Angeles, CA)
One Night Only: Divas vs. Tenors
August 23, 2008
The gloves are off! The mics are on! And the voices are HOT!!! Grab your ringside seats as Divas and Tenors face off in celebration of Tim Dang's 15 years as Producing Artistic Director of East West Players. Never before has the stage seen so much talent... and attitude! This will be one cool night you won't want to miss!

Saturday, August 23th, 2008
HOSTED BAR & BUFFET RECEPTION AT 6:00PM
PERFORMANCE AT 7:30PM
DESSERT RECEPTION AND RAFFLE DRAWING FOLLOWING PERFORMANCE
---
East West Players (Los Angeles, CA)
IMELDIFIC!
A Concert to Benefit the New York Premiere of IMELDA: A NEW MUSICAL
August 24, 2008
See News story.
---
Stir-Friday Night! (Chicago, IL)
Horry Kow, That's Lacist!
August 8 to September 5, 2008
Chicago – Stir-Friday Night!, one of the nation's premier Asian American sketch comedy and improv troupes, presents its latest original revue, Horry Kow, That's Lacist!, starting Fridays from August 8th to September 5th, 2008 at Donny's Skybox. Shows start at 7:30 p.m. Tickets are $12 for General Admission and $10 for Students. Reservations can be made by calling the Second City box office at (312) 337-3992 or through their web site: www.secondcity.com
Running time is approximately 50 minutes. Media comps and interviews are available on request.
Stir-Friday Night! presents
Horry Kow, That's Lacist!
An Original Comedy Revue, Written, & Performed by Stir-Friday Night!
Directed by Jason Chin
Opens: Friday, August 8th, 2008, 7:30 p.m.
Runs through September 5th, 2008
Fridays @ 7:30 p.m.
Donny's Skybox Theatre
Pipers Alley
4th Floor
1608 N. Wells St., Chicago, IL
For reservations call (312) 337-3992
Tickets: $12 General Admission, $10 Students
Even as Kosuke Fukudome, fellow Asians and Asian Americans, and the Cubs publicly denounced the "Horry Kow" t-shirts, these t-shirts continue to sell. The vendors claim that they just want to make a living and that they are not deliberately trying to hurt or offend. While anyone could honor an honest living, their excuses would ring hollow should these vendors choose a derogatory stereotype of another ethnicity to place on a t-shirt.
Stir-Friday Night! (SFN) examines the issue with the t-shirts as well as other topics: high gas prices, reconciliation of Asian American adoptees and their genetic parents, Asian representation in the media, America's foreign policy, and the subtle difference between South and East Asians. Artistic Director Harrison Pak says, "Even though Stir-Friday's been in existence for 13 years, it's just now that I feel that we're getting into a groove in terms of what we want to say as an Asian American collective. No longer will being on stage be enough for us; we have to say something and we're looking forward to offering Horry Kow to our audiences, both old and new."
In its 13th year of existence, SFN continues its mission to provide a voice for the Asian American comedic actor. The cast of Horry Kow, That's Lacist! is Brijul Bhakta, Melissa Canciller, Neal Dandade, Jin Kim, Andy Lee, Christine Lin, Ron Mok, Harrison Pak, Freddie Sulit, and Steven Yeun.

Musical Director is Shane Sharrifskul and the Technical Director is Jason Flowers.
---
Second Generation (New York, NY)
presents
an IN THE WORKS workshop of
Okay!
by Becky Yamamoto
September 7 and 8, 2008
Becky Yamamoto has always loved the musical Oklahoma!
She has never met her biological father.
She has never figured out why both of these things are true.
Tonight, she settles it once and for all. With special guests.

OKAY!
written and performed by Becky Yamamoto
with special guests
directed by Kara-Lynn Vaeni
at The Ensemble Studio Theatre
549 West 52nd Street
(between 10th & 11th Aves.)
TWO NIGHTS ONLY!
Sunday, September 7
Monday, September 8
7:00PM
---
Chicago Dramatists (Chicago, IL)
Jade Heart
by Will Cooper
September 13, 2008
Abandoned as an infant on a pile of vegetables in a Chinese marketplace, a fragment of a jade heart hanging around her neck—the only clue she has to discovering her origins—Jade grows up in America
in the home of her adoptive mother Brenda. Through dreams, remembrances, and present action, she seeks to find out why she was denied the life she was born to, and how she can become fully herself, confident in the life she was given. Jade Heart is a moving story of love and conflict between a mother and daughter, and of the daughter's struggle to define herself a world that is familiar and yet incapable of giving her everything she needs.
---
Pangea World Theare (Minneapolis, MN)
Do Haath (A Pair of Hands)
September 13 and 14, 2008
When Ram Autar is drafted to clean the latrines for the soldiers at war, the ways of his newly-wed wife, Gori, create an uproar in the household and the neighborhood where she and her mother-in-law live and work. At once playful and powerful, Do Haath (A Pair of Hands) explores the tensions between economics and morality, and how these are played out along the axes of class, caste, and gender.
Director: Tarun Kumar (theater artist and cultural critic from India)
Cast: Nighat Yasmin, Subha Narayan, Meera Sehgal, Navnit Narayan, Divya Karan, Richa Nagar, Brendan LaRocque, David Faust, Medha Faust-Nagar.
Saturday & Sunday
September 13 & 14, 2008
7-9PM
A post-performance discussion will be facilitated by Professor Simona Sawhney, Dept. of Asian Languages and Literatures.
**This event is free and open to the public**
---
Mo'olelo Performing Arts Company (San Diego, CA)
Night Sky
by Susan Yankowitz
August 28 to September 21, 2008
Night Sky is the story of Anna, a brilliant astronomer. When a car accident renders her aphasic, her speech becomes a hodgepodge of disconnected words alternately poetic, funny, confusing and profound. She and her family must fight through the black holes of her mind and journey from her night sky into an unfamiliar world and a new language. This moving drama celebrates the resiliency of the human spirit and the universal need to find words to communicate our deepest thoughts and feelings.
---
Abrons Art Center (New York, NY)
Maria the Korean Bride Live!
Thu. September 18–Sat. September 20
8:00–9:15pm
Location: Abrons Art Center (466 Grand St, at Pitt St, NYC. Subways: F to Delancey, J/M to Essex St.)
Ticket Prices: $20 general, $10 AAAA members and students
In just three years, Korean-American performance artist
Maria Yoon has married 34 different grooms in 34 states, and vows NOT to stop until she has married in all 50 states! In this one-woman show, she relives her recent road-trip experiences. Directed by Blue Man Group director Sara Shives. Not to be missed!
---
Rasik Arts (Toronto, Canada)
Red Oleanders
by Nupur Gangopadhyay
Tuesday, September 23 at 7pm

we will be reading a brand new translation of Tagore's "Red Oleanders" by Nupur Gangopadhyay Lahiri.
---