Godzilla West (Bay Area)
Friday Night Live
Friday, January 5, 2001
7:30pm-9:30pm
Oakland Asian Cultural Center
"Friday Night Live" is a performance laboratory for Asian Pacific Islander monologue artists and comedians, musicians, dancers, spoken word artists, and other creative folks.
This is a FREE ! ! venue ! !
Although our funding is for the Asian Pacific Islander communities of the East Bay, we welcome artists from all communities of color to participate.
For more information contact Darryl Dea at 510-208-6080 or ogpvision@yahoo.com
---

East West Players (LA)
THE CLOUDS, THE OCEAN AND EVERYTHING IN BETWEEN
by Michael Premsrirat
Sunday, January 7, 2001
Y2K New Voices Playwriting Competition Winners Read in Writers Gallery Reading Series East West Players Writers Gallery readings at The David Henry Hwang Theatre 120 N. Judge John Aiso Street in Little Tokyo Admission is free, but a suggested $5 donation would be welcome!
THE CLOUDS, THE OCEAN AND EVERYTHING IN BETWEEN (or Being a Declaration of Independence for Bananas Everywhere from the Tyranny of Our Own History Or, a Story of Freaks who Walk the Interstices). All readings will be held at the David Henry Hwang Theater at the Union Center for the Arts, 120 Judge John Aiso Street, Los Angeles, CA 90012. All readings begin at 8:00pm. The Y2K New Voices Playwriting Competition has been made possible through the generosity of The James Irvine Foundation.
---

Theatre Creatures (Seattle)
Escurial
by Michel de Ghelderode
Cracks in the Ceiling
by Richard Sloniker
Theatre Off Jackson
January 18, 19, 20, 21, 2001
ESCURIAL by Michel de Ghelderode
This particular act is set with a contemporary flavor taking place in the catacombs of a monastery during the vestiges of the Spanish Inquisition. The Queen is slowly dying in the adjacent chamber as the King calls upon his Fool to make him merry during her death. It is a chess match between the powers of the Fool and the estranged King that illuminates each of their dilemma's. Featuring the talents of Serin Ngai and Daniel Arreola. Produced by special agreement with SAMUEL FRENCH, Inc.
Cracks in the Ceiling by Richard Sloniker (formerly titled THEN AGAIN)
When the state of Europe is coming to an end, a man looks within himself to question what is real and what is a tale. His discovery leads him to find that Time itself, hurtling toward them, brings them both to their knees. Written and performed by Richard Sloniker.

"I could be bound in a nutshell, and count myself a King of infinite space..." Hamlet, II, 2
For more information please contact Theatre Creatures Stage Co. @ theatrecreatures@hotmail.com or call 206.381.8789.
---
Imerg, Inc.
Exit the Dragon
by Eric Michael Zee
January 18 to 20, 2001
EXIT THE DRAGON REVISTED
After a two year retirement and 101 shows, the cast of EXIT THE DRAGON will reunite for a production at the Theatrikos Theatre in Flagstaff Arizona. The show will run from January 18 - 20, 2001.
Imerg, Inc.
Innovazian Music, Inc.
9903 Santa Monica Blvd.
Suite 575
Beverly Hills, CA 90212
---
Community Asian Theatre of the Sierras (Nevada City, CA)
Joy Luck Club
adapted by Susan Kim
January/February 2001
---
Interact (Sacramento)
On Golden Pond
by Ernest Thompson
January 8 to January 28
InterACT's On Golden Pond: Through the Hmong Window
Interactive Asian Contemporary Theatre continues its sixth season with an adaptation of Ernest Thompson's On Golden Pond. InterACT, known for telling the stories of the Asian community, continues to do so having adapted this play to represent a Hmong family.
After aiding the U.S. armed forces during the Vietnam War, the Hmong became targets of reprisals by the Vietnamese. They fled Laos to refugee camps along the Thai border, becoming a people without a country. The U.S. government arranged to have their allies relocated to the U.S. in Minnesota or California, with Sacramento being a major point of destination.
Director Dennis Yep felt it was important to include their history in the play, but not overemphasize it. He worked closely with members of the community to give it a unique Hmong feel, while still keeping the intent of the playwright intact.
On Golden Pond runs through January 28th, 2001. The theatre is located at 4010 El Camino Ave, Sacramento, with performances on Fridays & Saturdays at 8 pm, and Sunday matinees at 3 pm. Tickets are $12 general admission, $10 for seniors 62 or over and $ 10 for youth 13 and under. For reservations and information, call 452-6174.
---
18 Mighty Mountain Warriors (SF)
My Own Private Sukiprata
January 17 to 28, 2001
See News story!
---
---
Love Creek Productions
presents
Winter One-Acts 2001
Caravan Women
by Debbie Feldman
Directed by Eve Farrah
Baby Bust
Written and Directed by Debbie Feldman
Full Tilt Boogie at the Zebra Lounge by J.C. Crook
Directed by Art Citron

Three Plays by Daniel Louie
Acceptance
Goodbye with Hope
Paying Regrets
By Daniel Louie
Directed by Nick Sakai

Jan. 30, 31, and Feb. 1 at 9 p.m.


Chernuchin Theatre
314 West 54th St., 2nd fl.
(at American Theatre of Actors, betw. 8th & 9th Aves.)
New York, NY
Tickets: $12
reservations: (212) 769-7973 (press 2)
---
Tales From the East: The Adventures of Urashima & Peach Boy
Secret Rose Theatre,
11246 Magnolia Blvd., North Hollywood, Sundays, 11 a.m.
January 21 to Feb. 11, 2001

The two Japanese folk tales presented at Secret Rose Theatre in North Hollywood--one about a fisherman whose visit to a magical undersea kingdom exacts an unexpected price, the other about a boy, born from a peach, who becomes a hobgoblin hunter--are performed by a cast of Asian American adult actors, with a semblance of traditional Japanese theater elements in some of the movement, comedy, costume and design.
Cast:
Vic Miyahira, Matthew Chung, Hiroko Imai, Kiko Kiko, Paul S. Lee, Ian Shen, Kayo, Ren Urano, dancer Myu Myu, Chris Showerman and Mike Rademaekers. Written by Kaz Mata-Mura and Mike Rademaekers.
$10, adults; $7, children. (818) 766-3691. Running time: 1 hour.
---
East West Players (LA)
Year of the Dragon
by Frank Chin
January 31 to February 25, 2001
"We'come a Chinatown, Folks!" And welcome back to Fred Eng's Chinatown tours! In this, the Year of the Dragon, EWP Founding Artistic Director Mako directs this seminal play by the playwright many consider to be the godfather of Asian American theatre. This play caused an enormous uproar when it was first produced in 1974. It not only influenced a generation of APA writers, but it also had a profound impact on an entire generation of Asian Americans. "The language is frequently strong, and the bitterness, even when wrapped in some very funny comedy, is unrelenting."New York Times.
---
Horse Trade Theatre Group Presents
2xTXC
BI-WEEKLY PERFORMANCES OF 2 PLAYS BY TOM X. CHAO
THE NEGATIVE ENERGY FIELD
And
CAN'T GET STARTED
Alternating SATURDAYS
JANUARY 27 Through MARCH 3
Unendurable Loneliness Has Never Been Funnier!
PRESS PHOTO AVAILABLE ON THE HORSE TRADE WEBSITE:
http://www.httheater.org
VISIT THE TOM X. CHAO WEBSITE AT: http://home.dti.net/txc
Read A Review of The Negative Energy Field @
http://www.offoffoff.com/theater/2001/negativeenergyfield.php3
Read A Review of Can't Get Started @
http://www.offoffoff.com/theater/00q4/cantgetstarted.php3
THE NEGATIVE ENERGY FIELD---The ultimate anti-dance, anti-confessional performance piece. It's all around you--can you feel it? The Negative Energy Field helps you articulate the nagging feelings that skirt around the edges of the day with its doomed blend of conceptual performance, Internet stalking, angry manifestos, rock star posing and the ever-present threat of nuclear self-destruct! Featuring Masha Sapron as The Woman In A White Dress (a one-act play-within-the-play).
CAN'T GET STARTED.When you know more about King Crimson than what it's like to be with a woman. The fundamental hopelessness of making the male-female connection, as filtered through the skeptical prism of Tom X. Chao. This manifesto-laden, epoch-spanning 2-person play is enhanced with scenes of space pirates, ethnomusicology students, abstract geometric puppets, and stone-age stoners guaranteed to smash the preciousness of theater. Also starring Eve Kerrigan as Tom's female foil.
2xTXC
The Negative Energy Field--Saturday, Jan. 27, and Feb. 10, 24
Can't Get Started--Saturday, Feb. 3, 17, and March 3
ALL SHOWS 10:30PM

@ ST. MARKS THEATER
94 ST MARKS PLACE (between 1st Ave & Ave A)
$15 General Admission
$12 for Students/Seniors
Reservations: 212.539.7686
---
Stir Friday Night! (Chicago)
Stir Friday Night: Now Fortified with Indians!
February 2 to 24, 2001
See News story.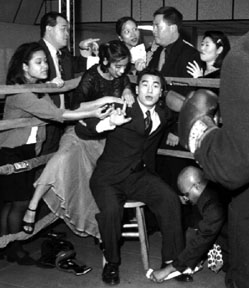 ---
hereandnow (touring/LA)
Boba Stories
February 9 to March 4, 2001

See News story.
---
PlayBrokers (Bay Area)
Tracking Kilroy
by Jeannie Barroga
directed by Kelvin Han Yee
Monday, February 12, 2001
7:30p.m.
ODC Theatre, 3153 17th St.
(between Shotwell and South Van Ness)
San Francisco 94110
(Cast: Elizabeth Benedict, John Flanagan, David Gassner, Molly Goode, Sam Sheng, Nicole Wilder, Tony Williams)
Admission: $10 contribution requested
Reservations, please: 415-863-9834
A BIZARRE journey through the underworld of computer hackers: the INTRIGUES – BETRAYALS – strange loyalties – and the FBI and Krispy Kreme donuts: "Games . . . I can't even see who's my enemy and I'm killed. . . I die many times, many times. . ."
---
East West (LA, CA)
Network Showcase
February 12 and 13, 2001
EWP Network Showcase, on Monday and Tuesday, February 12 and 13, at the David Henry Hwang Theater starting at 8:00pm. The performing of scenes of EWP's Network is one of the many ways that EWP encourages producers, directors and casting directors of the networks, major studios, and independent companies to utilize more Asian Pacific talent in our mission for more diversity in the media that is more realistic on the American landscape. Performances are free.
---
Pork Filled Players (Seattle)
Dirty Laundry: Airing Out the Family Hamper
February 16 to March 4, late night at the Theatre Off Jackson
Asian culture has been lauded for their exemplary values, centering around the family, with praise coming from groups as diverse as the Republican Right to Al Gore.
But find out how Asian families really operate....
---
2Tongues (Chicago/touring)
Winter 2001 Tour
"We're going all over the country traveling mainly as part of the YellowTech tour with 2Tongues + the PACIFICS weaving word, music, and power together to bring a little chi-town flava to your local venues.
"our website should be updated with this new list of performance dates & places...and maybe we'll even upload new entries for our journals. check out our site at www.2tongues.com
* * * UPCOMING FEBRUARY SHOWS * * *
Monday, February 12, 2001 <<CHICAGO>>
// Mad Bar // 1640 N. Damen // 7pm Open Mic //Features on at 9pm hosted by Anacron & Krystal Ashe // Free
Marlon makes a mental graffiti homecoming and will be the featured poet. Look for a little something different this time around...a couple anecdotes from Cuba? maybe even a love poem or two? Only one way to find out!!
Saturday, February 17, 2001
COLLEGE OF WILLIAM & MARY//VIRGINIA
<<YellowTech Tour w/the PACIFICS>>
FACES 2001 Conference: On the Rise
(Focus on Asian Cultures Emerging in Society)
@ College of William & Mary - University Center [williamsburg, va]
show at 7pm
- 2 workshops in conference & performance
Open to the Public / Register Online
High School: $18* / Individuals: $37*

Groups of 8 or more:
$30*
*Registration fees include workshops & performances
For more info: www.wm.edu/so/faces3, or eMail vsalcedo90@hotmail.com
Saturday, February 24, 2001
COLUMBIA UNIVERSITY//NEW YORK CITY
<<YellowTech Tour w/the PACIFICS>>
ECASU 2001 Conference
(East Coast Asian Student Union)
@ Columbia University - Lerner Hall [nyc,ny]
show 6:30pm
- workshop & performance in APA Arts Showcase
Open to the Public / Register Online
Registration: $35 before 2/1, $50 after
For more info: www.columbia.edu/cu/ecasu, or eMail kristin@columbia.edu
____________________________________________________

* * * LOCAL SHOWS IN CHICAGO // CHICAGO LAND * * *
Monday, February 12, 2001
// Mad Bar // 1640 N. Damen // 7pm Open Mic //Features on at 9pm hosted by
Anacron & Krystal Ashe // Free
++Marlon makes a mental graffiti homecoming and will be the featured poet. Look for a little something different this time around...a couple anecdotes from Cuba? maybe even a love poem or two? Only one way to find out!!
Monday, March 12, 2001
Dennis Kim & Marlon Esguerra of I Was Born With Two Tongues
@ Glenbrook North High School [northbrook, il]
Diversity Assembly
For more info: angela@nualumni.com
Monday, March 12, 200
// Mad Bar // 1640 N. Damen // 7pm Open Mic //Features on at 9pm hosted by Anacron & Krystal Ashe // Free
++Anida makes her individual feature debut at Mental Graffiti. Don't miss this...she's never read solo for longer than 5 minutes.
Wednesday, March 28, 2001
Anida/Dennis/Marlon/Darius w/Staceyann Chin
@ Columbia College Chicago "Big Mouth Open Mic" afterhours series
Hokin Center, 623 S. Wabash, Chicago // 7-11pm
Open to the Public / FREE!!!!
For more info: www.colum.edu/bigmouth.html
Monday April 16, 2001
// Mad Bar // 1640 N. Damen // 7pm Open Mic //Features on at 9pm hosted by Anacron & Krystal Ashe // Free (sponsored by the Asian American Showcase) ++Yeah, it's another Mad Bar feature but this time the Tongues plan to be in full FOUR force. the Tongues reunite where it all began--in chicago and at the Mad Bar. Yep you heard it right, we want to unveil some of our new shit in Chicago...so mark your calendars now for our homecoming show!
____________________________________________________

* * * somewhat COMPLETE LIST OF SHOWS * * *

here's a list of all the upcoming shows... more details can be found on the website, will keep you posted cuz some of the dates are still being finalized and possibly a few more shows need to be added to this list.
FEB 17......"FACES 2001 CONFERENCE" @ College of William & Mary
<<williamsburg, VA>>
FEB 24......"ECASU 2001 Conference" @ Columbia University
<<new york city,NY>>
MARCH 2....."ISCORE" Iowa State Conference on Race & Ethnicity
@ Iowa State University
<<ames, IA>>
MARCH 10.....BROWN UNIVERSITY W/Beat Junkies
<< providence,RI>>
MARCH 12.....Marlon & Dennis at Glenbrook North High School
<<Northbrook, IL>>
MARCH 24....."MAASU 2001 Spring Conference" @ University of
Michigan-Ann Arbor
<<ann arbor, MI>>
MARCH 28.....Columbia College Chicago "Big Mouth Open Mic" features
<<chicago, IL>>
MARCH 31.....Macalester College
<<minneapolis, MN>>
APRIL 14.....University of Pittsburgh
<<pittsburgh, PA>>
APRIL 16.....Mental Graffiti at Mad Bar
<<Chicago, IL>>
APRIL 21.....University of VA's APA Awards & Cocktail Night
<<charlottesville, VA>>
MAY (date TBA)....Asian Improv Festival/Show
<<san francisco, CA>>
---

Jude Narita
With Darkness Behind Us, Daylight Has Come
February 18, 2001
Doizki Gallery, JACCC, LA
If you missed it before, you have another chance to catch JUDE NARITA performing her newest work With Darkness Behind Us, Daylight
Has Come

when: Sunday, February 18, 2001 3 PM & 7:30 PM

where: Doizaki Gallery
JACCC - Japanese American Cultural and Community Center
244 S. San Pedro Street, Los Angeles

Admission is FREE but seating is limited so please make reservations by calling the Japanese American Theatre Box Office (213) 680-3700 Box Office open 12 - 5 pm Monday thru Saturday
With Darkness Behind Us, Daylight Has Come: Jude Narita's latest work is a multi-media one-woman play about the effects of the internment camps on three different generations of Japanese American women. An Issei (first generation) woman who struggles to build a family business; a Nisei woman (2nd generation) who believes in community, and writes newsletters to keep people in touch; a teenage Nisei angry at being in an internment camp; and a Sansei (third generation) inexplicably drawn to buildings, who realizes through what hardship her grandparents and parents built their lives. Live music is provided by George Abe. Both funny and sad, With Darkness Behind Us, Daylight Has Come is a moving theatrical experience.
---
AATC (SF)
Year of the Snake Twelve Minute Play Readings
Twelve Minute Play Readings
February 24, 2001
See News Story.
Remembering the Zodiac by Lauren D. Yee
Dim Sum and Then Some by Henry Ong
Snake Charmer by Carl Thelin
Dinner with the Browns by Darren Lee Brown
Untitled by Nino Alvarez
---
LODESTONE THEATRE ENSEMBLE
THE YELLOW BOX SERIES
presents
a reading of Clifford Odet's classic play
THE BIG KNIFE
Written by Clifford Odets
February 25, 2001

The Big Knife is a drama about a Hollywood movie star who must choose between fame/wealth or the preservation of his soul.

Sunday, Feb. 25, 2001
7 PM
East Los Angeles College, Little Theatre
1301 Ave. Cesar Chavez
Monterey Park, CA
(10-15 minutes east of downtown L.A.)
FREE ADMISSION/FREE PARKING

Directions to ELAC Little Theatre (from downtown L.A.):
Take the 60 freeway east,
exit Atlantic (immediately after the 710 freeway) and head north,
make a left on Riggin St./Cesar Chavez,
make a right on Collegian (first corner where Carl's Jr. is),
make an immediate left into the ELAC parking lot,
Little Theatre is on the northside of the parking lot.

For more info. or to RSVP, please call: (323) 993-7245
---
East West/Japanese American Museum
AN AFTERNOON WITH PAT SUZUKI
March 4, 2001
The Japanese American Museum will be hosting a public event in the Garden Cafe on Sunday, March 4 at 1:00pm featuring a conversation with pioneering Asian American actress Pat Suzuki of FLOWER DRUM SONG fame. She is one of the first Asian Americans to become a recording star after World War II and one of the first to appear on Broadway. George Takei will be leading the dialogue on her work, her passion and her dreams. The event is open to all who pay admission to the museum. A short biographical video as well as selections from her new CD will be played in this rare opportunity to meet Ms. Suzuki, who resides in New York and is an honoree this weekend at the Japanese American National Museum Annual Dinner.
---

2001: A Spotlight On Festival Odyssey
JERSEY STORIES
by Jonathan Calindas
Raw Space (Studio G2), 529 W. 42nd St., New York, NY
Friday, March 2 at 9:00 pm;
Saturday, March 3 at 5:00 pm;
Sunday, March 4 at 8:00 pm;
Saturday, March 10 at 5:00 pm;
Sunday, March 11 at 8:00 pm
TICKETS:
$15 (at the door)
For Reservations, call Ticket Central: 416 W. 42nd St. 1-8 pm daily/ 279-4200 or website: www.Ticketcentral.org
2001: A Spotlight On Festival Odyssey and Frank Calo present Jersey Stories, two one-act plays by Jonathan Calindas on March 2-11 at Raw Space (Studio G2) at 529 W. 42nd St. Jersey Stories consists of two plays, The 4am and Gray Guitars and tells the stories of the everyday people who make their lives in New Jersey and of those who chose to leave. Jersey Stories is written and directed by Jonathan Calindas. Set, projection, and sound design by Eric Velarde. The cast includes Mario Corrales, Rodney Reyes, Brian Seuffert, Schoen Smith and Robert Steffen*.
This festival boasts to be the LARGEST winter festival in New York! Visit the website at:
http://members.aol.com/spotlightonprod

Visit the Jersey Stories website at:
http://jvcalin.tripod.com/JerseyStories/index.htm

---

M o n d a y N i g h t M a r s h P r e s e n t s
M A M E T & C O S T E L L O:
Just Who the F**k is on First?"
With Michael Capozzola & Samuel Sheng
a 10 minute play
Written by Michael Capozzola
The Marsh Theatre
1062 Valencia Street @ 22nd Street, San Francisco
March 5th & March 12th, 2001 at 8:00PM
$7.00
---

Like a Nuprin: Little, Yellow, Queer
http://www.people.fas.harvard.edu/~schang
**Written, directed by and featuring Sophia Chang**
Thursday, March 8 @ 8 p.m.: (Creative Tie Opening with Reception)
Friday, March 9 @ 8 p.m.
Saturday, March 10 @ 2 p.m. and 8 p.m.
Leverett Old Library Theatre - Mill Street, Cambridge 02138
Three Asians and a white dude on a bed. One Little Yellow Gyrl tells her autobiofiction and explores the experiences of queerness, Asianess, and the White Man Freak. Find out what it takes to be fabu and why there can be only one Princess Diva.

$5 students, $4 Leverett residents, $6 general
Tix on sale now at Harvard Box Office
Holyoke Center: Open daily Noon - 6 p.m.
(617) 496-2222 TTY (617) 495-1642
Holyoke Center (Harvard Square) http://map.harvard.edu/level3/3Holyoke2.shtm
---

Pan Asian Repertory Theatre (NYC)
Rashomon
Febrary 13 to March 18
See News story.
---

Pork Filled Players (Seattle)
2001 Seattle Fringe Festival
All Greased Up and Ready to Go
March 9, 2001 10 pm
March 10, 2001 7:15 pm
March 11, 2001 4 pm
March 14, 2001 7 pm
Sooooeeeey! Release the pigs! The Northwest's most aggresively multicultural sketch comedy group unleashes a new collection of songs and sketches–so try 'n git your arms 'round their porcine brand of humor! A hit at the 1999 and 2000 Fringe Fests! "This multi-ethnic ensemble displays multiple talents" Seattle PI "Simply scrumptious" NW Asian Weekly "...poking fun [with a red hot dagger to the eyes] at every politically correct and incorrect cliche..." City Collegian.
---
ReACT (Seattle)
MORE All in the Timing
by David Ives
Broadway Performance Hall
3/8 at 6pm
3/9 at 4pm
3/10 at 8pm
3/15 at 8pm
3/16 at 6pm
3/17 at 2pm
3/18 at 12noon (audio described performance)
ReAct proudly presents numerous Asian-American theatre artists in "MORE" ALL
IN THE TIMING
The wild new combination of Seattle premieres and Fringe Fest favorites written by David Ives and directed by David Hsieh
ReAct is pleased to announce a special preview performance of "MORE" ALL IN THE TIMING which will take place at 2:00pm on Sunday, March 4th at the Elliott Bay Book Company, located at 101 S. Main St. in downtown Seattle's Pioneer Square. Preview tickets are $5 when purchased or reserved in advance, and $8 on the day of show without a reservation. For tickets and more information, please call (206)364-3283 or visit online http://www.reacttheatre.org
This multi-ethnically cast show features the Seattle premieres of several short comedic one-acts from Ives's new collection LIVES OF THE SAINTS, in addition to a few audience favorites from ReAct's sell-out "Best of Fest" staging of ALL IN THE TIMING, and much more!
Dare to enter this magically theatrical and delightdully perplexing stage world, where time has no boundaries, love abounds, words have new meanings, televisions come to life, and anything is possible! Included in this unique new line-up are the playlets CAPTIVE AUDIENCE, ARABIAN NIGHTS, ENIGMA VARIATIONS, FOREPLAY, PHILIP GLASS BUYS A LOAF OF BREAD, UNIVERSAL LANGUAGE, ENGLISH MADE SIMPLE, SURE THING and more!
The cast of "MORE" ALL IN THE TIMING stars Asian-American artists Eloisa Cardona, Audrey Fan, David Hsieh, Lisa Marie Nakamura, and Katie Tupper, as well as Colleen Burke, Angela DiMarco, Gordon Hendrickson, T.J. Langley, Nyree Martinez, Noah Pinegar, Barry Snarr, Leslie Jean Warner and Shawn J. West.
"MORE" ALL IN THE TIMING will also be presented at the Broadway Performance Hall as part of the 2001 Seattle Fringe Theatre Festival from March 8-18, 2001. ReAct's festival showtimes are:
FRI 3/8 at 6pm
SAT 3/9 at 4pm
SUN 3/10 at 8pm
THU 3/15 at 8pm
FRI 3/16 at 6pm
SAT 3/17 at 2pm
SUN 3/18 at 12noon (audio described performance)
Festival tickets are $12 (General) and $6 (Seniors/Students) and can be purchased through any Ticketwindow outlet, or at the Festival's main box office at the Broadway Performance Hall, 1625 Broadway on the corner of Broadway and Pine on Capitol Hill. For more information, call (206)322-2018 or visit online www.seattlefringe.org
---
SIS Productions (Seattle)
Sex In Seattle
Episode One: Deceptions and Reflections
March 9 to 24, 2001
Theatre Off Jackson, Seattle
See News story
---
Pork Filled Players (Seattle)
Portland Pork Chops!
One weekend only!
March 16 and 17, 2001
Brody Theatre
Rose City, you are warned! The Northwest's only multicultural sketch comedy groups invades for a weekend of sketch comedy madness with yet ANOTHER show! Keep an eye out at the PFP website, www.porkfilled.com!
---
AATC (SF)
Queen of the Remote Control
by Sujata G. Bhatt
March 17, 2001
THE QUEEN IS COMING! WELCOME HER HIGHNESS!
The Asian American Theater Company humbly announces the staged reading of Sujata G. Bhatt's dark comedy, Queen of the Remote Control. Bhatt gives us a look into one week in the lives of an immigrant Indian family and explores the basic question of ethics: what does it mean to live a good life. Although the question is an old one, the play develves into contemporary issues such as happiness and fulfillment in a world dominated by television, biotech research, multibillion dollar corporate deals, and class upward mobility.
Queen...was developed last year at the David Henry Hwang Writer's Institute at East West Players in Los Angeles. Ms. Bhatt is both a playwright and a novelist and she is currently completing her fiction collection entitled Home. She currently resides in Los Angeles CA.
Come to a staged reading of her play and meet the playwright! There will be a short comment/question and answer period after the reading. Your participation, response, and feedback is invaluable to the development of Queen... The reading will be held on Saturday, March 17 at 7:30 PM at 1840 Sutter St. SF CA , 94115. For reservations, please call 415-440-5545. Suggested donation is $5 at the door or email at info@asianamericantheater.org.
---

Lodestone Theatre Co. (LA)
Lodestone Oscar Benefit Night
March 25, 2001
Lodestone Theatre Ensemble is having our "Lodestone Oscar Night Benefit" to raise money for our next mainstage production, Annette Lee's A Dirty Secret Between the Toes, and to help us build our youth mentoring programs. You are invited to join us to view the Oscars, enjoy an all-you-can-eat buffet dinner, door prizes, entertainment, dancing, karaoke and the company of some seriously cool people. With Masters of Ceremonies: Mini Elvis and his good pal, Sheckie Wong.
All this for ONLY $20 pre-sale!!!!! And all this for a seriously good cause!!!!
Date: Sunday, March 25, 2001
Time: 5 pm to 12 am
Place: Restaurant Oiwake in Little Tokyo: 122 Japanese Village Plaza Mall,
Los Angeles, CA 90012
Admission: $20 presale/$22 at the door (NOTE: All pre-sale orders must be received by March 23)
No host bar

For reservations or more information:
(323) 993-7245 or SHPLodestone@aol.com
Or send checks (made out to Lodestone Theatre) to:
Lodestone Theatre Ensemble, c/o Oscar Benefit, P.O. Box 1072, Studio City, CA
91614
Please make sure your name, address, phone number, e-mail address (if you have one) and the # of tickets you need is included with your check so we can confirm your tickets with you. You can also purchase tickets from any Lodestone member.
SHP/Lodestone Theatre Ensemble is an Asian American theatre company with a mission to develop, create, promote and present edgy, compelling and impassioned works that bridge communities through truthful and entertaining artistry.
---

Public Theatre (NYC)
Dogeaters
by Jessica Hagedorn
March 2001...extended to April 1
Highly praised, by the NY Times and others. See it.
---

Theatre Mu (Minneapolis)
Passage
directed by Andrew Kim
March 10 to April 1, 2001
Through movement, puppetry and story telling, Andre Kim and the members of the Mu Associated Actors Group explore the space between birth, death, memory and what comes next.
---

SLANT (NYC)
Big Dicks, Asian Men
March 29 to April 1, 2001
The SLANT Performance Group is BACK for ONE WEEK ONLY!
La MaMa E.T.C. Presents the return of BIG DICKS ASIAN MEN!
MARCH 29-APRIL 1. 7:30pm AND SUNDAYS MAT AT 2:30pm
CALL NOW! 212.475.7710 All shows $20 except for the Friday Gala Fundraiser $50 Join SLANT for drinks and food. Help raise funds for theSLANT Across America 2001: Film Tour
"Three extremely talented young Asian American men" - New York Times
"SLANT has a way of throwing sticks of theatrical dynamite" - Village Voice
For more info: 212 736-2246
Please forward to friends, family, ...or loved ones.
---

SLANT (NYC)
Benefit
March 31, 2001
Fundraising Performance and Silent Auction for Corky and Margie Lee
On Saturday, March 31 there will be a special performance to help raise funds for Corky and Margie Lee. Currently Mrs. Lee is in a hospice program and your contribution will help the Lees with their enormous medical expenses.
Please join the SLANT Performance Group along with Soh Daiko Taiko Drum Co., Kinding Sindaw Philippine Dance & Music Co., In-Mixed Company, Chinese Folk Dance Co., Norman Chin's Southern Praying Mantis Lion Dance Troupe, and other Asian American stage artists as they perform to help raise money. Additionally a limited number of Corky's original photographs will be available for silent auction bidding.
Just show up at the La Mama Annex Theater, 67 East 4th Street, between 2nd Avenue and Bowery, New York City. The event begins at 2:30 PM on Saturday, March 31st.
Please make your check payable to Corky Lee. For those of you who cannot attend the performance please send in your check contribution to the following address:
SLANT,
16 West 32 Street, 10th Floor,
New York, NY 10001.
If you have any questions please call
212-736-2246.

On behalf of Corky and Margie we thank you and look forward to seeing you on March 31.

The SLANT Performance Group
Rick Ebihara, Wayland Quintero, Perry Yung
212-736-2246 (desk number)
212-714-7189 (voicemail)
www.slantperformancegroup.com
---
AATC (SF)
Paper Bullets
April 6, 2001
Paper Bullets: Reading from Completed Works by Kip Fulbeck
AsianAmerican Theater Company brings you an evening of Paper Bullets, KipFulbeck's first novel; a fictional autobiography exploring the hapa identity of a young man, who like the author is shaped by the conflicting desires, stigmas,and codes of male conduct in this country. Part coming-of-age, part racial/sexual adventure, and part love letter...Paper Bullets chronicles a contemporary man's search for love and meaning... Excerpts read by the author. The book, published by University of Washington Press will be on hand for sale.
FridayApril 6, 2001 8pm.
JapaneseCultural & Community Center of Northern California
1840Sutter Street, Conference Rooms 1 & 2
SanFrancisco, CA
Suggesteddonation: $5
Call to Reserve Seating: 415-440-5545
or email info@asianamericantheater.org
www.asianamericantheater.org
---
Home
| News | Calendar | Directory | Library | Plays
---
E-mail to gwangung@u.washington.edu
---
Copyright © 2001 Click2Asia, Inc. and Roger W. Tang